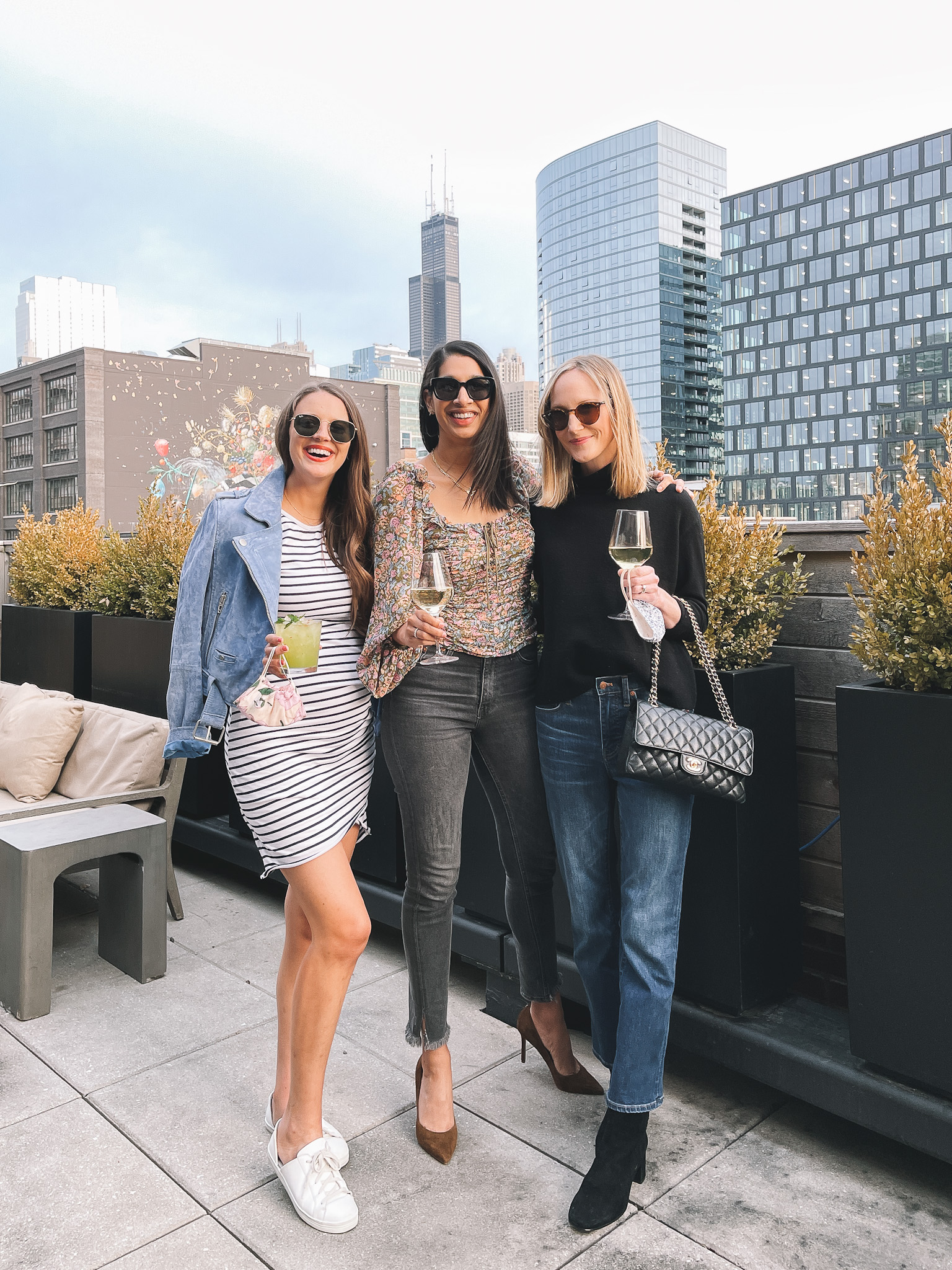 Madewell Cali Demi-Boot Jeans / Everlane Sweater / Boots / Sunglasses / Similar Bag
Woo! By the time this post is published, we should be in Mississippi on the Gulf. Ideas for the week include lots of beach time, backyard swimming sessions (we're bringing a little pool), visiting my brothers in New Orleans (we're less than 1.5 hours away), eating at outdoor seafood restaurants, hitting up the outdoor children's museum, and hiking the nature trail. Honestly, all we need is some vitamin D and warmth and we'll be happy.
But here are the first 10 things that come to mind as I write this!
The kitchen cabinets are being painted this week! I'M SO EXCITED! The backstory is that our cabinets are currently painted Benjamin Moore Ivory White, but slowly over time, the paint has yellowed—and quite significantly in certain places. Kira from Kira David Design (who's helping me with the project), recently figured out that the cabinets were likely painted in an oil-based paint… and oil-based paint has the tendency to yellow in spaces that aren't very exposed to natural light. This makes total sense, as the yellowing is mostly in darker corners of the kitchen! All of this is to say that we've decided to give the cabinets a fresh coat of water-based paint ("Chantilly Lace" by Benjamin Moore), which should definitely do the trick. We're also going to replace the pewter-style knobs with these brass ones. Shoutout to Kira and Bradley—Walker's mom, who's an exceptional designer as well—for all the help! (Note: Kira now has offices in Chicago and Boston, and services both areas!)
Try this music map because it's SO COOL. Since in-person learning started back up for Emma, I've been getting a little more desk time in. (Though still not enough, haha.) As a result, I'm constantly on Spotify. It boosts my mood and helps with productivity! (Here are all the playlist I've put together.) Anyway, you just enter the name of an artist or band you love, and the music map suggests others to listen to. It's fantastic, and has helped me both discover new artists and re-discover old favorites.
My cousin Mackenzie matched at NYU! Kenz has been giving it her all at Jefferson—the same medical school my brother attended—and her match means that she'll be reunited with her twin sister Brenna (who's in law school!) and younger sister Olivia in New York City for her Otolaryngologyresidency. Mackenzie, you are the hardest worker I know, and the whole family is just so, so proud of you. Congratulations! Love you!
Are you l looking forward to anything right now? My parents are coming out in a couple of weeks! They haven't seen the girls since Christmas because we were waiting until they got vaccinated. But now they are, and I can't wait to spend a long weekend with them in the city. Fingers crossed that we have good weather because every time they come there's a giant snowstorm or monsoon. #truth
I love this tiered eyelet dress. I have a thing for tiered dresses and eyelet, so of course this caught my EYE. (Eyelet joke, hahaha.)
I'm starting to think about Lucy's second birthday celebration! It'll be very small—probably just Walker + co., as they're our bubble family. (Though who knows by then! The vaccines are really rolling out!) Lucy's birthday is May 5th, so I think it would be nice to support a local Mexican restaurant for the food, and go with colorful (and respectful) decorations from Mexican-owned sellers. I'm also going to order these dresses for the girls from Solei Ethnic, which is a Mexican boutique in Chicago! Oh, and I love these rag dolls, which are made in Pachuca, for "goodie bags."
I spent some time at Casa del Migrante in Mexico as a college student and a good number of my students in the Bronx were Mexican, so I have an affinity for the culture and the tight-knit families I used to interact with. :) The girls also love "Coco." (Not about Cinco de Mayo but instead about Día de los Muertos!)
Switching holidays, this Easter carrot garland is adorable. A little bummed that I can't go all out for Easter this year, but I love the "This Small House" Etsy shop so much for all garland needs! ("All garland needs"? I need help.) We have the Valentine's Day, Saint Patrick's Day and Easter garlands. They're beautifully made!
I got an adult scooter to scoot around the city with Emma! It's the BEST. Sure, I feel a little self-conscious when scooting home from school or dance by myself after dropping her off, haha. But it's such a great way to get some exercise and sunshine. We chat the whole time and play games. Mitch has one too!
"One home project per day" update: We're hanging these brass hooks on the back of our front hall closet doors for the girls to hang their coats on. Thrilling, no? ;) I'd previously hung 3M hooks but they fell off. Of course, we need longer screws, so fingers crossed that we actually get ourselves over to Home Depot and don't just shove them in a drawer. Because that is not the point of "one home project every day," haha. We'll see!
(Btw: If you're starting to think about spring cleaning and are looking for places to donate to, I list a few faves in this blog post.)
Rouzati Rugs in Wilmette is offering 15 percent off any stair runner project to Kelly in the City readers! Just a quick reminder that they service ALL of Chicagoland, including all suburbs. Simply mention the code "KELLYINTHECITY" to get the discount. And ask for Ali; he's our bud! Call (847) 328-0000 or e-mail rouzatirugs@gmail.com to get started on your project. (Here's our stair runner project!)
Have you checked out the Vineyard Vines sale? It's really good! Such a great time to stock up on cold weather staples for next year, too. (Especially for kids!)