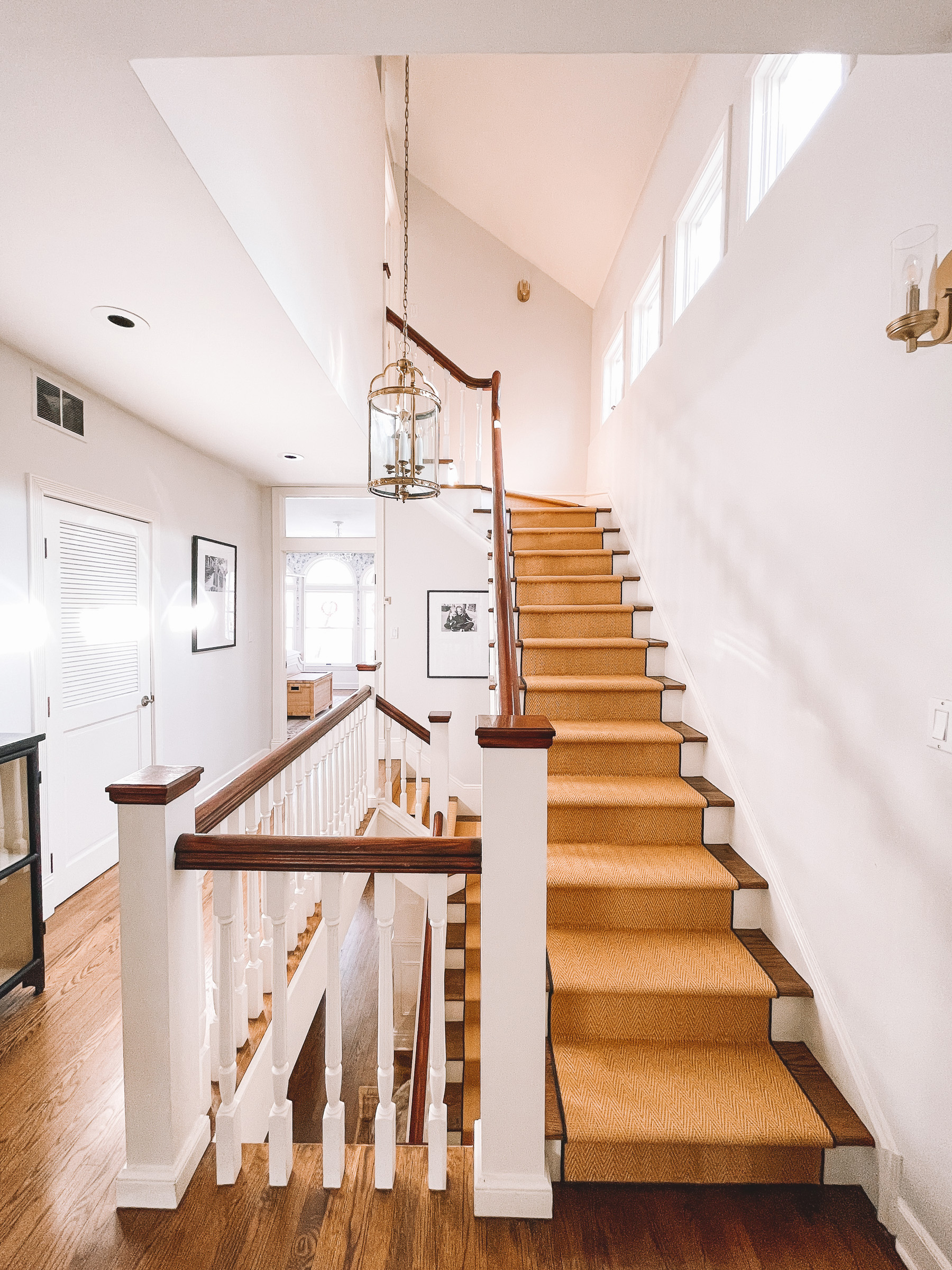 Rouzati Rugs: call (847) 328-0000 or e-mail info@rouzatirugs.com to get started on your project! **Mention code "KELLYINTHECITY" to take 15 percent off any stair runner project.**
STAIR RUNNERS. Do they stress you out, too? Because up until recently, they really stressed me out.
If you follow along on Instagram Stories, you might remember my rocky start to attempting the project. 😆 After the girls went to bed one night, Mitch and I set out to measure our threadbare runner that needed to be replaced… on our own. I can't tell you how many sweet messages we received from people questioning our intelligence. (Jokes. They were all very kind. We were the ones questioning our intelligence, hahaha.) Eventually, when Mitch's parents came up one weekend, we went to a few carpeting stores but got very sketchy feelings from them. Everything was confusing and everyone we spoke to was way too vague about the process.
So we put the runner on the back burner, and on to the "future projects" lists it went. Until Ali from Rouzati Rugs in Wilmette—known for their gorgeous handmade traditional, modern and transitional area rugs as well as their fantastic stair runner and carpeting installations—reached out a few months later, asking whether we'd like to work on a project together to help get the word out about his business. Coincidentally, he didn't know about our prior failed attempt to get the stair runner job done. But he kindly explained, in short, that he would hold our hands throughout the experience, just like he does for all his clients. And he promised that it would be easy and fun, not difficult and stressful.
I can't tell you how excited we were!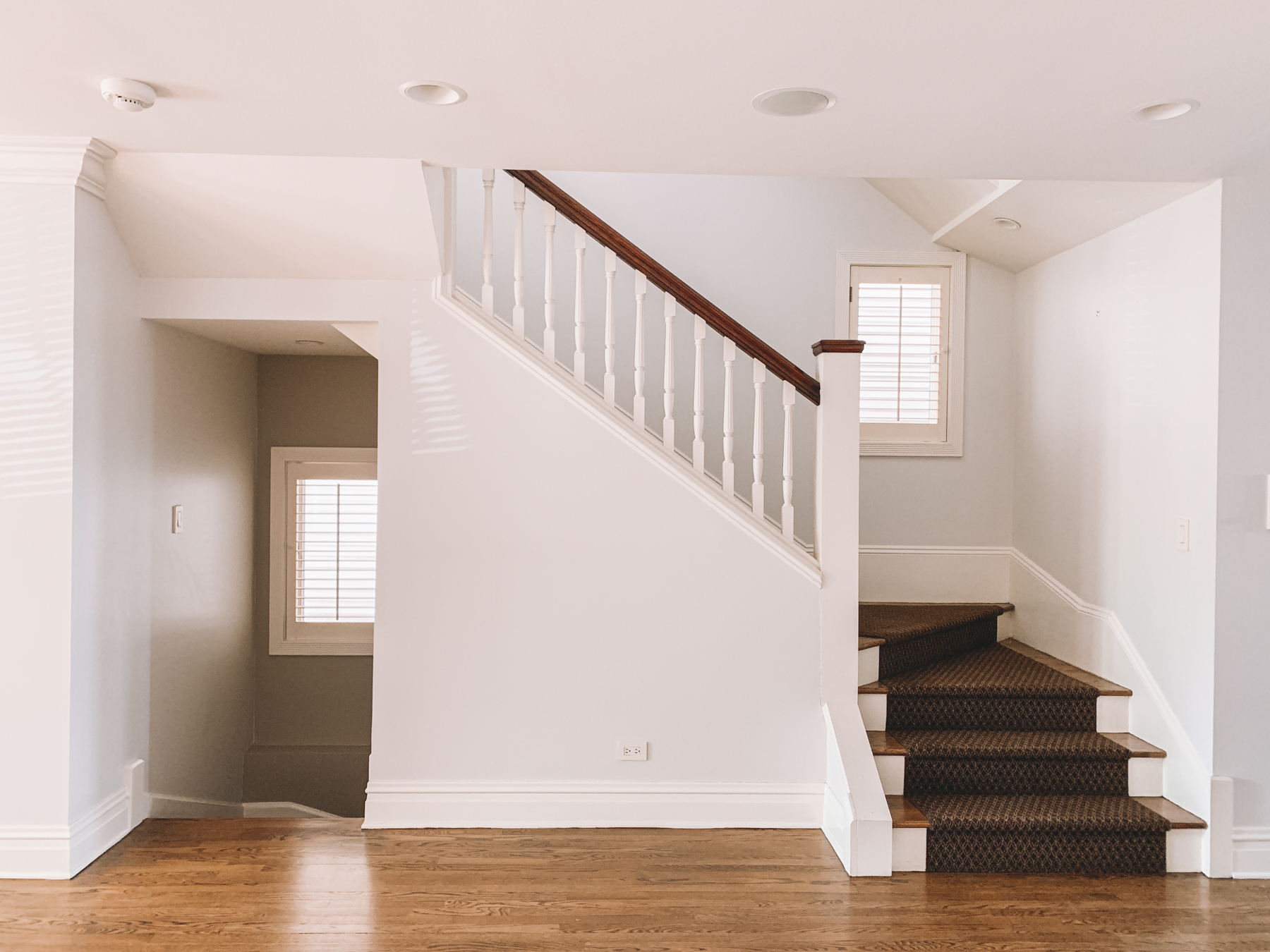 Before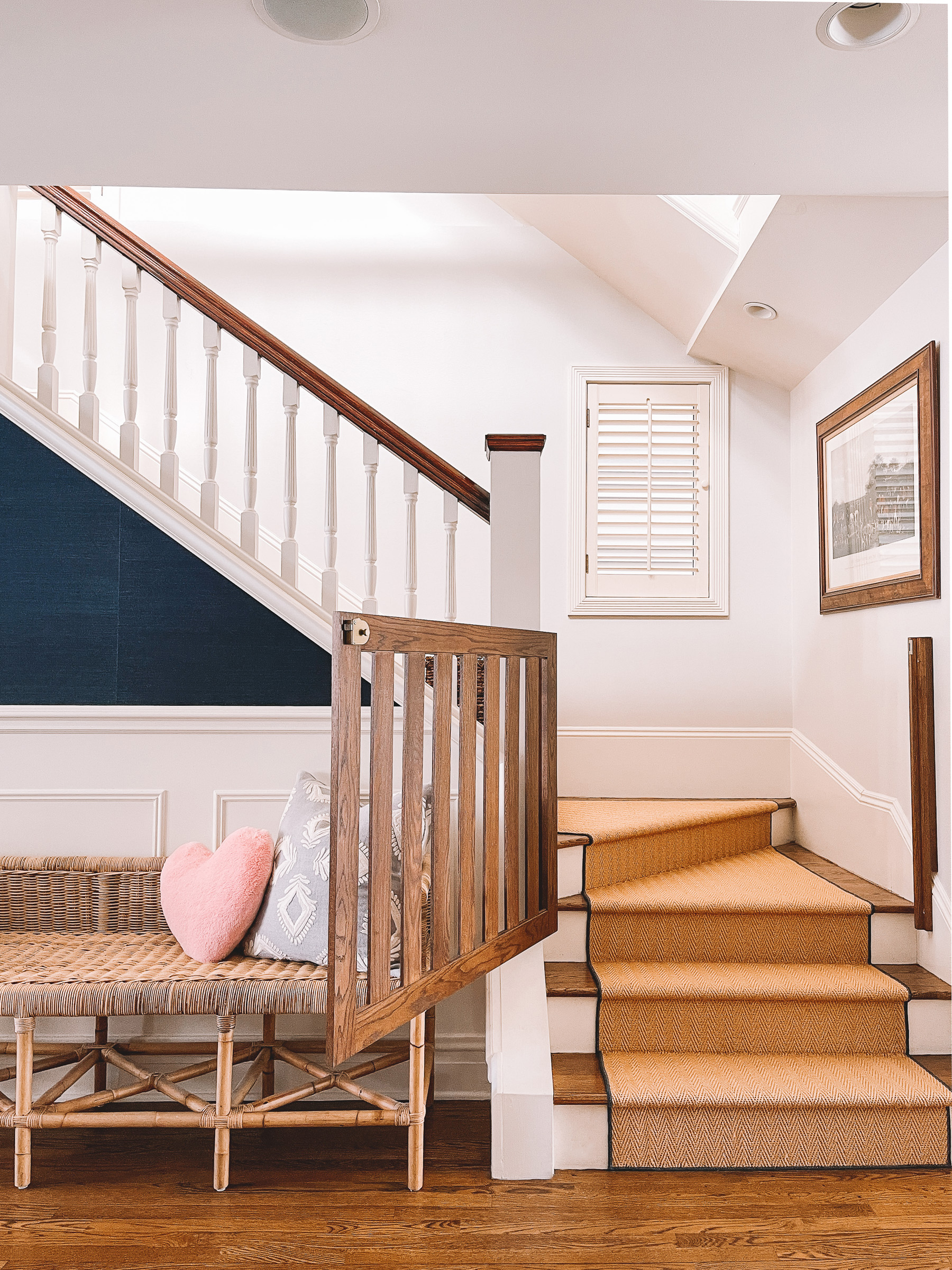 After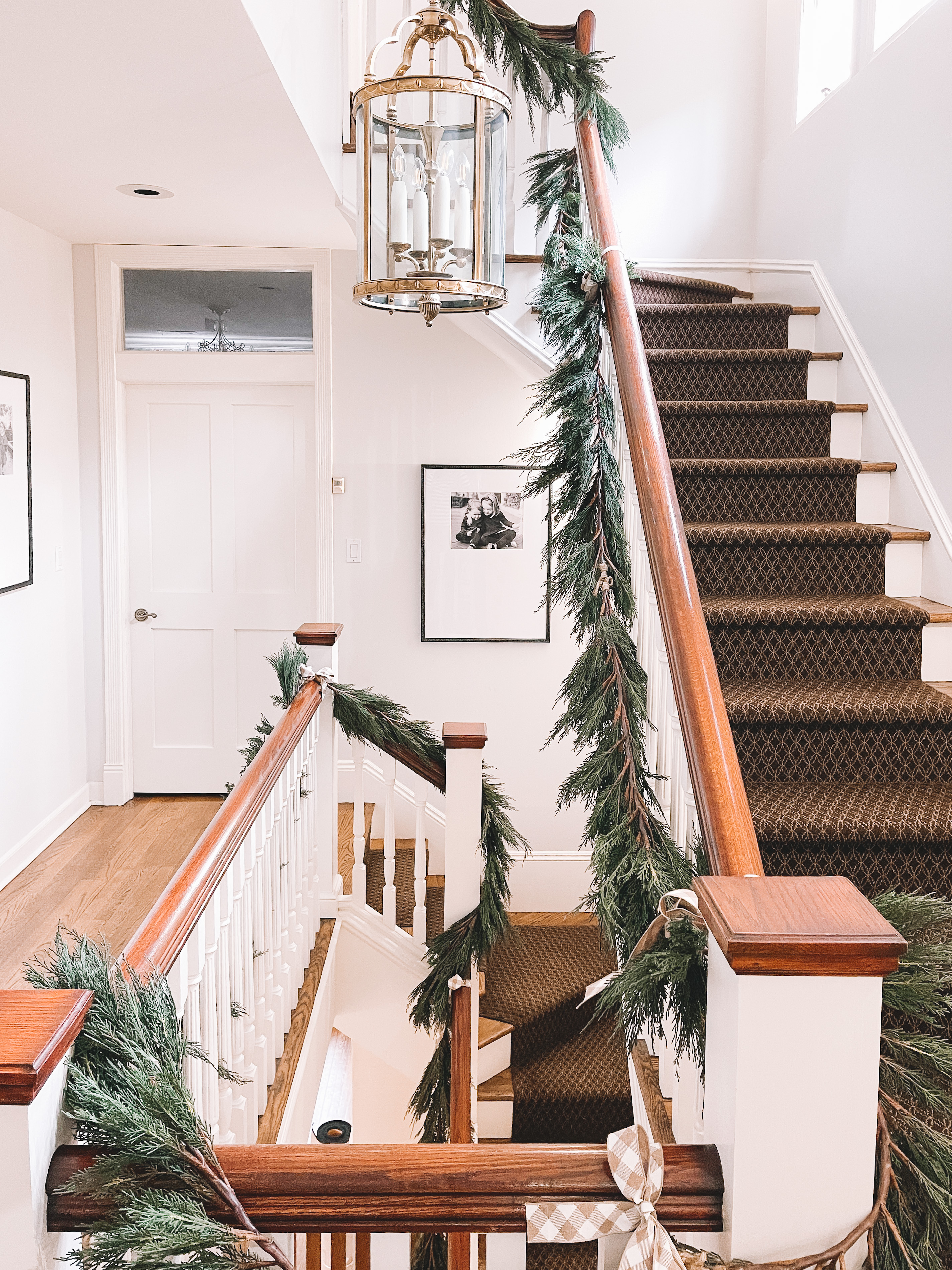 Before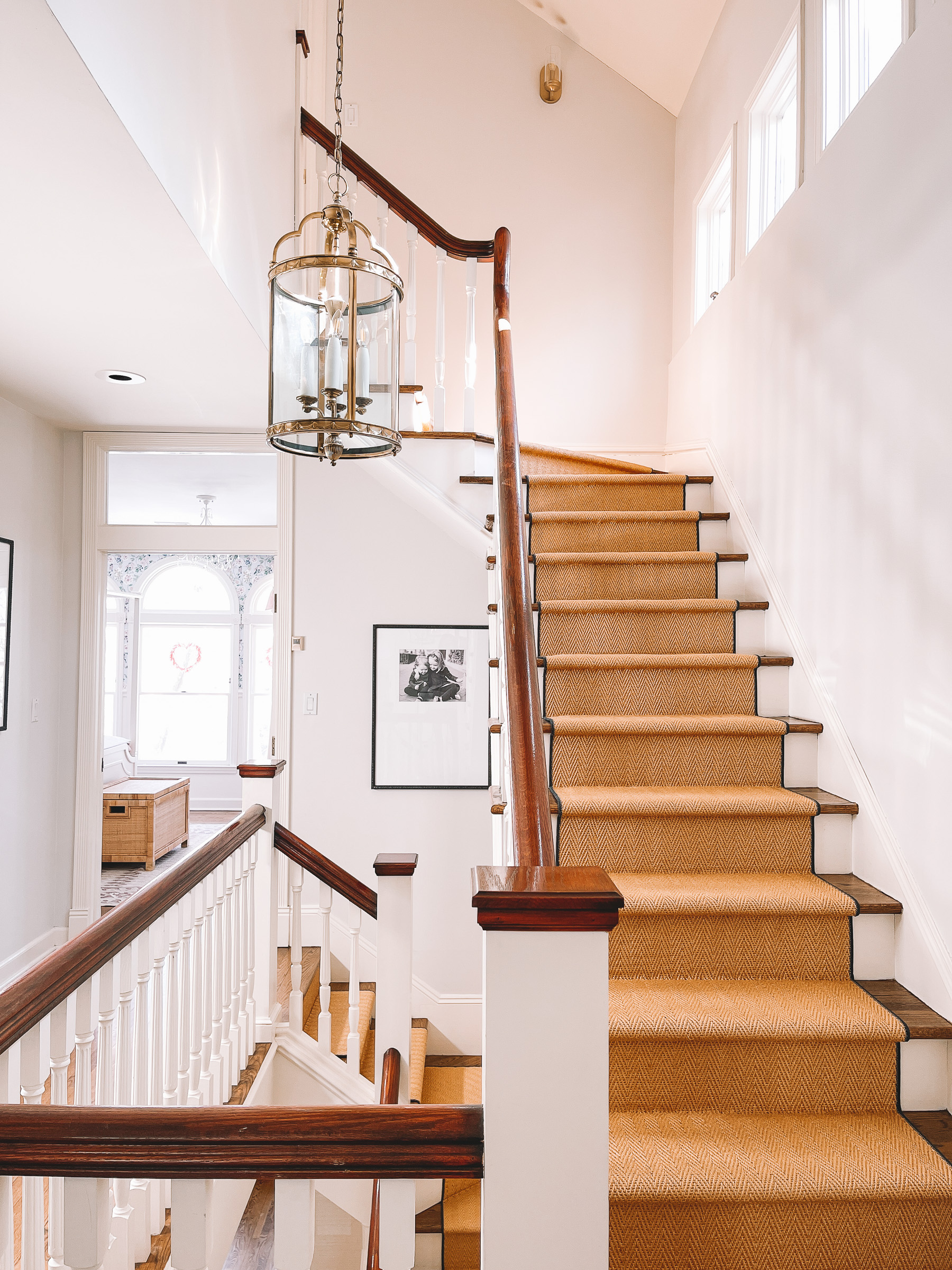 After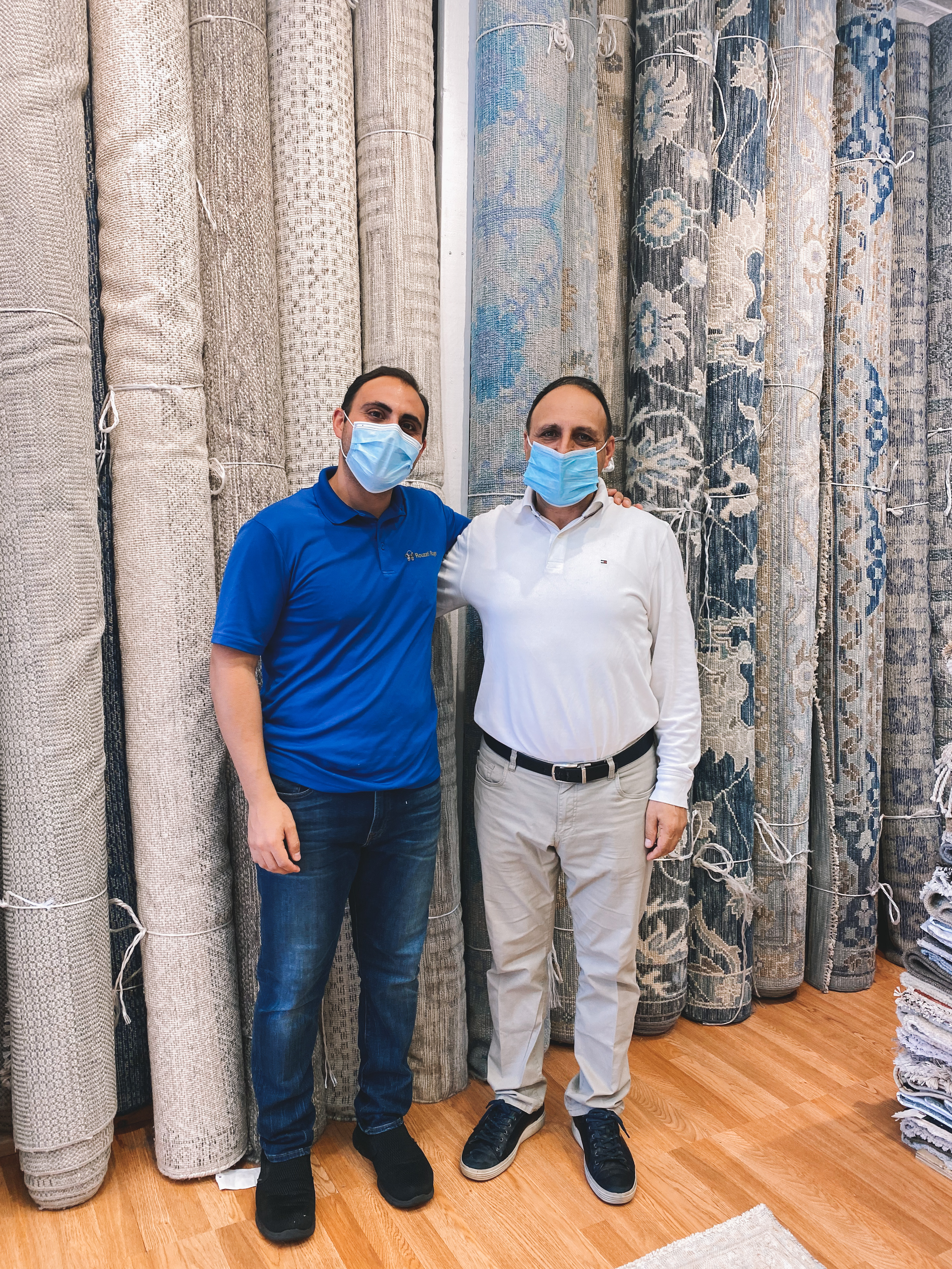 What you should know about Rouzati Rugs
They're based in Wilmette, but they service the entirety of Chicagoland, including all suburbs! And they don't charge extra for travel. (That's huge.)
The family-run company is a father-son team. Not to get all hokey here, but it's clear that they really respect and have a great time with each other. You get that warm feeling from them. There's a lot of laughter in their store, and everyone seems so happy.
Ali, the son, is young, friendly, funny, and incredibly hard-working! At the moment, Ali is working full-time and going to business school. He's also managing Rouzati Rugs' social media, which he's doing a fabulous job with. (He's even creating how-to videos!) I'm not sure when the man sleeps, but he just keeps going.
You don't need a designer to work with Rouzati Rugs. Of course, if you have one, that's perfectly fine. But if you don't, have no fear. Bring in a Pinterest board, magazine, inspiration from Instagram, or even just a general idea—and Rouzati Rugs will help you bring it to life. And if you have no idea what you want, the team will work with you and help you identify what your style is! Since our beloved designer Kira David Design was in the middle of moving while we were doing this, I simply went in with a photo of Danielle Moss' runner, and said "Something like this… with herringbone and a thin navy border." As you can see, they made it happen!
Rouzati Rugs does way more than just runners. As I mentioned before, the company carries a ton of handmade area rugs—traditional, modern and transitional—and they offer carpeting as well. So this project we did with Ali really just highlights one facet of the business!
The turnaround time on runner projects is quick. I talk about this below, but after you decide on materials and place the order with Rouzati Rugs, the turnaround time is only three to four weeks. That means that you'll have a totally new look to your home in a month or less. That's mind-boggling to me!
They offer extremely affordable cleaning services. Drop a glass of wine on your new carpeting or runner? Have no fear. Rouzati Rugs will be out to you in a jiffy, and spot cleaning only costs $50—regardless of where you live in the Chicagoland area. Rouzati also offers area rug cleaning in their 2,000 sq-ft cleaning facility. (Turnaround time is between 12-14 days.) They're top-rated on Google, Yelp and Houzz!
If you're a Kelly in the City reader, you get 15 percent off any stair runner project!

Simply mention code "KELLYINTHECITY" to get the discount. :)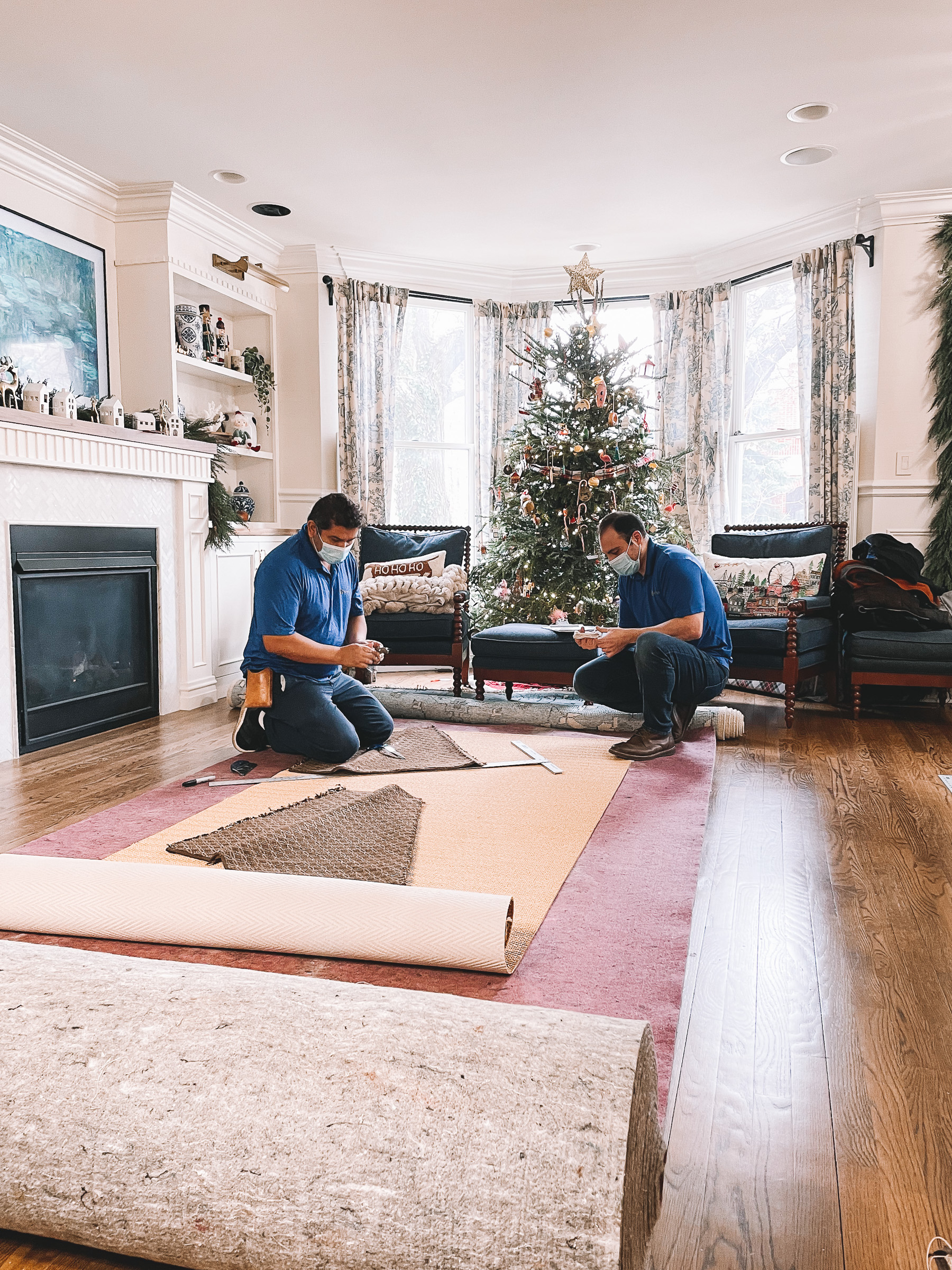 Typical process
Meet with Rouzati Rugs. Because of the pandemic, Rouzati Rugs is offering two options right now. You can either go into the store—all employees wear masks and practice social distancing—or meet via a Zoom call. To set up an in-person or virtual consultation, simply call (847) 328-0000 or e-mail info@rouzatirugs.com. Regular business hours are Monday through Saturday, 10 am to 6 pm.
Rouzati visits your home to measure.
Select materials and place order. Materials typically arrive within two to three weeks.
Materials are prepared and an installation date is set. It usually takes about one to two weeks for the carpeting to be cut into the proper sizes for installation.
Installation takes place. Generally, it takes a half or full day for installation. Employees are masked and practice social distancing the whole time.
Products and pricing
It's very important to note here that the Larkin house resembles a ski house in layout. Our home was built on a short lot; most Chicago lots are 125 feet long, but ours is only 105 feet long. This is why our house was built up instead of back like most others in the area. It's also why we have so.many.stairs. 😆 Most homes feature more traditional and more functional layouts for families, and in turn have far fewer stairs—which equates to savings! So just keep this in mind when if you're mentally calculating pricing for your own home.
I also want to note that the Rouzati team places so much importance on developing long-lasting relationships with clients, This is why they're extremely dedicated to being upfront about everything—especially pricing—from the get-go, as they never want their customers to be caught off guard by a bill!
With that said, this is how the pricing was broken down for each of our staircases:
Measuring: $150 (But this is deducted from the final cost if the client uses Rouzati Rugs' services.)
Carpeting: $1,050 (We went with Astute 4002 in "Friendly Tan." This is a higher-end sisal that is great for kids and high-traffic staircases.)
Cutting and binding: $330 (This includes the binding material, which was #5100 Blue, Cotton Binding.)
Old runner removal: $150 (This is normally $225 for one staircase, but when a client is doing multiple staircases, Rouzati offers a discounted rate of $150 per staircase.)
Installation: $525
Grand total: $2,055
**Mention code "KELLYINTHECITY" to take 15 percent off any stair runner project.**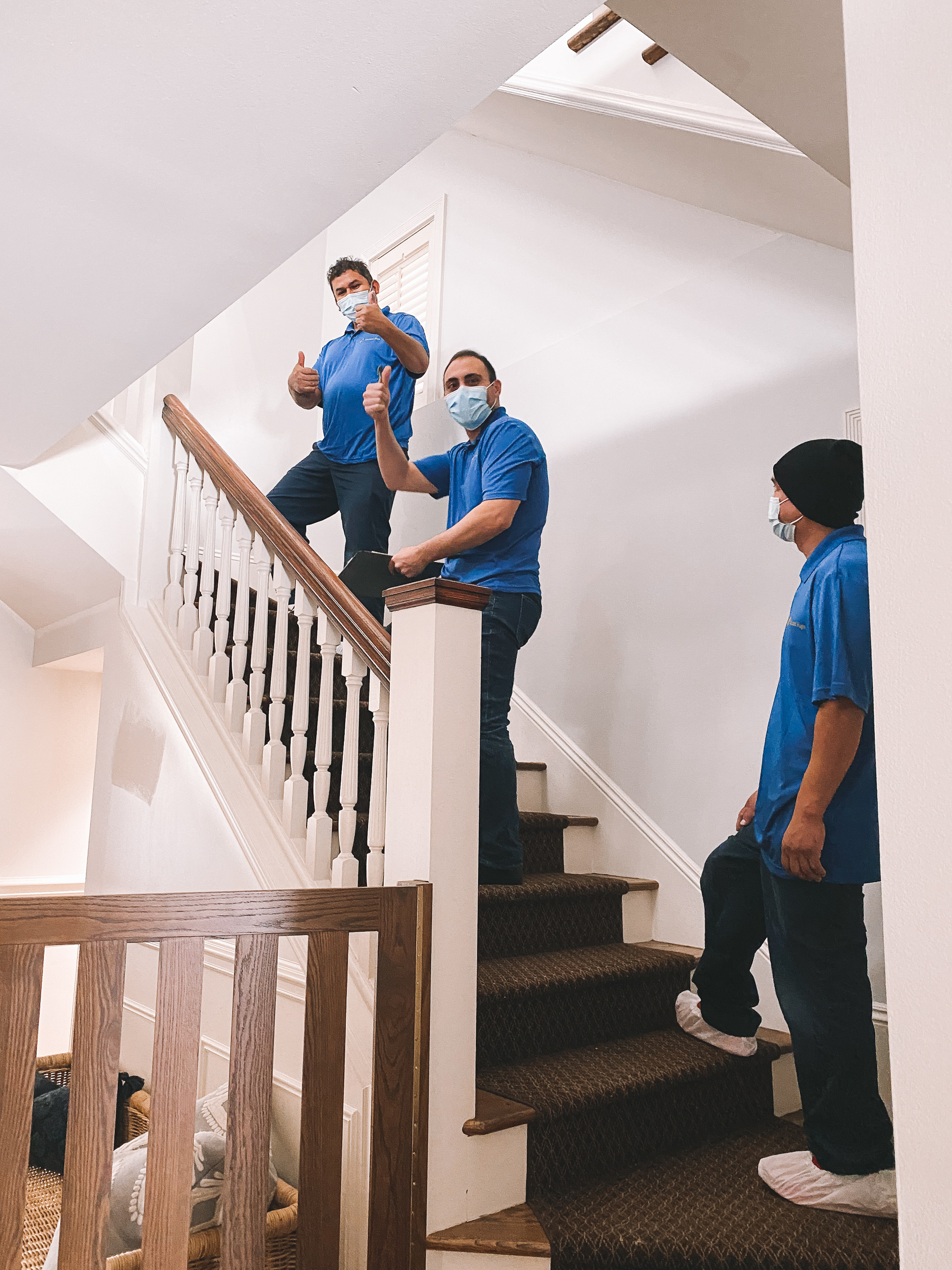 Overall experience
WONDERFUL.
Rouzati Rugs made the whole experience fun and easy. The project also didn't take up a lot of time. As parents of two young children during a pandemic—trying to balance work, family life, and remote learning—it feels like we have negative hours to spare these days. (That doesn't make sense but you know what I'm saying. 😉) Ali broke it down, though, so we only had a few simple decisions to make. He also helped to narrow down choices, highlighting the benefits of certain materials or styles over others, so it was less overwhelming for us. One of the most helpful things he did was encouraging us to take samples with us so that we could see them in our home. Once we did that, it was very clear which materials were right for our house!
Finally, and this is obviously so important, we're in love with the final product. I liked the runner that the previous owners installed; it gave our 1800s home that traditional feeling I love. But it was threadbare and it was time to replace it. And wow! The Rouzati Rugs sisal runner brightens everything up so much. Everything looks cleaner, too. It shows less because it's lighter and features a herringbone pattern… and therefore I have to vacuum less frequently.
It's a huge improvement to our home!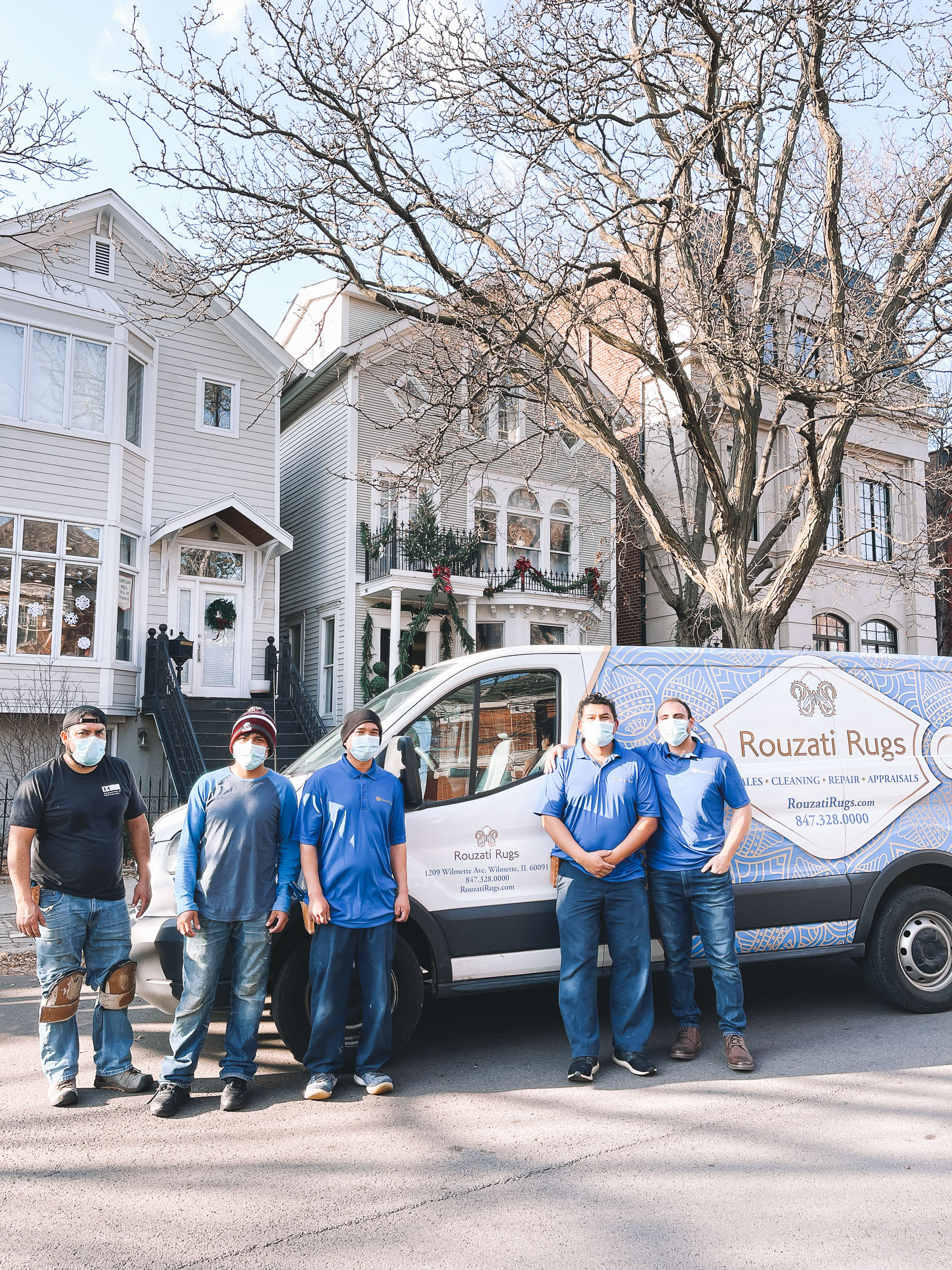 What we learned
Go with your gut—after you run it past the experts, of course. I've always been the kind of person who doesn't take on a project because the thought of committing to a design decision makes me nauseous. 😆 What if I end up hating it?! Over the last year and a half, though, I've learned that when when I go with my gut—and run that past professionals—I end up loving it. With this project, I was a little tempted to go bold and go with an antelope runner, kind of like the ones that you see here. In the end, though, my gut told me to go traditional… and Ali made a great point in saying that the sisal would work with nearly anything I did to the staircase/hallway area in the future. (Next year or the following year, I'd like to add picture frame wainscoting either all the way up or halfway up with wallpaper on the upper half.) This was such a good point!
Working with a company that you trust makes all the difference. Design doesn't have to be stressful. It can actually be enjoyable and educational if you find a company that does great work and is honest, trustworthy and professional.
Upcoming Q&A with Ali from Rouzati Rugs
Ali has graciously offered to do a little Q&A on the blog regarding stair runners, carpeting and area rugs. He's an open book, and would love to help address some questions that readers might have, even if they don't live in the Chicagoland area! If you have one, please leave it in the comment section below.
Thanks, guys!
Shop the post:
Console Cabinet Table / Target Lamp / Anthropologie Mirror (Also love this one, which we have in our dining room!) / Rouzati Rugs Runner / Framebridge Frames / Similar Chandelier Here and Here (Ours was installed by the previous owners so not sure where it's from!) / Custom Baby Gates from Home Safe Home Chicago / Navy Grasscloth Wallpaper (Also available at Lowe's) / Bench / Gray Pillow / Newer Heart Pillow / Sconces / Old Painting (Vintage but Caitlin Wilson carries a ton of awesome options!)
Thank you to Rouzati Rugs for providing the runner that is featured in this post! All opinions are our own. As always, thank you so, so much for supporting the partnerships that keep Kelly in the City up and running!
**Mention code "KELLYINTHECITY" to take 15 percent off any stair runner project.**