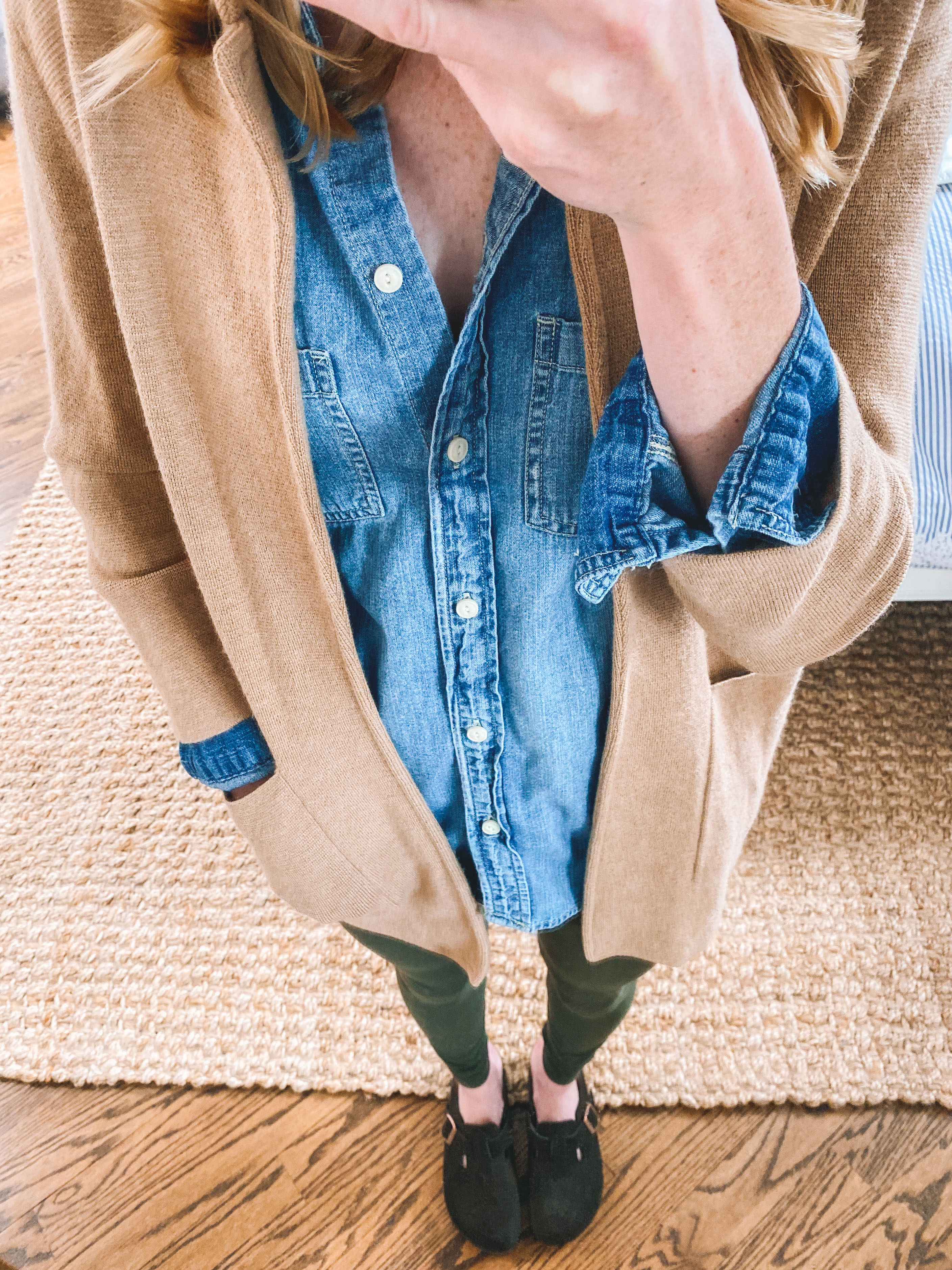 J.Crew Sophie Sweater Blazer: Special price today! / Chambray Shirt / Leggings / Clogs (Also via Backcountry and Zappos.) / Jute Rug / Westport Duvet Cover and Shams (On sale!)
Oh, hey there! I'm taking the day to build a LEGO Friends House with Emma. :) But here are 15 top-notch products to consider grabbing for a deal today:
J.Crew Vintage Cotton Terry Turtleneck in Solid and in Stripe: GUYS. This is probably my favorite top of the season. And both versions are included in the sale! The turtlenecks are lined with this wonderful Terry material which makes them oh-so-cozy. They run on the larger side so definitely don't size up, even if you like your tops looser. The best part? Take 50 percent off the sale price with code "SPRING."
Westport Duvet Cover and Shams: This bedding is a DREAM. It's in Lucy's room as well as in our room during the warmer months. It's ridiculously soft and luxurious-feeling, and I'm not sure I've ever seen it go on sale before. (I should note that we have this crisp white duvet—also on sale—on our bed during the winter, and it's amazing as well. Love all-white bedding in the winter!)
"Chicago Will See it Through" Pennant: This has brought us a ton of happiness this year. When our neighbors put it up in their window, I knew we had to have it! I see them all over the city, too. Use code "LOVENEW" to take 15 percent off. (Covers shipping!)
Always Pan: (Use code "MAGIC30" to take $30 off your purchase.) Read my full review here; this thing is worth every penny!
Aerie Offline Warmup Leggings: These are fantastic, and the price is even more fantastic. I'm wearing them as I type this, actually! They feature a brushed interior—almost fleece-like—and they're wonderfully warm and cozy. I have these Athleta fleece-lined leggings for outdoor walks in the dead of winter, and they're the best. But they're admittedly not the most flattering. The Aerie version, though, is the MOST flattering.
J.Crew Sophie Sweater Blazer: Special price today! This is undoubtedly my favorite blazer in my closet, no matter what the season. Huge fan. It runs big, so definitely size down. But I love that it gives you the blazer look with some added coziness. Because of how much I adore it, I've actually considered getting rid of my other blazers! I own the camel, gray, white and light pink, but I adore the newer Nantucket Red and "Steel" colors. Great additions! (Btw: Works very well for pregnancy, too!)
Amazon Kindle: If I'm not reading this time of year when we're getting daily snowstorms, when else am I reading?! Mitch and I gave up on owning physical books and went digital years ago because we moved almost yearly in NYC. At first, this really pained me. After all, I majored in English and journalism; was a newspaper reporter and magazine editor for a while; and taught English Language Arts for many years. 😆 But I have to say that I truly think that I read more with my Kindle. I feel less bogged down by all the unread titles that used to line my shelves, and we own fewer things, which has been good for the soul—especially during this era when we often feel like we're drowning in kids' stuff. Occasionally, like on vacation, I'll have a physical book with me… and I'll admit that it's nice. (I also buy all the kids' books in physical form, and I try to buy local as often as I can.) But I LOVE my Kindle. I love that I can download anything, anywhere and be reading within seconds… and I don't know. I like it! (Anyway, this is a great price.)
Vineyard Vines Kids' Masks: What a great sale price! And the little whale smile? Adorable. Now that Emma is back in school, I've realized that we need more than our five masks. (They're constantly in the wash!) So I bought two packs of these. They also make me think of warmer days ahead!
Little Flower Masks: Okay, these are our favorite masks. They aren't on sale right now, but they're basically on sale because they're such a steal to begin with. And I swear by them. They're the softest and most comfortable our family has tried, and they're my #1 pick as well as Emma's when we're heading out the door. If you hate your mask, try this one.
J.Crew Chateau Puffer Coat: (Take 50 percent off the sale price with code "SPRING.") This comes in and out of stock, but definitely stalk it if you're in the market. It's my absolute favorite puffer coat of all time, and I've tried quite a few over the years! Ridiculously warm and cozy. (Just as warm as a Canada Goose, in my opinion! It's nuts.) Runs big, though, so size down.
Sorel Joan of Arctic Boots: (Available at Backcountry, Sorel and Zappos.) Since we're on the topic of warm gear, these are my go-to winter boots when things get particularly frigid here in Chicago. They're the warmest boots I've ever owned, and I was shocked to see them so discounted right now! Definitely the time to grab them. In terms of sizing, I would recommend ordering your normal size or a half size up if you intend on wearing thicker socks with them. I wear a size 7.5 in flats, for example, and I own a size 8. They're perfect!
Amazon Echo Show: We use this on our kitchen island. It does a ton, but it's particularly awesome for entertaining the kids while we're making dinner. (Listen. Sometimes you just need a little help.) You can hook a camera up to it, too, so we can "drop in" on Emma while we're in the kitchen and she's playing in the basement… or we can drop in on Lucy while she's napping in her room. Fantastic for pulling up recipes, playing music and watching videos as well. Couldn't live without! (Also stays plugged in so kids can't wander off with it.)
Wayfair Dining Table: This is our dining room table and we adore it. We've had it for about 1.5 years now, and it's held up exceptionally well. I just love that natural pine color, and the round shape really makes for some great togetherness during family meals. (Not sure I would ever go back to a rectangular table!)
Factory Cozy Yarn Top: I featured this in my Extreme Cold Capsule Wardrobe post, but it's my preferred layering piece during the winter. It's cozy. And it helps retain heat. The only downside is that I want to wear it daily, and it's always in the laundry. Which, I suppose, just means I need another one. ;)
J.Crew Striped Fisherman Sweater and Relaxed-Fit Crewneck Sweater in Stripe: If you're interested in getting out of those leggings and into some jeans, these are some very cute and very preppy sweaters that would pair well with your denim this time of year. ;)