Since Mitch just published his "Men's Extreme Cold Capsule Wardrobe" post, I thought I'd do the same today for women! (As I type this, I'm realizing that I should probably do one for kids next. Any interest in that?!)
This was such a fun and easy post to put together. When I first arrived in Chicago, I was totally ill-equipped for the long, harsh winters that the city is known for. Over the years, though, I've created an extreme cold wardrobe that gets the job done and then some. (Through a whole lot of trial and error!) Today I was sweating at the playground, and temps were in the 20s and I have Raynaud's. So if you're tired of shivering, this post is for you!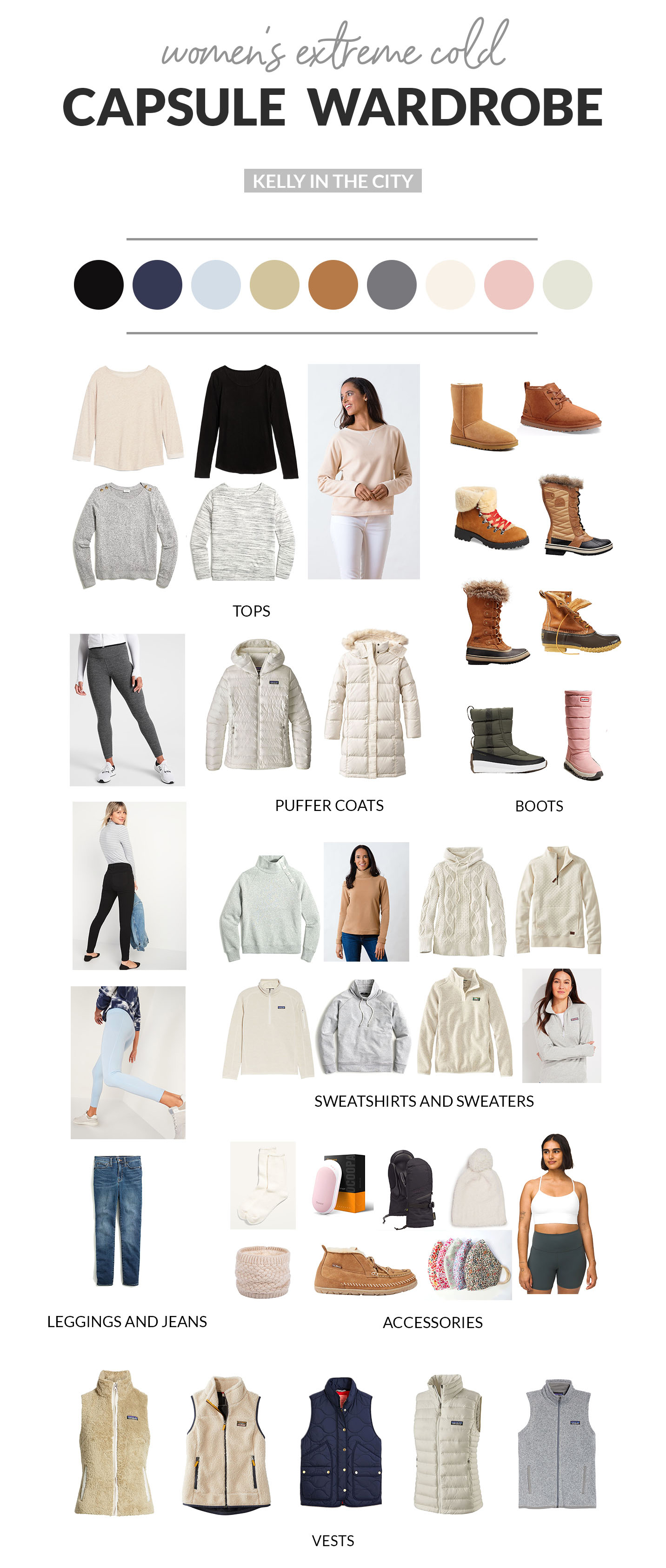 It goes without saying that this post is about building an extreme cold capsule wardrobe that works for you. There are several options under each category, but that is only to accommodate for personal preferences, lifestyles and locations. Everyone's needs are different—and that's why there are, for example, over 10 options for boots. :)
As you know, I live in Chicago, where the winters are intense. I work from home even when there isn't a global pandemic, and I have two small children. Getting fresh air and sunshine is of the utmost importance to me (even when it's frigid), and thus I take a ton of long morning stroller walks and afternoon trips to the playground. So here's what I would say that I truly need to get through and enjoy one of my Chicago winters:
Women's Extreme Cold Capsule Wardrobe Essentials
3-5 cozy tops for layering
2 sweatshirts or sweaters
1 vest
1 puffer coat
2 pairs of warm leggings
1 pair of cozy slip-on boots
1 pair of waterproof snow boots
All the accessories (Okay 🤪, but listen. They're all so important. 😆)

Cozy Tops
J.Crew Factory Cozy Top: I adore J.Crew Factory's Cozy line in general. I reach for my pieces all the time, especially this year. The Cozy Tops are without a doubt my most-worn tops for my winter walks and various family activities and adventures. While they aren't bulky, they add a considerable amount of warmth!
J.Crew Factory Soft Slub Top: The softer the better, in my opinion. Don't have this one, but it looks perfect!
Dudley Stephens Sweatshirt: By now, you likely know what a huge fan I am of Dudley Stephens. The sweatshirt came out last year, and I'm in love! I wear it as a top since it's on the thinner side. It's great for layering.
Old Navy Plush Top: A very affordable option! Love that this one could be dressed up, too. Multifunctional. :)
Gibson Cozy Tops: I forgot to include this collection in the visual, but it's definitely worth noting. Gibson is well known for its cozy pieces, and everything is extremely soft to the touch. Similar to the Old Navy Plush Top, many products can be dressed up as well—such as the famous Twist Top! Gibson frequently goes on sale, too.

Sweatshirts and Sweaters
Patagonia Better Sweater Quarter Zip Pullover (At Nordstrom and Backcountry): This is probably my most-worn pullover; it's a cross between a sweatshirt and a sweater. I've had mine for years, and it still looks brand new! The one thing I'll say is that I think Patagonia generally runs small. I always go up one size in all products, and this never fails me. Huge fan, though. Looks really cute with jeans, too!
L.L.Bean Quarter-Zip Sweater Pullover: This very similar to the Patagonia Quarter-Zip, though I find it to be a little softer and cozier. I also love that I don't see it everywhere, like I do with the Patagonia Quarter-Zip. A silly thing, haha, but it's nice to look a little different than everyone else come month five of winter. ;)
L.L.Bean Quilted Quarter-Zip Pullover: Here's the quilted version! It's not sweatery; way more sweatshirt-like.
L.L.Bean Fisherman Sweater: These are great! A little less sporty, a little more preppy. A classic that's great for outdoor activity but also cute for everyday life. I have the Fisherman Tunic Sweater which looks nice with leggings or jeans. :)
Dudley Stephens Park Slope Turtleneck and Double-Roll Park Slope Turtleneck: Couldn't live without these Dudley Stephens turtlenecks. There are a bunch of styles, so be sure to take a look at all the options. The Cobble Hill, for example, features a much longer cut and therefore covers your butt and pairs well with leggings.
Vineyard Vines Dreamcloth Shep Shirt: Vineyard Vines Shep Shirts are adorable, and the new(wish) Dreamcloth material can't be beat! It really allows you to move, and it falls very nicely. It also doesn't attract lint like traditional sweatshirts do.
J.Crew Factory Button-Collar Funnel Neck Sweatshirt: The girls have these in dress form, and they're SO SOFT. I can't recommend this sweatshirt enough. The lining features this amazing fleece-like material that makes you feel like a cloud is hugging you. It's a must!
J.Crew Cloud Fleece Funnel Neck Sweatshirt: I haven't tried J.Crew's Cloud Fleece line yet, but it's getting rave reviews for softness and coziness.

Vests
Patagonia Los Gatos Vest (At Nordstrom and Backcountry): This is probably my favorite vest. It's not structured, so it's ideal for layering over tops and under puffer coats, and I throw it on often when I'm chilly in the house, too. Again, size up, as Patagonia tends to run small.
Patagonia Puffer Vest (At Backcountry—Nano and Down Version, and Nordstrom—Nano and Down Version): I don't have this one, but I adore its puffer coat sister, and would imagine that it's extremely warm. If you're a complete wimp like I am, this enables you to basically wear two puffers at once, haha, without getting raised eyebrows in response. ;) Anyway, it's extremely lightweight and very movable, yet provides a tremendous amount of warmth.
L.L.Bean Mountain Pile Vest: This one isn't as soft as the Los Gatos vest, but it's a more structured option, and one that'll be in your closet for a long haul. (I feel like I never get rid of L.L.Bean stuff because it's all so classic!) The Mountain Pile Vest has awesome pockets, and the sherpa material is very, very warm. It sells out very quickly every winter, though, so if you see your size, jump on it. Love the navy, too!
Patagonia Better Sweater Vest (At Nordstrom and Backcountry): The Quarter-Zip without arms. ;)
J.Crew Excursion Vest: Mine is many years old, but still a favorite. This one is less outdoorsy-looking, though it works for outdoor activity, too. The gold detailing really adds something to winter outfits when I'm feeling drab!

Puffer Coats
J.Crew Chateau Puffer Coat: FIND OF THE YEAR. Guys, I swear to goodness that this guy is just as warm as a Canada Goose, yet it's lightweight and more sharp-looking with the gold detailing. It's a beautiful coat, and I just can't get over how warm it keeps me. Undoubtedly my favorite puffer I've ever owned! That said, it runs very big. Go down at least one full size. I am probably a true XS in J.Crew, but needed to go down to the XXS in this, which is something I'd never do. Huge fan, though. Read my full review here!
L.L.Bean Ultra Warm Puffer Coat: I don't own this but I have friends who swear by it, and it's on my wish list. (In white. So pretty!) I love the longer length—my one complaint with the J.Crew puffer—and the fact that it's one of L.L.Bean's warmest coats. (Recommended for wear in 10 degrees with light activity, and -40 with moderate activity.)
Patagonia Down Puffer Jacket: I wore this jacket for over an hour on a giant sheet of ice, and never once got cold. I was SHOCKED. The thing is ridiculously lightweight and can be punched into a tiny little bag for travel. Emma and Lucy also have the girls' version, and Mitch has the men's version. No one ever complains about the cold when wearing them! Size up, especially if you intend on wearing a sweatshirt underneath.

Warm Leggings and Jeans
Athleta Altitude Leggings or Rainier Leggings: I'm in awe of Athleta's Altitude Leggings. I wouldn't say that they're the most flattering; they're not unflattering per se but they're certainly not compression leggings. They're the thickest and warmest leggings I've ever owned, though, and I wear them every single morning on my walks with Lucy around Chicago. They've changed my life! I would say that they run a little small. I sized up. Pro tip: When you get them, snip the little drawstring. It makes the pants even comfier, and doesn't prevent them from falling down! The other option here is the Rainier Leggings, which aren't as thick but very warm and flattering. Great reviews!
Old Navy CozeCore Leggings in Solid and Herringbone: I own these and really like them! They're perfect for milder winter days, and they come in a bunch of cute colors. They feature a wide waistband that pulls you in, too. And you really can't beat the price!
J.Crew Factory Cozy Jeans: My #1 pick for winter jeans. They're almost a knit material, and they prevent that stiff freezing jeans feeling we all know so well. They look just like jeans but feel more like leggings! TTS.
Old Navy Warm Jeans: I bought these this year and I'm impressed. The inside features a soft brushed material, and they come in lots of different washes. I found that they run a bit large; I went down one size.

Boots
Classic Uggs (Ultra Mini, Mini, Short, Tall): I reverted to my Ugg-loving self last year, and I'm never looking back. (Well, technically that's exactly what I did, but whatever, haha.) They're just ultimate coziness, and they've helped me not hate Chicago winters. My feet have personally never felt cold while wearing Uggs, and that's crazy, considering I have a circulation disorder! I've also really come to love the way they look. Flashbacks to college when girls paired Abercrombie skirts with them (bare-legged, of course) in the dead of winter? Yes, of course. But I don't care. I love them.
Lace-Up Neumel Uggs: These are awesome! They're just like the classics but they look more like shoes. Fewer flashbacks, for sure. ;) I have them in the camel color and love them. Mitch has them, too.
Sorel Tofino II (At Backcountry, Bloomingdales, Sorel and Zappos): These are awesome waterproof winter boots. They're far lighter than the Sorel Joan of Arctic, yet get the job done. My feet do get a little chilly if I'm traipsing through snow for a long time, but if I'm just walking on ice—like I did here—they stay very toasty. Which is nuts! This is one of Sorel's best kept secrets for sure.
Sorel Joan of Arctic (At Backcountry, Sorel and Zappos): This is Sorel's warmest boot. It's heavier than the Tofino for sure, but it's what I wear for true snow activity. It's really the only snow boot I've ever tried that has kept my feet warm and dry in sub-zero temps. My dad used to wear Sorel boots when he was up in Alaska in the Air Force, and even he swears by them! These boots will make you love snow. :)
Sorel Puffy Boots (At Backcountry, Nordstrom, Bloomingdales, Sorel and Zappos): Awesome slip-on boots, especially wonderful for moms who need to be hands-free. I almost always have them at the door, and wear them when I know I'm going to be jumping in and out of the car, running errands, going on a quick Noodle walk, etc. I'm very impressed by their warmth. My only criticism is that they are on the shorter side, so they're not ideal for more than six inches of snow. For that, I really rely on my Joan of Arctics! (Though check out these. They look great!)
Hunter Insulated Snow Boots (At Free People, Zappos and Hunter): My friend Bradley swears by these, and while I don't own them, I feel like they could be the solution to the above problem! She says that they're easy to get on–ideal for moms—and they're tall enough that snow doesn't fall in.
L.L.Bean Shearling-Lined Bean Boots: L.L.Bean's warmest Bean Boot, in my opinion… and certainly the coziest! Since buying these, I totally stopped wearing my other pair because these are just so wonderfully soft and toasty. Love that this pair gets you the classic Bean Boot look but provides extreme warmth, too!
J.Crew Nordic Boots: These are almost sold out, but don't worry: J.Crew brings them back every year. Their magic is that they're buttery soft and don't require any break-in time whatsoever. They're slippers in boot form. The one thing I'll say is that I wouldn't wear them in wet snow, as they aren't waterproof. But WOW. A great (perhaps more stylish) alternative to Uggs. They also come with a pair of tan shoelaces!

Accessories
Amazon Rechargeable Hand Warmers: These are a MUST. Another product that changed my life and made me not hate Chicago winters. I tried rechargeable mittens, but they honestly didn't get hot enough. The hand warmers, though? So hot! I have to use them on their lowest setting. It takes a little while to get used to having them in your mittens, but once you do, you won't want to leave home without them. I recharge them every night and they last for about two hours of use, which totally covers my walking time with Lucy!
Amazon Snood Scarf: These work for both adults and kids. I love them. They're amazingly affordable and they don't fall off. The inside is so soft, too! We get questions about them constantly.
Barefoot Dreams Hat: The only hats that don't make my head itch. If you have sensitive skin, this will change everything for you!
Gore-Tex Mittens: I gave up on cute gloves a few years ago, and broke out my snowboarding mittens. Never going back. I'm so much happier!
L.L.Bean Wicked Good Lodge Chukkas: L.L.Bean sent me these this year and I've fallen deeply in love. I've long been a fan of their Wicked Good slippers, and have had a pair for as long as I remember. But these are a cross between slippers and shoes, and you could totally wear them outside if need be! (I don't, because I like using them as house shoes, but they're so robust!) They also keep my ankles warm, which other slippers do not.
Lululemon Nulu Bra: This really matters for outdoor activity, I've found. There's just nothing worse than cold boobs, haha. This Nulu line is soft and cozy, and as a result, I shiver less. I wear mine every time I take Lucy on a walk. It's that good!
Little Flower Masks: Just my favorite masks… but since we really shouldn't be leaving home without masks right now, thought I'd include! They also help keep my face warm.
Old Navy Chenille Socks: Cozy socks are a must, and these are affordable and make you feel like your feet are being hugged by clouds. A+!
Any products you swear by that I missed?! Let us know in the comments below!