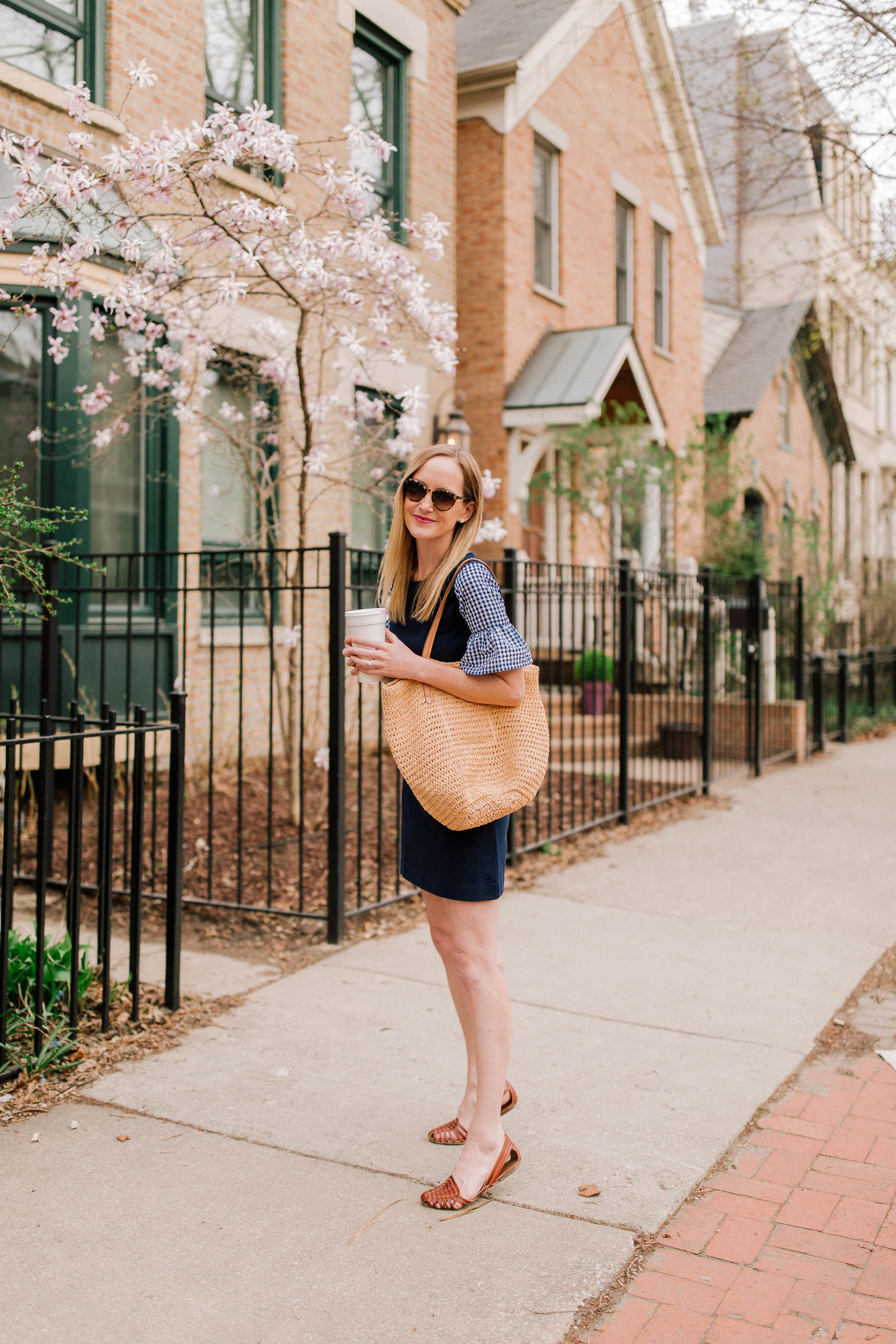 Ruffled Gingham Sleeve Dress (On sale! Use code "SPRINGTIME" to get it down to $35.99; ships free today, too!) / Newer Version of my Tote (Though this one is my absolute fave! Also love this one, this one and this one.) / Huarache Sandals (SO comfy!)
So much on my mind today:
Aaaaand we're back with regularly scheduled outfits! I'm SO happy about it. Running the fashion side of the blog has been a struggle over these past few months. I don't know what's changed; maybe it's that I'm getting older or that I'm a tired mom or something. (Anyone else freezing when tired?!) Whatever the case, I just can't bring myself to stand out in the bitter cold to photograph my outfits. I seriously get so upset, and I've decided that it's just not worth it, haha. But I MISS IT. Like, a lot. Why can't it be 80 degrees every day?! Clearly I'm a Southerner trapped in a Northerner's body. 😂 Regardless, it looks like spring has finally arrived in Chicago, and I can't wait to continue with the outfits! Creating new looks feels enjoyable again, and while I'm a little rusty, I loved snapping these pics yesterday.
I wore it last night to dinner. It was a super casual dinner; we just went to Devil Dawg's, which is a Chicago hot dog place in our neighborhood. But it was so lovely to sit outside in a dress. It runs totally TTS, btw, and if you order today and use code "SPRINGTIME," you can get it for $35.99. (It ships free, too!) Aren't the gingham sleeves the cutest? (More info on sizing: I'm wearing the XS here. It definitely works, but I think going up one size would have been more my style! So if you like dresses more on the fitted side, order your regular size. If you prefer extra room, go one size up.)
We're considering changing Noodle's name.
I'm just kidding. But Emma calls her "Beale" 100 percent of the time, and it cracks us up. No idea where it came from, but Mitch and I have started calling her Beale as well. Reminds me of our trip to Memphis!
I took a mental health day yesterday and it was great.
I needed it for so many reasons, and it was the correct decision. :) Yesterday's weather was perfect, and Mitch and I had the best time playing with Emma at one of Lincoln Park's best playgrounds.
Ice cream with Kira and Tom was a highlight.
Because of busy travel and work schedules, we somehow hadn't seen some of our best friends in over a month. I have to be honest: it was making me so sad. Like, unbelievably sad. Even though I knew nothing had changed on the friendship front! But Mitch and I texted Kira and Tom on a whim on our way to get ice cream, and lo! They were free, we were free, and it was like no time had passed at all. Grateful.
I'm amazed by people's kindness.
Mitch, Emma and I bumped into three different readers while roaming Lincoln Park yesterday, and they made my heart happy. They didn't know it, but their kindness and hugs completely turned my day around, and it was yet another reminder that I'm so lucky to have this incredibly supportive little community on the internet. Wish I could invite you all over to my house to climb those mountains together… ;) Thank you for being wonderful and generally awesome all the time. You guys rock.
I'd been holding off for TWO YEARS because I knew a gingham case would come along, hahaha. And then it did. I'm a psychopath. ;) Side note: here's the matching phone case.
I decided on this desk for my home office.
I actually desperately wanted this one from Pottery Barn, but the space is just too small and I think it would look weird. Maybe one day! For now, though, I'm pumped about my bizarre choice. I think it'll look quirky and interesting and different, and if I hate it, I can always return… right? ;)
We're going to the beach today because it's going to be in the 80s. 
Stay tuned for all the cute pics of Emma in her new bathing suit!
Shop the post:
Ruffled Gingham Sleeve Dress (On sale! Use code "SPRINGTIME" to get it down to $35.99; ships free today, too!) / Newer Version of my Tote (Though this one is my absolute fave! Also love this one, this one and this one.) / Huarache Sandals (SO comfy!)