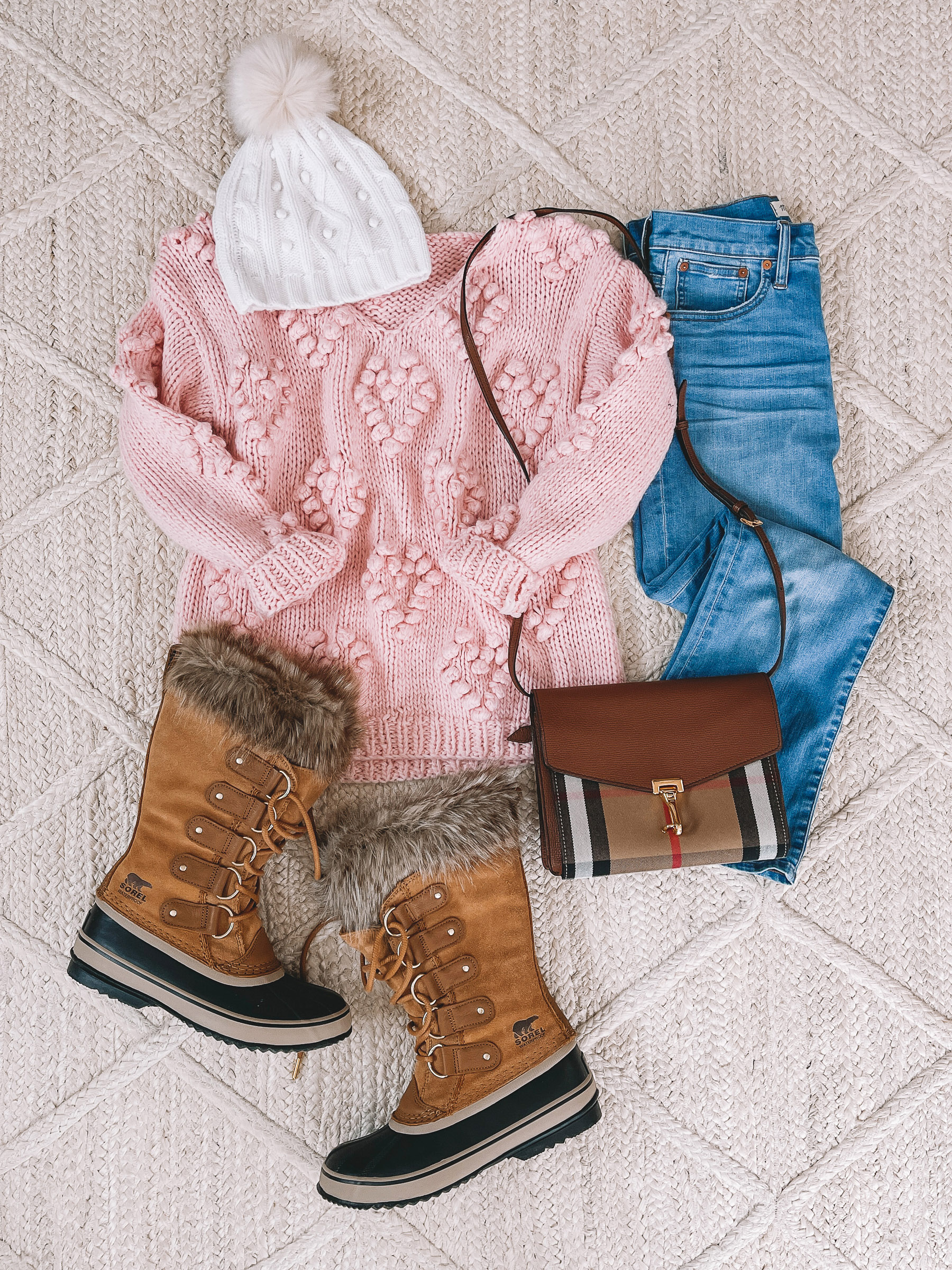 "Knit Your Love" Hearts Pom Pullover in Pink, Pullover in Camel, Pullover in White, Pullover in Lavender, Cardigan in Cream, Cardigan in Pink, Cardigan in Green, Cardigan in Burgundy, Cardigan in Lavender, Turtleneck in White / Kids' "Knit Your Love" Cardigan in Pink and Cream / Sorel Joan of Arctic Boots, available at Backcountry, Sorel and Zappos / Similar Burberry Bag Here and Here / Madewell Cali Demi-Boot Jeans: Love this pair, this pair and this pair / Rug / Vineyard Vines Pom Beanie

Happy Valentine's Day! Sharing 10 preppy outfits today. Which would you want to wear?!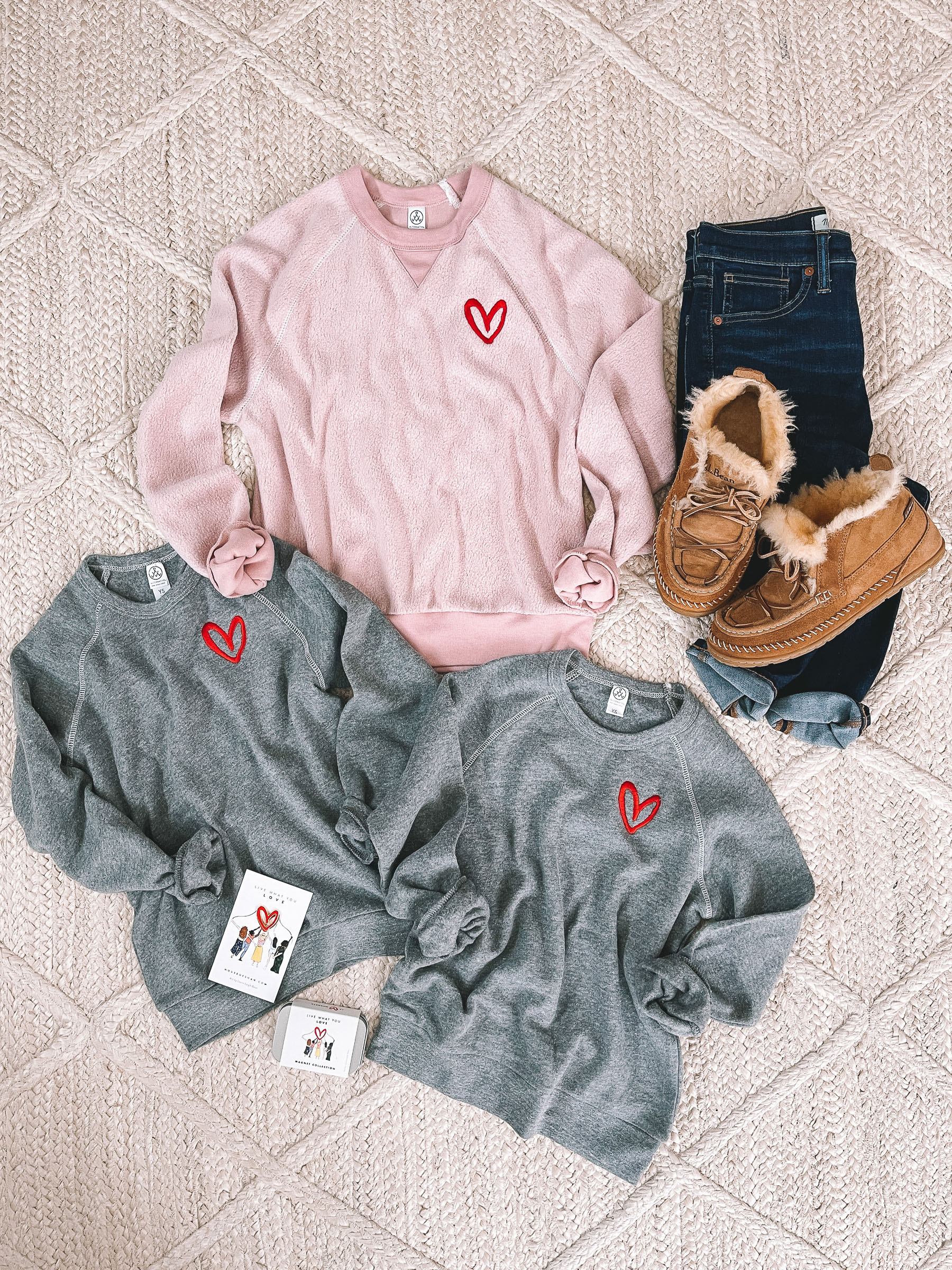 House of Shan Sweatshirt / House of Shan Kids' Sweatshirts / L.L.Bean Chukka Slippers / Madewell Skinny Jeans (Also love this EXTRA comfy pair, this pair and this pair.) / Rug

My new friend Shannon owns and runs the Chicago-based brand House of Shan. She created it because she loves connecting with other women—whether it's "sharing a laugh; opening up about loss or struggles with motherhood; or encouraging others to live what they love." She believes that women thrive when they come together to support and inspire each other, and who can't get behind that?! Currently, $5 from every purchase is going to the Children's Heart Foundation, which is amazing. ♥️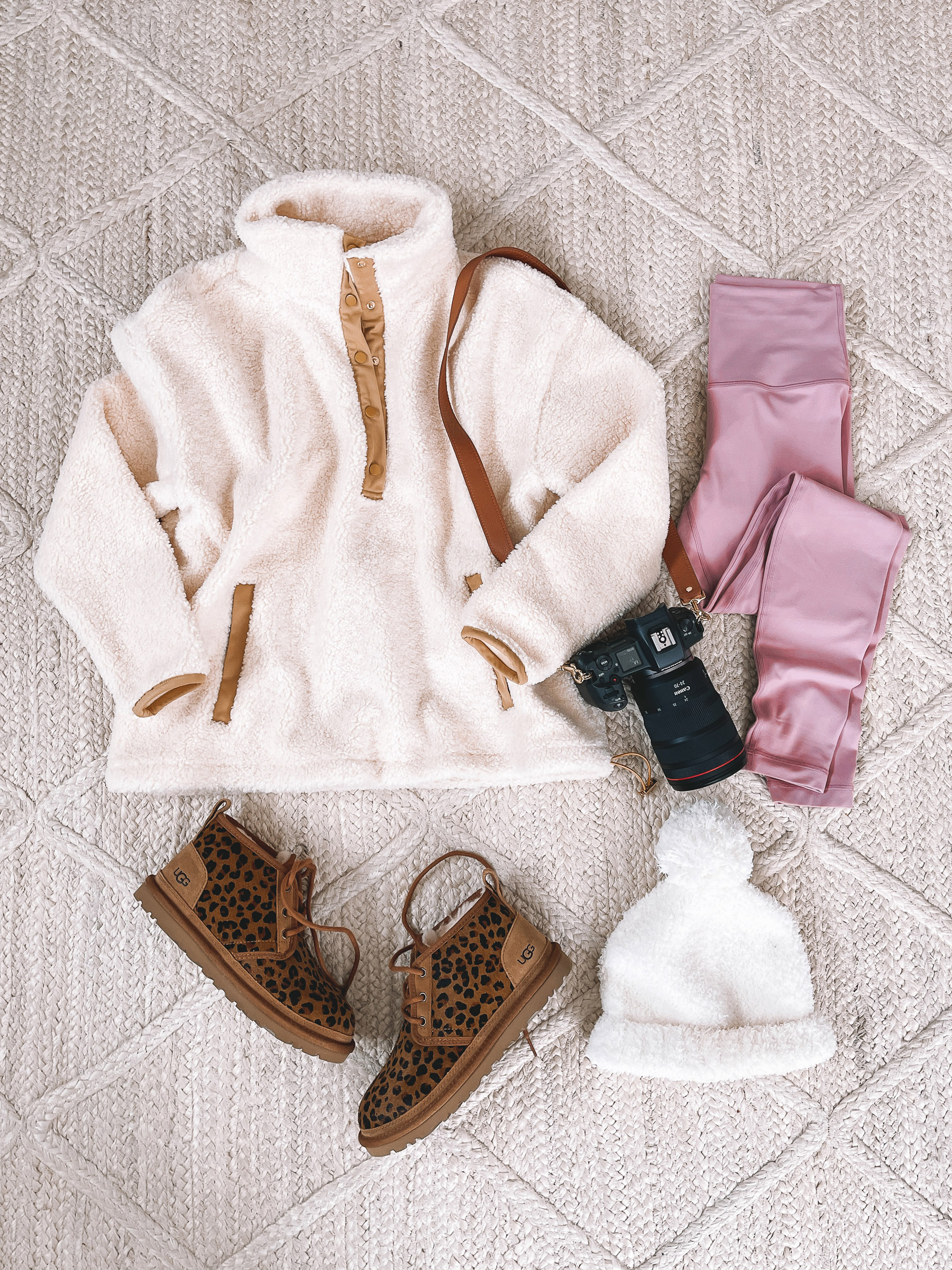 One/Third Fleece / Ugg Neumel Boots (Also available via Ugg.com and Zappos. Leopard Neumel Boots available at Anthropologie.) / Lululemon Align Leggings (Try "Violet" here.) / Barefoot Dreams Hat (Beanie here.) / Rug / Camera + Zoom Lens + Everyday Lens + Newer Leather Strap

My friend Anna is the cofounder of One/Third, and I'm in love with their fleece jacket, which is currently on major sale! Another Chicago-based women-owned company, One/Third is known for jackets under $200 and small drops to prevent waste in the fashion industry. Go Anna!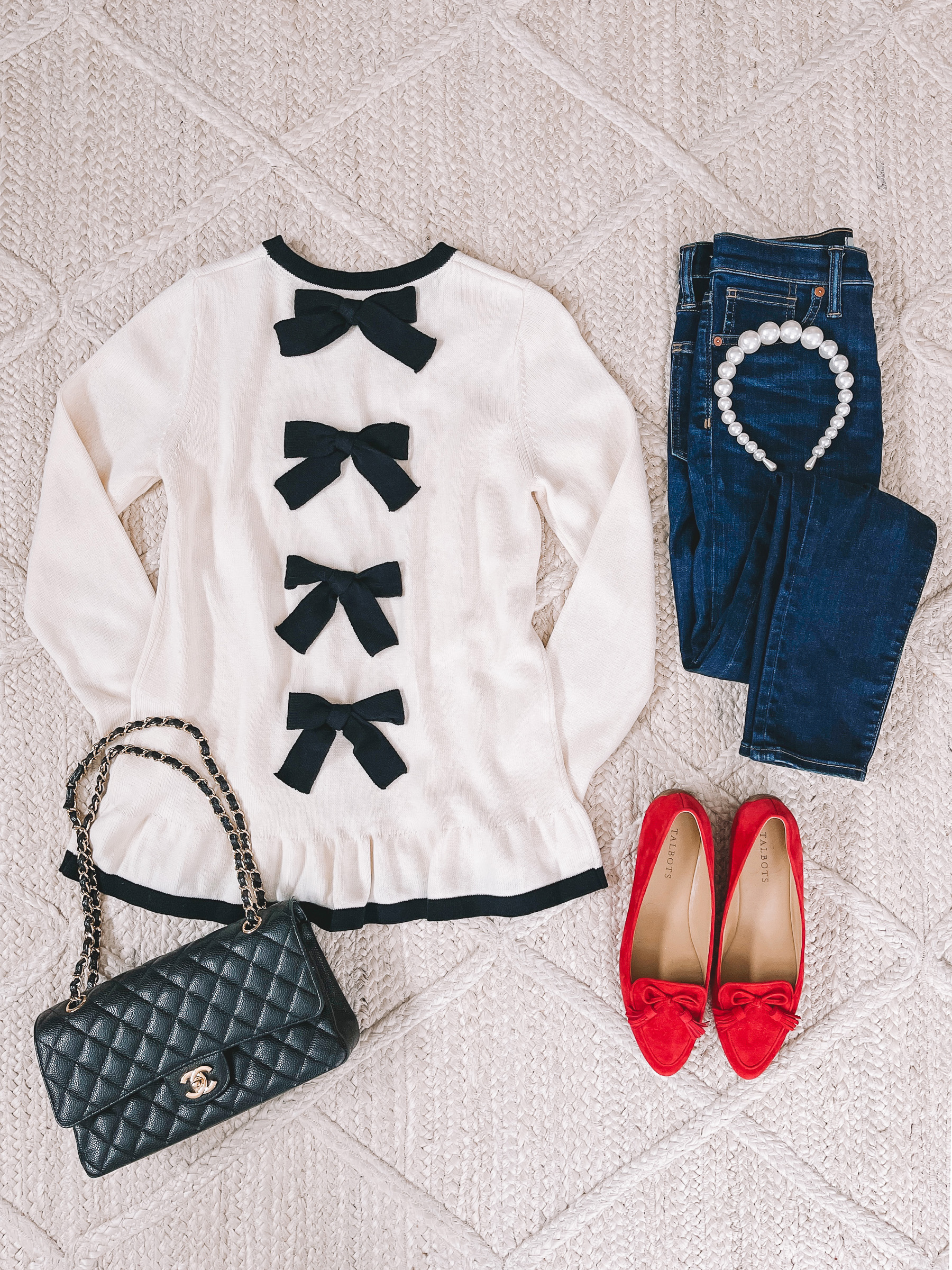 Sail to Sable x Jenn Lake Bow Sweater (Shop Jenn's full collection here!) / Newer Bow Flats (And try J.Crew's insanely comfy new red ballet flats!) / Similar Quilted Bags (How to buy pre-loved Chanel Bags on eBay here.) / Madewell Skinny Jeans (Also love this EXTRA comfy pair, this pair and this pair.) / Rug / Pearl Headband

One last phenomenal friend to talk about here: Jenn Lake and her collaboration with Sail to Sable! The adorable bow sweater is unfortunately sold out in most sizes right now, but I'm linking to her other styles here. Everything is gorgeous, and you know I've been a Sail to Sable fan for the longest time!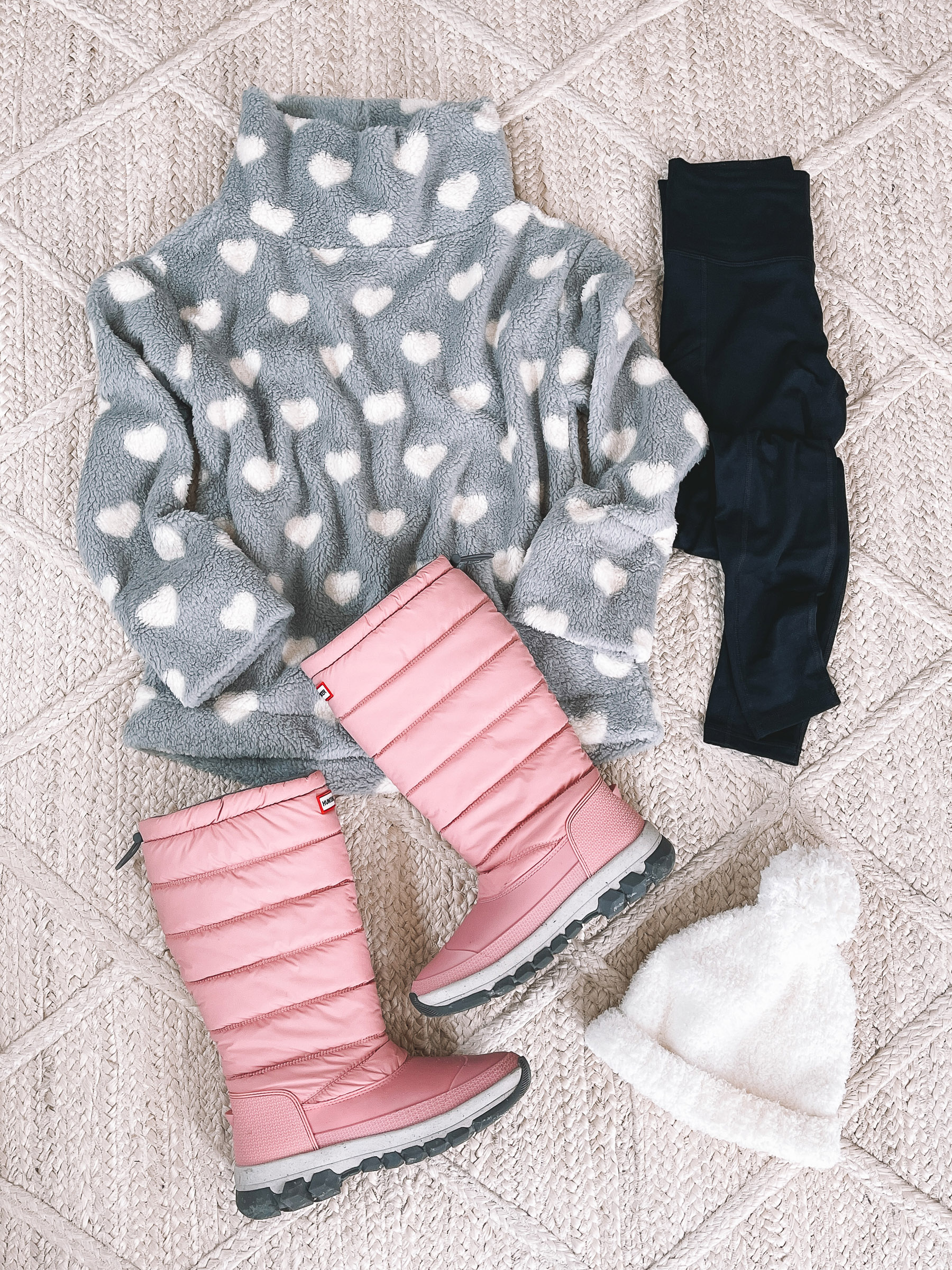 Hunter Insulated Boots: Available at Free People, Hunter (Tall/Short/Ankle) and Zappos (Tall/Short/Ankle) / LOFT Heart Sweaters: Gray Hearts Turtleneck (Featured Above), Pink Hearts, Red Hearts and Stripes / Rug / Vineyard Vines Pom Beanie / Aerie Warm-Up Legging (I own the black pair. Lined with FLEECE!)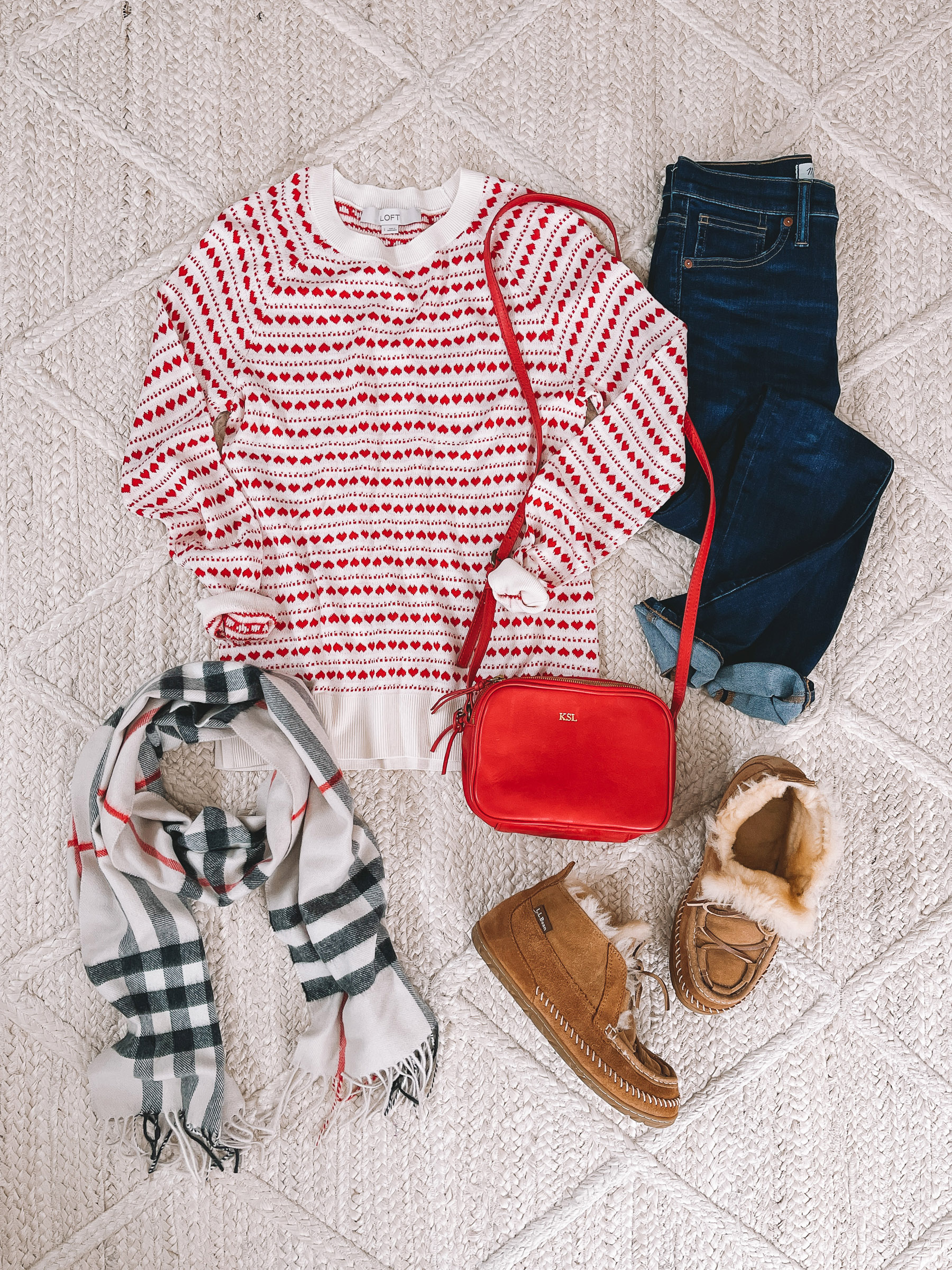 LOFT Heart Sweaters: Red Hearts and Stripes (Featured Above), Gray Hearts Turtleneck, Pink Hearts / Mark & Graham Crossbody / L.L.Bean Chukka Slippers / Burberry Scarf / Madewell Skinny Jeans (Also love this EXTRA comfy pair, this pair and this pair.) / Rug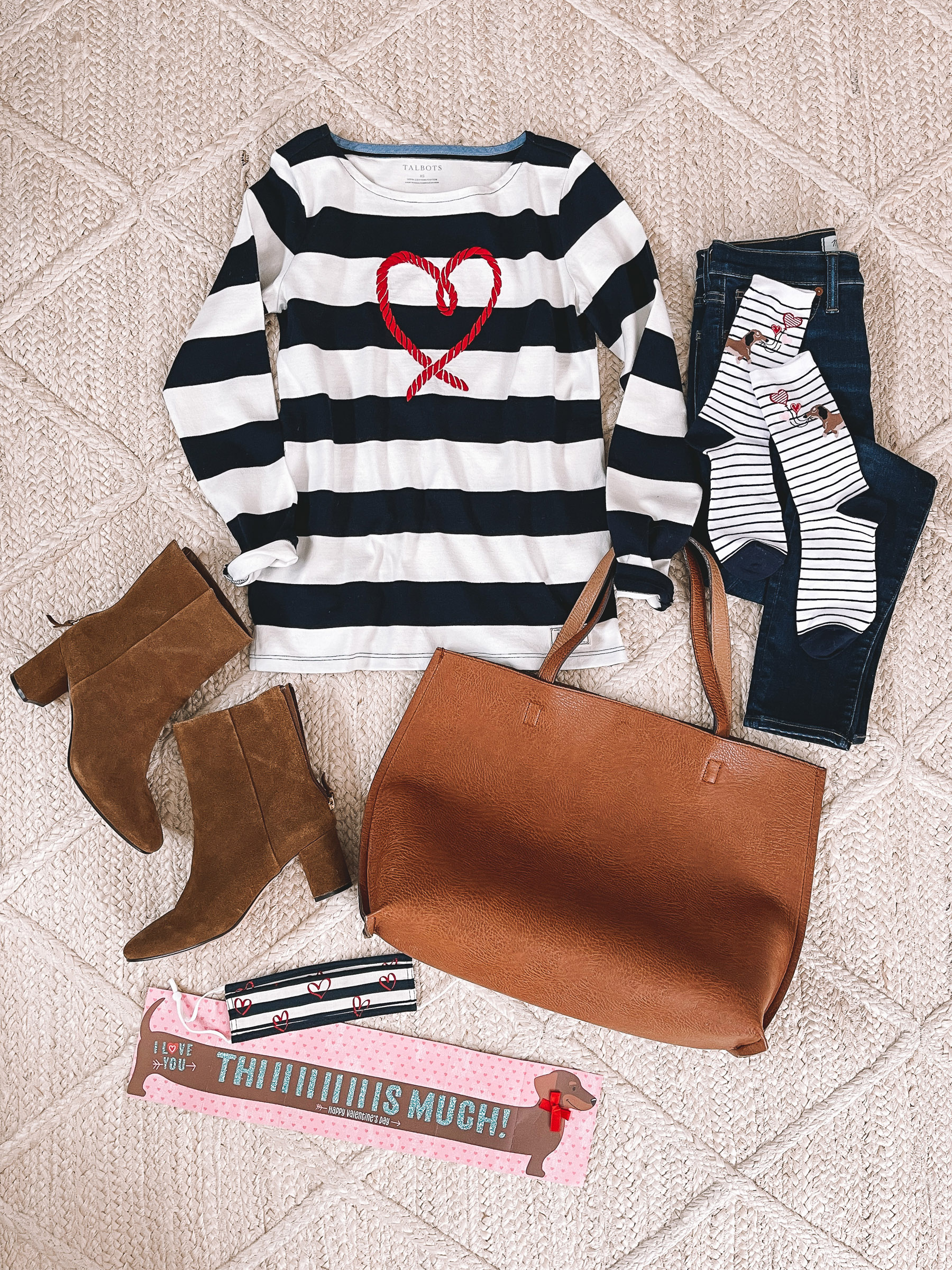 Talbots Heart Top / Noodle Socks / Hearts Mask / Suede Boots (Also love Madewell's version, as well as the Blondo version.) / Faux Leather Tote (The BEST! I have this one but there are so many options. So soft and affordable, and mine's lasted years.) /  Madewell Skinny Jeans (Also love this EXTRA comfy pair, this pair and this pair.) / Rug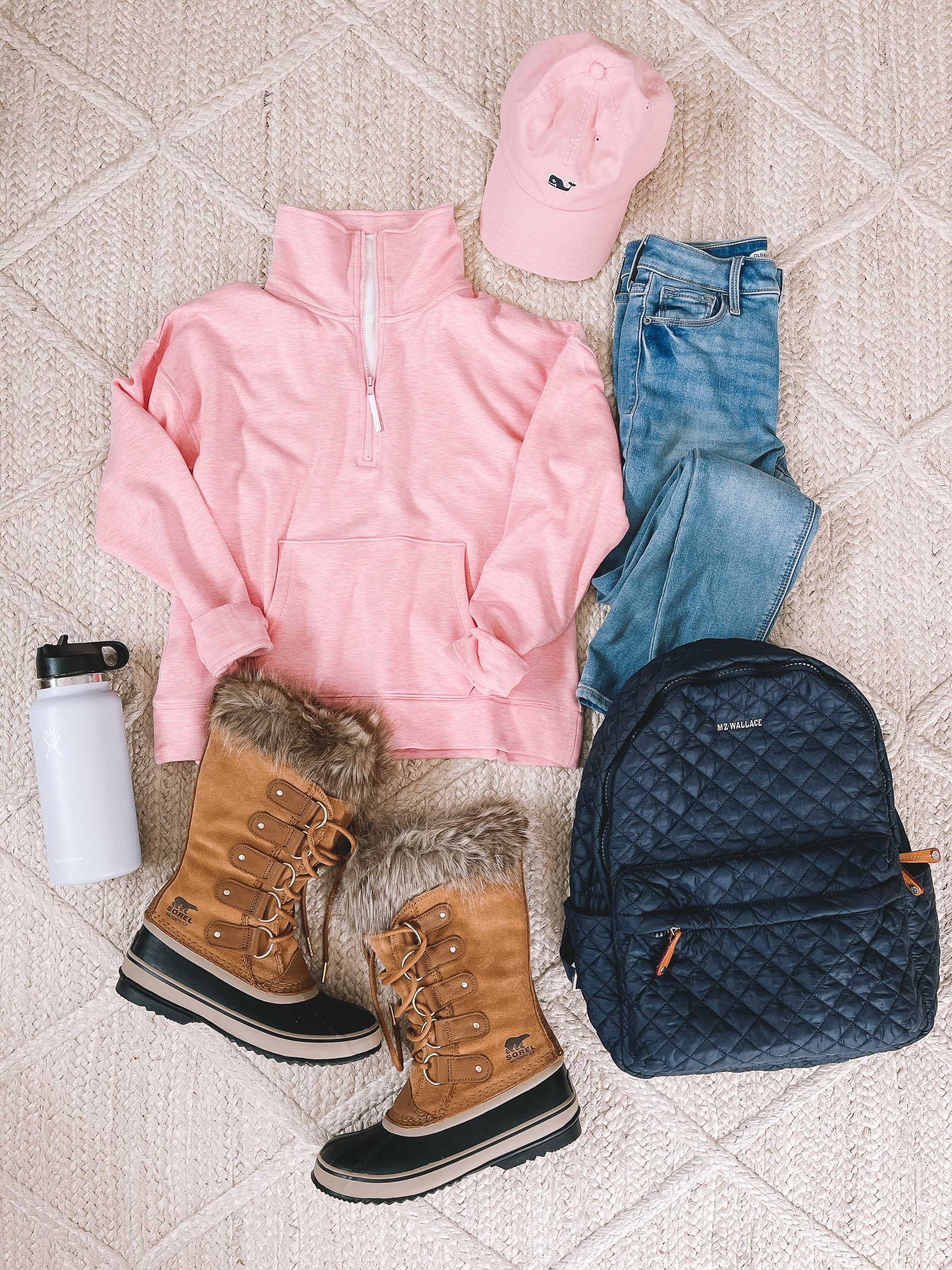 Vineyard Vines Dreamcloth Sweatshirt (Also love this one, this one and this one.) / Vineyard Vines Hat / Sorel Joan of Arctic Boots, available at Backcountry, Sorel and Zappos / Old Navy Warm Jeans / MZ Wallace Backpack (At Nordstrom here. Top handle version here. Available in navy in the smaller size.) / Rug / Vineyard Vines Pom Beanie / Water Bottle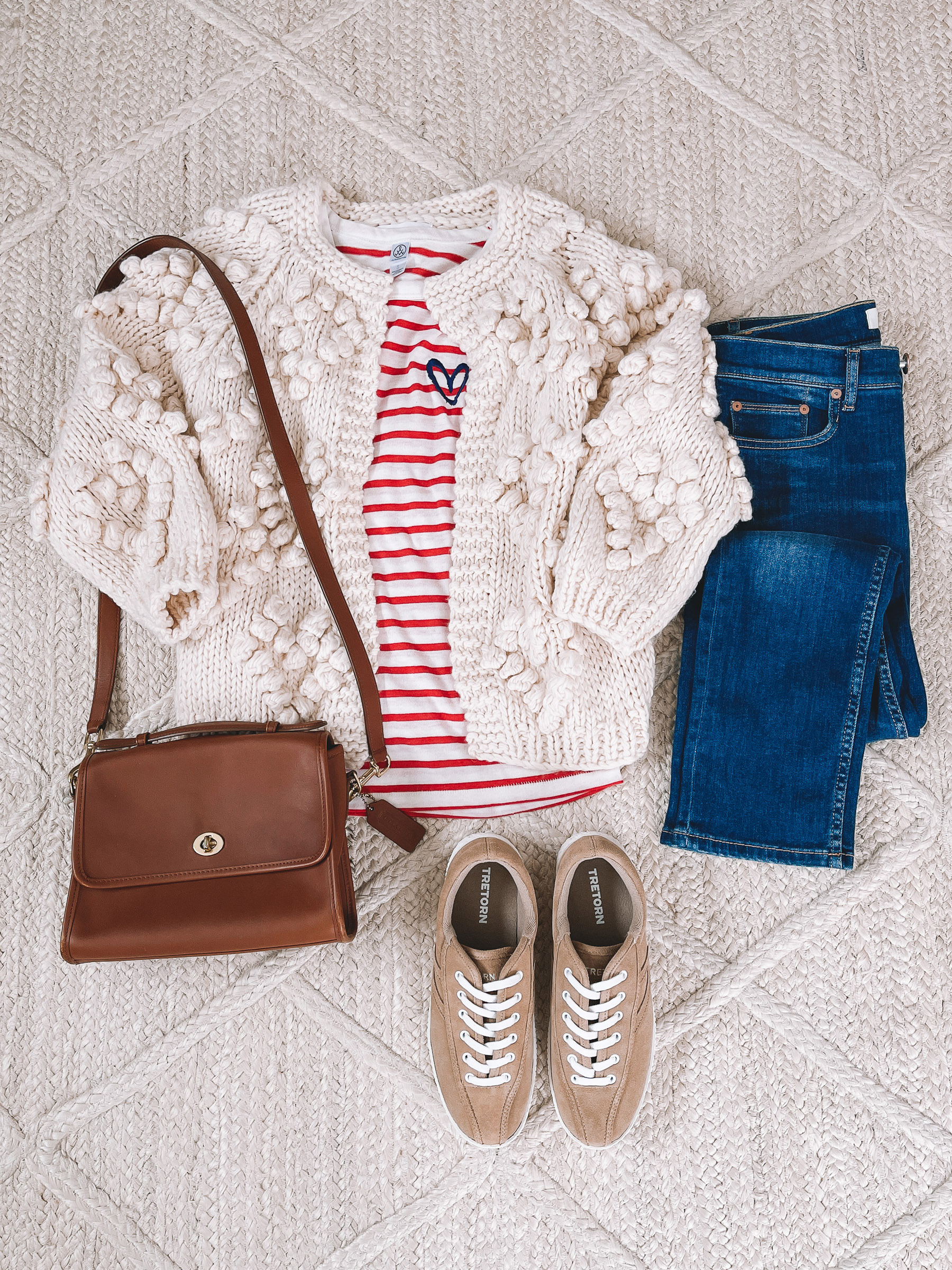 House of Shan Striped T-Shirt / "Knit Your Love" Hearts Pom Cardigan in Pink, Cardigan in Cream, Cardigan in Green, Cardigan in Burgundy, Cardigan in Lavender, Pullover in Pink, Pullover in Camel, Pullover in White, Pullover in Lavender, Turtleneck in White / Kids' "Knit Your Love" Cardigan in Pink and Cream / Madewell Cali Demi-Boot Jeans: Love this pair, this pair and this pair / Coach Backpack Version and Super Similar Large Coach Willis Bag and Small Coach Willis Bag / Tretorn Sneakers in Suede (On sale!) / Rug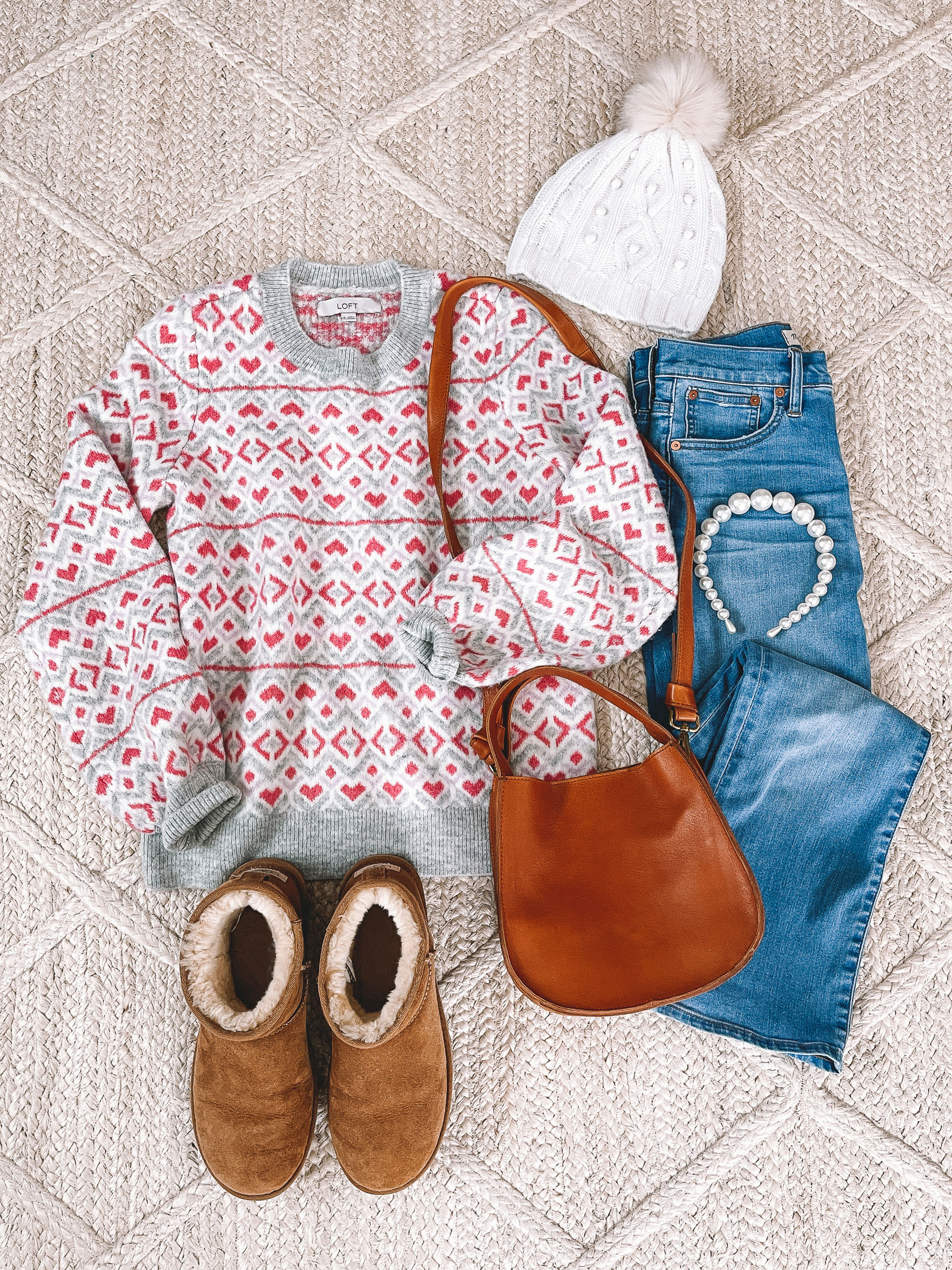 LOFT Heart Sweaters: Pink Hearts (Featured Above), Red Hearts and Stripes, and Gray Hearts Turtleneck / Classic Mini Uggs, Short Uggs (Also available via Zappos: Mini/Short / Madewell Sydney Crossbody Bag / Madewell Cali Demi-Boot Jeans: Love this pair, this pair and this pair / Rug / Vineyard Vines Pom Beanie / Pearl Headband