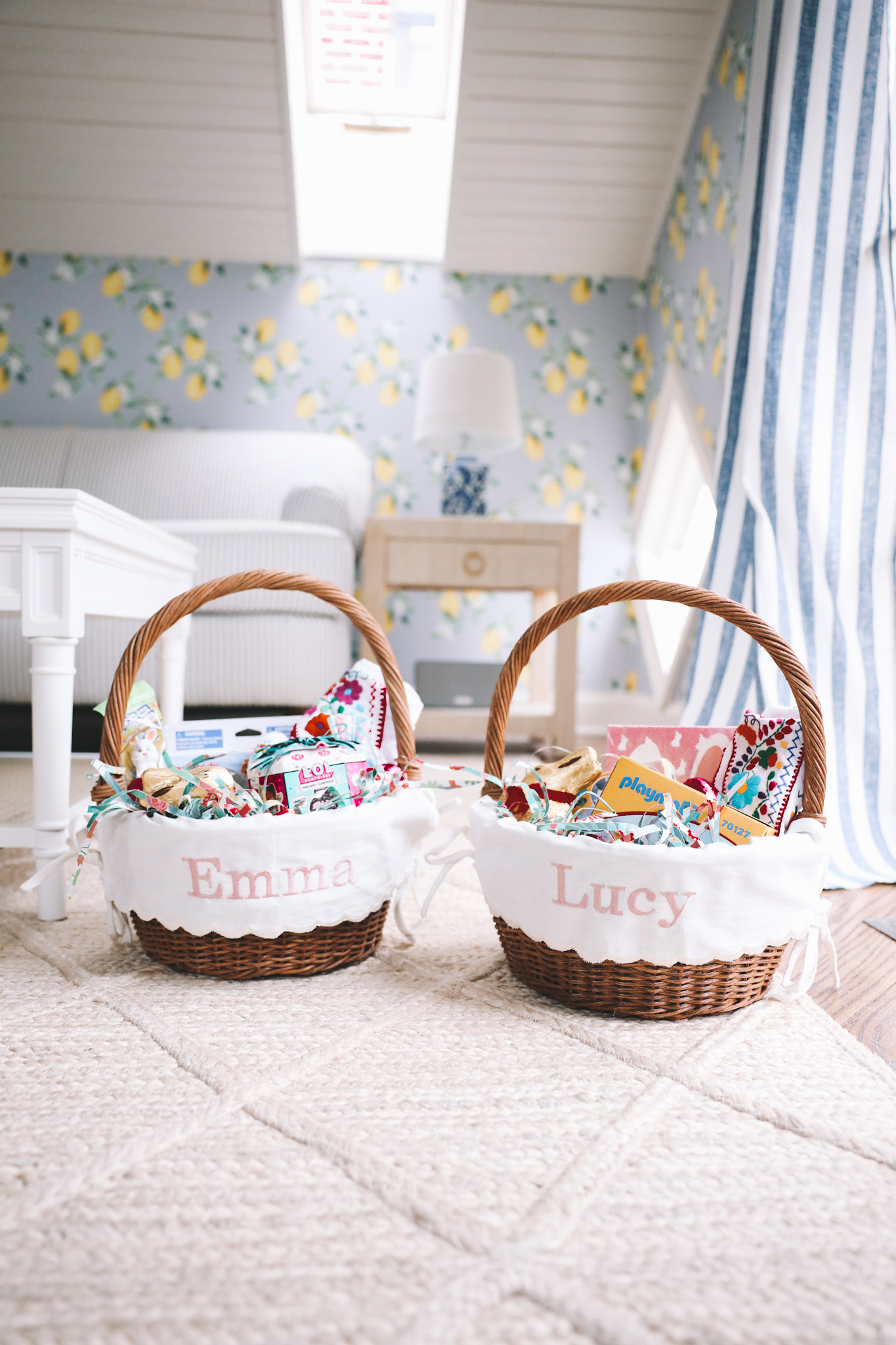 Ballard Easter Baskets / Diamond Jute Rug / Lemon Wallpaper / Curtains / Harbour Cane Collection / End Table / Striped Sofa
It's just about that time!
First, apologies for not putting these up a couple of weeks ago. That probably would have been a bit more helpful. 😆 But in true Kelly Fashion, I put the girls' Easter baskets together the day before we left for Mississippi. (I do, however, think I should give myself a pat on the back for thinking that far ahead!)
I learned from my mother that an easy way to minimize holiday stress is by collecting special treats for kids throughout the year, and then going into the reserve when need be. Mine is hidden in my office, and just as Mom did, I find stocking it to be so much fun. For Easter, all I needed to do was get some cute paper grass, and then pick a few things from the reserve! Here's what I went with:

Ballard Easter baskets: If you love these, order them now because they usually take around six months to arrive. (Shipping times currently reflect that, and this is exactly what happened when I ordered mine after Lucy was born!) They're worth it, though. I love them so much that I keep them out in the girls' rooms throughout the year for decor. The scallops are perfect! (I also have these scalloped laundry baskets.) If you'd rather not wait, I've included a bunch of other equally adorable options above!
Compostable Easter grass: World Market is in our neighborhood, so I popped in and picked up one package of paper grass, which was more than enough for two baskets. (In-store, you can buy them separately.) I went with the pink-and-green pack!
Mexican dresses: Lucy's birthday is coming up on May 5th, so I thought that these dresses—from Solei Ethnic, a Mexican boutique in Chicago—were perfect additions to the baskets! Nice to support local, and can't wait to see the girls in the dresses.
Mini Playmobil 123 sets: Playmobil 123 is perfect for Lucy. I adore it. I grew up playing with regular Playmobil, but I'm not sure we ever had the toddler "123" line. It's great. Better than Duplo, in my opinion, because the sets don't break apart. Everything is adorable, too. Lucy plays with the stuff all day. Worth every penny!
Playmobil 123 farm set: This isn't in the photo, but my parents always send the girls bigger gifts for Easter, and I wrap and put them under their baskets. (So kind, Mom and Dad. Thank you!) We picked out the farm set for Lucy this year.
LEGO Friendship set: Emma is obsessed with the LEGO Friendship line, and Mitch and I love it because it provides hours of educational entertainment. (Truly amazing to see how far she'd advanced with her LEGO sets over the last year!) Many thanks to my parents for whichever one we decided to go with. (Can't remember, haha. But they're all great!)
Frozen Aquabeads set: To be honest, I'm a little unclear as to what Aquabeads are, haha. But Emma has been talking about them, and she loves crafting. So I think this will be a hit!
LOL Surprise Doll: Emma loves LOL Surprise Dolls. I'm not the biggest fan, as I think they're junky and come with way too many tiny pieces that are almost always lost on day 1. 😆 There are also so many to choose from and ordering them is very confusing. I went with the Amazon bestseller one because of that.
Fuzzy animal socks: Lucy loves fun socks. She squeals when I get them out in the morning, and is always so excited to see what's on them. I ordered these last year but put them away for Easter since they came in a cute bunny box. They look very warm so I think they'll be great to wear this spring under her pink Hunter boots (in "Foxglove") that Carly gave her!
Chocolate bunnies: Duh. ;)
Chocolate eggs: What basket is complete without chocolate eggs rolling around on the bottom?!