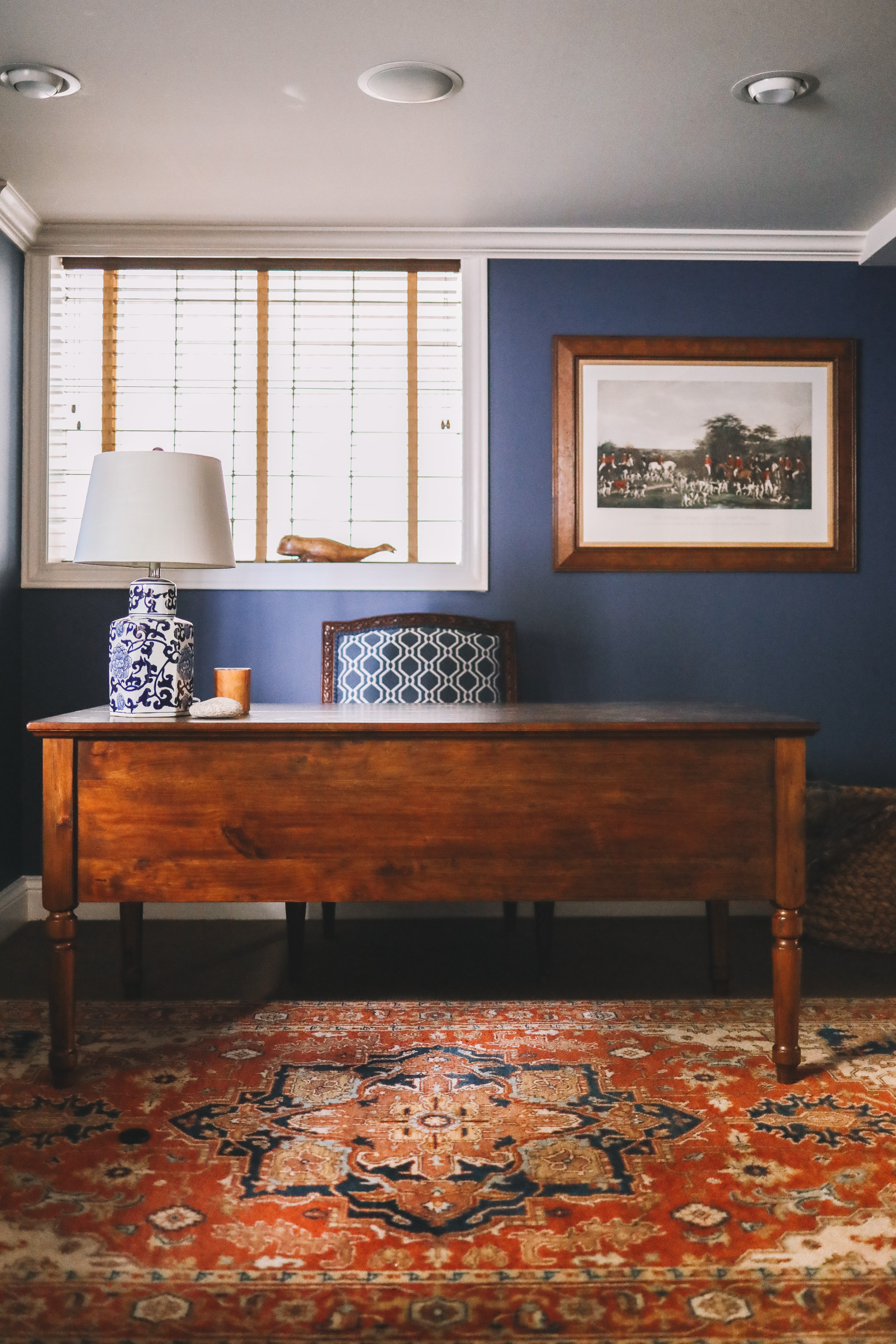 Pottery Barn Printer's Keyhole Desk / Surya Area Rug (This used to be in our dining room in our old home.) / Similar Whales / Similar Lamps / Similar Equestrian Oil Paintings (We love these!)
Mitch here!
Anything can be a desk if you try hard enough to make it a desk. I wrote my masters thesis on a piece of wood that was sitting on a radiator, for example.
Over the years, I've used my knees, my couch, my bed and a bench in the boxing room at the gym as a desk. All that changed when we bought our house and set up my office, though. I promptly bought the Pottery Barn Printer's Keyhole Desk, which is one of the best purchases I've ever made. And after a couple of years of heavy use, I'm reviewing it today!
What I love about it
The desk is big. Its 64″ x 32″ frame gives me 14 square feet of work space. That's a big desk. For reference, my first bedroom in Harlem was only slightly larger than its footprint. My workflow involves various piles of tasks that can include new products I'm developing, tons of paperwork and big boxes of materials. Because the surface area is so big, though, I can have everything at an arm's reach. Not pretty, and I'm sure my wife would cringe if she saw it on a regular basis. But she doesn't. Because it's tucked away in my office in the basement, with no need to be clean and presentable to the family or guests. And therefore it's functional. (That said, there are tons of drawers, so I can easily shove my stuff into them if need be!)
The stain is beautiful. I went with the "Tuscan Chestnut" color as it felt it had an old antique-like feel. My office is a work in progress, as we'd eventually like to install bookshelves, cabinets and maybe even a Murphy bed to allow for the room to be converted into a guest room. I felt like "Tuscan Chestnut" is a more standard and applicable stain that would complement whatever colors I choose for the shelves. (I can't believe I just wrote that. A younger version of myself would crack up upon reading this.) Pottery Barn did seem to distress the desk (maybe?), and although it's not my preference, it's very nice. The desk does looks like it's been sitting in an office for a few decades, which is exactly what I was going for. Another major positive to the finish is that there's no need to use coasters for my workday drinks. Coffee, sparkling water and, um, other stuff as the night gets late? Who cares! It's all good.
The quality is great. Overall, the desk has an impressive build quality. It weighs 154 pounds and is solid pine, polar and oak wood where it counts, though some MDF and veneer is used as well. Perhaps the easiest place to spot the quality of a desk like this is in the drawers. Most of the desks Kelly and I have owned rely on cheaply installed drawers that rattle or fall off their rails. It's clear that a lot of thought was put into the Keyhole Desk's design because its drawers quietly slide around and give a satisfying seal when closed.
It has a lot of storage. There's a large storage drawer to the lower left, an easy-access drawer on the upper left, a keyboard drawer front and center, and an incredibly large filing drawer on the right-hand side. This drawer arrangement forces me to sort and file away papers as I complete tasks, and they definitely help keep my office as tidy as it'll ever get. Also, shout out to Pottery Barn for shipping with great pulls that don't need to be immediately replaced.
My only complaints
The 23″ afforded for a chair is a little tight. I had to get a new chair to sit comfortably at the desk. That said, I'm 6'1, and I may have had the desk too close to the wall.
I wish the desk had a little platform for me to put my feet up. My feet are sitting on the ground like a sucker. I'm actually researching desk foot-rest slings as we speak.
I wish the desk did a better job with cords. My desk sits in the middle of the room and the cords are a total tangle as a result. I plan to rig a power strip to the inside back of the desk and run cords into the drawer as a charging drawer. Hopefully that helps the situation!
Though it's not cheap at $1,250, the desk is similarly priced to similar desks from other manufacturers—see examples from Crate & Barrel and Williams-Sonoma—though there are certainly less expensive places to find a desk. (Ikea and Wayfair, for example.) But we outfitted much of our house with Pottery Barn because we think the quality of PB can't be beat. And while PB hasn't been immune to Covid-related shipping delays, the company's Flat Rate Delivery also includes white glove service, which is essential for something like this!
All in all, this desk has proven to be the perfect anchor for my office. I'm in the early stages of planning the rest of it but stay tuned!
Mitch. OUT!