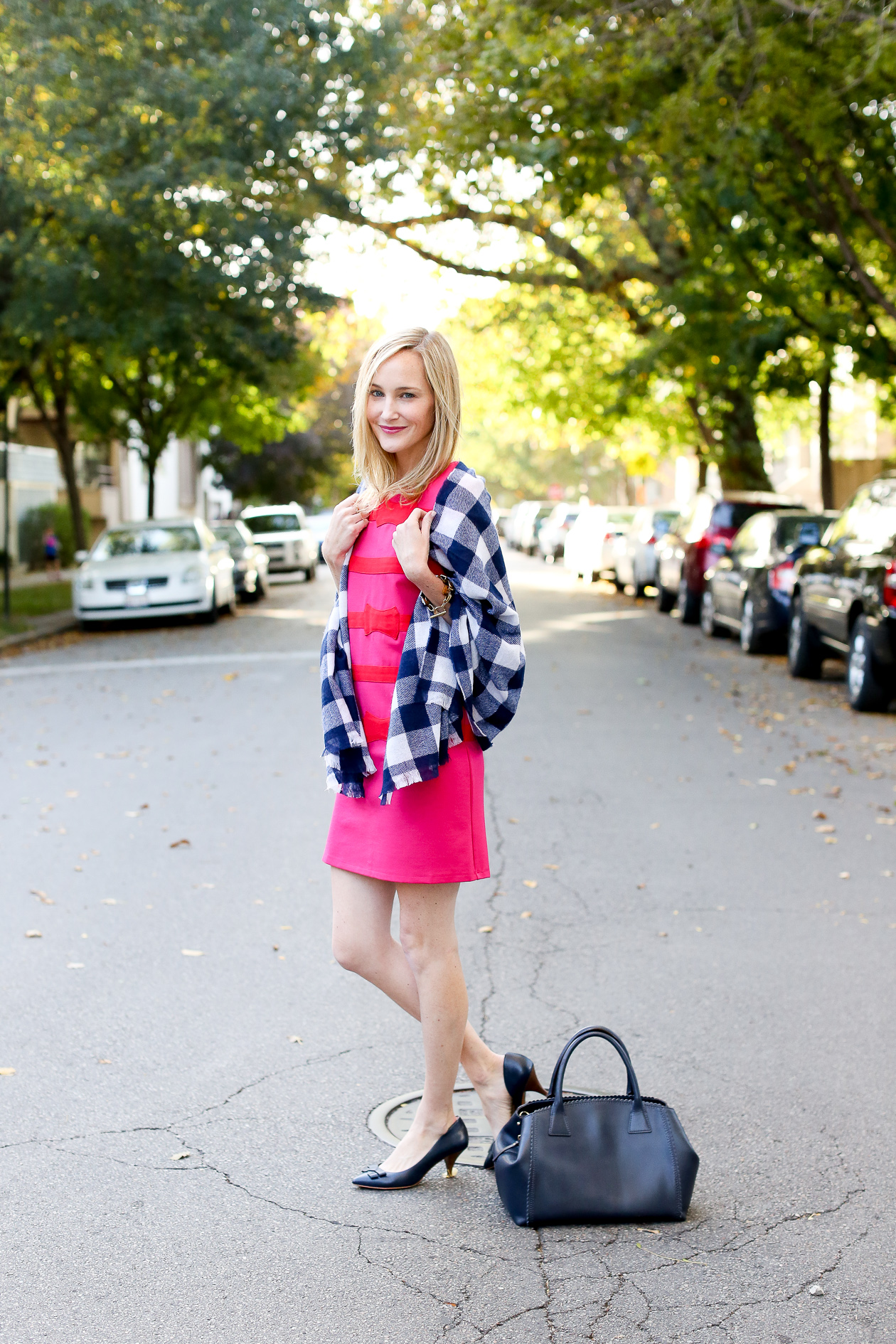 Vineyard Vines Buffalo Check Scarf c/o (Also available at Tuckernuck. Love this flannel gingham shirt, too!) / Julie Brown Designs Dress c/o / Brooks Brothers Pumps (Similar here) / Moon and Lola Earrings c/o / C.Wonder Bracelet (Old, similar here) / Kate Spade Bag (Old, but–on a completely unrelated note–have you seen Kate Spade Home?! I can't afford anything, but I love this rug and these place settings!)

Private Tory Burch Sale ends Monday, Oct. 26 at 11:59 ET
Quick post today, as I stayed up way too late breaking and fixing my site, haha. (Always the struggle, CSS/PHP and me!) So while I catch up on sleep, I'll leave you with a look I recently wore on an extremely warm–and windy–October day.
Does October have to end?!
Our friend Eric was in town, so we grabbed dinner with him in the neighborhood, gave him the one-half house tour, and caught up. Mitch and I lived with Eric for a year in New York, and he actually played the trumpet during our wedding ceremony. (He's a professional musician, and he's amazing.) It was so nice reminiscing about our lives in the East Village together and hearing about everything new. Isn't it crazy how chatting with an old friend can completely bring you back to another era in your life? For a moment there, I felt like I was 24 again… ;)
Seeing Eric was wonderful, and his visit left me missing friends from the East Coast. Needless to say, Thanksgiving can't come soon enough!