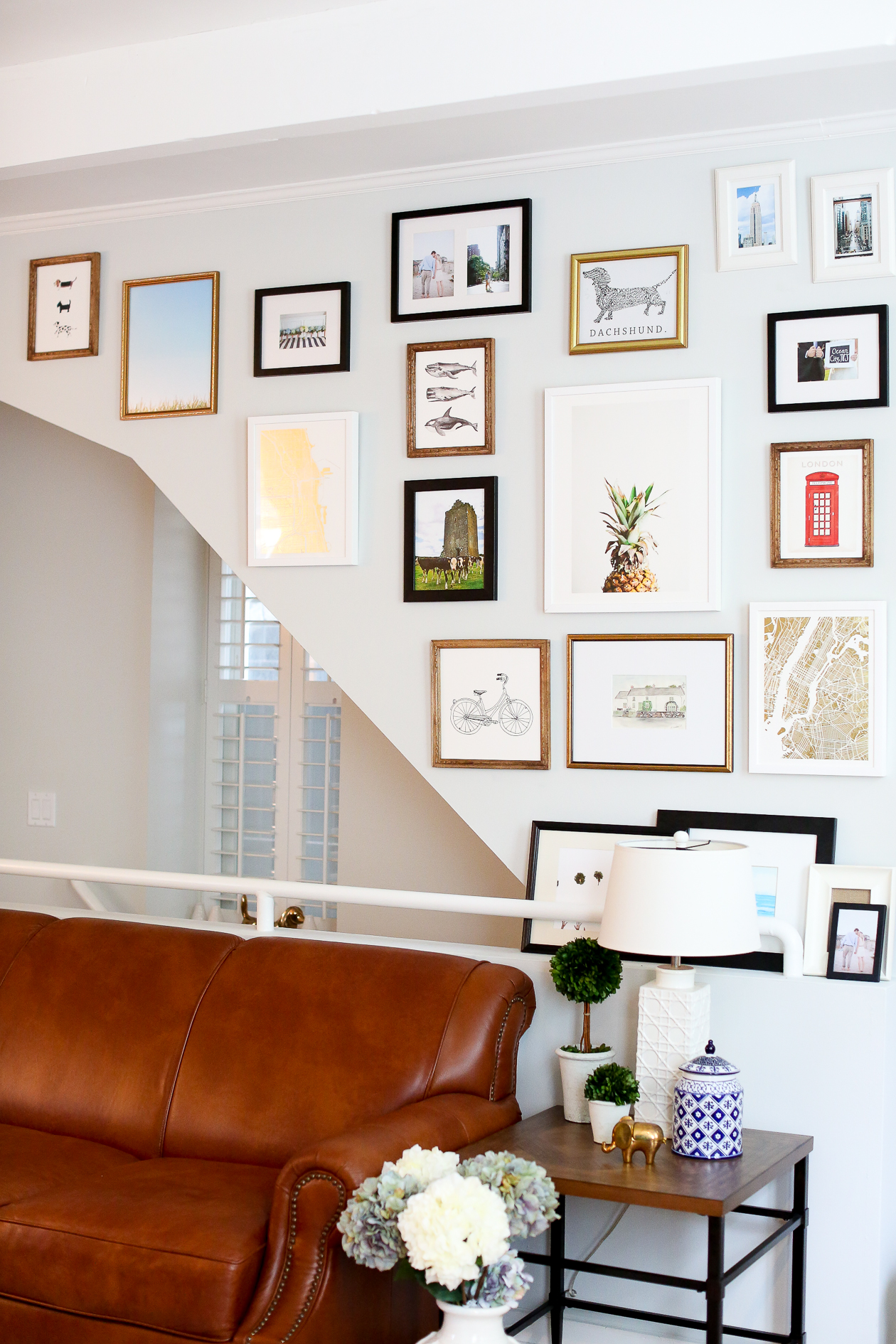 c/o Minted.com Prints: Three Dogs / Map of Chicago / Three Whales / Bicycle / Pineapple / London Phone Booth / Map of NYC
(Find other room details at the bottom of this post.)

Private Tory Burch Sale ends Monday, Oct. 26 at 11:59 ET
Creating a gallery wall is something I've wanted to do for–oh, I don't know–the last TEN YEARS at this point. I don't even know what exactly it was that prevented me from buckling down and doing it. But I have a few speculations:
 Maybe it was the fact that I moved nearly every year. Why put effort into a place when I know I'm probably leaving in a few short months?
Or maybe it was the money. How much would all that artwork cost?!
Or maybe it was my sentimental self's inability to narrow down picks for artwork. How do I choose just a few meaningful images? How do I make this wall a true reflection of who I am?!
Or maybe it was sheer intimidation. Creating gallery wall looks easy, but how exactly do I make my vision come to life on a real wall? (I think we've all seen our fair share of "gallery wall fails.")
And then there was a little bit of "blog pressure" I was putting on myself. I have a blog. Therefore, I should have good taste and good styling abilities. (So not true! Interior design was and is a real struggle for me!)
When Mitch and I bought our little home in the city, I knew I needed to tackle my fears and attempt–for the first time, really–a true gallery wall. Especially because the wall behind our largest couch is the weirdest freakin' shape I've ever seen. Like, really? What's a homeowner to do with that thing?
Answer: Gallery wall with the help of Minted.com. If you haven't heard of Minted yet, it's a site that connects you with the best independent artists to bring you endlessly fresh, truly unique art, stationery, and home décor–for affordable prices. It's also a global community of independent artists. Minted hosts ongoing design competitions to source new pieces/designs, and keeps your space looking new and different as a result. I also love that the company has its own blog (how great is this post?!) and has done a ton of amazing inspirational collaborations with well-known publications and bloggers. (In love with this EveryGirl post!)
Keep your eyes peeled for a post in the next few days about how exactly this very inexperienced girl actually "did it" and created her first real gallery wall. But for now, I was thinking that I'd just revel in the fact that I accomplished one of my biggest interior design fears, share photos, and explain the significance of each piece of art.
Sound good?
You can't answer in real time, so… excellent! ;)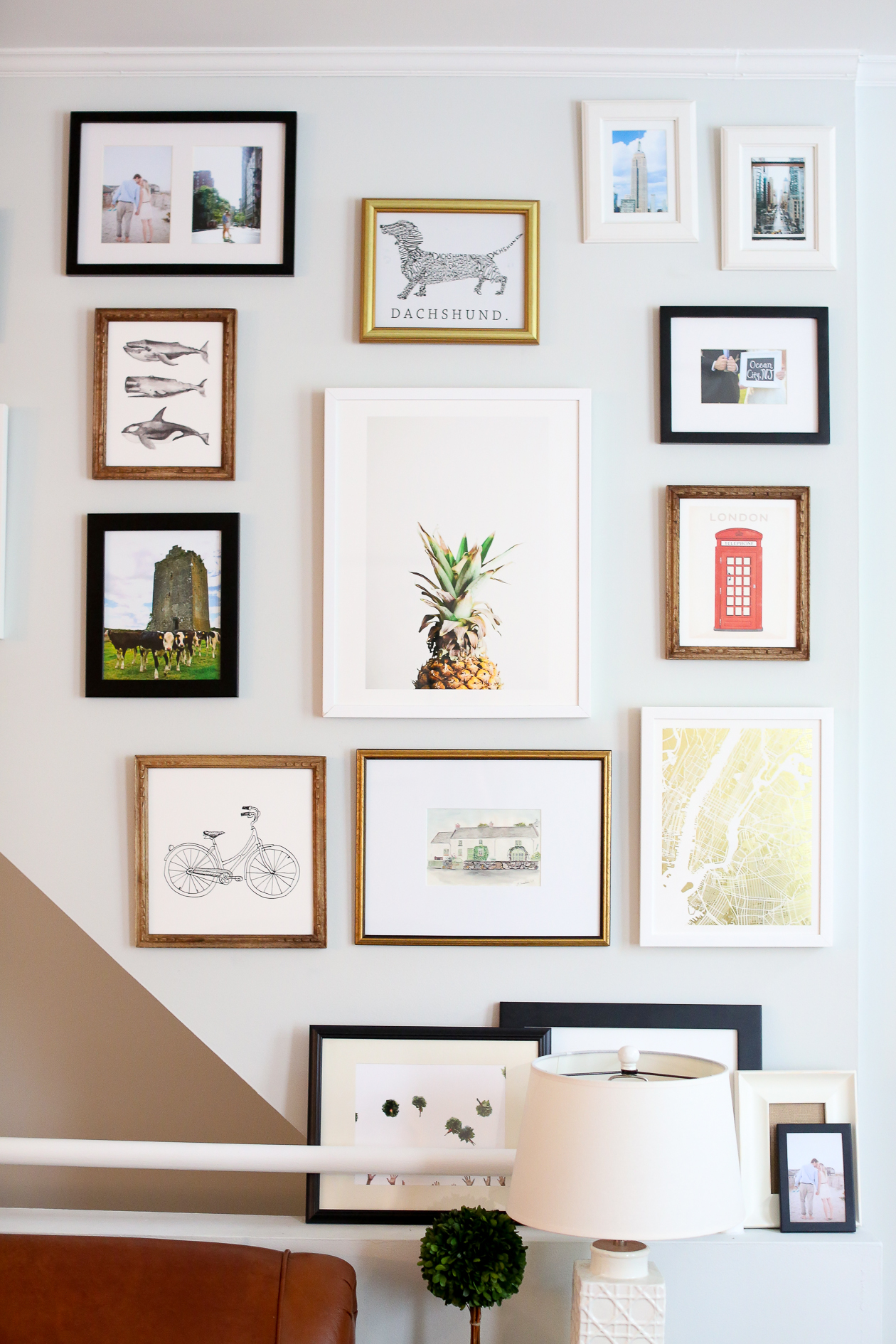 Pining for Pineapple: Pineapples represent hospitality–something that Mitch and I have fully embraced as city dwellers. A big part of the reason we purchased our home in Chicago is so that both of our families–as well as our friends–can comfortably stay with us. (And in turn, want to stay with us.) In years past, we had guests sleeping in hallways. Ugh, haha. While our home in Chicago is by no means big, we now have a guest room and guest bathroom–and it's made a world of a difference for our visitors! Now we just need to decorate 'em… ;)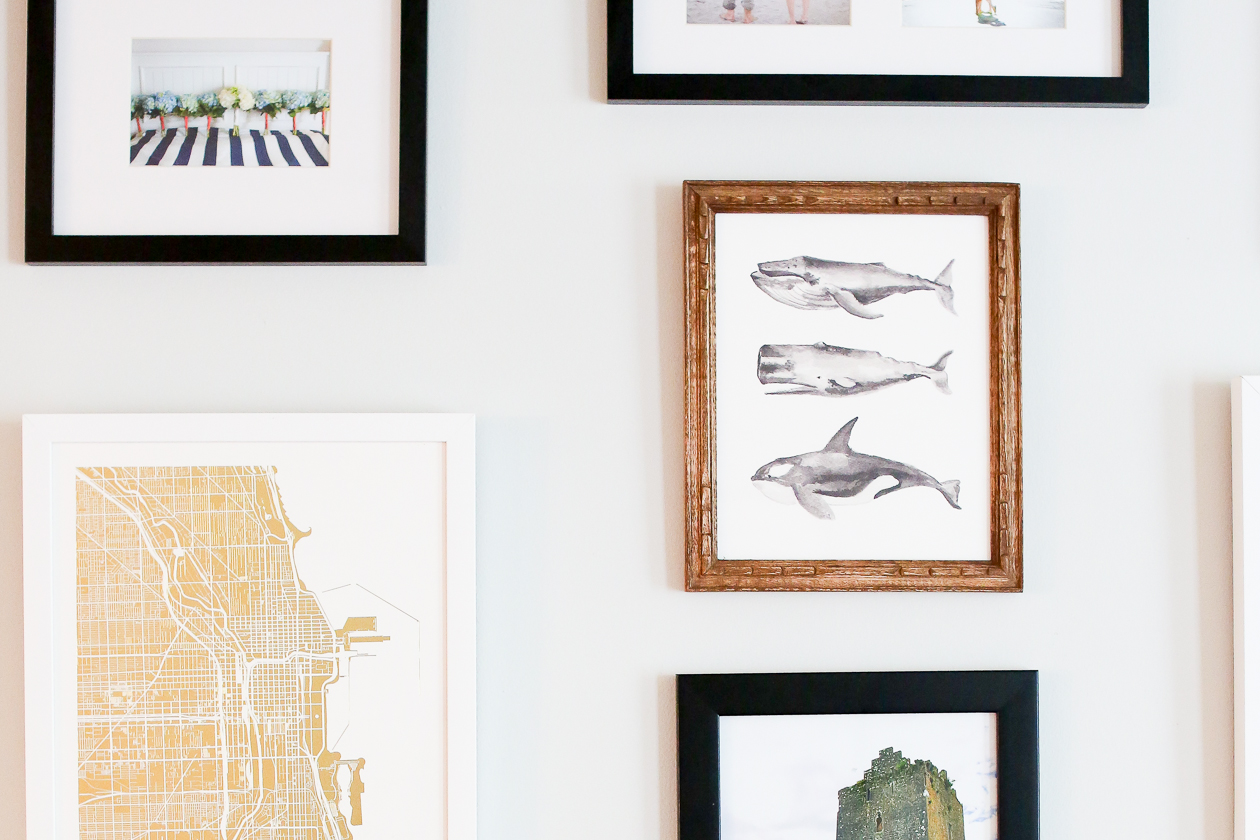 Three Stacked Whales: The meaning is two-fold. One: Mitch has a crazy obsession with whales and dolphins. Word on the street is that his childhood bedroom was plastered with sea mammal posters for a solid eight years, and have I ever told you about the time that he woke up an entire Floridian retirement community at 2 a.m. upon spotting a manatee swimming down a canal? (Sorry, Mitch.) Two: I grew up on the beach, Mitch proposed on the beach, and we were married on the beach. Ocean City, New Jersey is my favorite town in the world (even above the West Village!), and there's no other place that makes me happier. So many happy memories, and so many more to be made. Hark, now hear the sailors' cry…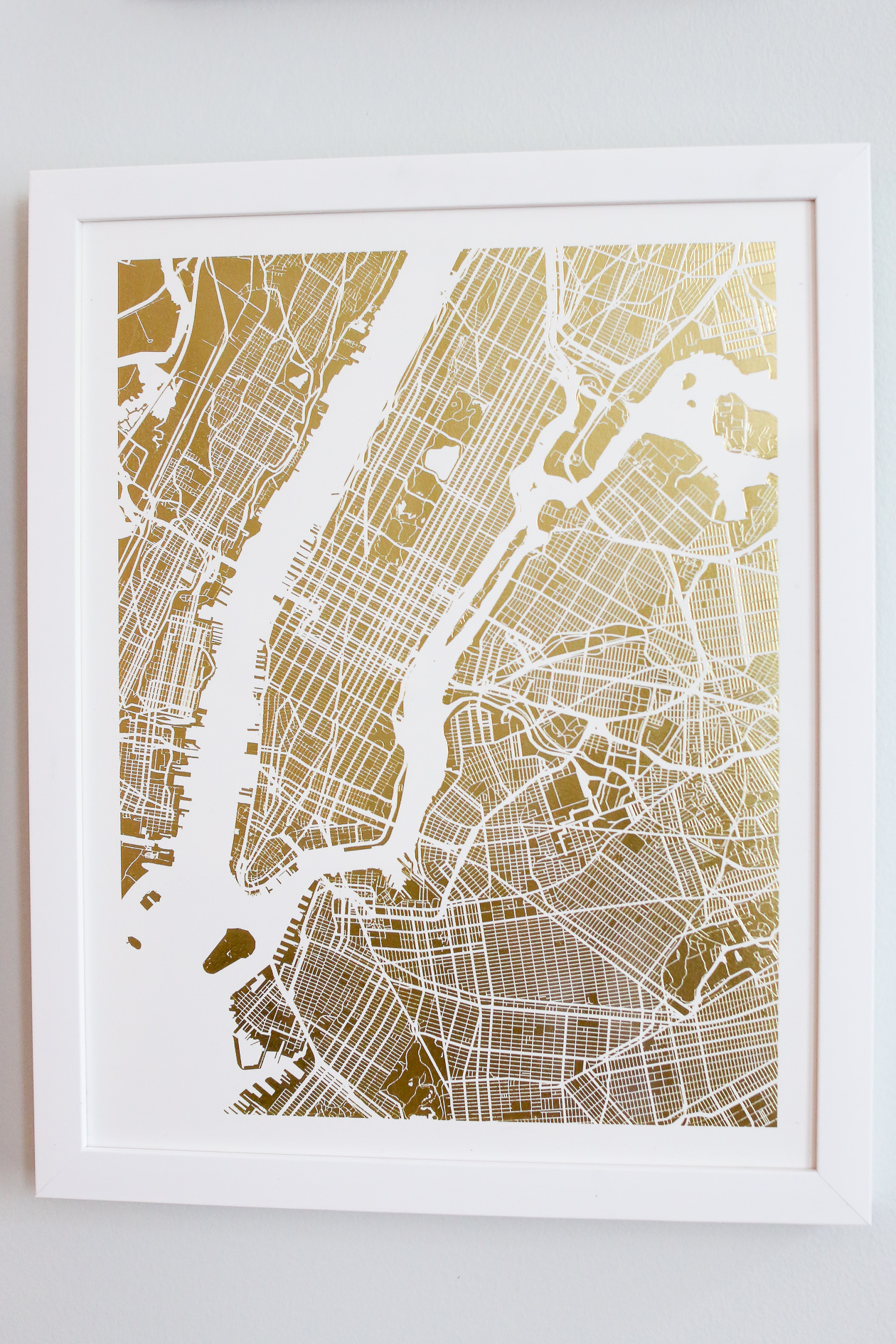 New York City Foil Map: If you've been following my blog for even a week, you know my obsession with New York City. All I can say is that it will forever be my home, and I'm most alive when I'm there. It's where I grew up, became my own person, fell in love, and started my life with Mitch. And while I think I'll always feel a twinge of heartbreak when I see photos and videos of the Big Apple, I know it'll always be there. Also, Dad's always in the Financial District. ;)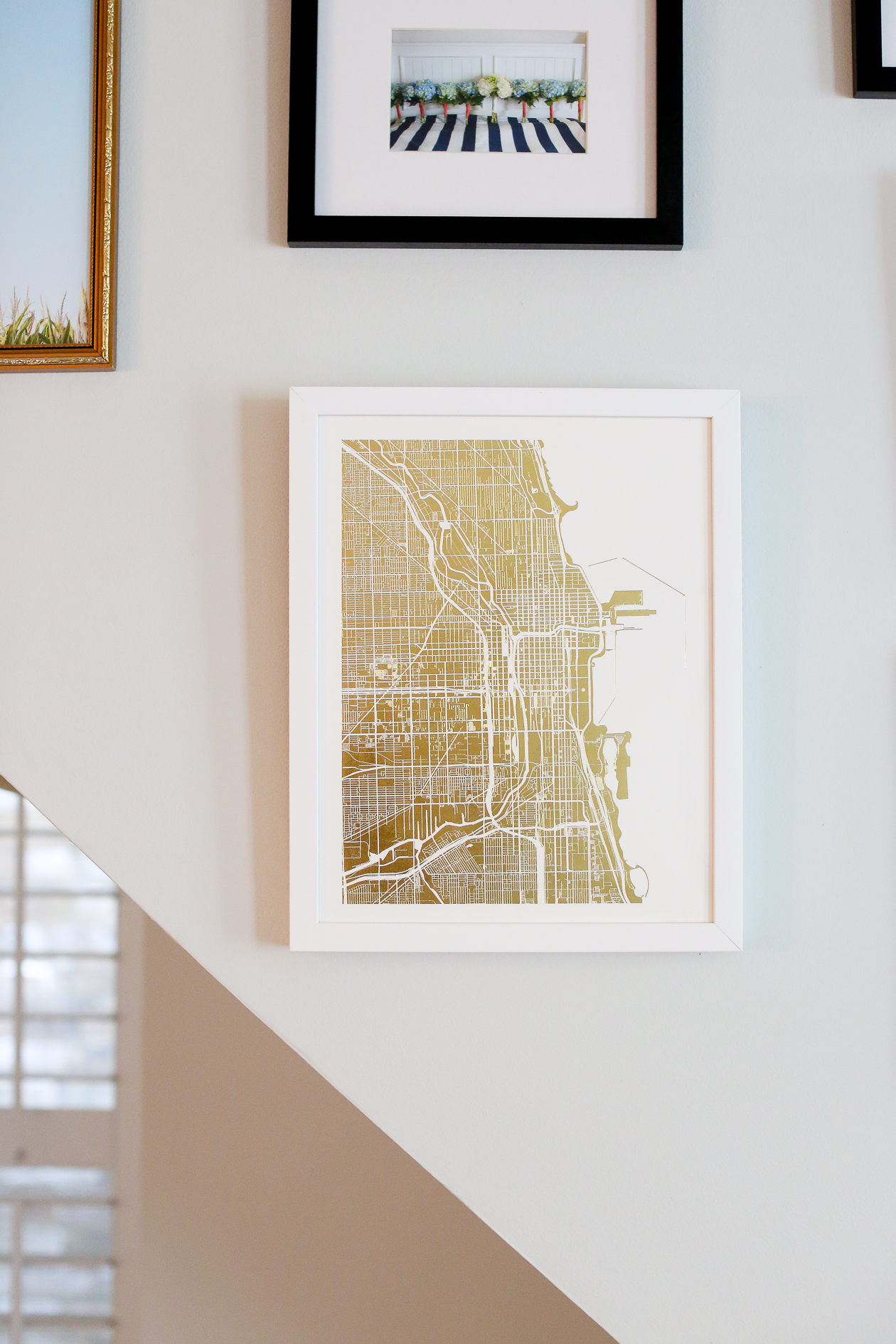 Chicago Foil Map: I love Chicago. I have to admit that I really didn't want to move, and I 100-percent thought that when we first arrived here, Mitch and I would be back in NYC in a year's time. But now, I can't imagine myself leaving. I love everything about this city, and I'm so thankful for the life that Mitch and I have made here. I love our home, our friends, our dog, our neighborhood, and our renewed love for urban life. It's pretty wonderful to have two homes!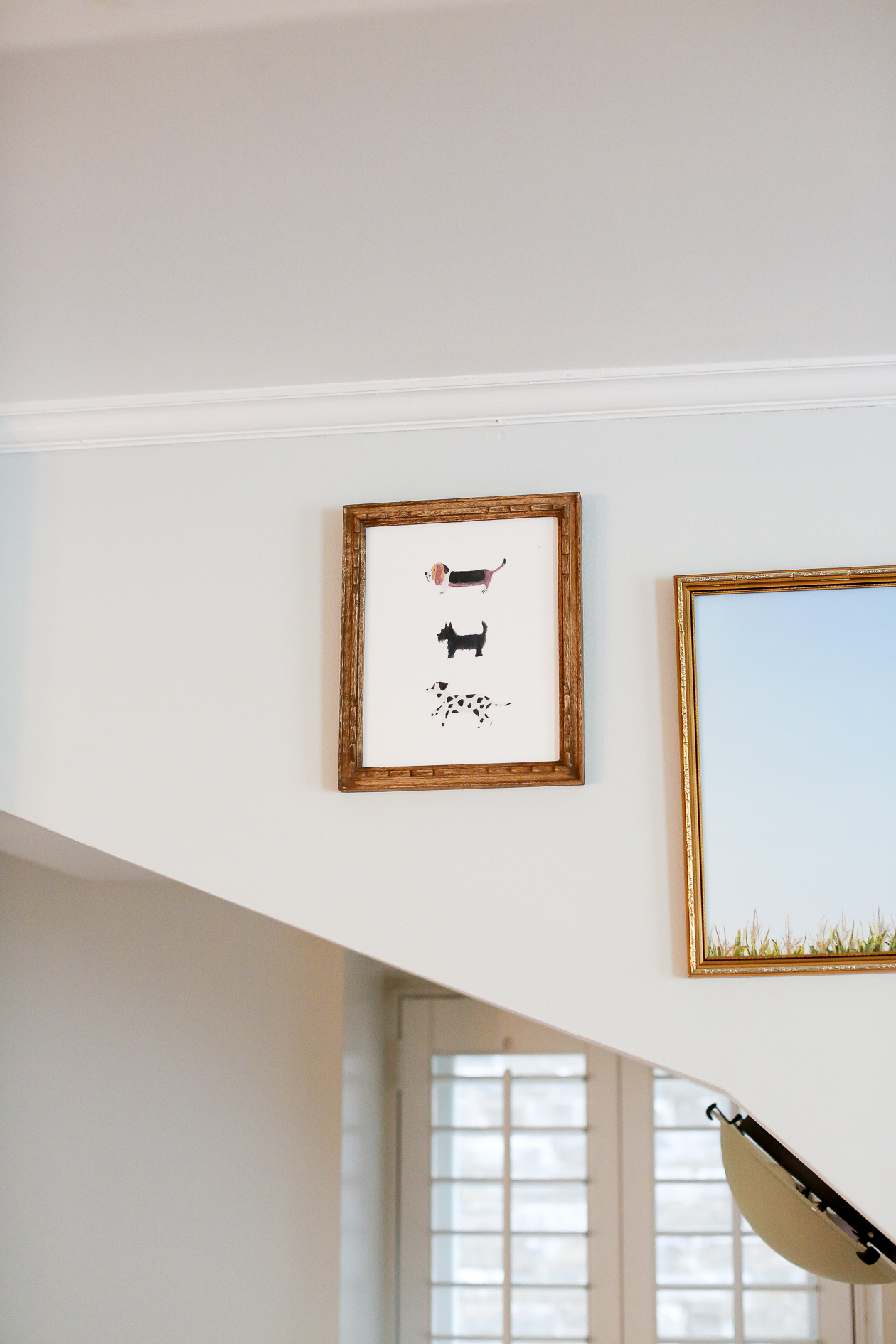 It's a Dog World: These three dogs represent Reilly (my childhood black lab), Roxy (Mitch's childhood black lab), and Noodle (our current wiener). ;) These pups will always hold a soft spot in our lives, as they've filled our days with love and happiness. Anyone else a complete softy for dogs?! Watch this video, hehe.
Bicycle: Mitch is huge into biking, and he spent six months in South Africa, where the artist is from. The experience forever changed Mitch as a person, and I'm dying to go back with him. The basement fiasco has set us back a bit, but we're hoping to go in the next five years! In the meantime, you can find us biking around Chicago… ;)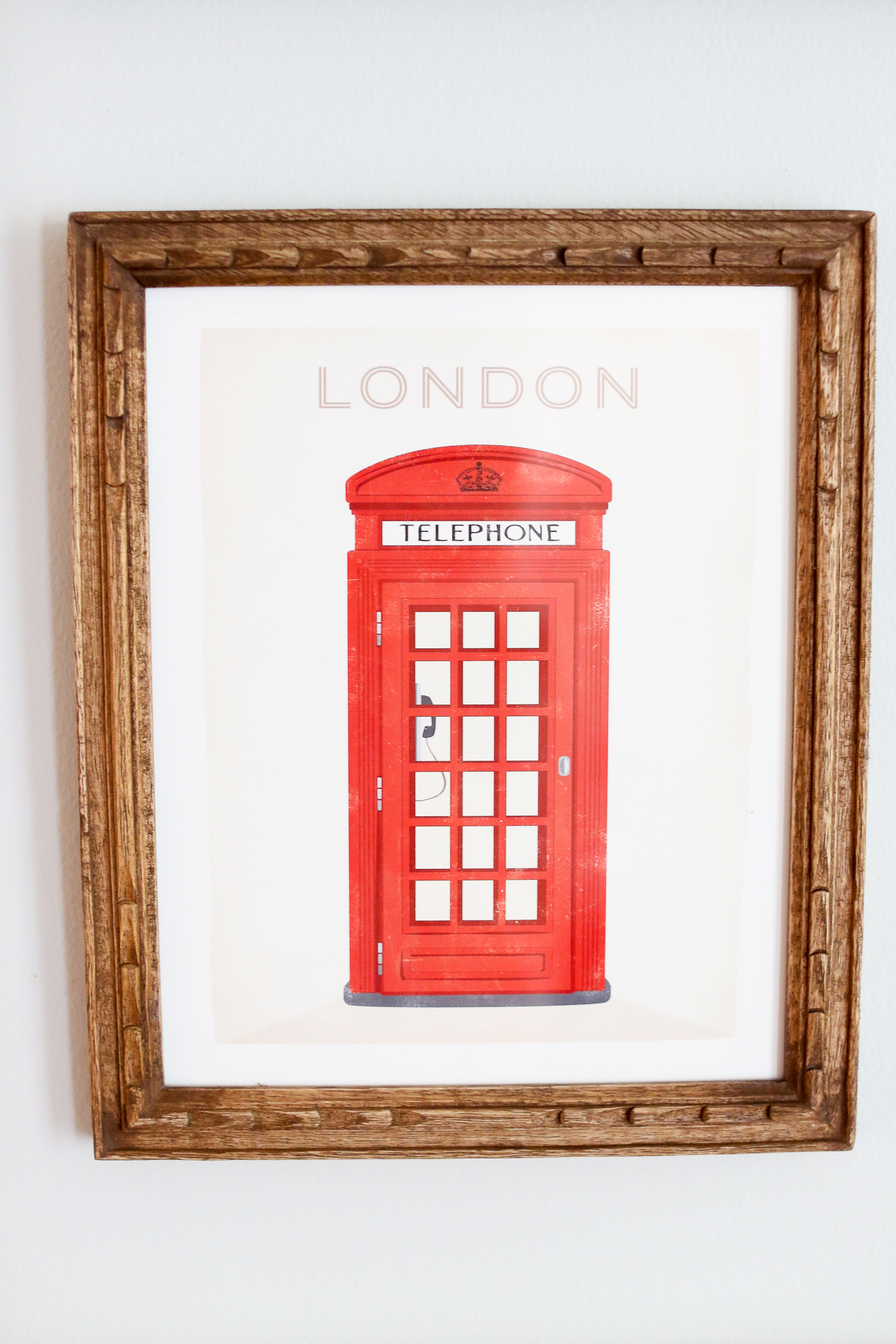 London Phone Booth: I've noted this several times on the blog, but I truly feel that I'm a British girl trapped in an American's body. Anyone else feel extreme irrational guilt that they weren't born elsewhere in the world? Haha — I love New York through and through, but why couldn't I have been born in London?! Everything about that city screams Kelly Larkin. ;)
I think the obsession started with Madeline or Babar. And then there was the time that my dad got a job offer in London, and turned it down. (#heartbroken. Still love you to the moon and back, Dad.) I was also signed up to study abroad in London during my junior year of college, but backed out at the last minute because I was nervous about homesickness. (Another family member had a rough time when she went abroad.) However, I did get to spend a good chunk of time there with Mom when I was in college, visit my brother there while he was studying abroad, and stay with friends there a few years ago with Mitch. Lots of happy memories, and all feelings that I belong there confirmed. When can I go back?!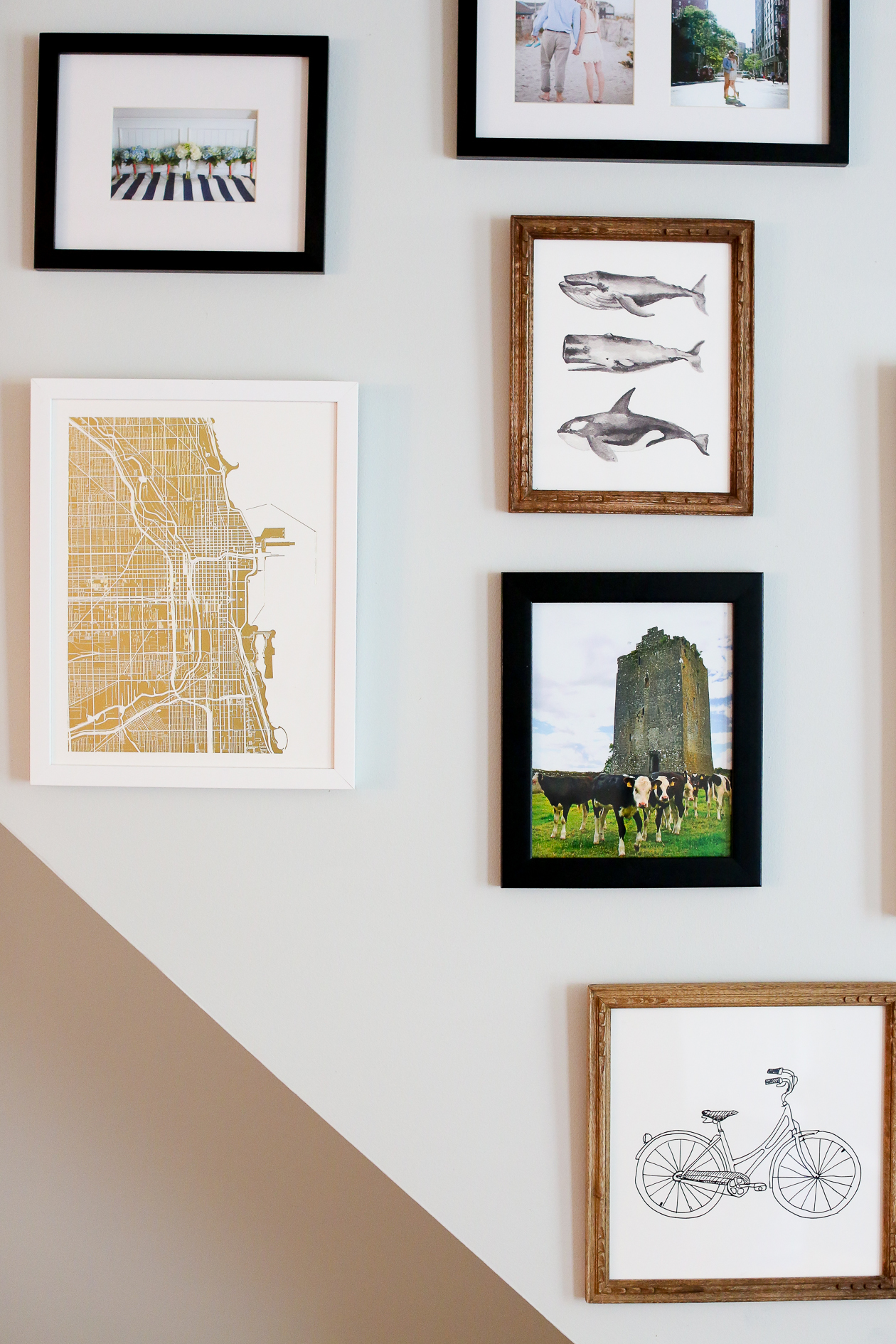 Other photographs/prints: The corn print is a photo I took on Mitch's grandfather's farm; the hydrangea bouquets print on my mother's navy striped bedding is a photograph from our wedding by Hello Gorgeous Photography; the double-print frame features engagement photos from NYC and Ocean City, NJ taken by HGP and my tripod; the dachshund print was a gift from a friend right before we found Noodle; the Empire State Building print is a photo I took over this past summer; the NYC street print was a gift from a friend; the cow photo was taken by my father-in-law during our family reunion trip to Ireland a few years ago; the cottage print is a painting by Mitch's uncle of the cottage we stayed in during the Ireland trip; and the tux/chalkboard print is another wedding photo by HGP.
What would you include in a gallery wall from Minted? I'd love to hear!
Other Room Details:
Love Seat and Love Seat: Birch Lane via Wayfair
Coffee Table, Pineapple and Large Topiary: c/o Wayfair
Lamp and Navy Striped Pillows: Pottery Barn (Old lamp, similar here)
Lobster Pillow, Ginger Jar, White Vase (available in store) Bowl, Topiary, Hydrangeas and Lemons: c/o Pier 1
Rug and Side Table c/o hayneedle
"Dogs of Central Park" Coffee Table Book: RueLaLa
"Elements of Style" Coffee Table Book: c/o Porch
Elephant Figurine: c/o Jonathan Adler

Private Tory Burch Sale ends Monday, Oct. 26 at 11:59 ET