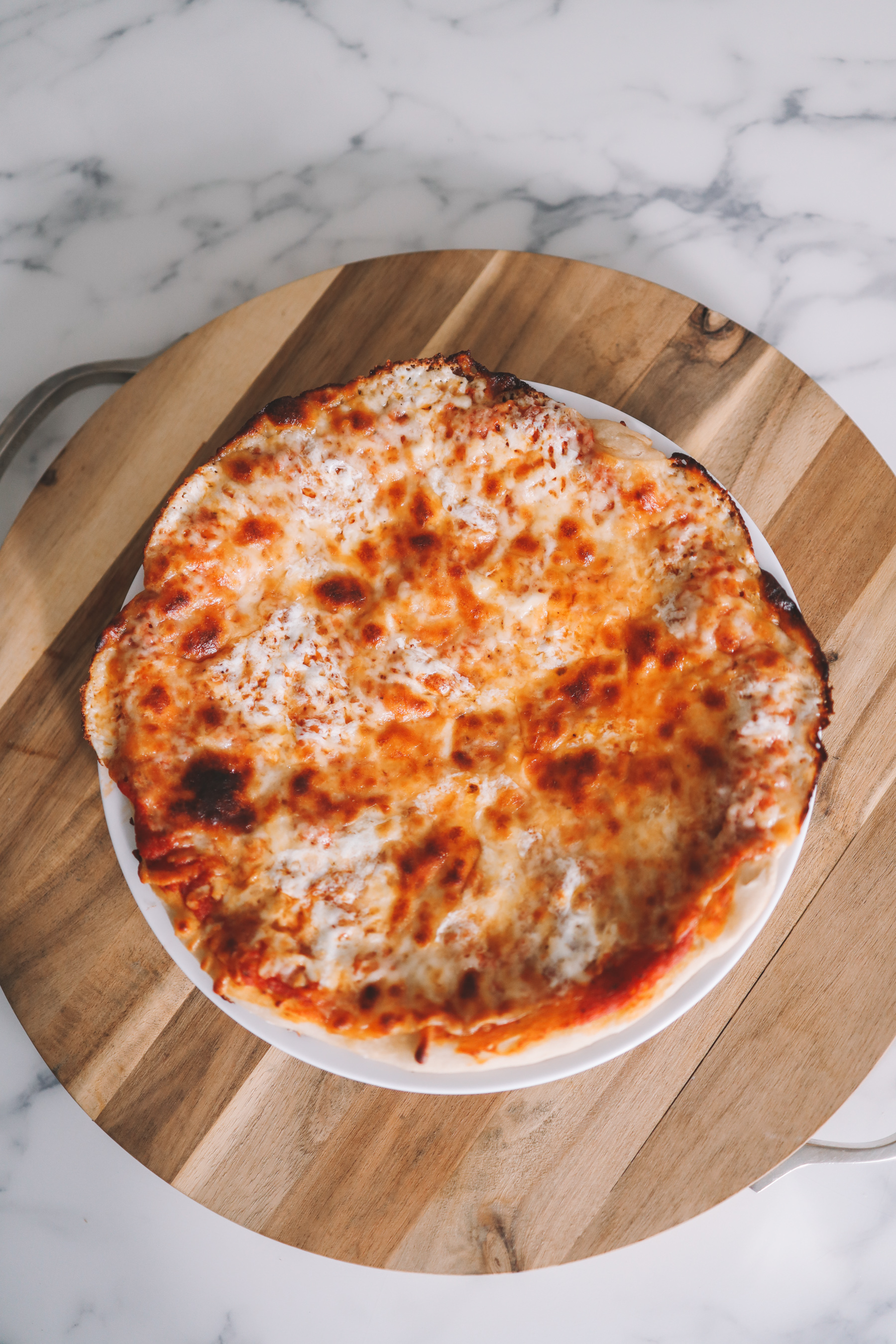 Chef Mitch Here!
The great pizza debate rages on and I'm desperate to know where you fall. Click the "Continue Reading" button below for a Pizza Pie Poll to solve the pizza puzzle once and for all. And, yes, there will be a pie chart.
Loading ...
Though I officially voted Chicago Deep Dish, it turns out the correct answer is Homemade–and today I'll prove it to you. Quality homemade pizza isn't nearly as tough as it seems, and with a combination of patience, perseverance and a really hot oven, I'll have you tossing spinning circles of dough to the heavens in no time.
Neopolitan pizza?
Real-deal Neopolitan pizza requires far more specificity than I'm capable of in my quarantine kitchen. According to the Associazione Verace Pizza Napoletana (a real organization that was created to keep people like me from calling my pizza Neopolitan), bona fide Neapolitan pizza must only be made from high protein wheat flower, yeast traced to the Naples region of Italy, water buffalo's milk mozzarella, and tomatoes grown in the volcanic soils of Mt. Vesuvious.
By comparison, I made this pizza with all-purpose flour sourced from the supermarket, pizza sauce made from a leftover jar of Ragu in my fridge, and six grated mozzarella string cheese sticks. But the results speak for themselves!
The dough
All it takes is four ingredients and three days to make pizzeria quality pizza dough at home. Just put flour, water, yeast and salt in a stand mixer and dough hook it up. (Btw: a "dough hook" is a thing. Kelly assumed this was a typo when she read this.) Or, if you have Emma Larkin around, mix it with your hands and totally destroy the kitchen.
The tough part here is waiting for the dough to ferment. Quality pizza dough requires days to let the yeast multiply and complicate the dough into that chewy, bubble-filled beast you want on pizza night. I typically let my dough rise for 12 hours out of the fridge in a covered bowl and then for two or three days in the fridge in sealed containers. Believe me, the wait is worth it!
The Associazione Verace Pizza Napoletana requires that this pizza dough must not be rolled but rather spread by hand, and I'll concede them this point as rolling the dough removes much of the bubbling complexity we just waited three days for. Also–and I can't stress this point enough–flour your surfaces and your hands liberally. My first sticky homemade pizza attempt left me with a dough ball in the garbage and my under-floured hands dialing Domino's.
The sauce
The cardinal sin of homemade pizza is over-saucing the pie. Too much sauce causes soggy crust and a soupy slice and nobody wants a soggy soupy slice. It's absurd how little sauce this pizza needs. I'm talkin' two spoonfuls spread evenly. Three tops!
That said, the sauce is important. And as much as I've tried with canned San Marzano's, fresh tomatoes or even just straight-up canned pizza sauce, our favorite recipe involves a half a jar of spaghetti sauce, a can of tomato paste to thicken it up, and then a bunch of spices to taste. This, luckily, happens to be the easiest method as well. The spices we look for are garlic (fresh if you have it), salt, pepper, oregano and maybe some olive oil all blended up and ready to roll. I usually (deliberately) make too much so I can dip crusty bread into it while I cook the pizza.
The toppings
Neapolitan pizza is topped with buffalo mozzerela cheese, a couple of fresh basil leaves and a drizzle of olive oil… and I'm afraid the Associazione Verace Pizza Napoletana will come after me if I suggest otherwise. Of course, our family pizza nights involve plenty more toppings than that, but those aren't Neapolitan Pizza Pies. They're just pizza. But who doesn't like pizza?
The oven
It's best to cook your pizza at extremely high heat. A crispy crust with those leopard charring requires a far greater temperature than you'll get in a conventional home oven. Still, your oven is can cook great pizza. I'd recommend preheating it to it's max temperature (usually around 500°) and using a pizza stone to ensure even and consistent heating.
Or, if you're as kooky about kitchen gadgets as I am, you can use a specialty pizza oven capable of reaching higher temperatures. I'm extremely grateful to our friends at Breville who sent us their Smart Oven Pizzaiolo a while back. It heats to over 750° right on the countertop, and is capable of cooking all varieties of pizza perfectly. It uses unique heating elements for the crust and the toppings …and, yes, it has a setting for frozen pizza as well! It's been the perfect quarantine time-killer and again, we thank Breville for sending it over! (But you don't need this oven to cook killer homemade pizza. It just makes it easier and more fun!)
The results
Making great pizza at home requires a little patience and curiosity. We've been doing homemade pizza nights since the beginning of the year, and I can honestly say that our pizza is restaurant quality… depending on the restaurant. The important thing is that it's a fun family hobby that doesn't require much work. It's challenging and it rewards you with pizza at the end (nearly) every time.
Enjoy!
Ingredients
Makes four 12-inch pizzas
Dough:
4 cups of flower (High protein bread flower if available)
2 tablespoons of salt (Lower if you prefer a less salty crust)
1 packet of yeast
1.5 cups of water
Sauce:
1/2 jar of pasta sauce
1 tablespoon of olive oil
3 garlic cloves or garlic powder to taste
Oregano, salt, pepper to taste
Toppings:
Generous coating of mozzarella cheese
Drizzle of olive oil
Recipe
Mix dough ingredients in a stand mixer with dough attachment until a sticky dough ball emerges.
Cover mixing bowl and set aside for 12 hours.
Separate dough ball into four sealed containers and refrigerate for at least two days.
Remove dough from fridge and bring to room temperature to aid in spreading.
Flour surfaces generously and use fingertips to push dough into thin, flat circle.
Spread sauce thinly across dough taking care to not over-sauce.
Generously coat pie with mozzarella cheese and drizzle with olive oil.
Cook in 500° (or up to 750° if possible) for 7-10 minutes depending on oven temperature and doneness preference.
Chef Mitch OUT!