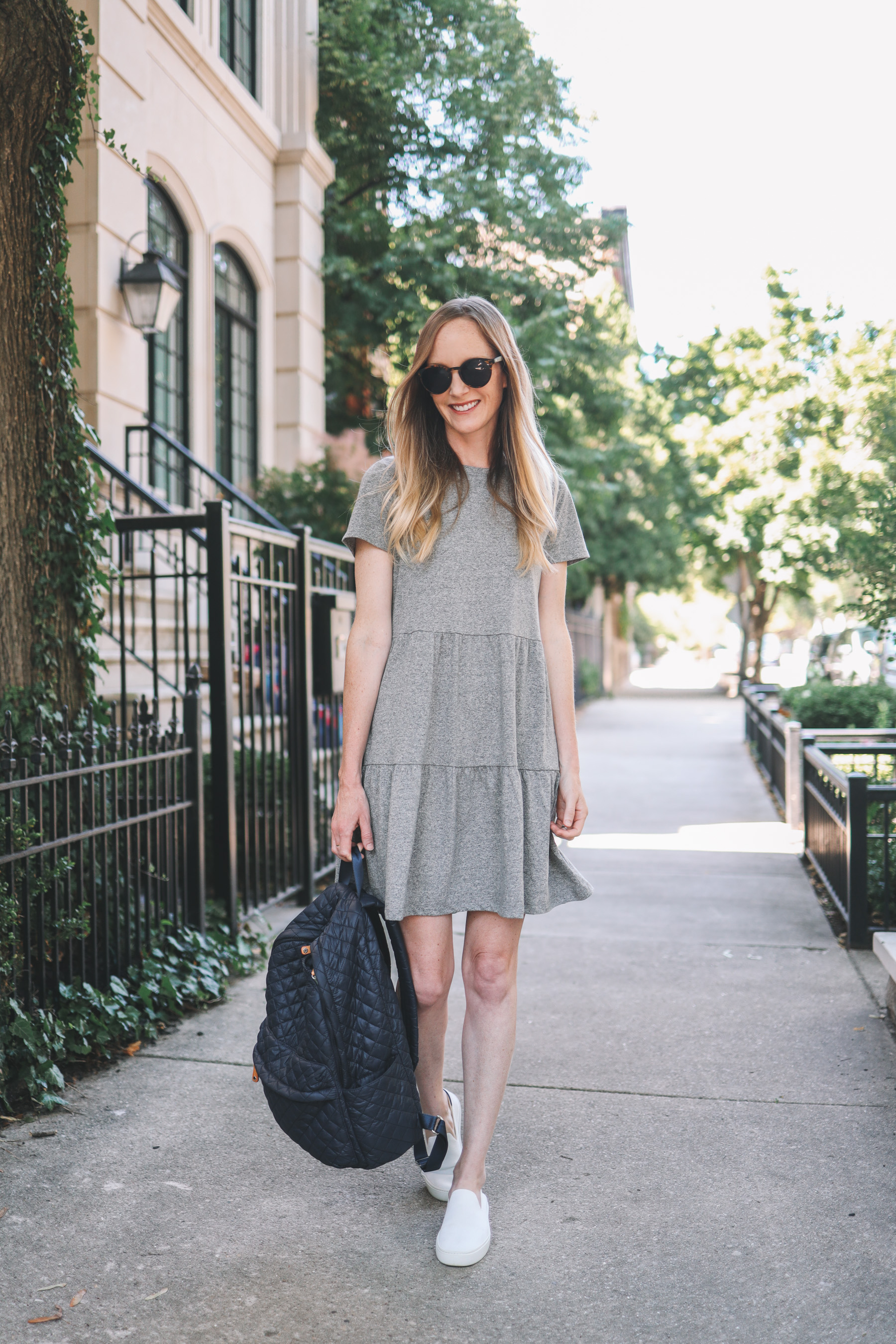 Gray Tiered T-Shirt Dress (Comes in black and pink, too. Also check out this Pocket T-Shirt Dress. Here's J.Crew's Tiered T-Shirt Dress + the brand's Tiered Maxi Dress!) / MZ Wallace Navy Backpack (Also at Nordstrom in Black and Gray) / Rothy's Washable Sneakers / Similar Sunglasses here, here and here
Oh, hey. 👋🏻 It's me. Back in another t-shirt dress.
Seriously, though: YOU NEED THIS ONE. It's fantastic, and it's currently on sale.
Gap's tiered t-shirt dress is incredibly soft, super flattering, and substantial–meaning that it doesn't feel flimsy. I ended up with both the gray and the black; the gray in the XS and the black in the small. And I have to say: I like the larger size better. Yes, it's a flowy dress… and therefore both are fine. But the larger size provides for an extra couple of inches in length which I really do appreciate. (Just about the same fit otherwise.)
So if you're in between sizes, don't be afraid to size up. Again, I definitely like the length of the black dress better!
What else? Hmmm…
Well, I'm apparently on a mission to review all the t-shirt dresses out there, so if you know of another good one, please let me know. ;)
Over and out!
Shop the post:
Gray Tiered T-Shirt Dress (Comes in black and pink, too. Also check out this Pocket T-Shirt Dress. Here's J.Crew's Tiered T-Shirt Dress + the brand's Tiered Maxi Dress!) / MZ Wallace Navy Backpack (Also at Nordstrom in Black and Gray) / Rothy's Washable Sneakers / Similar Sunglasses here, here and here