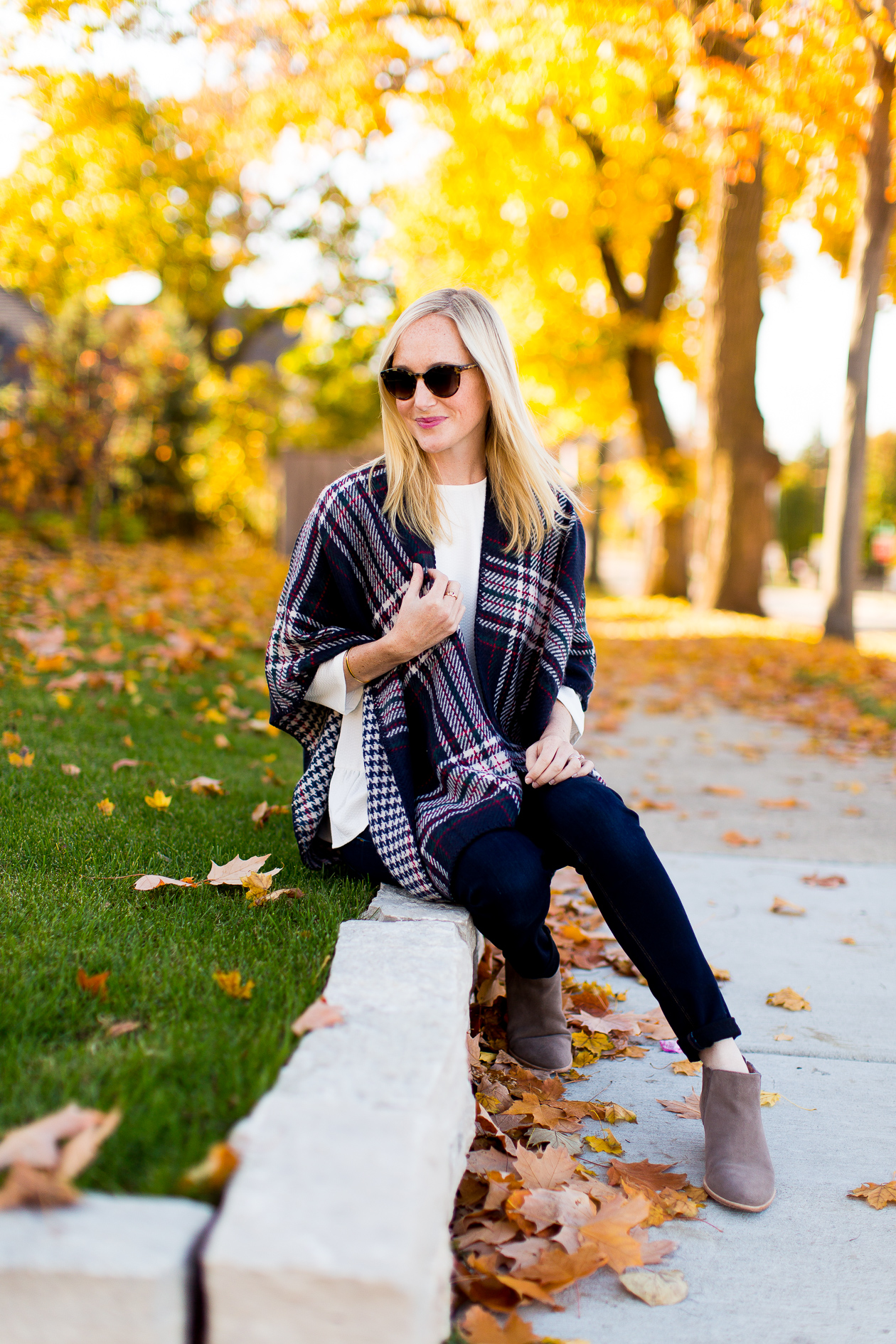 Tuckernuck Reversible Poncho c/o (Also love this one, this one and this one. See other ponchos and capes from Tuckernuck below!) / Hudson Jeans / Joie Booties c/o / Tuckernuck Ruffled Top c/o (And how cute is this one and this one?!) / Pearl Earrings (Also wear these on the reg to fancy events! Super light!) / Monica Vinader Bracelet c/o
Emma's wearing: Onesie

Now that Mitch and I have been living in Chicago for over two years (#omg), we've been getting the itch to venture out of the city and explore the surrounding towns. A few weeks ago, we spent some time in Winnetka, Wilmette, Kenilworth and Evanston, and had a ball. It was so lovely that we decided we needed to do something similar at least one more time before the holidays. After asking around, the general consensus was that Barrington and Barrington Hills shouldn't be missed… so this past weekend, we made the trip out.
Oh. My. Goodness.
I took a ton of photos, which I'll definitely be sharing over the next couple of weeks! But, like, WHAT?! Granted, the pics in this post were taken in Barrington, not Barrington Hills, where that behemoth lives. (And there were many modest houses we found in the Hills, too!) But we really couldn't get over how gorgeous the homes were in both areas. One of our favorite things to do while we're exploring new places is use Zillow, Trulia and Redfin–you know, just for fun. ;) I fell in love with this one, and Mitch liked this one. This house was out of this world, too!
Oh, hey. While we're on the subject, do you guys have any suggestions of good day trips from Chicago? We'd love to build our list!
In other news, hello best poncho ever. It's reversible: plaid on one side and houndstooth on the other, and it's perfectly cozy for these lovely fall days we've been graced with this season. Remember a few months ago when I said I wasn't into clothes anymore? Scratch that. Totally back into 'em, haha. I blame you, Tuckernuck!
Favorite ponchos:

But really: Tuckernuck's collection this season is unbelievable. I've fallen head over heels with pretty much everything on the retailer's site, and I often find myself copying the outfits that the models wear. (Hey: why reinvent the wheel, am I right?!) I also love how Tuckernuck's pieces are simple yet make a statement. As a new mom, I do NOT have time to accessorize in the morning. But when I throw on a gorgeous ruffled top, a pair of jeans and a poncho, I look polished and pulled-together. It's nothing short of a miracle, considering how hectic my mornings can get. ;)
Favorite ruffled tops:

Speaking of frantic mornings:
Yesterday, I spent the morning frantically trying to meet some crazy deadlines… and then the afternoon and evening were spent Jess working on our Winter Guide. We're SO excited about it! (Here's last year's, if you didn't catch it.) Today, though, I'm taking the day off, and strolling around the hood with Emma… and then voting with Mitch when he gets home from work.
GET OUT AND VOTE!
Okay. Off to bed. Why do I start my blog posts every night at 1 a.m.?!
Shop the post:
Tuckernuck Reversible Poncho c/o (Also love this one, this one and this one. See other ponchos and capes from Tuckernuck below!) / Hudson Jeans / Joie Booties c/o / Tuckernuck Ruffled Top c/o (And how cute is this one and this one?!) / Pearl Earrings (Also wear these on the reg to fancy events! Super light!) / Monica Vinader Bracelet c/o
Emma's wearing: Onesie