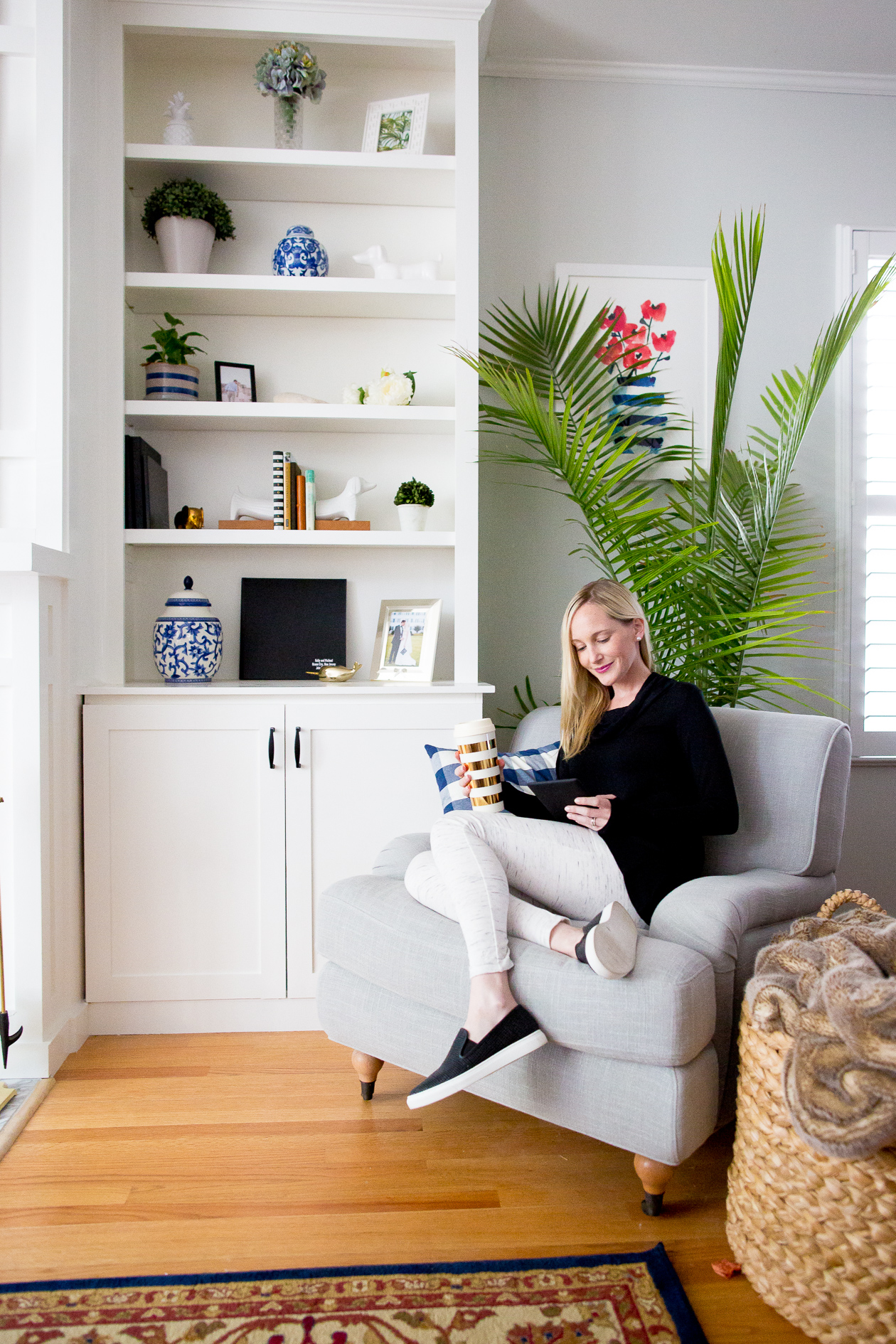 Cuddl Duds Softwear with Stretch Cowl Neck Top and Comfortwear Leggings / Kate Spade Mug / Vince Camuto Sneakers (All c/o Bon-Ton)
Even though it's where I work, I love spending time at home. I make sure to get myself out of the house every day, whether it's for a walk, errands, a short work session at a coffee shop, or dinner out… and don't get me wrong: I adore exploring Chicago and taking advantage of everything the city has to offer. But I'm happiest (and most comfortable) at home, hanging with my family and relaxing. Home is where the heart is, for sure!
That said, in order for home to be that "happy place" for me, I need a couple of things. First, I need cleanliness and organization. This is a constant battle, as our small home doubles as an office for me, and clutter and boxes pile up quickly. It can get a little overwhelming and stressful, so I try to stay on top of it as best I can with early-morning and late-night cleaning sessions.
Second, I need super comfortable clothing. I like getting dressed up just as much as the next girl, but on days when I don't have to, I really need clothing that moves with me. One minute I'm working at the kitchen table with my laptop and the next I'm on the floor doing "tummy time" with Emma. Later, I might be curled up on my favorite chair with a good book, or watching a television show with Mitch. Dresses and heels for this? No, thanks. Stretchy leggings and cozy tops? Yes, please. Especially during the fall! And especially for next week, when I'm totally going to start exercising. ;)
Recently, I was introduced to Cuddl Duds, a brand carried at Bon-Ton that specializes in combining style and comfort for women with on-the-go lifestyles. I love how easily you can layer Cuddl Duds clothing, and how it all seems to go together. And that it's machine-washable.
In these photos, I'm wearing my favorite leggings from the brand. They're brushed on the inside for extra comfort, warmth and coziness, and because they're made of a cotton/rayon/spandex mix and feature a stretch waistband, they fit great. They also have front pockets, which come in handy a lot when my hands are full. And then I'm wearing this cowl neck top, which slightly flares at the bottom–great for those of us who still have some left over "baby bump" pudginess to deal with. My favorite part, though, is that the top has thumb holes!
I paired my comfy leggings and top with these slip-on sneakers from Vince Camuto. (Why did it take me this long to discover the magic of slip-on sneakers? Comfort and the ability to get 'em on without any hands?! Again: magic.) I'm also holding my favorite Kate Spade thermal coffee mug, which is great for my errands and walks and for the house, as it's basically spill-proof!
Be sure to check out the entire Cuddl Duds collection. For now, though, I'm getting back to that book. ;)