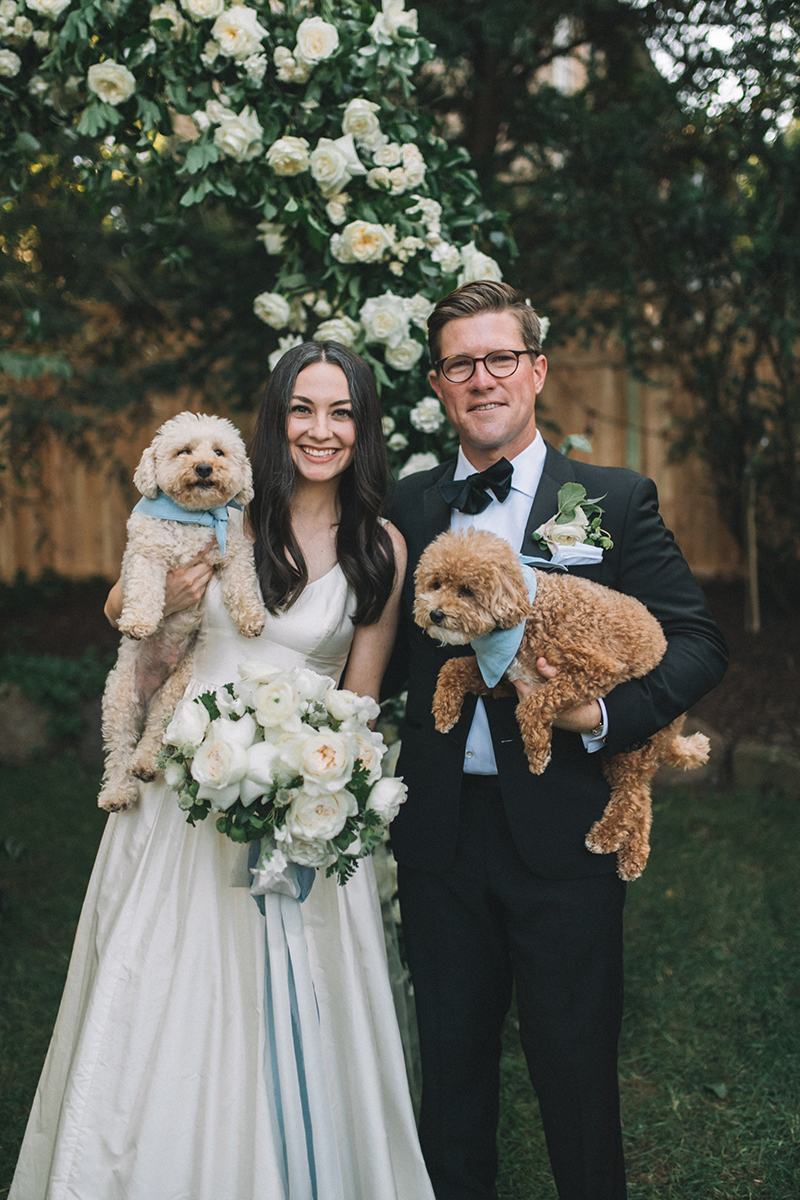 Let's jump right in… and talk about the first 10 things that come to mind:
Our good friend Carly got married! I can't believe I haven't shared her wedding post until now; I've weirdly been weeks ahead on blog content for a couple of months, and the one drawback to going the autopilot route is that I often fail to share big news in a timely fashion, haha. But CONGRATULATIONS TO THE RIORDANS! 😭 Carly and Mike ended up having an intimate family-only wedding in their backyard because of the pandemic, and it was *everything.* Seriously, the detail! Everything was gorgeous—Carly should probably pick up wedding planning as a side gig, no?—and it was clearly such a love-filled day. Mitch and I obviously wish we could have been there, but we celebrated via video 😜 and can't wait to do it in person in 2021! M + C, wishing you two a lifetime of happiness, love and fun.
CHRISTMAS IS PLANNED. My family is spending the holidays in CHICAGO WITH US! I can't tell you how excited I am. I think it's going to be wonderfully calm (as calm as Christmas could be, haha), and you'd better believe that I'm going all out with decor. Of course, I'm really going to miss the extended family on the East Coast. 😢 But 2021 is just around the corner and with any hope, we'll be galavanting around the country to see our loved ones in the coming year. Nantucket, Long Island, Connecticut, Florida… here we come!
My father-in-law gave me spider killer as an early birthday present, and my own dad is still cracking up. It's called "Miss Muffet's Revenge," which is funny because growing up, Dad called me Miss Muffet. (Extreme arachnophobia.) Our front porch doesn't stand a chance…
This blog post killed me. I share so many of her feelings.
We're finally getting serious about our baby gate problem. We've tried everything, but the stair openings in our home are very funky, and every time we install a new highly recommended baby gate, it fails. Lucy is on the MOVE, though, and it's getting too scary. So we had Home Safe Home come this week, and we're going the custom route. (I found them through the Nextdoor app.) Sigh. I know it's going to be a lot, but it's so necessary.
I finally switched over my closet to fall/winter last week. I'd been "working on it" for way too long, so I finally bit the bullet and did it. I just put all my spring/summer clothing into tubs and store it above my closet, but getting dressed is so much easier now, haha. All the stuff I actually wear is front and center and within view!
I'm in wedding mode over here. My brother-in-law gets married this Saturday, and we leave Thursday! Right now, I'm working on floral arrangements and deciding on outfits for the family. So excited!
Emma wants to be "My Little Pony" for Halloween. Like what? A month ago, she told me that she wanted to be Madeline. I was thrilled, and immediately bought these matching costumes for the girls. And now she's like, "Mom, no. That was so last month." So here we are. (Though she does maintain that she wants to be both; how exactly has yet to be determined. 😂) Thank goodness for Target.
Have you seen this music video? It's old, but I'm old too and live under a rock. ;) The actress is the bride from "Father of the Bride," and Brad Paisley ended up falling in love with and marrying her! Adorable. (Also, in case you missed it, "FATHER OF THE BRIDE PART III-ish" #omg)
Emma's playing field hockey. My friend Barbie is coaching her and it's the cutest thing ever. I played field hockey for four years and my four-year-old child appears to be better than I was. 😆 But gosh. She LOVES it, and I'm so happy for her because it's the first sport she's shown great interest in. Go Emma! Cutest little field hockey player around.