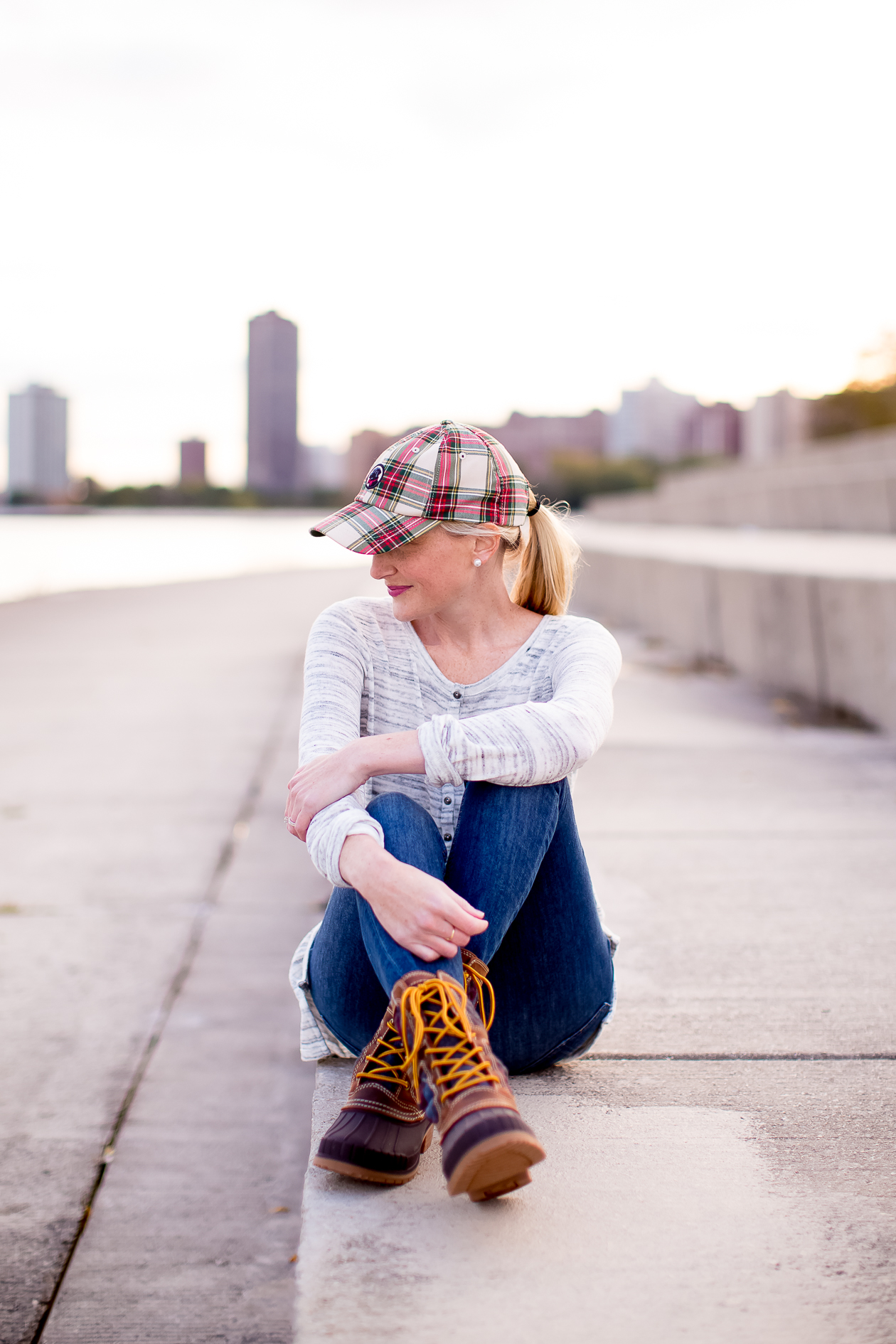 This post was sponsored by Zappos, but all opinions are my own. As always, thank you so much for supporting the partnerships that keep Kelly in the City up and running!
Kamik Boots c/o Zappos.com / Rag & Bone Jeans (On sale!) / Gap Softspun Henley (So soft! Feels like a mix between a tee and a sweater. Also love this one and this one.) / Southern Proper Hat c/o (Also available here)

I'm back! With another bullet point post. The last one I wrote was so enjoyable, as it didn't require crafting a storyline of sorts. (I love being able to just quickly tell you what's been going on or what I'm thinking about!) So I'm at it again.
Where was I yesterday? Um, nowhere, haha. I dropped my mom off at the airport really early the previous morning, and I decided to go to bed early that night instead of writing my usual post. As I almost never do that, it felt oddly liberating. ;) Like skipping a day of high school or something. It's been super rainy and chilly in Chicago, so I spent the day doing "tummy time" on the couch, watching Sesame Street and reading kids' books with Emma. It was so nice! Later, we met up with Mitch and walked along Montrose Beach, where these photos were taken.
A Chicago Girl can never have enough all-weather boots. It sounds ridiculous, but it's so true. Back in New York, I owned one pair and that was great. But here, where the weather is brutal for such a long period of time every year, it's really nice to have some different options to choose from. It would kind of be like having to wear the same pair of shoes every day for six months. Who–besides Mitch–wants to do that?! In these photos, I'm wearing the Sienna boots from Kamik, which you can find at Zappos, known for its outstanding service as well as its fast and free shipping. (Kamik, by the way, was founded in Montreal in 1898, and it remains a family-owned business that focuses on environmentally sustainable outdoor footwear.) The boots are SO COMFORTABLE. (And how cute is the plaid?) They run a little small, so I'd recommend going up a half size. (I normally wear a size 7.5 in flats and boots, and I took these in an 8.) But the leather is extremely soft and the entire boot is lined with some kind of heavenly padding. As they feature "RubberHe," a recyclable, PVC-free synthetic rubber that's 50 percent lighter than natural rubber, the boots are lighter than other boots made from synthetics and provide great traction while also being flexible, comfortable, durable and rub-resistant. This means no break-in time, and they're very easy to get on and off. They got the Chicago Girl Approval, for sure! :)
New logo, new logo! It's by my new online friend, Katie Kerrigan. Katie does some amazing calligraphy work, and I can't recommend her enough. How cool is it that she fused the Chicago and New York skylines (be still, my heart) and manage to squeeze in the Statue of Liberty? Katie, you're a rockstar. Thank you!
We're having our annual Halloween party on Saturday night! Usually, when we have parties, I go crazy and clean like a madwoman. But I think I've finally realized that my friends don't love me for my cleaning skills. So GUESS WHAT, guys? I'm not going to do it. Instead, I'm going to go to the zoo on Saturday morning with Mitch and Emma, and simply shove all the clutter into the bedroom and close the door. And then we shall drink wine in our ridiculous costumes and have a great time, despite the hidden mess. And who will care? No one. Huzzah!
On contradictory note, I just bought this vacuum because I've always wanted an Orek and it was on major sale and I'm SO EXCITED.
I somehow forgot to mention that last weekend, Mitch and I slipped away for a couple of hours and attended Jess and Neal's engagement party and it was ah-mah-zing. (Look how beautiful she was!) I simply couldn't believe how many people were there to show their love and support (and eat tacos and drink all the margaritas). I also loved meeting their friends from the various stages of their lives. Such wonderful people, and clearly a testament to the wonderful people that Jess and Neal are. The amount of love in their house was astounding! We can't wait for your wedding, guys. We love you so much!
I recently picked out our Christmas card. HOW CUTE, RIGHT?! We're going to attempt to take a family pic (Noodle included) with a tripod this weekend. Pray for us.
My parents are sending Mitch, Emma and I to a "birthday dinner" tomorrow night, and we're beyond pumped! We're going to a new place in the neighborhood that we've been wanting to try, and it just so happens to be stroller-friendly and showing the Cubs game. Let's go Cubs! (Thank you Mom and Dad. We love you!)
I cannot get over the number of gifts that have arrived on our doorstep for Emma over the last 2.5 months. My heart is exploding; I'm so grateful for the love that's been showered on us during this incredibly special time! Admittedly, we have a wall of unopened boxes at the moment, as I'm behind on thank you cards and want to make sure that I write to every single person and express just how grateful we are for his or her thoughtfulness. HOW do I only manage to write one per day?! Every morning, I tell myself I'm going to get a ton done, and then someone throws up, starts crying, poops or needs to be fed. Are there any other mothers out there who set unreasonable productivity expectations for themselves again and again, even though they've learned what's actually feasible time and time again?! Haha — It's like I think I'm going to develop super powers overnight. But anyway: to the friends and families and companies who have sent Emma a card or gift, THANK YOU! It means the world to us–it truly does–and your note is incoming. :) Please know that we think about you daily, and our hearts have never been so big.
I'm finally working on some baby posts! Coming to the blog soon: third trimester symptoms, "fourth trimester" symptoms and delivery recovery, our favorite 0-3 month products, our first month with Emma, and a typical day with Emma. Any other requests?! I'm going to space them out, as I realize not everyone is interested in reading about babies. ;) But I'm excited to get the posts up!
Why did all the fonts on this site suddenly change? Why is WordPress so confusing? I have terrible vision and this font is WAY too tiny.
How much longer until 5 p.m.?
Kamik Boots c/o Zappos.com / Rag & Bone Jeans (On sale!) / Gap Softspun Henley (So soft! Feels like a mix between a tee and a sweater. Also love this one and this one.) / Southern Proper Hat c/o (Also available here)