It's never more important to dress for the weather than it is during winter. With frigid temperatures and snow continuing to fall, it's essential to wear the right pieces to keep you warm and dry. Fortunately, you don't have to sacrifice style to stay warm. 
Follow these tips on what to wear to the snow to ensure you are protected from cold temperatures and potentially nasty weather. 

What to Wear in the Snow
A winter coat and pants are essential for snowy weather.
Your outer layer is easily the most important layer of clothing for going out in the snow. And your outer layer should consist of a good quality winter coat and pants. You can choose from numerous styles to find one that suits you. Just make sure that they are well-insulated and, if possible, waterproof to best protect you from the cold air, wind, rain, and snow. 
The most effective outer layer is one consisting of pants and jacket options that are both waterproof, windproof, breathable, and seam-sealed. We all know jackets are statement pieces. But you might be surprised by how stylish snow pants can be as well. 
Warm, waterproof snow boots are a must-have for winter.
What's more miserable than having soaking wet, freezing cold feet? Without proper footwear to protect your feet, that's exactly what you can expect. 
Snow boots are designed to keep your feet warm and dry, even when you're trekking through cold and wet conditions. Generally, the best snow boots will have a durable rubber tread that provides stability when you're walking across slippery snow and ice.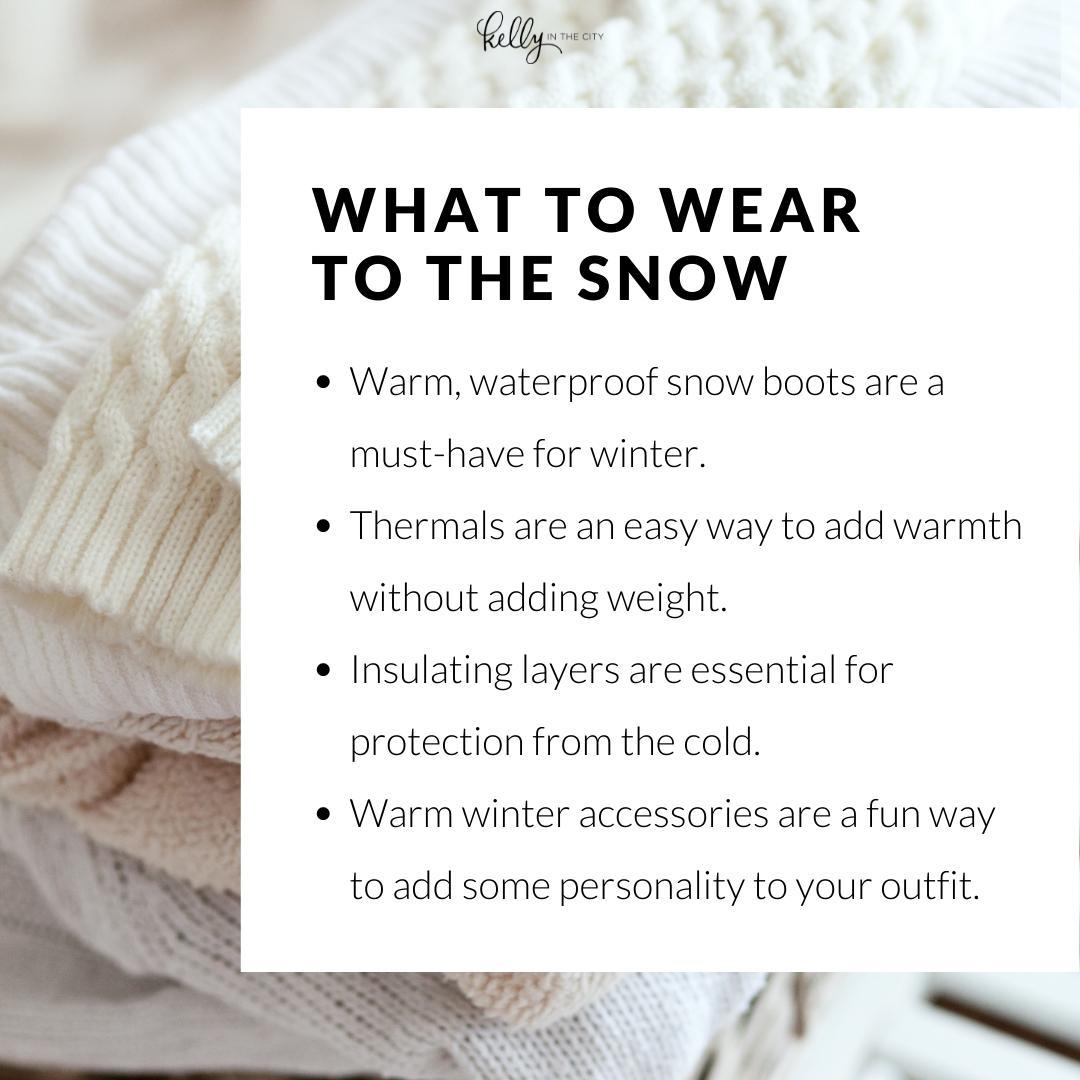 Thermals are an easy way to add warmth without adding weight.
To truly stay warm in the snowy, winter weather, the clothes you wear under your coat are just as important as the coat itself. They can be an important base layer on an especially cold day. The best thermals are lightweight, breathable underlayers that help to keep you warm and dry. 
You can choose from different materials, including cotton or a similar wicking material. For ultimate protection against frigid temperatures, you could even wear long underwear as your first layer. 
Insulating layers are essential for protection from the cold. 
Before you throw on your winter coat and after you slip into your thermals, you'll want to add some insulating layers. The important thing to remember with this layer of clothing is function. You want to be protected from the harsh, cold weather, but you also need to be able to move freely. 
Sweaters, turtlenecks, or hoodies are good insulating tops. Layers with zippers, like jackets, are effective underlayers because you can easily take them off if you get too hot, without having to remove everything else first. 
Warm winter accessories are a fun way to add some personality to your outfit. 
Winter accessories that are just as cute as they are warm are an absolute must for me. In my opinion, you can't have too many winter accessories. Accessorizing with different scarves, hats, and gloves or mittens is a great way to add some flair to your winter outfits. Especially when you're stuck wearing the same coat and boots day after day. 

Snow Outfit Ideas
Canada Goose Shelburne Puffer Coat with Sorel Boots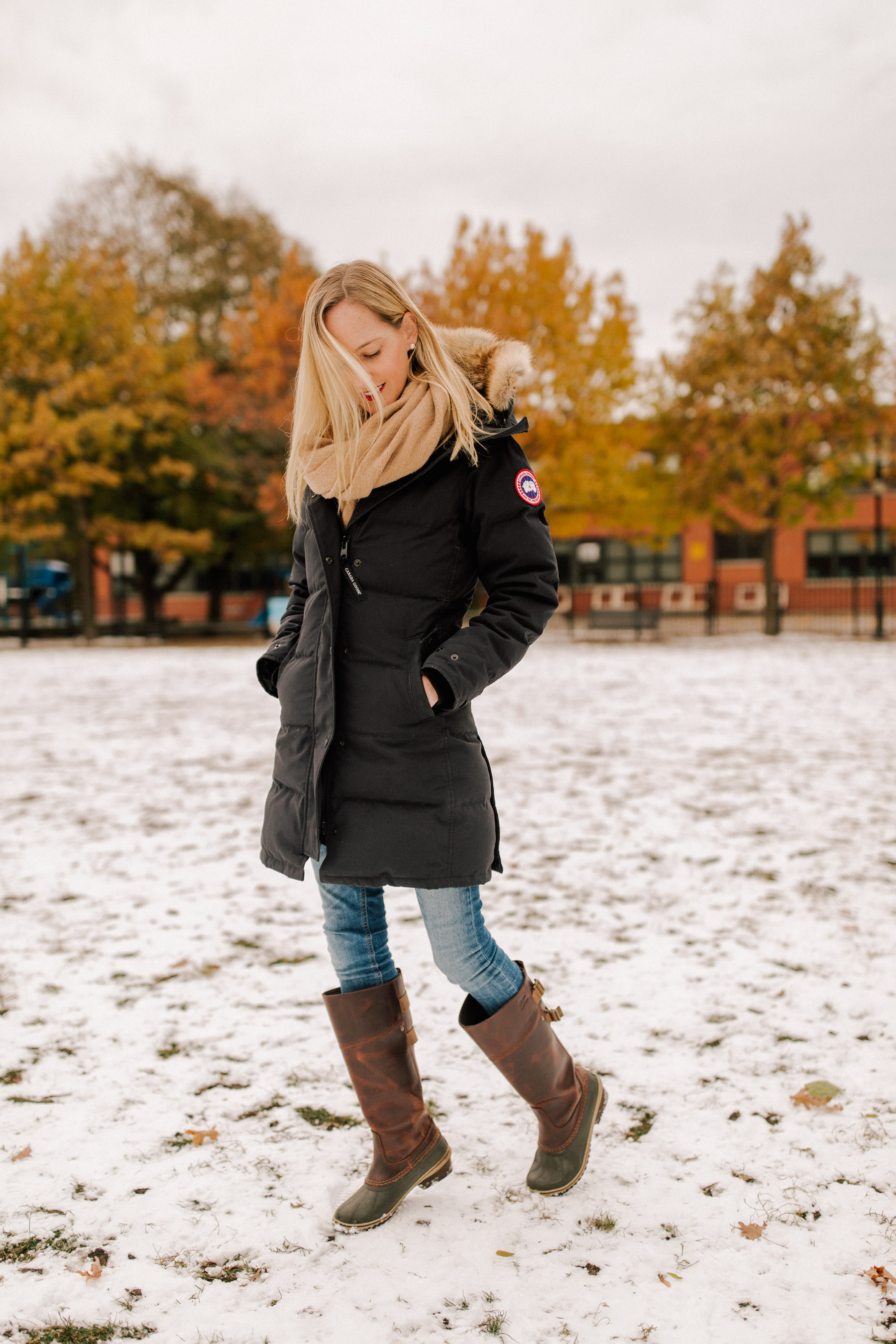 Canada Goose Shelburne Puffer Jacket / Sorel Boots (Sold out but similar HERE) / Rag & Bone Jeans (sold out but similar HERE) / Free People Scarf  (sold out but similar HERE) / BP. Sweater (Sold out but similar HERE)
I challenge you to find a warmer coat than the Shelburne Puffer Jacket from Canada Goose. For this particular look, I styled the puffer jacket with jeans, a sweater, and boots. Then added a scarf for even more warmth. You can swap the scarf for one with more color and add a beanie to show off your personal style. 
Striped Puffer Vest, Chunky Sweater, Leggings, Sherpa Sneakers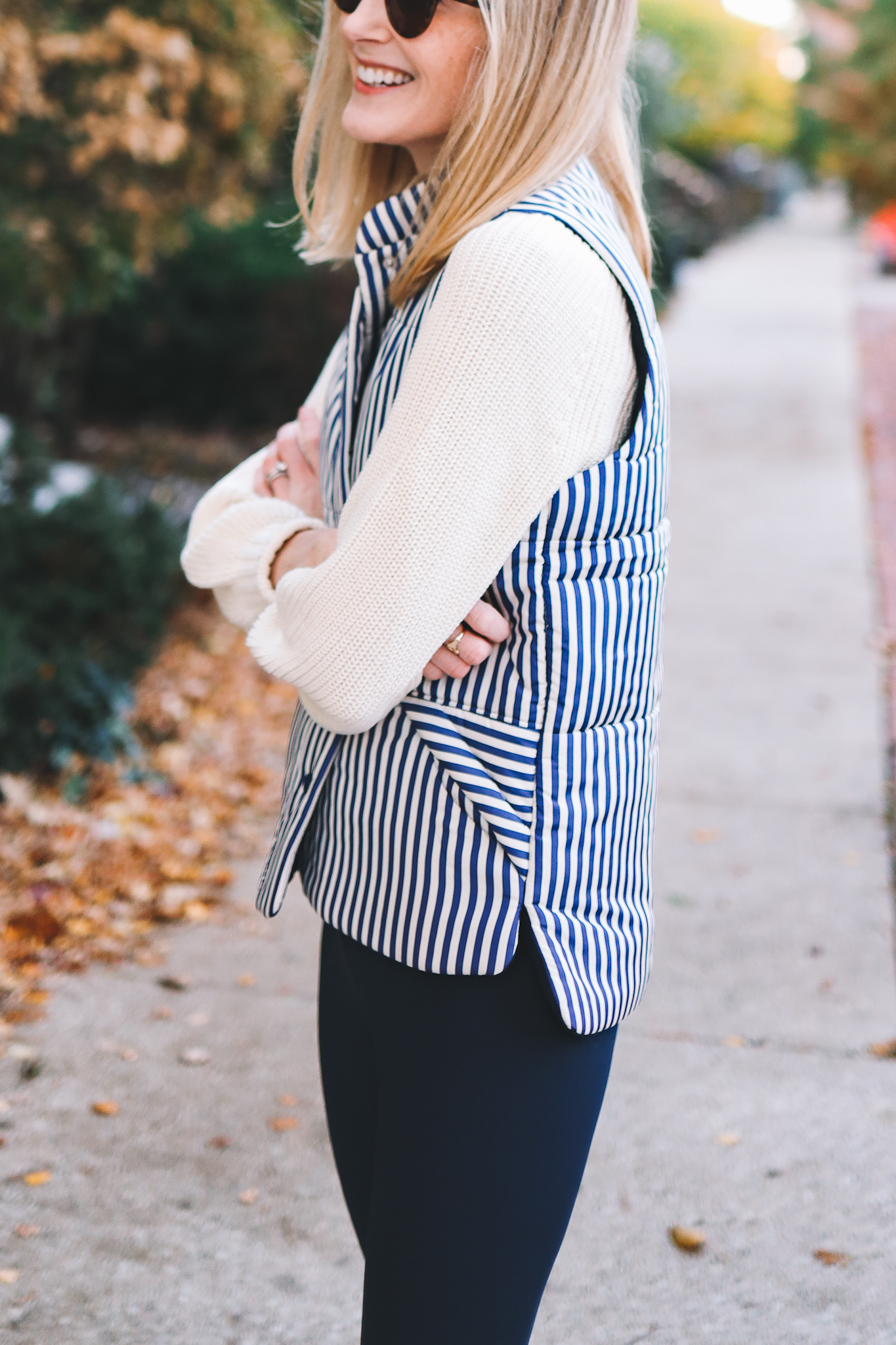 $38 Striped Puffer Vest ($50 Striped Puffer Jacket version here.) / High-Waist Legging (In so many colors!) / Chunky Sweater / Suede Sherpa Sneakers (Order a half size up.)
I love puffer vests for those winter days where there is snow on the ground and the air is crisp, but you don't need the extra warmth of a heavy puffer coat. For this affordable winter look, I paired this fantastic puffer vest with a cozy sweater, warm high-waist leggings, and sneakers. You can easily swap the sneakers for snow boots (like THESE) if you're going to do a lot of walking on snow-covered sidewalks. 
Belted Puffer Jacket, Sweater, Leggings, Pom Pom Beanie, Winter Snow Boots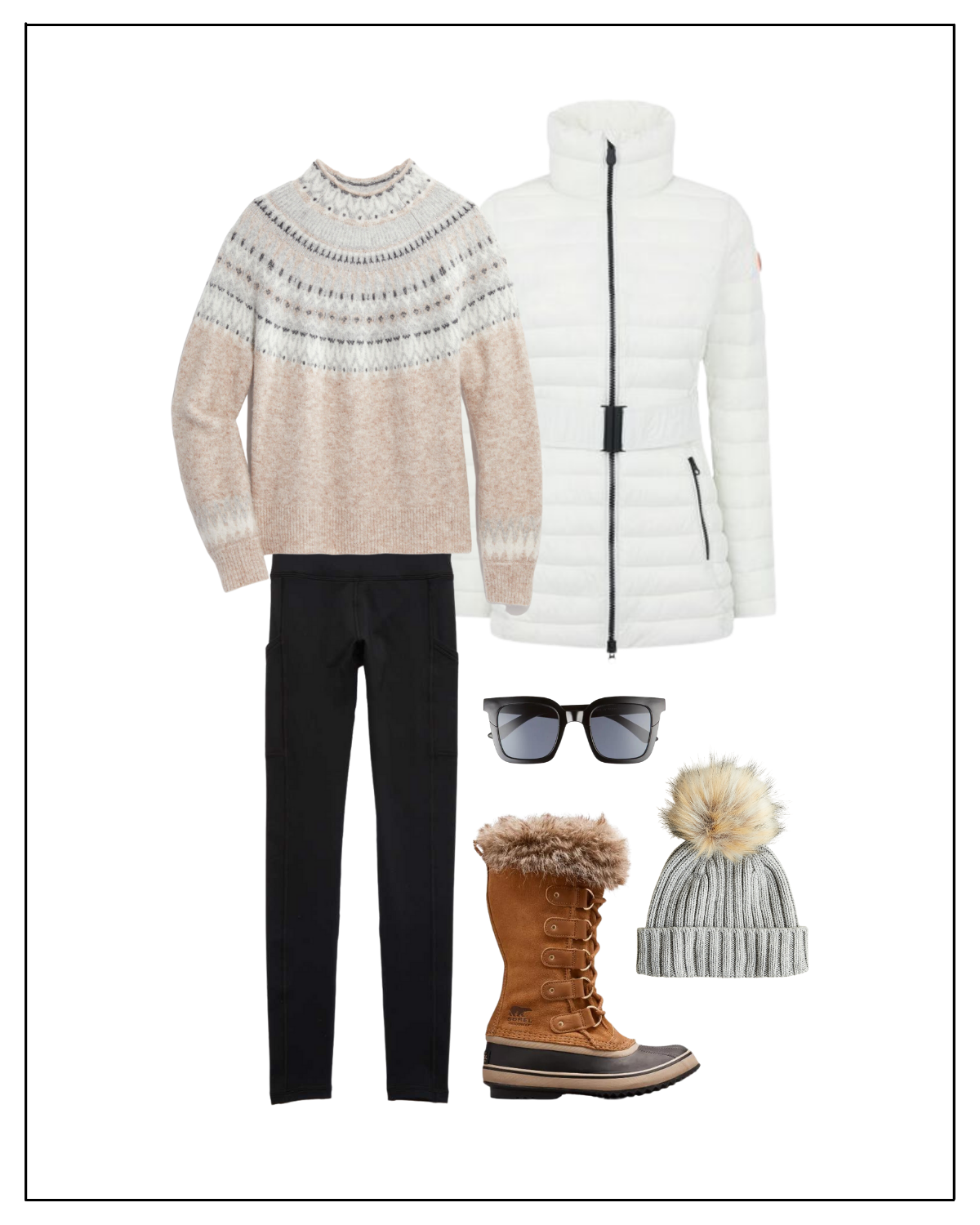 Fair Isle Mock Neck Sweater (Sold out but similar HERE) / Warm High Waisted Leggings (Sold out but similar HERE) / Belted Puffer Jacket (Low in stock but similar HERE) / Sunglasses (Sold out but similar HERE) / Pom Pom Beanie (Sold out but similar HERE) / Winter Snow Boots (Low in stock but similar HERE)
If your plans involve a ski resort or any kind of winter sport, this outfit is perfect for showing up warm and in style. The belted puffer jacket envelopes you in warm insulation while maintaining a sleek silhouette. The pom pom beanie adds a fun bit of character to the outfit and the winter boots ensure your feet stay warm and dry all day long. 
Killhope Quilted Jacket With Leggings And Grasmoor Ankle Boots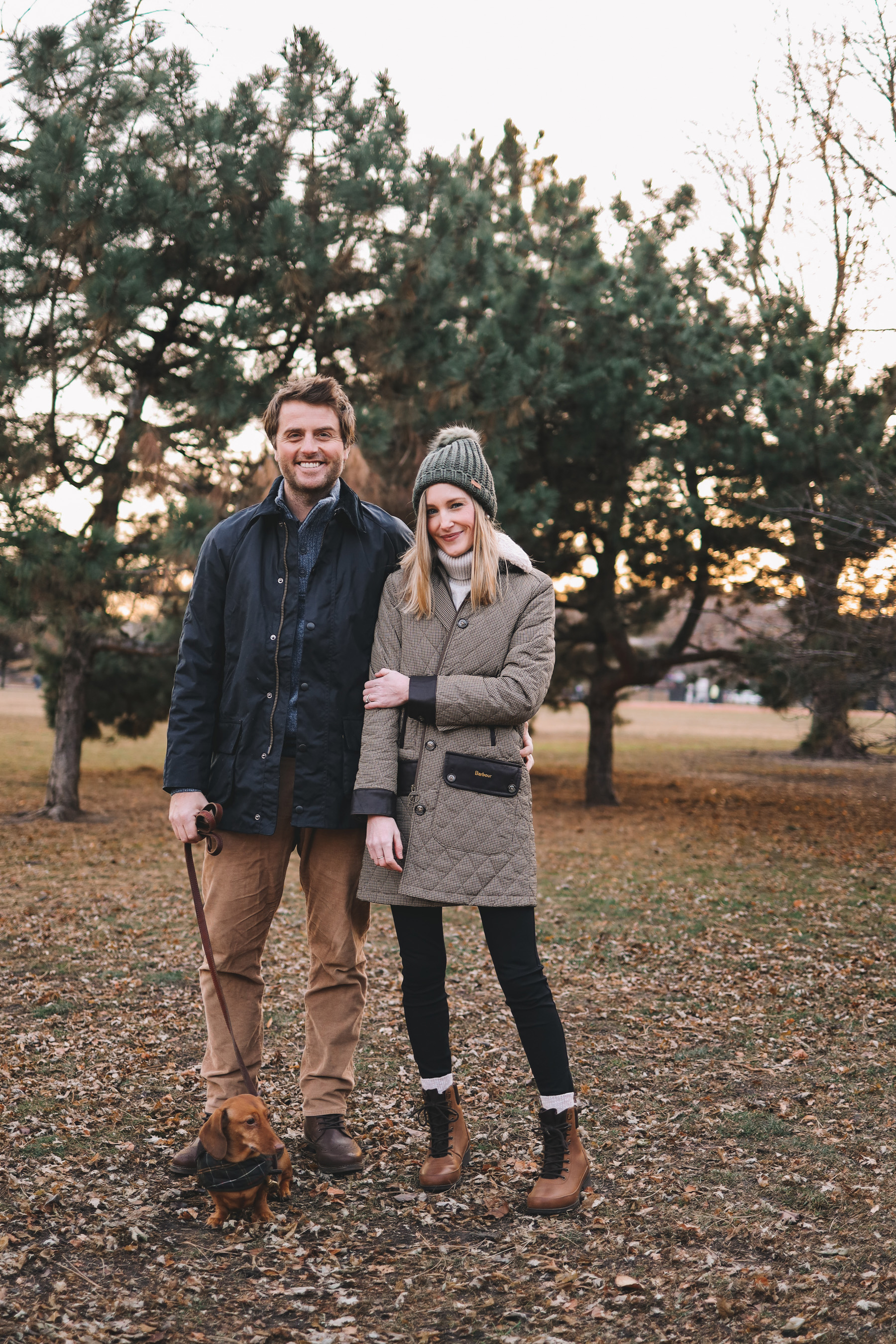 Killhope Quilted Jacket (Sold out but similar HERE) / Grasmoor Ankle Boots (Sold out but similar HERE) / Maybury Cape Sweater (Sold out but similar HERE) / Pom Beanie / Leggings 
I can't tell you enough how much I love a good quilted jacket. They're so warm and comfortable, and somehow manage to fit in perfectly with so many different winter weather outfits. For this particular look, I styled the jacket with a cape sweater, leggings, ankle boots, and a pom beanie. It's just as warm and comfortable as it is stylish. 
Wool Cocoon Coat, Spanx Jean-Ish Leggings, and Ankle Boots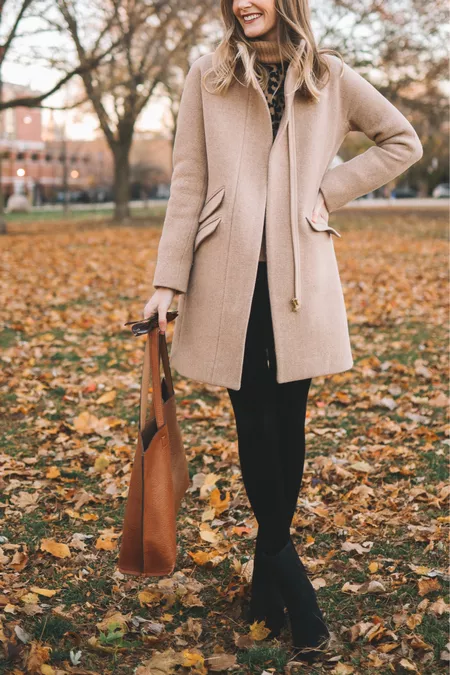 J.Crew Wool Cocoon Coat (CURRENTLY ON SALE!) / Spanx Jean-Ish Leggings / Black Leather Ankle Boots (Sold out but similar HERE)
I love this elegant cool weather look. It's deceivingly warm, thanks to the gorgeous wool coat. This wool cocoon coat really is the warmest wool coat I have ever owned (besides the Canada Goose Coat above). It's warm enough even for the coldest Chicago winters and it's a great coat option for days when you want all the warmth of a puffer coat, but the sleek silhouette of a top coat. I styled the coat with thick leggings and black leather ankle boots, but you could also wear knee-high boots for a little more warmth.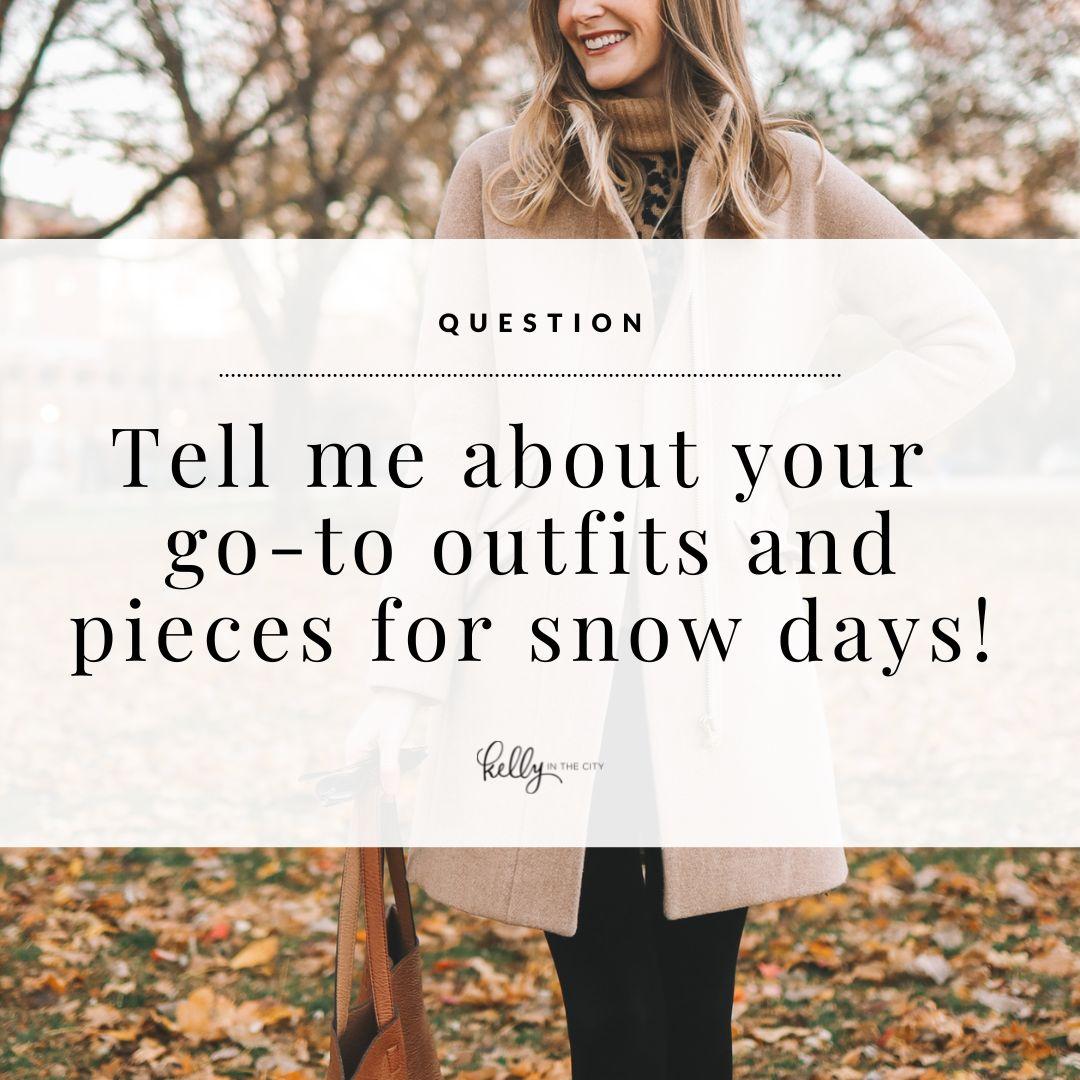 Tell me about your go-to outfits and pieces for snow days!
You don't have to sacrifice style to stay warm and dry in the snow. Now that I've shared some of my go-to outfits to wear to the snow, I'd love to hear from you. Share some of your winter essentials or head on over to the blog for more outfit ideas and tips on how to dress for all seasons and occasions.