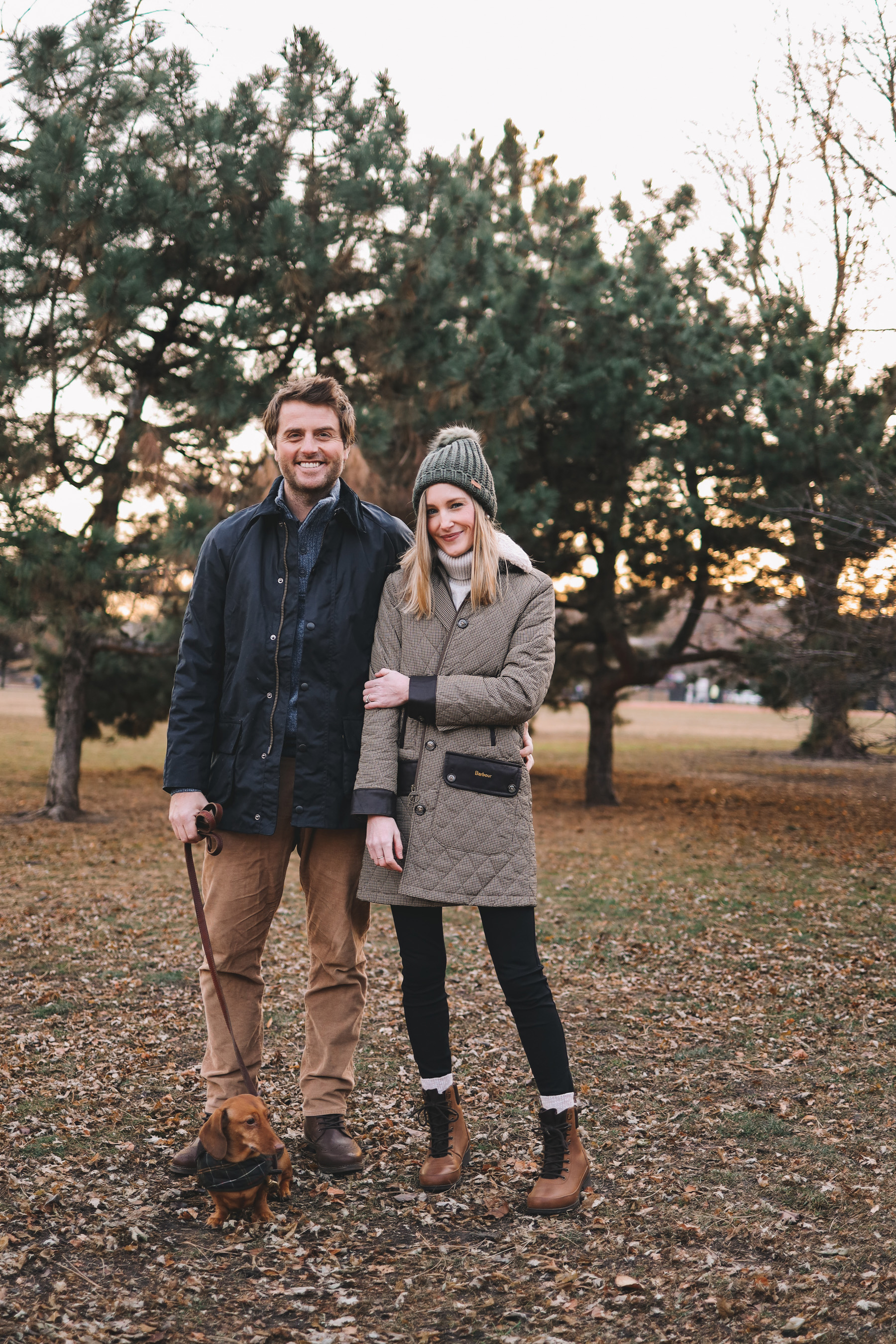 Kelly's Killhope Quilted Jacket (Orvis, Nordstrom, Barbour) / Mitch's Bristol Wax Jacket (Nordstrom, Saks, Barbour) / Kelly's Grasmoor Ankle Boots (Nordstrom, Macy's, Barbour) / Maybury Cape Sweater / Pom Beanies / Mitch's Corduroys / Kelly's Leggings / Mitch's Sweater / Mitch's Boots / Noodle's Jacket and Collar
Oh my goodness. A few weeks ago, Mitch and I took portraits (using a tripod 😆) with Noodle at Oz Park in Chicago. Noodle is an important member of our family, and while she's one of the more bizarre dogs I've ever come across, haha, she's beloved by all. (You can read about our journey with her here. She's improved SO much with age!)
Before we had kids, I used to take photos of Noodle all the time. Understandably, though, that changed when little girls arrived on the scene. ;) So it's really nice to have a few cute shots of us with her! She is, after all, my little buddy. She's at my feet as I type this, and she's been by my side since we first moved to Chicago. ♥️
These photos were taken for a social media collaboration with Barbour, but wanted to share them on the blog, too. Here's some info on some favorites we're wearing:
Killhope Quilted Jacket (Orvis, Nordstrom, Barbour): Isn't this beautiful?! The Killhope Jacket features a puppytooth check pattern (which is just a smaller version of houndstooth), a removable faux fur collar, and gorgeous leather trim. It runs TTS. I took my usual US 4 in Barbour, and the quiltiness (new word!) makes it extra cozy. I also love that it has two sets of pockets—one set that I stick my hands into, and another set that I can essentially fit the contents of my tote into. Keys, phone, wallet, sunglasses—it all fits!
Bristol Wax Jacket (Nordstrom, Saks, Barbour): The Bristol has that timeless Barbour look yet meant to withstand wintery conditions. (Think Bedale but warmer and a little more tailored!) I also just need to say that guys in Barbour jackets are everything. (AM I WRONG?)
Grasmoor Ankle Boots (Nordstrom, Macy's, Barbour): The Grasmoor Boots feature hydrophobic leather so feet stay dry and toasty. Aren't they amazing?! They run TTS (I'm wearing my usual boot size—8), and they're insanely comfortable. The traction is great on 'em, too!
Other Larkin Family Barbour favorites:
And now, without further ado 😜, the photos: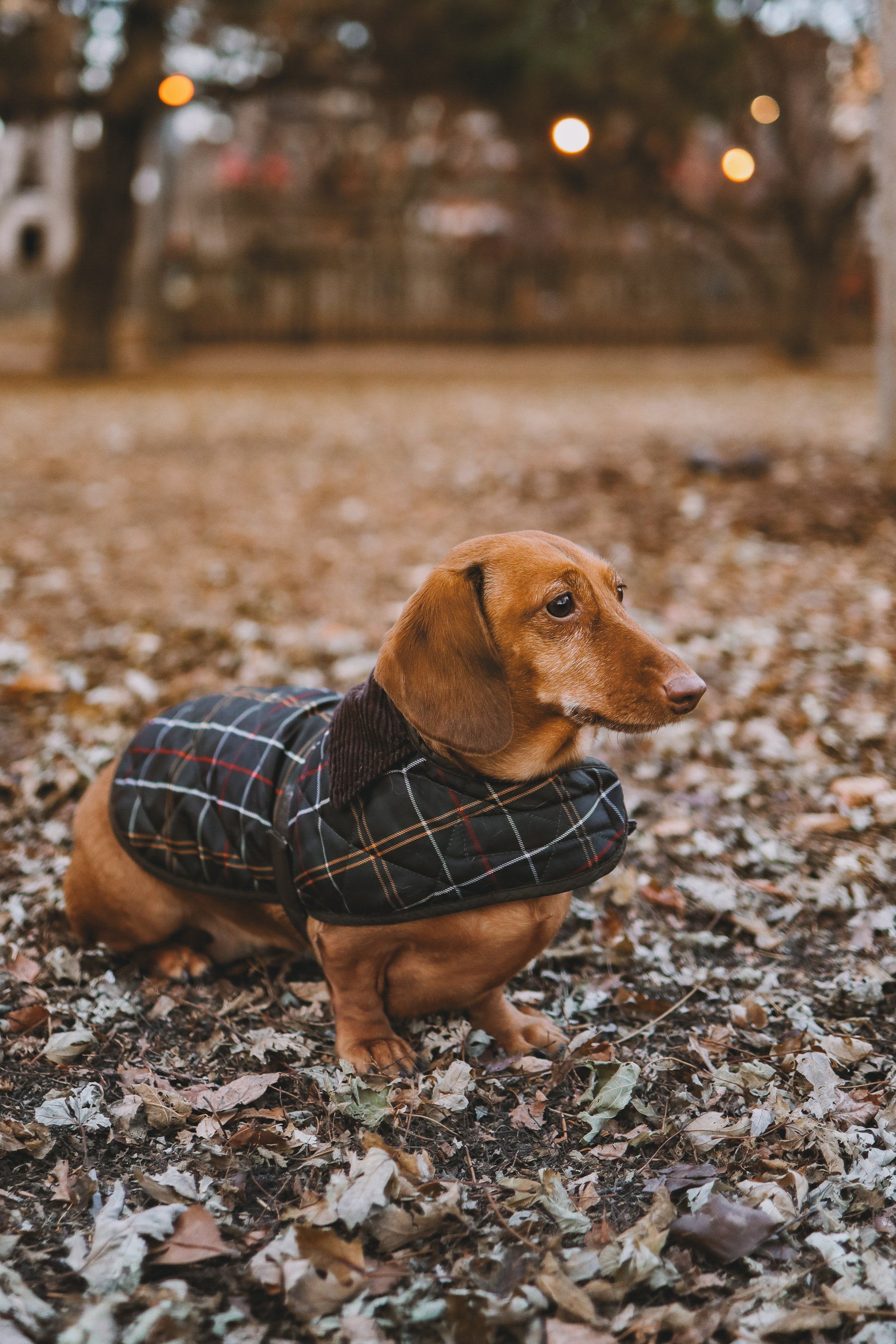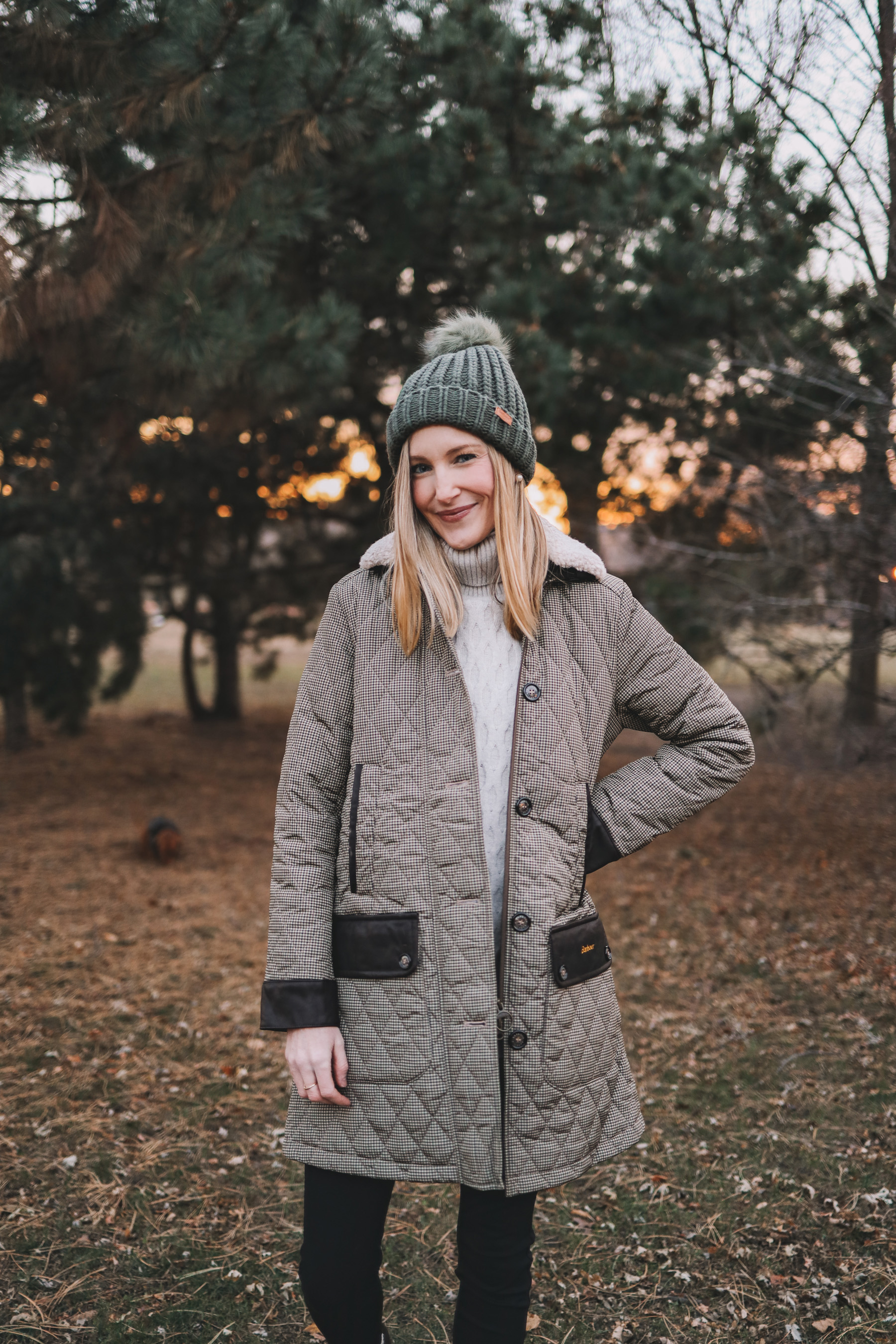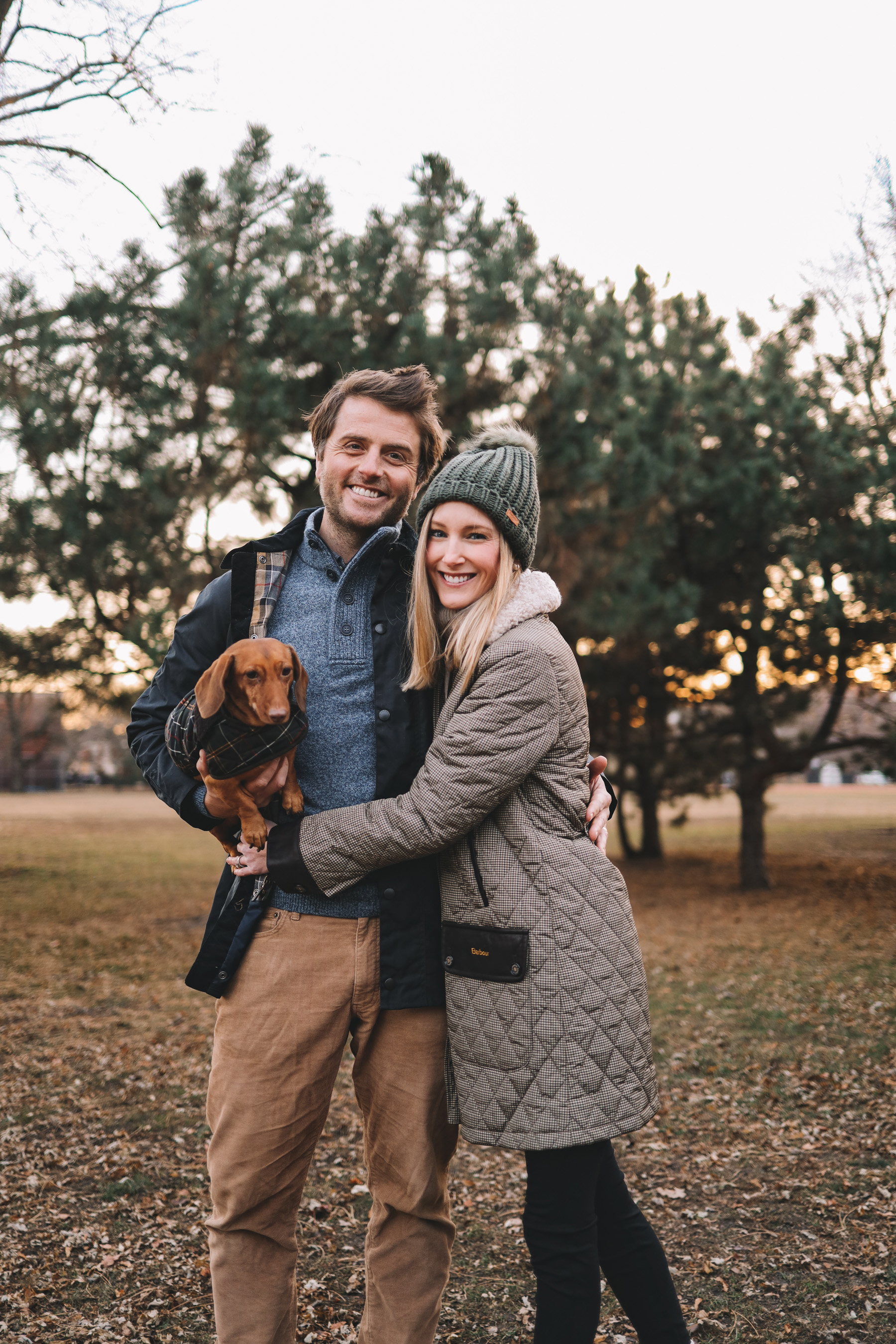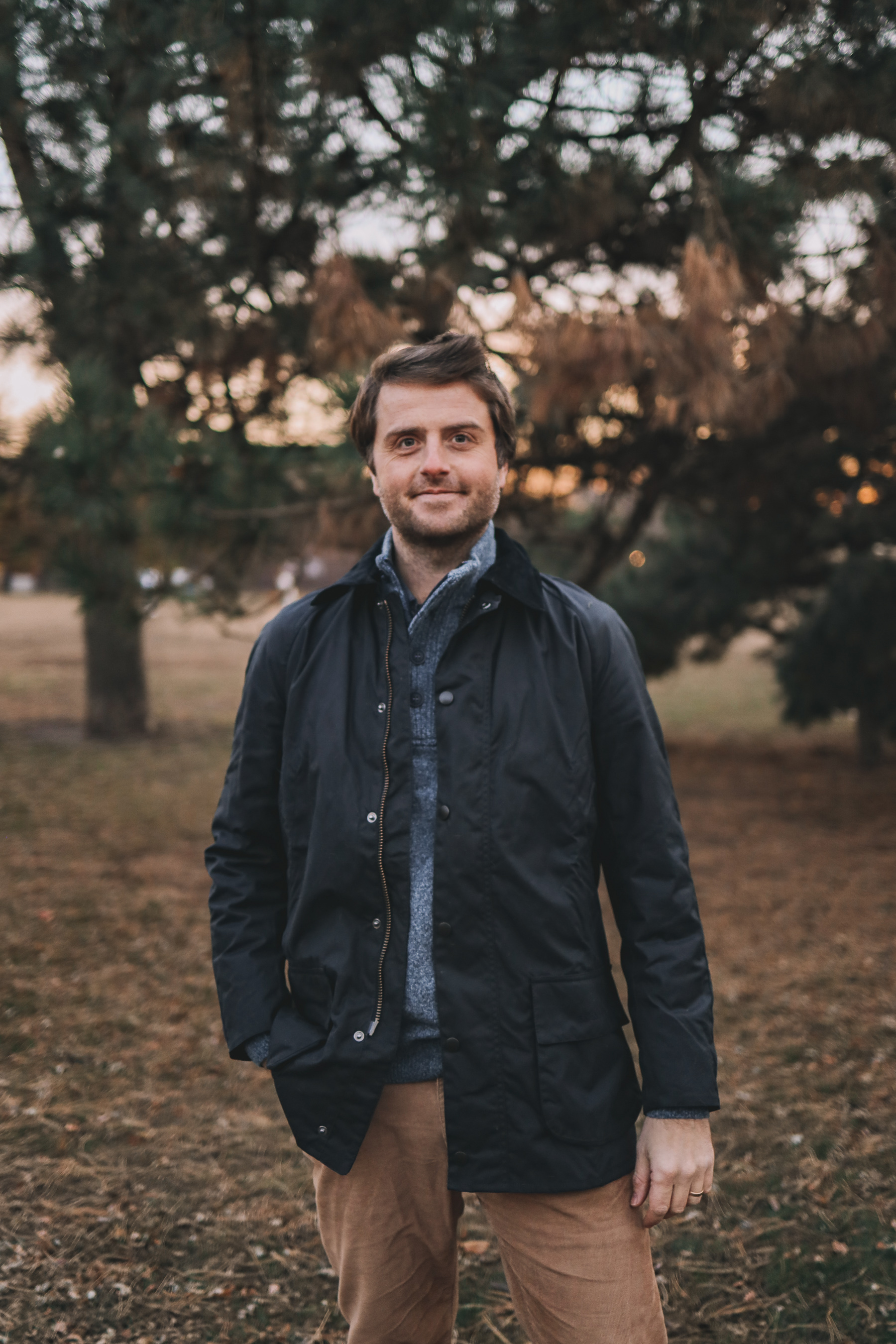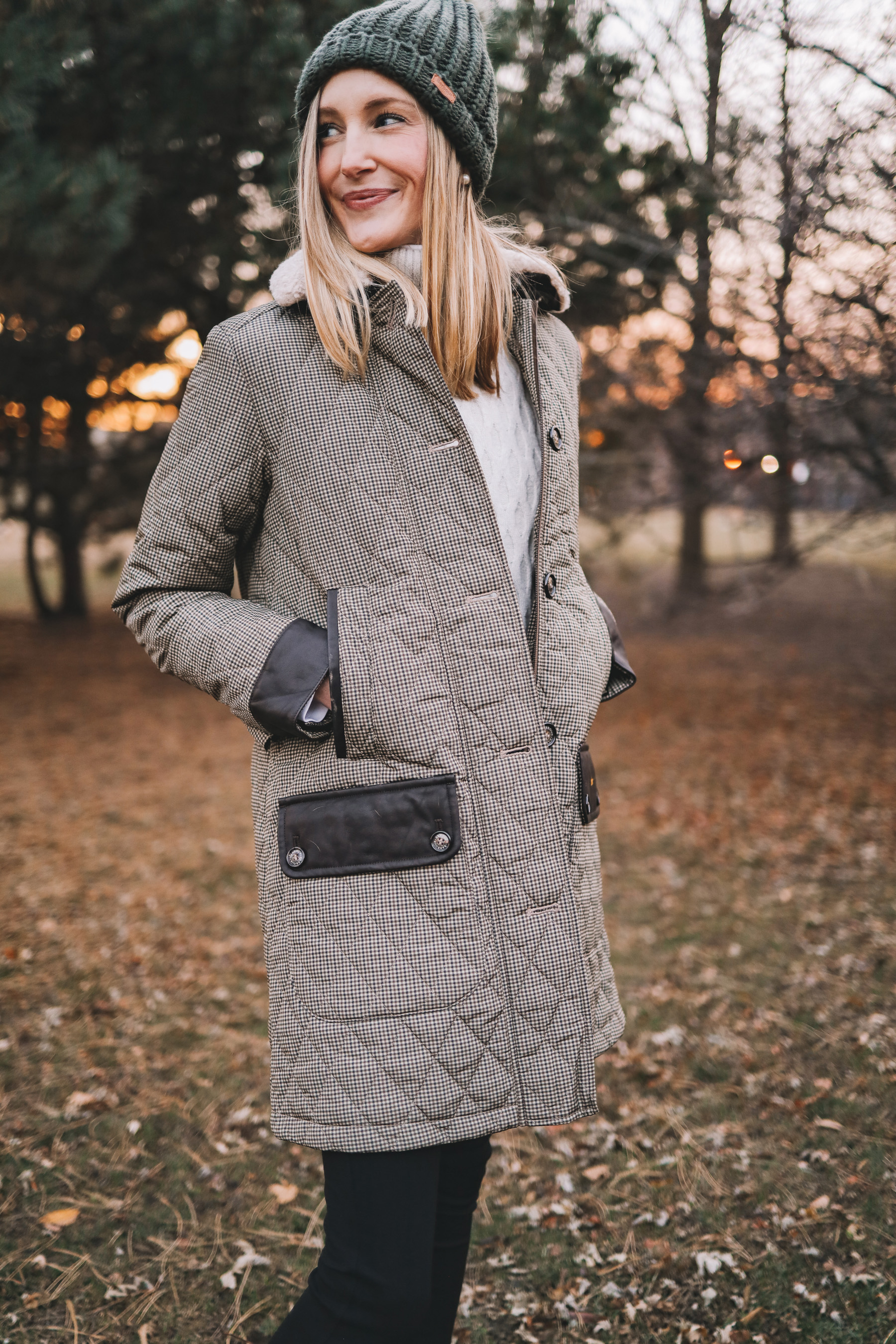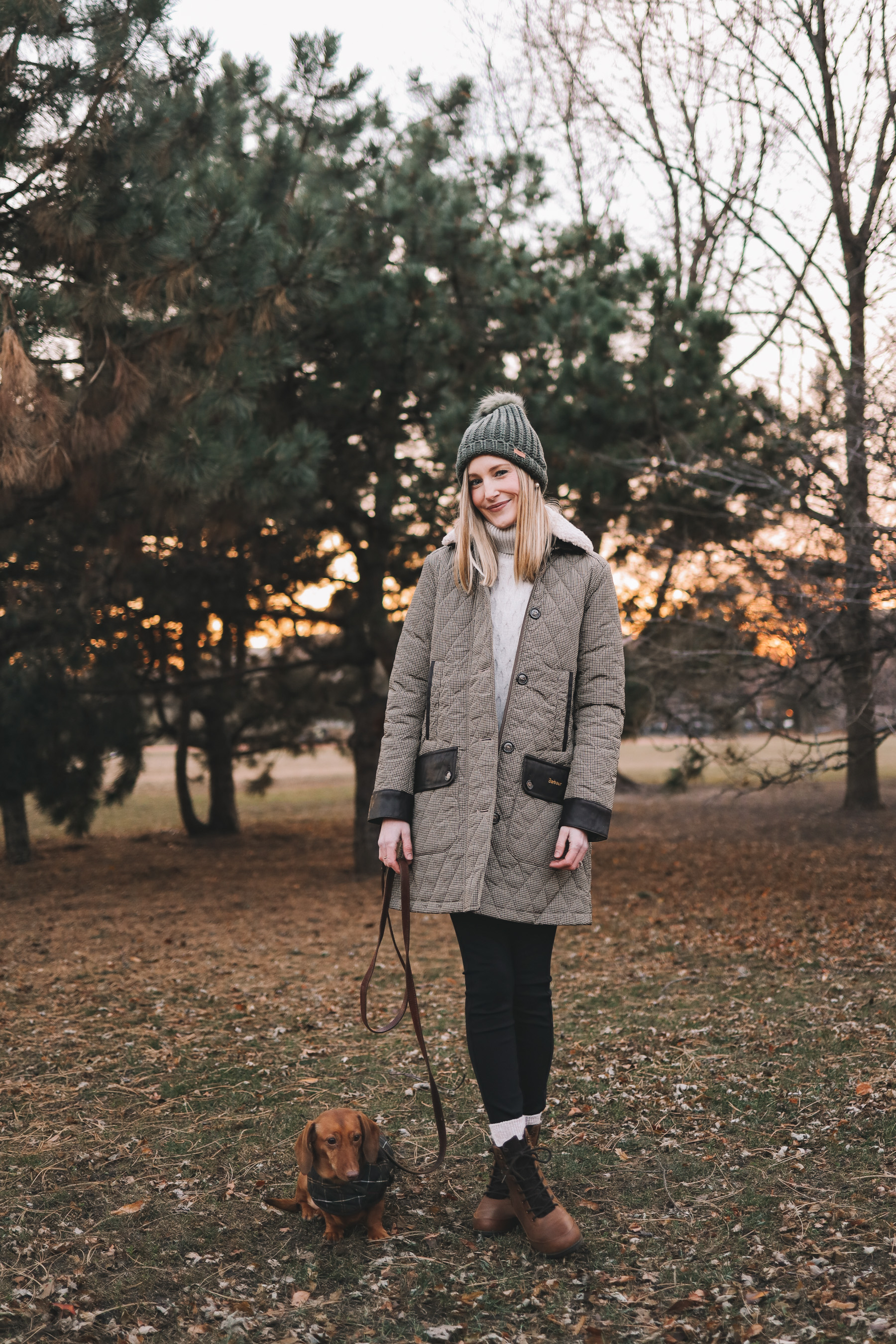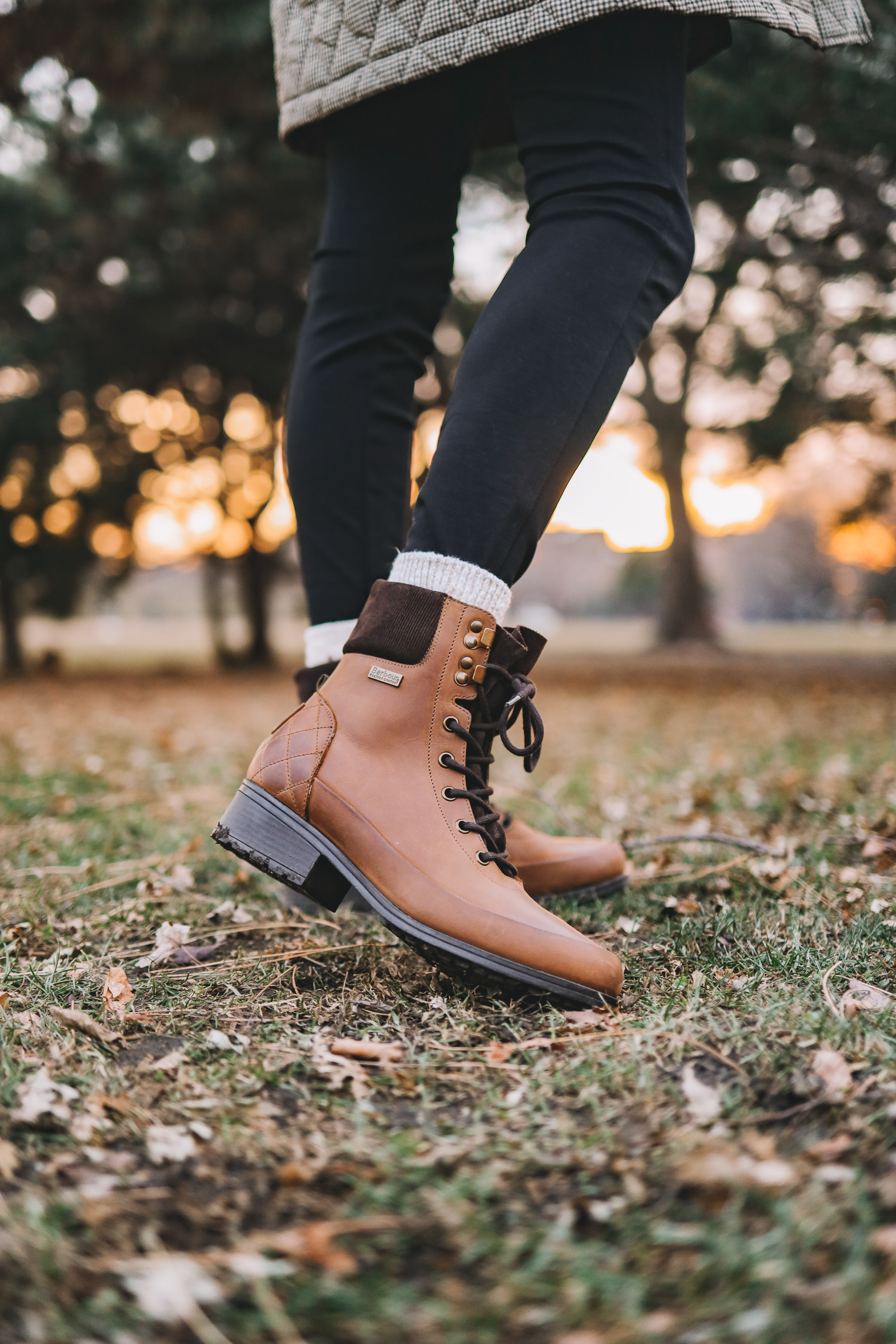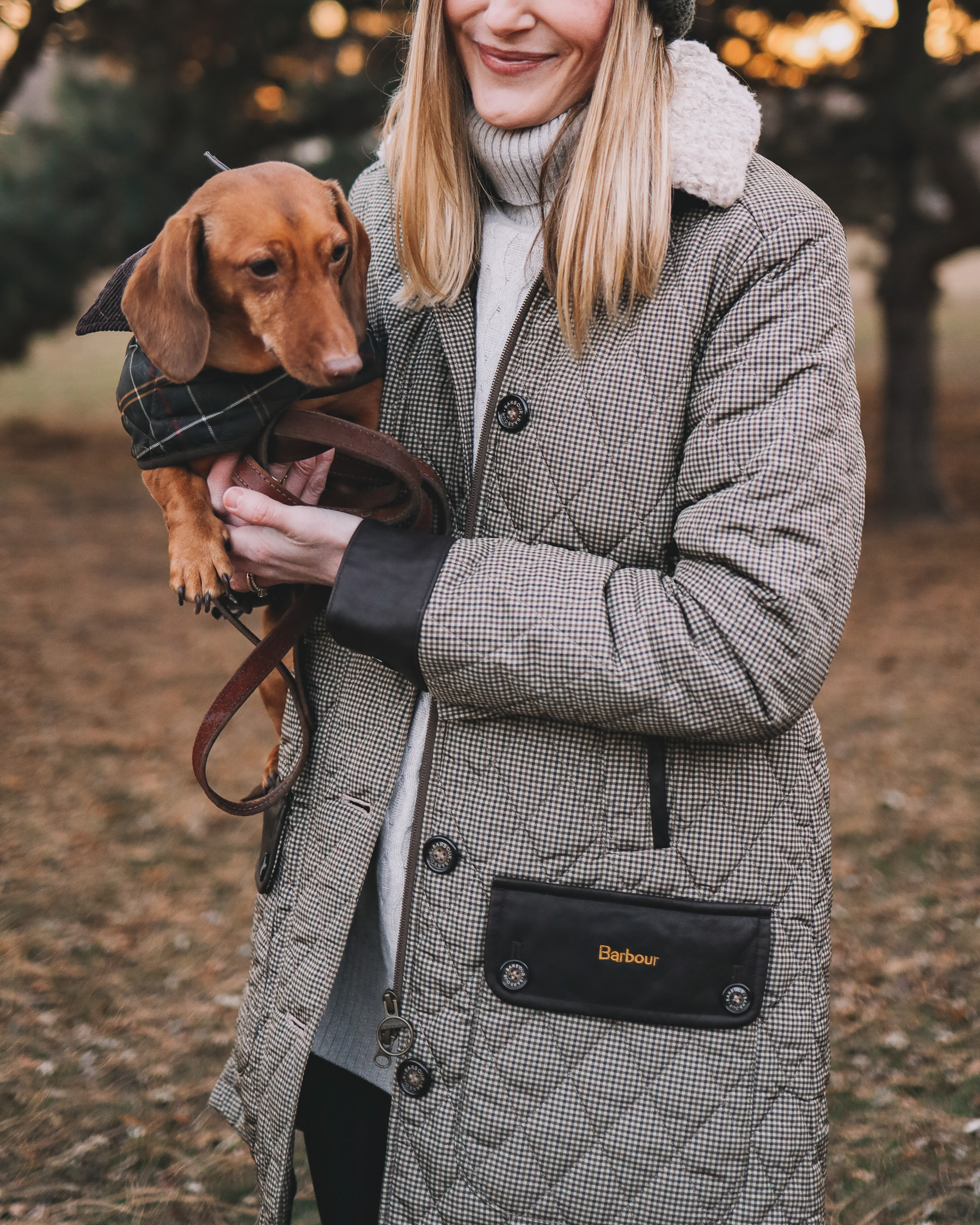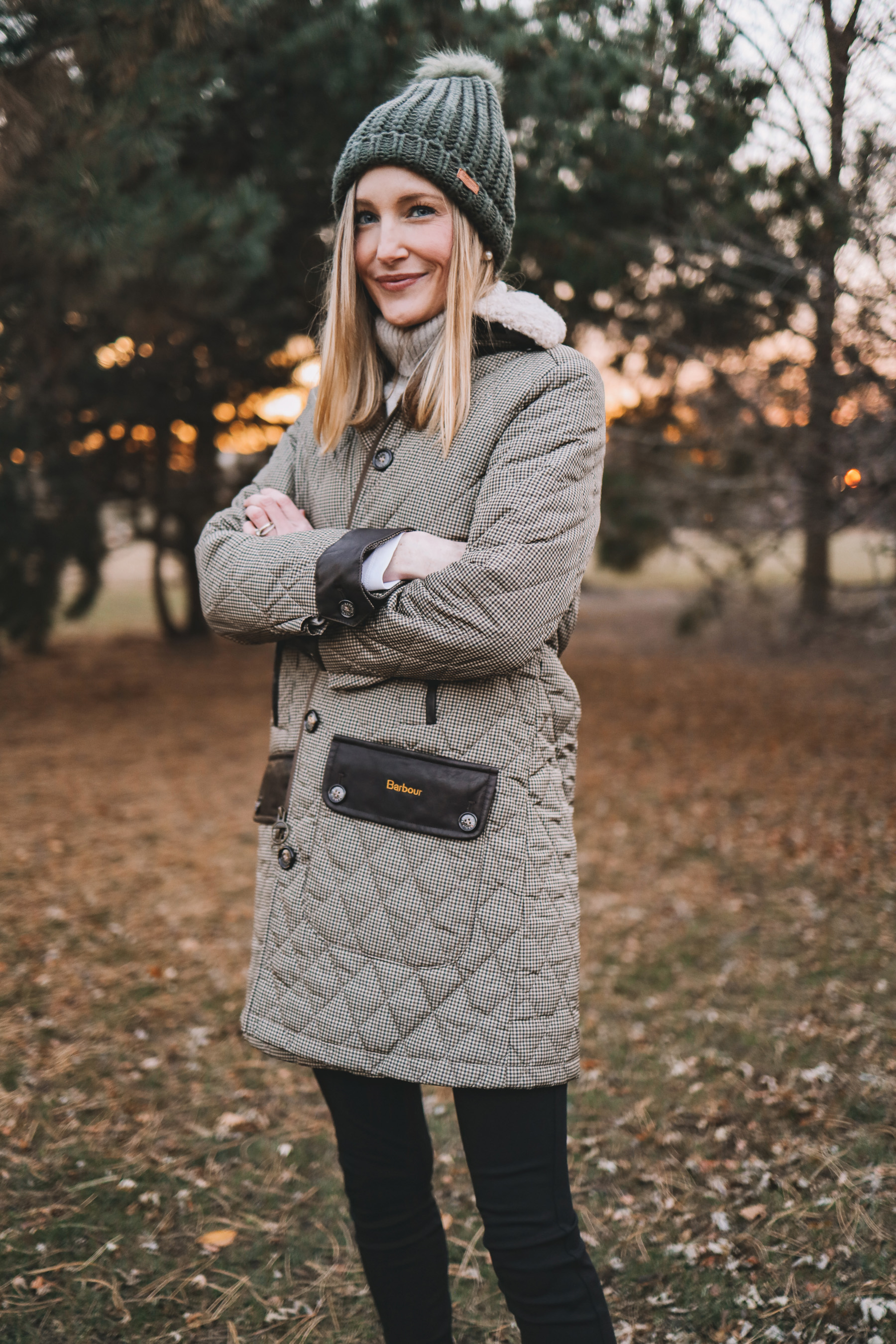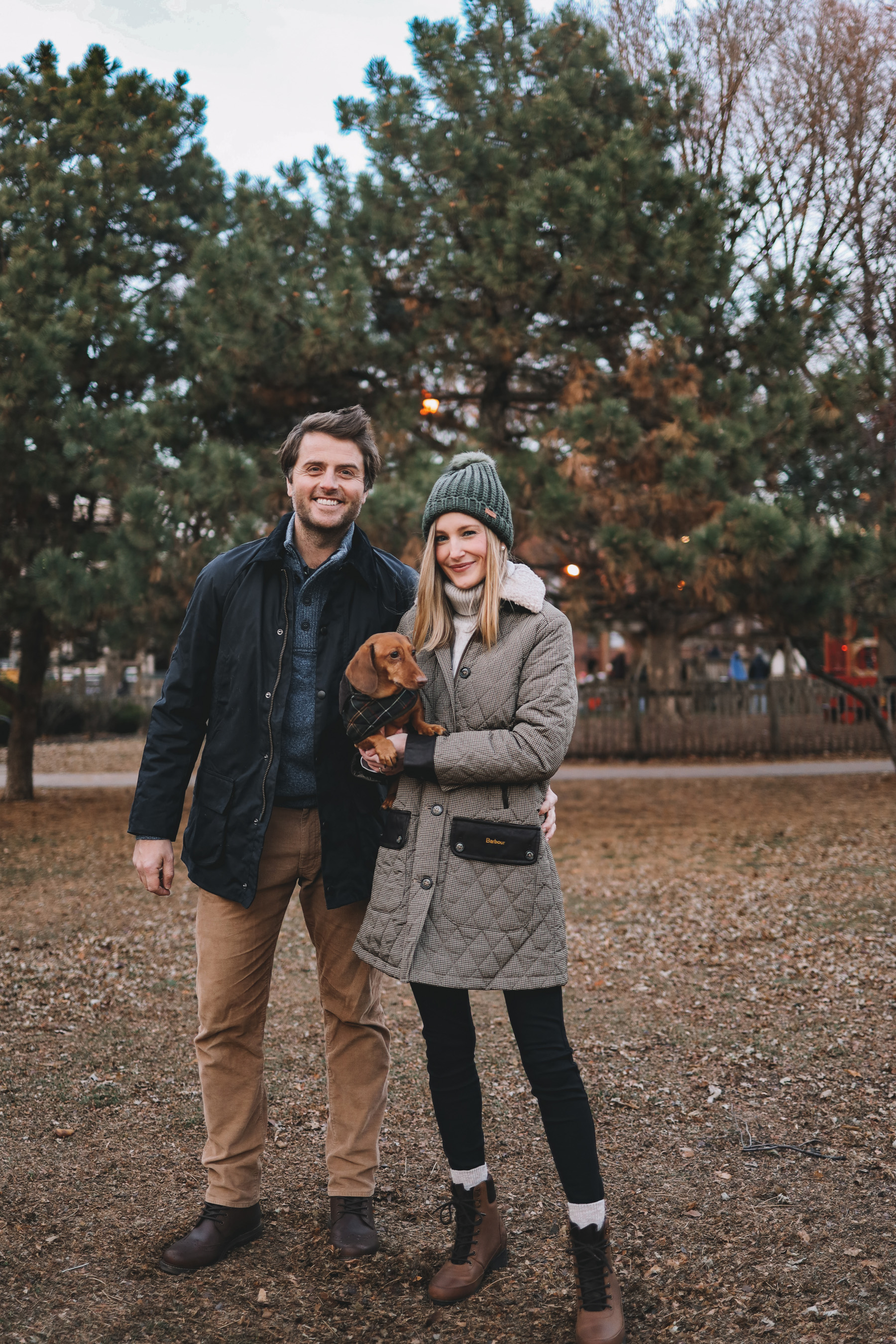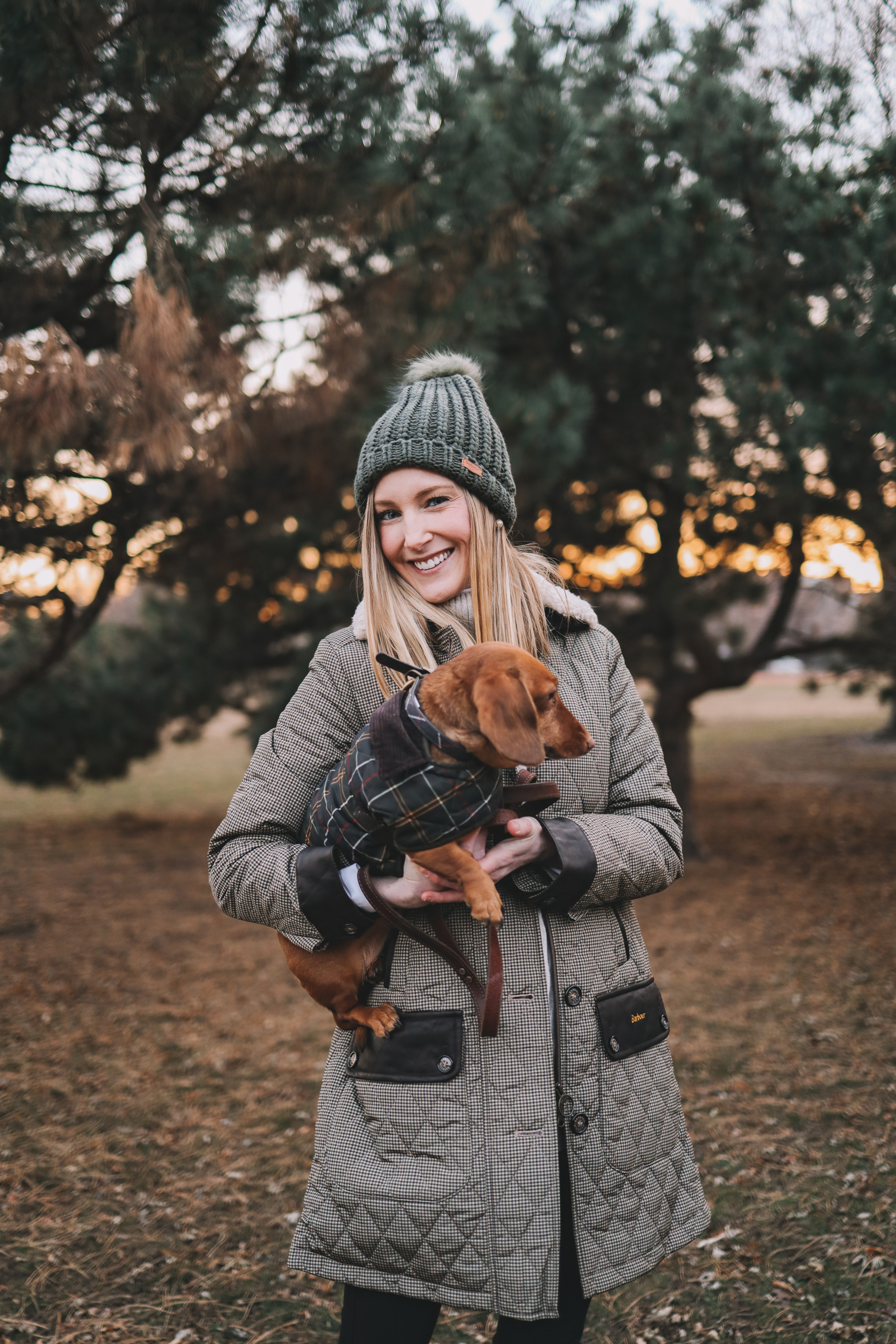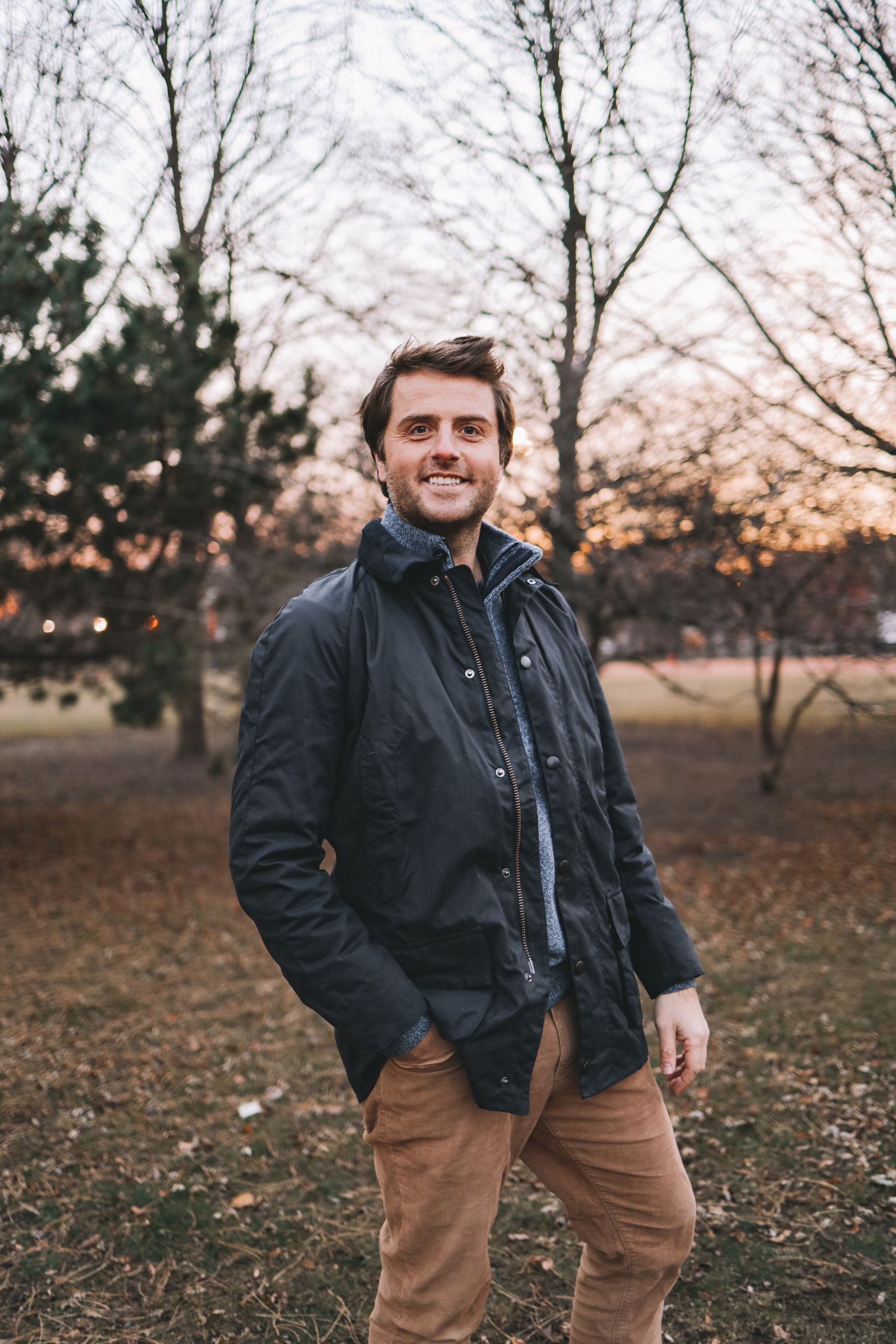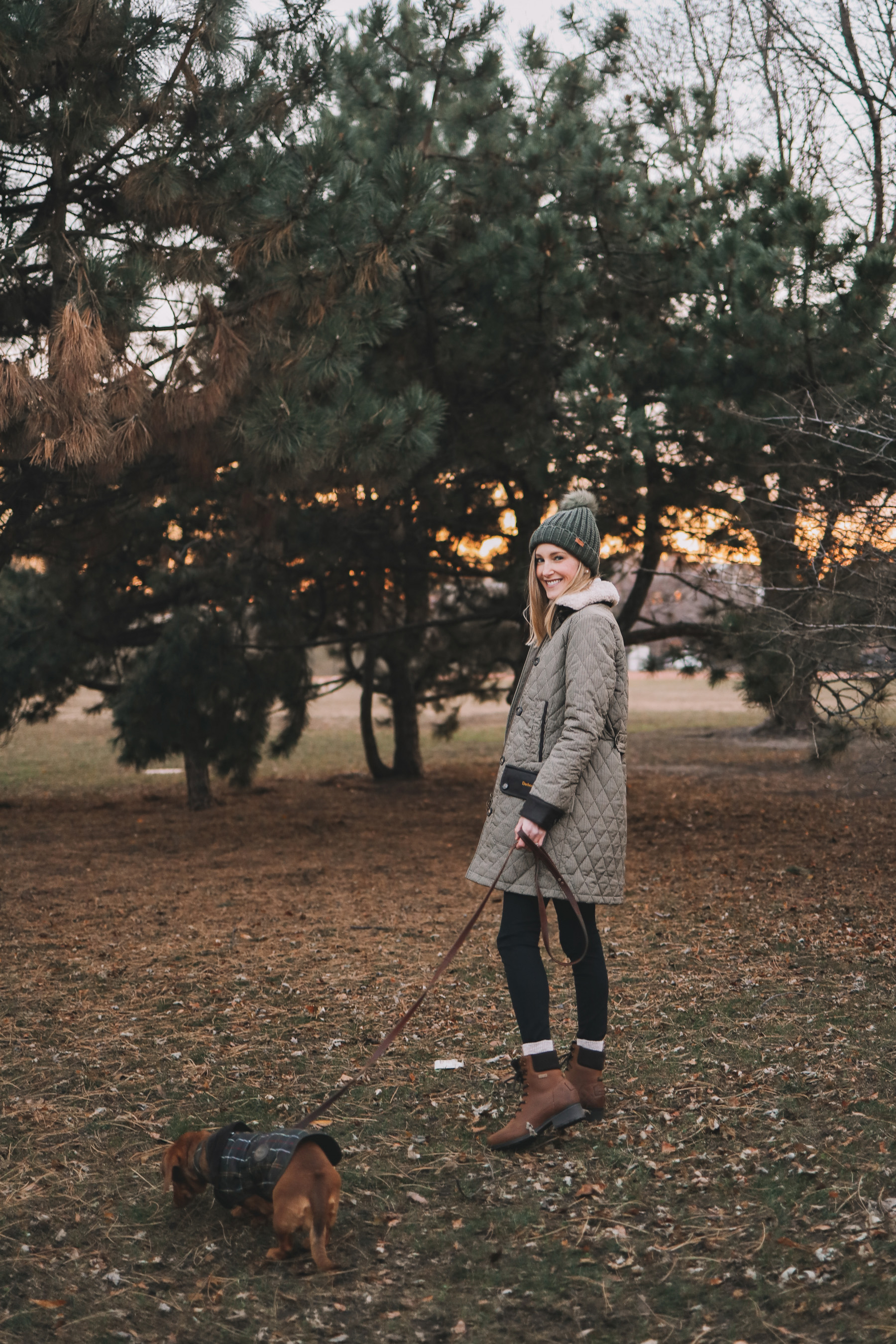 Shop the post:
Kelly's Killhope Quilted Jacket (Orvis, Nordstrom, Barbour) / Mitch's Bristol Wax Jacket (Nordstrom, Saks, Barbour) / Kelly's Grasmoor Ankle Boots (Nordstrom, Macy's, Barbour) / Maybury Cape Sweater / Pom Beanies / Mitch's Corduroys / Kelly's Leggings / Mitch's Sweater / Mitch's Boots / Noodle's Jacket and Collar