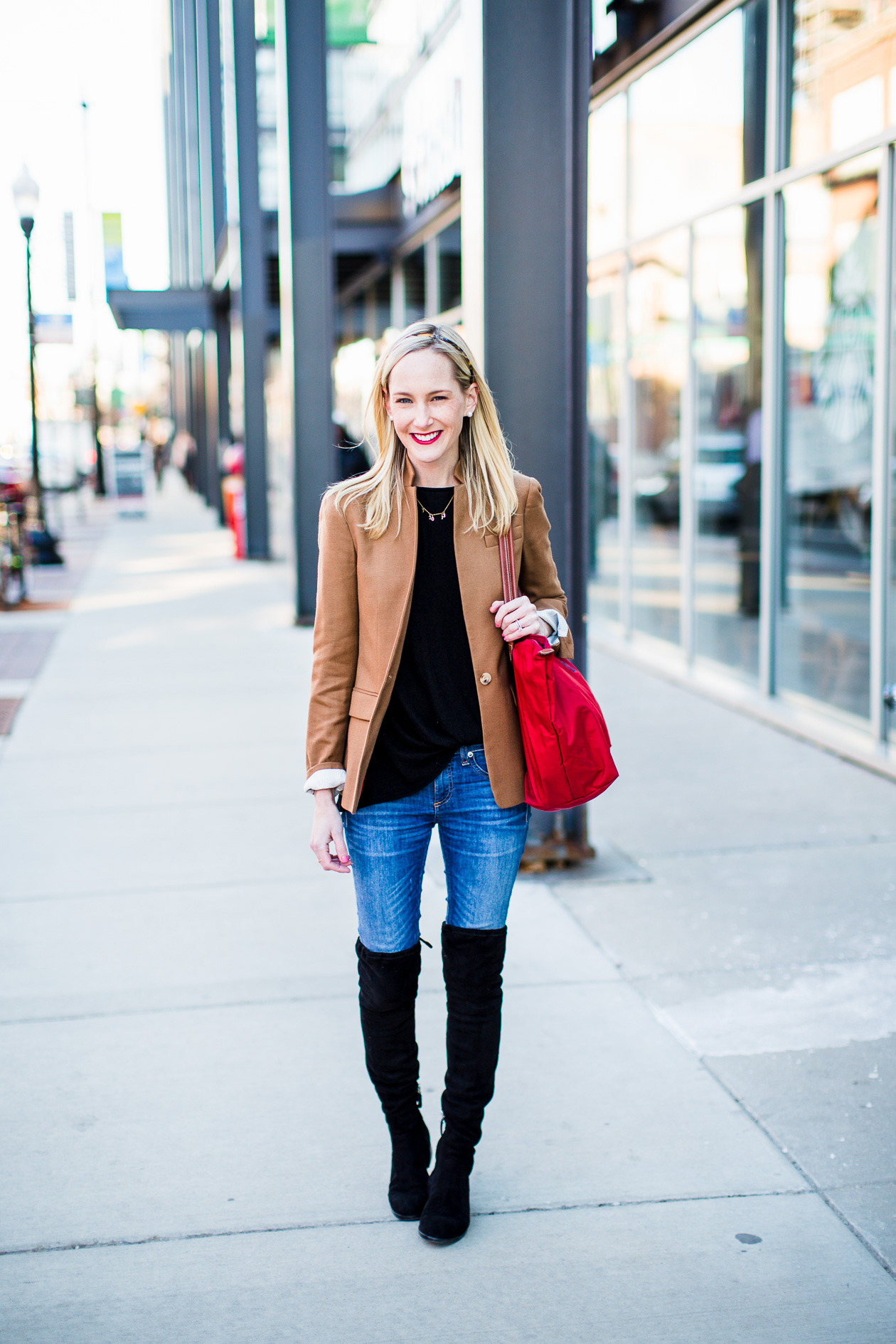 Cozy Twist Top (The softest! I have it in gray, too. Other recent purchases include this ruffled hem sweater, this wrap sweater, this ruffled navy top and this fancier navy ruffled top. All about the cozy these days!) / J.Crew Blazer (On sale! Also love the topcoat version — Keep checking the site; it comes back in stock often!) / Longchamp Bag (How cute is the backpack? My mom has it and loves it!) / Dolce Vita Boots c/o (LOVE them. And they're on sale! Bloomies carries them as well. Such a great alternative to the Stuart Weitzmans, which also come in navy, as I'm not nervous to wear them. They also come in a heeled version.) / Rag & Bone Jeans
Do I look cold in these photos? Because I'm freezing. I thought it would be a good idea to take my coat off for a hot second the other day on our way to dinner with Lauren and her boyfriend Adam, but it turned out to be a terrible idea. We're goin' on day like bajillion of 15-degree weather, though, and I just wanted some pretty blog photos! Instead, I got these. ;)
Anyway, if you read this post, you know I've been really making an effort to see friends more often. I–understandably, right?–hit the breaks on socializing when Emma was born, but now that she's six months old, I'm putting in all the effort, haha. Maybe too much effort? Guys, I'm such an all-or-nothing kind of girl, and it's always the death of me! I'm planning on recovering next week, but here's what I was up to this past week:
On Monday, Mitch and I took a baptismal preparation class because we're baptizing Emma next weekend! My mom, dad, Grammie and cousin are flying out for it, and Mitch's family is coming, too. I'm so excited to see everyone! Stay tuned for photos of Emma in the dress my mother wore to her baptism. (Nobody can remember if I wore it. Don't worry, guys, my feelings aren't hurt, haha.)
On Wednesday, we met up with Lauren and Adam, as I mentioned above, and had dinner at Millie's Supper Club. If you've never been, you HAVE to go. You really feel like you've walked straight into Wisconsin, and the chicken deal is out of this world. :) Can't wait for our next date night.
On Thursday, we grabbed half-priced ramen with Tom and Kira, and then went back to our place to watch this Maroon Five video. Okay, I made everyone do it. And then I cried tears of joy. It's a long story. I am who I am.
What's on tap for this weekend? We're seeing Danielle and Conor in the Gold Coast tomorrow, and then we're heading to Jess and Neal's on Sunday. Neal, we miss you. Where have you been? Listen: I get it. Your travel schedule is probably harder on Jess, your fiancé. However, your friends are also feeling super sad. As is Emma. She's looking forward to some quality time with you. Noodle also misses you, but I promise not to bring her over on Sunday. I wouldn't put you through that.
After that? I SLEEP, and probably go back to my anti-social ways. ;)
Hope everyone has a wonderful weekend!
Shop the post:
Cozy Twist Top (The softest! I have it in gray, too. Other recent purchases include this ruffled hem sweater, this wrap sweater, this ruffled navy top and this fancier navy ruffled top. All about the cozy these days!) / J.Crew Blazer (On sale! Also love the topcoat version — Keep checking the site; it comes back in stock often!) / Longchamp Bag (How cute is the backpack? My mom has it and loves it!) / Dolce Vita Boots c/o (LOVE them. And they're on sale! Bloomies carries them as well. Such a great alternative to the Stuart Weitzmans, which also come in navy, as I'm not nervous to wear them. They also come in a heeled version.) / Rag & Bone Jeans