Finger painting! Scroll down to see the mess that ensues.
Emma turns six months today. I know this is so clichéd to say, but I'm not sure where the time went. It seems like just yesterday she was being placed into my arms for the first time, and now we suddenly have this little girl who has her own personality and is changing and developing so, so quickly. Likewise, I can't get over how madly in love we are with her. Honestly, my first thought every morning when I wake up is, "I can't believe she's ours." Goodness; I wish so badly that you guys could meet her. I need to make a video soon. But enough mushiness…
So… at six months, who is Emma Catherine Larkin? (More commonly referred to as "Boo Bear" and "Emmalou.")
Emma loves texture; her favorite activity is touching and scratching things. Put her on a couch and she'll scratch the material. Give her "Pat the Bunny" and she'll scratch the fur. Pick her up and she'll scratch your sweater. Scratch, scratch, scratch. It's the cutest.
She loves music. I try really hard to get up and shower before Emma wakes, but at least two or three days per week, it doesn't happen and Emma hangs out in her play seat while I shower. We blast country music and we both sing along. Right now, her favorite artist is Kelsea Ballerini. ;) Next week, the plan is to start playing guitar for Emma. I feel like she'll love it! (Or really hate it. I'm pretty terrible.)
She loves bouncing in her activity jumper. My in-laws gave it to her for Christmas, and man: it's by far her favorite toy in the world, because it's like 100 toys in one. And you can hook up more toys to it when things get dire. ;) Emma loves this thing so much that I'm actually considering getting this one for downstairs. Mitch says no, haha.
She loves swinging at the park, playing "flying baby," and when Daddy throws her up into the air. (Don't worry. He never actually lets go.) Pretty sure Girlfriend is going to love trampolines just as much as I do.
She loves "tummy time." This is astounding, because a few short months ago, tummy time was the most dreaded time of the day for her. But I think she's simply gotten a lot stronger and therefore holding her head up is easier. Just look at the above photo. Granted, we let her go crazy in a ton of paint–what baby wouldn't love that?!–but she's clearly mastered tummy time. (Also, can we talk about how cute that Vineyard Vines onesie is, and how devastated I am that Emma is growing out of it?!)
She loves lights. Christmas was AMAZING for her. All the twinkle lights! Remember this pic?!
She loves eating. Rarely is there a time when Emma doesn't accept a bottle. But I love it. I love her cheeks, her little rolls on her arms and legs, and her buddha belly. And I can't wait until we can eat cupcakes together at Sweet Mandy B's. ;)
She loves licking. I guess it's a texture thing? But it's SO funny. Every morning when she wakes up, I kiss her on the cheek and she licks my cheek in return. I can't help but crack up.
She loves Noodle. This is a bit of a tough one, since Noodle sometimes forgets that Emma isn't a puppy. But they're heavily supervised–and absolutely adorable when they're together. Noodle nestles up to Emma and licks her hands, and Emma squeals in delight. And then I wash her hands for like 15 minutes because I'm a psychopath.
She loves laughing at herself in the mirror. Mitch and I installed a floor-length mirror right before we had Emma, and I'm so glad we did. I set up a seat in front of it and we spend a good half hour every day there. I love how she laughs at herself!
She loves this video. It drives Mitch and me crazy, but the world could be ending and she'd be happy if it were on. Let me count the times we've played it (quietly) at restaurants…
She loves peekaboo. I should be banned from using the word "cute," but it's SO CUTE. She actually likes it best when you hide and then pop out with a big smile on your face, but you know: it's all the same. ;) The giggles, though. They kill me.
She loves walks. One little problem with this is that it's currently 15 degrees in Chicago, and I get super nervous about walking her for too long in weather like this. But I'm so excited for things to warm up in the coming months. We're going to spend a ton of time roaming Armitage, walking to the Lincoln Park Zoo, and visiting the various playgrounds in our neighborhood!
She loves standing. She obviously needs our help to do it, but she happiest while on her feet. I was not an athletic kid, but something tells me that she's going to follow in her daddy's footsteps…
She loves bath time. Like, she LOVES it. I wish I could show you just how much she loves it, but I feel a little weird about showing her completely naked. ;) But it's so sweet. She has such a serious look on her face as she splashes around, and then she'll look up at us with this giant grin. For the longest time, she'd cry hysterically when we took her out of the bath. And then we realized that if we slowly drain the tub while she's in it, she doesn't realize that bath time is ending, and she happily allows us to wrap her in her towel and dry her off. Too funny.
So considering that two of Emma's favorite things are playtime and bath time, I thought it would be really fun to share some photos of her finger painting (what we did with her to celebrate six months!) as well as some post-bath photos. Because hello, cuteness.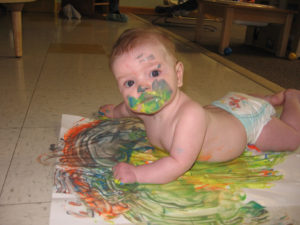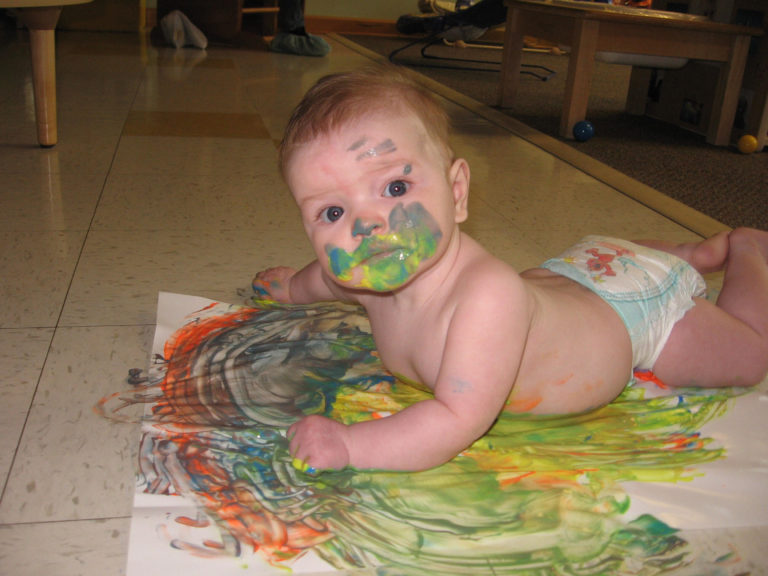 In short, finger painting was a HUGE success. We first came up with the idea because there's this amazing photo that was taken of my niece, Parker, when she was about Emma's age (see left), and we've always thought it was precious. We came across it recently and couldn't get over how much Emma resembled Parker, so we had to recreate it. And considering Emma's obsession with tummy time and scratching things, we figured she'd have a grand old time rolling around in paint.
And she did. Just look at the below photos. Be still, my heart.
Such a fun time, but WHAT A MESS, am I right?! We obviously used non-toxic, washable paint, but still: oy, so much to clean up. This wasn't our first rodeo with giant messes, though. We've had more blowout diapers than we can count, and Emma definitely starts to smell like a diary farm every couple of days on account of how much she loves bottles. ;) So who do we turn to? Dr. Brown's. Every time.
Three products we absolutely couldn't live without for those giant messes:
Dr. Brown's Foaming Baby Wash: This stuff is magical. We've actually tried a few brands, just while traveling and being at other people's houses. But our favorite is Dr. Brown's Foaming Baby Wash, as it features all-natural ingredients and is made with aloe vera and chamomile–perfect for Emma's sensitive skin. We love that it's a shampoo and body wash all in one, too. We've learned quickly that the fewer the products, the better.
Dr. Brown's Baby Lotion: I'm the worst about using lotion myself, but with Emma, I'm a spaz about it. We have some pretty intense winters here in Chicago–it's 15 degrees as I'm writing this–and they can take their toll. (As can the heat, which we always have on full blast!) Dr. Brown's Baby Lotion, which is non-greasy and hypoallergenic, helps us stay on top dryness before it even occurs. It also smells amazing.
Dr. Brown's Nutritive Baby Balm: We use this stuff on Emma's cheeks. We bundle that baby up to the nines–have you seen her outwear getup?!–but those cheeks get pretty red and chapped if we don't use Dr. Brown's Nutritive Baby Balm. Lately, we've been applying it after every bath, and it's worked wonders on those adorable chipmunk cheeks! Like the baby wash and lotion, it smells great, and Emma loves having it applied.
In short, we love Dr. Brown's products for both finger painting messes and everyday use. ;) We've been using the brand since the very beginning–did you see Emma Visits Wrigley, Emma's First Christmas, and Mitch & Family Visit Chicago's Shedd Aquarium?–and it's never disappointed, whether for feeding, baby care or teething!
Emma Catherine, happy six months. These six months have been the best of our lives, and we can't believe that we get a lifetime with you! We love you to the moon and back.
In collaboration with Dr. Brown's. Thank you so much for supporting the partnerships that keep Kelly in the City up and running!