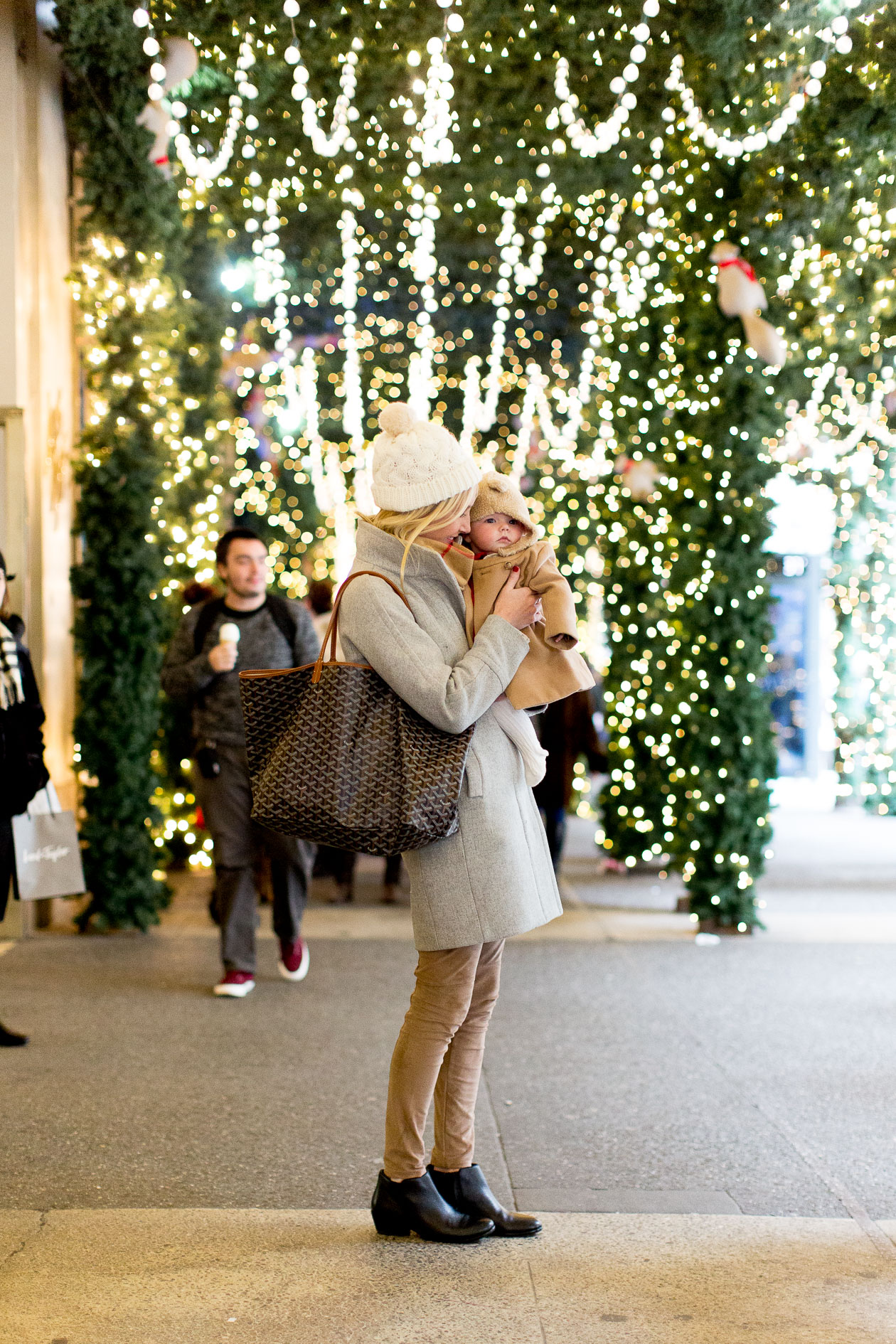 J.Crew Coat (Also available here and here.) / Goyard Tote (Early xmas present from Mitch! Using it as a baby bag. Also available here and here.) / Burberry Scarf (But LOVE the more affordable snood, which is marketed for girls but totally works for women! It's on Zappos, too.) / Sam Edelman Booties / Suede Leggings / Barbour Hat c/o Tuckernuck / Other Outfit: Ferragamo Pumps (Flat version here.) / Cooper & Ella Blouse c/o / Emma is wearing: Bow Coat / Bear Hat
Keeping today's post short and sweet, as it's Christmas Eve. ;) I took very few photos over the last few days, but a few highlights:
♥  Hanging out with Aunt Michelle, Uncle Chris and my cousins (Dylan and Delaney) in Rockefeller Center. We took Emma to St. Patrick's Cathedral and it was the cutest thing: she sang the entire time!
♥  Lunch overlooking the skating rink with Mom and Dad. We saw a proposal!
♥  Dinner and drinks at the Union League Club with my parents and Uncle Sully. Can't even tell you how much fun we had. Sully has been giving me Barbie dolls every year since I was a little girl, and this year, he started giving them to Emma. It was so sweet, and she made a ton of friends. Also, why is there a golden retriever in the nativity scene? Anyone?
♥  Dinner at The Grey Dog on Downing and Blue Ribbon Bakery, where Mitch and I celebrated our first anniversary. SO fun bringing out little girl back there. Why can't life be a little more affordable in the Village? TAKE ME BACK!
♥  Breakfast with Auntie-M and Paige. We missed you so much, Annie and Sammy!
♥  Walking Bleecker Street. Unbelievable how many new stores have come in!
♥  Seeing Mandi, Shawn, Chao and Mairead at Park Avenue Tavern. We have the best friends. Thanks for coming out, guys!
♥  Walking the length of the High Line and roaming the Meatpacking District. Such a fun time; can't get over how much progress has been made on Hudson Yards!
♥  Seeing the windows with Emma. Boo Bear adores bright lights, so she was in complete and utter awe. Just look at her in the above photo, which was taken outside of Lord & Taylor near Bryant Park. :)
From our family to yours, hope you have a wonderful Christmas Eve!