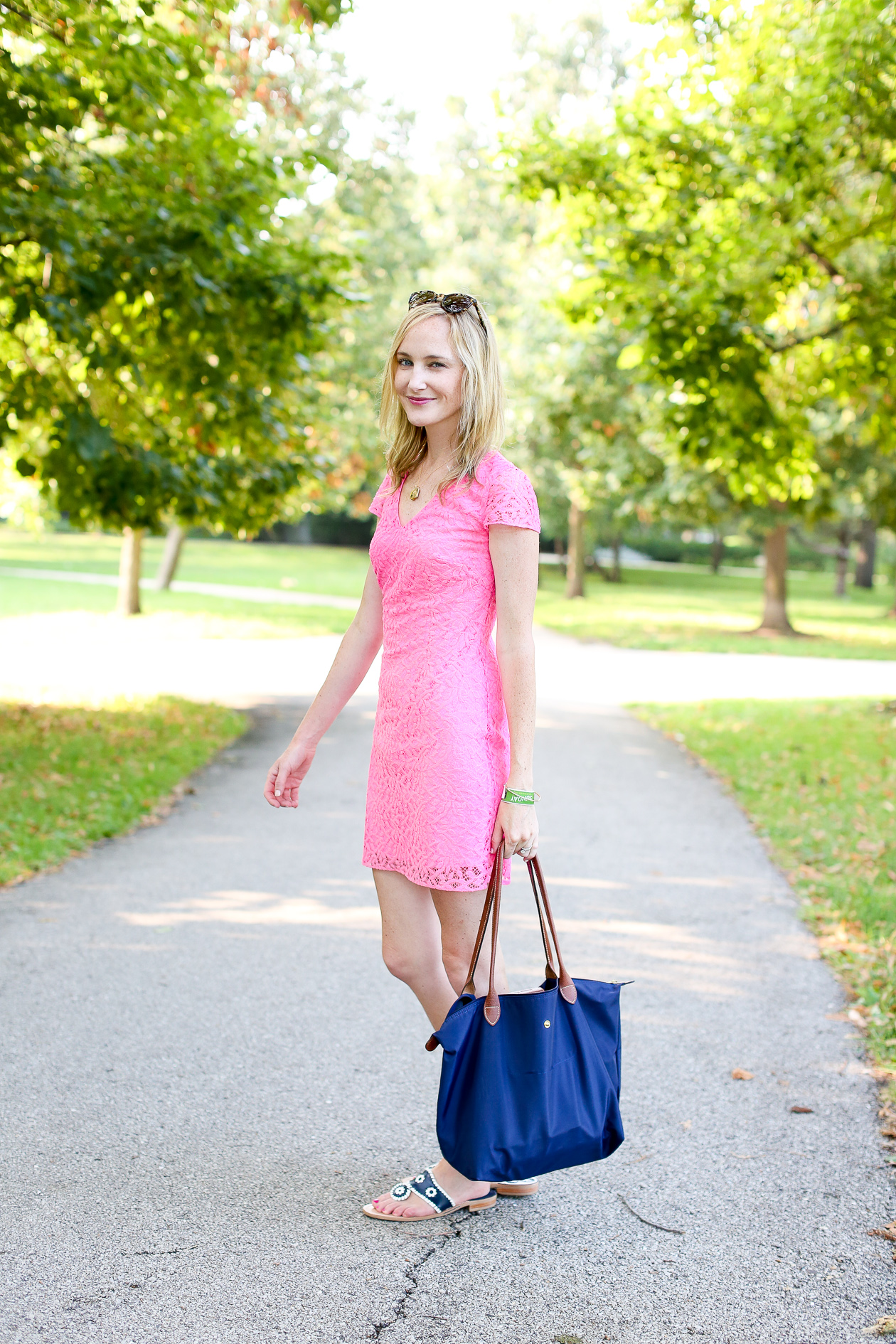 Jack Rogers Sandals c/o Zappos / Lilly Pulitzer Dress (Sold out, similar here and here) / Julie Brown Designs Cardigan c/o / Longchamp Tote / Jet Set Candy Necklace – Charm #1 and Charm #2 c/o / Moon and Lola Earrings c/o Tuckernuck (Also love these pineapple studs and these pearl studs!) / Kate Spade Sunglasses (Old, similar here and here)
Hands down, this dress is too small for me, haha. I spent the entirety of yesterday tugging and pulling at the thing, trying desperately not to flash the city of Chicago. Which is such a shame, because I love the dress, and it was a score from the recent Lilly Pulitzer After Party Sale. Isn't it such a bummer when you judge poorly and end up with the wrong size?!
Alas. ;)
On a more positive note, we had MUCH better weather for the second day of the Chicago Food + Wine Festival, which I attended with Kit and Mitch after an amazing brunch at Formento's in the West Loop. (More on that later.) While we didn't stick around for nearly as long as we did yesterday, we definitely had a great time. My favorite part was a tasting, during which audience members were invited to slice wine bottles with swords… but I also loved the steak sandwiches from Gibsons and the lobster rolls from Joe Fish.
A huge thank you goes out to Zappos for an amazing experience, and for providing us with a fabulous end to the summer! (Mitch goes back to school tomorrow. #ohmygoodness)