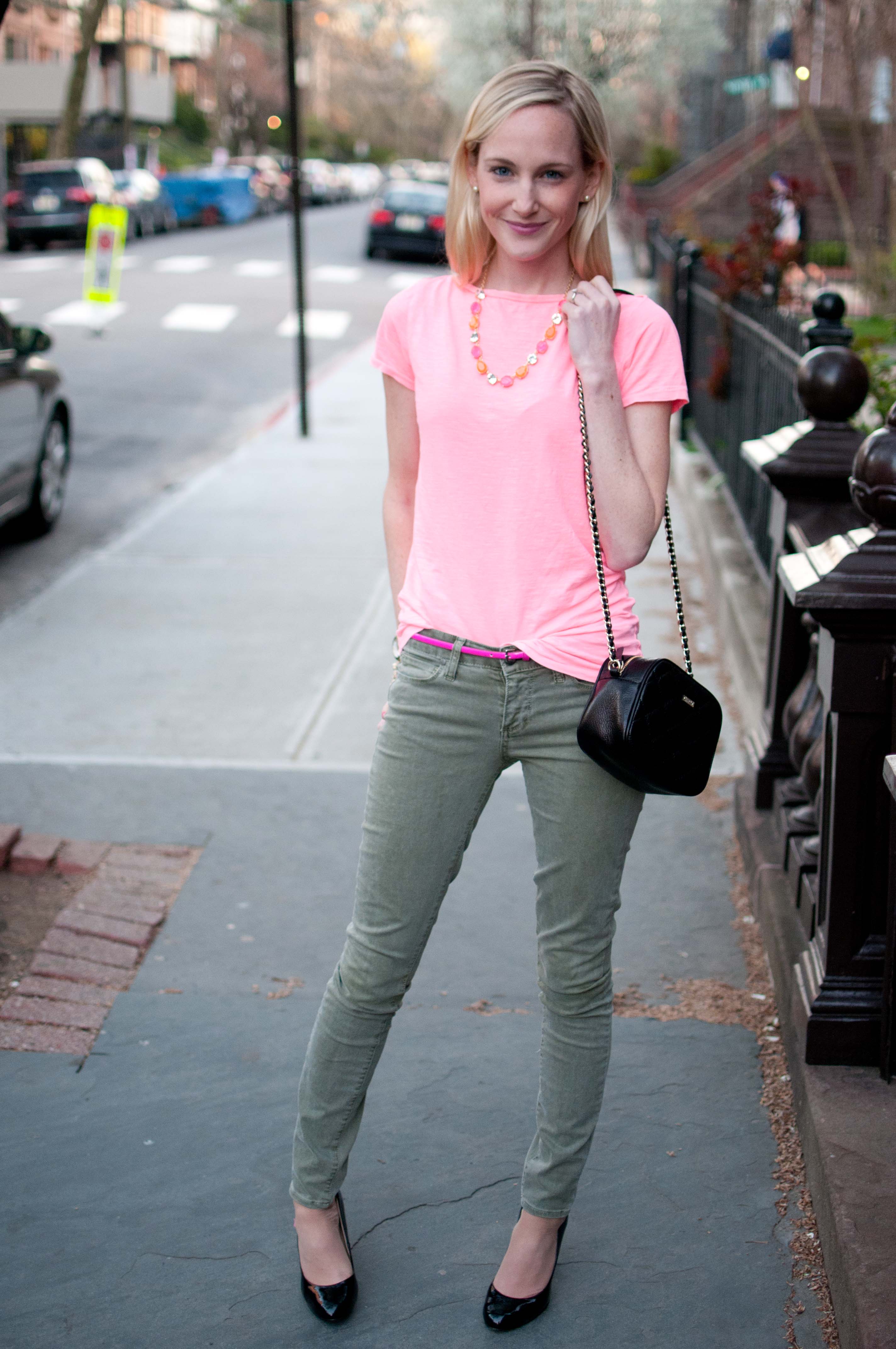 I'm feeling completely overwhelmed today. I guess I'm just having one of those days. It seems like I have a zillion things to do and no time to do it. And we need to find a place to live. Stress! The backstory is that our landlord, who lives below us, has asked us to leave. She said that since the parquet floors are creaky and we have to get up so early for work, she's getting woken up too early. We understand. She's on the older side, after all. But all of this is pretty inopportune. :( Three months before our wedding? Yikes.
Olive jeans: Paige, similar here and here (On sale!) and here (And I've found the Paige version on eBay in the past!) / Neon T-shirts: Joe Fresh, similar here in "neon papaya." / Bag: Kate Spade, similar here, here (on sale!) and here / Belt: Target / Pumps: Ann Taylor, similar here (Comfy and under 3 inches) / Earrings: J.Crew / Watch: Marc Jacobs (Also loving the wrap version here!) / Necklace: J.Crew Factory / Bracelets: Stella & Dot and J.Crew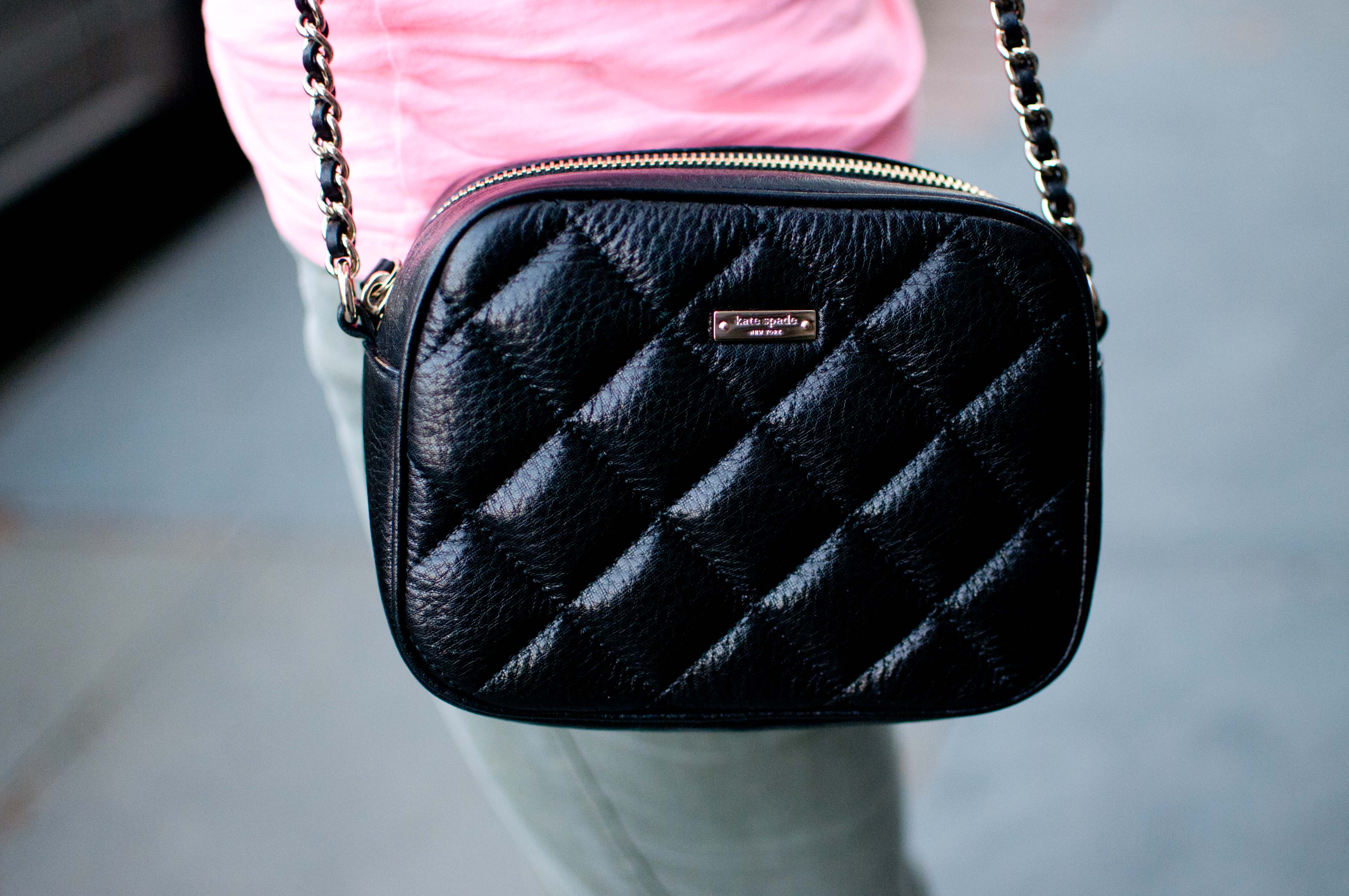 But we'll get through it! It's not the end of the world. Mitch is being super sweet, too. I don't know what I would do without him. Today, he ran out during one of his prep periods (we work at the same school… aww…) and got me coffee and candy after I had a minor mental breakdown. (I'm a child, and candy instantly makes everything better.) I'm really lucky.
We're thinking about moving to Brooklyn, as we think we might be able to buy there. Buy. That word is scary and exciting at the same time. It would be amazing to own a place in New York City. I absolutely adore Hoboken, but the Big Apple is in my heart and soul, and it's part of who I am. At the same time, there's so much to consider when buying a place, especially in New York! We're going home to my parents' home in Bucks County this weekend to get some much-needed guidance and advice. (Thanks in advance, Mom and Dad. :))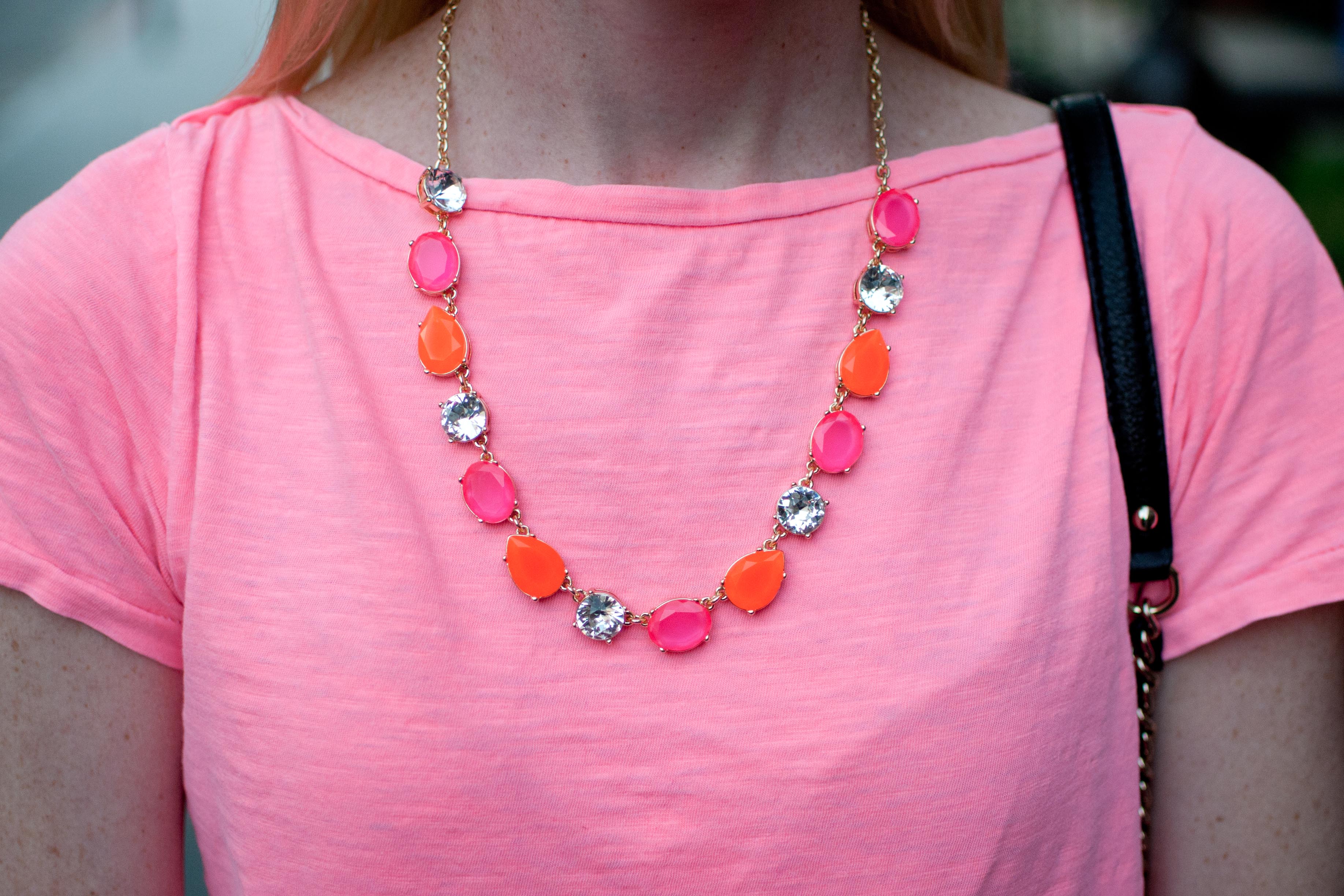 Tonight, we're headed off to Brooklyn to scope out some semi-affordable/safe neighborhoods. (We have a list of a few we're interested in.) During my seven years in New York City, I've lived in seven different apartments. I've lived in the West Village and East Village, and on the Upper East Side. Hoboken–see below–counts, too, right? (Come on. ;) It's just as close to NYC as Brooklyn is!) The one place I've never lived, though, is in Brooklyn. And I can't say I know all that much about it. I've gone out in Williamsburg, visited a friend in Brooklyn Heights, walked around Park Slope ($$$), and taken graduate school classes near Borough Hall, but that's about it. What's so silly about it is that three of my grandparents were born and raised in Brooklyn! My family's roots are there. But I know very little about it, compared to my Manhattan knowledge.
Well, that's about to change! (Interesting fact of the day: Brooklyn was its own city until the late 1800s. True story.) Wish us luck. I'll be sure to post an update tomorrow. I hope we fall in love with a few neighborhoods! **Have advice about buying in Brooklyn? We would love to get your two cents! :)**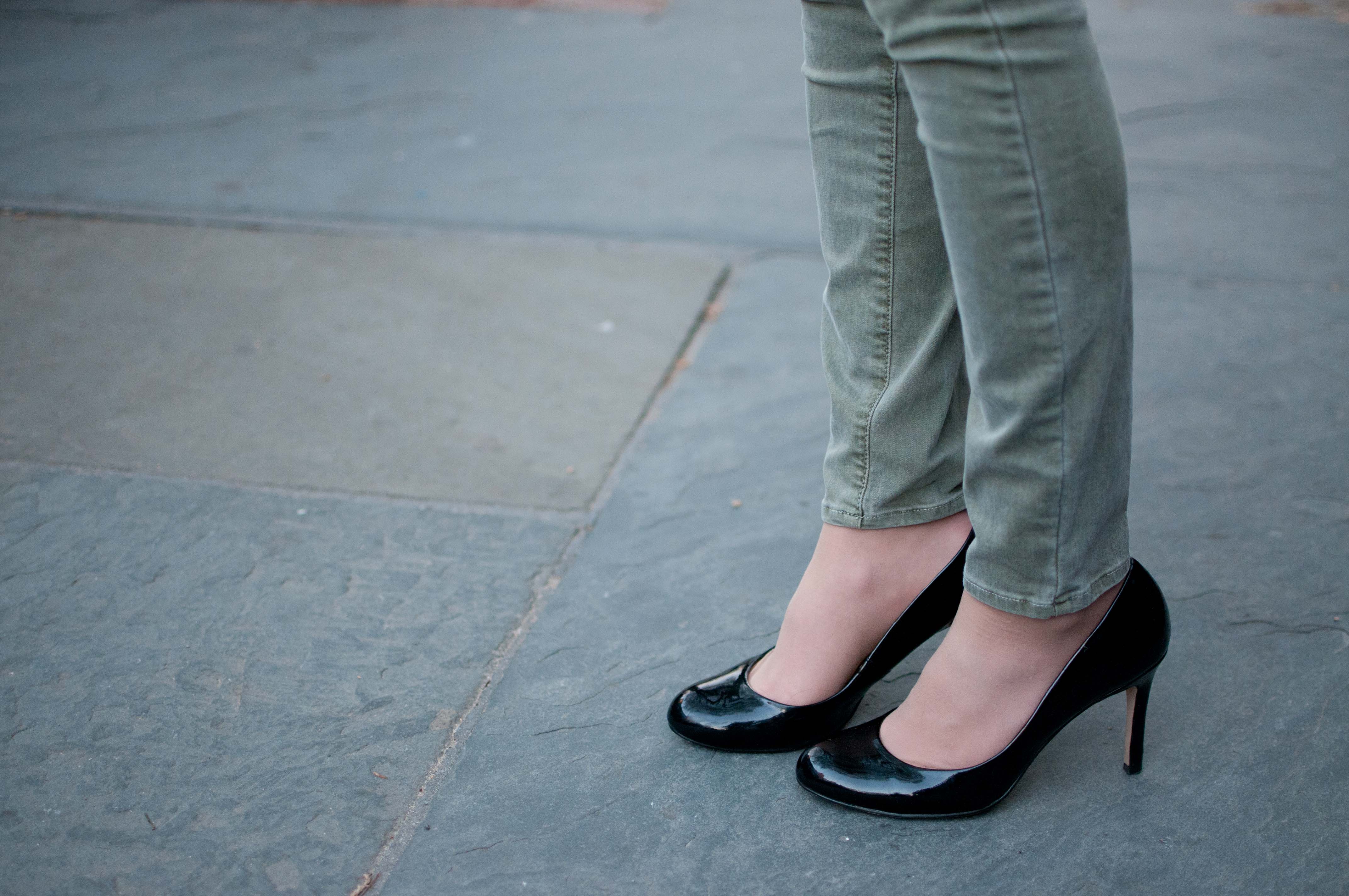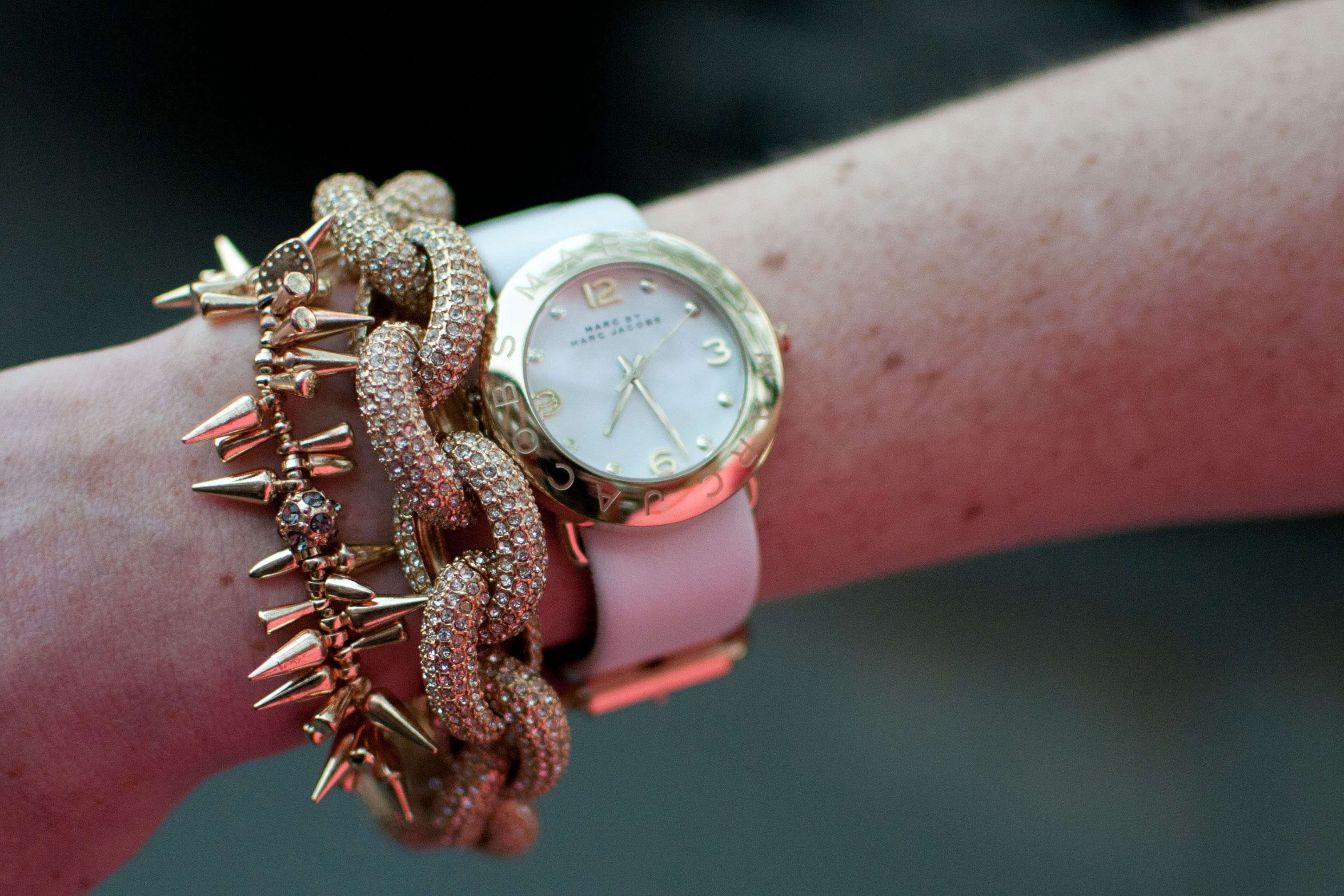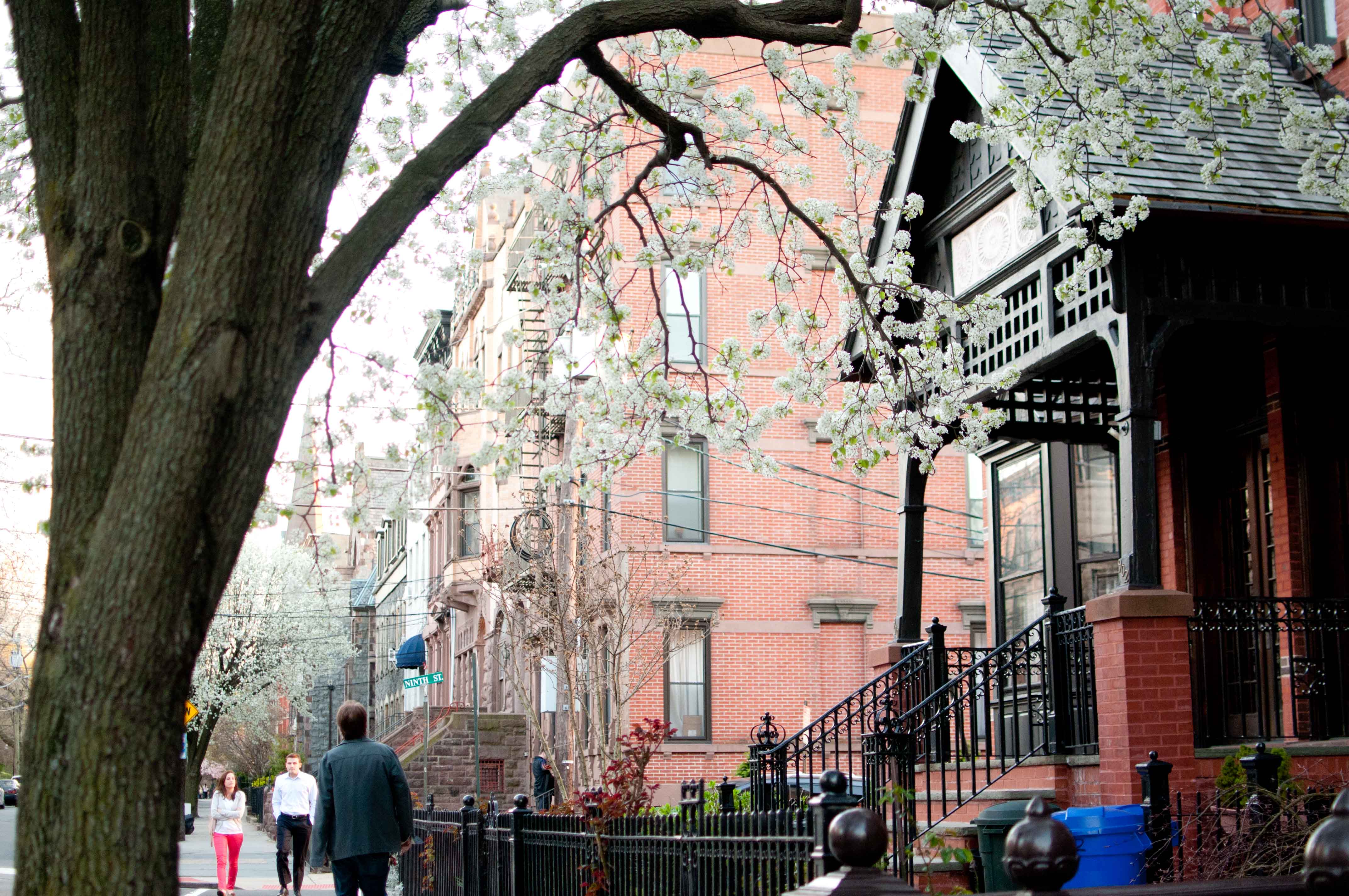 Olive jeans: Paige, similar here and here (On sale!) and here (And I've found the Paige version on eBay in the past!) / Neon T-shirts: Joe Fresh, similar here in "neon papaya." / Bag: Kate Spade, similar here, here (on sale!) and here / Belt: Target / Pumps: Ann Taylor, similar here (Comfy and under 3 inches) / Earrings: J.Crew / Watch: Marc Jacobs (Also loving the wrap version here!) / Necklace: J.Crew Factory / Bracelets: Stella & Dot and J.Crew