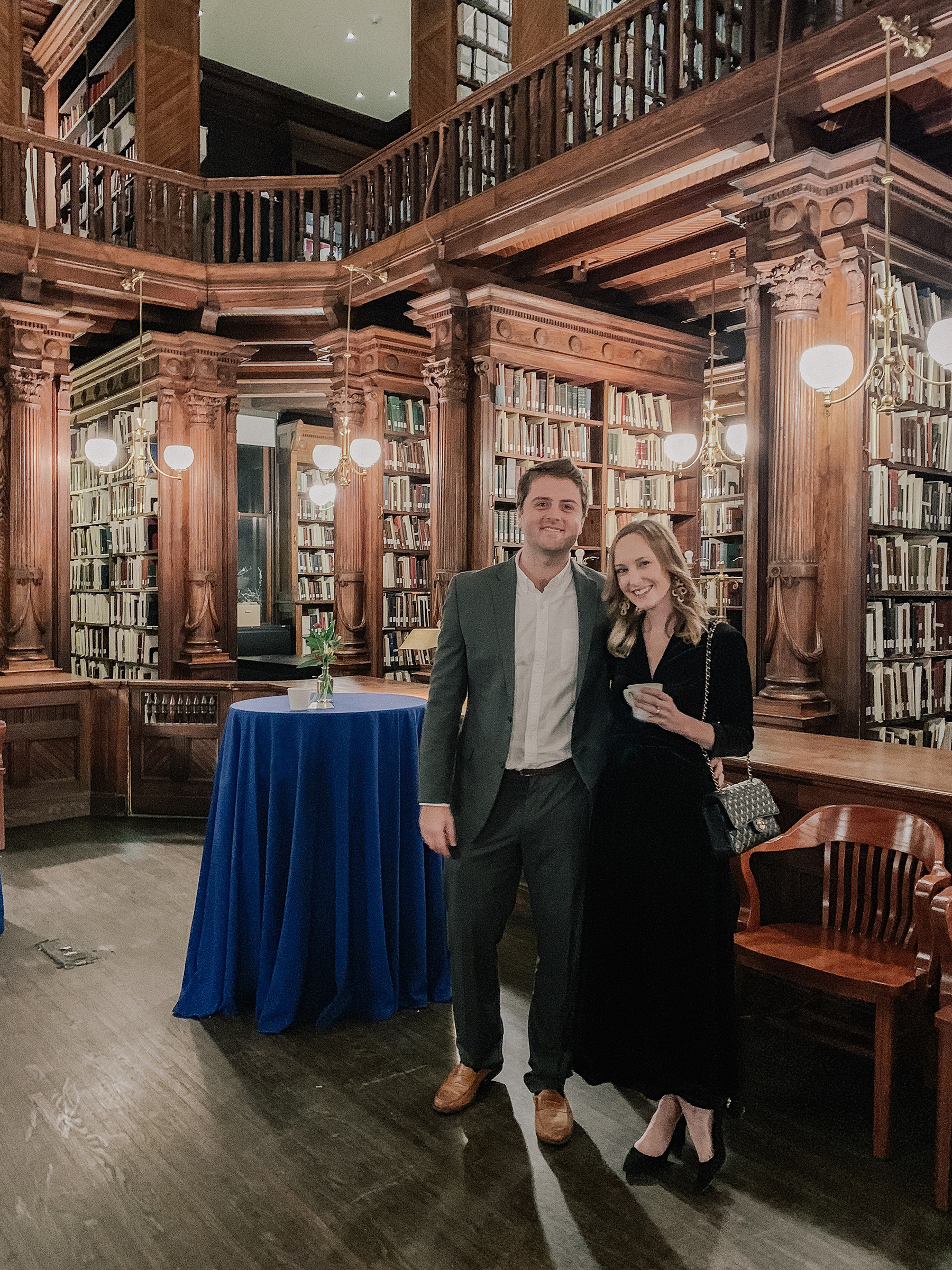 Kelly Velvet Dress (So warm!) / Kelly's Pumps (Also love them in camel and navy, and in leopard.) / Kelly's Bag (Similar here and here.) / Mitch's Suit Similar Here / J.Crew Mercantile White Oxford (on Amazon!) / Cole Haan Penny Loafer
Mitch here!
Hello from New York City! Well, hello from a train in the middle of New Jersey, to be more exact. Kelly and I are taking on the East Coast in typical Larkin Blitzkrieg Fashion. Our lives are still entrenched in this area, and anytime we visit, we pack way too much in. In these three days, we hope to visit with Kelly's family, galavant around the city (Kelly loves galavanting), pack at least 15 meals into two days, and, most importantly, attend a great friend's wedding.
Unfortunately, our 2018 travel curse struck again as Kelly's parents' flight home from Europe was cancelled, delaying them a day. Big thanks to Aunt Michelle for volunteering to drive out from Long Island to watch Emma and rescue us. And for the uninitiated, anytime the words "driving" and "Long Island" are mentioned in the same sentence, you know things are serious. Aunt Michelle is a legit superhero.
But whatever! Sinus infections and cancelled flights be damned, I'll be pushing this trip along like Clark W. Griswold. We're staying in Manhattan tonight, and I hope to pack little bits of New York City nostalgia here and there in the schedule. As much as Kelly talks about New York on this site, I think I might be even more obsessed. On my list are gallons of bodega coffee (light and sweet of course), a walk through Central Park, Beef Wellington at "One if By Land" and piles of bagels. We were smart this time and brought an extra suitcase to smuggle bagels back to Chicago. I'm not joking. As Kelly says, "desperate times."
The crown jewel of the trip is Jeremy and Mairead's wedding in Brooklyn tonight. (Edit: it's Saturday now, so I dropped in the above photo!) We taught with Jeremy in the Bronx, and have stayed friends after all these years. If you know me in real life, you know that I tend to, uh, get a little loose at weddings. Despite my best efforts at restraint, I'm always the first one on the dance floor breaking it down like some kind of new-age Paula Abdul. But not this time! I'm giving Kelly the no-dance, restrained Mitch guarantee. Wish me luck :)
Kelly edit: He says this every time.
Oh, snap. Our train is pulling into Penn Station, and I'm getting those special New York City jitters. With any luck, we'll casually walk to the hotel, have a leisurely afternoon, and stroll into this wedding perfectly pressed and on time. I mean, we don't have a baby to blame this time around. Realistically, we'll find a way to screw the whole thing up. I'm not sure if we've ever made it to a wedding on time.
Off we go! Talk soon!
Mitch out!