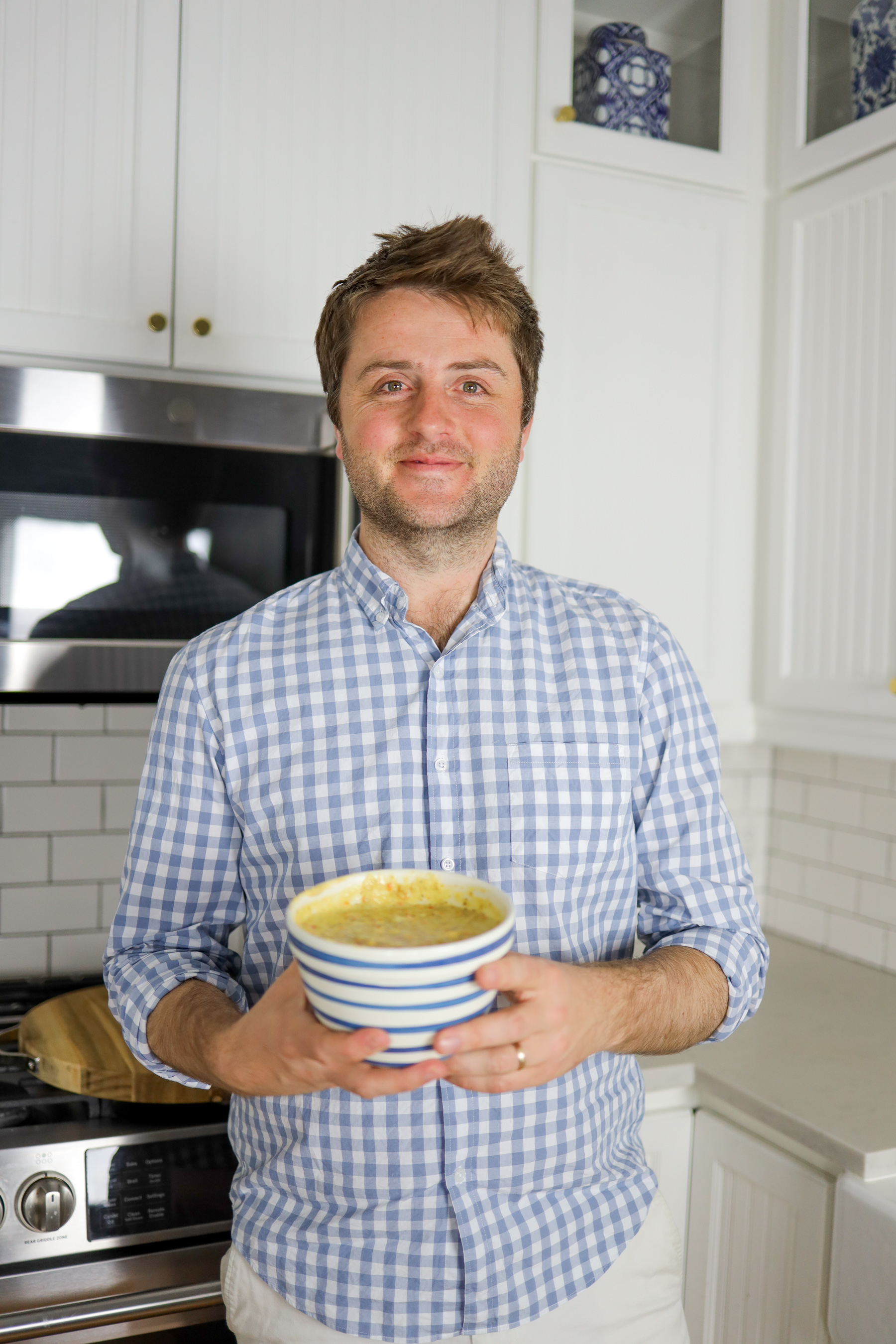 Mitch is back!
Do I look tired? Lately, I've been much less Cookin' with Mitch and more Admittin' Defeat with Mitch. Kelly's wild pregnancy cravings change mid-cook, and much of what I make ends up in the garbage… though frankly, it probably belongs there. ;) Don't let this fancy, once-in-a-while cooking column fool you; I'm not great in the kitchen. One just can't write a blog post called Microwavin' Leftover Frozen Pizza at 2 am with Mitch.
What I've found is that the quality of my cooking is inversely proportional to the amount of time I spend preparing it. Simply put, the more I'm involved, the worse the food tastes. And as a dorky former-math teacher, I worked up the following visual aid for this phenomenon: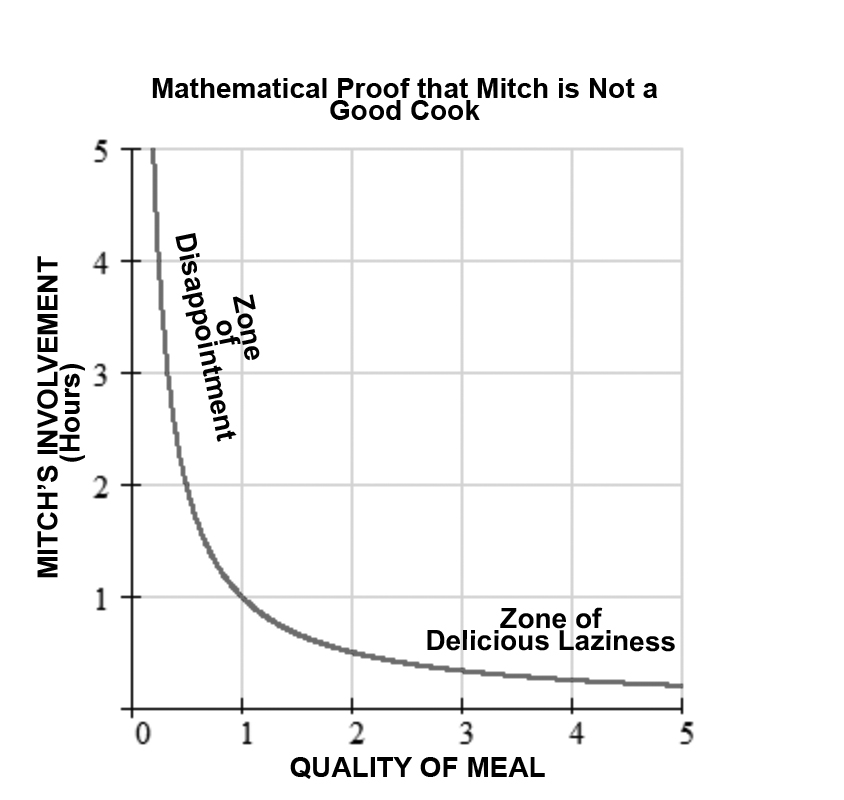 Avoiding the Zone of Disappointment is easy when you have incredibly low meal standards. Think Mac & Cheese, frozen pizza and ice cream sandwiches. But nudging one's way into the Zone of Delicious Laziness takes real talent… and a slow cooker. Actually, just a slow cooker and a soup recipe.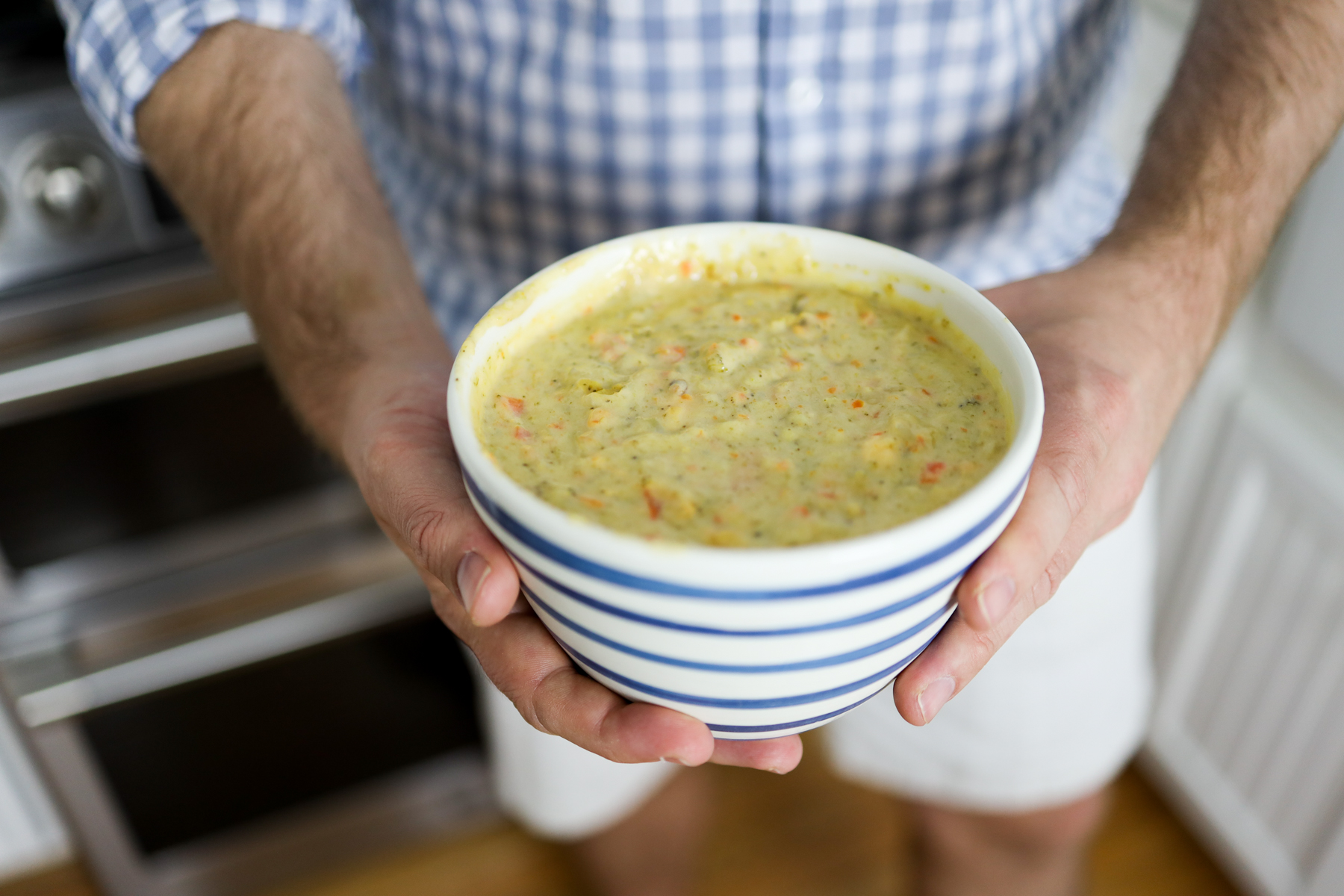 Broccoli Cheese Soup
This is the one recipe I've truly mastered for "Third Trimester Kelly." She lives for this soup. I'm half afraid my kid will come out with a leafy green afro and a Wisconsin accent. I'll admit it's the perfect mix of creamy warmth and comforting nourishment to get her (us) through these final weeks. It works as a starter course or a full meal if you pair it with fresh dipping bread or bread bowls. It tastes better for lunch the next day and freezes well if you make too much. It's the perfect little meal and it's super simple to make.
The elephant in the room here is the existence of Panera's Broccoli Cheddar soup, and while this recipe isn't exactly an imitation of that fabled delight, I can proudly say that mine stands up to Panera in every way. This recipe also makes a gallon of soup for the same price that they charge for a bowl… so there's that. Let's call it a soup coup, if you know what I'm saying.
I'm adapting today's soup from The Pioneer Woman. Her post is really funny and I bet her soup is better than mine. But I love this recipe because it straight up calls for frozen vegetables. Frozen veggies are the unsung hero of my kitchen. So grab that random bag of broccoli from the back of the freezer and throw it in the slow cooker! Dice up an onion and a few carrots and toss them in as well. Or plan ahead and use the frozen broccoli, cauliflower and carrot mix to save yourself a little dicing time. You deserve it!
The rest of the recipe is simply dumping containers and cans of stuff into your slow cooker.
Namely two cans of cream of celery, a container of chicken broth, and salt/pepper to get things seasoned from the beginning. It really doesn't get any easier.
Don't add the cheese yet. Slow cookers live in the land of low cooking temperatures that are forbidden to dairy products. Believe me: as nice as it'd be to wrap this soup up now, you'll need to hold your horses and add the cheese later. Your stomach will thank you.
Set the slow cooker to low and walk away like you just did something with your day. Because you did. Ideally, you should check back in on the soup in four hours but I typically forget about it for like nine. Luckily, the slow cooker is forgiving and it'll be ready whenever you are.
The Pioneer Woman suggests blending the soup slightly with an immersion blender which I whole heartedly endorse because 1: I happen to have an immersion blender that only gets used like once a year, and 2: Using it to make delicious soup deems it KonMari-invincible, and 3: A few immersion blend pulses helps to avoid any awkward soup clumps that can really mess up a soup sesh.
The final step involves unwrapping a log of Velveeta cheese, dicing it up into coagulated cubes and rolling them into the slow cooker like you're at an Atlantic City craps table. Your steamy soup should welcome the new Velveeta as an overlord ingredient and metamorphosize into a soup even cheesier than this blog post.
Finding a recipe that appeals to a pregnant lady, a fussy toddler and a hungry husband isn't easy, but this broccoli cheese soup fits the bill. Luckily, I'm taking a week off from my Keto/Paleo/Whole 30/Caveman diet, and given that you're this deep into a cheese-soup recipe post, it's safe to say that you're off whatever diet, too. So I suggest eating this soup with as much crusty bread as you can stomach. Happy souping!
Mitch. OUT!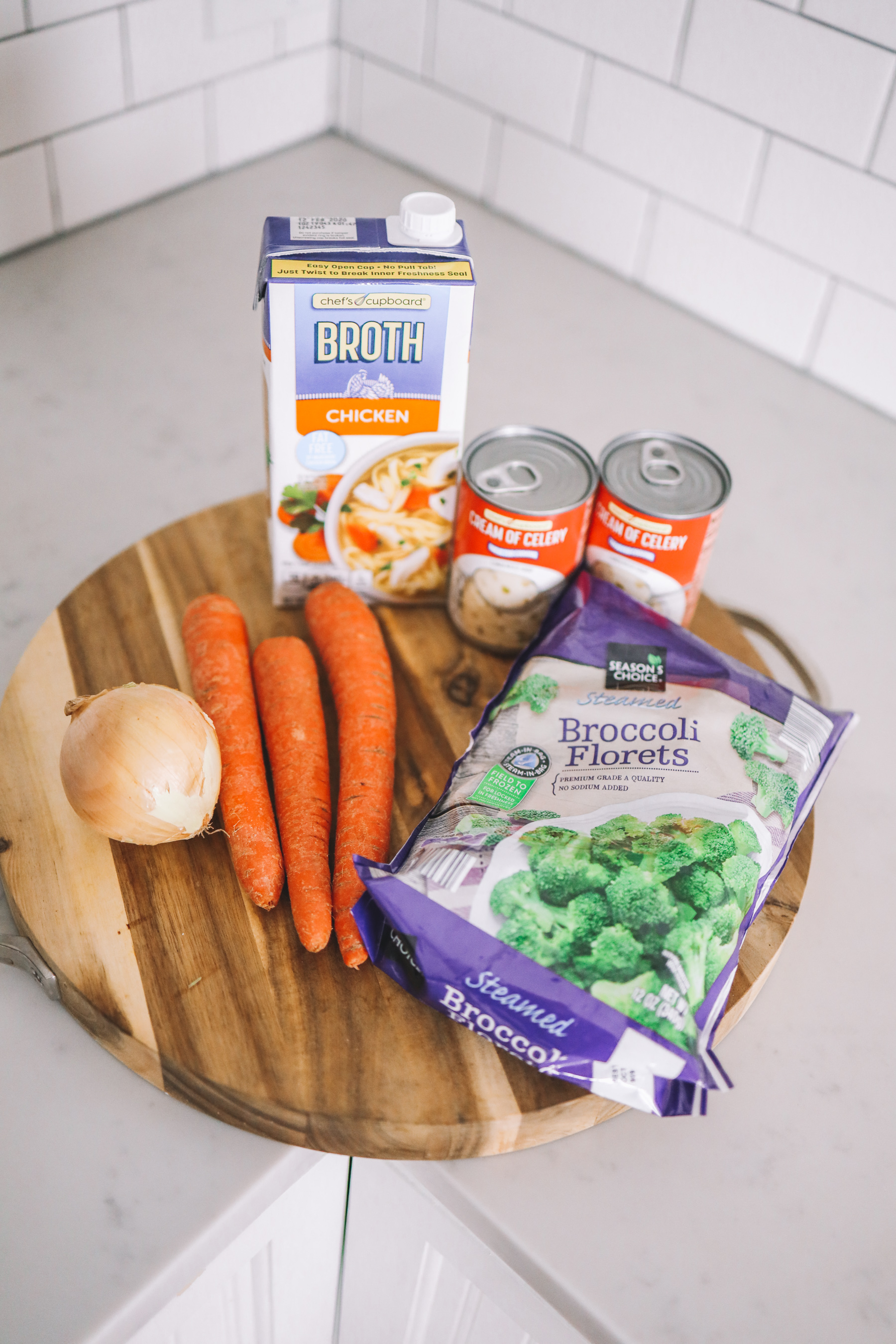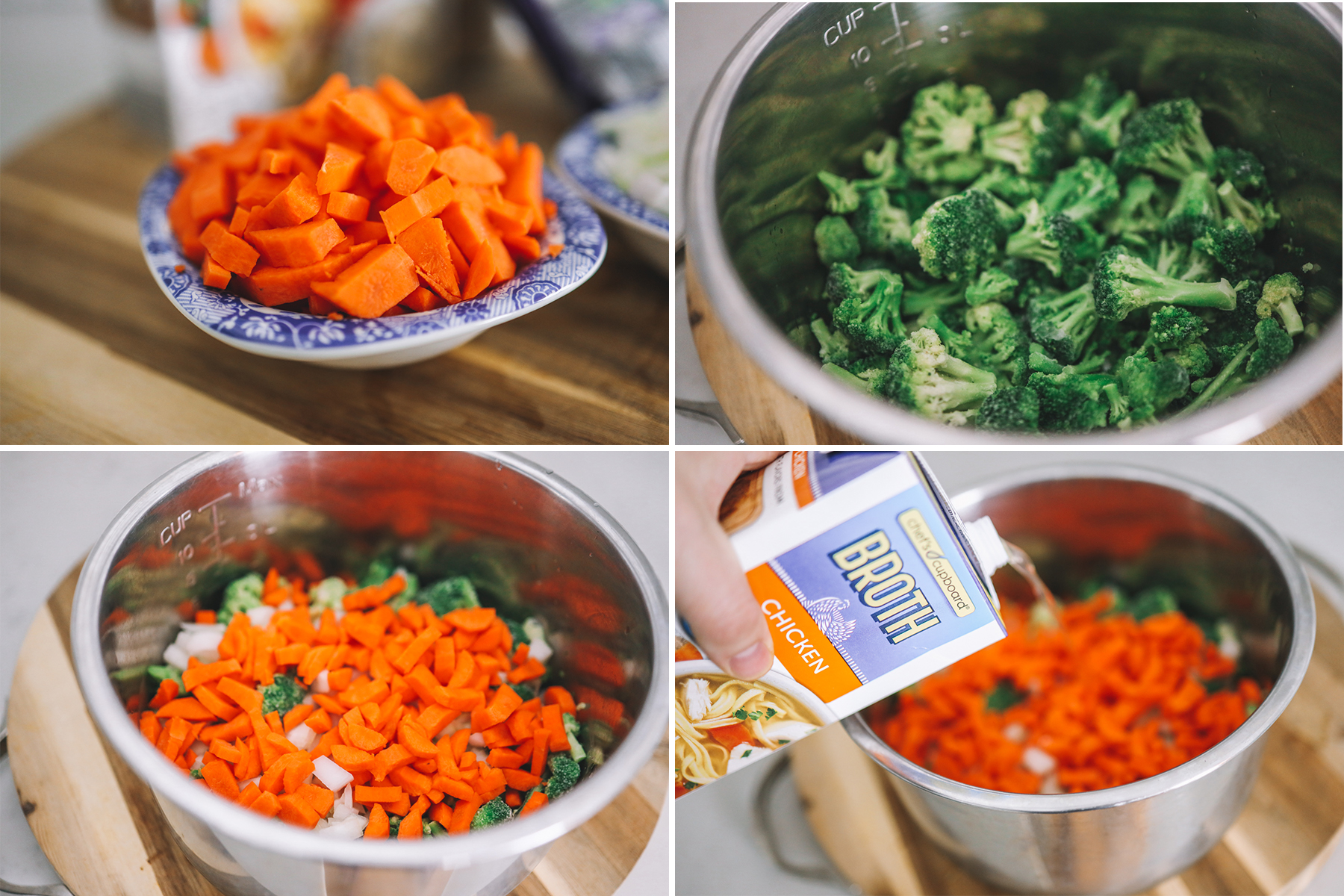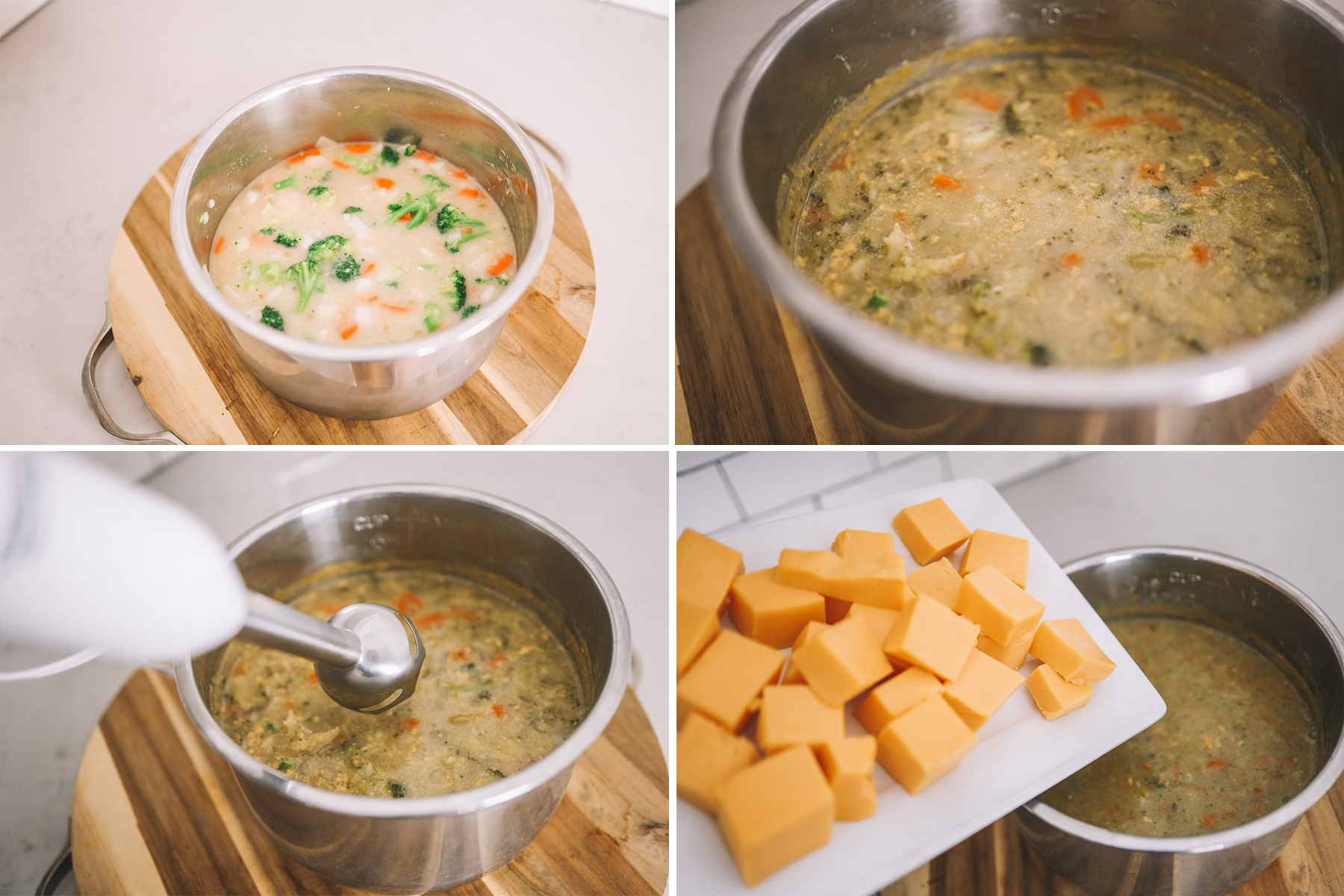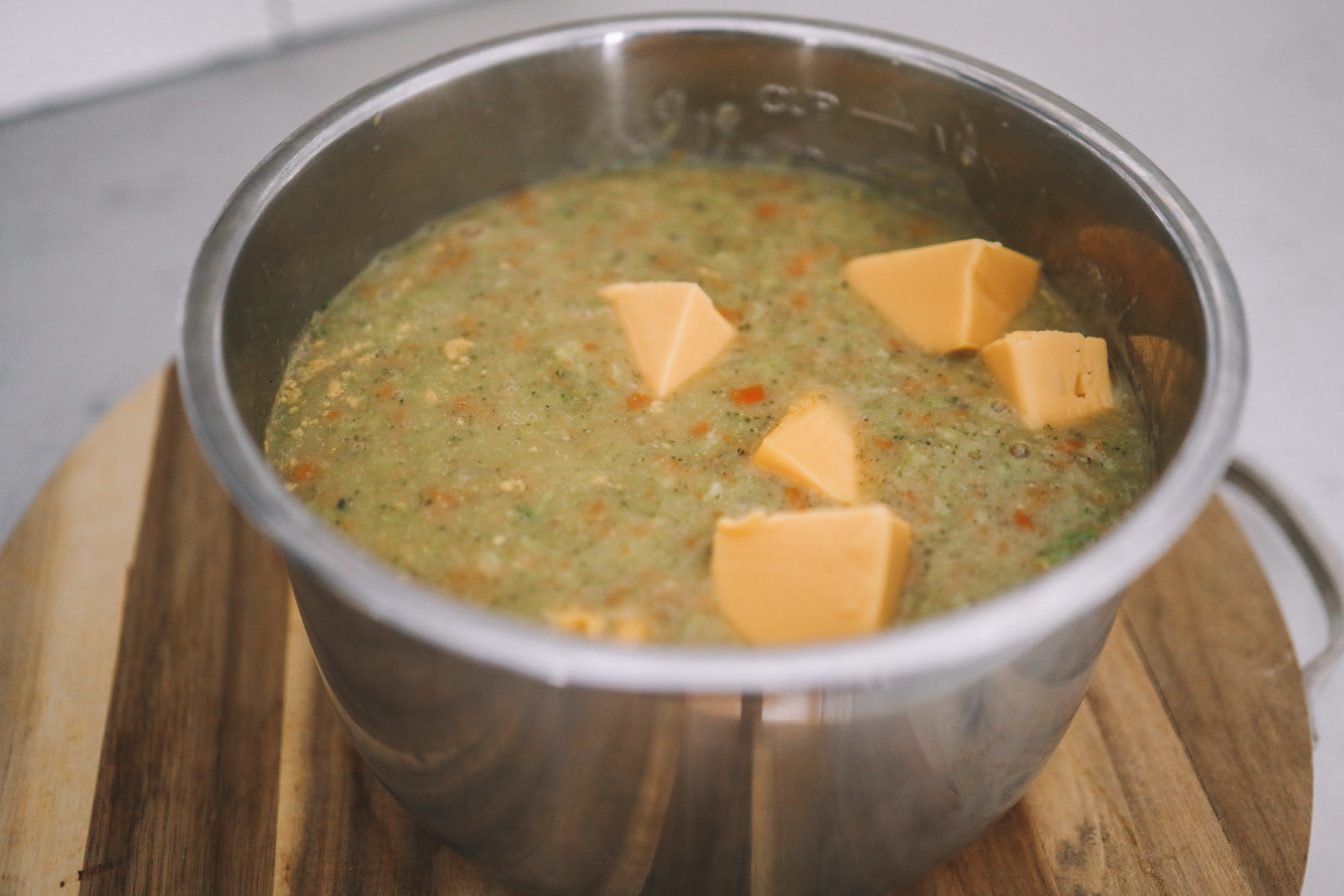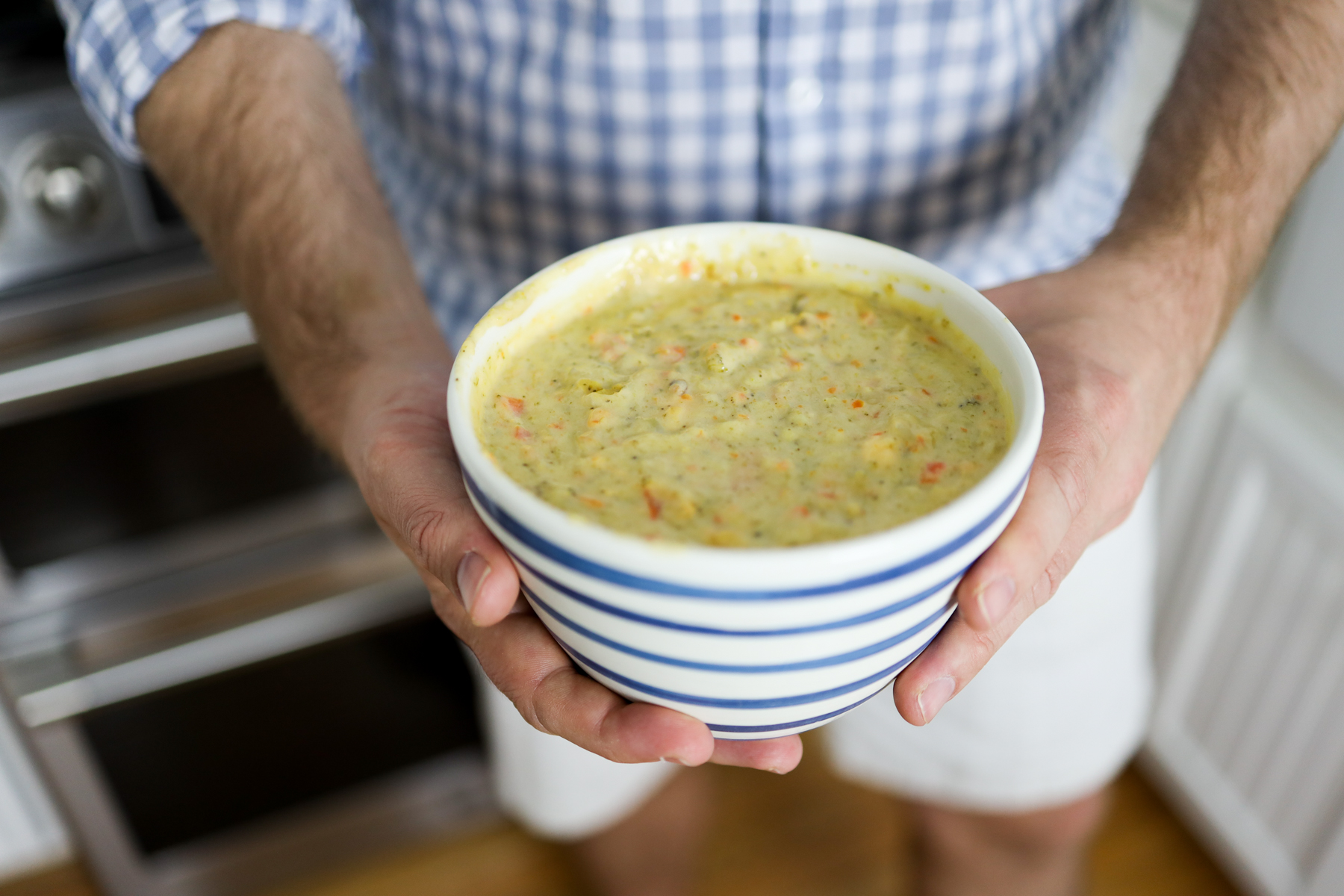 Broccoli Cheese Soup Recipe
Ingredients:
1 Large Onion
2 Peeled Carrots (or a handful of baby carrots)
1 Large Bag of Frozen Brocolli
1 16 oz box of Chicken Broth
Salt and Pepper to Taste
1 Brick of Velveeta Cheese
Crusty Bread
Instructions:
Dice onion and carrot and add to slow cooker
Add frozen broccoli, chicken broth, salt and pepper to cooker
Cook on low for four hours
Use immersion blender to lightly break up chunks and blend soup
Cut Velveeta cheese into large chunks before adding to the soup
Allow cheese to melt and mix while gently stirring
Finish with dipped crusty bread