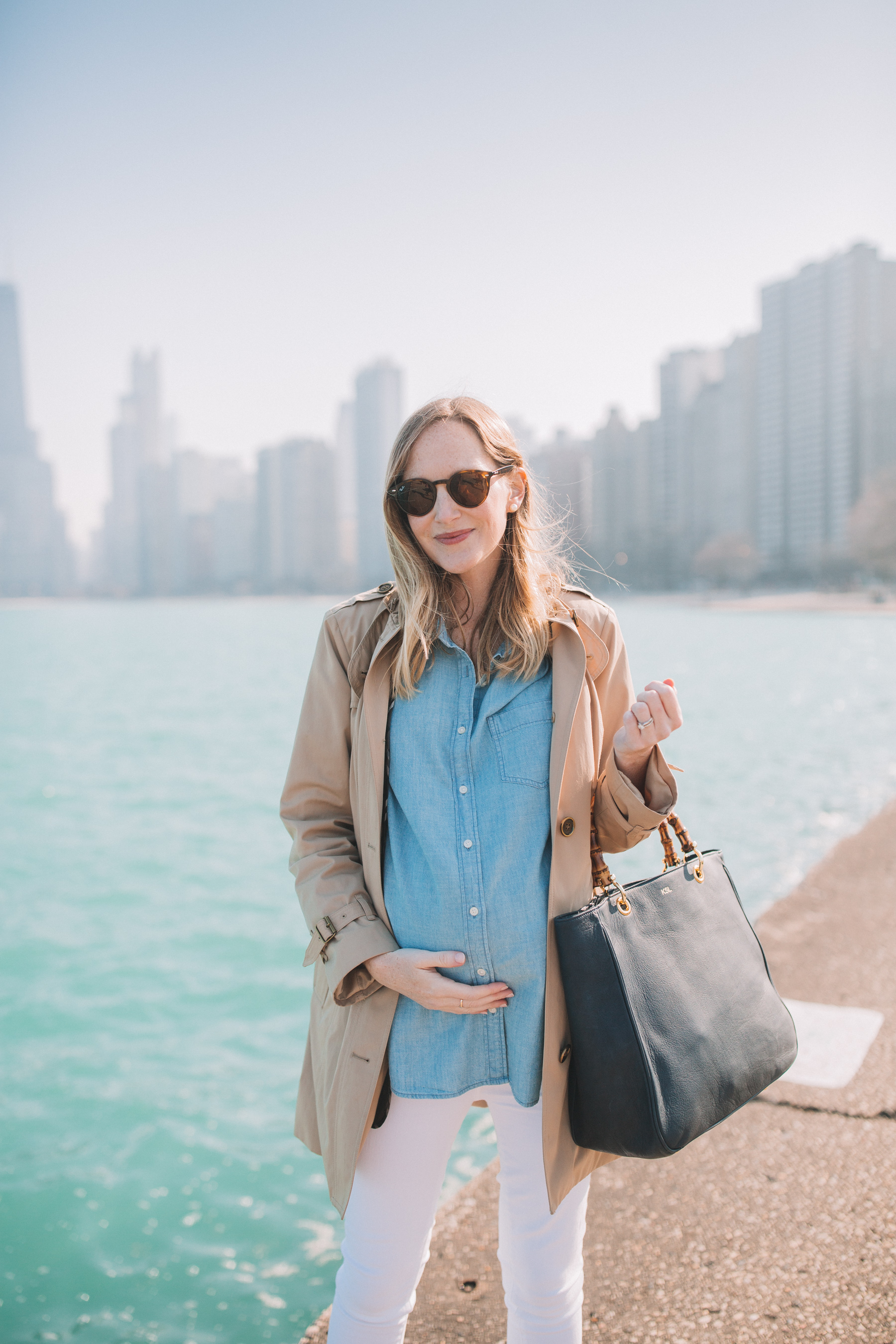 Today, you can take 50 percent off everything at J.Crew Factory with code "FULLBASKET." No exclusions, and it even applies to new arrivals, suiting and clearance!
Softest Chambray Shirt / J Brand White Maternity Jeans (If you're not pregnant, I highly recommend this pair of affordable white skinny jeans. I've had mine for years and love them! They're a deal, and they're very soft and stretchy yet don't lose their shape throughout the day.) / Red Huarache Sandals (Here are the brown ones I wear all the time, too!) / Mark & Graham Navy Elisabetta Bamboo Tote c/o (Love the new one with the strap, too. See all Elisabetta totes here!) / The Warmest Trench Coat (Comes with a quilted liner! Runs TTS.) / Ray-Ban Sunglasses
I'm officially less than a month out from my due date! In some ways, it feels like it's just around the corner… but in many other ways, it feels like I'm just going to be pregnant forever. 😜 Today, though, I wanted to share my last pregnancy update before Baby #2 arrives sometime around May 15th!
Third Trimester Pregnancy Update
Physical
I'm unbelievably grateful for this pregnancy. But #omg, I could use a little break right now, haha. Here's what's going on:
Pants and jeans are the devil. I've basically given up on pants and jeans and am living in leggings. I can get by in my favorite pair of maternity jeans for a few hours when I'm out and about, but I almost immediately change back into leggings the moment I get home. I know you can't really tell how big the bump is from the blog, and I can't lie: I do try to disguise its size a little in photos. I've just learned how to work camera angles! 😂 But trust me: It's LARGE, and even my comfiest maternity jeans bother me at this point.
My back hurts. I've mostly stopped working in my office and have moved to the couch because of back pain. But I'm hanging in there! Lumbar pillows are helpful.
My hair and skin are awesome! With Emma, my skin broke out with painful cystic acne, and my hair needed be washed constantly. With this pregnancy, though, my skin is clear and I can go a couple of days without washing my hair. SO NICE! Generally not a fan of pregnancy hormones, but in this case, they're not so bad. ;)
So many nosebleeds. Not to gross you out, but because high levels of hormones increase blood flow during pregnancy, pressure is put on blood vessels in the nose which can cause frequent nosebleeds. I get at least two per day. It's really fun.
I'm experiencing Braxton Hicks contractions. They're very common! They're the body's way of getting you ready for labor, but they can sometimes feel like the real thing, which is unnerving. I've come close to calling the doctor and going into the hospital a few times, but haven't followed through yet. Here's hoping they ease up!
I have more accidents than Emma. It's insane. Thank goodness for pads, but yeah: I do a LOT of laundry these days.

Sneeze = pee myself
Laugh = pee myself
Sit down the wrong way = pee myself
Get up too quickly = pee myself
Walk more than five blocks = pee myself
Think about ice cream = pee myself
Answer the phone = pee myself
Watch a movie = pee myself
Mental
GREAT, all things considering! We have so, so much going on in the background right now… which I'll definitely be sharing soon, but I'm super proud of myself for keeping a level head throughout most of it. Sure, I have moments when I get overwhelmed about everything; I like having solidified plans, and tend to get stressed when I feel like I'm not in control. (Don't most people?!) I'm feeling good, though, and I'm just trying to go with the flow. No sadness, no crying, and no meltdowns. Woo!
I'll admit, however, that the delivery has started to freak me out a little, even though this is my second child and the first delivery went well. I think that's normal, though?!
Energy + sleep
My energy is almost non-existant, so I've been trying really hard to listen to my body, and get fresh air, exercise and rest when I can. Of course, there are some limiting factors at play here; I have a toddler and a whole lot of work obligations that I'm juggling and trying to complete before the baby comes. There are many days, though, during which I struggle to even keep my eyes open. But I'd say that I take a couple of mid-afternoon naps (when Emma naps) every week, and they've helped! I also get into bed WAY earlier than I ever have before, save for my childhood. ;) If I don't get a solid eight hours of sleep, I find that I can't keep my eyes open in the morning anyway, and my productivity suffers as a result. So early to bed it is!
That said, sleep just hasn't been coming easily as of late. First, I've been suffering from NIGHT TERRORS, which are somewhat common in pregnancy but have been downright awful. The nightmares are super realistic, and two of them are reoccurring. One is about the movie "Annihilation," which I watched with my brother last summer. (Apparently a huge mistake, haha. It really messed with my head.) And the other nightmare is that hands come out of my nightstand and grab me while I'm getting up to use the bathroom… and my voice is gone, so I can't scream for Mitch. LOVELY, right? That's been fun. 😂
And at the risk of sounding like a crazy person, I also suffered from something called "Exploding Head Syndrome" for a couple of months, which, yes, is a real thing. (It's a type of sleeping disorder.) Thankfully, it's gone; it hasn't happened in some time… but for a little while there, I was sure I had a brain tumor or was legitimately going insane. There isn't much known about EHS or what, exactly, causes it. (Only theories exist at this point). But it's not a dangerous condition. It's pretty terrifying, though.
The afflicted person hears a very loud imagined sound right as he or she falls asleep or wakes up, and they also might see a flash of light. I suppose the only danger is that because it's so frightening, a person could develop anxiety surrounding going to bed, and end up suffering from insomnia or sleep deprivation because of it.
My brother, who's a doctor, lightened the mood when this was all going down and said, "Hey! At least you don't have Sleep Paralysis." (Another type of sleeping disordering that's terrifying yet not dangerous.) And yes, I'm grateful for that. (Google it. YIKES!)
Gender prediction
BOY.
Obviously there's a 50 percent chance that I'm wrong, haha; I have lots of friends who say their pregnancies were completely different from each other and they ended up with two boys or two girls. But yeah: this pregnancy has been wildly different from my last, and therefore I can't even fathom that it could be another girl! Between the skin and the hair–and the fact that I'm so much less emotional this time–I'm convinced. ;)
The nice part is that I truly don't have a preference for the gender. With Emma, I'll admit that I really wanted a little girl. 😉 (I hope that doesn't make me sound terrible!) But now that I have her, either would be fantastic. Regardless, we aren't even thinking about setting up a nursery until the baby is born, and even then, I think it'll be a while before we get it together. No big deal, though, since Emma slept in our room for the first few months of her life!
Names
We've settled on them! We're going to keep them a surprise for now, though. :) I will say, however, that picking them out was fairly easy. We went back and forth on the girl name a few times, but in the end, we went with the one we'd originally picked out. We're excited! We truly love both.
Emma + adjustment
Emma is REALLY excited about the arrival of "Bean Sprout," as she calls the baby. It's so cute. She's going to bring the baby a present in the hospital, and she knows that the baby is going to have a little something special for her, too. We've been practicing sharing like crazy, both with her friends and us. We've also been donating some of her unused toys to non-profits and our gym, where she can share them with the other kids. She's been SUCH a good sport about the whole thing, and is constantly talking about how she's going to share the rest of her toys with Bean Sprout. We'll see how it goes!
One of my friends from college, Katie, told me recently that the best advice she received about helping a first-born transition is to sometimes "ignore" the new baby. Not literally, of course, but to not fawn over the infant too much and instead, give the toddler more attention than you normally do during those first few weeks or even months. Another great idea is to invite the toddler to help whenever possible. For example, during the baby's bath time, the toddler can be in charge of "entertainment." One-on-one time with each parent will probably help, too. Even little outings, like a trip to the book store with Mommy or food shopping with Daddy, will make Emma feel special!
(Any other tips? Would love to hear them!)
Plans for the big day
No plans set in stone yet, but right now, we have a "call list" of friends and neighbors. (Thanks, guys! We love you!) We'll call Mitch's parents, who are 2.5 hours downstate, and have a friend or neighbor watch Emma until they arrive. It's also possible Mitch's parents might already have Emma for the weekend, in which case we will have nothing to worry about. But babies tend not to arrive on their actual due date, so we'll see about that. ;) We'll call my parents when we call the Larkins, too… and they'll hop on a flight or start driving depending on what time of the day it is. Exciting!
Up next
Packing my hospital bag! I haven't done this yet, but plan to this weekend. I wrote this post about what was in my hospital bag back in 2016 when I had Emma, but I definitely missed some important stuff and didn't use everything I packed. If you're struggling with packing your bag, read the comments from that post. My readers have GREAT advice! (Also, Erica, I love you. Thanks for offering to drive from Milwaukee with new underwear, haha. #memories.)
Anything I missed?
I'm pretty forgetful right now, but just ask! :)
And in case you missed them, here are my previous pregnancy posts:
Second trimester: health insurance, morning sickness, and how I'm feeling emotionally
Second trimester: the big anatomy scan, how I'm feeling physically, gender predictions, how my work days have changed, and how Emma's handling things