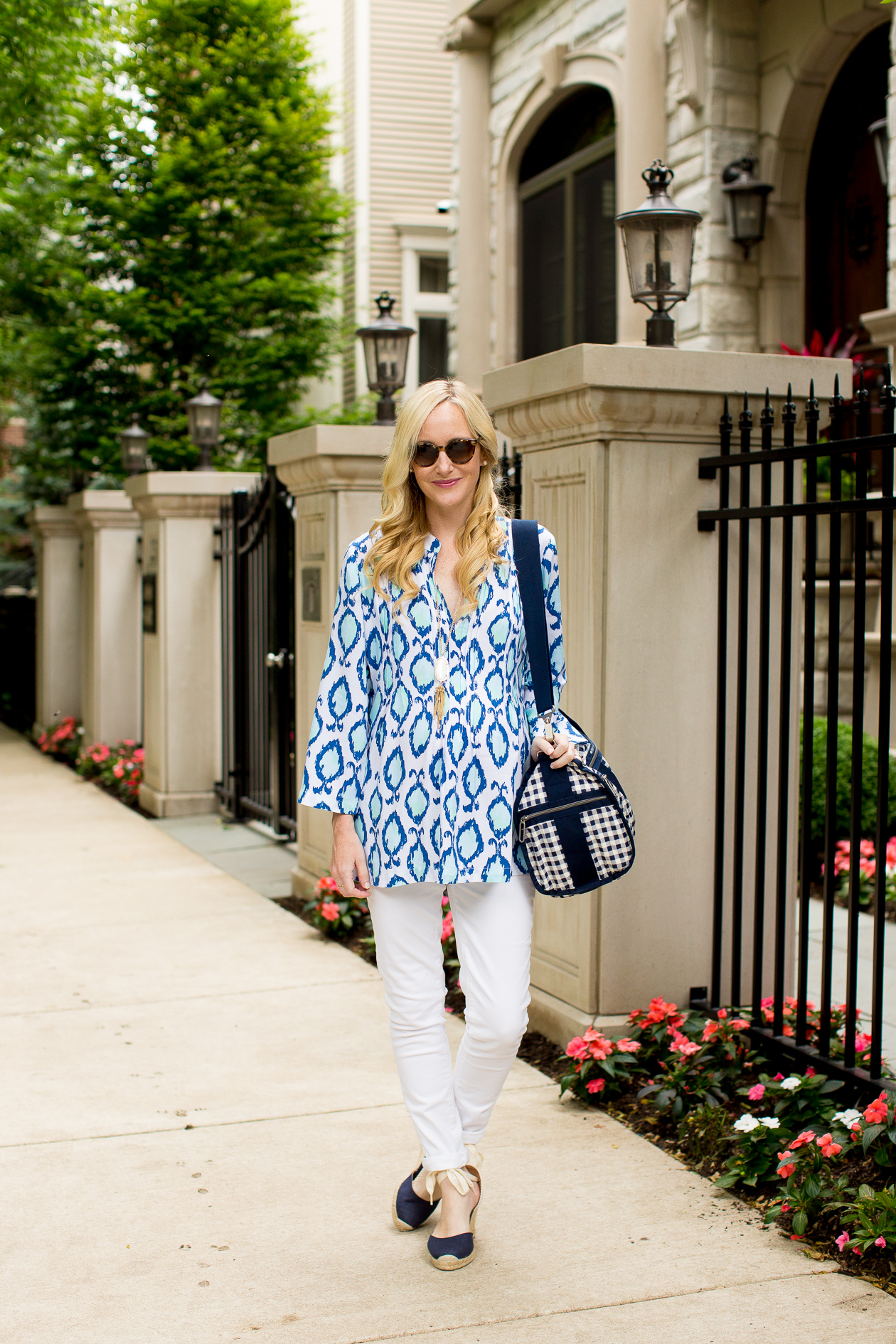 Thank you, Zappos, for sponsoring this post!
Tunic, Necklace, Weekender (See the whole gingham line here!), Wedges, Pearl Earrings c/o Zappos / Similar Sunglasses / Paige Jeans
As I have less than three weeks left until my due date, I'm starting to get my hospital bag together. Crazy! I've been working with my friend Darby (who's due around the same time as I am) and my sister-in-law, Sarah, to come up with a list of everything that should be included. But I'd love your opinion, too, if you have any experience with packing hospital bags! ;)
Before we get into all that, though, let's talk a little bit about today's look:
The tunic: I've been wearing this a LOT lately. It's super flattering, even with a big baby bump! It's light and airy, and doesn't wrinkle easily, which has been a godsend. The nicest thing is that I'm pretty sure I'll be able to wear it post-baby, too. (Sizing for Preggos: I normally wear an XS in Lilly tops, but the baby and I are wearing a medium here. Sizing for non-Preggos: I'd go with your normal size!)
Weekender: Mitch says I need to stop acquiring weekender bags, but I couldn't resist with this navy gingham number. ;) My thought is that it'll be the perfect hospital bag, and that it'll be a great travel bag for the baby, too. So many pockets! LeSportsac also really brings me back to middle and high school. Happy memories for sure! (It comes in a large and small size, too. And love the backpack version!)
Necklace: I will always be obsessed with the Kendra Scott Rayne necklace. It goes with everything! My favorites are the white, navy, magenta and turquoise. ;)
Wedges: Couldn't live without 'em this summer. I'm trying really hard to look relatively presentable even during these last few weeks, and comfy wedges have been clutch!
Okay! On to the hospital bag:

Hospital Bag Packing List
For Kelly:
Robe (I'm freezing all the time, so this was recommended in case I get cold in the gown.)
Socks/slippers
Nursing bras/pads (Help! I ordered a couple of nursing bras, but I had no idea what I'm doing. Any good recommendations? I hear you need some without underwire that you can sleep in?)
Something to wear under the robe (Any suggestions? Nightgown? Maybe just the boy shorts and a nursing tank top? Or can I get away with wearing PJs?)
Book
Cell phone charger
Dark underwear (Boy shorts)
"Going home" outfit (REALLY need help with this one. Considering it's July, maternity maxi dress with "easy access" top & boy shorts underneath? Leggings just sound super hot.)
Toiletries:
Travel shampoo/conditioner (I know that not everyone showers while in the hospital. My hope is that I can, but we'll see!)
Face wash/lotion
Hair brush
Toothbrush/toothpaste
Soap
Razor
Deodorant
Chapstick
Hairdryer (Not for vanity's sake, I swear. I just get cold really easily, and I've told that having wet hair while sitting in the hospital bed–or trying to sleep–isn't the greatest.)
Flip-flops for the shower
Makeup (Again, not sure if I'll use it, but nice to have considering how many visitors we'll likely have!)
Contacts/contact solution/contacts case/glasses
Ponytail holders
Maxi pads (I've heard that sometimes the hospital ones aren't the best.)
Lanolin cream
Benadryl (I have terrible allergies and Benadryl is the only thing that works! I've heard you can't bring medication into the hospital though. Not sure if this is true, but obviously the hospital will have Benadryl, so I'm probably good either way.)
Pre-natal vitamins. (I plan on taking them after the baby is born, but see above. Can I bring them?)
Earplugs (Very light sleeper. I realize I'll be exhausted, but I can't sleep without 'em.)
For Mitch:
Snacks and drinks (Which Kelly will steal after the baby is born)
Change of clothing
Toothbrush
Camera
Change for vending machines
This is just a side note: BOYS ARE SO LOW-MAINTENANCE.
For Baby:
Going home outfit (one boy outfit, one girl outfit) prewashed with Dreft
Hat
Carseat
Baby blanket
Baby nail clippers/file
Diaper bag (Just to bring things home in.)
Am I missing anything? Would love to get your opinion!
No, Noodle, you can't come to the hospital. But you can hang out with Jess! (#bestdayever)
Outfit details:
Tunic, Necklace, Weekender (See the whole gingham line here!), Wedges, Pearl Earrings c/o Zappos / Similar Sunglasses / Paige Jeans