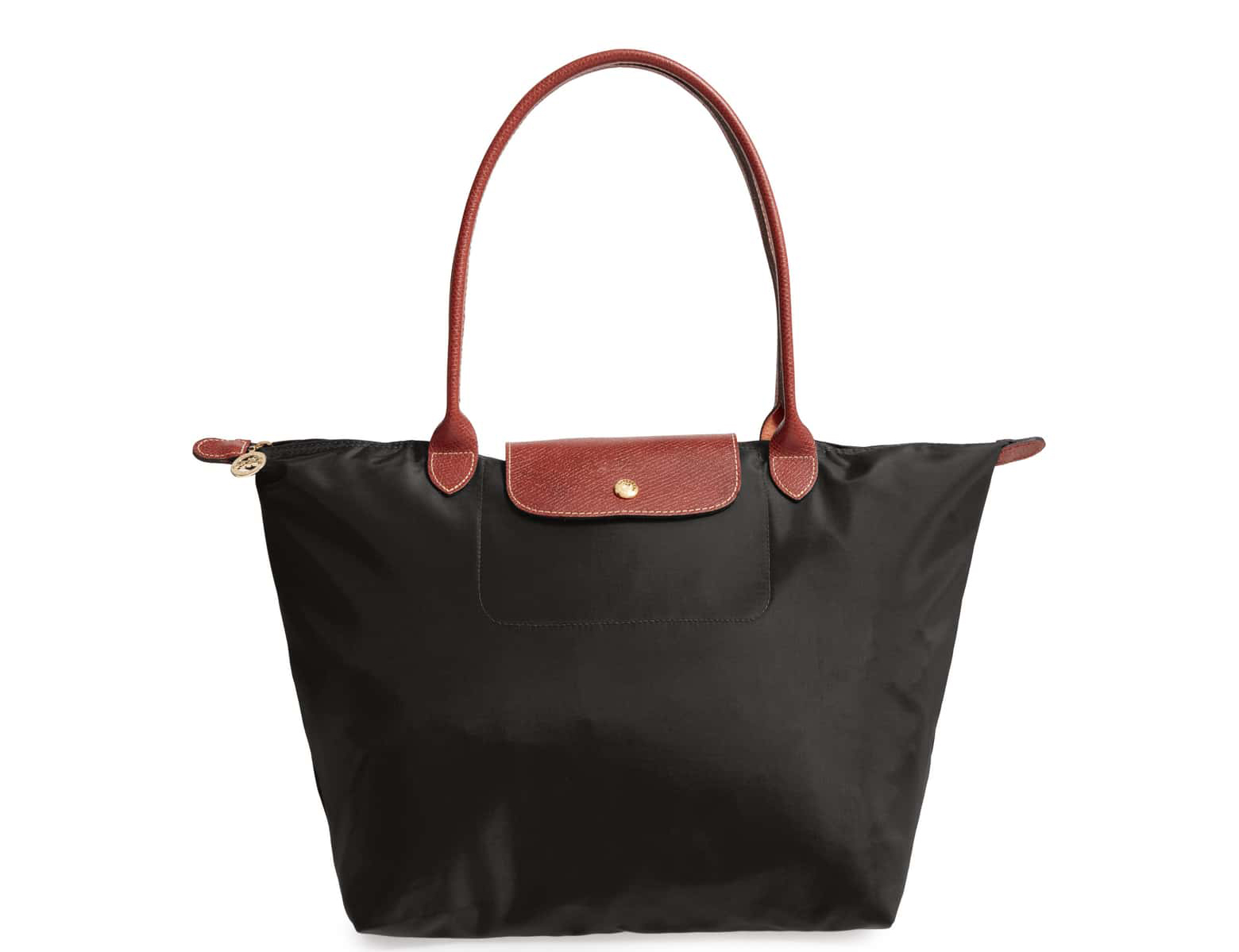 Enter to win this classic black Longchamp below!
And we're back with another "Shop my Closet for Free" post–this was the first one!–because we're nearing the end of our KonMari challenge, only one month behind schedule. 😉 We're actually wrapping things up THIS WEEK, so you can soon expect three blog posts on how we handled the categories of Books and Papers (which we combined), Miscellaneous (Kitchen, Bathrooms, Garage, Kids' Stuff, etc.), and Sentimental Items. While we're not 100-percent done as I type this, I can say that thus far, the easiest categories for me have been Books and Miscellaneous, and the most challenging have been Papers (simply because it's so time-consuming and tedious) and Clothing. Oy, is Clothing tough!
In case you're new here, one of my biggest takeaways from our KonMari challenge has been the importance of mindfulness. You can read more about this in the "What I Learned" section of the eye-opening post, but I'm currently very focused on finding good homes for clothing and accessories that I love but don't need or use enough. While these things are going to many different places, I decided from the get-go that I wanted to set aside some favorites for you, as you're the reason this blog exists in the first place! So thank you for clicking on this blog post today and "shopping." It's somehow so much easier to part with my closet knowing that some of the stuff is going to my awesome readers. :)
What you need to know about "Shop My Closet for Free":
Some of the products are new and some I've worn before.

But everything is clean and has been taken care of very well! I promise that I'm not dirty. :) For things that are not brand new, I've either washed them or had them dry-cleaned. I have not, however, ironed… so you may receive products that need a good ironing/steaming. (Also, Mitch is stuffing the mailers, and he literally punches his own clothing into his suitcase. So…) But that's fine, right?!

*Most* products have been generously gifted or are samples.

When I started the challenge, an initial struggle was figuring out what to do with gifted products, of which I have a lot but don't have the space (or need) to keep. While I have sold some that were part of compensation for work, it didn't feel so great to sell those that were sent to me strictly as gifts. Giving them to you, though, feels right! I've chatted with several brands about this plan, and they have been in favor since it will provide brand exposure, whereas selling or donating would not. (Don't worry, though! SO much has been donated).

The reason why I own so many brand new, unused products is because I receive a lot of surprise press packages and shipments that include products in multiple sizes. Sometimes, based on my work load, I simply don't have time to wear and feature them… and other times, one size doesn't work for me. While I do send a good amount back to companies, I'm often told to simply give it away or donate. So that's why you might see brand new stuff here!

The sizes are all over the place, but yes, they're limited.

This is a bummer, for sure. I wish I owned products in every size that way this little project would appeal to everyone! But if my stuff doesn't work for you, perhaps it would for a friend or family member?

This time, there are a lot of bags and jewelry.

I'm hoping that this makes it more fun for ladies who aren't my size!

There are also quite a few monogrammed pieces.

Where are my "KSL" girls?! PLEASE! Someone out there MUST have the same initials as I do!

Some products are still available, and I've linked as much as I can in case you're interested in buying direct from the brand or retailer.

These links, when available, will also provide sizing information for clothing. But yeah: if sizing info isn't provided, just take your best guess!

No "returns."

Haha — This seems silly, but if something doesn't fit, please give it to a family member or friend, or donate it. (If you send it back to me, I will just be putting it into my own donation pile!)

There will more rounds of "Shop My Closet for Free."


I have a lot of stuff, and the packages continue to arrive. 😂 Keep an eye out. Right now, I'm thinking I'll put stuff up on the blog once per quarter.

If no one enters to win a particular product, it will be donated.

You will not see the same products in future rounds of "Shop My Closet for Free," so be sure to enter now if you like it!

I will not be doing anything with your personal information.

When you enter to win, your information will be recorded into Mitch's Google Drive, and then deleted when the "giveaway" is over. (You can, however, opt to sign up for the Kelly in the City newsletter through the form. If you don't want to sign up, simply check the box that says "no thanks" — or check nothing.) But trust me: we are far too tired to do anything with your info. (Really. Like, my eyes are drooping as I'm typing this, haha.) Rest assured, it's safe with us! Likewise, please respect our privacy and safety, and do not share our mailing address with anyone. (Sometimes USPS requires it for print-at-home postage.) Note: This totally wasn't a problem for the last round. THANK YOU!

Winners will be selected by Mitch and his fancy apps.

It'll be totally random. This will likely happen in about two weeks.

Packages will also be sent out by Mitch.

In pink mailers. They're really cute. He picked out the color. I was equal parts shocked and delighted.

I will not be announcing winners; you'll just be pleasantly surprised if a package arrives on your doorstep!

This is to prevent burnout on my part. ;) I want to keep this as easy and streamlined as possible so that I keep doing it. Woo!
How to shop:
Under each photo, there is a link that says "SHOP." It's the same link for every product, so you really only need to click once. Simply fill out the top of the form, and then scroll through and click "I want it!" for whatever products you're interested in. You may select as many as you like, but please only select those that you really think you'd wear, as the goal here is to find good homes for this stuff. :)
Easy enough? Happy shopping!