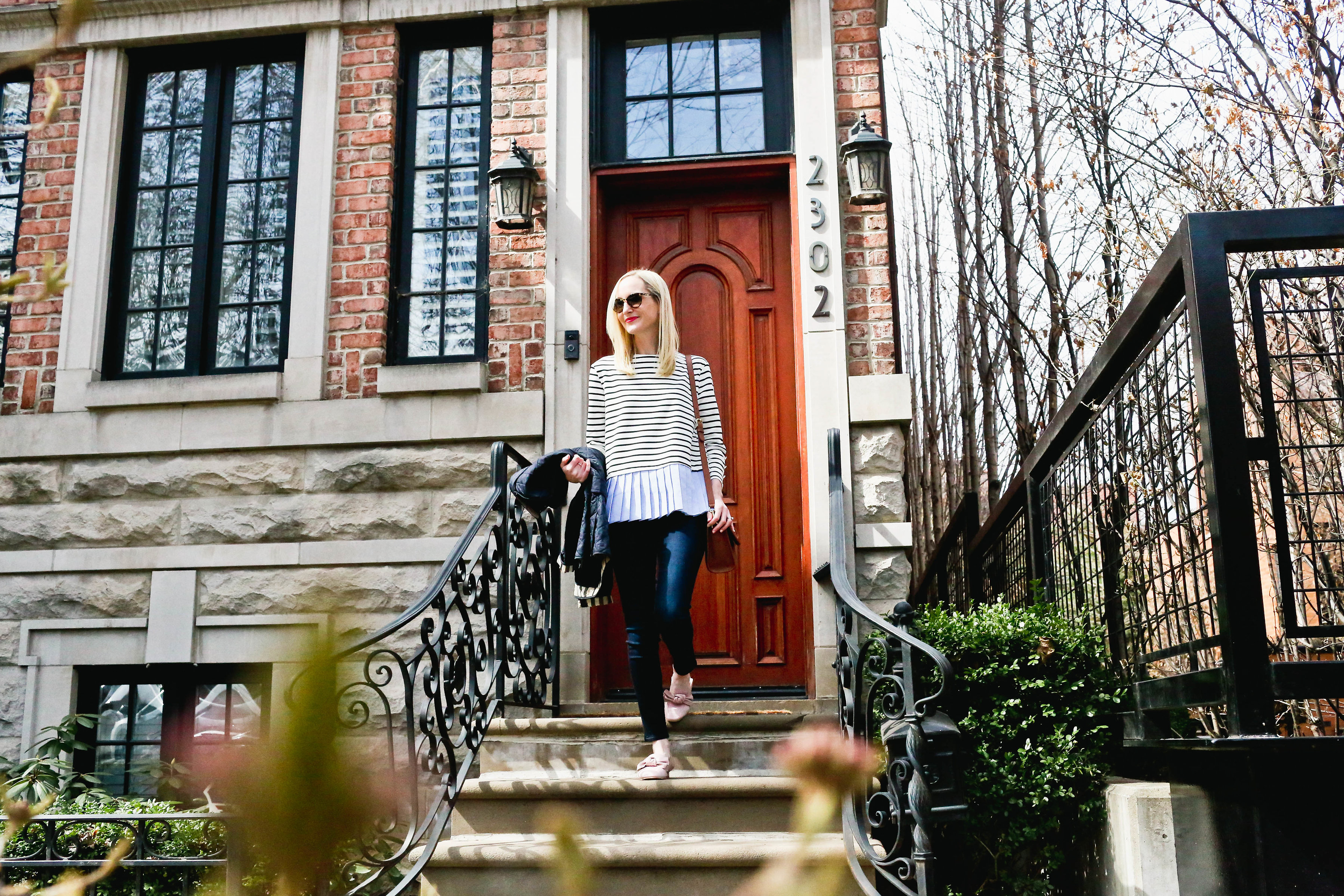 Pleated Top (Back in stock! Sells out so quickly, so nab now, as it ships free. I usually wear a size XS, but I'm wearing a size small here and it's just right.) / Bow Mules (CRAZY soft and comfy. They're almost sold out in light pink, but they're just as adorable in black. Similar here, here and here. Also, this is my recent shoe obsession. Wear them nearly EVERY NIGHT.) / Burberry Jacket (It's on major sale here. Now comes in light pink!) / Coach Bag (No longer available, but I LOVE this one, this one, and this one. Also this one, this one and this one, haha.) / Hudson Jeans (They're my go-to dark jeans. These are my everyday jeans, which are on crazy sale; these are my go-to white jeans; and these are the cutest bow-adorned jeans. They're also on sale!)
Guys, I'm a hot mess this week. Couldn't even get a post up yesterday; Mitch had to take over the blog. (Probably for the best? The guy's a better blogger than I am?!)
Undoubtedly, this all stems from Monday. Jess and Neal (our first babysitters besides our own parents!) graciously watched Emma for the night, and we went to Green Street Meats and saw M.Ward play at City Winery. It was the best night ever, but we're both still recovering from a late night out. We love you Jess and Neal! Thank you!
A few things about today's look:

Pleated top is back in stock! This is one of my favorite tops of the season, and it keeps selling out. I'm not sure why it's back in stock today, but it is, and it won't last long. Isn't it adorable?! While I usually wear a size XS, I'm wearing a size small here, and I think it looks just right. Can't tell you how many compliments I get when I wear it! And weirdly enough, the pleats don't wrinkle like crazy, which is so nice when you have a baby on your hip at all times. ;)

Favorite bow mules are still available in black. Completely understand why these things are selling like hotcakes, too. They're super soft and padded, and they don't slip off my feet. Truly my best spring shoe purchase! They're just about sold out in the light pink, but the black is SO classy, and would be perfect for dressier, more polished outfits.
My Burberry Jacket (on major sale here!) is now available in light pink. I'm kind of having some major regrets right now, haha. I LOVE the navy, but HELLO, light pink! Sigh. ;)


There are so many great brown leather bag options available right now. See some of my favorites above!
In other news, I love Cassandra Eldridge. Cassandra and I met when I first moved to Chicago through an EveryGirl photoshoot. She moved to Florida shortly thereafter but recently moved back to the Windy City and I'm ridiculously happy. It's so nice to have my friend back, and I can't wait to have all the girls' nights. :) She's also the best ever and quickly pops over to take photos for me when Mitch can't because of work. Cassandra, I love you! (Also, if you're in need of photos, reach out to Cassandra. She's ah-mah-zing and beyond fun to work with!)
My brother and sister-in-law are flying in from Philly on Friday morning, and I'm so pumped. I'm getting all my work done today and tomorrow that way I can have a relaxing and enjoyable weekend with my fam. It's supposed to be in the 50s–like it was when these pics were snapped–and I'm dreaming of long walks around LP!
Finally, UGH. I ordered this dress when it first came out (in the petite size) but never tried it on. Finally did today and it's TOO SHORT. Back it goes, and here's hoping the regular one arrives in time for our trip to California NEXT WEEK! Ahhhh! Too excited.
And with that, Kelly. Out. 
Doesn't work as well when I do it… ;)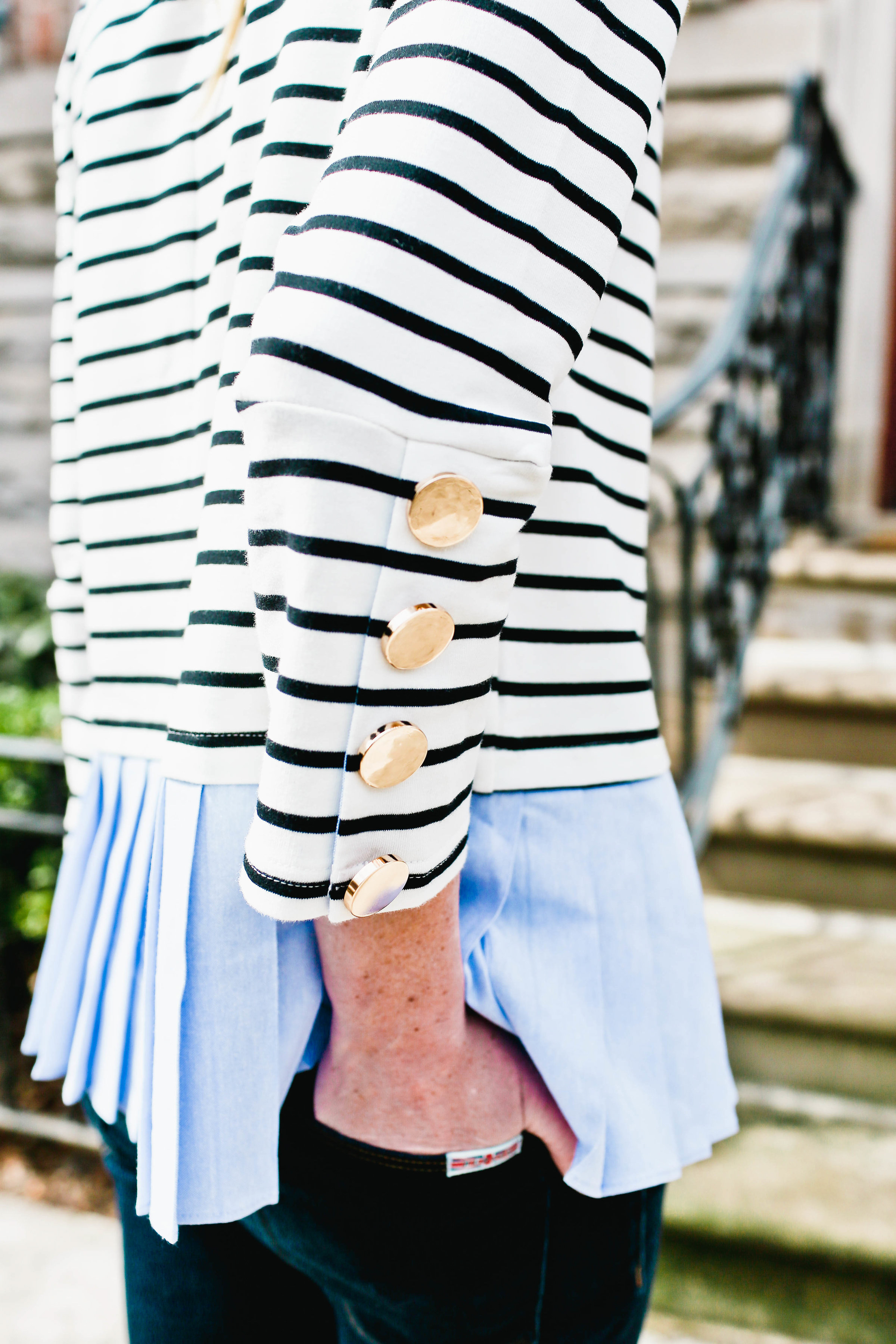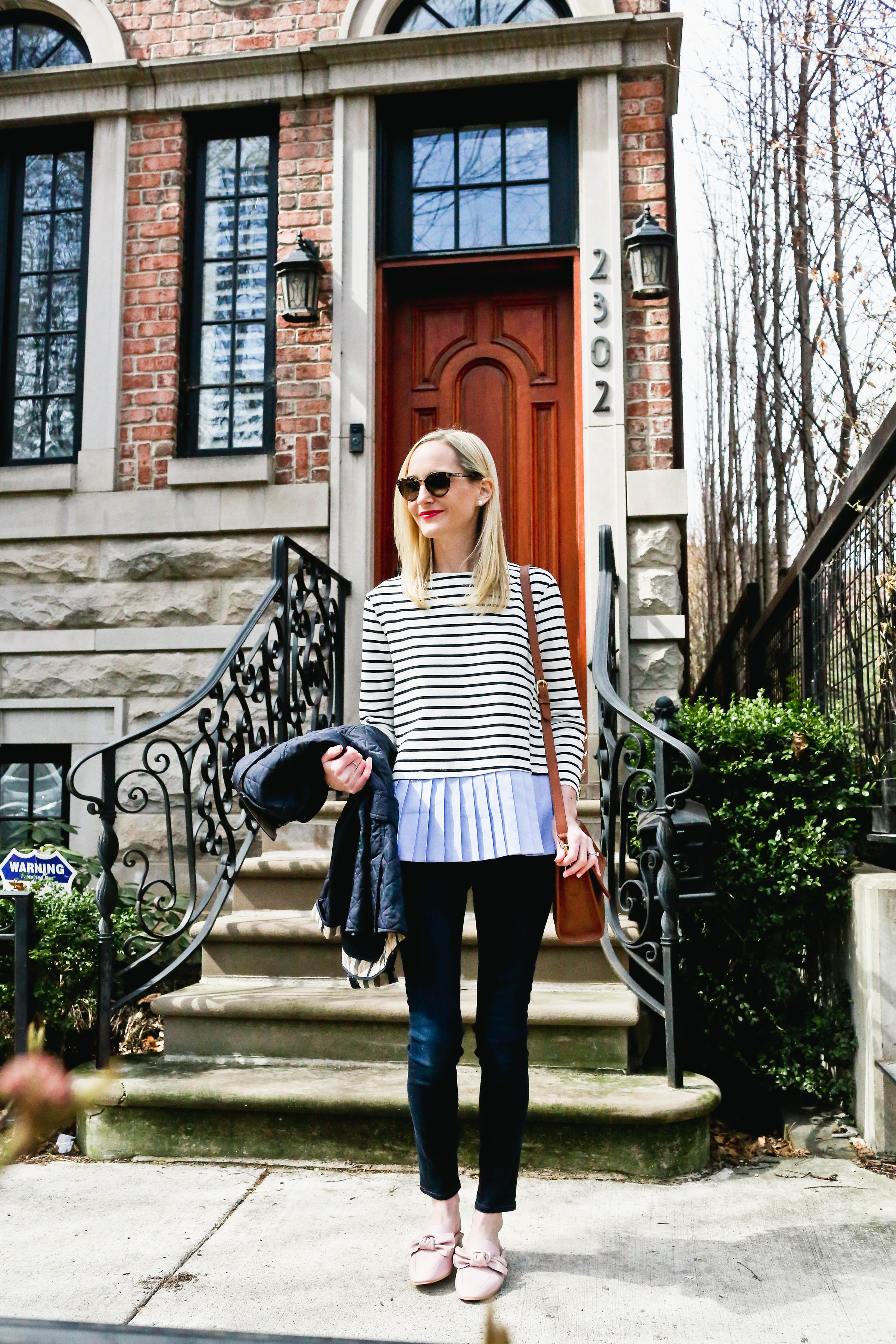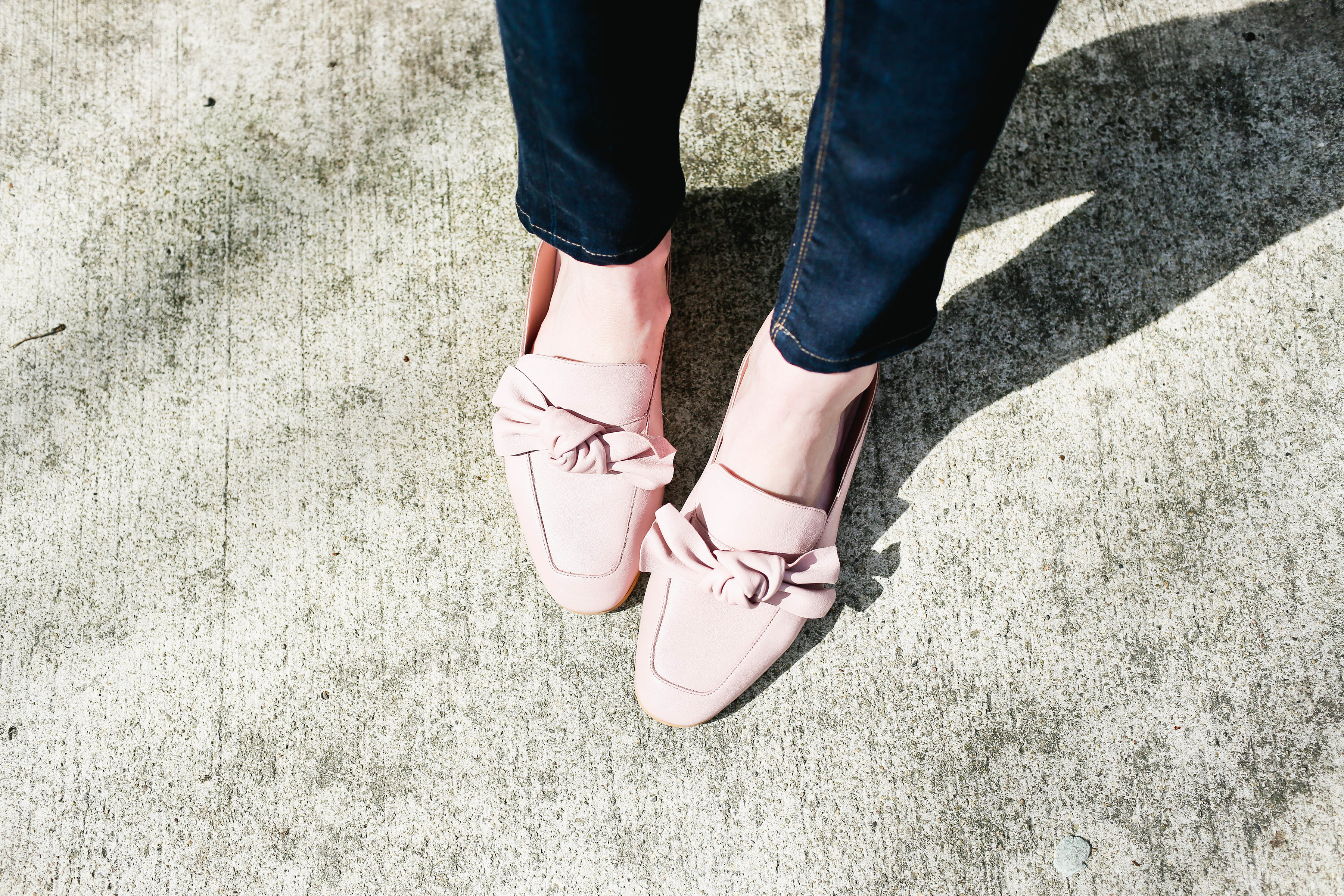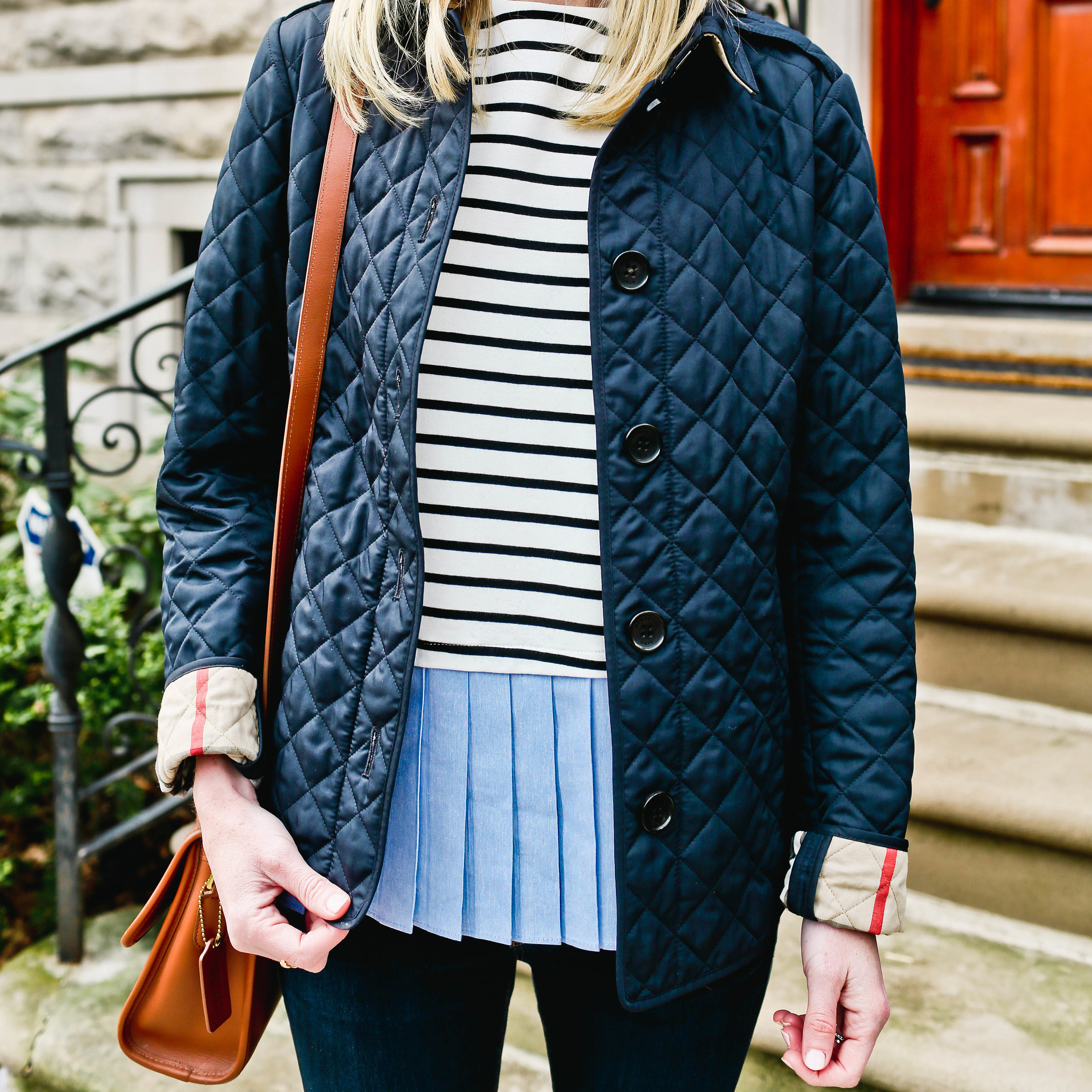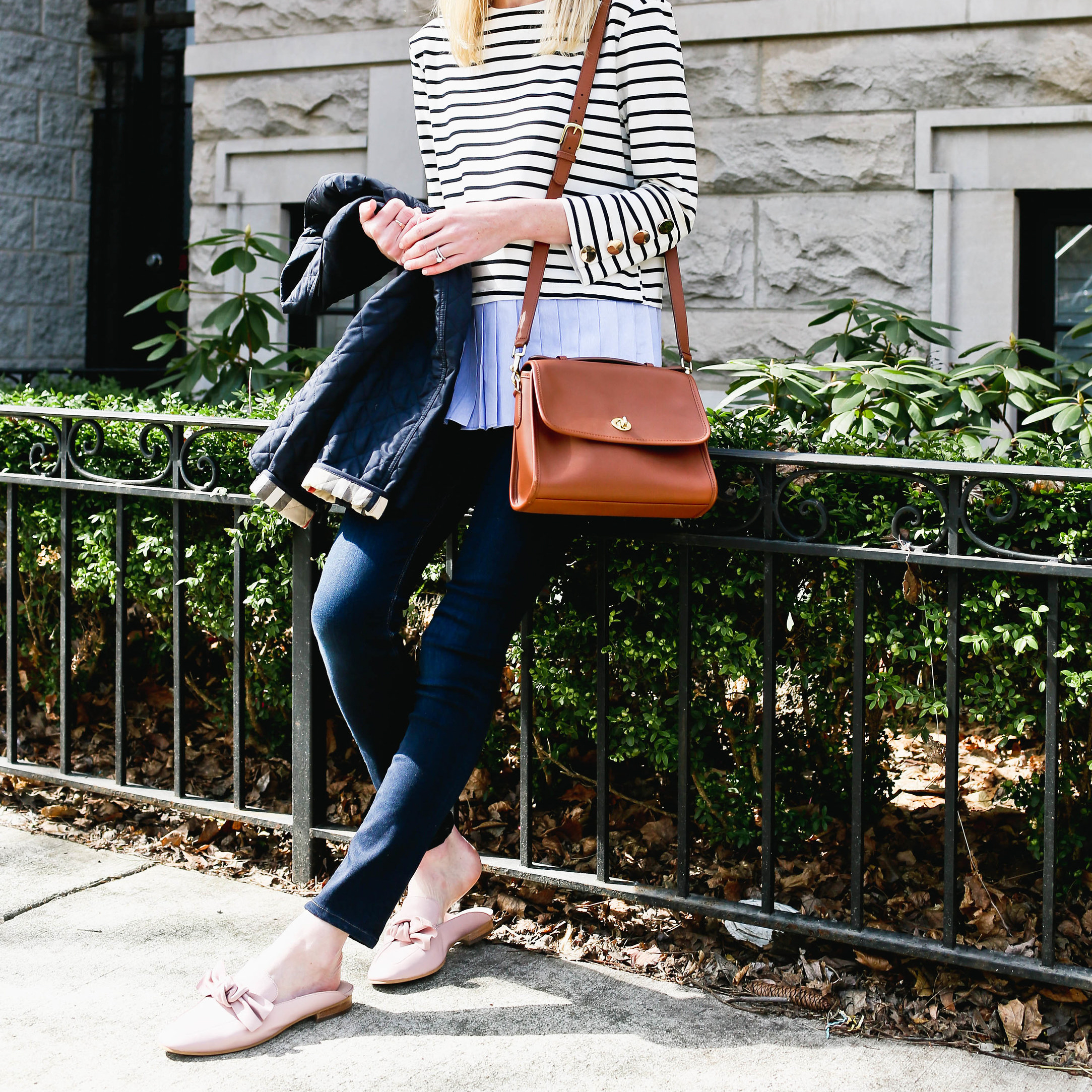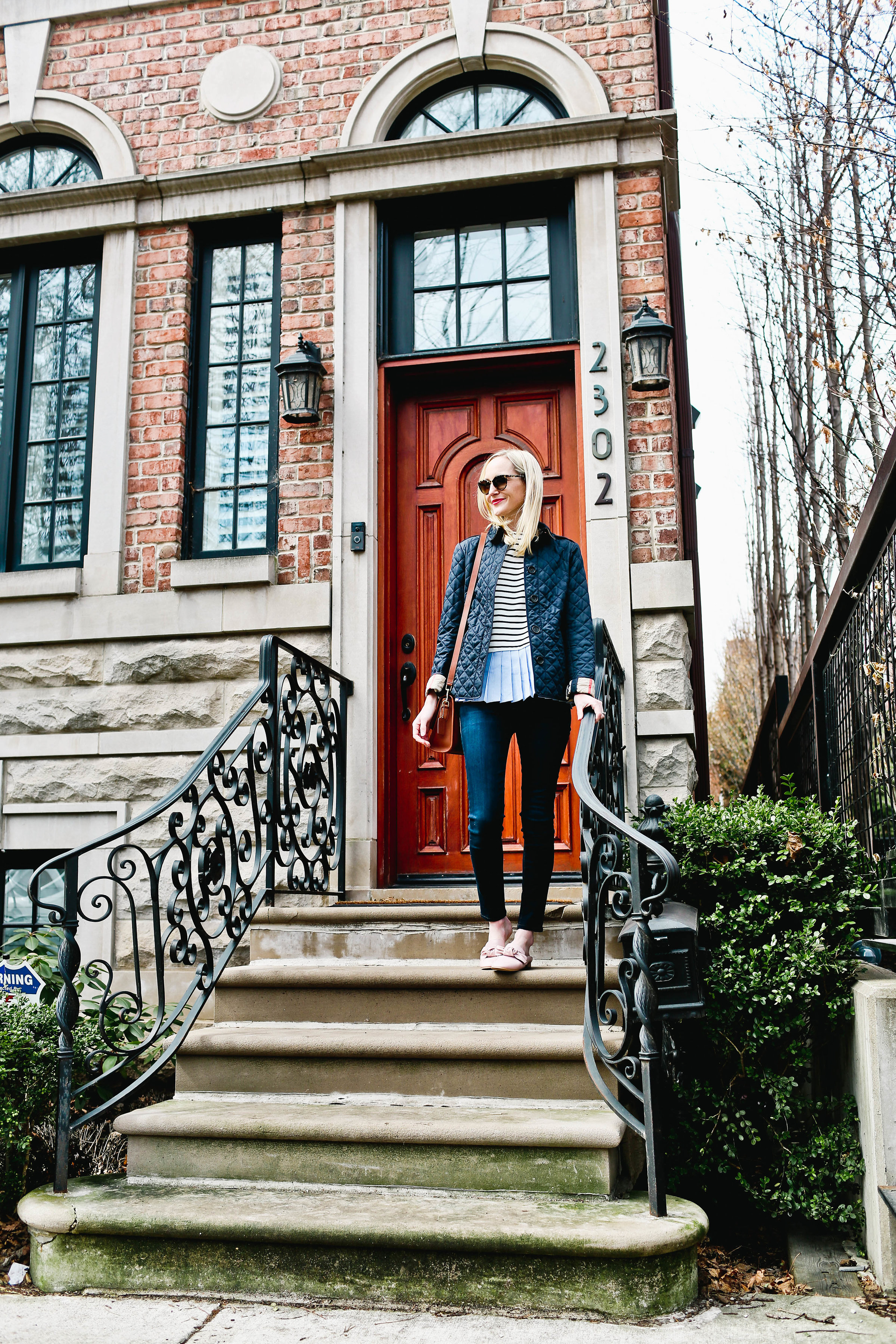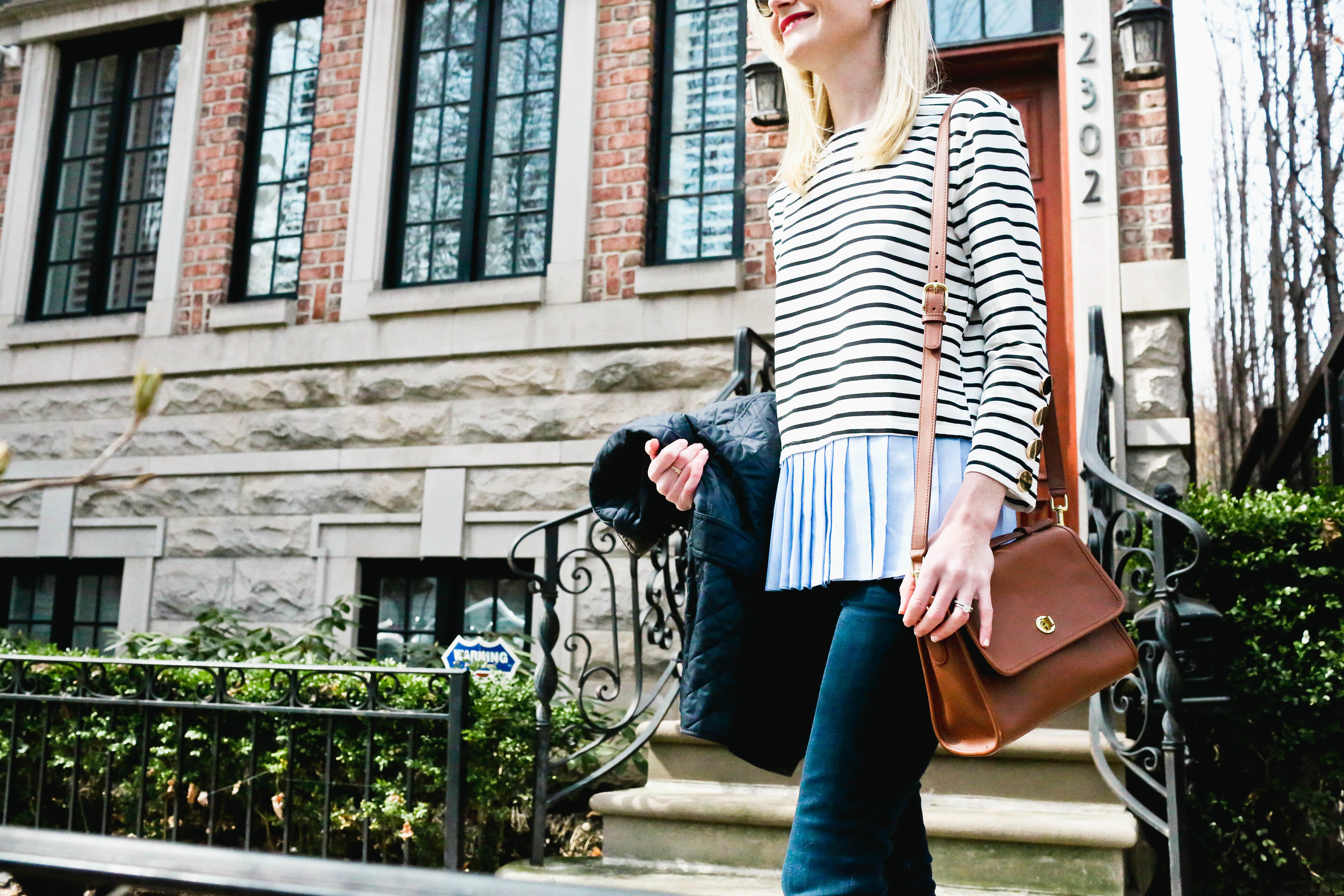 Shop the post:
Pleated Top (Back in stock! Sells out so quickly, so nab now, as it ships free. I usually wear a size XS, but I'm wearing a size small here and it's just right.) / Bow Mules (CRAZY soft and comfy. They're almost sold out in light pink, but they're just as adorable in black. Similar here, here and here. Also, this is my recent shoe obsession. Wear them nearly EVERY NIGHT.) / Burberry Jacket (It's on major sale here. Now comes in light pink!) / Coach Bag (No longer available, but I LOVE this one, this one, and this one. Also this one, this one and this one, haha.) / Hudson Jeans (They're my go-to dark jeans. These are my everyday jeans, which are on crazy sale; these are my go-to white jeans; and these are the cutest bow-adorned jeans. They're also on sale!)
Photos by Cassandra Eldridge (Heart you!)