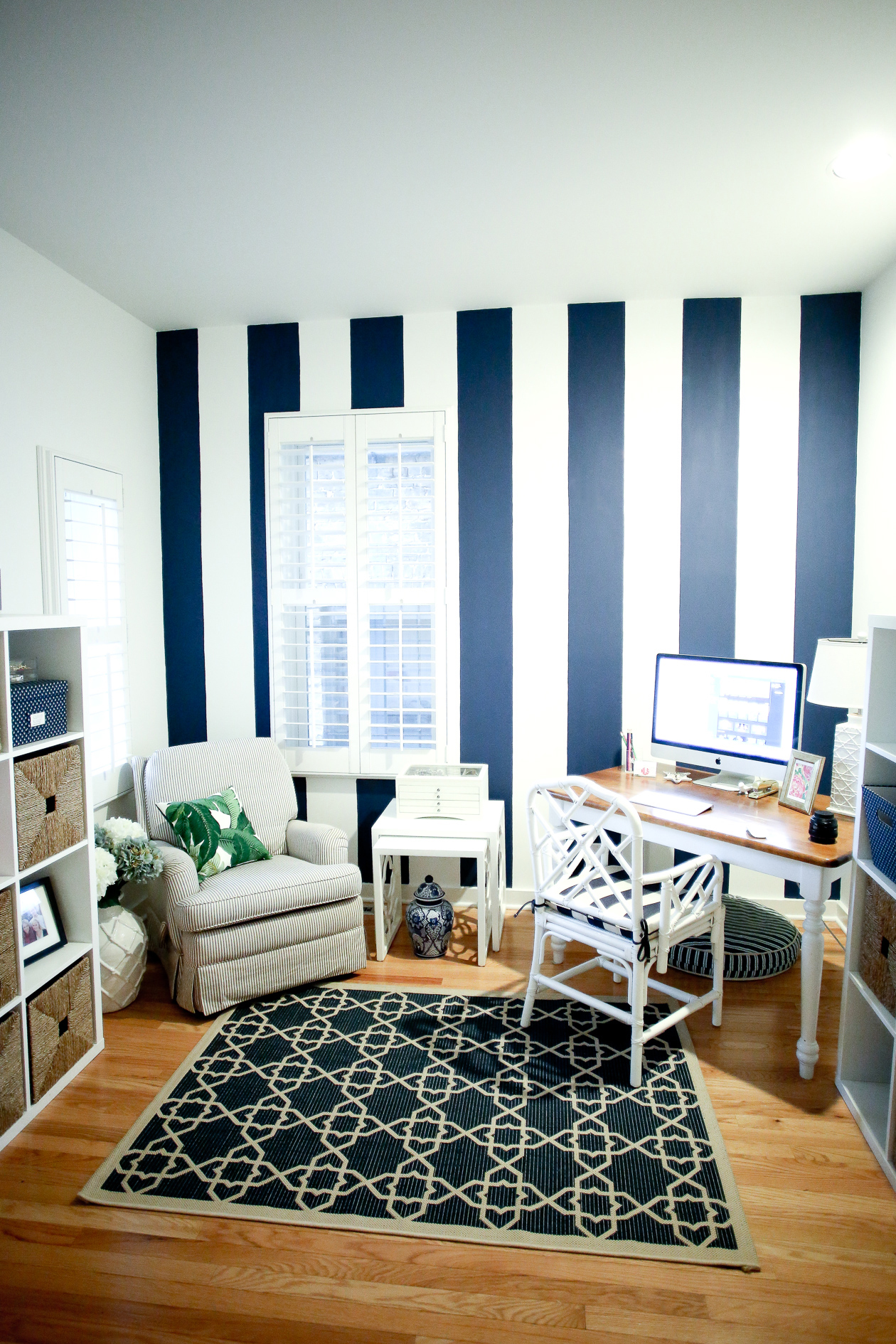 There's a running joke in the Larkin and Sheehan families that my navy-and-white stripe affinity has turned into an obsession. At our wedding, everything was covered in 'em: the programs, flowers, invitations, centerpieces, décor… you name it, and it had a navy-and-white striped ribbon tied around it. Half my wardrobe is composed of striped attire, and, as I'm sure you've noticed, we have our fair share of navy-and-white striped décor in the new house. ;)
Sadly, I think our beloved striped living room rug is on its way out as it's in a high-traffic area and requires daily vacuuming. (Torture, haha.) Noodle has also made it her mission to destroy the white stripes with messy treats and muddy paws… and despite getting a rug pad, the thing slips and slides all over the place. Devastation.
Recently, though, I teamed up with Dutch Boy Paints–a leading, trusted paint brand for over 100 years–to bring navy and white stripes into our home in a big way. :) Because of Pinterest, I'd fallen completely in love with the idea of having a navy-and-white striped wall somewhere in the house, but was pretty intimidated by the project. I mean, I'm not exactly an artist… and painting super dark stripes on a stark white wall? It just seemed like a recipe for disaster.
But Dutch Boy Paint's goal is to motivate and empower everyday people like me to make their DIY paint project dreams come true. The brand recently introduced a new color palette, currently exclusive at Menards, which offers easy-to-follow guides including, "Weekend Wonders" and "Style Starters", one of which is "Show-Stopping Stripes." Perfect, right?! And it totally worked. Complete with a video tutorial, the guide details the materials you'll need and step-by-step instructions to make your vision come to life.
Lesson learned from Dutch Boy Paint: a four-foot level is imperative, haha. As is drawing the lines with a pencil first, and then using painter's tape before you actually paint. But didn't the final product come  amazing?! Of course, we still need to get a real desk, and replace our old shelves and accent chair. But Mitch and I are so happy with it! :)
There's truly a section that meets the needs of all customers (whether you're a novice looking for a classic color, or a DIY pro looking for an up-and-coming color palette)! Dutchboy.com and Menards.dutchboy.com have also been fully refreshed to reflect the in-store experience, and  now feature  a re-engineered Color Visualizer too. Oh! And the in-store and mobile experience is streamlined with QR codes, giving guests the opportunity to view colors, collections, how-to's and videos on its mobile-friendly website.
So, without further ado, our new office space! Thank you, Dutch Boy Paint!