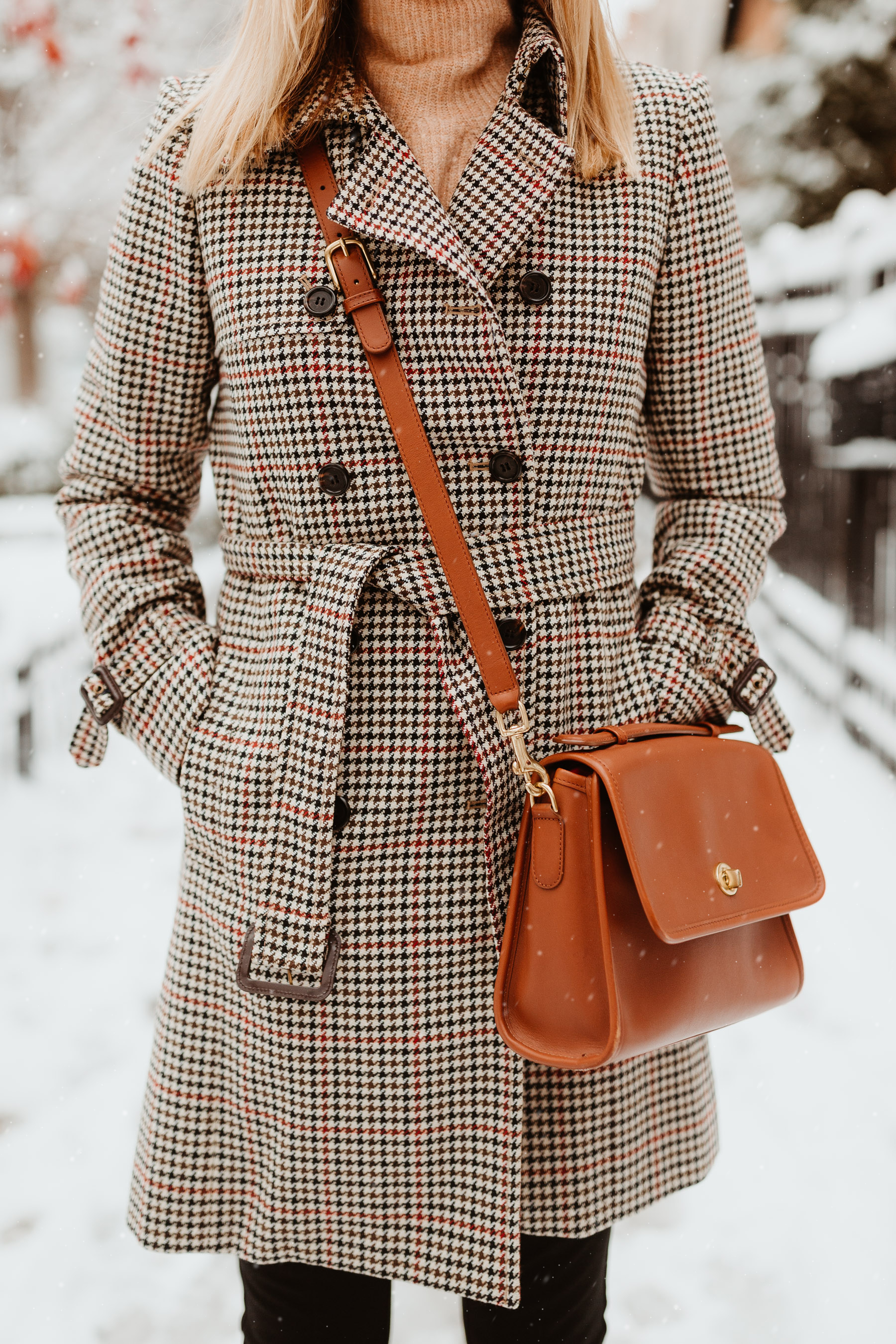 I'm finally writing a post about the elusive bag I'm always carrying, as I think it would make for a fabulous holiday gift–for someone you love or… yourself. ;)
It's the classic Coach Court Bag, and it was originally released in stores in 1989 and retailed for around $175. My mom had one, and I remember loving it as a child. Flash forward to college, when I'd inexplicably become obsessed with vintage Coach–and was absolutely devastated when Mom told me that she'd given away her old one sometime the early 2000s. 😂 As luck would have it, though, the brand briefly brought back the Court Bag in 2013… and my mom surprised me with one–along with a surprise visit to Chicago!–for my birthday. (If my memory serves me correctly, it was somewhere between $225 and $250. Nothing crazy!) To this day, it remains my most coveted bag.
Sadly, Coach no longer carries the Court, and hasn't released any plans of re-releasing it in the near future. That said, there's still a way to find it if you're in love. Enter eBay.
I know, I know. It's not the same as buying a brand new bag, but let me tell you: I have friends who have simply restored vintage Coach bags they found on eBay, and they're gorgeous. (Perhaps even more gorgeous than my newer one, as the leather is softer!) Here's how to do it:

Find the Coach Court bag
You should be able to find a solid Coach Court Bag–or a similar style–for anywhere between $35 and $150, depending on the condition and color. I'd probably go for one in the $75 range, but there are a few (like this one, for example) that might be worth spending the extra money on. It's important to note that back in the day, Coach carried several other bags that look very similar to the Court. These are worth considering to! I'd search eBay for the Coach Willis Bag, the Coach Station Bag, the Coach City Bag, the Coach Devon bag, the Coach Winnie bag, the Coach Legacy Bag, the Coach Manor Bag, the Coach Regina Bag, the Coach Rambler bag, and the Coach Pocket Purse. I love all of those, and would have had a hard time choosing between them had I not had an emotional attachment to my mom's old purse. ;)
Clean the bag
As tempting as it is, do not clean the bag with household cleaners, as they're much too harsh for natural leather. Instead, opt for saddle soap or Coach's leather cleaner. If you choose to use saddle soap, simply lather and rub it into the exterior of the purse using a soft, lint-free cloth… and then rinse the solution from the bag with warm water and a clean cloth. Stuff the bag so it air dries in its natural shape. If you choose to use Coach's leather cleaner, do not rinse the solution off the bag; simply wipe it away with a dry cloth. Afterwards, you can apply this leather moisturizer, too.
Use Dr. Martens Wonder Balsam Shoe Polish
As the name indicates, Dr. Martens Wonder Balsam Shoe Polish is WONDERFUL if your bag still needs some TLC after cleaning. (Some will not!) It works with all colors of leather, and it's dye-free, which means that you don't need to worry about ruining other stuff while you're restoring your bag.
If necessary, repair excessively faded areas and tears
Because Coach uses natural, untreated leather, it's totally normal for the leather to fade or discolor over the years. If your bag has significant wear and tear, you can try using a leather touch-up kit. (Just be sure to match the color of the leather as best you can, and experiment on a less noticeable part of the bag first. Most kits come with a range of standard colors.) Use a paintbrush for small areas and a sponge when dealing with more expansive ones. If you're dealing with small tears, you can use leather liquid stitch to fix edges that have come detached, or to fill in cracked areas.
Polish the hardware
Use a jewelry cloth, which is ridiculously inexpensive. They typically have a cleaning side and a polishing side, and you can use them to remove stains and buff the hardware to its original state. It's basically magic.
If all else fails or you're not up for the challenge, bring it to a local shoe/leather repair store
At my local shoe/leather repair store, this costs about $40. A great option for those of us who aren't crafty or would rather spend their free time watching "This is Us." (What I'm currently doing as I'm typing this. I can't judge. 😂)
Hope this mini guide was helpful!
More gifting ideas from eBay:

While eBay is great for finding vintage Coach bags, it's also great for other reasons. ;) Personally, I use it when:
I'm searching for a hard-to-find or personal gift.
I've broken or misplaced a beloved product that is no longer made.
I've fallen in love with a product that was literally in stock years ago.
I'm crazy about a particular product, but the in-store price is too steep.
I love that the company's tagline is "Did you check eBay?" because it's the site has solved the above problems more times than I can count. I also love that eBay has a Money Back Guarantee; a Guaranteed Delivery, which ensures delivery in three days or less on more than 20 million items; and a Price Match Guarantee. You can't beat that! And did you know that the majority of eBay items are new, available with the "Buy It Now" option (no bidding necessary) and ship for free?
Btw: To help narrow your search, try using filters. They're found on the left-hand side of the site, and they include condition, format ("Buy It Now"), item location and delivery options. If I'm looking for brand new shoes that'll arrive quickly, for example, I simply select "New with Box" and one- or two-day shipping. I also sometimes enter in my zip code, and enter in a certain number of miles from that… which is helpful!
This season, I'm really obsessed with browsing eBay's name brand coats and jackets section, all easily searchable via this database. It's great for finding gifts for my brothers who are always in need of new outerwear, and for finding outwear for my family. (I'll admit that we own far too many coats at this point, but hey: we live in Chicago!) J.Crew is obviously a go-to brand for me, and I love using eBay to find sold out or older styles from years past. Some of my best finds are above!
Here's what I'm wearing in today's post:
This has long been a favorite, and I was kicking myself for the longest time for not buying it when it was in stock. (I fell in love with it because my good friend Carly has it!) I wanted to purchase something "new" from eBay for this blog post, and couldn't believe when I stumbled across the coat–NWT!–in my size. Meant to be! Btw: If the coat is sold out and you can't find a similar one on eBay, be sure to check back soon! Inventory is constantly changing and new products are always being added.
I absolutely love these boots because they're technically snow boots but really look like riding boots. I wear them whenever I'm feeling down and out about the snow and freezing temps here in Chicago; they're a nice break from my normal clunky boots! Unfortunately, Sorel didn't bring them back this year, and therefore they're a little hard to find. eBay has a ton, though!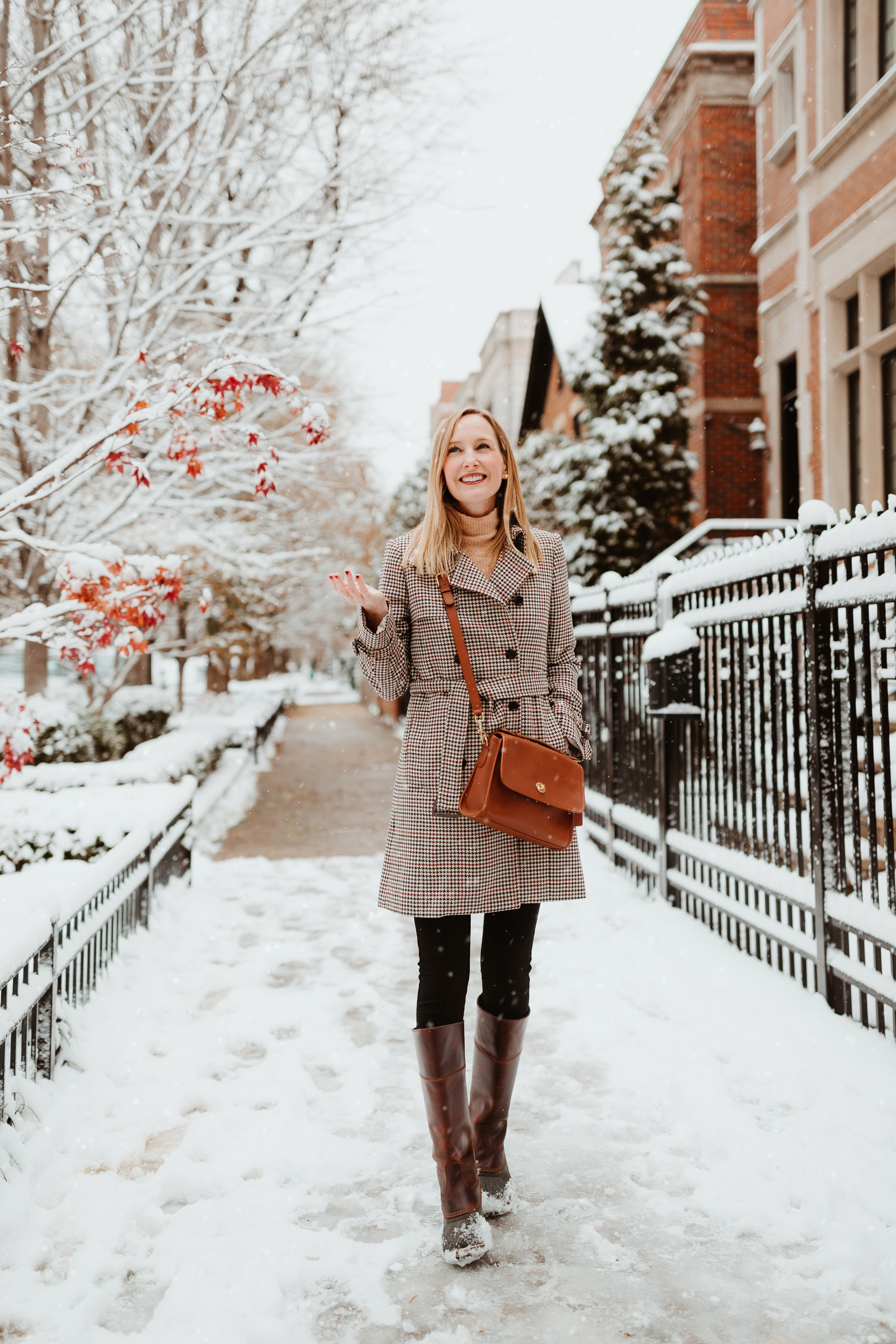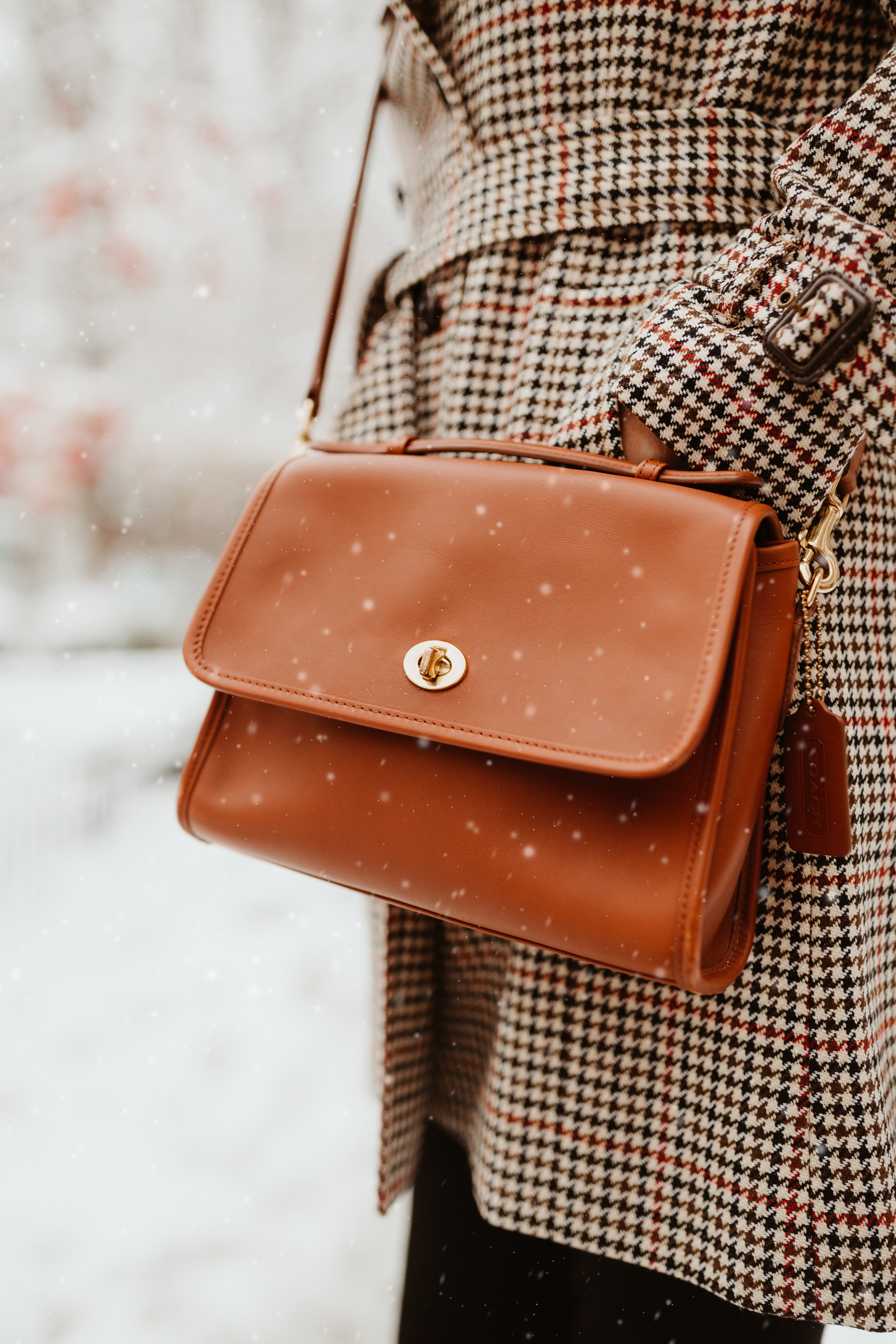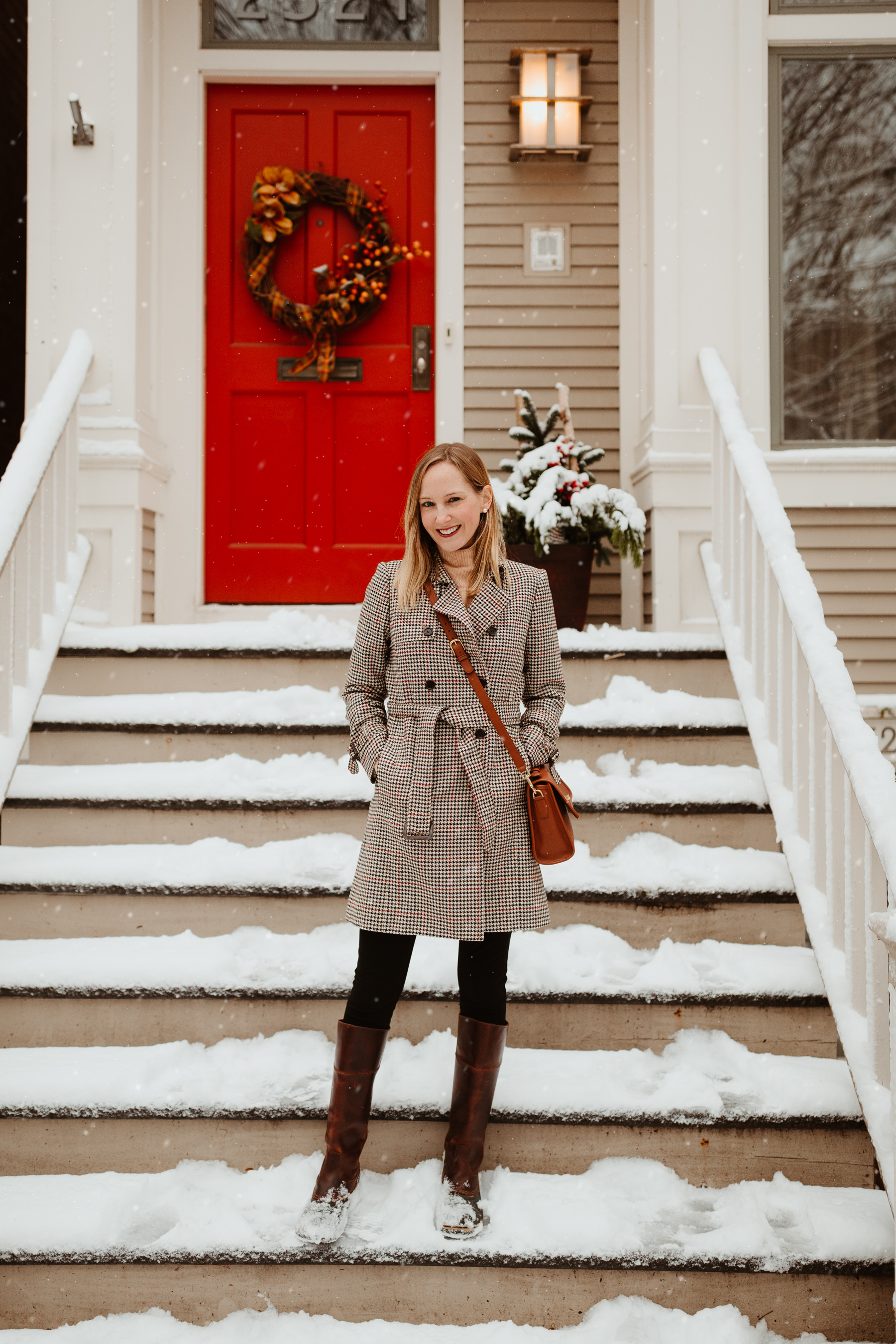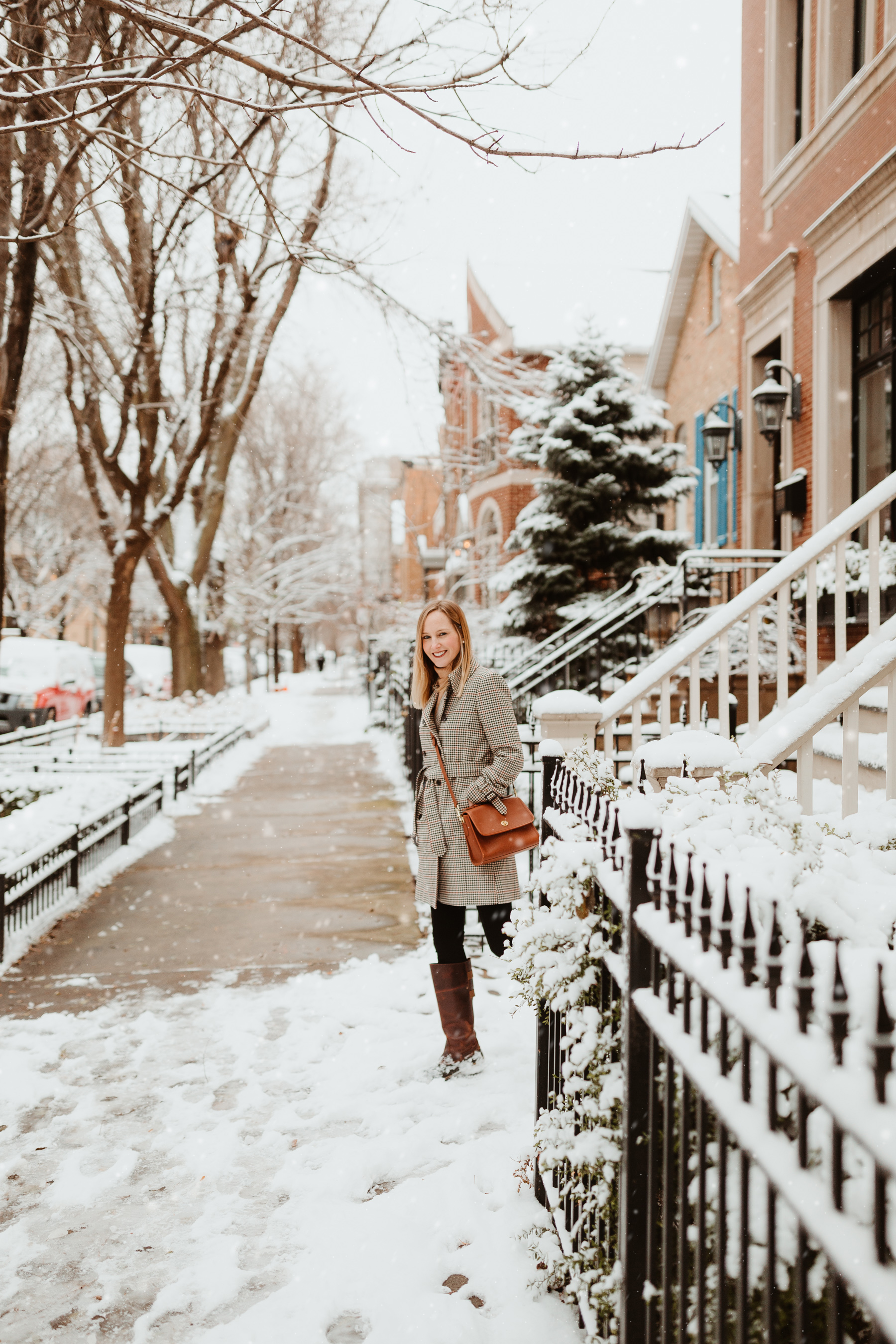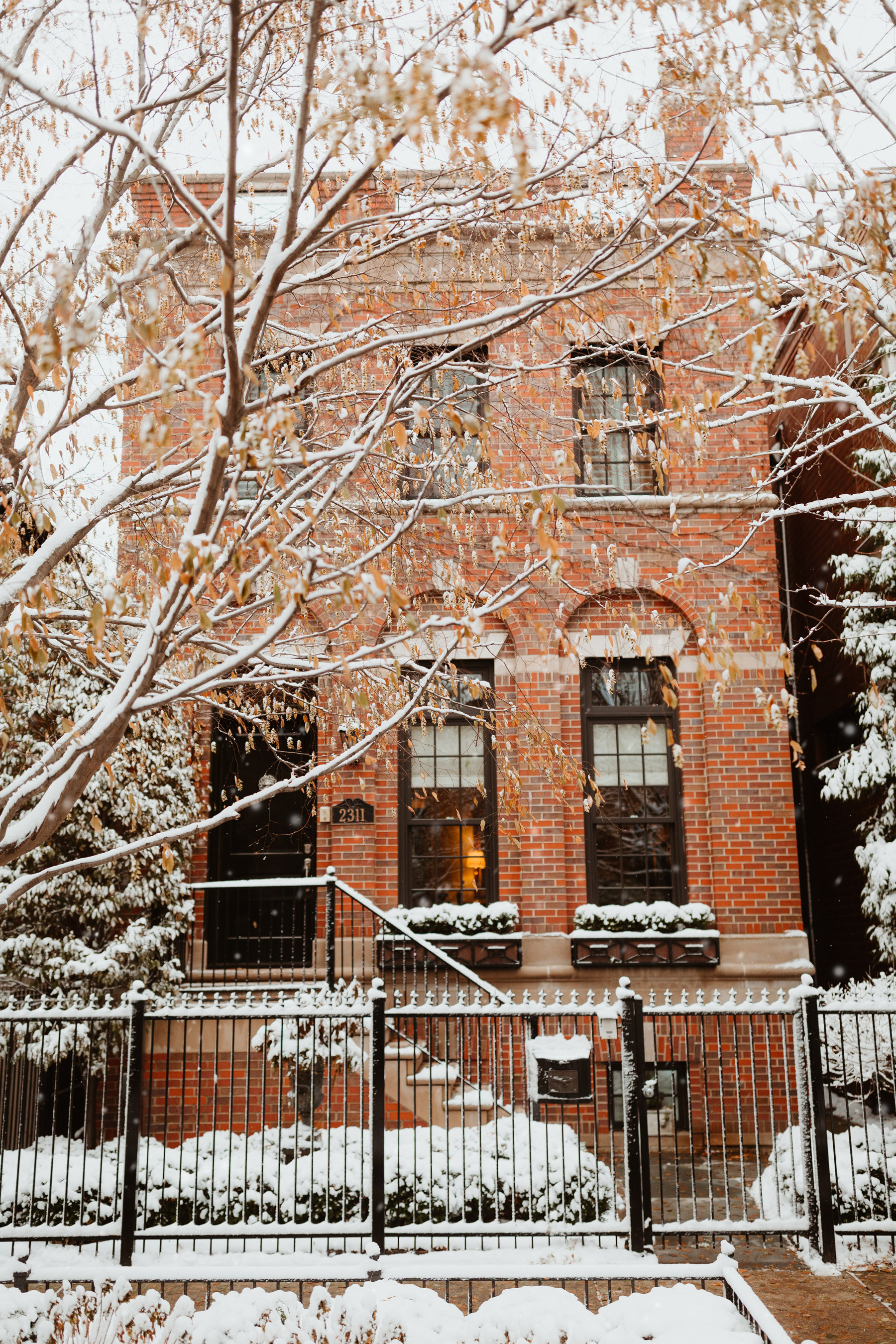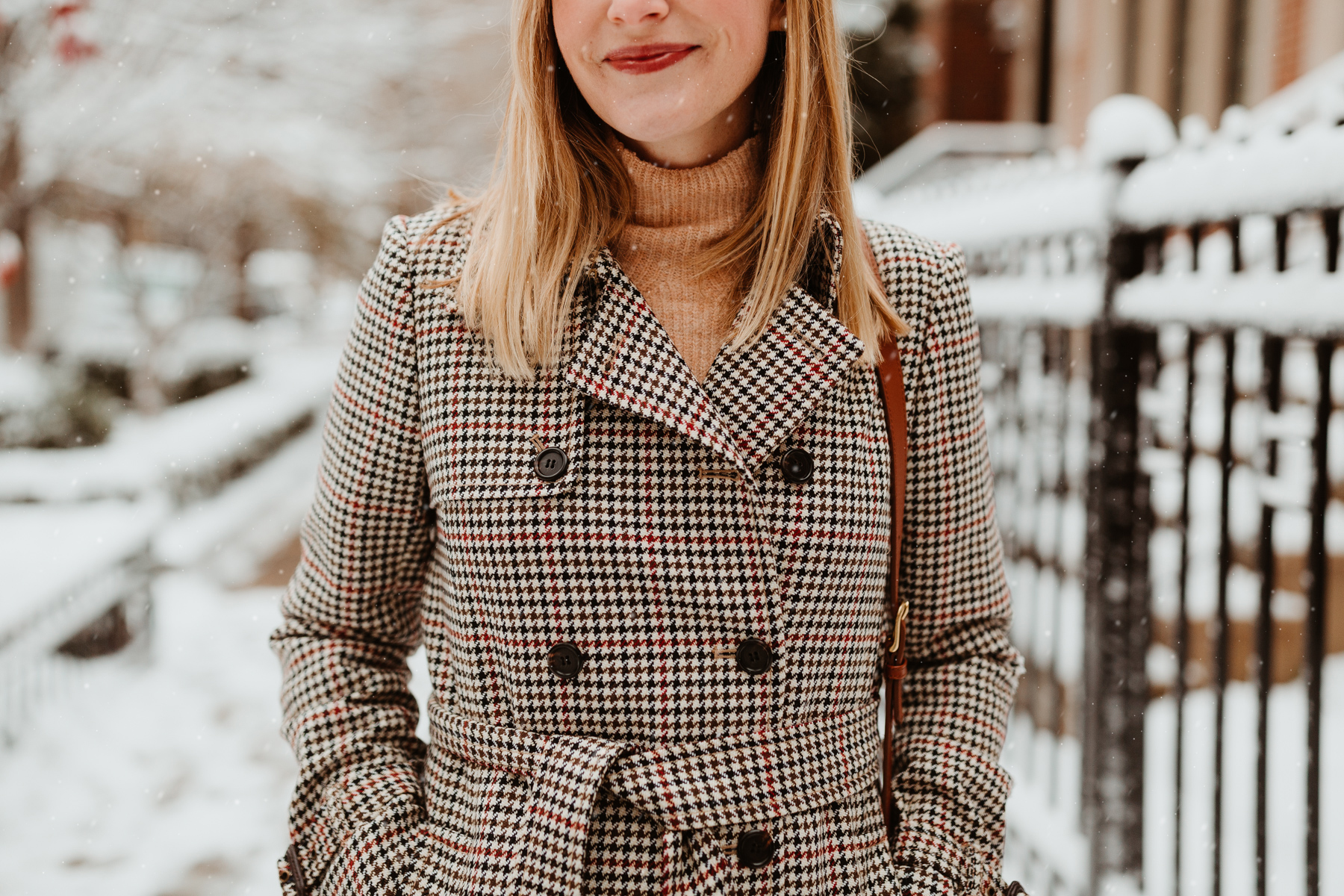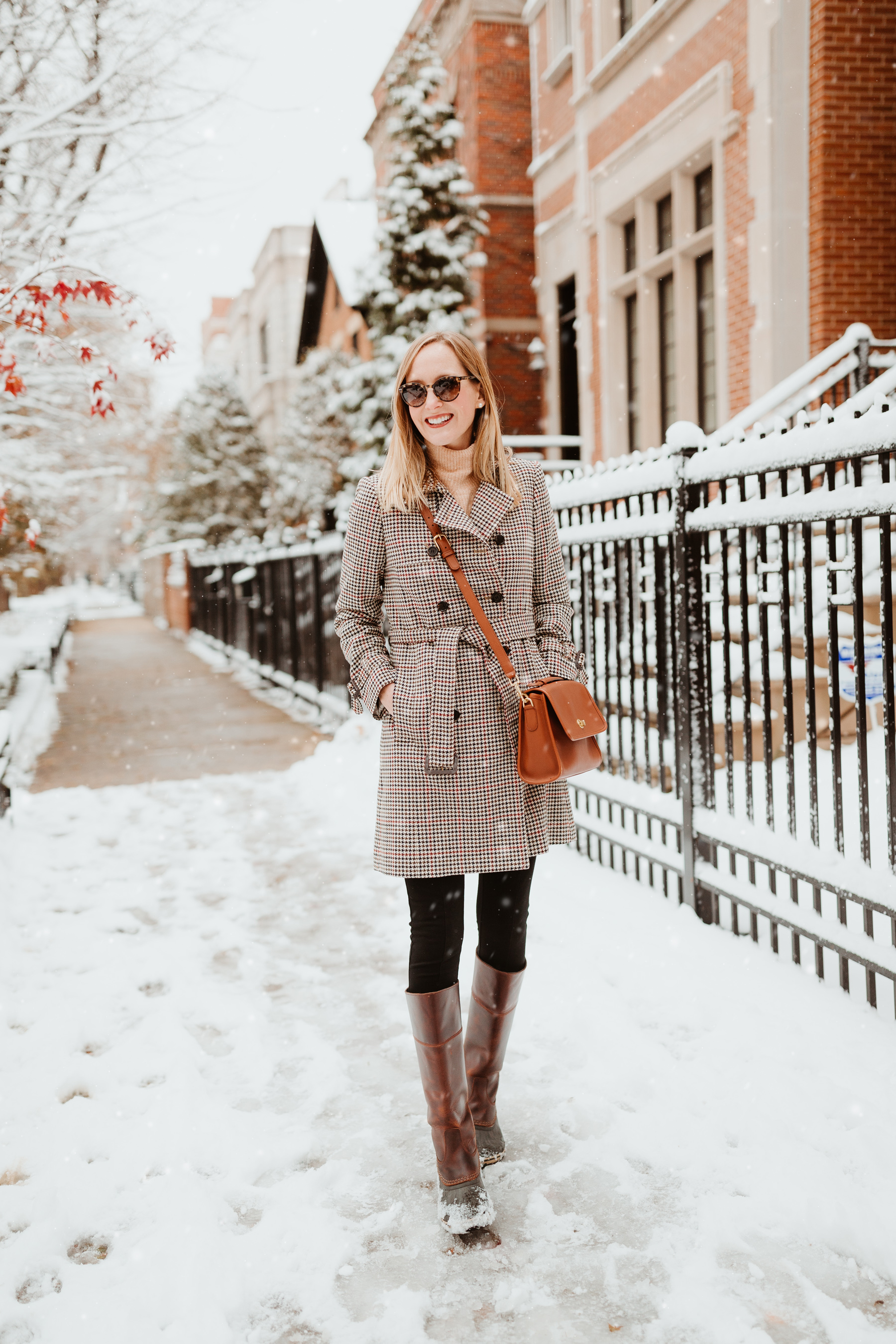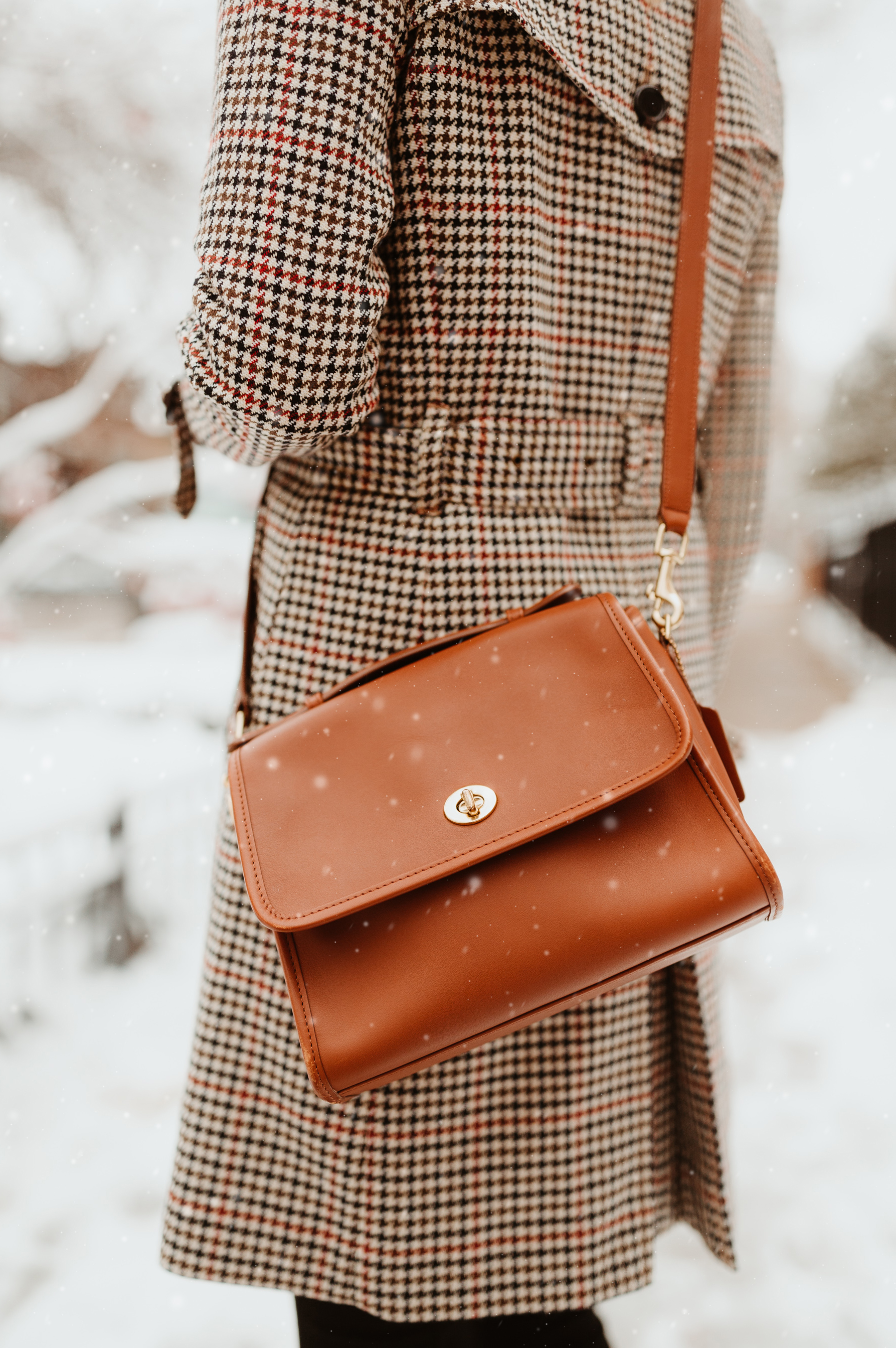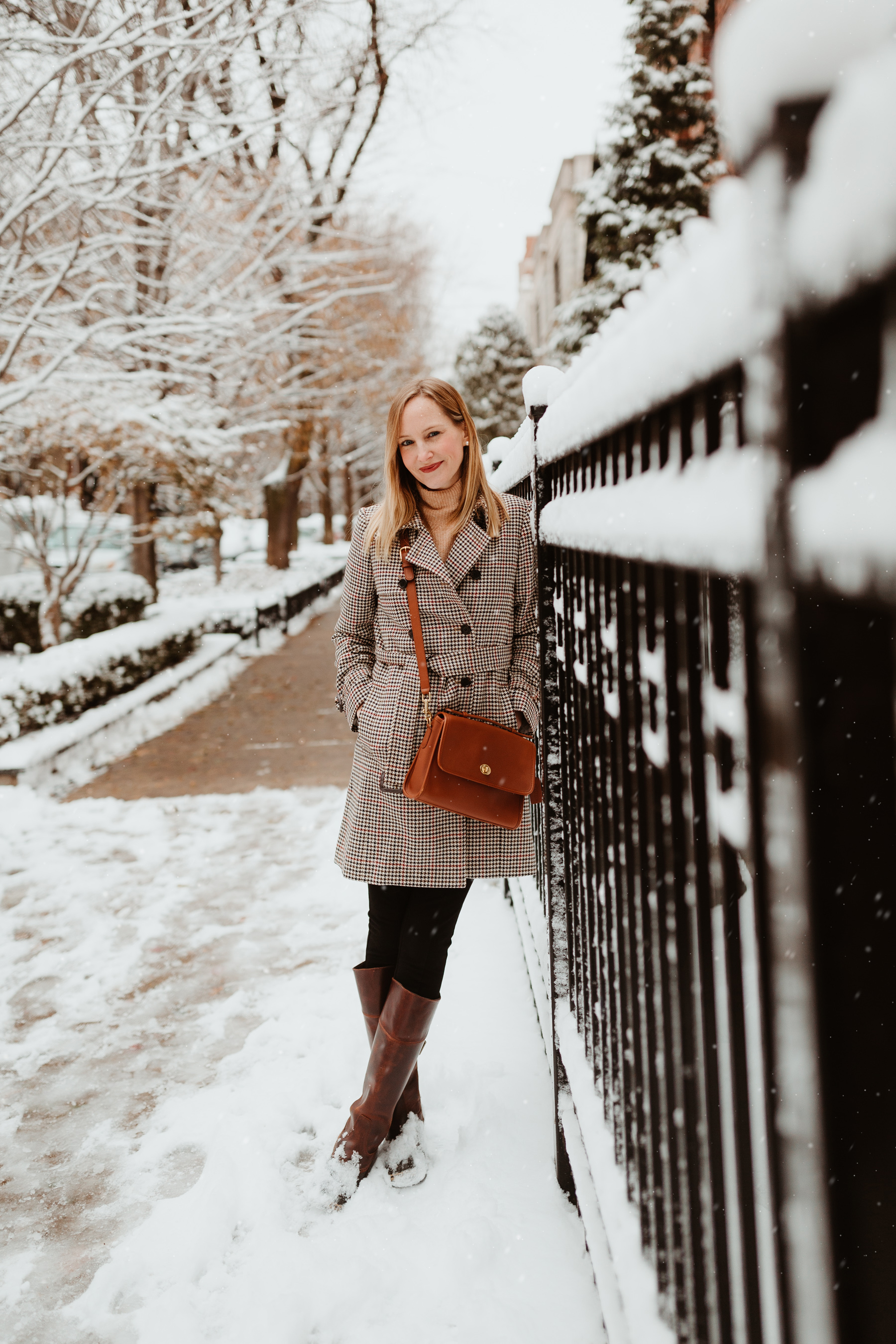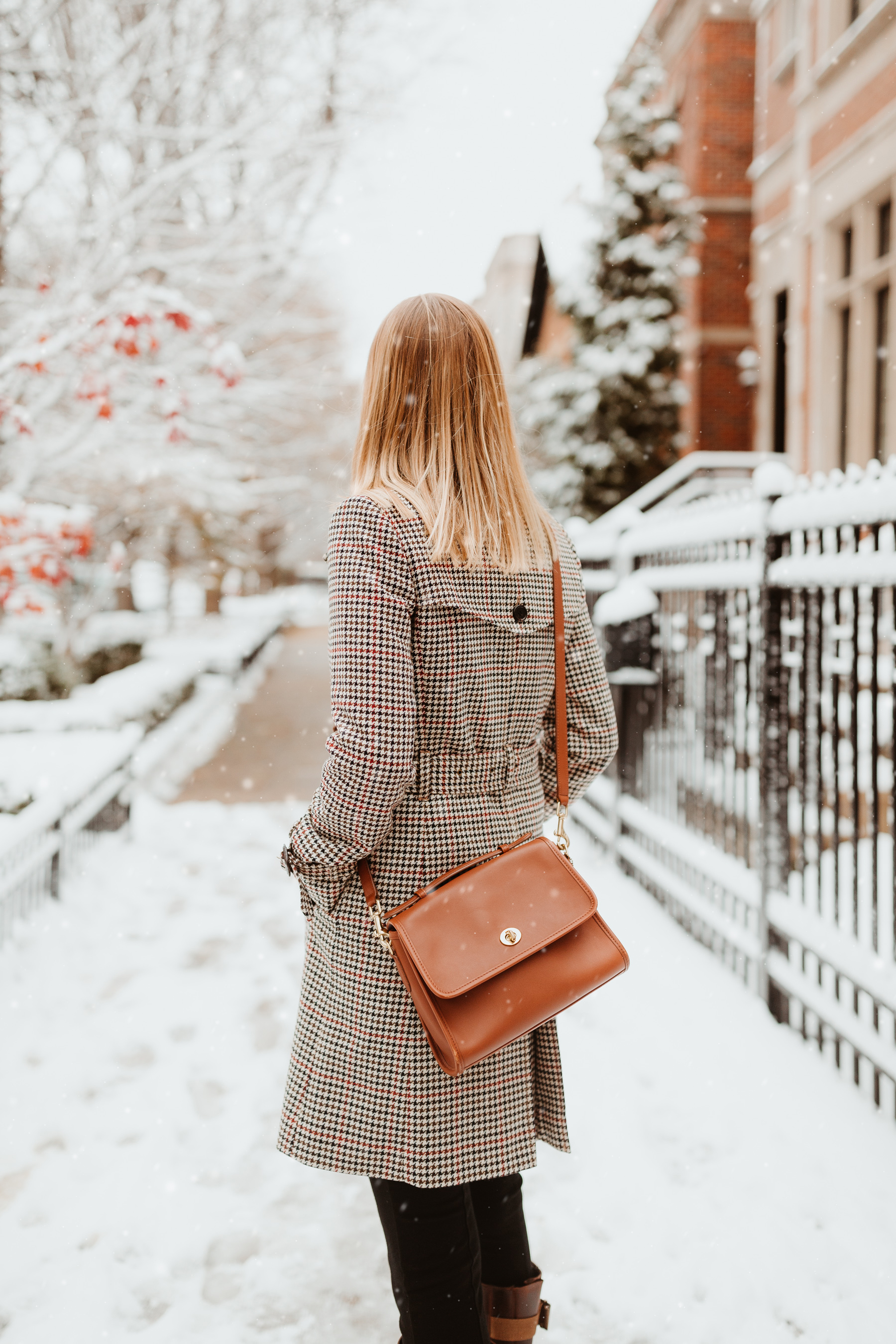 Shop the post:
Coach Court Bag / Sorel Slimpack Riding Boots /J.Crew Icon Houndstooth Trench Coat in Italian Wool


This post is sponsored by eBay, but all opinions are my own. As always, thank you so, so much for supporting the partnerships that keep Kelly in the City up and running!