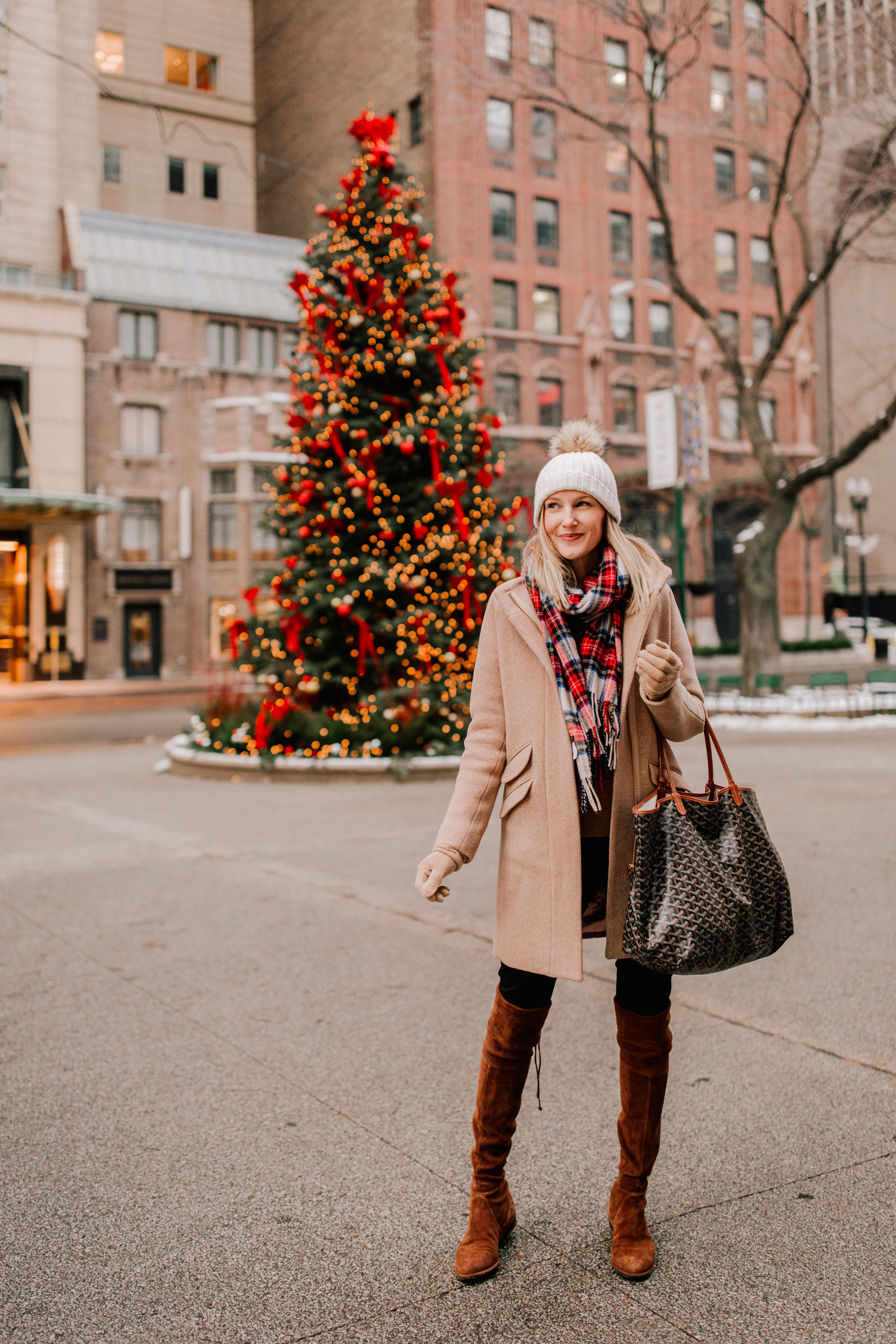 J.Crew Tartan Scarf (My favorite holiday scarf! Love all three patterns.) / Cocoon Coat (Get it in gray! It's more versatile because you can wear it with both navy and black.) / Ralph Lauren Cable-Knit Sweater (Also try this one! And this one. Both so beautiful.) / Stuart Weitzman Boots (But try this Steve Madden pair. Love them, and that low heel which makes 'em suitable for both everyday and "going out" wear. Looking for brown? DEFINITELY get this pair. Here's another option!) / Halogen Seamed Leggings (I just fold over the waistband for the bump. Works like a charm, and they don't fall down. If they're sold out, I also love this Spanx pair.) / Pom Pom Hat / Ralph Lauren Blazer (Similar here) and Cashmere Gloves c/o / Goyard Bag
My parents are here! They were initially coming because we decided to sit out Thanksgiving–partly because traveling for both Thanksgiving and Christmas wore us out last year, and partly because I'd been battling some pretty serious morning sickness.
But now they're also here to majorly help out. While I'm always incredibly excited to see my family, the timing coincidentally couldn't be better. Thank you, Mom and Dad!
I'm going to write a pregnancy update soon, which will go way more in detail about this. Basically, though, life has been somewhat challenging over these last few months because I've been really sick. (It's so comforting that I can chat with you guys about this now! It's been very weird to essentially have to "skip over" such a significant part of my life for so long.) Of course, I'm beyond grateful, and everything is completely worth it. (I hope that goes without saying, but I want to say it… because I remember being on the other side, desperately wishing I was wrapped around a toilet, too.) And Mitch and our friends have been champions throughout it all. But there's just nothing like having your parents with you–and not 800 miles away.
I actually recently started feeling SO much better. Crazy how quickly things can turn themselves around! (I started to see improvement right around Lake Geneva.) I'm no longer curled on the bathroom floor on a regular basis, which is awesome… but many, many deadlines were pushed back as far as possible because I was "Kelly in Struggle City," 😉 and now I find myself in catchup/panic mode with work and blog stuff smack dab in the middle of Q4, haha. (If you're behind right now, too, WE CAN DO THIS! 😜)
Mom flew in yesterday and watched Emma all afternoon and night so we could do some damage control, and she has her for the entirety of today so we can knock out a bunch of freelance shoots and writing, too. Tonight, though, Dad flies in… and then the five of us are having a true weekend together. It's going to be low-key and relaxing, but also a ton of fun because it's always fun with them–even if we're just sitting around the living room with coffees, playing Peppa Pig tea party. I can't wait.
These photos were taken yesterday, when Mitch and I ran downtown to cross some tasks off the list, which is dwindling! It was great to be out and about in the city, feeling like myself, and doing something. Yes, it was technically work, but we had a lot of fun, and it didn't feel like it. We laughed so much.
Anyway, I really hope that I'm not coming off as big baby or complainer; I'm just so happy to be back "in it," for lack of a better phrase. It's kind of like that feeling you get during day one of wellness after just having had the flu! A newfound zest for life, if you will. Okay but seriously I've gotta go because I just looked at the to-do list and I'm overwhelmed again. 😂
Hope you have a wonderful weekend, Friends!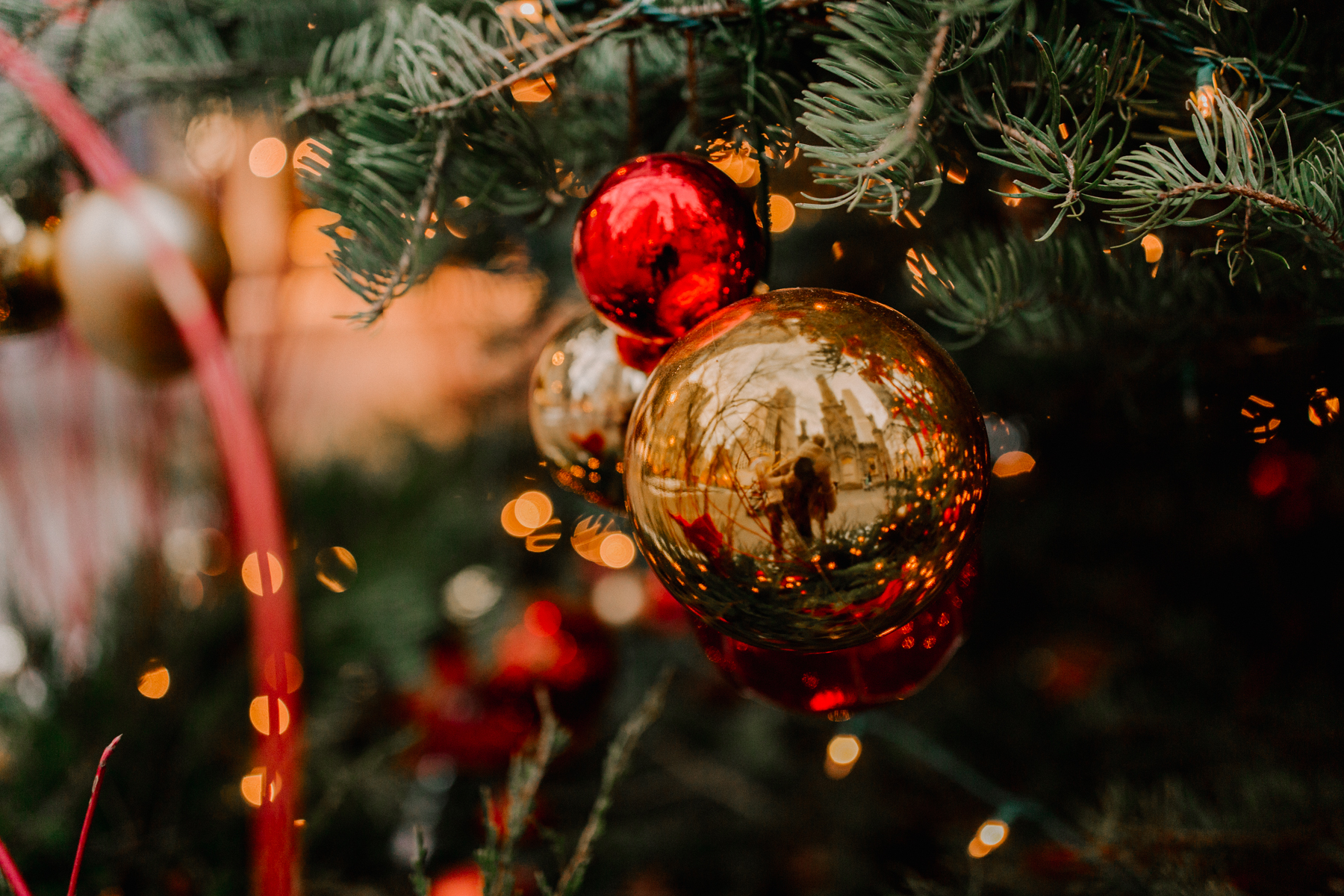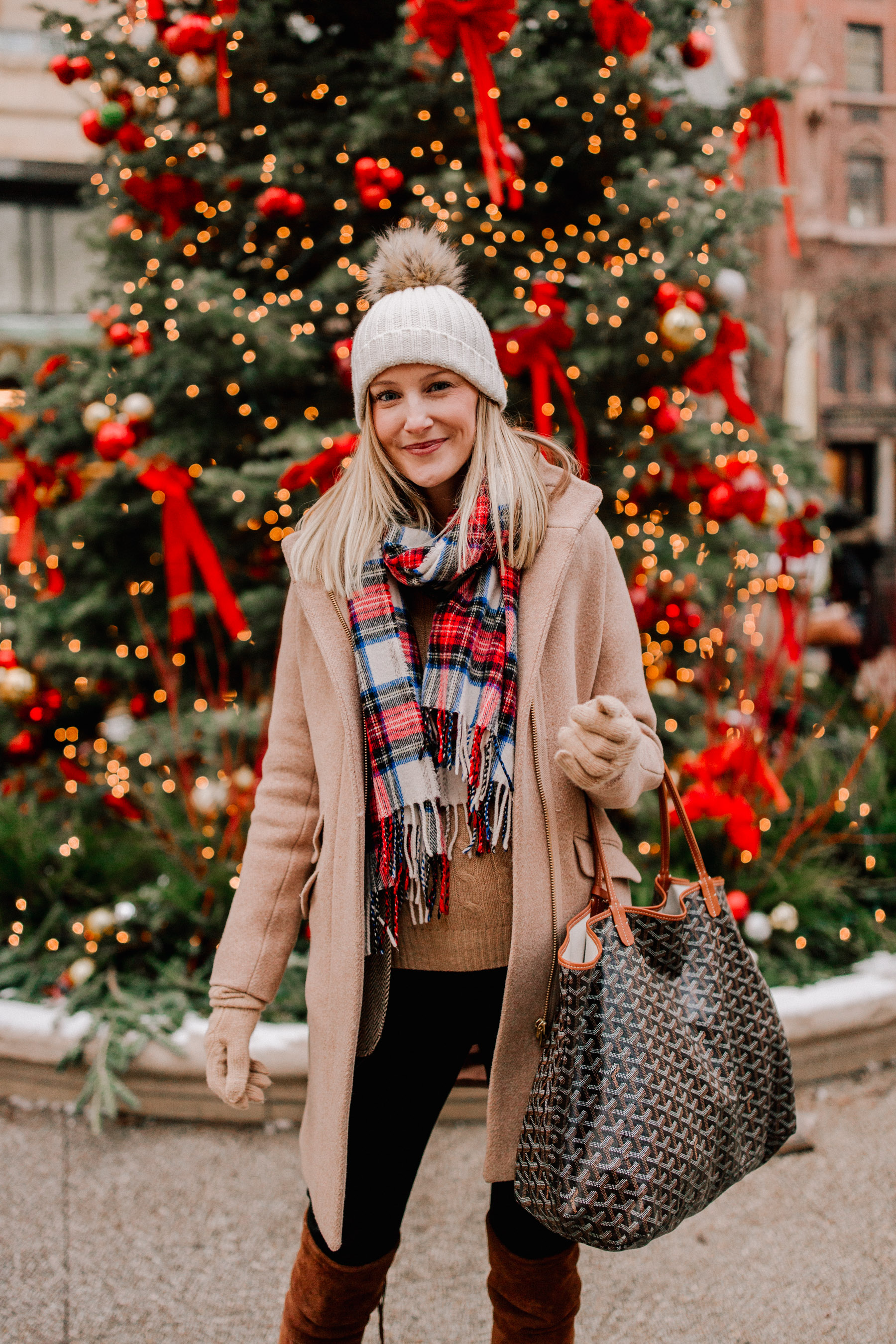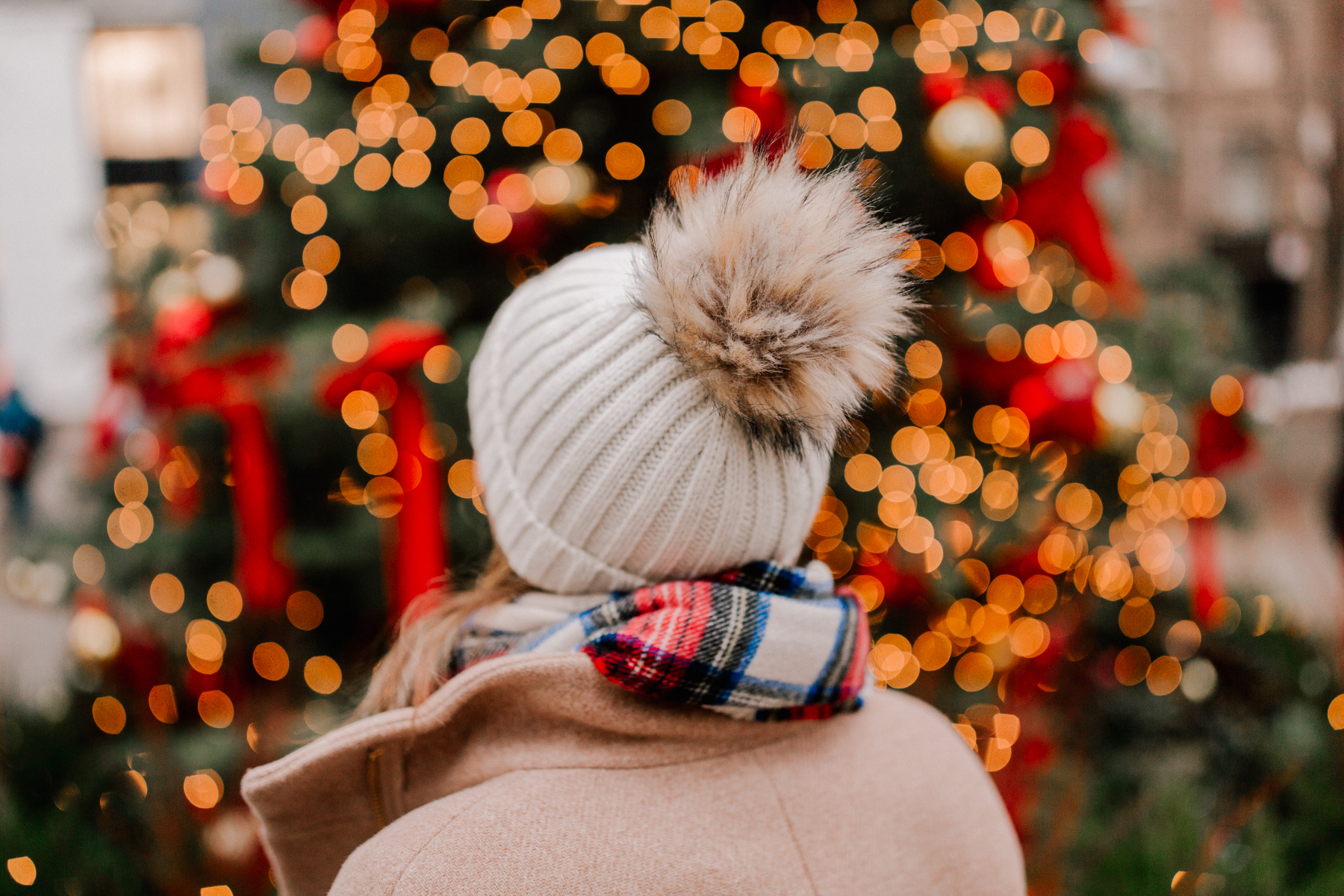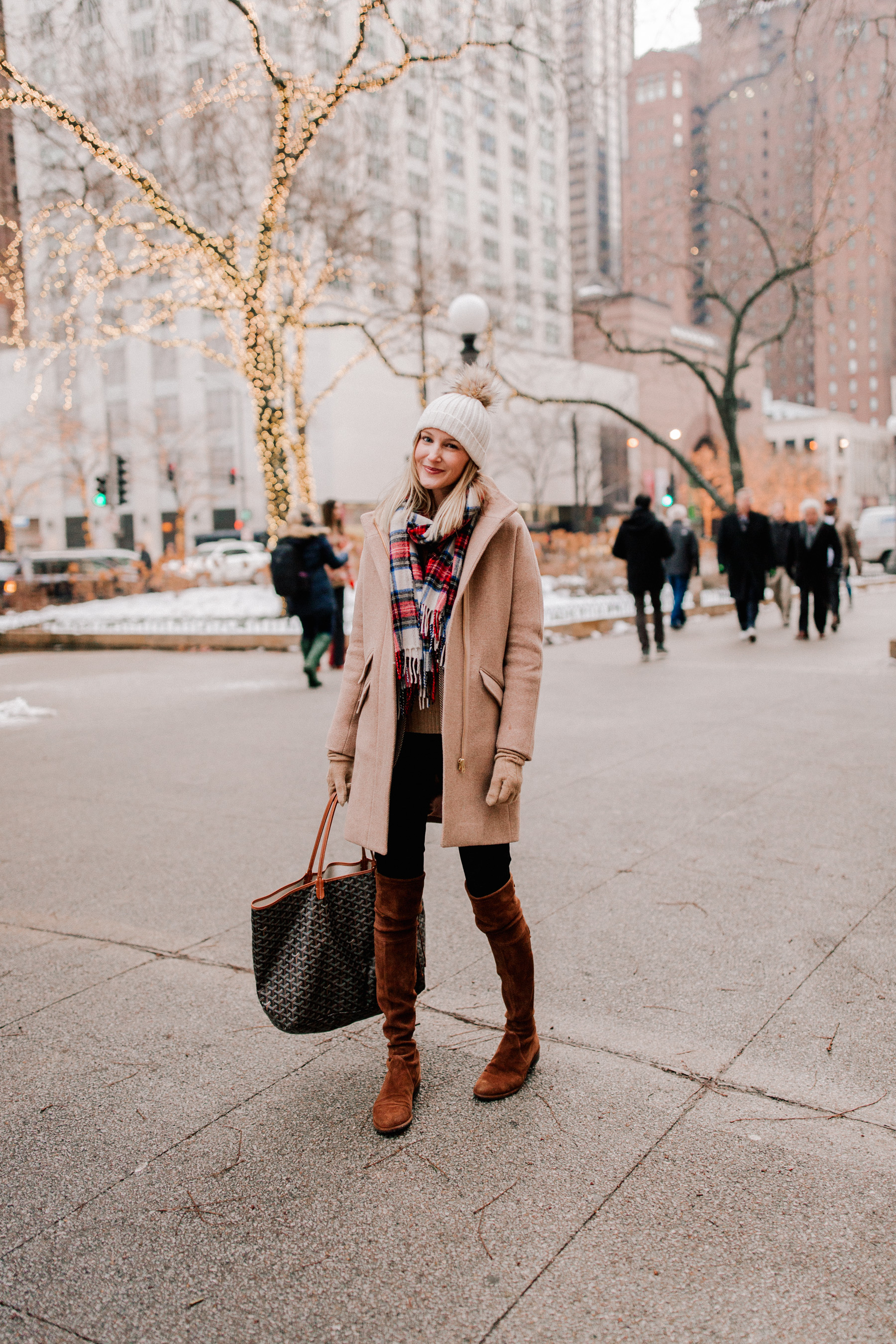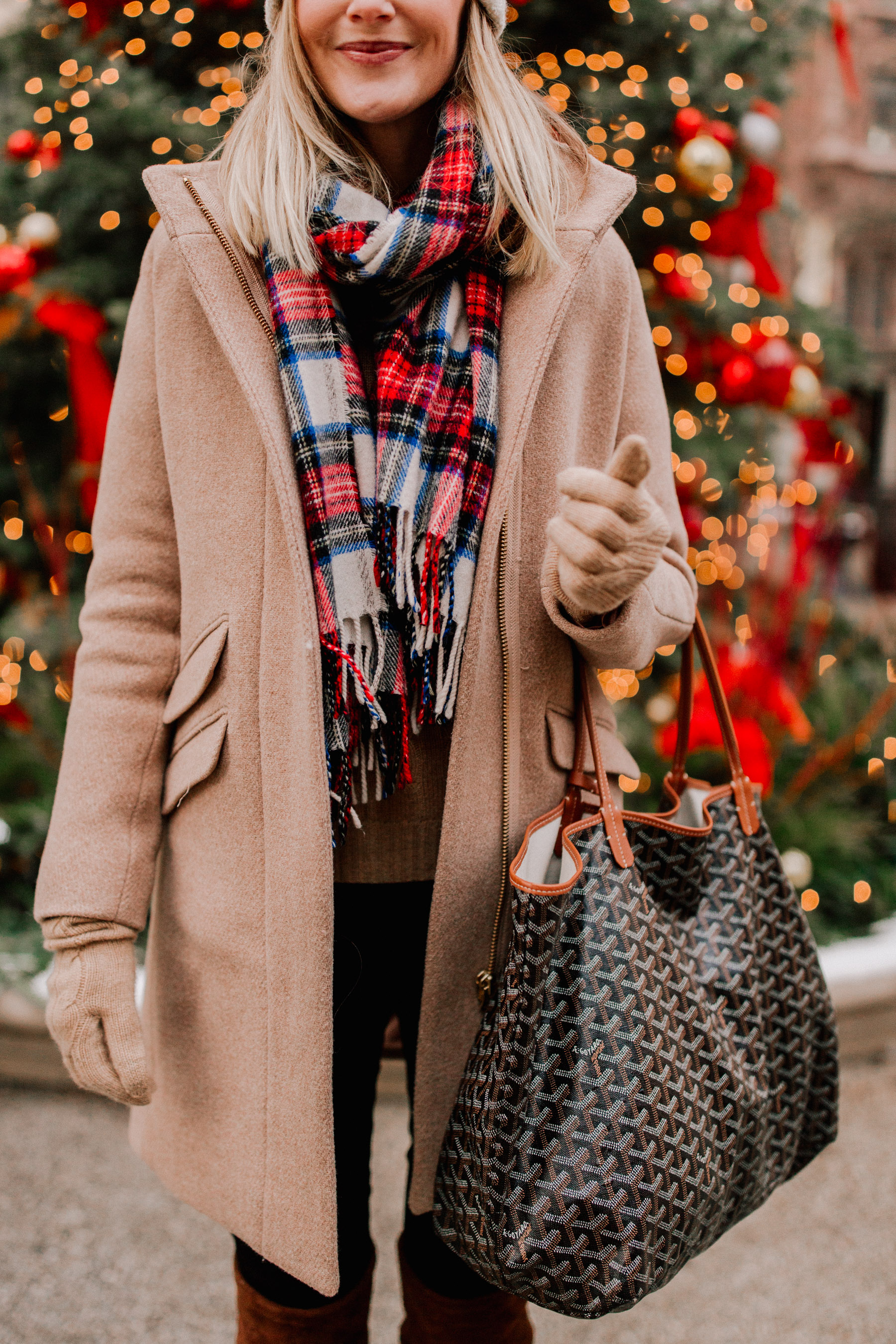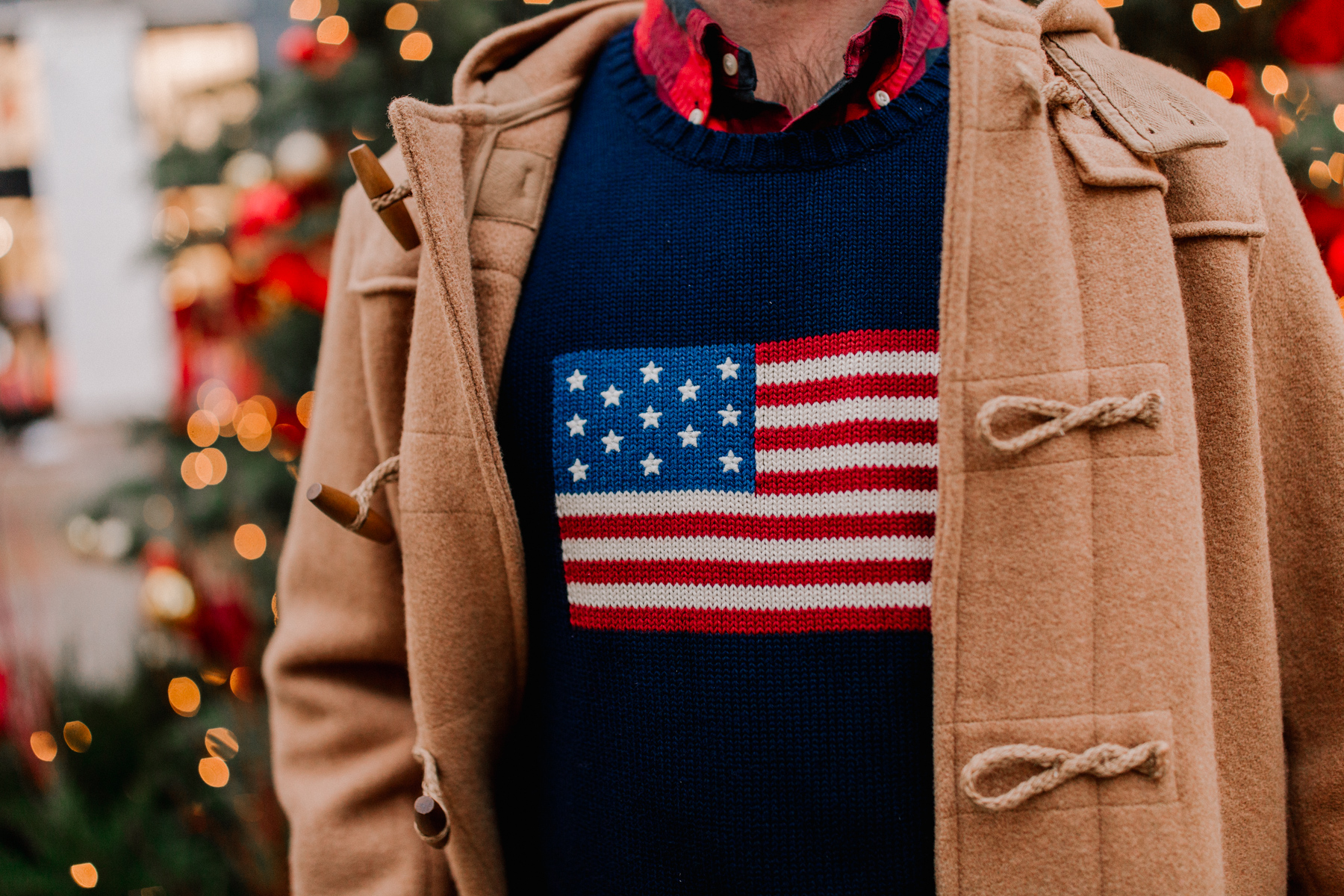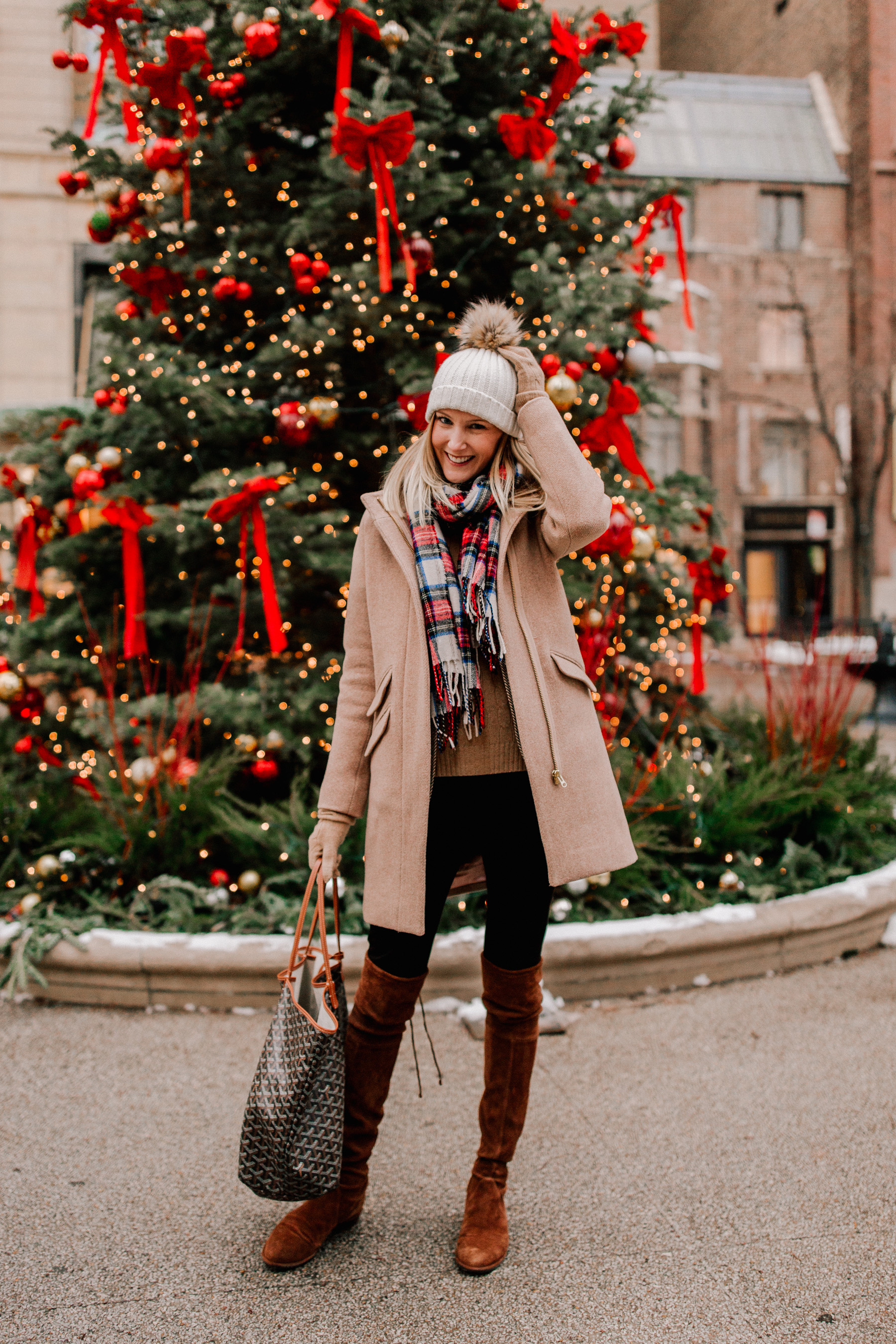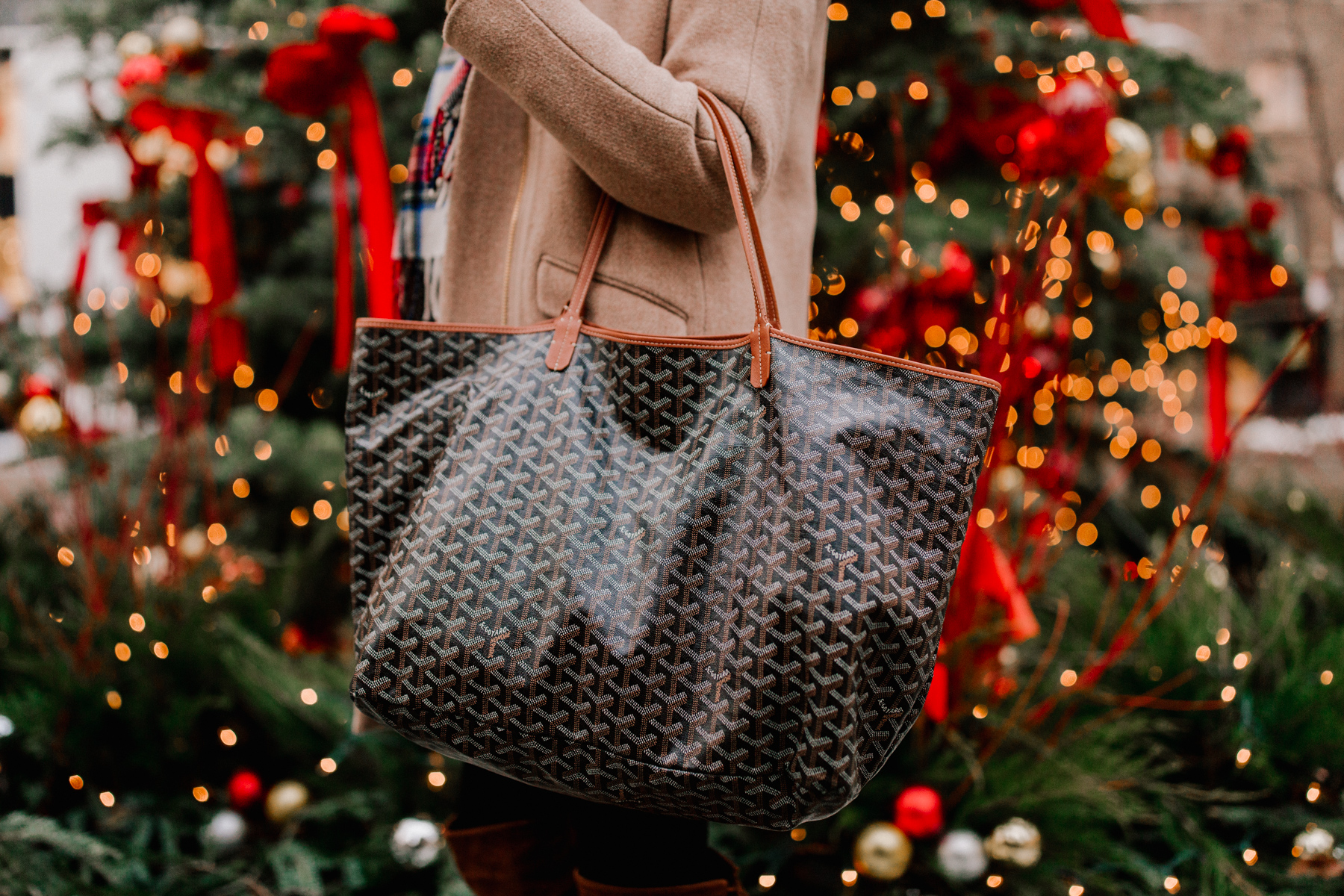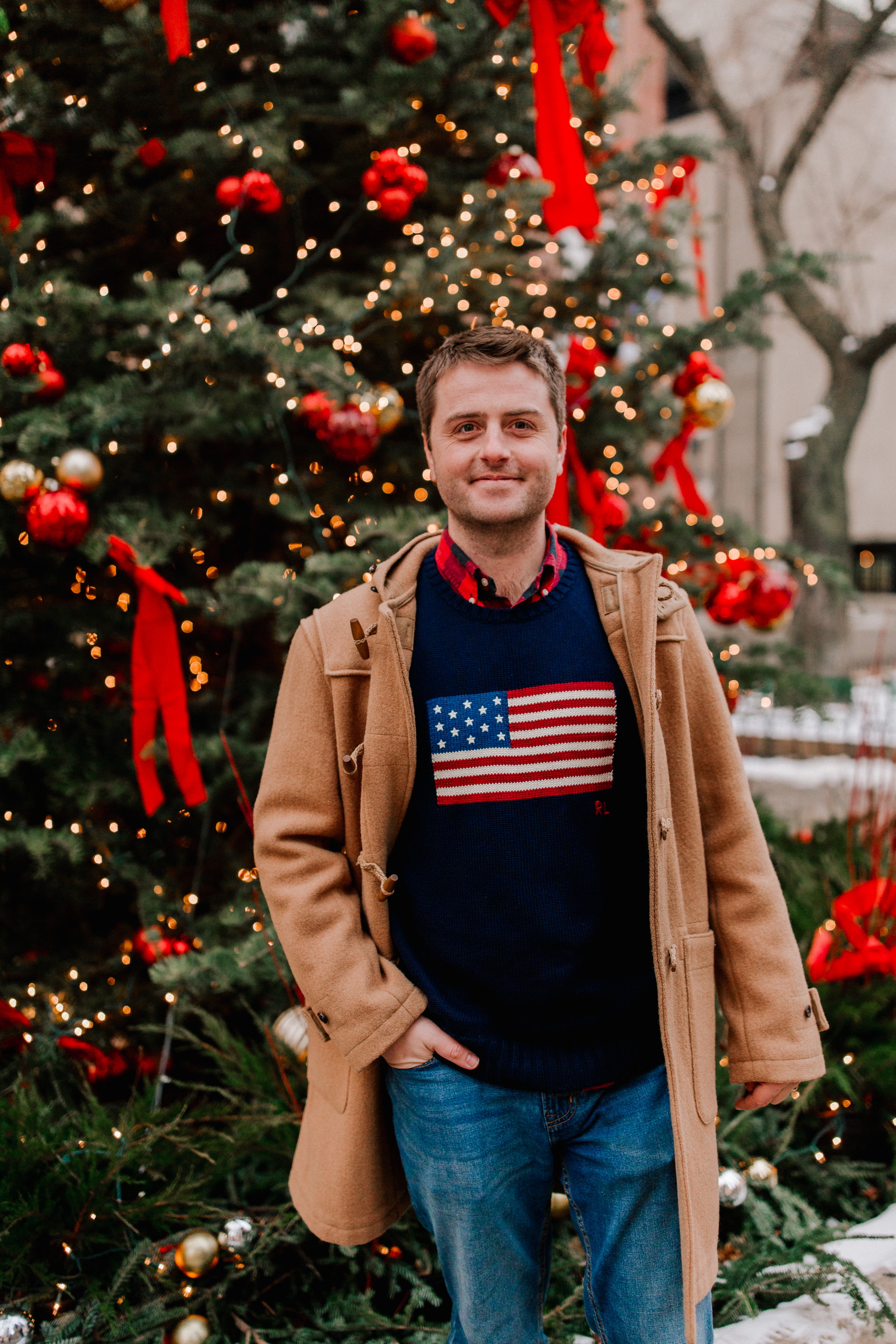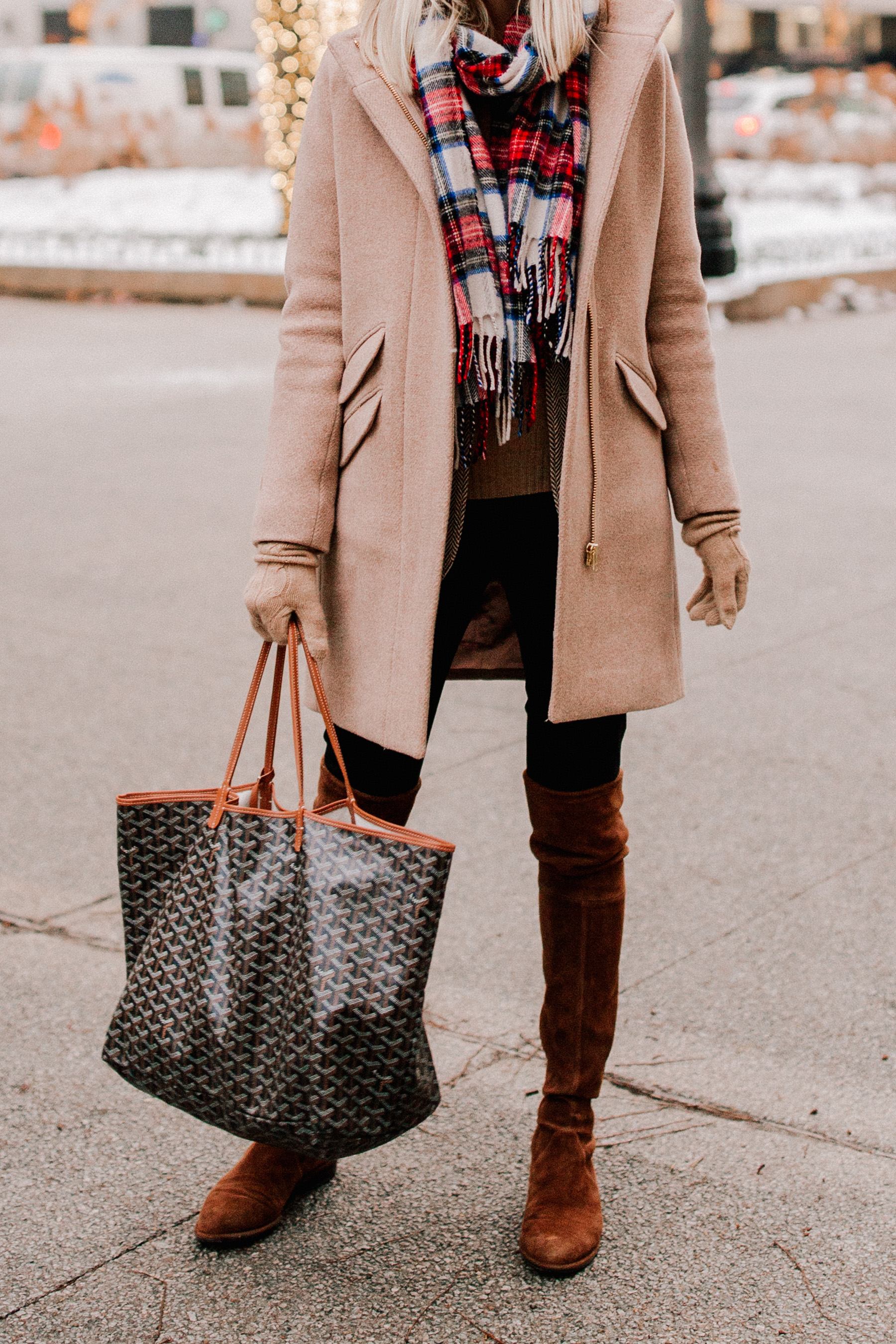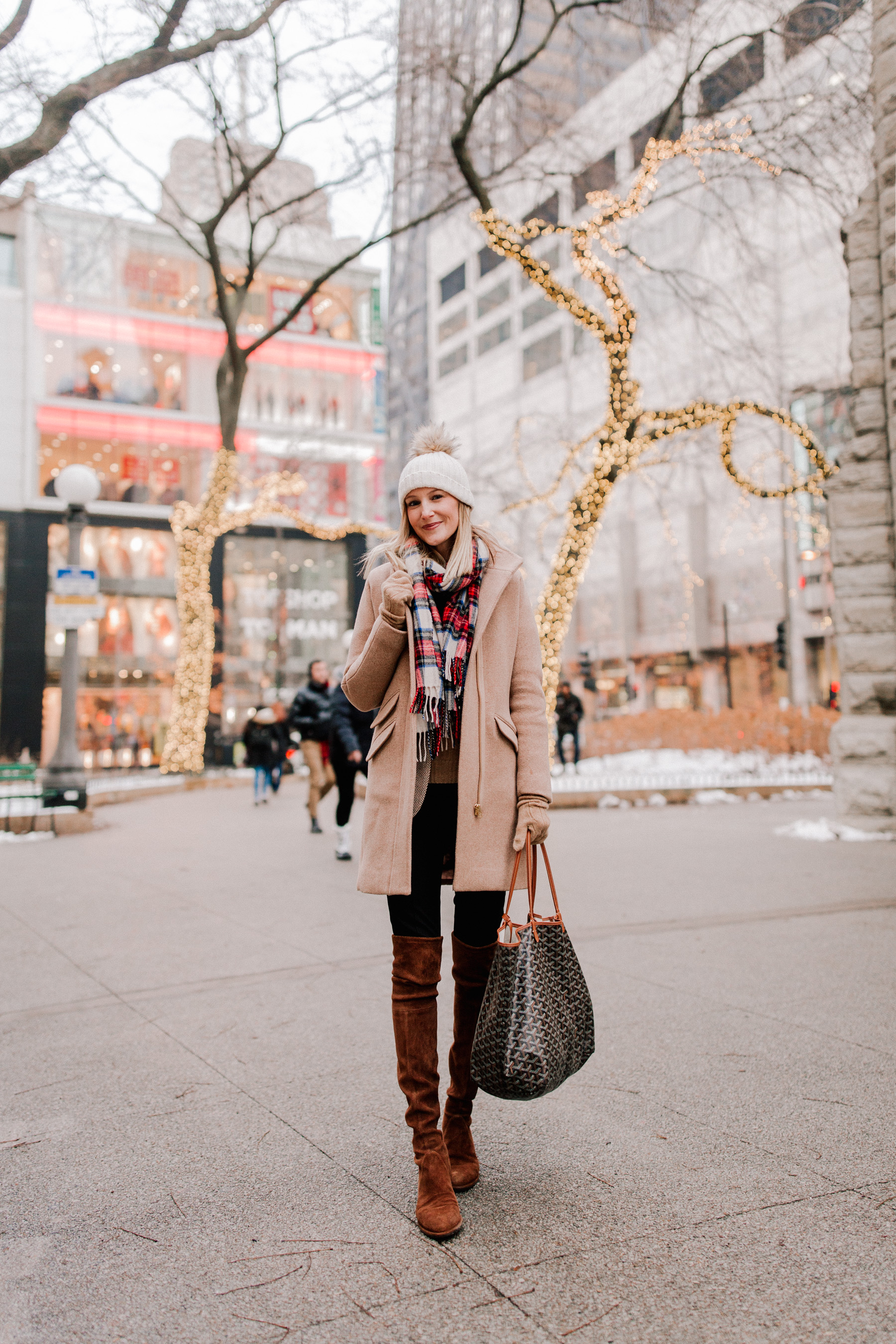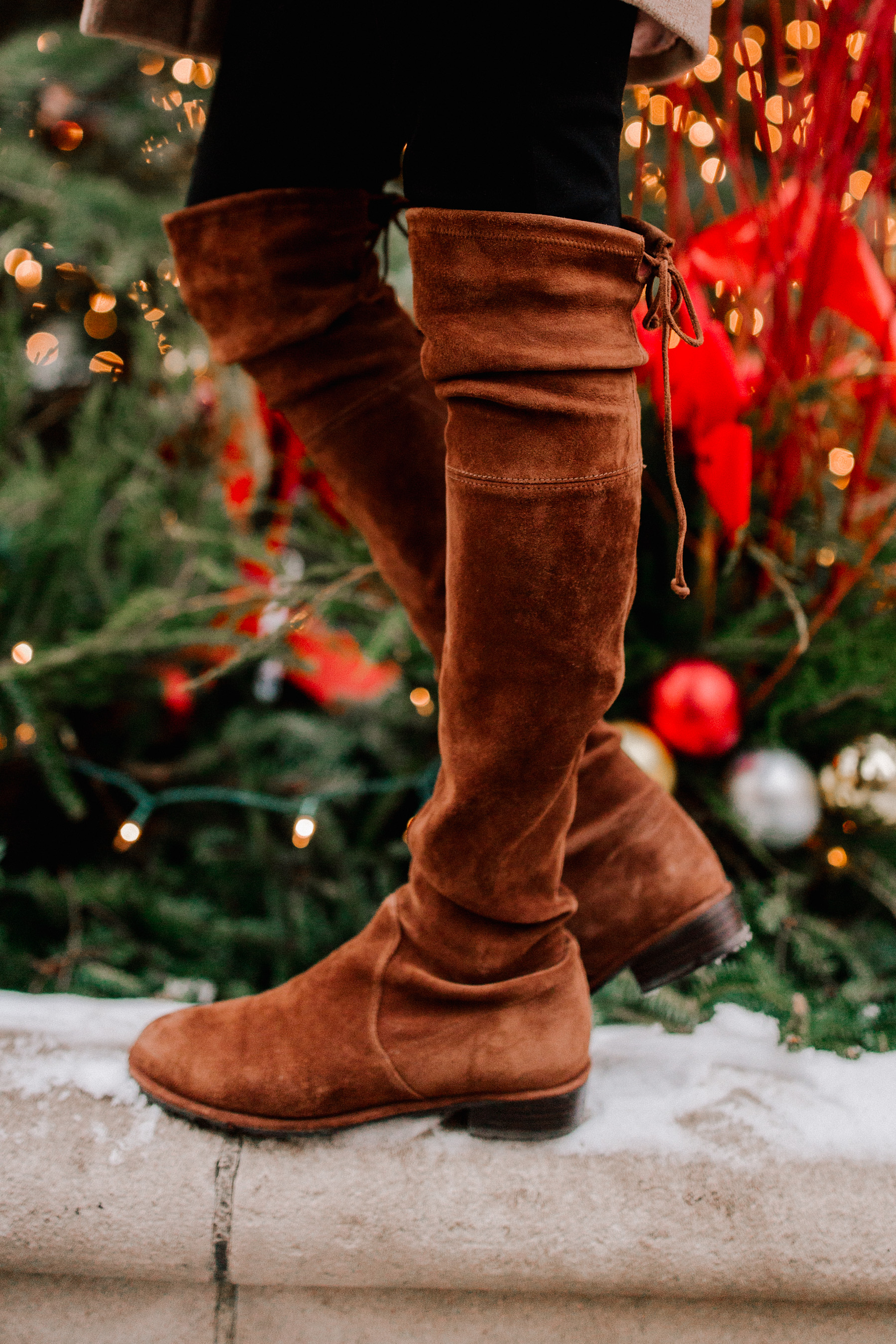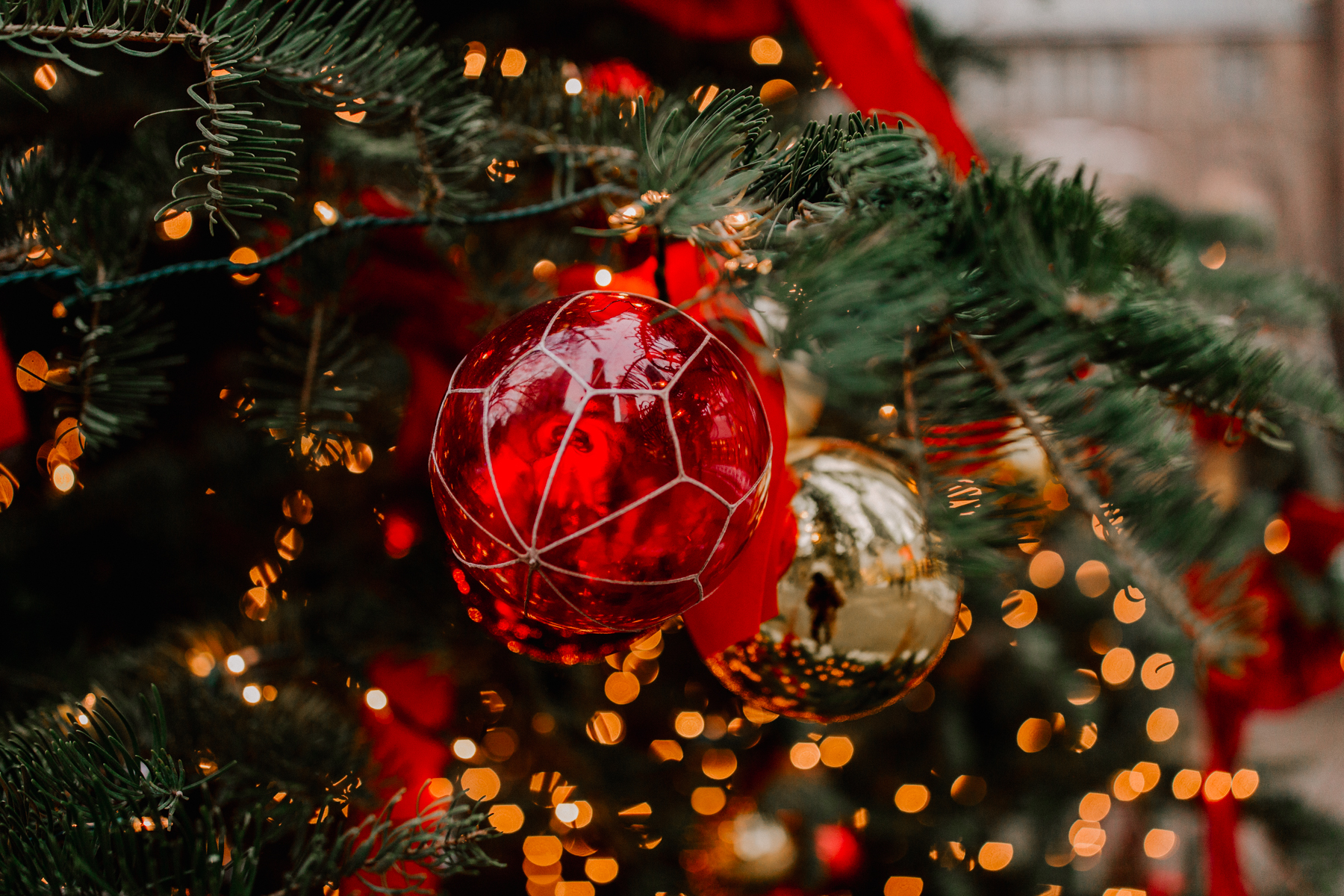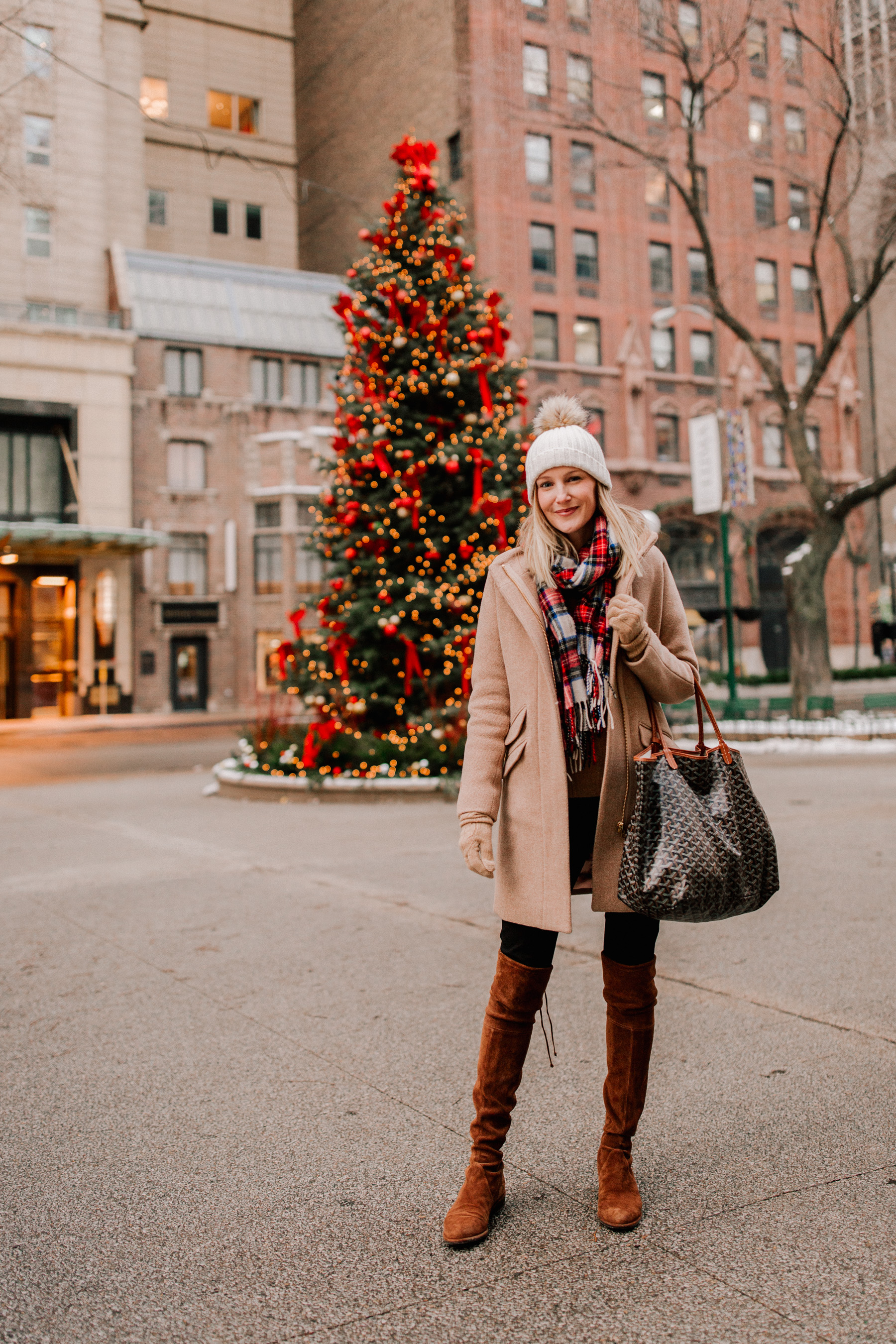 Shop the post:
J.Crew Tartan Scarf (My favorite holiday scarf! Love all three patterns.) / Cocoon Coat (Get it in gray! It's more versatile because you can wear it with both navy and black.) / Ralph Lauren Cable-Knit Sweater (Also try this one! And this one. Both so beautiful.) / Stuart Weitzman Boots (But try this Steve Madden pair. Love them, and that low heel which makes 'em suitable for both everyday and "going out" wear. Looking for brown? DEFINITELY get this pair. Here's another option!) / Halogen Seamed Leggings (I just fold over the waistband for the bump. Works like a charm, and they don't fall down. If they're sold out, I also love this Spanx pair.) / Pom Pom Hat / Ralph Lauren Blazer (Similar here) and Cashmere Gloves c/o / Goyard Bag