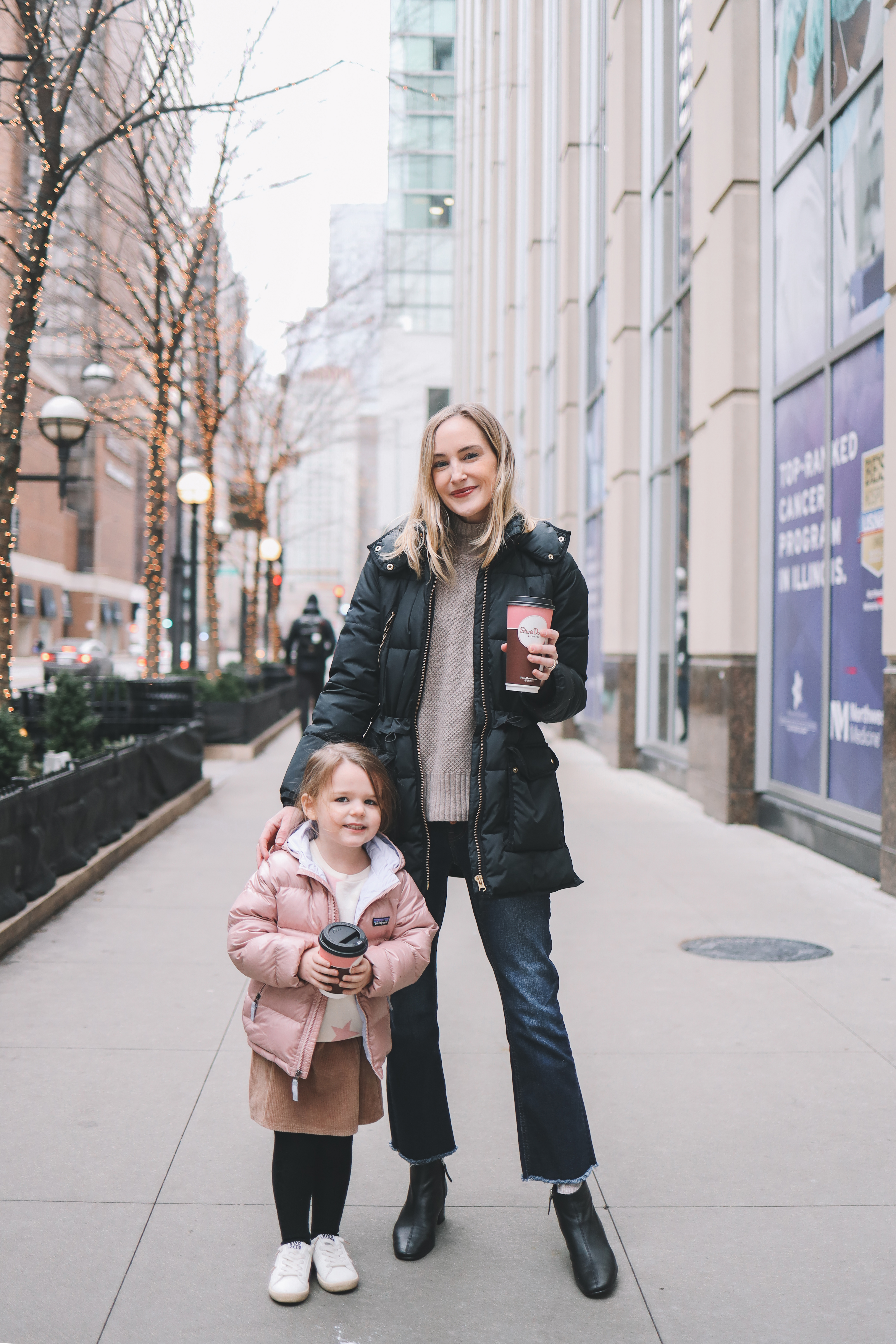 The Best J.Crew Jeans (Also LOVE these. If you want them to have the cropped look, order petite! All Demi-boot jeans here.) / Black Booties (CRAZY soft leather.) / Sweater / Puffer Jacket / Lucy's Jacket, Star Sweatshirt, Corduroy Skirt and $16 Sneakers
We recently took Lucy downtown to get "coffee" and doughnuts—which she called "the best bagels ever"—while waiting for Emma to get out of school. It was the cutest. (She picked out her outfit, too! She told me she never wanted to wear navy tights again. Is Emma's love of the color black rubbing off on her?)
I thought it would be fun to do a little "coffee chat" with Lucy today. So without further ado, here's my interview with our adorable three-year-old: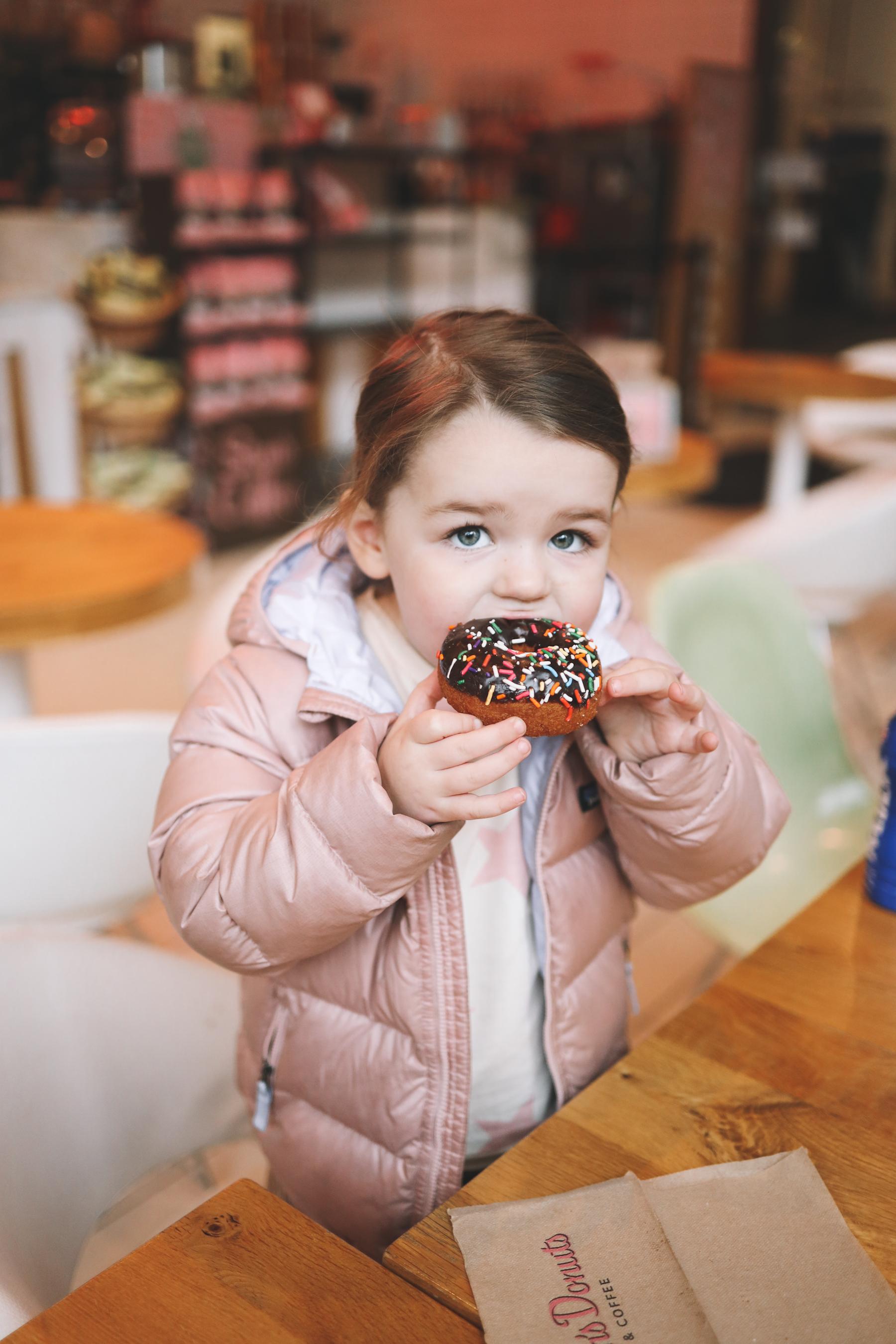 Mommy: Lucy, welcome! I think I speak for everyone when I say that we're so happy and excited to be chatting with you today. You've lived in Chicago for three years now. Your whole life. What are some of your favorite parts of the city?
Lucy: My favorite part of Chicago is Harper. She's my very best friend. I love her so much, and I play with her not every day but a lot of days. We just love to play around. Harper lives not far away in my city.
Mommy: Tell us about school. I know you were reluctant about going at first, but this year you're in the big girl building with your older sister. How is that going for you?
Lucy: School is very good! I take a nap after lunch. I'm not so excited about that. But sometimes Mommy packs me too stuffies and that's very funny. My teachers help me eat my lunch every day and they're so fun and nice and they don't yell. Sometimes they don't feel well. Then they have to go home. But not all the time. My favorite part of school is Circle Time!
Mommy: What would you say your hobbies are? What are your favorite things to do?
Lucy: I like going to ballet! It's very pretty and I love doing ballet so much. I love doing gymnastics all day, and when I'm not feeling well, I have to stay home. I had a ballet dance recital!
Mommy: What's your personal style, and what are your favorite things to wear?
Lucy: I love gymnastics clothes. They are very special to me. Aunt Alicia gave it to me. Some look like diamonds, actually that one is Emma's but I can't find mine right now so I'm wearing Emma's right now. Some have unicorns and some have rainbows. I love all of them! I love them so much.
Mommy: Tell me about what you're wearing right now!
Lucy: I'm wearing my star sweatshirt. It has stars on it. I very love it. I also have a sweatshirt with hearts on it. I'm wearing star sneakers right now. See the star?
Mommy: Who is your favorite musical artist? Who's your favorite singer?
Lucy: Taylor Swift and Jojo! I love both of them! Taylor Swift is never, ever, ever getting back together. I think she's going to sing my favorite song at the concert. I want to show you want I'm going to wear when I go in my bedroom. Jojo always sings some of my favorite songs, like "High Top Shoes." She always changes her costumes. I love her dance moves, and Harper and me dance and sing. When I was a baby, I had a binkie in my mouth, and I went to see Jojo Siwa. I don't have a binky anymore.
Mommy: If you could be one animal, what would it be, and why?
Lucy: I love penguins and elephants. The first ones waddle around and the other one has a trunk. Waddle waddle waddle. My teacher saw them but I don't know where. I was shocked. She didn't do much with them, though.
Mommy: Well, thank you for being with us today, Lucy. You really are such a fabulous little girl!
Lucy: Thank you!
Shop the post:
The Best J.Crew Jeans (Also LOVE these. If you want them to have the cropped look, order petite! All Demi-boot jeans here.) / Black Booties (CRAZY soft leather.) / Sweater / Puffer Jacket / Lucy's Jacket, Star Sweatshirt, Corduroy Skirt and $16 Sneakers