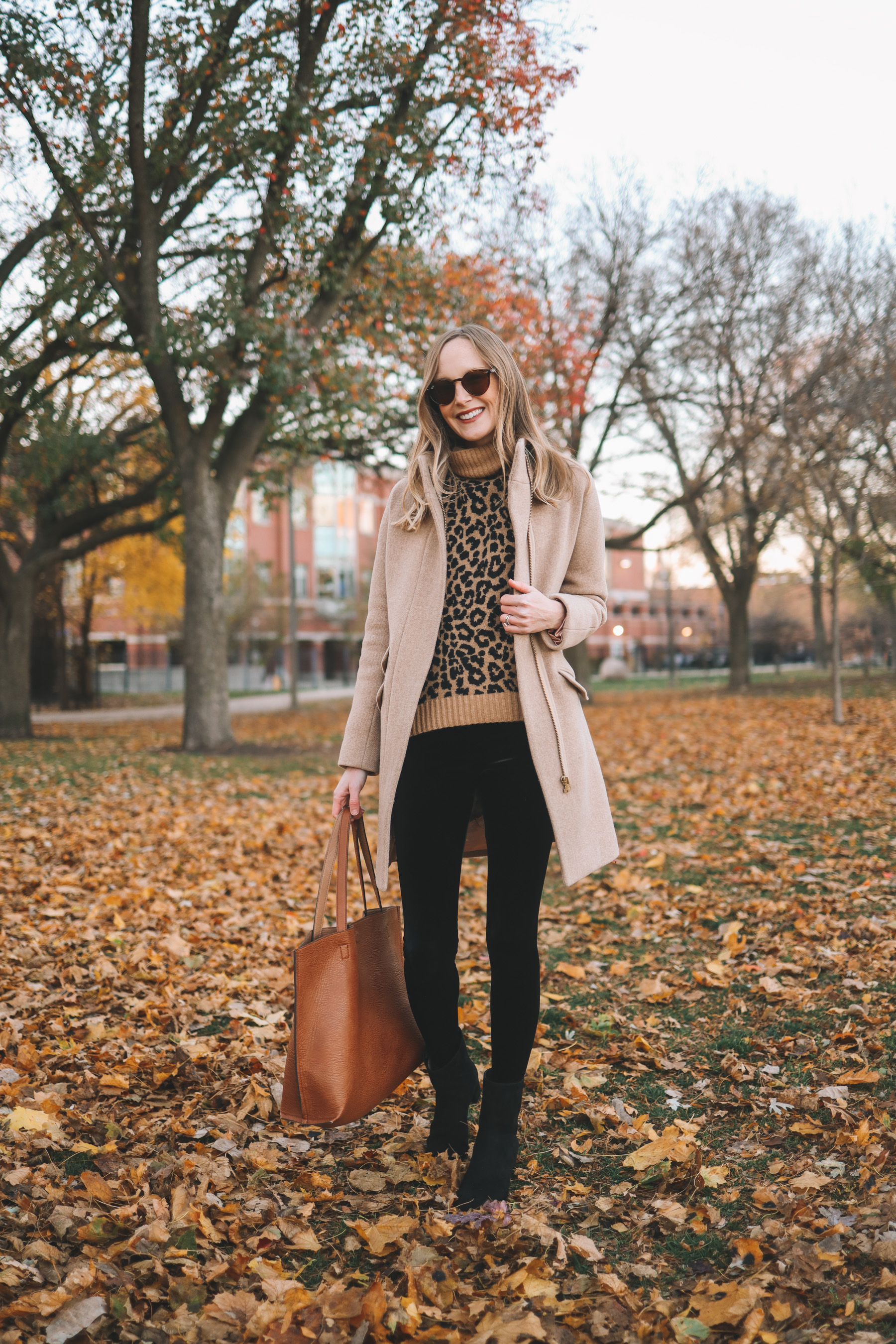 J.Crew Cocoon Coat (Go down one size. Here's the Quilted Cocoon Puffer Coat. Go one to two sizes down in that one!) / Supersoft Leopard Sweater (Runs large. Size down. Check out the rest of the Supersoft line here.) / Velvet Leggings (The Commando pair is exceptional, too! Did I just say "exceptional"?) / Suede Booties (Also love the knee-high version.) / Soft Faux Leather Tote
This is definitely a favorite outfit as of late. I love J.Crew's Supersoft line, and the new oversized leopard sweater is perfect. I would definitely recommend sizing down, as it does run on the roomier side, but I love that it covers your butt, thus allowing you to wear leggings with it. Give me all the comfy-cozy outfits for the remainder of this year! ;)
But the real hero here is the Cocoon Coat. I bought my first Cocoon back in 2011 when I was still living in New York, and it remains my favorite piece of outerwear ever. Here's what you need to know:
J.Crew Cocoon Coat Review
Cocoon Coat Details
It's made of Italian stadium-cloth wool, which is amazingly warm. The Cocoon is by far the warmest wool coat I've ever worn! I can get by with it in upper 20s- and 30-degree weather, and I think that's pretty mind-blowing. Part of the magic is the shape; it locks in your body's warmth and doesn't let it go! As the name suggests, it creates a cozy little cocoon for you. Which you will not want to come out of until mid-May if you live in Chicago. (*Quietly sobs in a corner.*) Oh, I should also mention that the high collar keeps the wind out!
There's a new version that has Thinsulate in it, making it even warmer. It's obviously more expensive, so if you're interested, I'd wait for a sale. I can't speak to how much warmer it is because I haven't tried it, but Thinsulate is magic, so I would expect good results!
It runs large. While it's meant to fit generously, I would still recommend going down one size.
There are pockets at the flaps. The pockets aren't extremely deep, but I can get my phone, keys and mask in 'em just fine. My hands do fit when I need extra warmth, but I'd definitely recommend bringing along gloves on very cold days as it's not the most comfortable positioning.
There are so many colors to choose from this year! I love the navy plaid and the hot pink; both new additions. Typical. The sand or light gray are both very versatile choices, though.
It's lined. This helps you slide in and out of it quickly.
There's a little metal hook in the back. A small detail, but it's really nice when you're trying to get in the door with two small children and get everyone's winter gear off and put away. I can just throw mine up on the hook and put it in the closet later!
Another A+ from me.
xoxo
How will you wear your J.Crew Cocoon Coat?
I hope this post helped you decide if the J. Crew Cocoon Coat is right for you. If there is one thing I just adore about this coat is just how versatile it is. Because it is a soft neutral, you can pair it with practically anything. Bold colors to other neutrals. And the timeless look means you can take this coat from work to a casual evening with friends and never skip a beat.
If you're curious about how I styled my outfit, shop the post below. Use my outfit inspiration above to style your coat, or create a unique look of your own. Either way – tell me about it below! I want all the deets!
Shop the post:
J.Crew Cocoon Coat (Go down one size. Here's the Quilted Cocoon Puffer Coat. Go one to two sizes down in that one!) / Supersoft Leopard Sweater (Runs large. Size down. Check out the rest of the Supersoft line here.) / Velvet Leggings (The Commando pair is exceptional, too! Did I just say "exceptional"?) / Suede Booties (Also love the knee-high version.) / Soft Faux Leather Tote