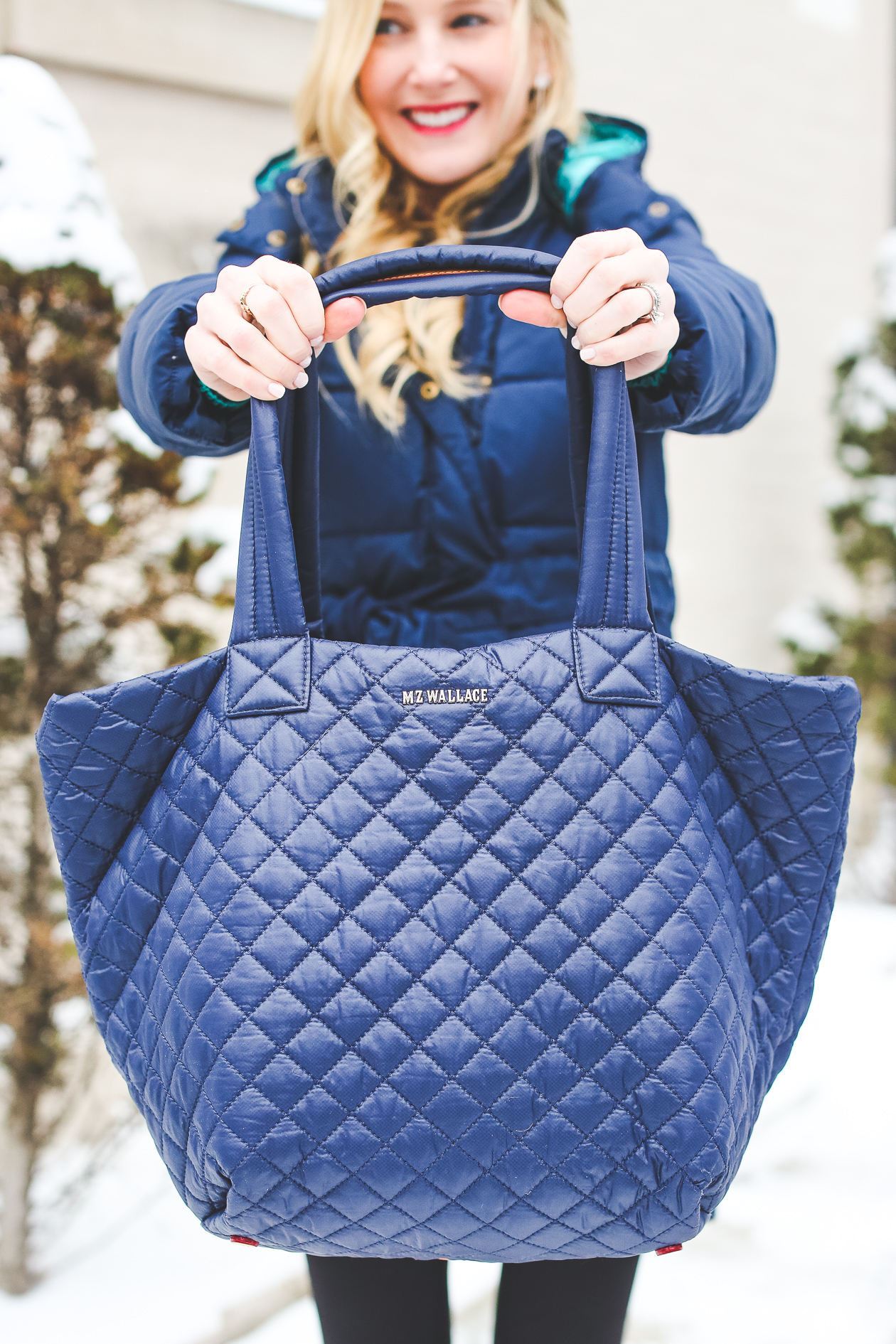 MZ Wallace Tote (Size Medium, but also comes in a size Large) / Vineyard Vines Puffer Coat
Last year, before I splurged on an investment bag (a Louis Vuitton Neverfull in a size "MM", also available here), I made a deal with myself that I'd sell a bunch of my old bags to cover the cost. And while that process took forever on account of the fact that I still owned bags from college, it was also completely worth it. Because I did this, I didn't exactly have to shell out the big bucks for my dream bag… and life has proven to be a lot simpler with fewer possessions. Having a go-to, goes-with-anything tote also makes for easier mornings!
Don't get me wrong: I still own other bags, as I've acquired quite a few over my three years of blogging. But it's nice to open my closet and not have a ton of 'em fall out onto my head. (Actually, I don't have a closet right now, haha… but I'm workin' on that.)
These days, I have a strict policy on new bags: Don't buy them. But if you can't help yourself, you must earn new bag's value by selling old stuff. (Oh, Craigslist and eBay. How I love you!) So let me introduce you to my first new bag since last year's splurge: the medium-sized MZ Wallace Metro Tote. (Mine is actually navy, but that color is currently sold out. Though how pretty is "Pacific Oxford"?! Love. Nordstrom also carries MZ Wallace.)
While the rationale was that I needed a padded tote that could fit both my laptop and camera for on-the-go work days (along with a whole lot of other stuff), let's be serious: I just really, really loved it. ;) That said, it's so wonderful for those purposes! While I still encase my laptop and camera in silicone sleeves, I feel a lot better putting them in a somewhat-padded bag. And I love that there are tons of pockets and zippered pouches to store everything else.
Which begs the question: Besides my laptop and camera, what exactly do I carry around with me every day?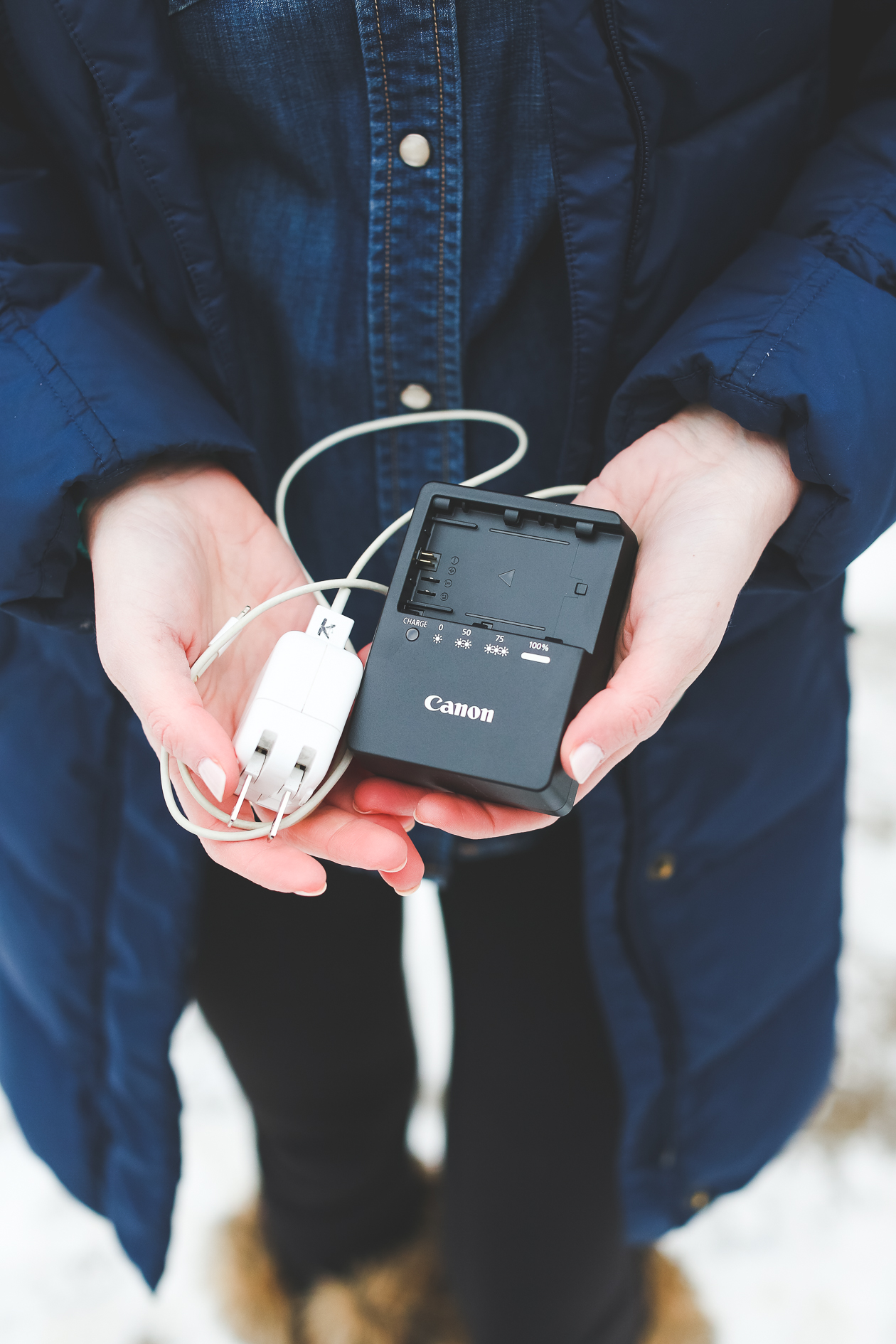 Spare chargers
I used to carry around mini battery packs for my iPhone, but I always forgot to charge them, thus rendering them useless. ;) Today, I straight-up use the actual chargers. If I'm attending an event or going out to dinner and my phone's about to die, there's almost always some helpful person who's completely willing to plug in my device behind a front desk or bar, and I can't even tell you how many times this has saved me!
A scarf
Always. Cold.
Granted, I don't carry a scarf in my bag from June to September, but during all other months? Oh, it's in there. Better safe than sorry, though. Even when it's not freezing outside, scarves saves me from over-air-conditioned restaurants, coffee shops and stores, and from chilly subway cars.
I'm wearing Vineyard Vines' buffalo check scarf here, and I also love this similar style. I mean, the pom poms?! Puh-lease.
Vaseline Lip Therapy Tins
Recently, Vaseline sent me a bunch of the company's new Lip Therapy Tins, and they've been so helpful. Before I started using them, my lips were dry and chapped from the horribly cold weather we've been experiencing here in Chicago. But I saw a noticeable difference in them almost immediately after using the product, which was a welcomed relief, for sure! The tins leave my lift smooth and soft, and it's much more comfortable.
Proven to help heal dry lips and provide long-lasting moisture, the tins are always in my tote bag. But I love that they're small enough to throw in a clutch or tuck in my pockets, too. While they come in several varieties (see above photo), my favorite is "Rosy Lips," as it takes me from work days to date nights with Mitch.
I love that the tinted moisturizer provides a natural, rosy shine, and that it can be applied under or over my lipstick (which can sometimes be drying). When I do this, it provides extra moisture while adding a an extra bit of "oomph" to the look! An added bonus? Its scent–which has elements of rose, vanilla, and red berry– is so good.
Oh, another nice thing is that the tins are infused with the dry skin healing power of Vaseline jelly, yet they're non-greasy. They also remove impurities, they're non-comedogenic, they don't clog pores, they're hypo-allergenic, and they're non-irritating. Perfect for those of us with sensitive skin!
Interested in trying out Vaseline Lip Therapy tins? They're only $3.99, and they're now available in-store or via Target.com! You can also score them from Vaseline.US.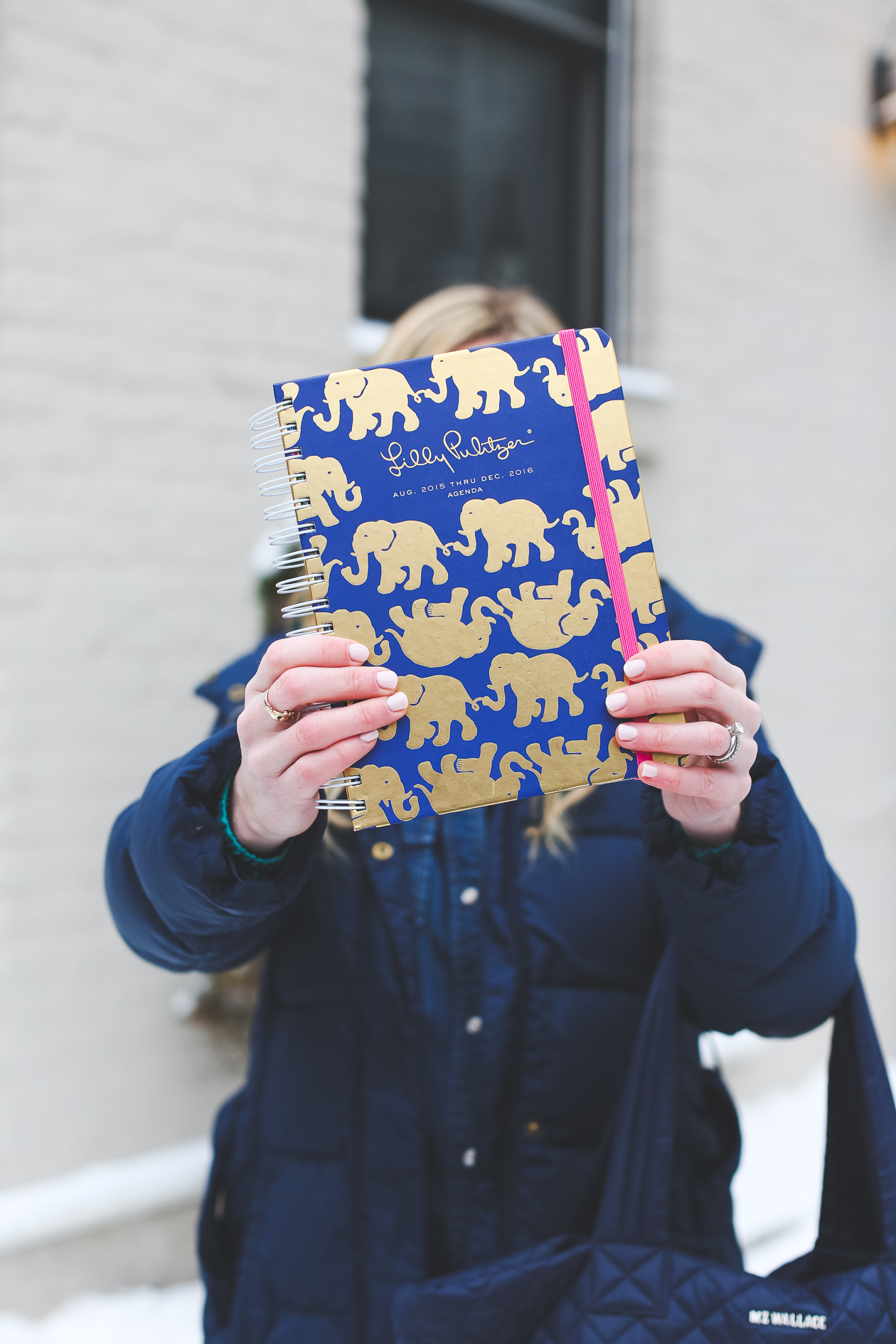 My planner
While it's definitely an oversized one, I'd be lost during the work week without it. I've tried electronic calendars and organizers, but I'm just a tried-and-true pen-and-paper kind of girl. I love that I can have the entire month in front of me, and that I can zoom in on individual weeks and days. I'm also a huge fan of the notes section, the multiple pockets for paperwork, and the ample space for to-do lists. There's nothing quite like physically crossing off tasks, in my opinion!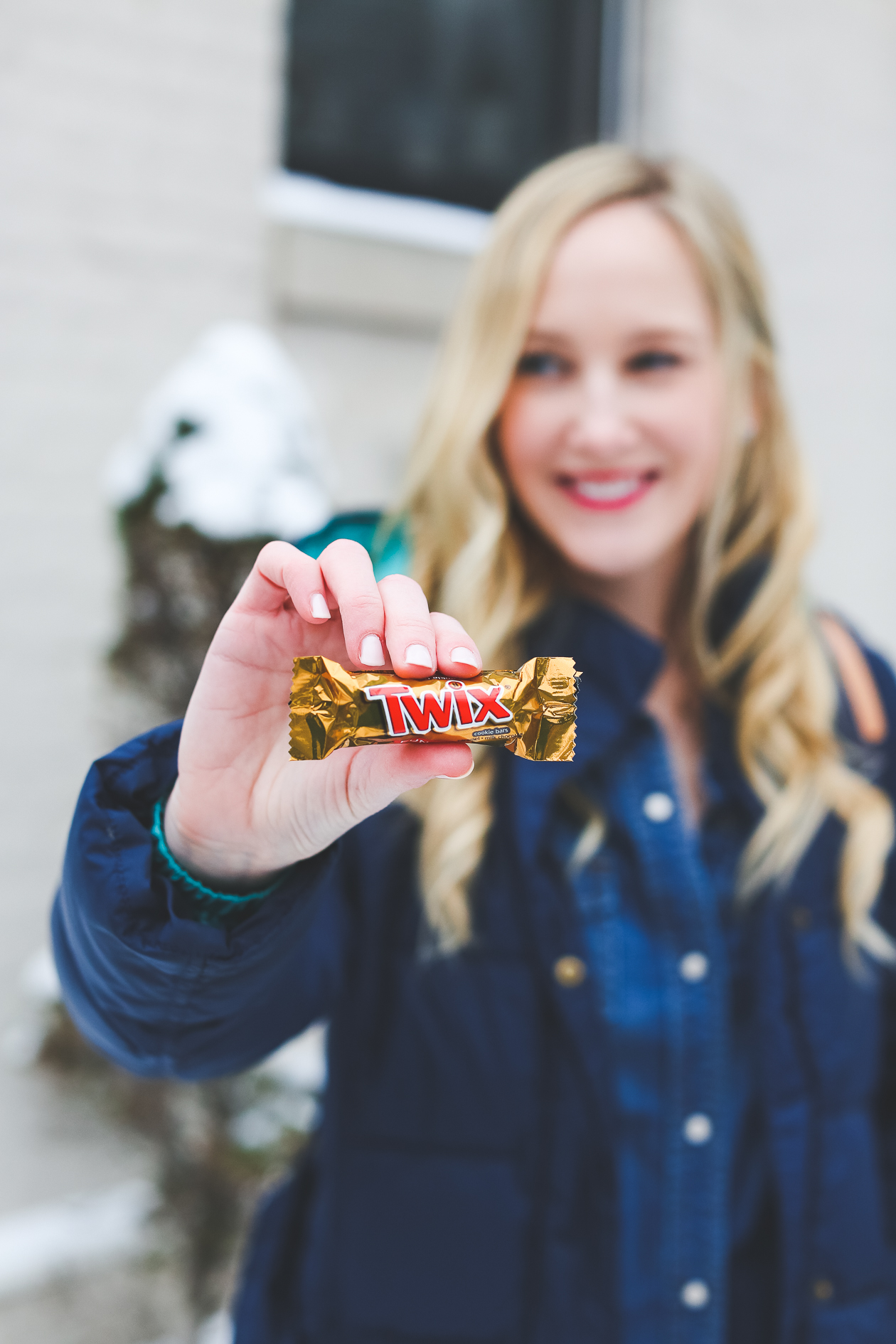 Snacks
I have some serious "hanger" issues, haha. I also get really discouraged, tired and overwhelmed when I don't have time to eat during busy days. And I never see it coming. Lately I've been packing peanut butter and jelly sandwiches along with KitKats or Twix for those just-in-case situations. Sometimes the sandwiches go uneaten, but the candy? Always gone by the end of the day. ;)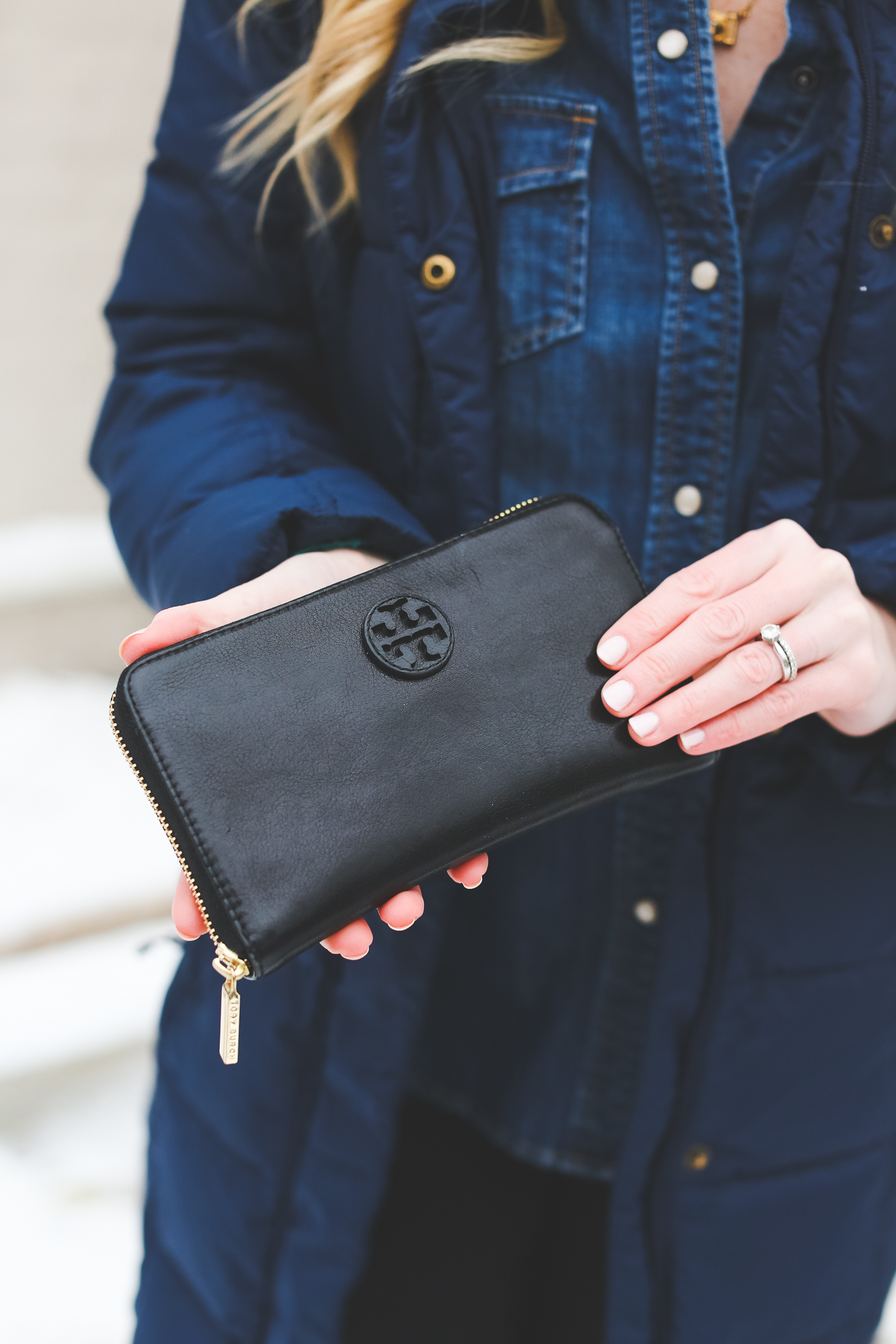 A "holds everything" wallet
I need a wallet with a ton of slots and compartments, otherwise I find myself throwing cards and money loosely into my bag… which never ends well. Tory Burch one does the trick! Mine is sold out, but I adore this one, which is very similar.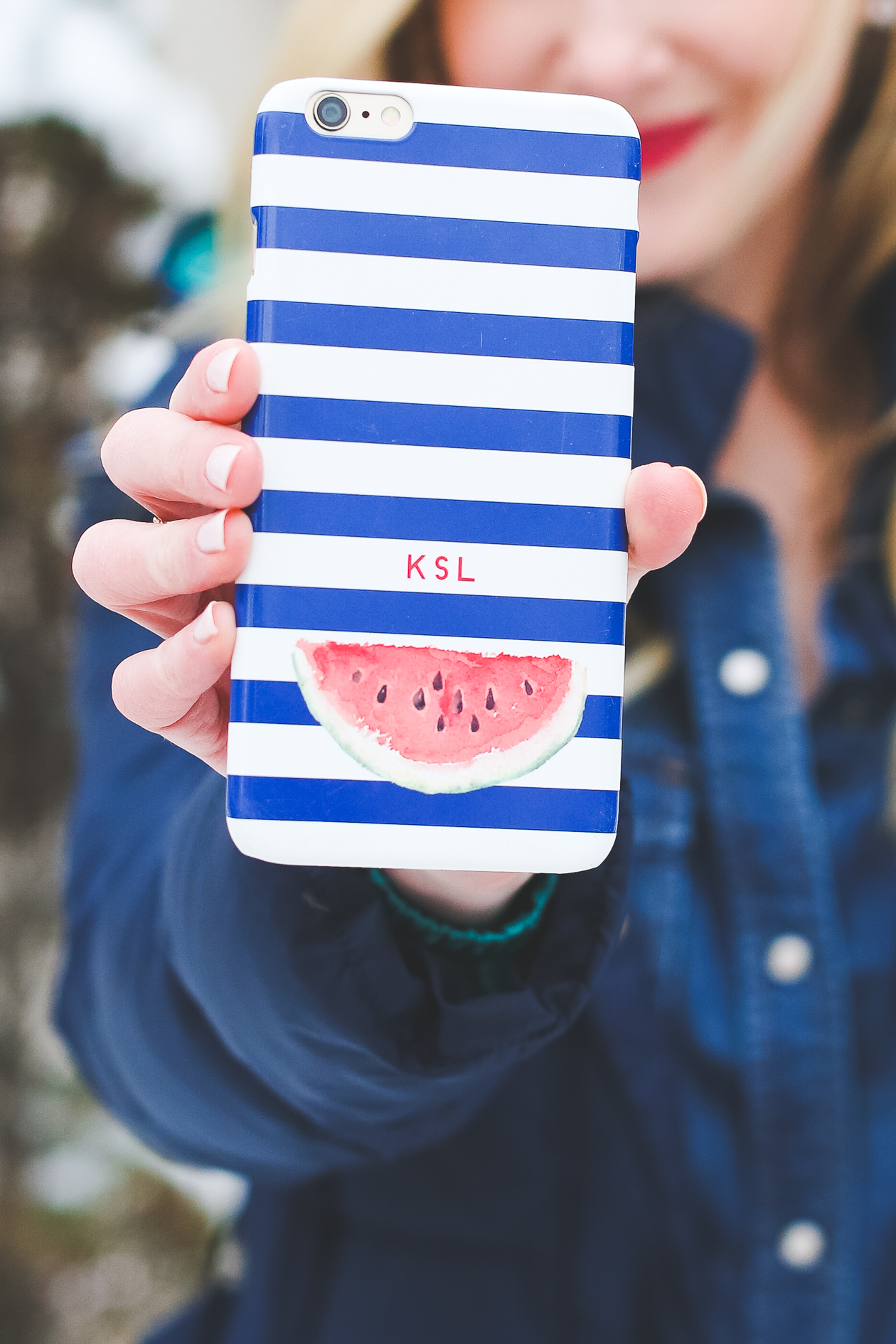 iPhone
Duh. I try really hard not to be glued to my phone all day, but I have to admit that I'd be lost without it. It gets me from place to place, allows me to be productive when I'm on-the-go, makes for easier management of meetings and appointments, and helps me manage my social feeds. It's also how I keep in touch with friends and family. But you know this; you have one too, and are equally obsessed. ;) No?
(My phone case was designed by my friend Julia for Minnie & Emma. So cute, right?!)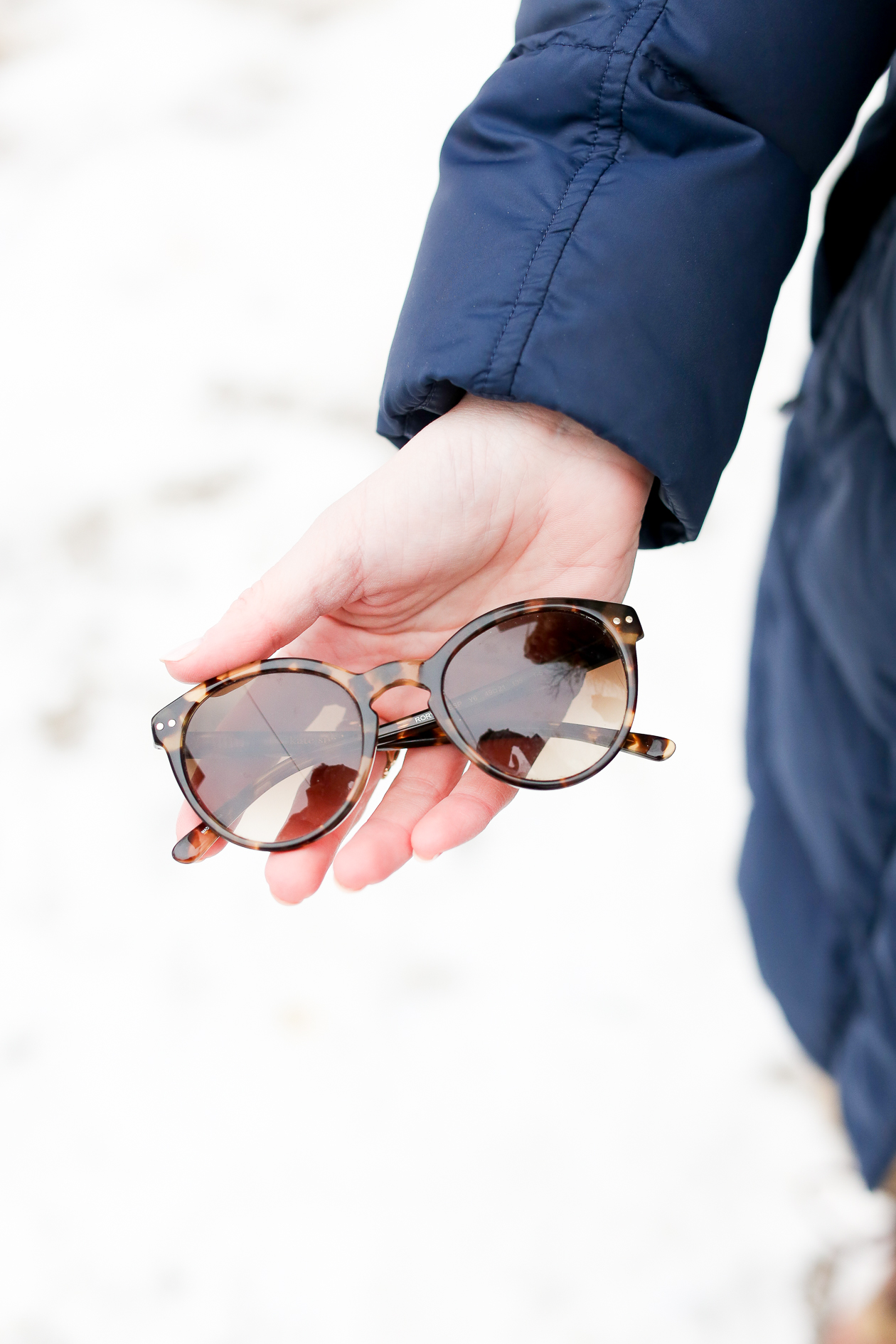 Sunglasses
I don't know about you guys, but I have my fair share of "bad face days" when I'm tired. Sunglasses make it all better. ;) My Kate Spades are sold out, but I love this similar pair from Ray-Ban!
What's in your tote?!
Disclosure: This post was sponsored by Vaseline, but all opinions are my own. As always, thank you so much for supporting the partnerships that make Kelly in the City possible!