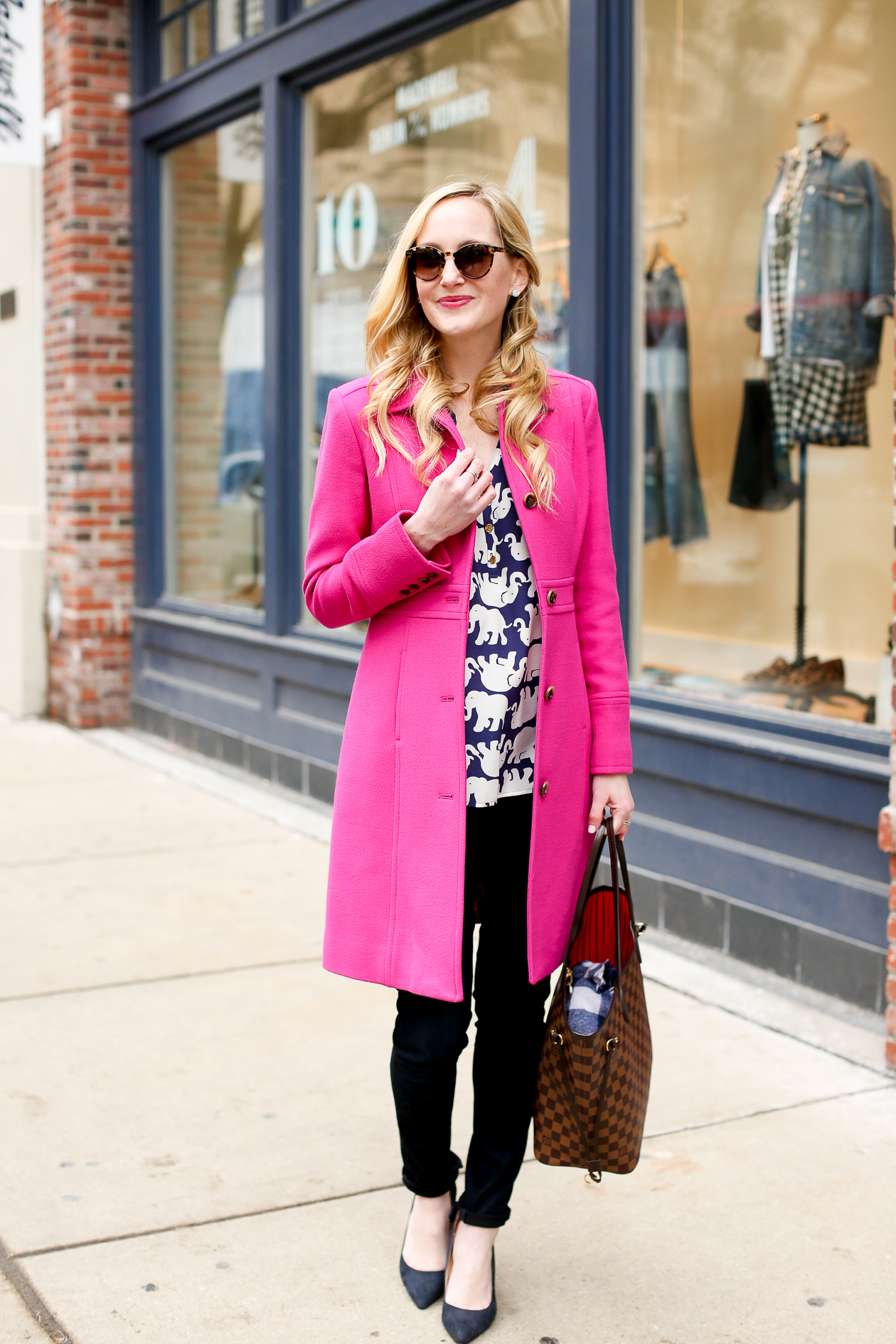 J.Crew Pink Coat (And oh my goodness. This hot pink spring coat? And this blush blazer?) / Sole Society Pumps c/o (Also love this option) / Paige Jeans / Louis Vuitton Neverfull in a size "MM" (Also available here) / Lilly Pulitzer Top (Mine is sold out, but here's the current Elsa collection!) / Kate Spade Sunglasses (Old, but I LOVE these!)
I love how I spoke about not wanting to "be preppy" anymore in my 2016 goals post, yet here I am wearing a navy elephant-print top, hot pink coat and navy bow pumps. Okay, Kelly. Probably should've worded that a little differently. I still love classic styles. I just want to start incorporating other, less omg-crazy-preppy styles into my blog posts, too. ;)

LIKE EVERYTHING FROM MADEWELL. These photos were snapped outside the Madewell store yesterday after the amazing Ann Taylor Spring/Summer Preview brunch I attended with Nicole, Shaheen and Blair at Le Colonial on Rush (more on that soon!)… and we couldn't help but pop in to shop. I mean, these flats?! Adore.

Side note: these tortoise beauties from Ann Taylor are soon joining my closet. Holy cuteness. Shop my other faves from AT above!
In other news, I've had a busy week with lots of events downtown, so I'm really excited about having another low-key, relaxing weekend. My in-laws are coming to visit and help us with some big design decisions for the master bedroom and bathroom (the second phase of construction starts in the next two weeks!), and I'm hoping to do a lot of wandering around the neighborhood because, drumroll please… it's WARM(ish) in Chicago!
Yesterday still required a coat, but not a puffer. (I even wore an Elsa top! Haven't broken one out in months.) And today and tomorrow, temps are supposed to be in the 50s. I can't even tell you how happy I am. February is my least favorite month of the year as it's typically dark and freezing, but this little reprieve is a reminder that warmer days are kind of around the corner. Everyone says that Chicago packs 12 months of fun into six months (on account of the cold weather), and it's so true. I can't wait for outdoor brunches, events and street fairs!
Do you have any exciting plans for the weekend?!
Shop the Post:

J.Crew Pink Coat (And oh my goodness. This hot pink spring coat? And this blush blazer?) / Sole Society Pumps c/o (Also love this option) / Paige Jeans / Louis Vuitton Neverfull in a size "MM" (Also available here) / Lilly Pulitzer Top (Mine is sold out, but here's the current Elsa collection!) / Kate Spade Sunglasses (Old, but I LOVE these!)