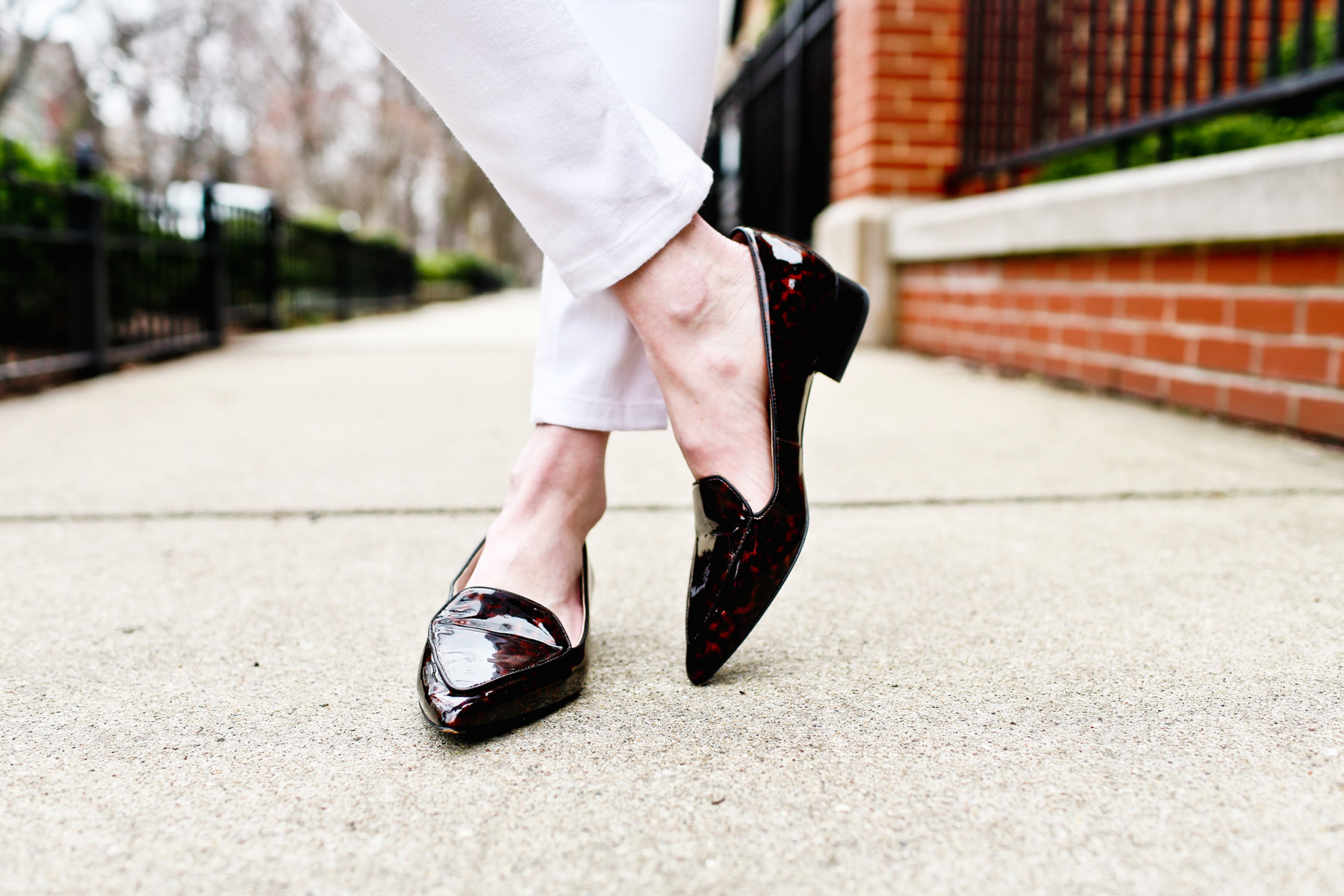 Tortoise Stacked Heels (BEST. EVER.) / Bow Top (Also available here, and I love this similar ruffled one. This gingham peplum top is also a fave, as are this ruffled chambray top and this ruffled striped sweater.) / White Skinny Jeans (They're an investment, but they're the softest white jeans I've ever owned and they don't stretch out. ALSO: Nordstrom is having a huge sale on Rag & Bone jeans. These are my favorite day-to-day jeans, and these bow-adorned jeans are everything. Definitely considering this pair because I've heard such great things! This pair looks great for day to day as well, and love this lighter wash.) / Gigi New York Clutch c/o (Available here, too. Love this one as well. You have to check out Tuckernuck's new bags. So good!) / Kendra Scott Bracelet c/o
Hello from a coffee shop in Chicago! My mother-in-law is taking care of Emma today so I can catch up on work. Thanks to the One-Month Challenge, the situation isn't dire. But it isn't good, either.;)
Yesterday was such a good day. But before I start babbling on and on to you about nonsense, a couple things about this outfit:
These are the best tortoise shoes I've ever owned. Listen: A good pair of tortoise shoes is hard to find, haha. Sounds ridiculous, but it's true. First of all, tortoise is patent leather, and patent leather, by nature, is stiff. This is rough on a person with sensitive feet that hurt nearly all the time! Secondly, there just aren't a lot of tortoise shoes on the market. Why? Not sure. If I were a shoemaker, at least half of my shoes would be tortoise shoes. Anyway, back to these stacked heels. They feature a really low heel, which makes them comfy enough to wear all day long, and the leather isn't crazy stiff. They don't rub, and they don't pinch my toes, despite their pointy design. Oh! And since they're tortoise, they go with navy and back outfits. They are SUCH winners!
Nordstrom is having a huge sale on Rag & Bone jeans. They don't carry my favorite white skinny jeans, but these are my favorite day-t0-day jeans, and these bow-adorned jeans are everything. Definitely considering this pair because I've heard such great things! This pair looks great for day to day as well, and love this lighter wash.
Okay! Back to life. Here's what's been going on:
Knowing we had a few rainy days ahead of us, Emma and I took a long walk yesterday and spent the afternoon on North Avenue handling some errands. We had so much fun! Emma is really into waving these days, and she made a ton of friends.
Mitch and I are going to start doing recipes on the blog! Our angle is that we need easy-to-prepare meals now that we have zero free time and a little baby on our hips at all times. Our first recipe will actually be a drink recipe, mostly because I found some really adorable glasses and napkins on sale yesterday during our North Avenue trip. SORRY TO SCREW UP THE PLAN, MITCH. Man. Since he became more involved in the blog, he's such a stickler… ;)
My brother and sister-in-law arrive from Philly tomorrow! So my vacuum and I are going to spend some quality time together tonight. I have a problem. Did you read Mitch's recent post about my obsession with our vacuum? We have this one, in case you're wondering. It's SO GREAT.
We went to Budlong Chicken on Armitage with Kira and Tom the other night, and it was awesome. Couldn't recommend it more if you're looking for Lincoln Park restaurant recommendations! I also recommend becoming friends with Kira and Tom. They're super and I promise they will make you a happier person. ;)
Did I mention that Jess and Neal babysat Emma for us on Monday night so we could go see M.Ward at City Winery? LOVE YOU GUYS. (They're seriously the cutest with Boo.)
I know I have more to tell you, but my mind just went blank. I think it's the air conditioning that's on full blast in this blasted coffee shop. Guys, TURN THE AIR CONDITIONING OFF WHEN IT'S 40 DEGREES OUTSIDE.
So much yelling today. Sorry. ;)
I just realized Spotify has been playing Christmas music for the last hour. I think I need to get more sleep.
xx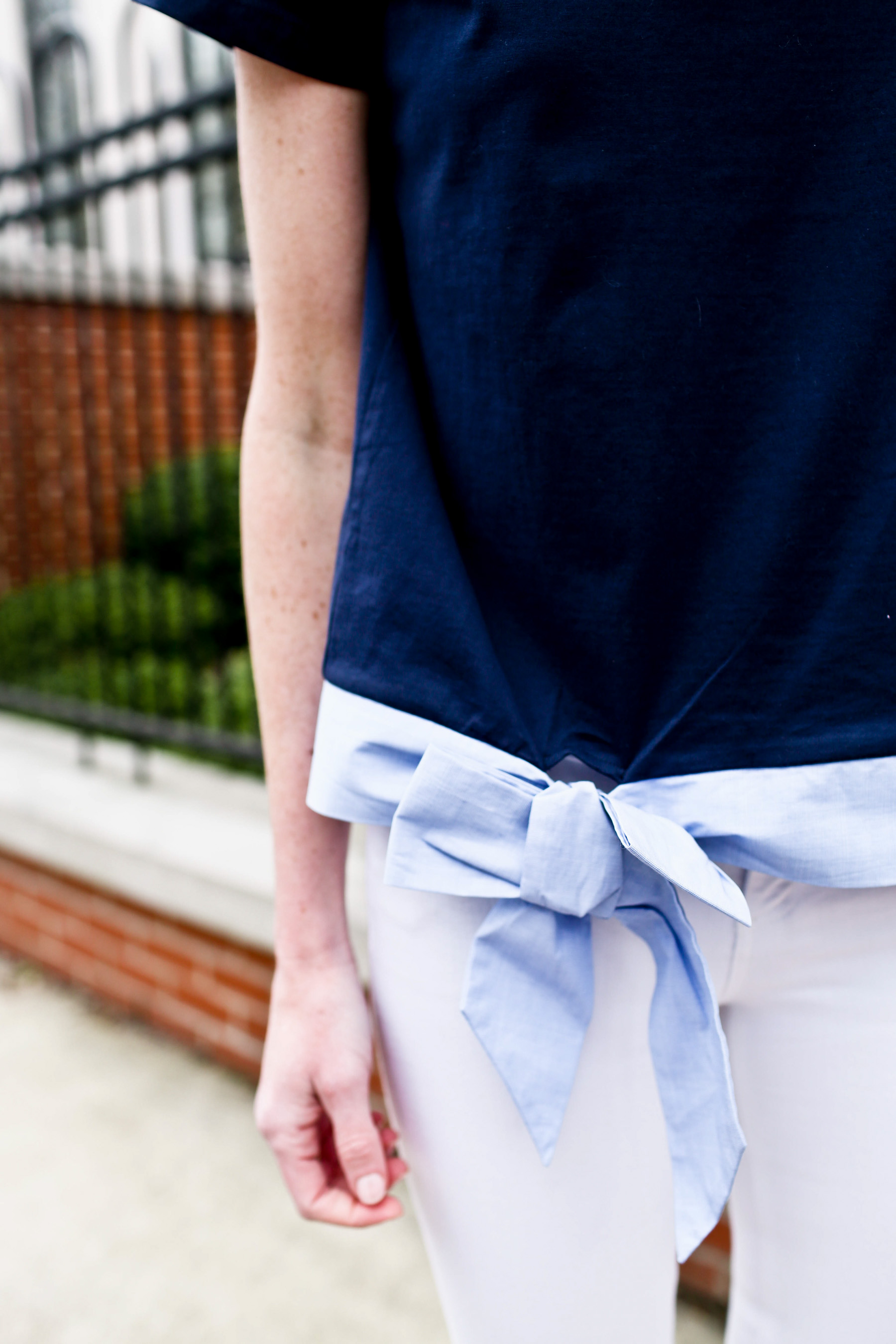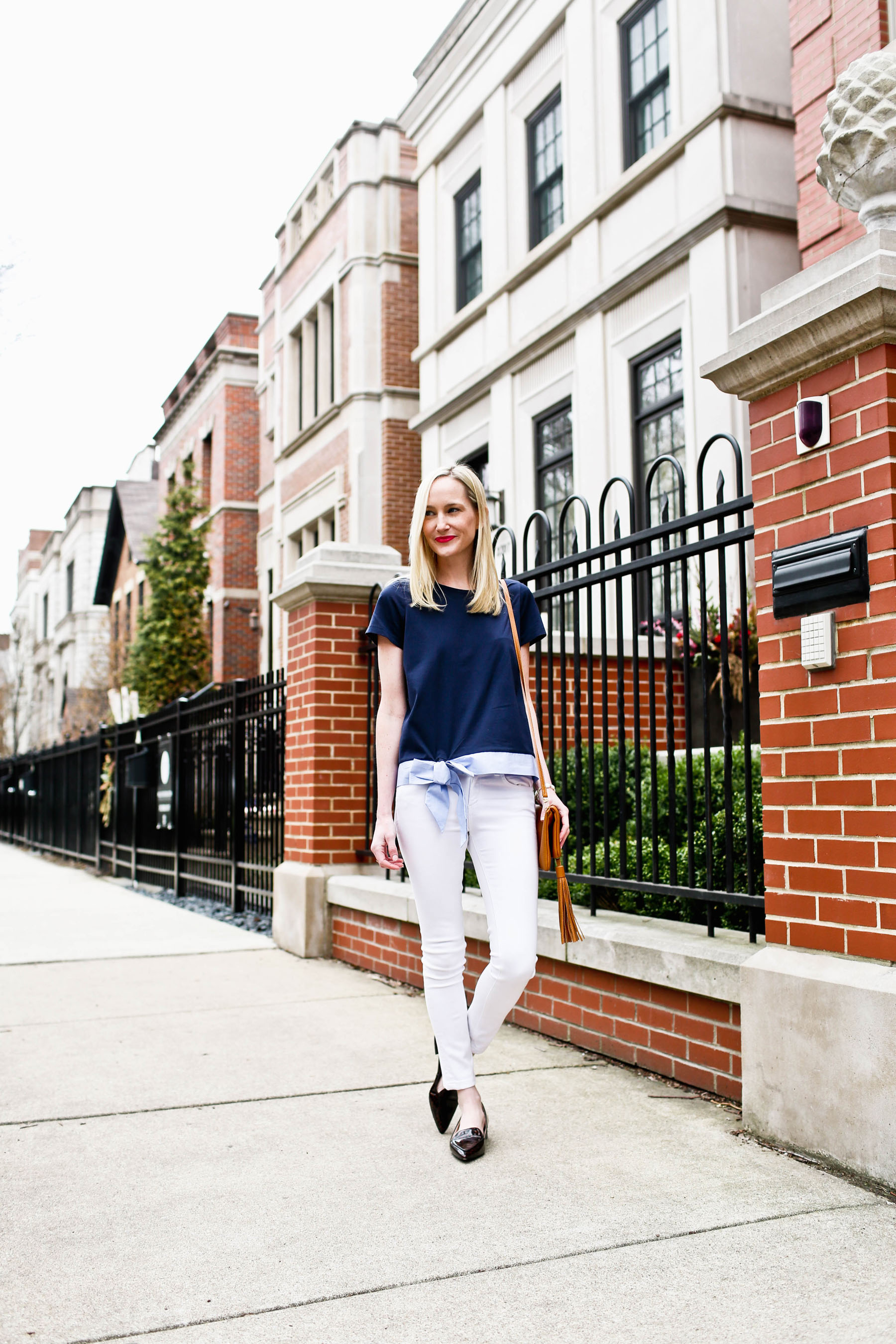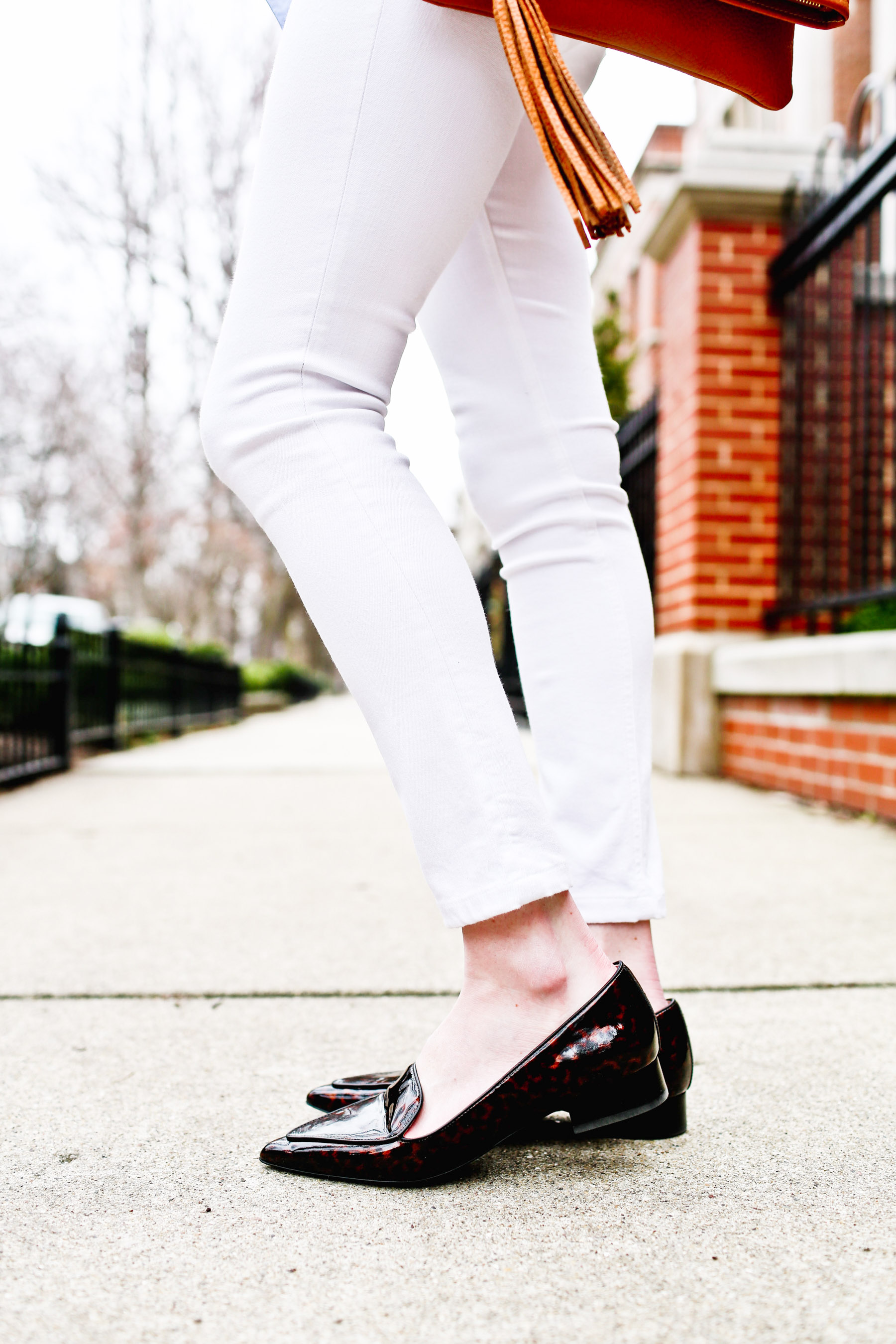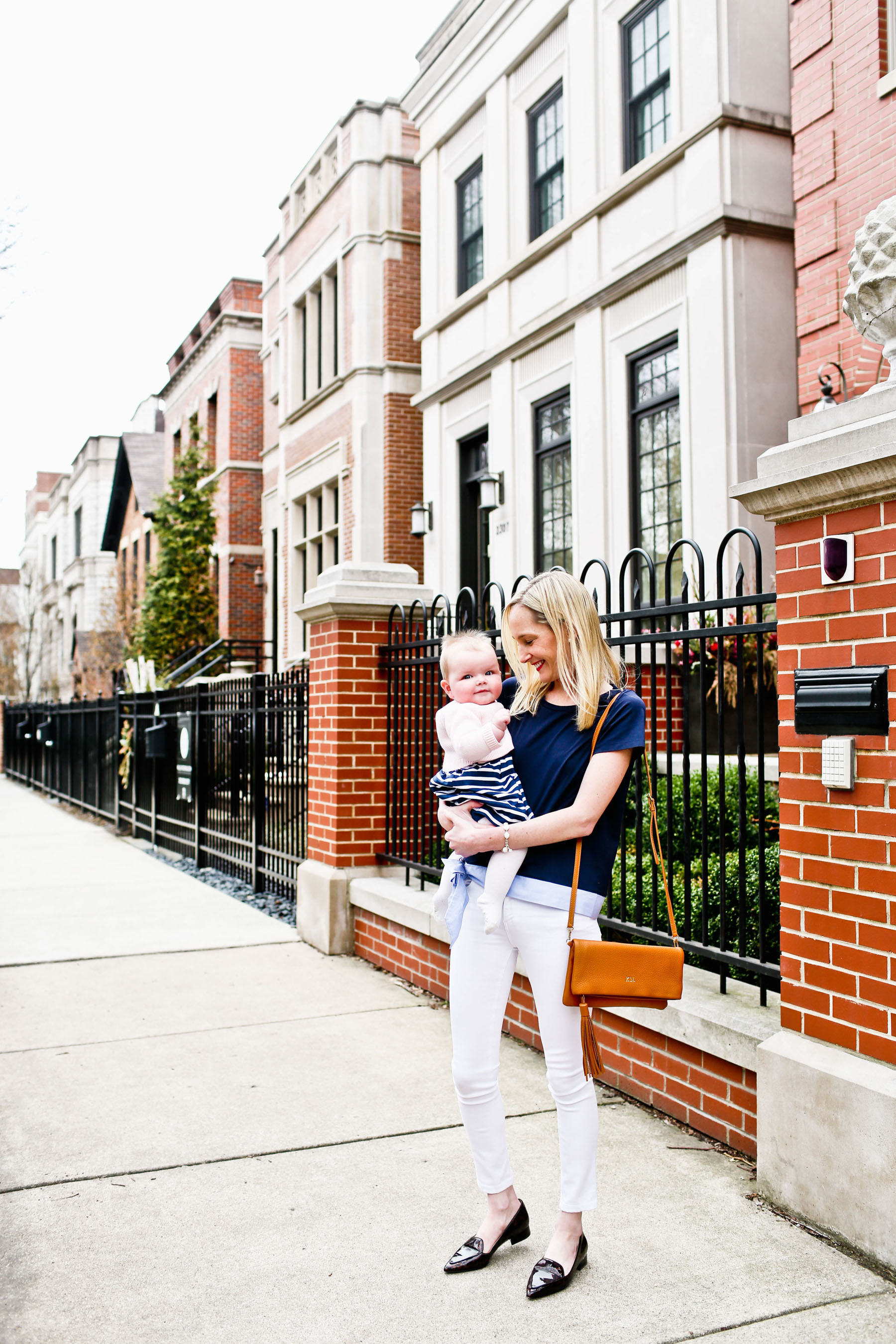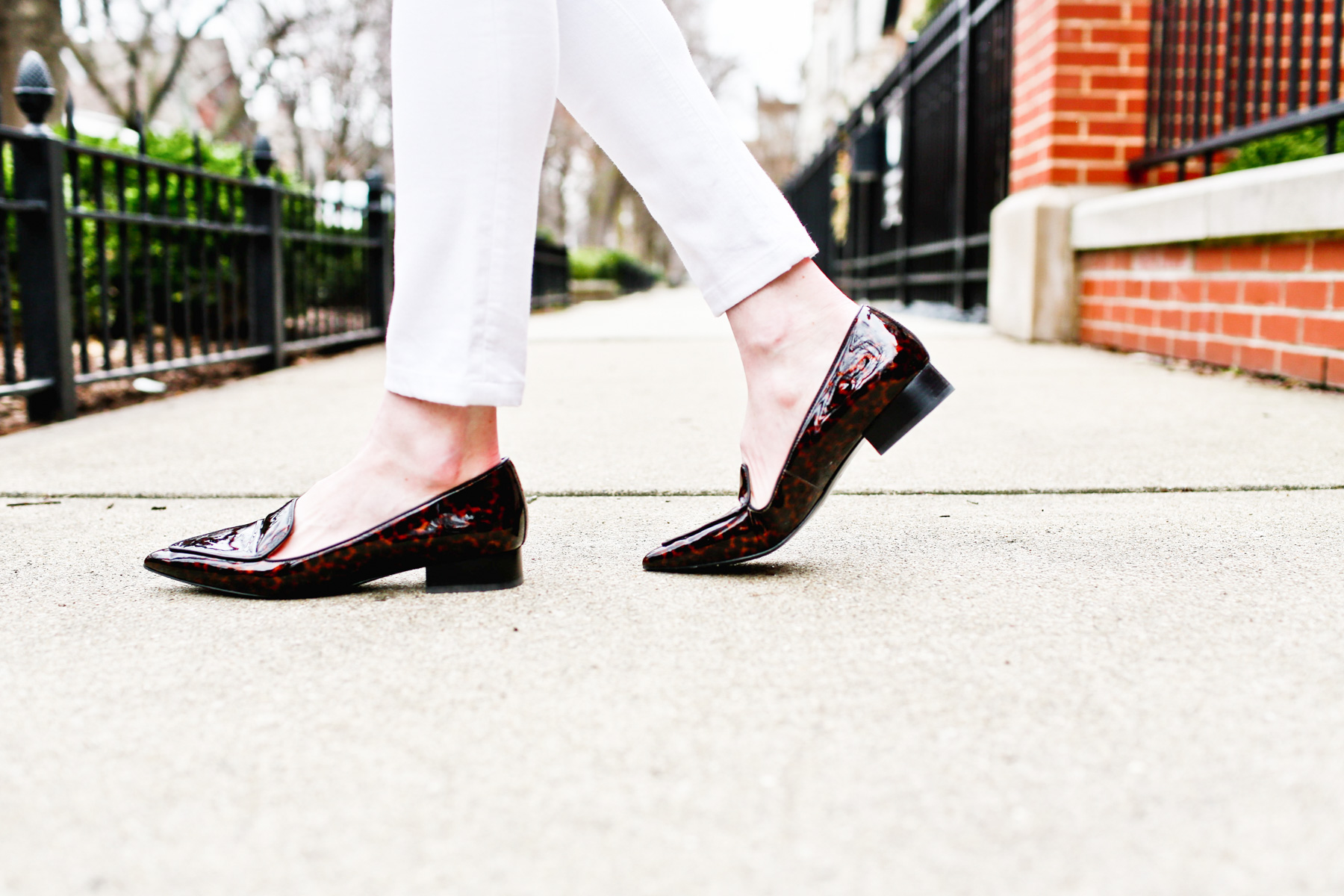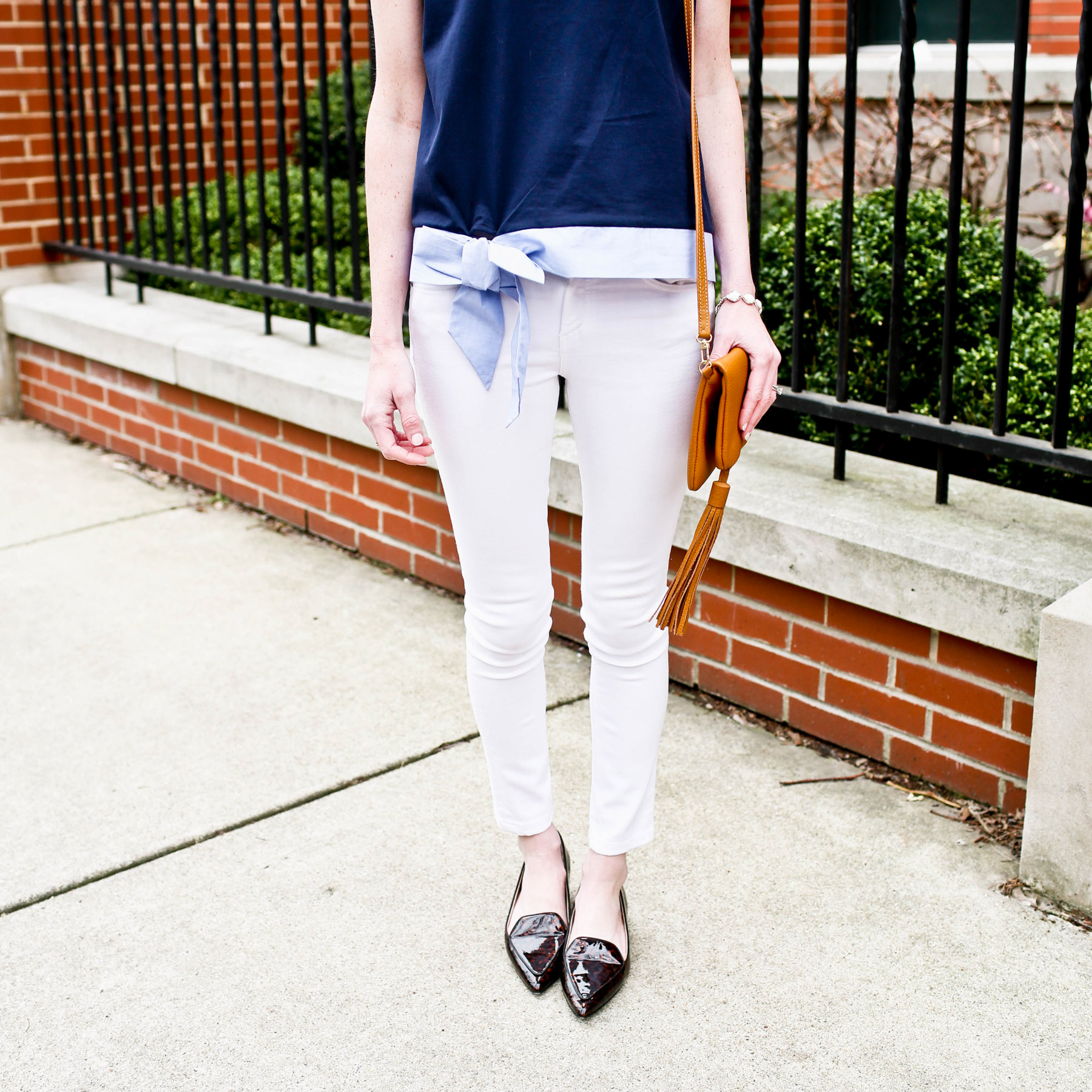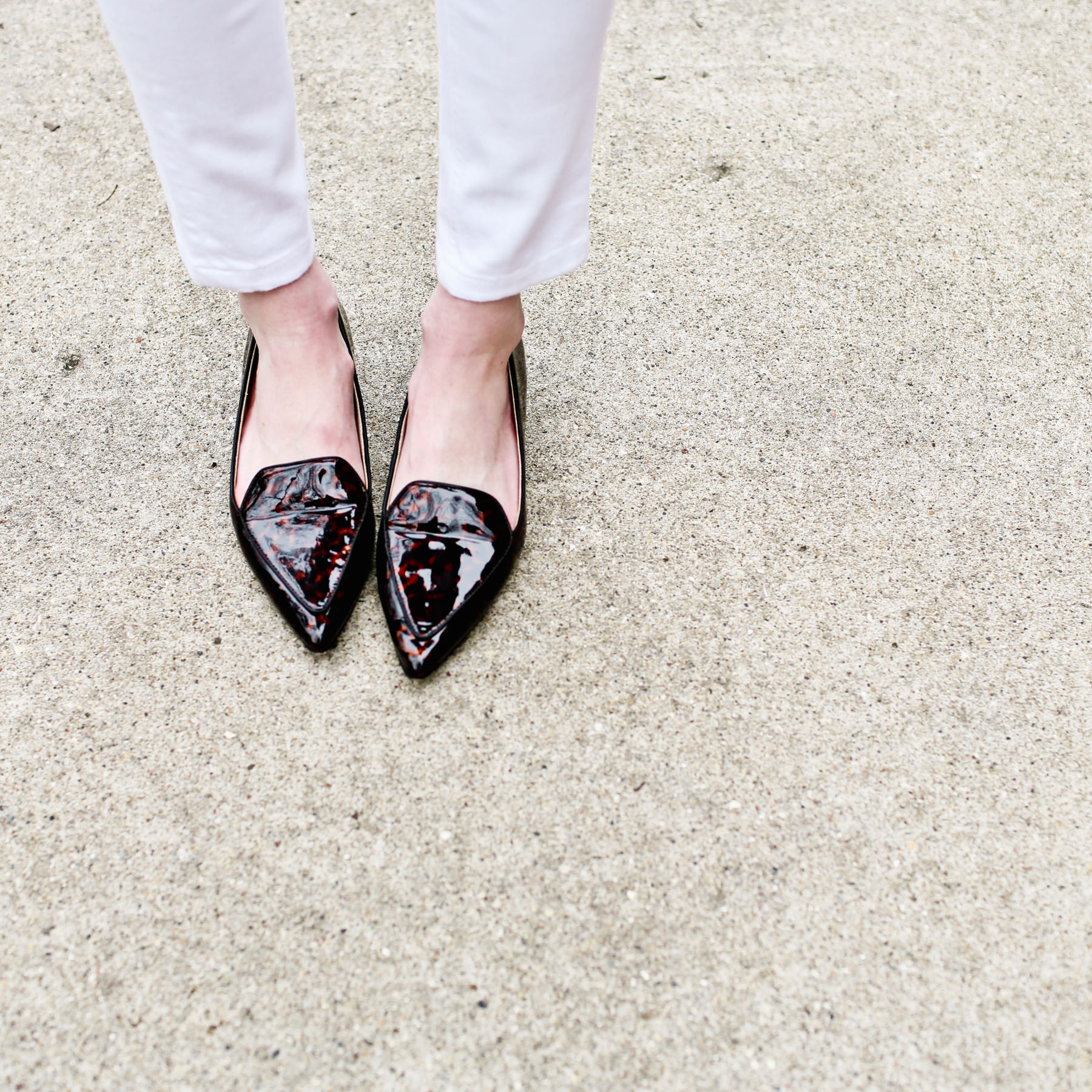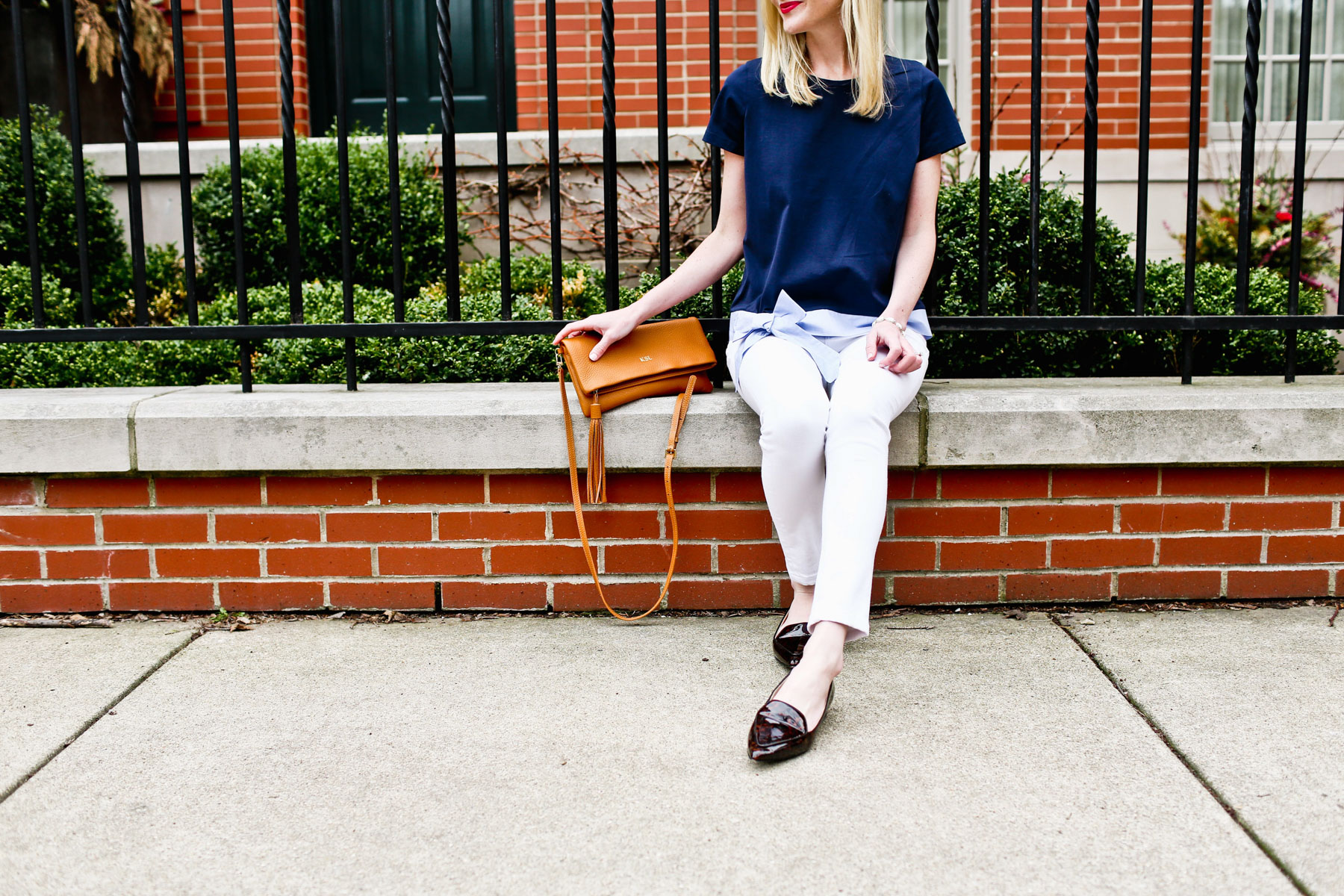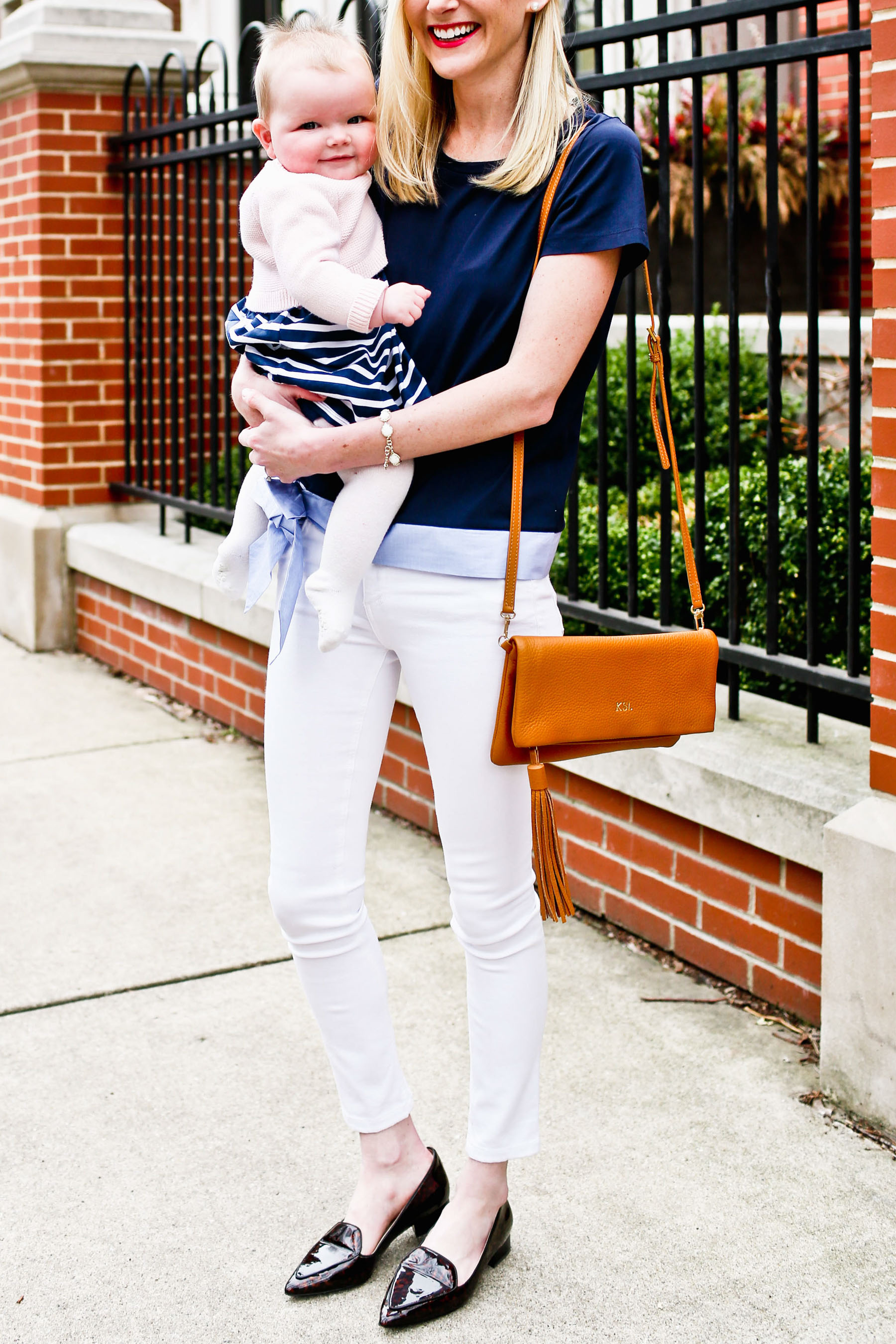 Shop the post:
Tortoise Stacked Heels (BEST. EVER.) / Bow Top (Also available here, and I love this similar ruffled one. This gingham peplum top is also a fave, as are this ruffled chambray top and this ruffled striped sweater.) / White Skinny Jeans (They're an investment, but they're the softest white jeans I've ever owned and they don't stretch out. ALSO: Nordstrom is having a huge sale on Rag & Bone jeans. These are my favorite day-to-day jeans, and these bow-adorned jeans are everything. Definitely considering this pair because I've heard such great things! This pair looks great for day to day as well, and love this lighter wash.) / Gigi New York Clutch c/o (Available here, too. Love this one as well. You have to check out Tuckernuck's new bags. So good!) / Kendra Scott Bracelet c/o
Photos by Cassandra Eldridge. If you read yesterday's post, you know that I love Cassandra to the moon and back. If you're looking for a photographer in the Chicago area, definitely reach out. She's the MOST fun and insanely talented. <3