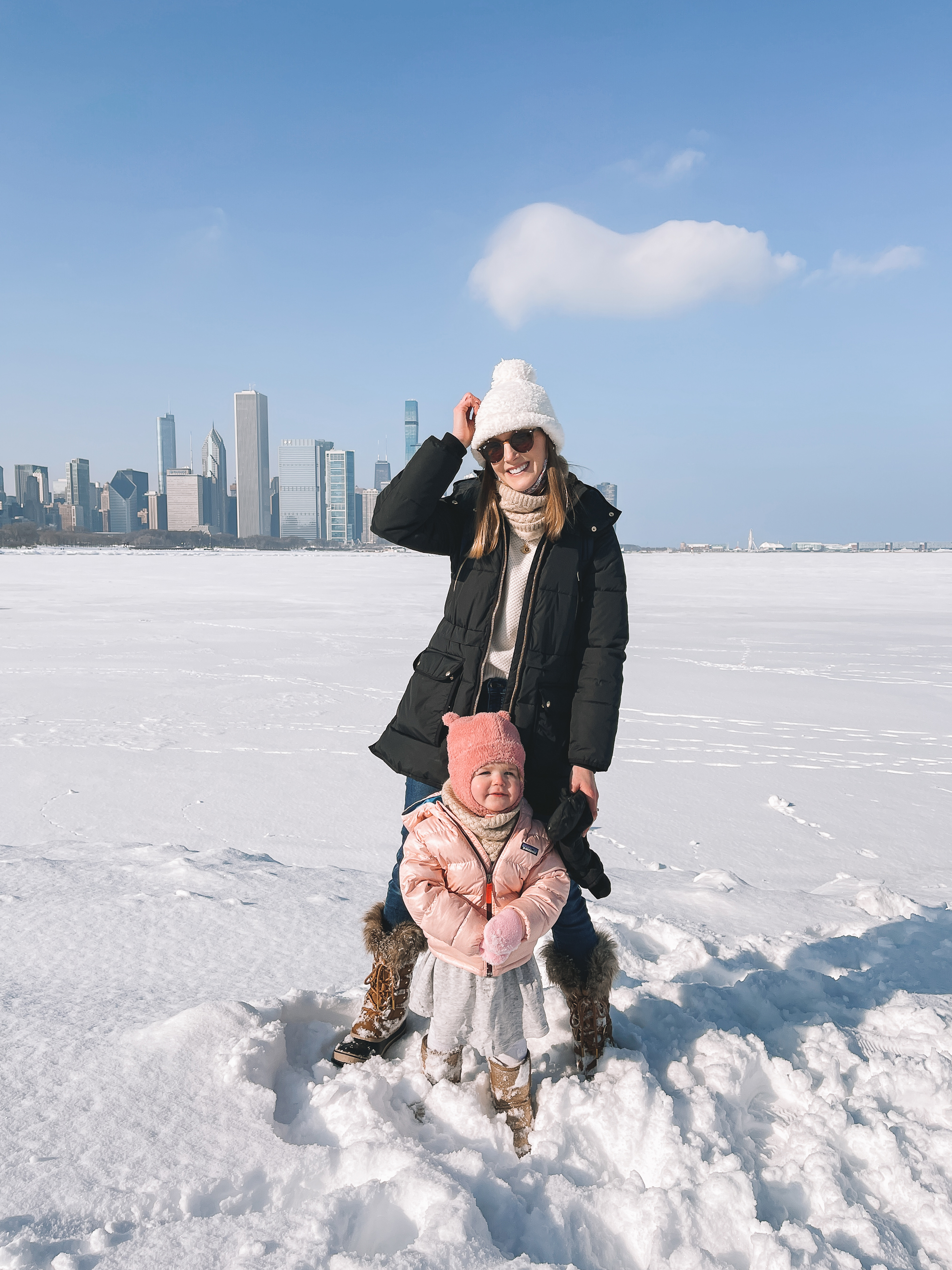 Sorel Joan of Arctic Boots, available at Backcountry, Sorel and Zappos / J.Crew Chateau Puffer / Amazon Snood Scarves / Barefoot Dreams Hat / Little Flower Mask / Mark & Graham Initial Necklaces / Waffle Sweater / J.Crew Factory Cozy Jeans / Patagonia Hi-Loft Jacket / J.Crew Factory Sweatshirt Dress (SO soft! Here's the women's sweatshirt version.) / Ugg Waterproof Boots / Lucy's Hat + Mittens / Sunglasses
Happy March!
I have mixed feelings about March 2021. On one hand, we're back where we started. It's been nearly a full year since we went into lockdown, and that deeply saddens me. I try to be as positive as possible here on the blog, and I do know just how lucky we are. (We really, really are. I'm grateful beyond words.) But a sense of loss is still there for me, and I think that's valid. All lost time with family and friends; all the missed adventures; all the worry and fear… Bah. I'm stopping. Because on the other hand, March 2021 means that we're rounding the corner. We're coming out of the winter and out of the pandemic, and there is so might light ahead! Having a few 30- and 40-degree days here and there has been wildly helpful, too. The sun is out and soon we'll be, too. ;)
I measured my fridge and ordered storage containers. When all of this ends, I just really want to come out of it totally—or close to totally 😉—organized. I know that I shouldn't feel like I have something to show for it, but I can't help wanting to have something to show for it. Of course, "being organized" isn't exactly #dreambig territory, haha. It makes for a happier and calmer Kelly, though. Anyway, the fridge! Ours is a mess. It's clean—I wipe it down every time we get groceries—but everything's all over the place. And I guess I've come to the point in the pandemic where I'm running out of things to organize, so the fridge is my next victim!
Have you heard of Cuddle + Kind dolls? They're ethically produced, hand-knit dolls that help feed children in need. And they're beautiful! Each doll is hand-knit in Peru by local artisans with premium cotton, and one doll = 10 meals. Would make for a wonderful gift!
I started Retin-A Micro and it's intense. HALP. My skin is so irritated! I used it a few years ago, and for some reason my skin didn't react like this. Maybe it's the combination of my skin changing/getting older, the dryness of the winter, and our (improving) humidifier situation. Not sure. Either way, wow. It looks and feels like I have a sunburn. My skin is peeling and breaking out, too. Going to stick with it, though, and simply start using it once or twice a week instead of every other day, and use Olay Retinol 24 in between, which is very gentle and what I normally use. I've been told that this stage only lasts around 10 days, anyway. And it's not like I'm seeing very many people anyway! (Does anyone use it as well? Any tips?!)
Noodle is currently snoring so loudly under my feet as I'm writing this post, and I can't stop cracking up. I've been bringing her up to my office every day and it's been so nice. I put a Mark & Graham dog bed right under my desk because she loves little nooks!
I need to mention again that Kira, one of my very best friends, has moved to Boston! (She runs Kira David Design, and she did the vast majority of our home!) Her Chicago office will remain open and she'll continue to take on jobs here. But so exciting that she'll be taking on clients on the East Coast, too! (She travels and does remote work as well.) Congrats, Kira. LOVE YOU!
I've been having trouble sleeping because I'm waking up hungry. It's definitely because Emma went back to school. On school nights, we aim to eat dinner around 5/5:30 that way we have enough time for baths and bedtime stories before lights out. (The goal is 7 p.m. there.) So I guess I now understand why I caught my parents eating cereal right before going to bed so often growing up, haha!
I've been doing a book rotation for the girls and it's been very successful. This is obviously a good problem to have, but we were DROWNING in books up until recently when I did a big clean-out and donated all duplicates and titles that weren't favorites. I now display five "books of the week" on their play table in the basement—and whereas they used to never take a book off the bookshelf, they now spend a ton of time sitting at the table reading the "books of the week." Such a small change but a big reward.
You need to buy this sweatshirt from J.Crew Factory. It's GREAT. Seriously. It's lined with this wonderfully soft and cozy fuzzy material, and the buttons on the collar make it look pretty sharp for a sweatshirt. It also comes in a ton of colors. There's a little girls' sweatshirt and dress version as well! (The dress is Emma's fave, and it's always in the laundry as a result.)
I stopped wearing eyeliner. I read somewhere that eyeliner on the lower lid can actually make you look more tired. Funny because I always assumed that it would make me look more awake. 😆 Verdicts out on whether I look less tired now—probably not, haha—but it's really nice to cut something out of the beauty routine!
My friend Shaheen is coming to visit this month! I'm thrilled. She and her husband are vaccinated because they're both doctors, so it's going to be quite the celebration. We haven't seen them in over a year so it's going to be quite the celebration! YAY FRIENDS!
Check out Seesaw Society and Monograms on Webster in Chicago for adorable kids' attire. I've been really loving classic clothing for the girls lately. Give me all the Peter Pan collars and scallops!
LUCY IS TALKING. It's finally happening! Right now, she's mostly saying "yes" and "no," though she does sing some lines from Frozen. She also says "daddy" a lot, which is utterly heartbreaking considering she used to say "mama" all the time and then abruptly stopped, haha. Whatever. It's fine, Lucy.
Blue Apron is amazing. We're working with them on some posts, but I'm using the service for a few weeks so I can really experience what it's like and speak intelligently about it. So far SO GOOD. Every meal we've made has taken under an hour to prepare yet it tastes like something from a restaurant. And it's been encouraging us to sit down as a family at the kitchen table instead of eating at the island, which has made day-to-day life so much lovelier. Thus far, A+.
We scheduled a trip down to the lake house. We need to get away! The weather has really been getting us down lately because we feel a bit trapped. It'll be so nice to escape down to Bloomington for a weekend and take some very long mask-less walks without another soul in sight. And, of course, we can't wait to see John, Lisa, Charlie and Shirley!
We made a chore chart for Emma and we can't get over how well it's working. It's actually wild. On our first day of using it, Emma made her bed, got dressed, brushed her teeth and fed Noodle all before 8 am. She's been so motivated and proud of herself, too! At the moment, I'm just using construction paper and stickers to track her progress, but I might use a laminated print-out down the line. (Aren't these little magnets cute?!) As for "rewards," we're letting her pick out a $3-$5 treat on Amazon every week as long as she completes all her tasks. This week she's insanely excited about this strange penguin stress toy, haha.