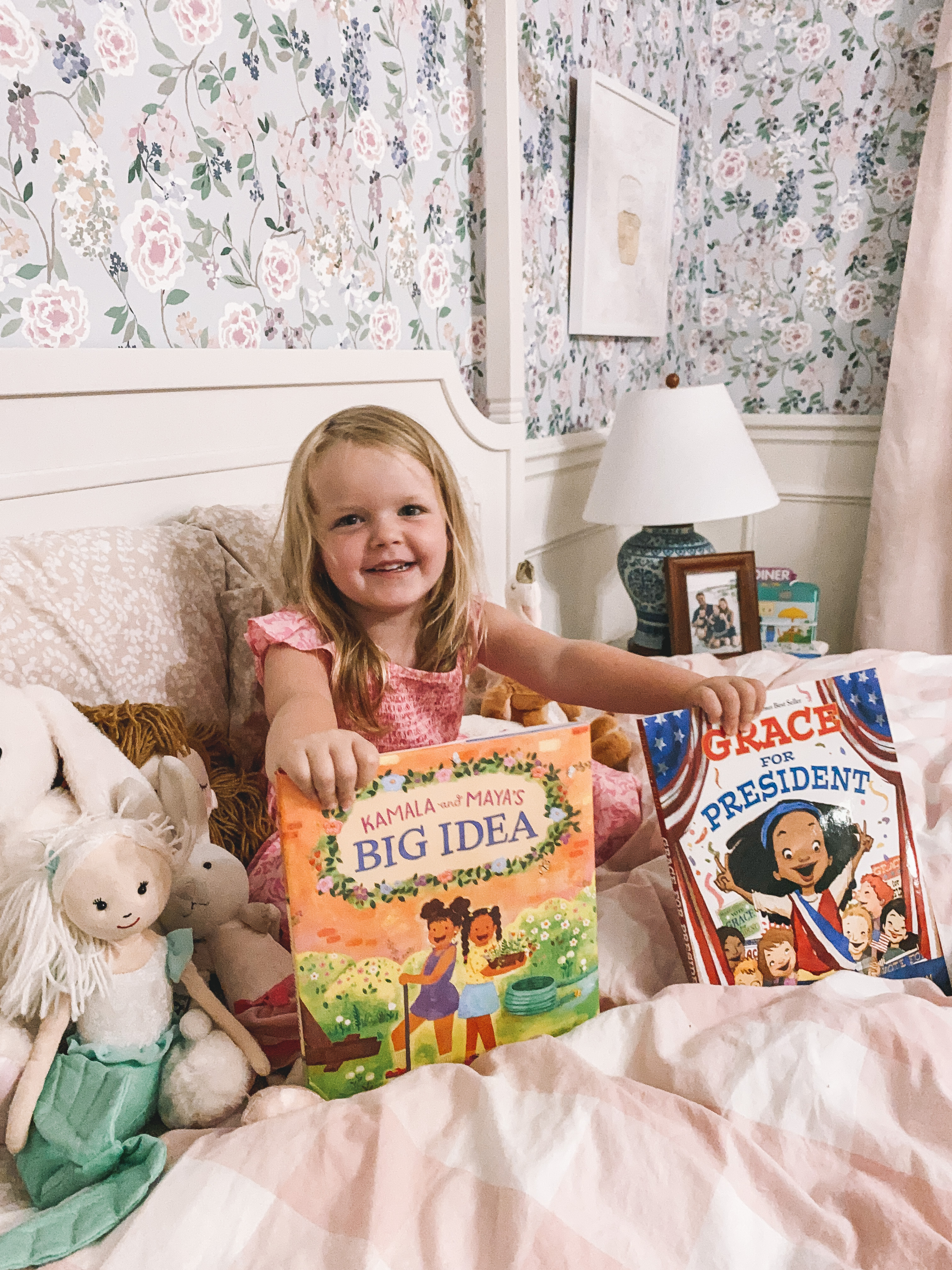 Kamala and Maya's Big Idea / Grace for President / Emma's Room Tour
2020 has been a rough year, but I'm grateful for the lessons it's taught me. One of them has been the importance of continually fighting for the Black community by educating myself; teaching my children to be better; backing great causes; supporting Black-owned businesses; amplifying the voices of Black colleagues, family and friends; diversifying my life; voting; and speaking up.
Over the last few months, Mitch and I worked to diversify our children's library. We spent a lot of time researching and carefully selecting reading material for our daughter Emma, and while it's certainly made a marked impression on her, it's deeply impacted us, too! We'll always have a lot of work to do, but I can't believe how much more mindful we now are. Raising antiracist children should be at the forefront of our minds–forever.
A few things before I share our favorite titles:
These books are the ones that our daughter, Emma, enjoyed most. (In case you're new here, she's four years old and an incoming pre-k 4 student in the Chicago Public Schools system.) In no way is this a comprehensive list, and I know that what resonates with Emma may not resonate with other children. Still, I think a lot of good can come from sharing our favorites. Perhaps parents will discover new books they'd like to introduce to their own libraries, or maybe they'll go down the rabbit hole and find others?! And hopefully we'll receive some recommendations, too. :)
We're moving more slowly with finding antiracist baby books for Lucy. I've tried a few so far but the concepts were too complex for even Emma to grasp, never mind a one-year-old. My thinking right now is what could be most effective is simply making sure there there are diverse characters in our baby books. I'm no expert, though. If you have some insight, please weigh in! (Btw: The books in today's post primarily feature Black characters. That isn't to say that we're not introducing literature that celebrates other cultures; I'll feature those titles in a future post!)
Please consider buying these books from Semicolon, an awesome Black woman-owned local bookstore in Chicago. We've been trying to regularly buy from Semicolon, and we'd love it if you would, too! You don't need to live in Chicago to do so; the company offers online ordering. :)
Also look into Literati. Literati is a children's subscription box that inspires lifelong learning through expert curation. All books are approved by teachers, and so many of the titles celebrate diversity. It's such an amazing service for overwhelmed parents who are living through a global pandemic!
A wonderful reader named Alice says that your local library should have tons of great titles, too. What a great way to "test drive" books before purchasing! I haven't done this yet, but I'm excited to borrow some children's e-books from the Chicago Public Library. Thanks, Alice!
Nervous about getting your child invested in literature that celebrates diversity, tolerance and inclusivity? I feel you. A couple of months ago, Emma really only wanted to read books with Elsa in them. But what worked well for us was a simple "rule": Emma chooses one book during story time, and Mommy/Daddy chooses another book. She found it to be very fair, and became really excited to see what new books were being added to our library. These days, she rarely asks for Elsa books! (I find nothing wrong with Elsa, but I never thought I'd see the day. 😆)
Please leave your own recommendations in the comment section below! I taught English for a long time, but I never taught elementary school… so I'm definitely new to this! Please: share, share, share. Whether it's other books or authors, specific discussion questions, supplementary material, or interesting approaches–let's learn from each other. Thank you!
Okay. Here are our favorites!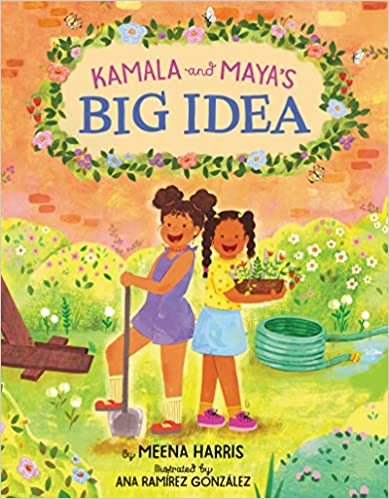 Told by Kamala Harris' niece, Meena, this is the story of a younger Kamala and her sister, Maya, who more than anything wanted to build a playground for the children living in their building. They experience tons of roadblocks, but in the end, they realize that no one can do everything, but everyone can do something. And that's how they're able to make their dream into a reality. This is Emma's favorite book right now. (#1 for sure!)
All of the books featured in this post have sparked fantastic discussion about race and diversity, but this one has probably made the biggest impact on Emma. And while it doesn't directly confront racism, Kamala and Maya's Big Idea introduces two young girls who don't look like her, and portrays them as role models and everyday superheroes. No longer are Emma's crayon drawings all of little white girls; they now include little Black girls, too… and when she plays make-believe, she's often Kamala and Lucy is Maya instead of the normal Elsa/Anna combo. And that's pretty great!