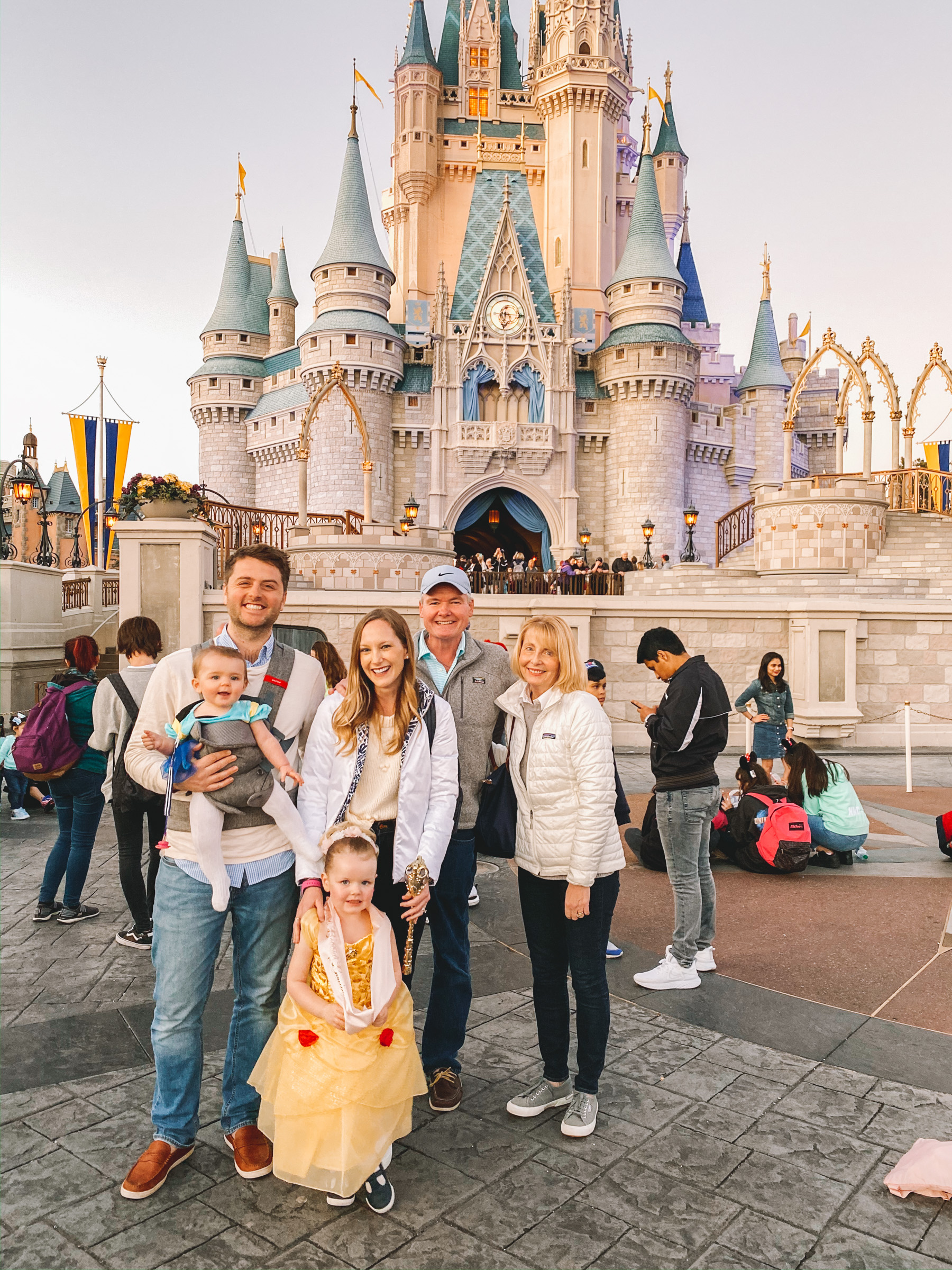 Guys! I'm so excited about today's post, which details our recent trip to Disney World with Emma (age 3) and Lucy (9 months). I'll admit that I was a little nervous going into it considering how young our daughters are, and I wondered whether it would be better to go when the girls were two or three years older. But it was amazing. It was everything we could have hoped and more. So many amazing memories made, and a whole lot of happy tears shed.
Because there's so much information to cover, I thought I would handle this post in an FAQ-like manner. Right under this, you'll find our most-requested topics along with some favorite iPhone photos. (Didn't bring my actual camera because I wanted to be present. The quality isn't the best but they hold the most wonderful memories! ♥️) If you still have questions or want more pics, though, please don't hesitate to drop requests into the comment section at the bottom of this post, and either Mitch or I will be sure to respond. I'm sure I missed some stuff! ;)
Okay, let's get to it!
Why we went
We went to celebrate my parents' 60th birthdays! They were originally planning on going to France, but then decided that what would bring them "the most joy" (their words 🥰) was experiencing Disney with the girls. It was the most heartwarming thing, and we are SO grateful. Love you, Mom and Dad… and thank you. This was a truly magical trip, and we're so glad we were able to experience it with you. Happy 60th!
When we went + for how long
We arrived early evening on Saturday, February 1st, and did the parks on Sunday, February 2nd and Monday, February 3rd. We left the morning of Tuesday, February 4th. (So two full days in Disney.) The first day in the parks was chilly, and the second was perfect.
How we told Emma and hyped it up
My parents were going to tell Emma about Disney over Christmas, but things were so busy that we never found a calm time to do it. (Christmas is exhausting for tots, and we wanted to make sure she could really take in and appreciate the news!) So instead, my parents did via FaceTime one night in January after the holidays were over. To be honest, I'm not sure if she really understood, despite how much we'd talked about Disney in the weeks leading up to it. She was like, "Sounds good. Can I have dessert now?" 🙈 It was a little disappointing for the adults, haha, but we were all cracking up. I mean, she's three, after all!
After we told her, we started watching some YouTube videos on Disney and that seemed to really pump her up. I screened them ahead of time, though, to make sure they weren't revealing too much. ;) Wanted most of it to be a surprise! But this totally worked, and within a week, Disney was all Emma was talking about. And on the morning of the trip, we found her at 5 a.m. like this. Packed and ALL READY TO GO. 😂
Thanks for modeling the stroller for us, Dad!
What we brought + forgot
Mitch and I are of two minds when it comes to traveling with little kids: Less is more, but not having the right gear can wreck a trip. Here's what took along with us… and what we forgot:
Travel Double Stroller: I'm the biggest fan of Baby Jogger. My Lincoln Park mom friends raved about the City Mini GT Double for the longest time, so my parents gave it to us for Christmas this past year. (Though we have the older version. A new one just came out, and it has a storage basket that's accessible from the back! I'm not bitter. 😂) The GT Double changed EVERYTHING for us. It rides like a dream with its all-terrain wheels, and it requires next to no effort to push even though it's a double. (It essentially pushes itself. I don't understand it, but I'm here for it!) It also fits through standard-sized doors, which is a game-changer in the city. Aaaanyway, for Disney, the brand sent us their new travel double stroller to try out–the Baby Jogger City Tour 2 Double Stroller–and it made the trip. I can't recommend this thing enough, mostly because of its tiny footprint and simple design. It folds three times into this VERY compact rectangle, and easily fit on trollies and monorails, and in buses and cars. It's also so robust that it doesn't need a travel bag, which means that we can gate check it without having to worry about it being confused with luggage and sent to baggage claim. Oh! And it almost fully reclines and its footrests pop up, so real naps can actually occur on the go. I will say that I prefer the GT Double for everyday use in Chicago, but the Tour is hands down the best double travel stroller on the market. It made such a big difference.
Baby carrier: This was SO important. Without it, there's no way we could have taken Lucy along on rides and to  see attractions because most don't allow strollers. I don't have a recommended brand, but my personal opinion is that the super expensive versions aren't worth it; the more affordable ones are easier to use. We used this $25 one from Amazon and it was great. (Note: Several Infantino baby carriers were recently recalled, so maybe avoid those.) I also don't like having Lucy in the stroller for long periods of time because we went through Plagiocephaly and I'm sensitive about her head!
Car seats and carrying bags: I have the greatest parents in the history of the world, and they checked their carseat for Emma to lighten our load. (We left ours in our car at the airport.) Normally, though, we do take it along with us for trips, and check it in this awful travel bag. And sometimes we forget it and send it through with zero protection and it's get hella dirty, haha. Either way, I can't really recommend the travel bag because the quality is poor… but it's better than nothing and I haven't found anything else that isn't cumbersome and unwieldy. We once explored toddler travel car seats but then we got overwhelmed. Any recommendations?! As for Lucy, we take along her carrier, which also functions as her car seat, and toss it into a second horrible travel bag. What's nice about her specific carrier/car seat is that you don't need to bring the base if you're traveling in the U.S., as you can install it in cars with American seatbelts. Very helpful!
Baby bag: I use this large squishy MZ Wallace Metro Tote for a baby bag because it fits in tight spaces, like under airplane seats and under strollers. It's also machine-washable! (I don't think the company advertises that, but I've thrown mine in the wash on a weekly basis for years and it still looks brand new.) MZ Wallace just came out with a deluxe version of the tote, with lots of additional pockets and a little slit to slide it onto the handle of your suitcase… and I'm VERY interested in upgrading because I think the new features will make things even easier for us. Regardless, I'm a huge MZ Wallace fan for baby + travel; nothing else I've tried has even come close to it! Bonus: Mitch doesn't mind carrying it.
Backpack: I also carried an MZ Wallace Metro backpack into the parks. I specifically used the smaller City Backpack (available via Nordstrom in navy) and it was perfect for bringing essentials onto rides and into attractions, and for times when I wanted to be hands-free. The small size also makes it pretty cute! (The "Small Metro" is even smaller, btw.) I am, however, interested in getting the larger Metro Backpack. It obviously is very much a backpack… but would be really nice for times when we're totally sans stroller and therefore without the baby bag, too. (Note: Nordstrom carries a ton of MZ Wallace, including the Metro Tote!)
Snacks + Water: Disney lets you bring in your own food and drinks. So I loaded the baby bag up with all sorts of stuff so we didn't have to buy it on-site. (We stopped at a pharmacy on our way from the airport to Disney. Highly recommend doing this!)
Disney Gifts: Before the trip, my mom and I Amazoned a few special Disney treats for Emma. They weren't anything crazy, but Emma LOVED the gifts, and because we gave them to her before entering the parks, she never once asked for anything she saw in there. This $15 Cinderella Barbie was a huge hit because of Cinderella's castle in the Magic Kingdom!

Princess dresses: I don't remember children dressing up when I visited Disney as a little girl, but they TOTALLY DO NOW, and chances are high that your kid will get FOMO when they see the outfits. Disney will rip your eyes out for them, though, especially if you go to the Bibbidi Bobbidi Boutique. (More on that below.) A friend recommended that we Amazon a bunch of dresses ($15-20 each), and then let Emma choose whichever one she liked best and return the others later. (Bibbidi Bobbidi Boutique welcomes you to bring your own dress, btw!) In case you're interested, I've included the dresses we own above. Emma wore her old Elsa dress on the first day, and then chose this Cinderella Dress (so cute with the rickrack!) for the second day. (Though my parents gave her a Belle dress, too, so she ended up wearing the Cinderella outfit for a hot 30 minutes. 😂) Lucy wore this Anna dress the first day, and then the same Cinderella dress the next. Our favorite dresses are from this listing, and I have major regret over not bringing along this beautiful Belle dress (or this one), haha.
Autograph book + crayons: Again, very expensive in Disney, but not so bad in the real world! Here's an Elsa one, btw.
Ears: My friend at The Printcess Co. (via Etsy) sent Emma the most adorable Frozen-inspired ears, and I was AMAZED at the quality! Such a great gift for littles. Here are some really affordable ones on Amazon, too!
Sunscreen, hats and sunglasses: Amazon all of that beforehand! Very expensive in the parks, and not always easy to find. We forgot sunscreen one day and wandered around looking for it for a while.
Changes of clothing: Because accidents happen.
What we forgot: I do wish we'd brought along our favorite clip-on chair for Lucy. I'm pretty sure it would have fit under the stroller, and it would have made our restaurant experiences a LOT nicer! (Lucy is relatively good in a highchair, but she's FANTASTIC in her chair.)
How we handled naps
This was one of our most-asked questions re: the trip!
We decided to have the girls nap on the go, since  returning to the hotel for naps would've eaten up half the day.
I'll start by saying that Emma and Lucy are city girls through and through, and they've grown up accustomed to napping in strollers. That said, not all strollers are created equal in this department and some can make travel MUCH easier! Over the years, we've been able to test out quite a few setups, and by FAR, the best strollers for naps have been the two we own from Baby Jogger: The City Tour 2 Double (travel) Stroller + the City Mini GT Double (which we use for everyday life).
Both strollers allow for the near-flat reclining positions and their footrests come up, so kids almost feel like they're in a bed. SO NICE. Both Lucy and Emma passed out for hourlong naps in our Baby Jogger every day! (I do, however, recommend the City Tour 2 Double for Disney, for the reasons I outlined in the "What we brought and forgot" section of this post. So small!)
Anyway, we were happy with our decision to have the girls nap in the stroller. Were their naps the best? No. Were they exhausted at the end of the day? Yes. But it was very much worth it!
Tip: If your kids aren't accustomed to napping in the stroller, try practicing before you leave for Disney! Weekends are a great time to experiment; I'd try doing a high-energy activity, like visiting a museum or going to a play house, and then taking them on a long walk in the stroller. If they're toddlers, tell them that they're going to close their eyes and nap during the walk because they're practicing for Disney World. They'll likely be less resistant once they get to Disney if they get used to the idea ahead of time!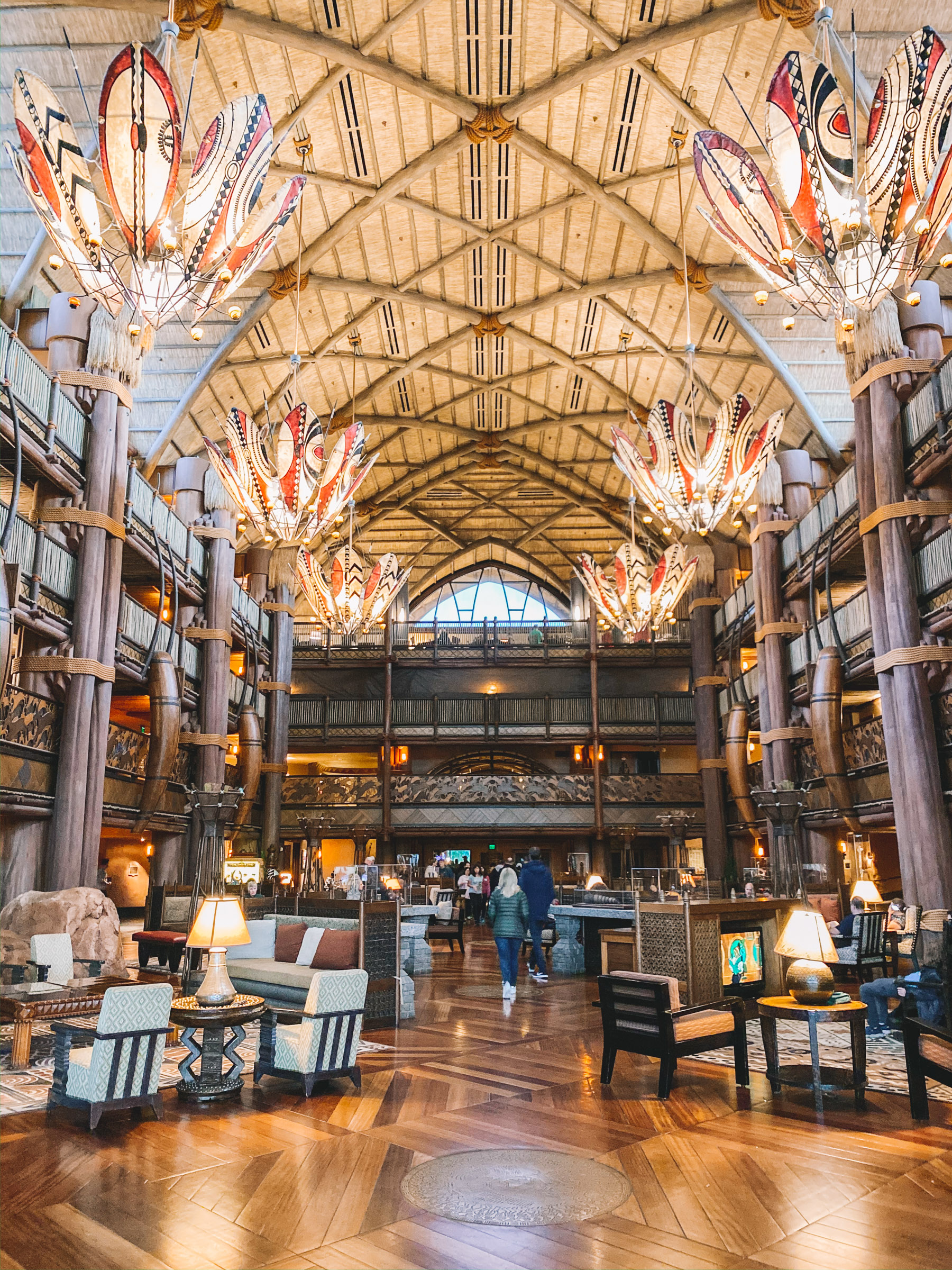 Where we stayed
We stayed at the Animal Kingdom Lodge, which was great because the hotel had suites with kitchens and living rooms available at the time of booking. (We also didn't plan on spending a day in the Animal Kingdom Park, so it was nice to stay there and get a little taste for it!) Had we gone with traditional hotel rooms, we all would have been forced to hit the hay relatively early because of the girls. (We didn't stick to their bedtimes but still.) With the suite, though, we were able to hang out after we put the kids down, which was so lovely! We could also run Lucy's bottles through the dishwasher, and soiled clothing through the washer/dryer. So convenient.
The Animal Kingdom Lodge was totally different than anywhere else I've ever stayed in Disney, and the girls loved being able to stroll around and see animals on the property. Mitch also loved all the African restaurants, because, you know: "South Africa Mitch."
My mom would like to note, however, that we had a tough time with the restaurants at Animal Kingdom Lodge, and because they were always booked for the entire night, she would have liked to have been within walking distance to other hotels, restaurants and/or parks. (Several years ago for my grandmother's birthday, we stayed more central at either the Beach Club, Yacht Club, or Boardwalk–within walking distance of Epcot!–and it was phenomenal… especially since there were so many people in our party and we all did things at different paces. I just texted everyone in my family, though, and no one can agree on which hotel we stayed at, hahaha. But they're all pretty similar: beachy and beautiful, for sure! We're the worst. Or the best, depending on how you look at it? 😉) Anyway, Animal Kingdom Lodge is off on its own, a bit more removed from the action, and inaccessible by monorail.
That said, we still think it was a very fun experience staying there, and the buses were reliable and actually very fun! (More on the Disney transportation system below.) We were also insanely impressed with the service. Disney does things right. One night, Lucy was teething and inconsolable at 1 a.m., and we ran out of Tylenol. The shops were closed, but the front desk unlocked one just so we could get the medicine. I mean… so nice, right?! Oh! And the day after we left, we got a notification on our Disney apps that we'd left something in our room. It turned out to be my travel steamer–which in my defense had the same coloring as the coffee machine and therefore blended in 🙈–and Disney mailed it to our home in Chicago automatically and free of charge! Like, what? So thoughtful! (Obviously they do this so people will feel and say exactly this but whatever. I love it, haha.)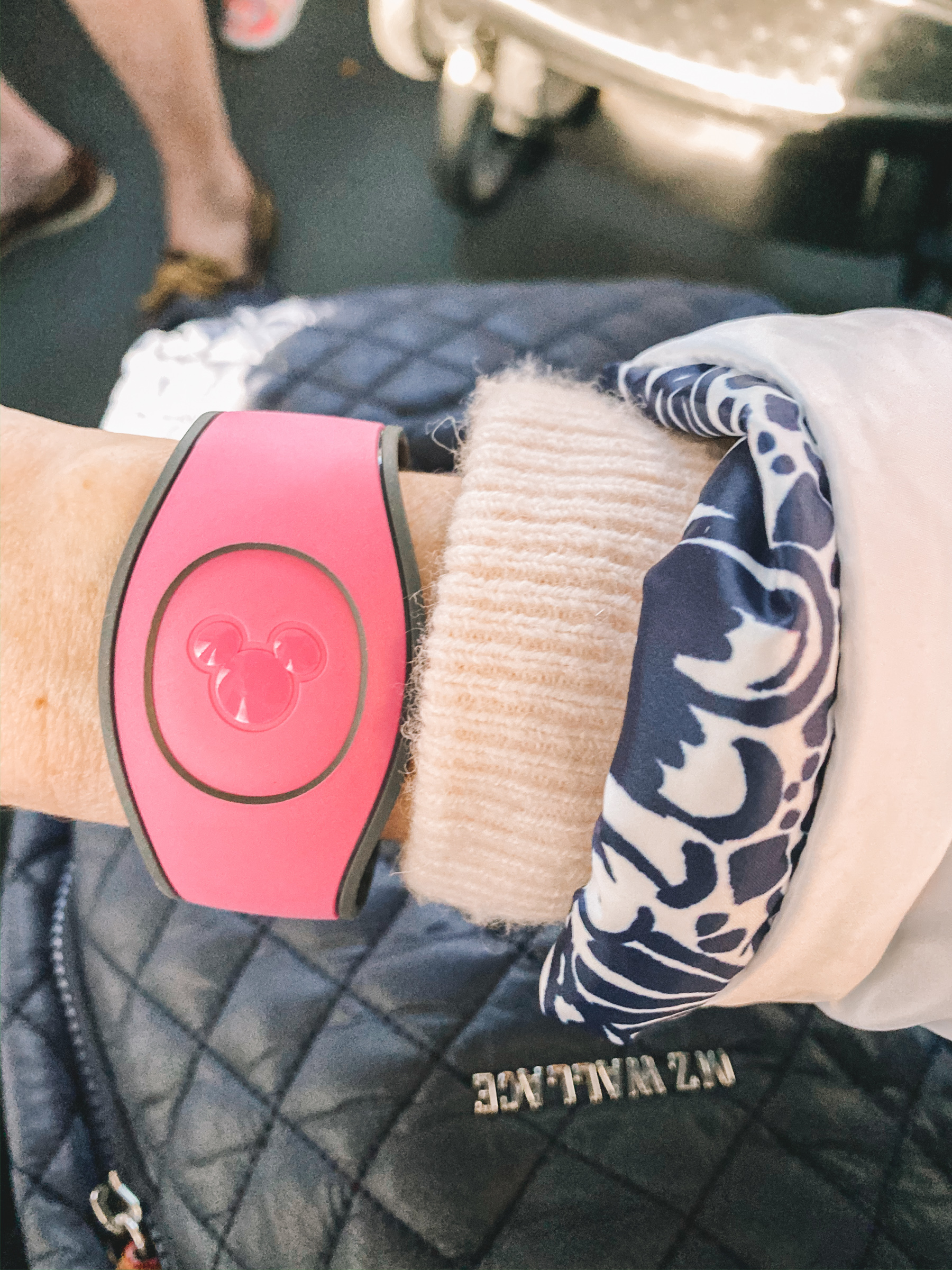 Tickets, Magic Bands + PhotoPass
My dad got "Park Hopper" flexible tickets because we wanted to do kid-centric parks during the day and Epcot at night for the restaurants and strolling around all the countries in the World Showcase. The tickets were more, but Epcot was amazing, and a ton of our best memories were made there! Very grateful we had them.
These days, Disney doesn't give out paper tickets. Instead, they either give you cards or little bracelet watch things called Magicbands. So cool! The Magicbands are given to guests staying at Disney Resort hotels or who are Walt Disney World Annual Passholders. You can also purchase them online if you think they'll make your Disney trip nicer yet don't qualify for complimentary ones. We LOVED them. We used them to unlock our hotel room, enter the parks, check in at FastPass+ entrances, connect Disney PhotoPass images to Disney World iPhone apps, and charge food and merchandise to our hotel room.
And let's backtrack to the Disney PhotoPass, because it's potentially awesome. Professional Disney photographers are stationed all over the parks, and they take pics of you and your family (with your permission), and then zap them over to your Magicband and into your Disney World app. There, you can scroll through them at any point and decide whether you'd like to purchase.
One bummer is that there seemed to be only two options for us in our Disney World app: Unlimited downloads of all the photos ($199.99) or Unlimited downloads of photos from one day ($69.99). We were only there for two days, so obviously the better price is $140 for all the photos… but I still feel like that is STEEP, especially considering we were only talking about 65 photos. (I wish there was an option to buy individual photos!)
Of course, I did not make those photographers work, haha. We easily could have sought them out throughout our trip and had them take tons of pics for us… in which case, perhaps $140 or $199.99 would have made more sense! And I do think the price might be worth it for families who perhaps are visit Disney for a week. Regardless, it's a nice option if you don't want to tote around a camera yet want professional images. (Or if you want to be IN your family pics instead of behind the lens! 😉)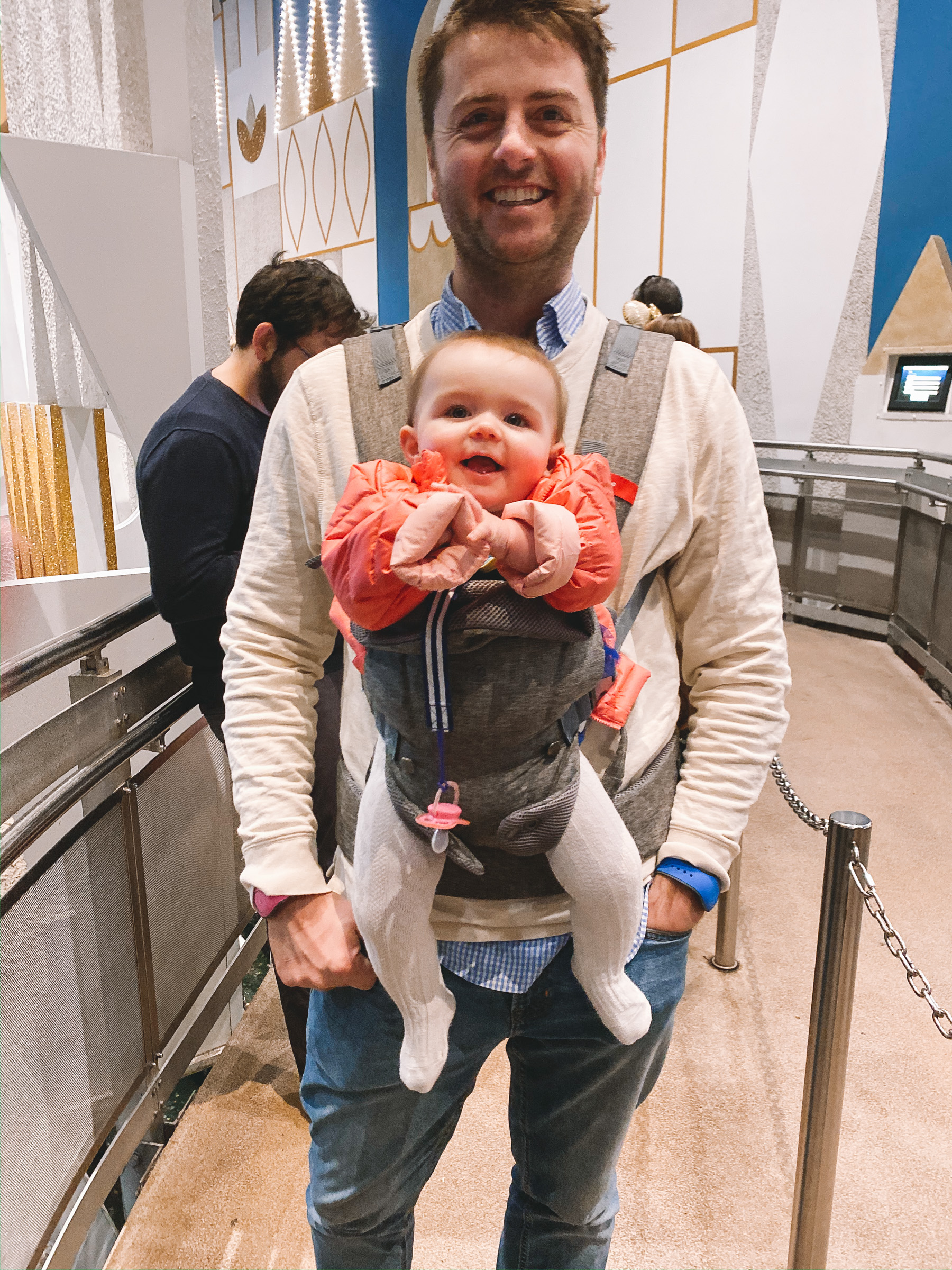 Planning, Schedules and FastPass+ Reservations
I cannot stress enough how much of a difference a little planning makes. The Disney World website is spectacular. VISIT IT before you go, and download/surf around the Disney World app, too. They're wonderful, easy-to-use tools that make everything very straightforward. They'll help you figure out what you want to do and how to do those things while you're visiting!
Developing a loose schedule is also legit. I'm not a planner by nature, and I've never been someone who wants to PACK IT ALL IN during trips. (Less is more, in my opinion; I want to enjoy our travels and not be stressed!) But having a plan was fantastic. We never wandered around the park aimlessly, and I felt like we really got the most of our Disney experience without suffering from FOMO. That might sound silly, but Disney World is vast and there's so much to see and do. You could spend a month there and not hit everything… so it's completely understandable while people get overwhelmed and feel unfulfilled while they're there! But looking at the rides and attractions before we arrived in Disney World helped us to avoid this, as we'd decided on what stuff fit our family best ahead of time.
The most valuable information we learned from the site and app before arriving at Disney? FastPass+ reservations for rides and attractions can be made up to 30 days in advance of your trip. And if you're staying at a Disney Resort hotel, a Disney Springs Resort Area Hotel or at another select nearby hotel, you can make your FastPass+ selections up to 60 days prior to check-in. My dad went ahead and booked our three FastPass+ reservations for each day, and he was able to get us into all the hottest rides/attractions for little girls. It was phenomenal. Thank you, Dad! (Seriously: Dad wins Disney. He's the best.) And not only was is wonderful not having to wait in hour-long lines (which the girls could not have handled at their ages), it also forced us to plan our days!
One thing to note, however, is that you can only make FastPass reservations in advance at ONE park per day, so that's fairly limiting if, for example, you're set on spending the day in the Magic Kingdom and then going on the very popular Frozen Ever After ride in Epcot at night, haha. We got around this by running Emma over to the ride five minutes before closing. No line! Girlfriend was tired the next day but she took a three-hour-long nap on our way to Captiva, so we're glad we did it. She was so happy.
Still, I wouldn't be afraid of ALL lines, even if you have little kids. We felt that 20-30 minute waits were totally doable for the girls if we brought along the baby carrier for Lucy, and some lines were actually really fun because they were somewhat interactive! The Little Mermaid ride in the Magic Kingdom, for instance, was very entertaining! So much for the girls to see and touch.
Oh! An interesting story: Our friends here in Chicago recently won a trip to Disney (amazing, right?) and they said that they brought their loose schedule to the concierge and their Disney hotel every morning, and the team made suggestions and tweaks to it. They said it made their trip because the experts told them what could make things easier and better for them. One suggestion that the concierge had was getting to the parks when they open, or when the "rope drops" as they say, and then heading straight to a popular ride that normally has a long wait. So our friends high-tailed it to the Peter Pan ride when they got into the Magic Kingdom, and only had to wait for five minutes as a result. This allowed them to use their three FastPass+ reservations elsewhere later in the day.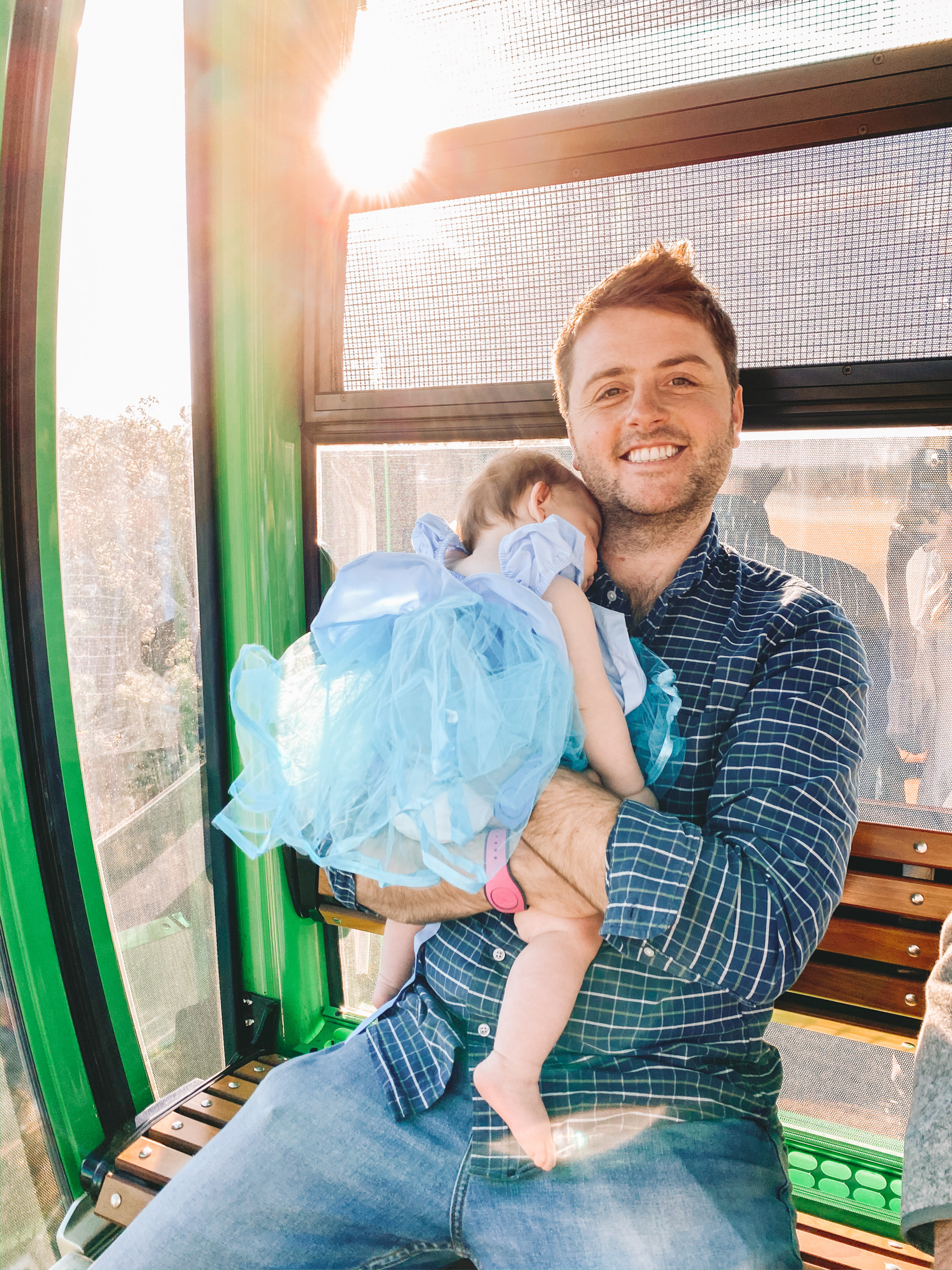 How we got around
My parents rented a Suburban because the Larkin Family doesn't travel light… but also because we were driving to Captiva after Disney. We only used the Suburban to get from the hotel to the hotel throughout our Disney stay. For park transportation, we relied on the buses, train, monorail and gondolas. No issues there whatsoever! I would not say that you need a car if your hotel gives you access to the Disney transportation system. Frankly, riding it was enjoyable and totally added to the experience! We LOVED the gondolas, as we got to see a lot of the parks from the sky… and oh my gosh. One day on the bus, the driver stopped everything to make a big announcement that a beautiful princess (Emma) had just boarded… and then everyone clapped and Emma loved it and I cried. (I did a lot of that.)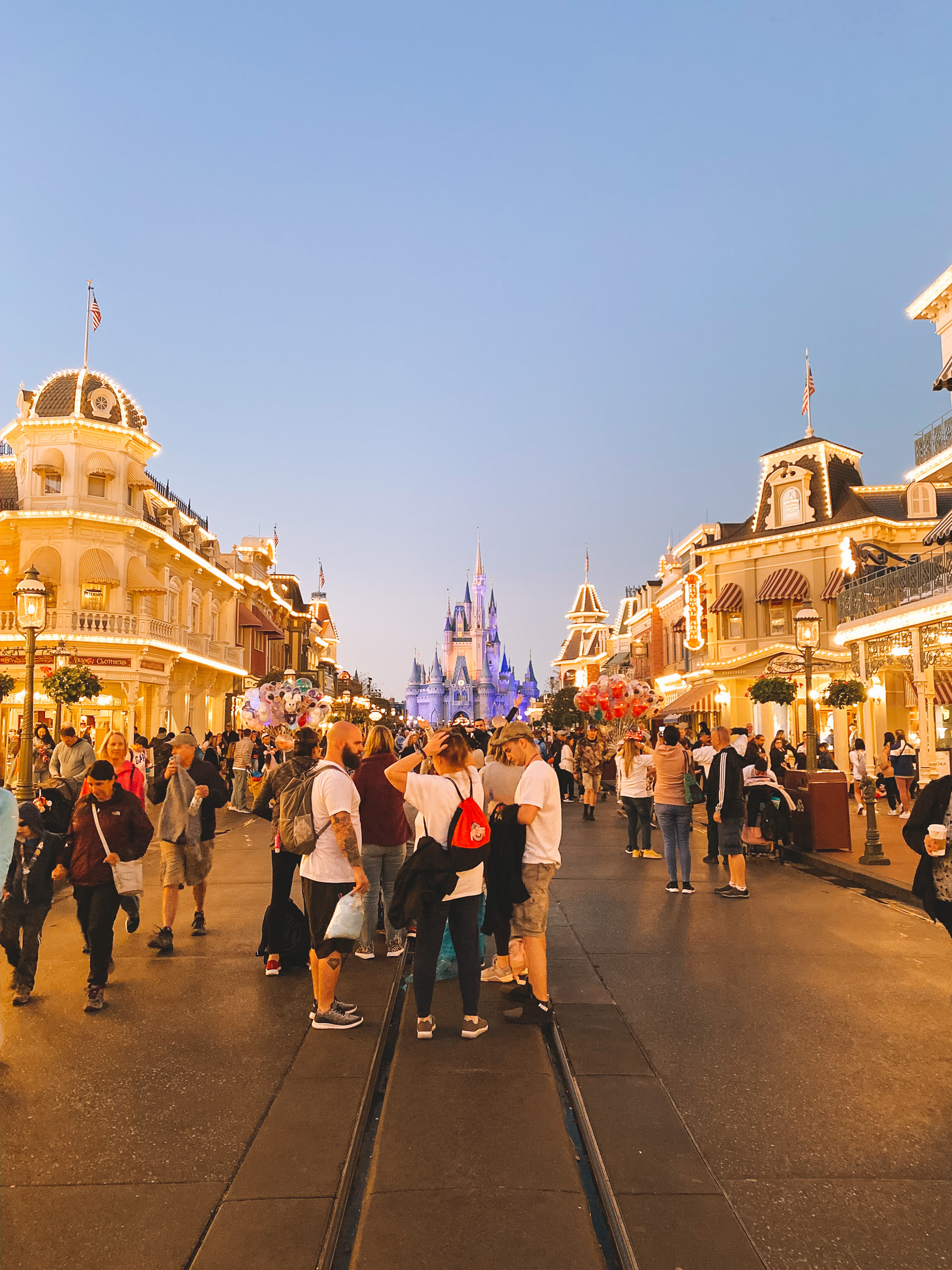 Our "schedule" + favorite rides and attractions
Our philosophy with the trip was quality over quantity. We really wanted to remember that Emma and Lucy are very, very little… and they tire out easily. So we only scheduled a handful of events, but we did randomly catch some additional ones when the girls were up for it! Overall, we were SO happy with how the trip went… and I can honestly say that I wouldn't have changed anything! I'm 100-percent sure that we missed some stuff that the girls would have enjoyed, but they LOVED Disney. They were so happy, and that's all that matters, right?! (That said, please let us other people know about rides and attractions your family loved in the comment section below! Every family and Disney experience is different so I'd love for people to weigh in!)
Here's a quick rundown of everything we did:
Day 1:
 Arrive at the Magic Kingdom: We caught a parade marching down Main Street shortly after entering the park, so we watched that, and then we watched part of a show that was happening on the steps of Cinderella's castle. Emma loved it because when when tuned in, Tiana (from The Princess and The Frog) was singing and dancing… and she loves Tiana because my brother lives in New Orleans and that's where Tiana is from!
Small World ride in MK: We had a FastPass+ reservation for this. With the reservation, it cut our wait time down to 10 minutes, whereas the regular line was over an hour long. Small World is great for families with young children; even Lucy got a kick out of it! (Plus it was sentimental for the adults, as we all loved it growing up.)
Little Mermaid Under the Sea ride in MK: Another ride that's perfect for little kids. You climb into a little pod, and then ride through the "ocean." Lots to look at! Emma was a little scared during the Ursula part, but she was super proud for "being so brave." Lucy was a fan, too.
Snack at Gaston's Tavern in MK: See the "Where we ate" section below.
Rapunzel's Tower in MK: This is really just a rest area, but Emma loved seeing Rapunzel's Tower (even though you can't go inside). At night, Disney releases floating lanterns here, just like in the movie. (But we missed that.)
Lunch at Liberty Tree Tavern in MK: See the "Where we ate" section below.
The Enchanted Tiki Room in MK: This is kind of stupid, but my parents always thought this was hilarious when we were growing up, so we brought the girls. Emma thought it was boring; Lucy was SQUEALING with delight so we were cracking up. Very quick show and there wasn't a line.
"Frozen" show on the steps of Cinderella's castle in MK: We also randomly caught this; we RAN to the castle when we heard the first few notes of "Let it Go." I cried again. I'm crying now just thinking about it. Mitch put Emma up on his shoulders so she could see, and her eyes lit up the moment she saw Elsa. Amazing!
Bibbidi Bobbidi Boutique in MK: I'm nuts. But it was worth it. See the "Bibbidi Bobbidi Boutique" section below because it deserves all the paragraphs.
Fireworks in MK: Caught these on our way out! Emma was wearing her new Belle dress and she thought the fireworks were for her. It was extra magical!
Train out of MK to Epcot: This was very easy. The train is located right outside of the Magic Kingdom, and we were at Epcot within about 10 minutes.
Dinner at Chefs de France in Epcot's World Showcase: See the "Where we ate" section below.
Fireworks Show at in Epcot's World Showcase: We saw these as we were leaving the park. They're CRAZY! Highly recommend seeing them. They happen every night when the sun goes down, and they're so much more than just fireworks.
Day 2:
Arrive at Hollywood Studios: I need to admit that I didn't know that Hollywood Studios was part of Disney. 🙈 I must have confused it with Universal Studios. But Hollywood Studios is what they now call MGM, in case you remember that! Really fun, but I was deeply disappointed that the "Honey I Shrunk the Kids" playground closed in 2016. I suppose it was too dated. SADNESS, haha!
Beauty and the Beast Show: We had a FastPass+ for this. It was SO GOOD! It was like a mini Broadway play, and the actors were spectacular. I can't believe that they do this multiple times per day… and I really hope that many of them actually go on to Broadway because wow!
Hula hooping: While we were walking around, we came across a little hula hoop station. We played there for at least a half an hour. The girls were in heaven!
Lunch at Pizzerizzo: See the "Where we ate" section below.
Star Wars Galaxy's Edge: We wandered through the new Star Wars area for a long time because my dad and Mitch are big fans. I didn't think the girls would like it, but we really did! It honestly felt like you were stepping into the movie, with markets that looked JUST like the real thing and StormTroopers or whatever they're called roaming around and barking commands and funny jokes at people. (They're a riot. Try to stop and talk to them.) Dad and Mitch really wanted to go on the new ride but unfortunately they couldn't even get a FastPass+ restoration for it, and the line was something like 1.5-2 hours long. So they skipped it, but Mitch did run back and go not he Smuggler's Run Star Wars ride on his own while we were getting ice cream. Anyway, the Star Wars area is definitely worth a visit even if you aren't a fan! Very impressive.
Toy Story Land: This was a little overwhelming, haha. I felt like I was stepping into a toy box. Things were CRAZY! Very busy and just a lot going on. We waltzed through because the girls were napping, but it looked like there was a ton of stuff in there that little kids would like. The Slinky dog rollercoaster was pretty adorable. When Emma woke up and saw it, she screamed, "NOODLE TRAIN!"
Smuggler's Run ride (Mitch only): I don't know much about this, but Mitch liked it. ;) Probably appropriate for kids a little older than Emma, though.
Mickey Mouse Pops: See the "Where we ate" section below.
Frozen Singalong Celebration: This was incredible! Definitely my favorite part of Hollywood Studios. As you probably know, Emma is a Frozen fanatic, so she was frozen (haha) in awe throughout the entire show. First, it's VERY funny. The adults were cracking up; the two "hosts" that led it were downright hilarious. (Nice, because otherwise a Frozen singalong sounds like every parent's nightmare.) Second, the special effects were impressive. The last scene where Elsa appears and ices over the room was so cool! Snow even fell from the sky. Lucy also couldn't get enough and loved every second. Again, squealing with delight. Loved all the songs!
Gondola ride to Epcot: This was unexpected and so memorable! We folded up the stroller and hopped on the gondola to quickly go from Hollywood Studios to Epcot. Emma loved looking down on all the parks, and it was really nice to stop and rest for a few minutes.
Rose & Crown British Pub in Epcot's World Showcase: See the "Where we ate" section below.
Kabuki Cafe kiosk in Japan in Epcot's World Showcase: See the "Where we ate" section below.
Funnel cake kiosk in Epcot's World Showcase: See the "Where we ate" section below.
Germany in Epcot's World Showcase: We wandered around Germany for a while. It was great! Lots of stores and exhibits and places to grab food and drink; it's one of my favorite "countries" to visit. I really recommend poking your head into the biergarten even if you don't plan on dining there! We ate there years ago and loved it. What an experience! (You can also grab authentic German beers outside of it, which gives you part of the experience at least.)
Dinner at Akershus Royal Banquet Hall in Norway in Epcot's World Showcase (Norway): BEST. EVER. See the "Where we ate" section below.
Frozen II Ever After ride in Norway in Epcot's World Showcase: This was next to impossible to get into, and we didn't want to use a FastPass+ reservation for it because that would have meant that we couldn't have used any in Hollywood Studios that day. As I mentioned before, you can only make FastPass+ reservations in advance at ONE PARK. If you switch parks, you can make additional ones, but you can only do so when you arrive in that next park. And both nights when we arrived in Epcot, there were no reservations available for the Ever After Ride. But because our dinner reservation at the Royal Banquet Hall was so late (and next door to the ride), Mitch simply ran Emma over about five minutes before closing, and the line had disappeared! Yes, we kept her up late for this, but SO.WORTH.IT. And while the ride was quick (and much like the Little Mermaid or Peter Pan rides in the Magic Kingdom), she adored it. Still talks about it all the time!
Okay. If you haven't heard about this, prepare yourself. Because it's crazy. But the Bibbidi Bobbidi Boutique is where you can take your child to be turned into a Disney character, and WOW. I have no words. Jokes. I have lots of words.
Note: This is geared toward girls, but there are a couple of knight options for boys.
Note 2: You NEED to make a reservation for this before you go to Disney. There were zero walk-in appointments available when we were there!
I first heard about the Boutique from a friend, and I swore up and down that I wouldn't do it because it sounded ridiculous. But then I became a bit obsessed with it, much like a person becomes obsessed with reading about spiders or sharks or black holes or whatever. I just couldn't stop researching, you know? ;)
And I admit to temporary psychosis here; I had to do it. But let's dive deeper. 😜
It's expensive. Packages range from $75 to over $500 (!), and things get nuts very quickly. But next to the Akershus Royal Banquet Hall where we met the princesses over dinner, it was the most magical experience of the trip… and the more you spend does NOT equal more magic. $75, in my opinion, gets you the same experience as $500… though it's easy to get sucked into spending more in the moment. (See below.)
When you first walk into the boutique, you're greeted by Fairy Godmothers who check you in and then give you a book to look through so you can select a package. It's somewhat overwhelming, but it's really just an overview of everything you'll find on this website. Figure out what you want ahead of time so you don't become a deer in headlights.
You're then assigned a Fairy Godmother of your very own and guided into a room full of absurdly expensive dresses and accessories. This is where the situation intensifies… but REMAIN CALM. With any hope, you've set expectations ahead of time, both for yourself and your child–if this isn't a surprise, that is. Either way, know that you are wiser than your child and you can handle this. Of course, you're more than welcome to let your kid go crazy and pick whatever her little heart desires. You do you. But if you want to reel it in, I highly suggest taking a quick waltz around the room and then explaining to your daughter that this is where princess dresses in lots of sizes are kept since princesses come in all shapes and sizes. Once you've done that, softly whisper to your Fairy Godmother that you've brought along your own dress and that you'd like to get changed in the dressing room with the magic mirror. (She hears this all the time so don't feel weird or awkward about it. Disney encourages you to bring your own dress!)
Once you're in the dressing room and your child talks to the magic mirror (so fun), pull out the affordable $15-$20 dresses you've purchased via Amazon ahead of time and tell her that all of them are in her size, and she can choose WHATEVER ONE SHE WANTS. Act super excited. Dancing and screeching helps. She'll likely flip, and you will have played her.
This is where I need to admit defeat. I, unfortunately, chose the wrong princesses. I DIDN'T SEE IT COMING! Girlfriend has been Elsa-obsessed for the longest time, and I took a gamble and assumed that Rapunzel and Cinderella would be the other two she could be interested in, since they both have castles in the Magic Kingdom. But I guessed wrong and Emma had her heart set on becoming Belle, which took everyone by surprise. Mitch was not having it, and I was about to tell her no… but that's when Grandma and Pa stepped in and insisted on buying the stunningly beautiful Belle dress, which brought the grand total to $199. (It was technically the "Carriage Package.") I love you, Mom and Dad. So much.
Keep in mind that what happens after this is essentially the same for each kid, regardless of what package you've chosen. You're guided across the path into Cinderella's castle, where your child sits down in a salon chair. For $75 (the "Crown Package"), she gets hairstyling, shimmering makeup, sparkly pixie dust nail polish, a princess sash, and a goodie bag with take-home makeup. And if she NEEDS the Elsa braid, you can upgrade to the $119.95 package, and they throw in an Olaf stuffed animal. (How generous!)
Despite my joking, I really do need to say that it was unbelievably fun and special, and something I know that the whole family will always remember. Emma was thrilled, my mom and I were crying (how atypical!), Lucy was squealing, Dad was hysterically laughing, and Mitch was rolling his eyes but also taking approximately one zillion photos because he loved every second of it, too.
And then she waltzed out of the salon and got stopped by tons of people who wanted to tell her how beautiful she was, and our hearts exploded as she danced on the steps of Cinderella's castle. Yes, $75 is a lot. But you could also go without a visit or two to your own salon and you've covered it! Sacrifice in the name of your kid. You can still have fun at Disney with dark roots!
I don't know guys. After all that, I certainly can't tell you not to do it. 😜

Buy your own princess dress on Amazon and bring it to the Boutique to cut costs! Disney encourages it!
Where we ate
Hats of to Dad for this one as well. Again, it was my parents' 60th birthdays, so we ate most lunches and dinners at Disney's restaurants. (We ate breakfast in our hotel, though, since we had a kitchen in our suite.) And man! The restaurants were incredible, and we really looked forward to each meal. Disney is tiring, even if you don't do too much. And it's especially tiring with little kids! But sitting down to lunch and dinner every day was so, so nice. We were able to talk and reflect on our experiences, and we couldn't get over how good the food was! (Wasn't expecting that; I apparently blacked out during our trip to Disney with Grammie, haha!)
Something to note is that if you'd like to eat at the true restaurants in the parks, you should try to make reservations ahead of time because they book up quickly. We didn't realize this when we first arrived and struggled to find a place that would take us for dinner. But then we started making reservations the day or night before, and we were just fine!
Here's where we ate:
Liberty Tree Tavern, Magic Kingdom, Lunch: Classic American fare in historically themed rooms; it's meant to feel like Colonial Williamsburg. This was the first place we went, and we admittedly only went because they had an opening and would take us. ;) But it was great! Really cute, fantastic kids' menu, and beer! We thought that alcohol wasn't allowed in the Magic Kingdom, but apparently it is, haha. Dad and Mitch were VERY happy.
Gaston's Tavern, Magic Kingdom, Snack: Casual snacks & non-alcoholic drinks in a fairy tale-themed cottage that looks like the bar that Gaston frequents in "Beauty and the Beast." Get the cinnamon bun. It's huge.
Chefs de France, France in Epcot's World Showcase, Dinner: WOW. First, it's stunning. Second, you really feel like you're in France. Third, the food is out of this world! (Epcot joke.) We loved it, and I really can't recommend it more. Definitely the best meal we had in Disney!
Funnel cake kiosk, between the American Adventure and the Japan pavilions in Epcot's World Showcase, Snack: My mother loves funnel cake. It's a bit of a family joke, just because she really can't resist it when she sees it. (There was also this one time when a pack of seagulls attacked her for her funnel cake on the boardwalk on the Jersey Shore. She was fine, don't worry!) Anyway, we stopped here because we couldn't not stop, and the funnel cake didn't disappoint!
Pizzerizzo, Hollywood Studios, Lunch: We were originally supposed to go Mama Melrose's, but we all got WAY too hungry about an hour before our reservation, so we abandoned ship and went to Pizzerizzo instead for counter service individual pizzas. They were FANTASTIC. There's a really nice place to sit outside, and we couldn't get over how good the pizza was. Of course, we were all starving, so that could have impacted things. ;) But what a find!
Ice cream stands for Mickey pops, Snacks: I remember Mickey pops being insanely magical when I went to Disney World as a little girl, so I had to get one for Emma. She loved it! Lucy even tried a little… and she, not surprisingly, loved it as well. It definitely made my heart full. And their bellies full.
Rose & Crown British Pub, England in Epcot's World Showcase, Drinks: It's a must. You feel like you're in Covent Garden!
Kabuki Cafe kiosk, Japan Pavilion in Epcot's World Showcase, Snack: Our dinner reservation for the second day was on the later side, so we decided to get a bite a couple of hours beforehand. My parents asked Emma what she wanted for snack, and she said "sushi!" 😂 Dad was like, "I can make that happen," and we marched right over to Japan for $5 maki and rolls. The best! Also, Emma is a picky eater yet loves sushi. Too funny.
Biergarten Restaurant, Germany in Epcot's World Showcase, Drinks: I would actually do dinner here. The vibe is unreal! But we ate there years ago, so decided to just grab drinks instead.
Akershus Royal Banquet Hall, Norway in Epcot's World Showcase, Dinner: Guys, I tear up just thinking about it. This reservation was hard to get, but it's a priceless experience if you have a little girl who's really into the Disney princesses. Throughout the meal, the princesses come up to your table and talk to your children, sign their autograph books (bring one!) and take photos with them. It's so special. My parents loved it. My mom was losing her mind, haha!
Emma is VERY shy when she first meets people, and she normally doesn't do characters. But she was all.about.this. I couldn't believe it! She even got up and hugged each princess! She still talks about it. Again, so special, and the most wonderful way to close out our Disney trip. And in true Kelly form, there were a lot of happy tears. ;)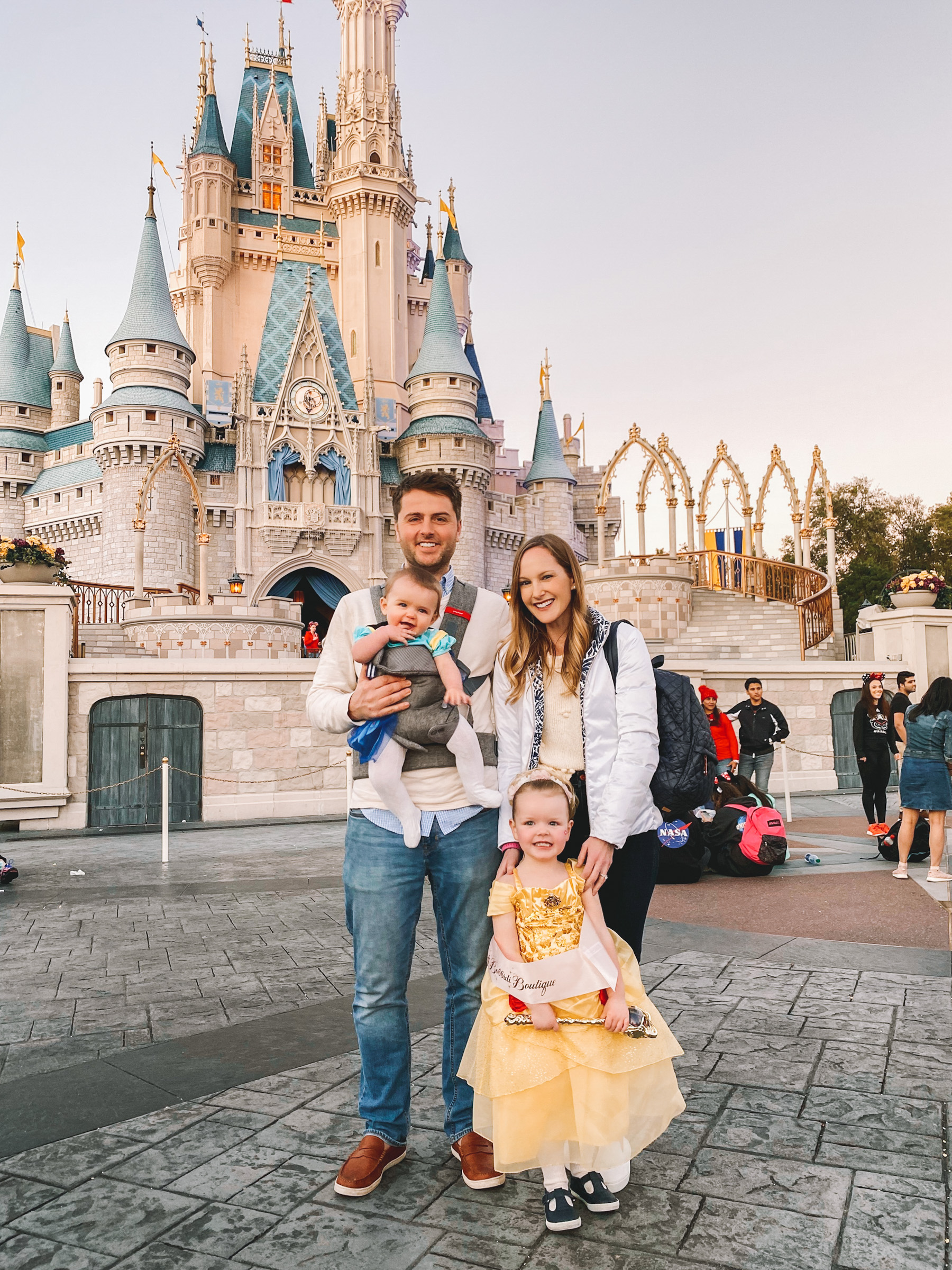 Reflections
Whether we wish we'd done more than two days: NO. 😂 Two days was perfect considering our girls were only 3 years old and nine months. It was also perfect for the adults. The morning of the third day, when we were departing, we were all like, "THAT WAS GREAT! But time to relax on the beach." Likewise, the girls were tired and needed some downtime!
If you're going to Disney with little kids and older kids, friends in this situation have told us that taking a "day off" from the parks and hanging at the hotel is very helpful for recharging. The hotels are beautiful, and there's so much to do on the properties, so it's fun for everyone, too!
Overall impression of Disney: Holy moly. As I said before, Disney does things RIGHT. This is no Six Flags. Everything is designed so that you truly feel like you're in a far-off world, and the attention to detail is unbelievable. Heck, the garbage cans empty underground so you never what goes into running such a huge operation! Everything just appears and feels perfect. My parents couldn't stop commenting on little things like this, or how nice and helpful the staff was. :) They really seemed to care, and they did whatever they could to make our experience magical. So glad we went!
Whether we want to go back: YES! Not because we feel like we didn't see or do enough; only because the girls loved it so much. Yes, I remember it being magical as a kid. But I just wasn't prepared for how wonderful it was to see it through the eyes of my own children! Our plan is to return when Emma is five and Lucy is two or three. (We'll do two days again!)
Weigh in!
Have you done Disney with littles? Any tips or recommendations for families who are thinking about going? Thank you so much, and again, let us know if you have any followup questions!