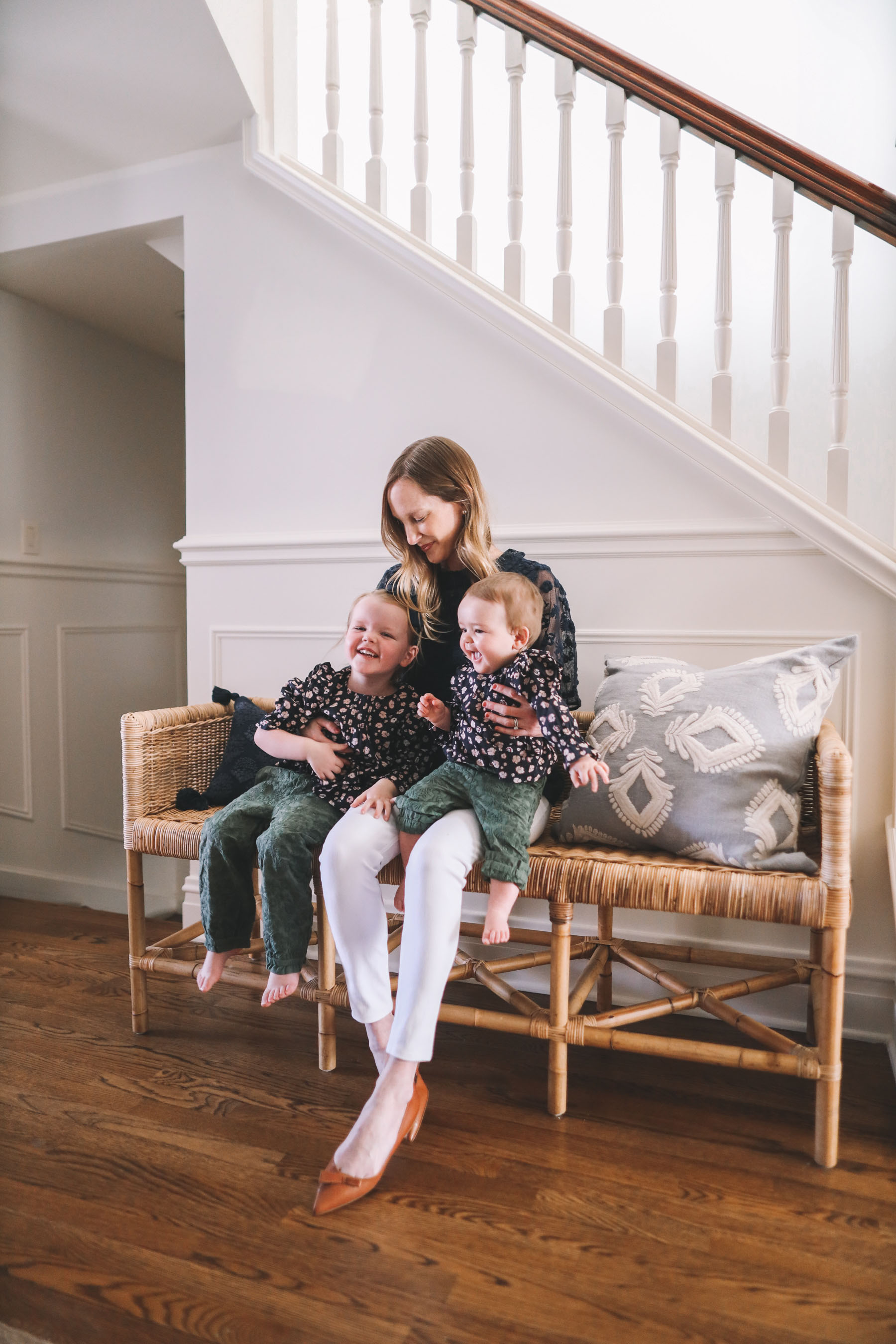 Sarah Flint Bow Flats c/o (So comfy! TTS.) / Baybala Lace Top c/o / White Skinny Jeans (They're actually from Spanx! SO flattering.) / Baybala Children's Top + Lace Joggers / Serena & Lily Shore Bench, Gray Pillow and Navy Pillow / Emma's Headbands / Cane Dining Chairs (Similar here + original inspiration here.) / Jute Rug / Dining Table / Gold Mirror (We also have this one!) / Similar Ginger Jar / Old Pie Plate, but try Blue Rose Pottery. It's beautiful! / Dinner Plates: Same. Try Blue Rose Pottery or the Kate Spade Charlotte Street line! / Picture Light / Buffet Hardware / Paint Color: Benjamin Moore Ivory White / Walnut Plate Stands
Hello! 👋🏻
Friends and family have started reaching out to see if I'm okay, so jumping on to check in, haha!
Things are good! Between birthday parties, playdates and park visits, we had a very busy weekend, and I decided to hit pause and enjoy it instead of overextending myself. ☺️ I remember when I used to rely on weekends for catching up; now they're typically go-go-go with two littles in tow. But I love it! And I love starting off a new week with some fun under my belt, if that makes sense. Refreshed and happy and ready to go!
Mitch snapped these photos yesterday, admittedly right before Lucy's nap time which is why we see her melting down. We swooped her up and put her down almost immediately, but isn't it crazy how quickly they can go from joyous to devastated? And how cute is that little lip of hers?!
A few things about what we're wearing:
Sarah Flint Bow Flats: Have you heard of Sarah Flint?! A bunch of my friends have been raving about the classic + preppy brand for a while now, so I was really excited when they sent along the Natalie flat. SUCH a big fan. Frankly, the shoes are perfect. They feature timeless brown leather and the cutest little bow… and while they're certainly structured, they seem to conform to the foot within the first hour of wearing. I typically need to buy super flexible leather shoes because my feet are so sensitive–and that's pretty limiting. I was SO surprised as to how comfy these are, though, and I'm chatting with the company about potentially featuring more of their line here on the blog and on social! Btw: they ran true to size for me. I normally wear a size 7.5 in flats, and that's what I took in these! A perfect fit.
Spanx White Skinny Jeans: Ordered these on a whim and highly recommend 'em. I like my white denim to HUG–especially around my lower leg calf areas–as I always feels sloppy in looser white jeans. (Bunching is always so much more prominent!) I worried that these would look like I athletic pants or something, but they're very much jeans, only pull-on style and incredibly flattering. Beyond comfy, too! (Similar fit and feel to my favorite leather leggings.)
Baybala Lace Top: Baybala is a new company that was founded by a mother who was having trouble finding clothing for her children (and herself!) that she loved. Everything was either loud-looking, uncomfortable, constricting, easily destroyed or difficult to care for… and so she decided to launch a brand specifically for moms and their tots. Everything that Baybala carries is meant for real life, and I love that! For example, the navy lace top I'm wearing? It looks fancy, but spill away, children. It also doesn't wrinkle and travels wonderfully… and it's as comfy as a t-shirt… and machine-washable! By this point, you probably know that I'm obsessed with clothing that falls under those descriptors, so I fell in love with Baybala right when I was introduced!
Baybala Children's Top + Lace Joggers: Love the girls' outfits, too. Lucy ate baby food in her top about an hour before we took these photos, and I really don't think you can tell, even though she covered herself in the stuff. I also love that Emma and Lucy's clothing complement my look without being overly matchy-matchy. (Though I'm totes down for that every now and then, especially while on vacation. 😂)
Okay! Good to be back. Catch you back here tomorrow!
Shop the post:
Sarah Flint Bow Flats c/o (So comfy! TTS.) / Baybala Lace Top c/o / White Skinny Jeans (They're actually from Spanx! SO flattering.) / Baybala Children's Top + Lace Joggers / Serena & Lily Shore Bench, Gray Pillow and Navy Pillow / Emma's Headbands / Cane Dining Chairs (Similar here + original inspiration here.) / Jute Rug / Dining Table / Gold Mirror (We also have this one!) / Similar Ginger Jar / Old Pie Plate, but try Blue Rose Pottery. It's beautiful! / Dinner Plates: Same. Try Blue Rose Pottery or the Kate Spade Charlotte Street line! / Picture Light / Buffet Hardware / Paint Color: Benjamin Moore Ivory White / Walnut Plate Stands