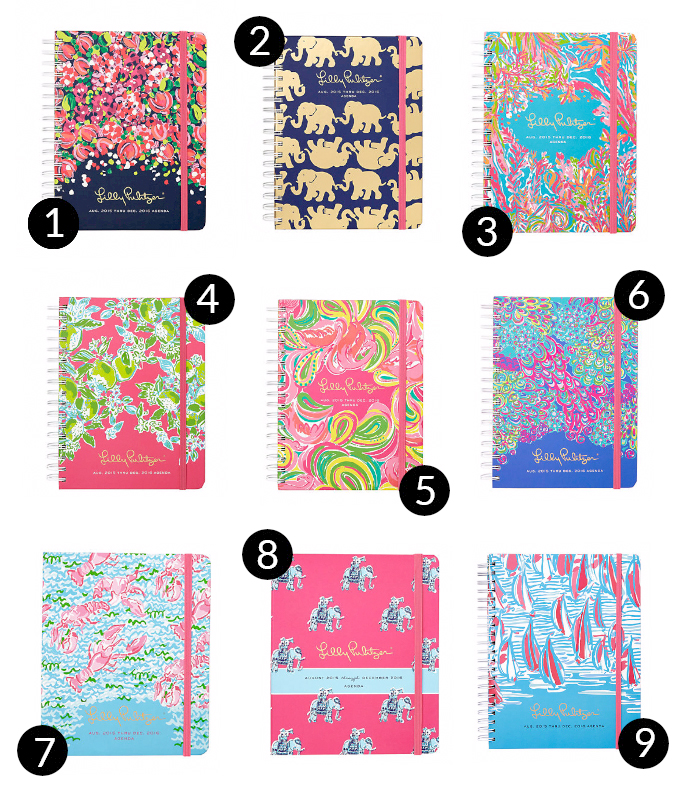 One // Two // Three
Four // Five // Six
Seven // Eight // Nine
It's that time of year again. Lilly Pulitzer agendas are ready for pre-order!
Side note: If you're viewing this post on your phone, the colors are probably all out of whack. I've been doing Photoshop projects for my brother's wedding–less than one week!–and keep forgetting to switch the color settings back. The real agendas look much brighter! ;)
While I always get the "large" size, the planners also come in "medium" and "jumbo." The medium measures 5″ x 8 1/4″, the large measures 6 3/4″ x 8 7/8″, and the jumbo measures 8 3/4″ x 11 1/4″.
I'm partial to the spiral version, so right now, I'm leaning toward #2 or #4. I sound ridiculous (this isn't a major decision, haha), but I do have to look at the thing on my desk for a solid year. ;)
While I'm a huge elephant fan, I also love #4's pattern. Which one should I choose?! And if you're planning on getting one, which version are you going for?!