I can't believe that summer officially ends on Friday. While it feels like it's been going on forever, it also feels like we were just going to that Cubs game in June. Since we're feeling reflective, Mitch and I put together this video yesterday to document some of our favorite moments with Emma spent by the water. In her first full summer, our little girl visited Ocean City, New Jersey; Lake Bloomington, Illinois; Lake Michigan in both Chicago and Michigan City; and the Pacific Ocean. And the word is out: she's a beach baby, through and through! (Fun fact: my dad and I danced to "Daughter" by Loudon Wainwright III at my wedding, and I kiiiind of always knew I wanted to make a cute video to "The Swimming Song" if I one day had a daughter. 😉).
Anyway, we think the video perfectly represents Emma's amazing personality, demeanor and outlook on life. This seems silly considering she's only one, but truthfully, we've learned a lot from her over this past year!
Today, we're teaming up with our good friend Emily from Isn't That Charming to talk about what we've learned from our kiddos. This is part of our regular motherhood series, and if you've missed our previous posts, here are a few faves: How We Chose Emma's Name, The Dad Survival Guide, and How Many Children Do You Want to Have? And yes, Mitch takes over and contributes to the motherhood column every once in a while when I'm exhausted because you know: motherhood. ;) Be sure to swing by Em's blog to read her post; she's an amazing writer and she's served as a role model to me for a while now!
So let's get to it.
Lessons Learned From Our One-Year-Old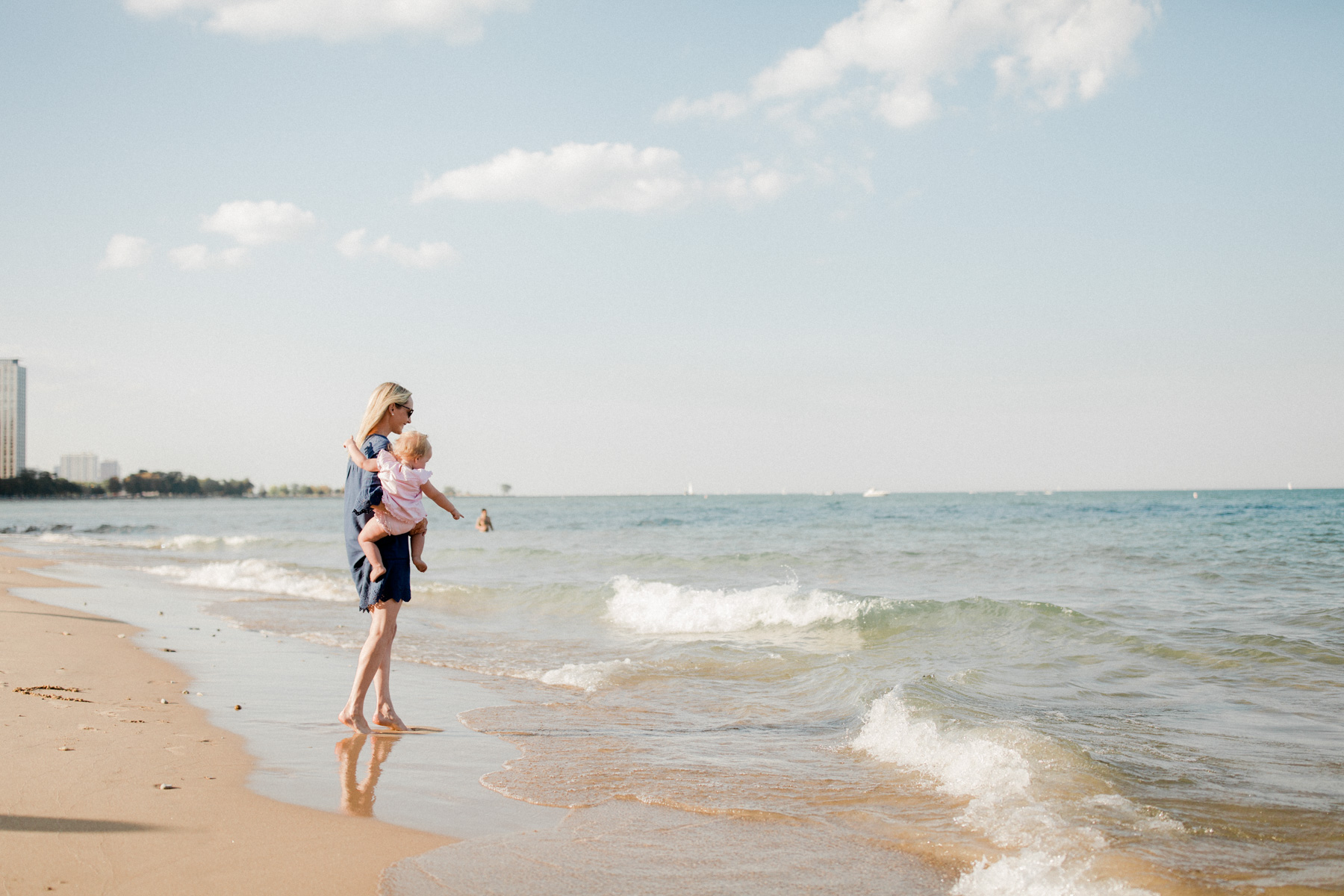 Start each day smiling.
I'm not a morning person, and I'll be honest: I can be a grump in the AM. But every morning when I go in to get Emma, she has this huge grin on her face, and (as sappy as this sounds) it reminds me that I'm wonderfully lucky to be living this life. Over the last year, I've found that I've become a far more positive person simply because my mornings start with smiles instead of grumbles.
Don't sweat the small stuff.
Emma will fall down and cry, but a second later she'll see a dog walk by and start waving her arms in excitement. Before Emma, I think I let little things get to me way too often. She's taught me that I need to brush it off and keep going. Put on a song that you love, call a friend, go outside, grab a cup of coffee, watch a Sesame Street music video. You know what can turn your day around, so do it!
Love everyone.
Emma gives everyone the time of day. It doesn't matter what you look like or what your position in life is. She'll always return a smile or wave. Of course, we'll soon have to teach her the whole stranger danger thing, but for now, it's a lovely reminder of the importance of acceptance.
Never give up.
As you guys may have seen, we have a walker! It took the poor girl a mighty long time, and there were some very difficult and frustrating moments along the way. There were bumps and bruises; heavy sighs and loud cries. But this baby never quit. She simply got back up and tried again. And again. And again. And again. Until three months later (which is like 57 years in a baby's life) when we had takeoff. Emma's taught me that if I want it badly enough, it's possible.
Buy the shoes.
You should SEE this girl with her shoes, haha. It's a riot. They make her so happy. I think I've always known that shoes can bring great joy, haha, but Emma's apparent agreement with that statement validates my feelings on the matter.
Dance.
I can't tell you how often Mitch and I now dance in public in an effort to get Emma smiling or laughing. And while we look like complete lunatics while we're doing it, I have to tell you: it makes us really happy. We laugh, too, and all of a sudden, it's the best day ever.
Cookies fix most problems.
Especially fortune cookies. They almost always have positive messages inside, too!
Share.
Emma is such a generous baby. She'll be eating a fortune cookie (her favorite) and enjoying it like WHOA, yet instantly offer it to you if you walk over to her. Same thing with her toys. And sticks, sand and dirt. But whatever. It's a reminder to give.
Ask for help.
So often, I helplessly flounder with problems. While I think it's incredibly worthwhile to work through 'em on my own, I also think it's important to know when to ask for assistance. This year, for example, I needed a l lot of help, and in the beginning, it was difficult for me to ask for it or even accept it. Emma, though? Hi, I need that cookie up there. I tried climbing up the cabinets for like 30 minutes but I can't seem to get it. A little help here?
Wonder.
Watch a baby for an hour, and really watch her. She's likely in awe of most things she comes across, and most things she sees or touches or tastes or hears or smells. She wonders why her food drops to the ground when she lets go of it; she wonders what this green stuff is she's sitting on. The world is beautiful, yet so much of it is normally overlooked.
Be yourself.
Emma's a character and personality shines through in everything she does. She doesn't try to copy people around her; she does her own thing! And she loves herself for it. You should see her sit in front of the mirror. Hysterical. No self esteem probs there. ;)
Take risks.
Mitch and I often joke that Emma takes TOO many risks, and that she needs to understand this whole gravity thing we've got goin' on here on earth. But our little daredevil–despite how much she scares us sometimes–has taught us that great things come from taking risks. Yes, there's the danger that you'll fall on your face. But there's also the chance that this time, you'll take your first step.
Hug and kiss.
Every time Mitch kisses or hugs me, Emma's in the background with a huge smile on her face. It's the cutest thing, and it's a reminder that hugs and kisses are so important. Life is crazy and busy and sometimes pretty darn challenging. Hug and kiss it out!
Slow it down.
Mitch and I are known for taking on way too much. I think we just love living jam-packed lives, but very honestly, it often ends in mental breakdowns, haha. With Emma, though, we've been forced to slow down and enjoy our days, even if we're not being super productive. When was the last time you sat in a park for a couple of hours and did nothing but walk through and roll around in the grass? So good for the soul…
What have you learned from your kids?
Remember to swing by Emily's blog to read her piece!