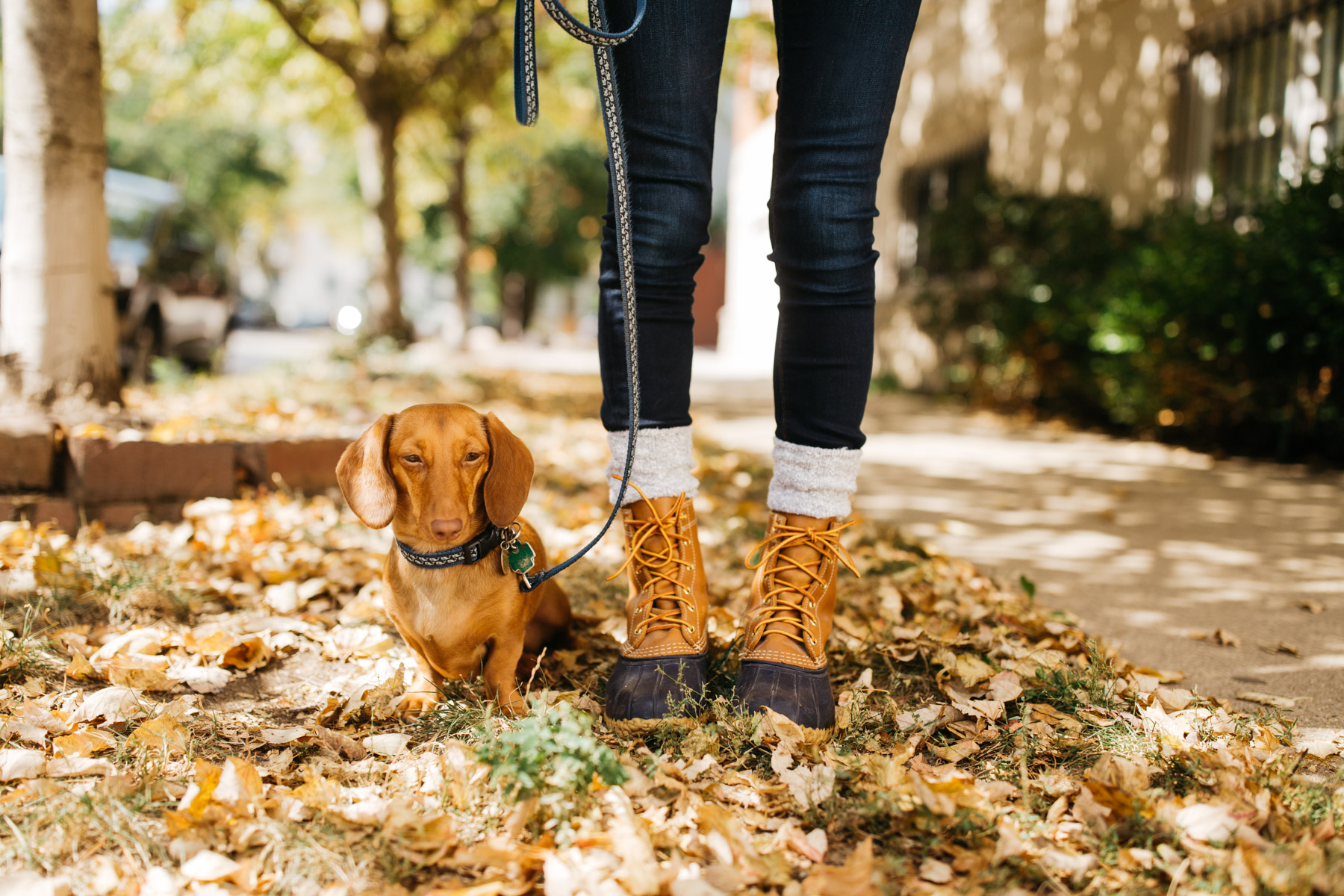 L.L.Bean Boots (Also love the shearling-lined boots!) / Barbour Jacket c/o (And adore the warmer quilted version.) / Hudson Jeans / Fisherman Sweater (Love the longer tunic version, too!)
Every fall, I get a bunch of distressed messages about L.L.Bean boots being sold out. So I'm going to sing it from the rooftops this year: THEY'RE STILL IN STOCK, BUT THEY'RE GOING TO SELL OUT SOON. Order yours today!
Confused about which pair to buy? Here are my best tips for making a good decision:

Decide which style you like best.
The Classic Bean Boots come in four different heights: the moc, six inches (here and here), eight inches (here, here, here and here), and 10 inches. Each pair comes with its advantages. The mocs are slip-on style, leave-at-the-door shoes; the six-inchers are easy to get into yet still have the boot look; the eight-inchers come in navy and look awesome with camp socks coming out of 'em; and the 10-inchers assure you that absolutely no rain or snow will infiltrate. ;) My favorite is the eight-inch pair, which I'm wearing in these photos.
Bean Boots also come in a few different colors. I personally think the nicest colors are navy and brown. There's only one navy boot but a bunch of different brown boots!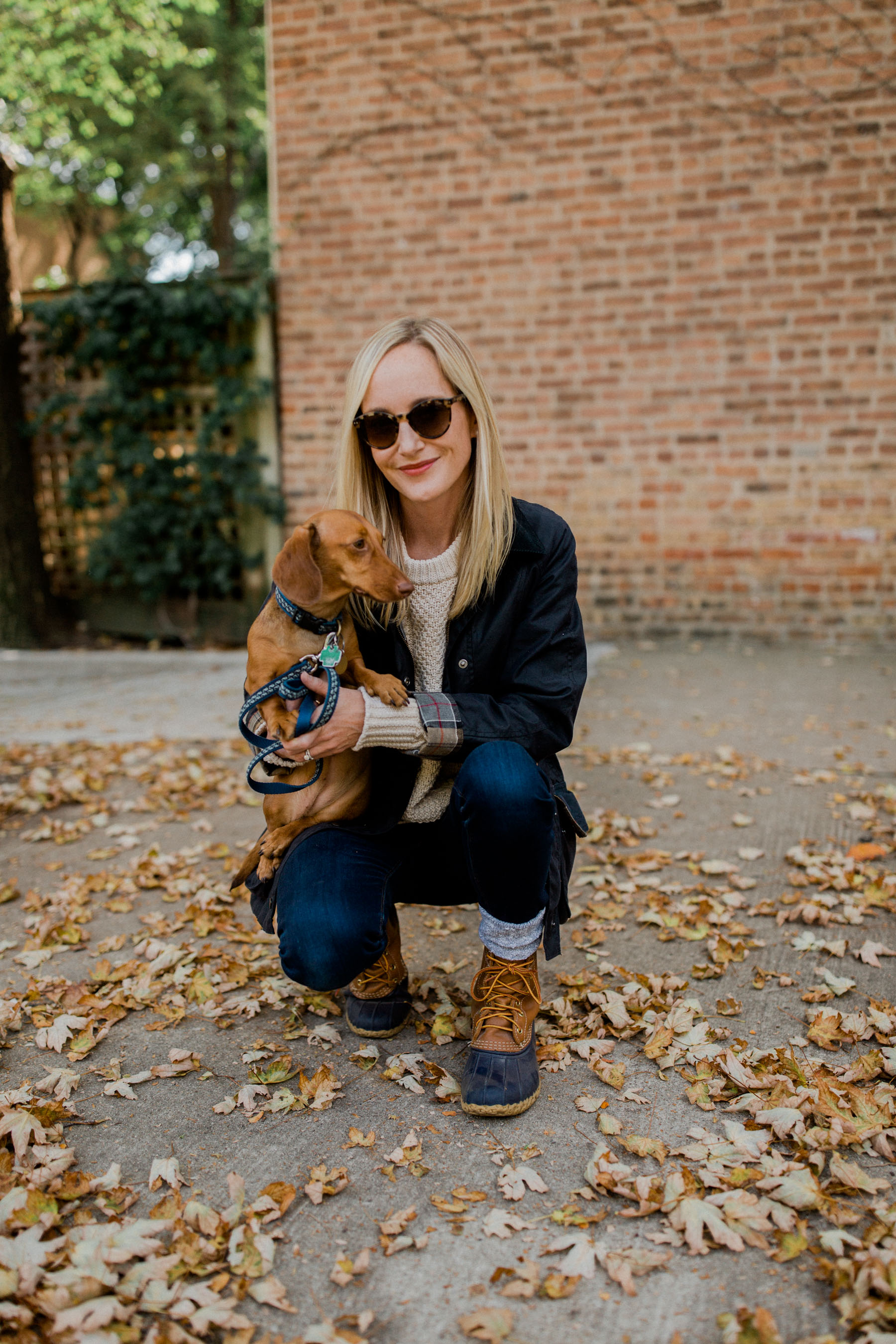 Consider warmth and softness.
I have this navy pair and this shearling-lined pair, and love both! In these photos, I'm wearing the navy pair, since it's September and not very cold yet. I'll admit that I purchased the navy pair simply because they were navy, and they'd go with most of my wardrobe. I adore them, but I will say that they're an early fall and springtime boot–perfect for muddy and rainy walks, but not ideal for super cold days.
Considering I live in Chicago, the brown version with Thinsulate (warmer), the brown version with Thinsulate and Gore-Tex (even warmer), or the shearling-lined pair (warmest) are better picks for winter. I went with the shearling-lined pair, since the bottom is lined with Thinsulate and the boot is known for its comfort and zero break-in time. Because my feet give me a lot of trouble and I love cloaking myself in fur, this pair was a no-brainer!
Note: Each pair is designed for something different: the Thinsulate version features extra insulation and therefore more warmth; The Gore-Tex/Thinsulate pair offers that same insulation as well as a special lining that'll keep your feet dry and comfortable in extremely wet weather; and the Shearling-Lined boots are probably the warmest–and comfiest–of the three, and definitely designed for snowy days.
Note: While I haven't tried the Thinsulate or Thinsulate + Gore-Tex versions, I adore my shearling-lined pair. I can totally wear them in the snow, and my feet stay dry and toasty. They're also unbelievably comfortable. The leather is far softer than my navy pair! (Keep in mind that the soles are not lined with shearling, but you can buy the insoles if you want that.)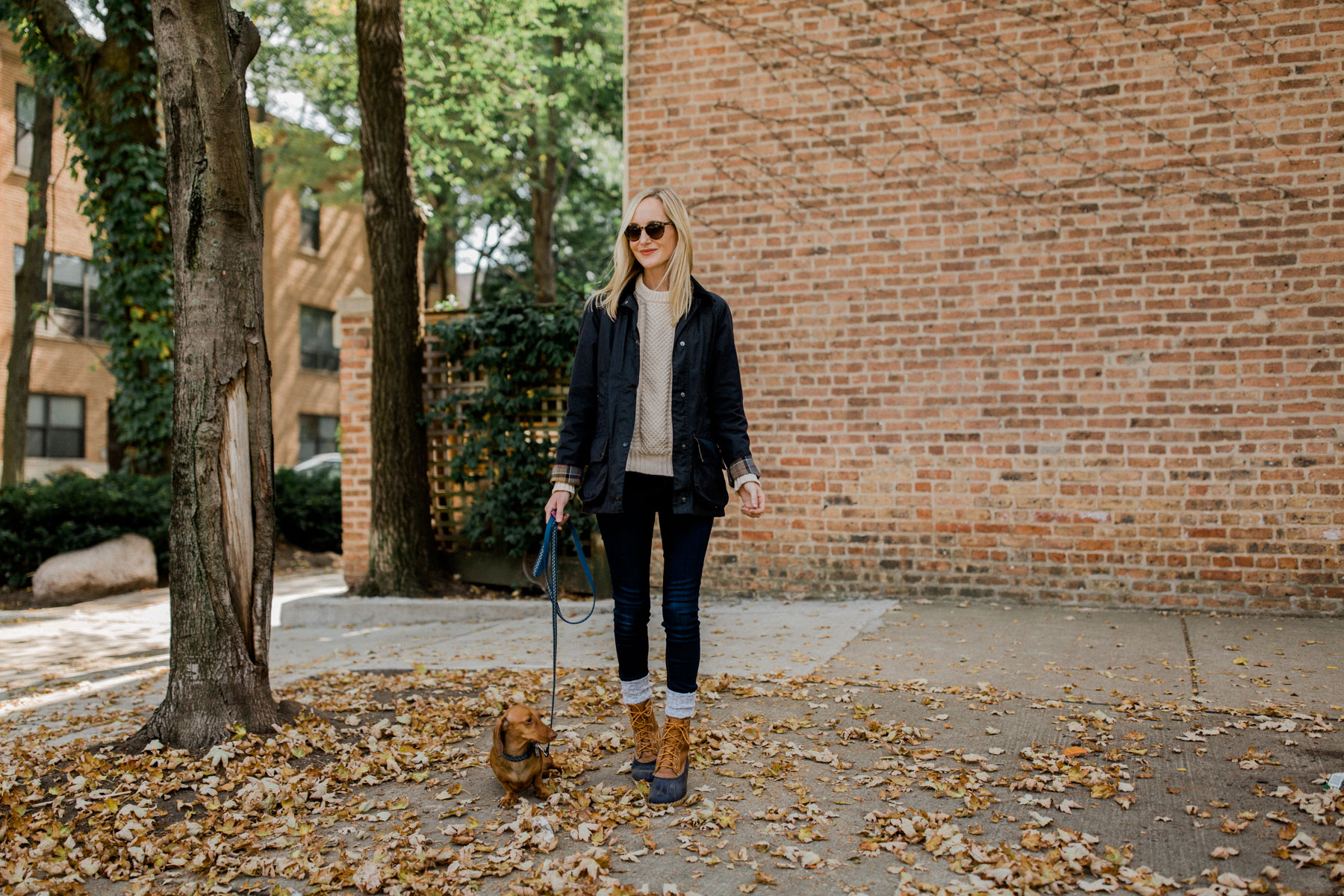 Know how sizing works.
Bean boot sizing is tricky.
I normally wear a 7.5 in shoes, but because I'm a "half size," I order my Bean boots in a size 7. If you're also a half size, go down a half size. (For example: If you're an 8 or 8.5, order an 8.) If you're a whole size, order your normal size. (For example, if you're a 9, order a 9.) Don't let a few wonky reviews fool you. I've tried on a TON of Bean boots, and they're all pretty much the same.
Half size, size down.
Whole size, order regular size.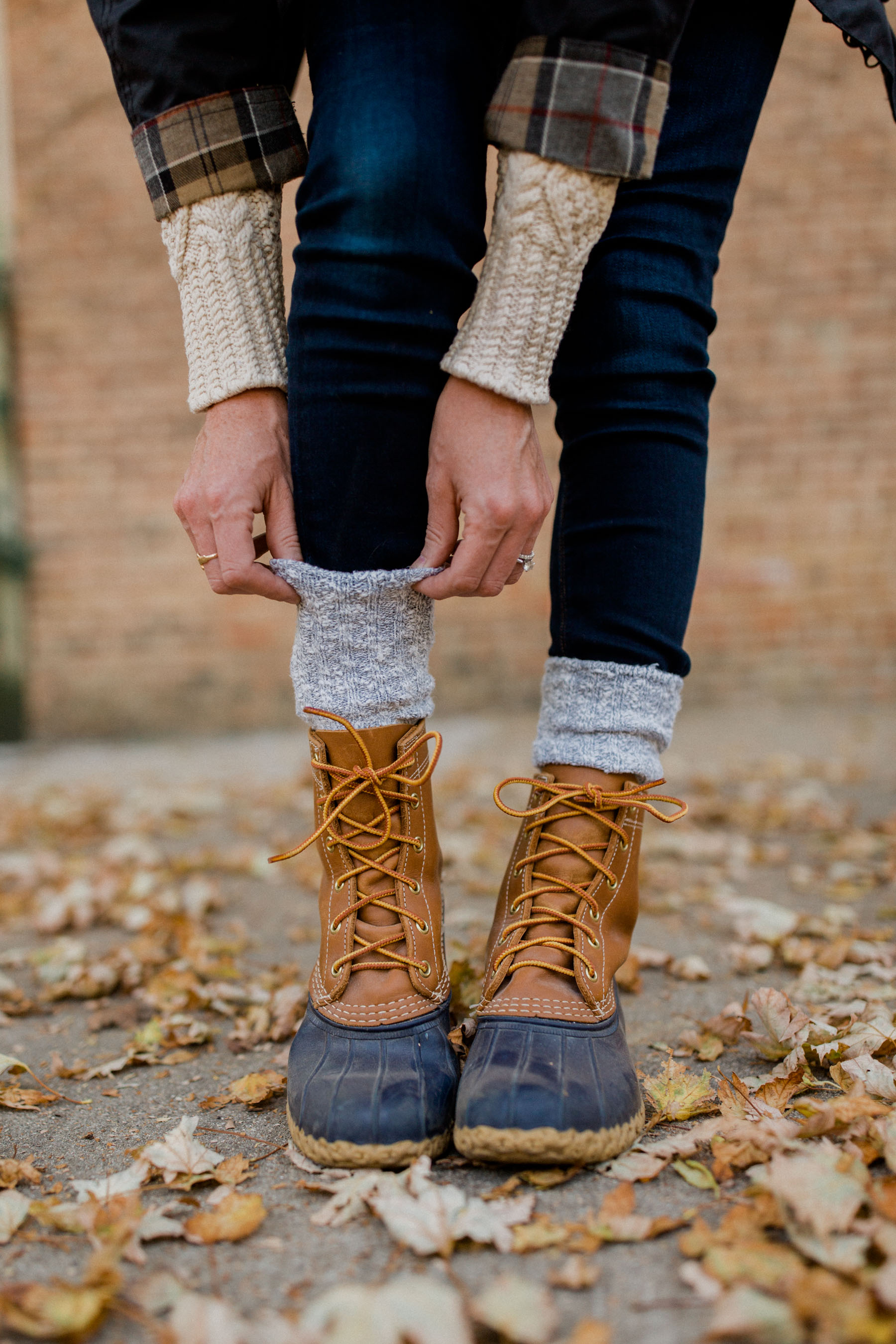 Buy camp socks.
J.Crew Factory and L.L.Bean sells them. They add warmth and they complete the look. ;) No sense in buying Bean boots without camp socks!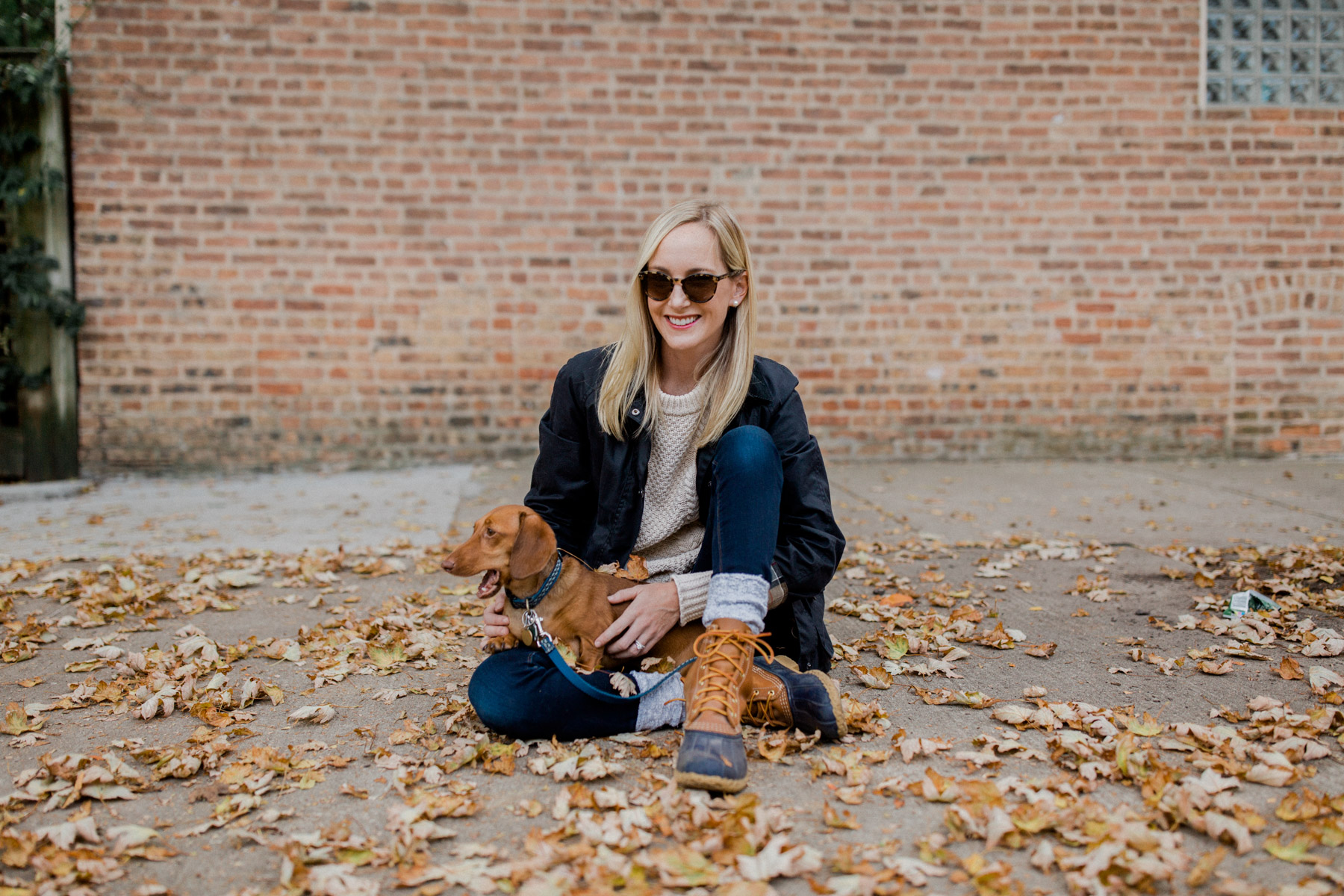 If you still have questions, check out my complete guide to buying L.L.Bean boots. Or leave a question in the comment section below. Mitch and I will be answering 'em throughout the day!
Consider the rest of the outfit.
Barbour jacket: The classic Beadnell waxed jacket is a must for the fall. The only other contender is the quilted version, which features the same cut but is far warmer. I take a U.S. size 4 in these jackets, for reference. I'm somewhere between 5'4 and 5'5, and 105 and 110 pounds. I'm little but MIGHTY.
Jeans: I'm wearing the Hudson Super Skinny Krista Jeans in a size 25 here. I love how polished they look!
Fisherman sweater: I'm wearing the classic L.L.Bean Fisherman sweater here in a size medium. I found that it runs relatively small, but the tunic version is more TTS–and longer!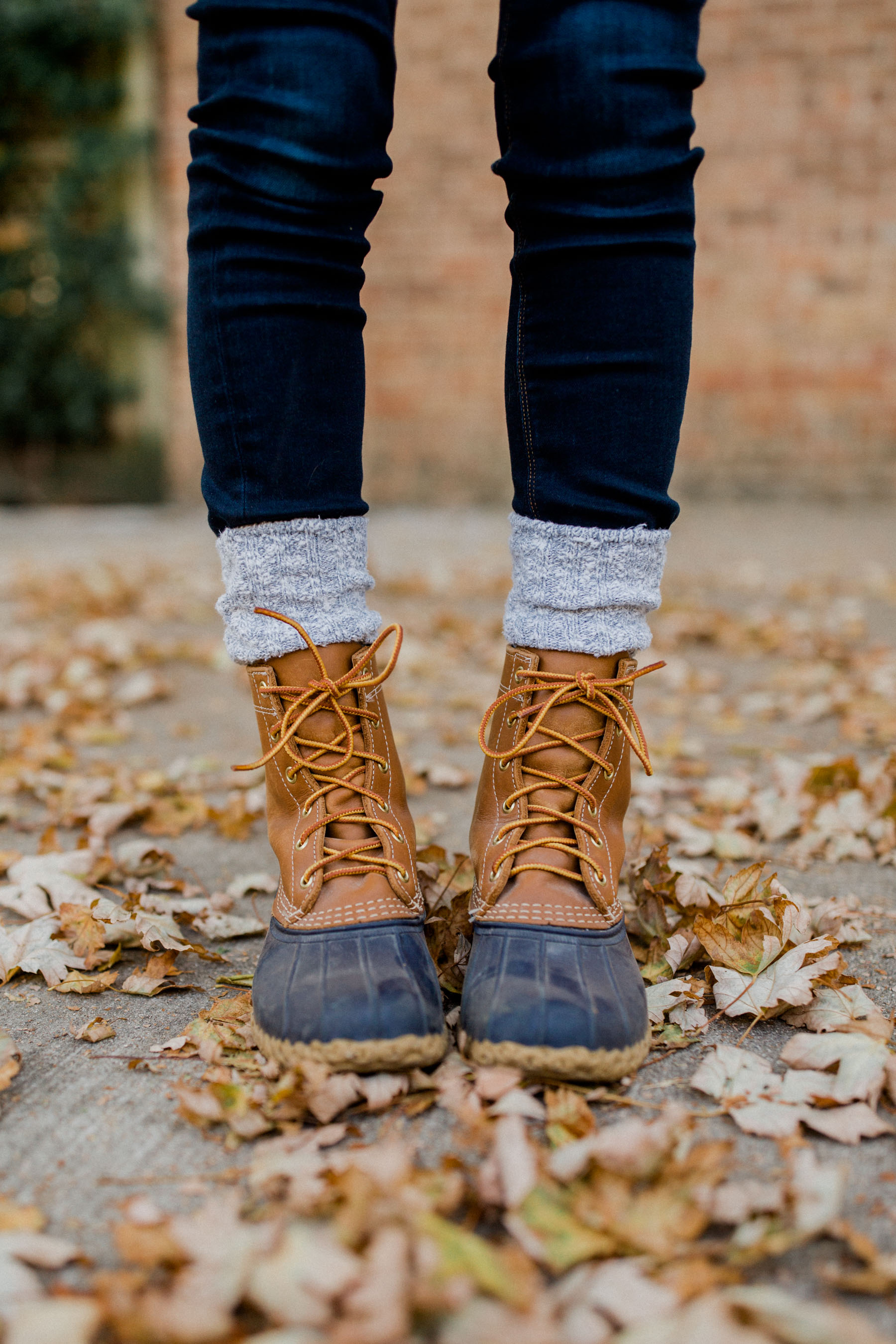 Shop the post:
L.L.Bean Boots (Also love the shearling-lined boots!) / Barbour Jacket c/o (And adore the warmer quilted version.) / Hudson Jeans / Fisherman Sweater (Love the longer tunic version, too!)
A huge thank you goes out to Noodle the miniature dachshund for making today's post possible. 😂
SaveSave