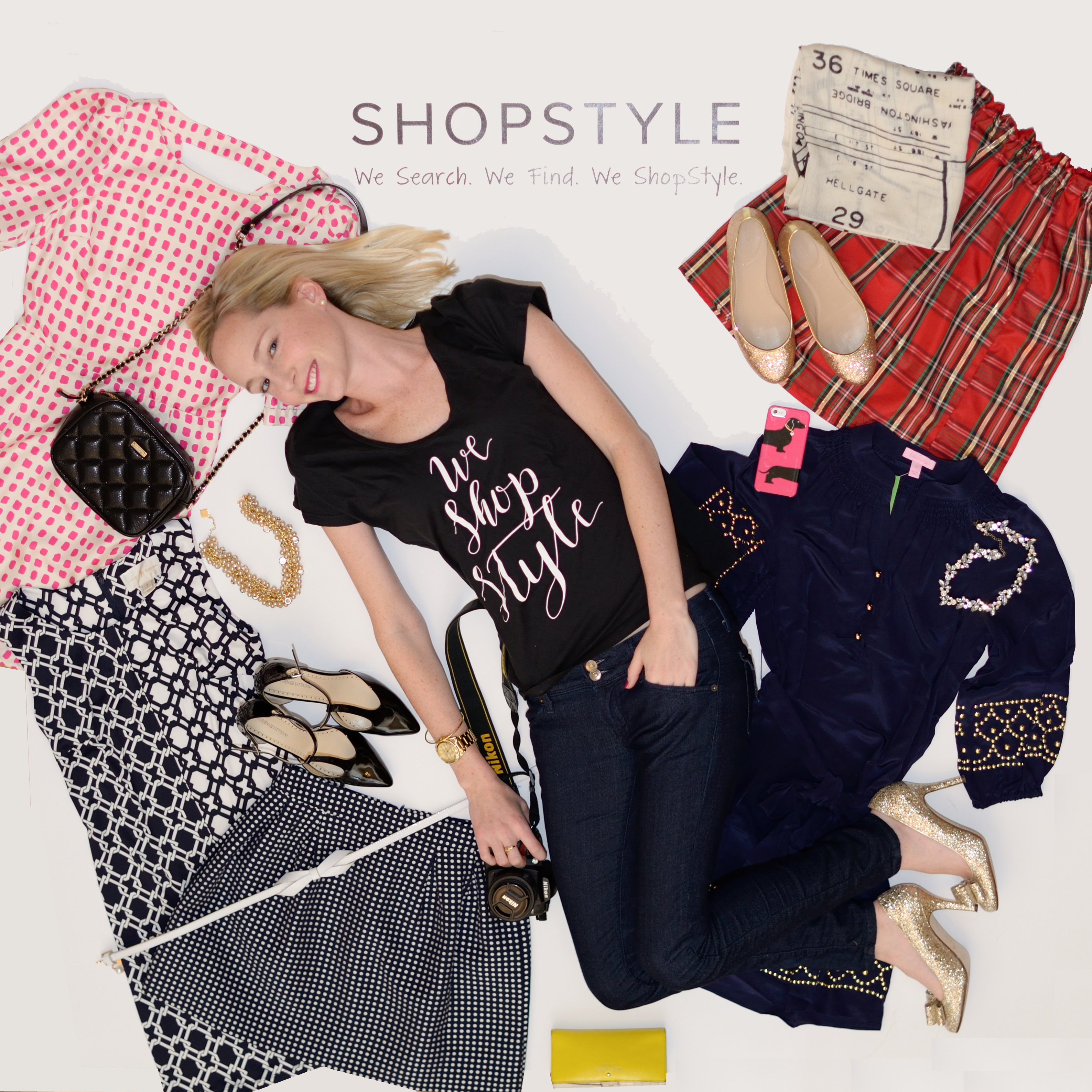 When I was asked to take part in the "We Search. We Find. We Shopstyle!" campaign, I was absolutely thrilled. I had such a blast selecting, organizing and positioning my favorite accessories, trends and wardrobe staples, and I loved creatively showcasing my picks. Scroll down to read about what I included!
1. Hot Pink Cut-Out Dress by Harlyn: This dress will be available in spring 2014, but I had to include it in my spread. I love its bright color, bold pattern and darling cut-out detailing on the back. This dress just kind of defines happiness for me, and I'm completely in love with the brand. ;) Shop Harlyn here (Revolve) and here (Anthropologie).
2. Kate Spade Quilted Bag: This has been my go-to special occasion bag for a long time. Isn't it reminiscent of a Chanel bag?! (This one is sold out, but shop a similar Kate Spade style here!)
3. Fornash Park Avenue Pearl Necklace: Love Fornash. And I adore this necklace. I wear it constantly, as I feel it classes up nearly any outfit.
4. Julie Brown Designs Navy Pretzel Shay Dress: Julie Brown is one of my absolute favorite designers. Her pieces are lively, colorful and bold–and her company is based in New York City, which I love. (Buy this dress here!)
5. Adrienne Vittadini Cecelia Pumps: I wear these heels constantly, as they're dressy and comfortable. I truthfully have walked a mile in these in the Big Apple, and my feet felt great!
6. McGinn Collection Mari Polka Dot Skirt: Again, this skirt will be available in spring 2014, but I'm pairing it with navy tights and sparkly accent pieces in an effort to wear it throughout the winter, too. I'm sorry, but I can't wait! ;) (Shop McGinn Collection here!)
7. Lilly Pulitzer Bow Belt: I can't tell you how many of these belts I own. I love how they have the ability to cinch loose-fitting dresses and tops, or just add that extra bit of pizazz to an outfit. (Similar here.)
8. Michael Kors Blair Watch: My mom gave me this watch for my birthday a few years ago, and I wear it nearly every day. It's perfect. I love how glitzy it is–it's almost like wearing a bracelet!
9. Julie Vos Bracelet: I'm sure you've noticed, but this is another piece that I wear nearly every day. I love that the bracelet is both personalized and lightweight. It's a go-to.
10. Nikon DSLR Camera: I love photography. I'm incredibly passionate about it. I love how it enables you to catch moments in life that would otherwise go unnoticed or forgotten. I've been shooting since I was in the eighth grade, so I've been through a ton of DSLR cameras: the D40x, the D90, the D300s, and now–and I'm so excited about this–the D610 with 50mm lens. (First FX!) As a blogger, having a good, reliable camera (and lens) is clutch!
11. Kate Spade Wallet: A Christmas present from my in-laws, and one of my most prized possessions. (I was so, so touched by the gift!) My mother-in-law is the cutest.
12. Hudson Jeans (Collin): Favorite jeans company. All my favorite pairs come from Hudson. I just can't get enough! They fit me incredibly well, and they're super soft.
13. Kate Spade Krysta Glitter Pumps: I wore these to my rehearsal dinner, and for part of my wedding. They hold a special place in my heart because they remind me of my husband, family, and closest friends. Every girl needs a pair of sparkly pumps, right?! (Similar here and here.)
14. Lilly Pulitzer Perla Dress: I love Lilly Pulitzer. While this is a winter piece, it reminds me of my love for summer and the beach. (Similar here.)
15. C.Wonder Dachshund iPhone 5 Case: I love dachshunds. I will have one. Soon. He already has an Instagram account.
16. Sassy Steals Necklace: I love this Crystal Vine Necklace, and how it easily dresses up a button-down. It fits perfectly under the collar!
17. J.Crew Janey Glitter Flats: I'm crazy about the Janey flat–especially the metallic, patent and leopard versions. (Take 30 percent off with code "HOLIDAY.")
18. Preppy Pink Shop Plaid Skirt: I cannot explain how obsessed I am with this store. Everything the owner, Justice, creates is absolutely gorgeous. All of her products are handmade and beyond perfect. I'm wearing this holiday tartan skirt for Christmas this year, paired with a gold bow belt!
19. Madewell Manhattan Map Scarf: My cousins gave me this scarf a few years back for Christmas, and it's one of my most prized possessions. I've been in love with New York City since I was a kid, and every time I wear this scarf, I'm reminded of so many happy memories in the Big Apple. (Take 25 percent off with code "FEAST25.")
20. J.Crew Pearl Earrings: To my dismay, I have miniature earlobes, and can't wear big earrings. This is part of the reason I couldn't live without these lightweight pearl studs. I even wore them on my wedding day! (Take 30 percent off with code "HOLIDAY.")