I always struggle with the blog after I step away for a bit, so I'm just going to write about the first 10 things that come to mind as the snow falls. Good with you? PERFECT. 😉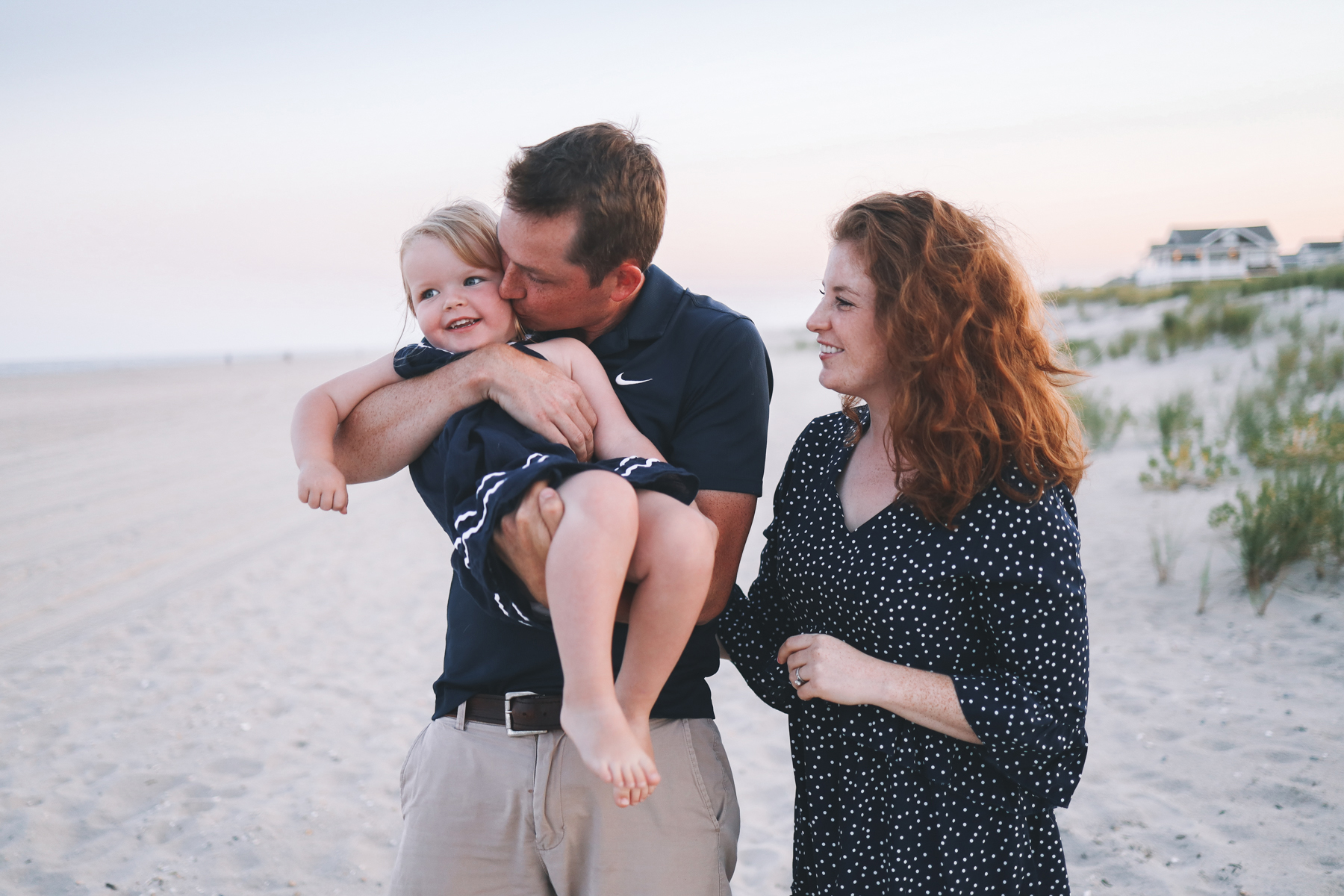 MY BROTHER IS CURRENTLY HAVING A BABY: Well, his wife is. And it's happening RIGHT NOW. Like, as I'm typing this. And I'm so excited! It's been difficult to concentrate on anything today, and I've kind of been stopping to check my phone every five minutes. 😜 Anyway, I'm just over here, heart already bursting, thinking about how surreal it is that my brother is having a KID! I just can't believe that soon, there will be a whole new person joining our family, and Emma and Lucy will have cousins on my side of the family! Okay. Sorry. Just needed to let my crazy out for a minute there. ;)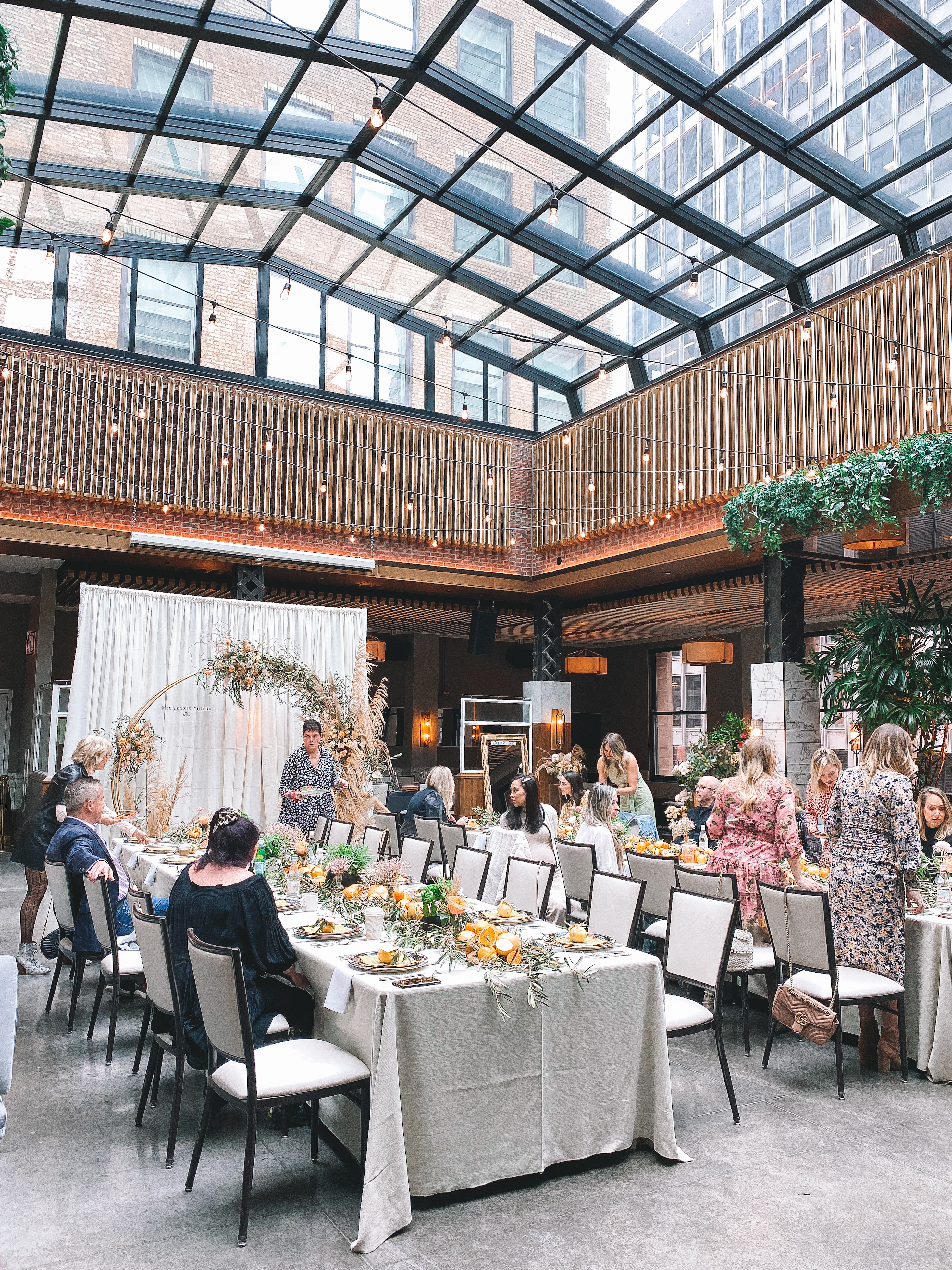 Mackenzie-Childs Event: I went to a full-day Mackenzie-Childs event at the Kimpton in downtown Chicago yesterday, and it was so fun. First, I should touch upon how was wonderful it was to see and catch up with Blair, Anna, Nicole and Arin. We've been pals for the longest time, but just don't see each other very often anymore on account of children and moves to the burbs. But my heart was full yesterday; there's just nothing like chatting about the realities of motherhood with friends! And while I know this is probably unrealistic with all the kids and the crazy schedules, I'm going to try really hard to make a dinner happen every once in a while!
The Mackenzie-Childs event itself was very relaxing and I'm not sure if I realized until I was there how much I needed a "day off." We had beautiful meals and did a bunch of artsy projects like painting pottery and making floral arrangements, and it was so cathartic. I struggle with unwinding; my mind is always thinking about all the things I could be doing, like the laundry or the dishes or whatever. But I was able to turn all of that off while crafting, and it was definitely therapeutic. (Perhaps much like yoga is for some people?! I am not a yoga girl, btw. 😂 Very jealous of people who achieve clarity and peace from it, though!)
Yeah, so that was fantastic. And it goes without saying that getting to know the Mackenzie-Childs team and the company's product line was fantastic, too! Many of you probably relate to this, but I remember the brand growing up, and its use of its famous black-and-white checkered print. Yesterday, though, I fell in love with their BLUE checked line. (How shocking, right?) Our old gingham plates are chipped and in need of replacement… and I'm thinking that the "Royal Courtley" would be beautiful!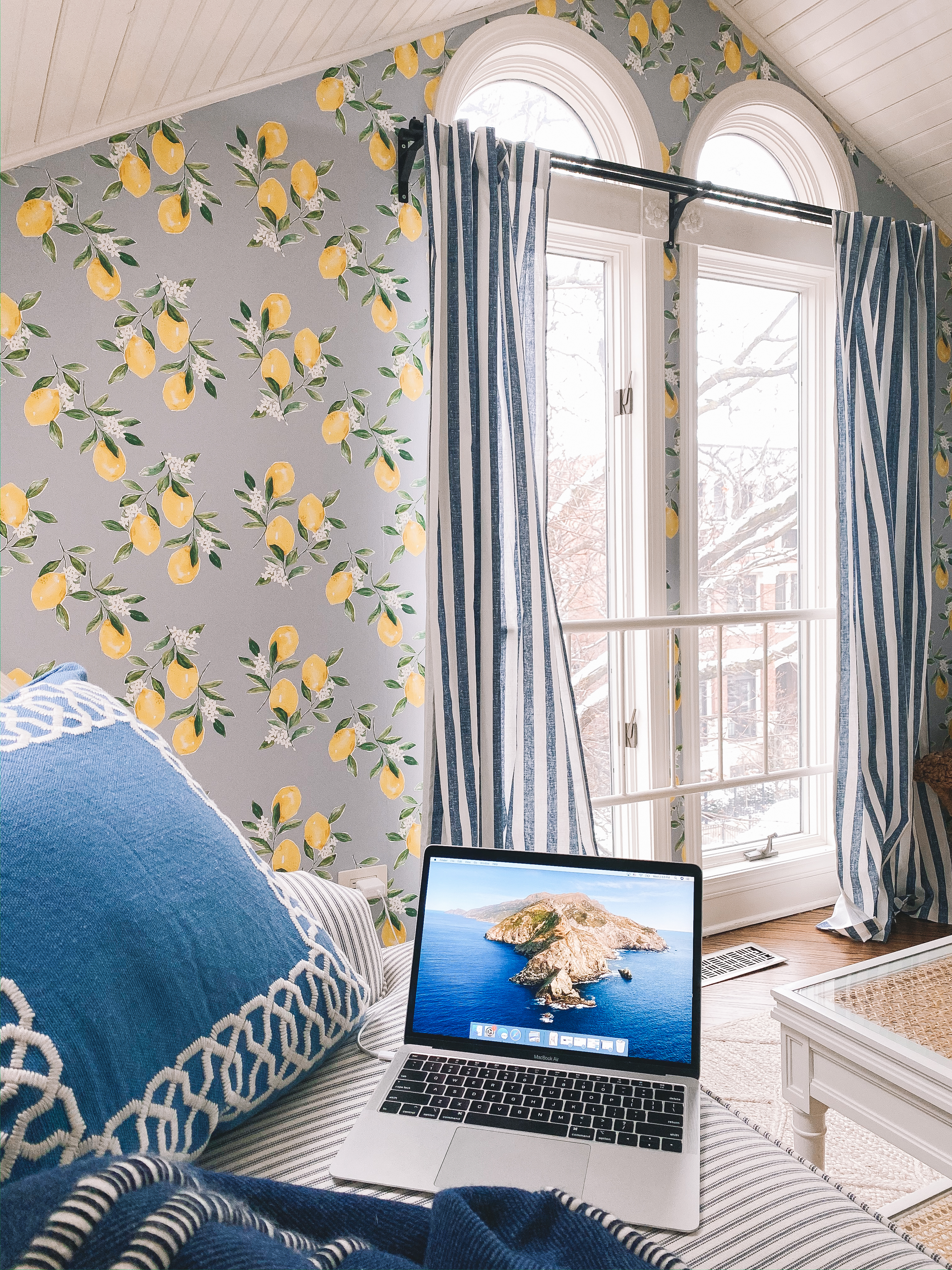 Brooke & Lou Wallpaper / Diamond Jute Rug / Harbor Cane Coffee Table / Jetty Pillow Covers / Birch Lane Durham Love Seat (Another option is the Manning Loveseat, which is a bit more traditional. Love the look of the Durham line? Here's the full-sized sofa, ottoman and chair. Each piece is fully customizable!) / Brooke & Lou Lemon Wallpaper c/o / Serena & Lily Stools (Haven't pulled the trigger on a coffee table yet, so using these in the meantime! Love the entire Costa line.) / Pottery Barn Striped Curtains / Beaded Chandelier (Also available in flush mount.)
I'm feeling a little less overwhelmed: February has been a tough month, mostly because I've been overextended. Disney was incredible and we had the time of our lives, but after that, we had back-to-back work trips and it's taken me a while to "recover" and bounce back from the chaos. There were piles of stuff all over the house, and the house itself needed a deep clean… but I was ridiculously behind on work so I couldn't devote much time to getting things back up and running. And I don't know about you, but I can't be productive in a disorganized and cluttered space, so I found myself making very slow progress on my projects. I stepped back for a few days, though, and I'm in a much better place now! The house still needs some TLC, but it's clean and the piles are, at least, in the right rooms… and I'm slowly digging myself out of the hole that I admittedly dug myself. ;) Needless to say, I'm excited for March. We're not traveling again until MAY and that's very comforting!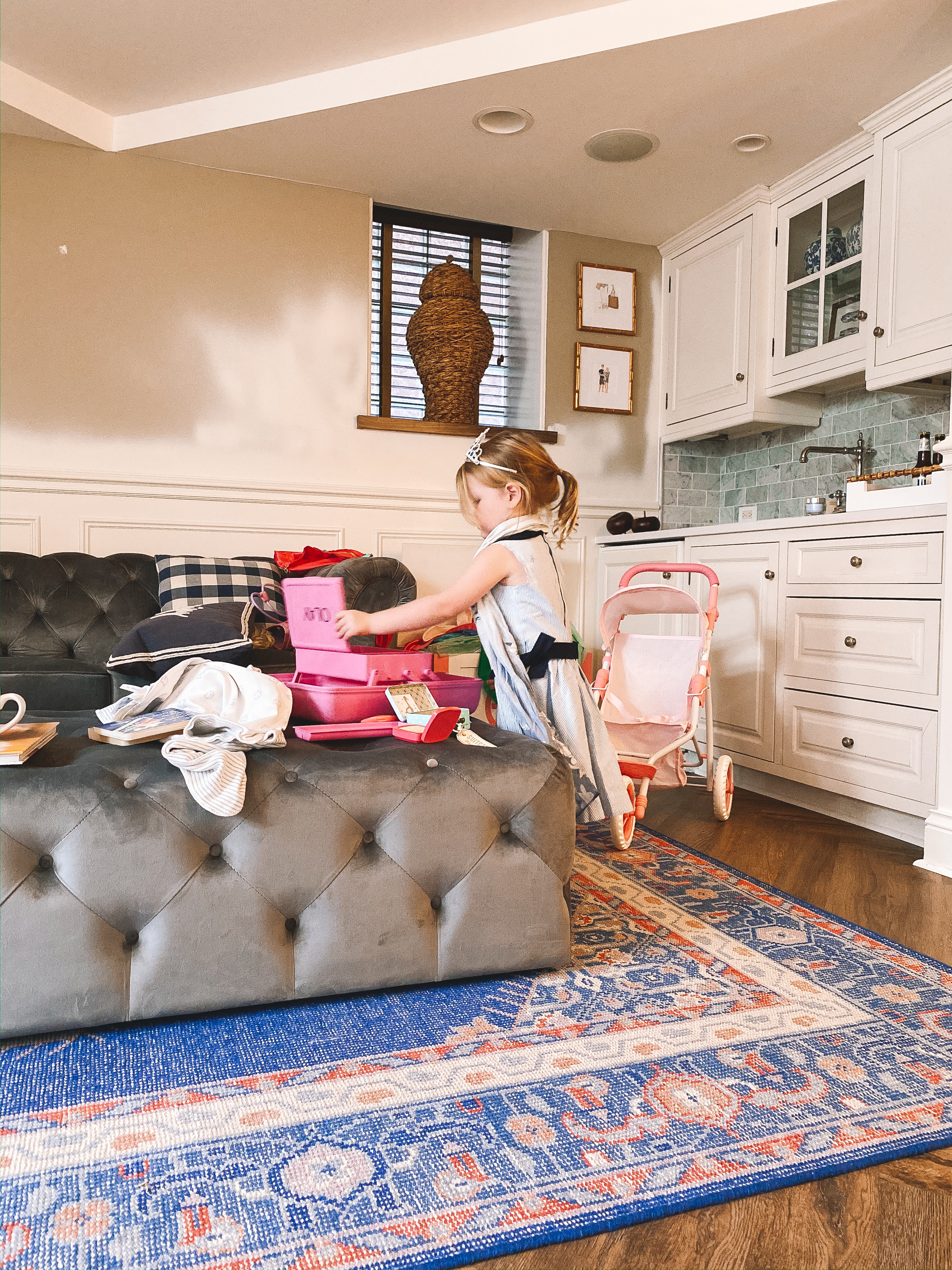 Current House Projects: I'm focused on two right now: The basement and my office. The basement is *almost* done. Over the last four months, we've ripped out the carpeting and put down vinyl flooring, had wainscoting and built-ins installed, and found furniture that better fits the space. The last step is wallpapering above the wainscoting, and I'm thinking a simple grasscloth for that though I'm not 100-percent on it yet.
I can't believe how long this has taken, haha, but I also can't believe how much more functional and inviting the space now is with the updates. We LOVE hanging out with the girls down there, and having a dedicated playroom has made a huge impact on our happiness. Because the majority of playing takes down there, the rest of the house remains somewhat tidy, and that's phenomenal for tired parents!
As for my office, I honestly just need to take a night to organize and decorate the shelves. Keep saying I'm going to do it, but there's always something more pressing. MAYBE TONIGHT IS THE NIGHT!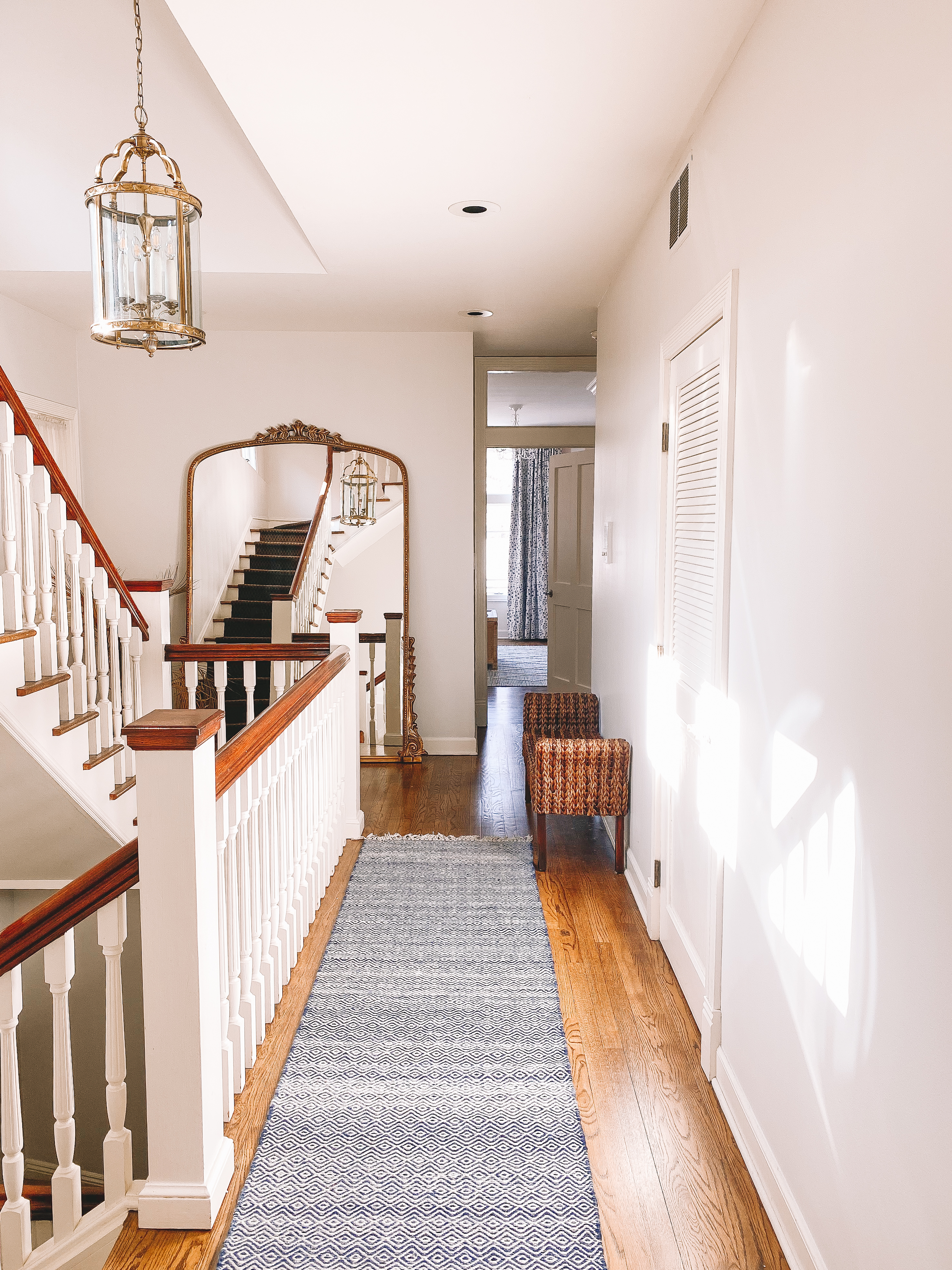 Anthropologie Mirror (Also have and love this one) / Serena & Lily Runner / Woven Bench
Art for the staircase/hallway: I recently framed a bunch of sentimental things with Framebridge for the girls' rooms, and I'm starting to think about framing some of my photos for the stairs and landing on the second floor. Thoughts?! (I like these.) Eventually, we'd like to install wainscoting up the entirety of the staircase… but for now, we just need a little something to make it feel less bare. (Though I do enjoy looking at Pinterest for future plans! Love this, this and this but also love this, this, this and this.)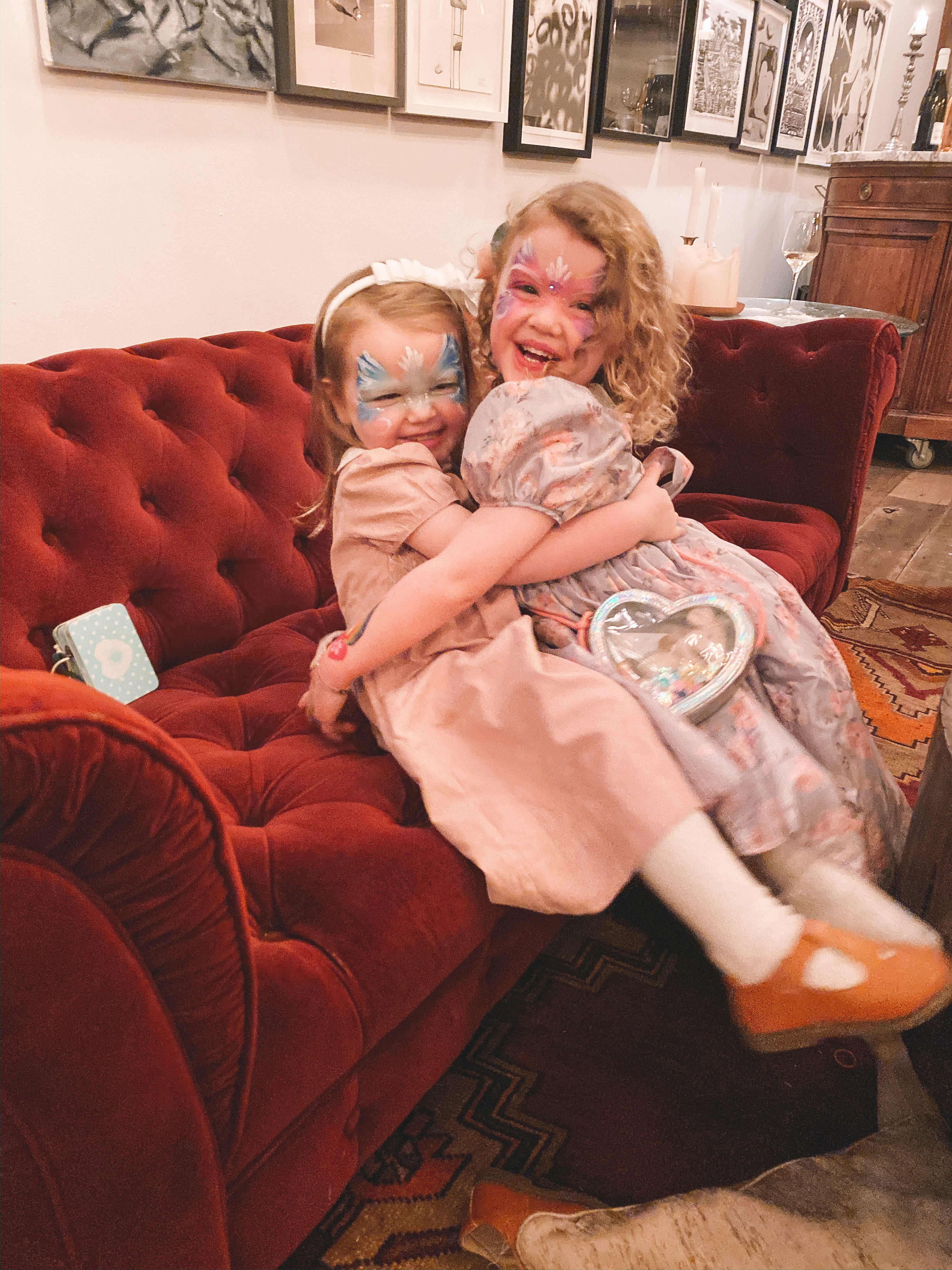 Birthday parties galore: Last weekend, we went to the most gorgeous birthday party for Emma's bestie at the Soho House in Chicago. My jaw dropped! It was stunning. My very talented mom friend who threw it, Bradley, is going to help me put together a cute party for Lucy's first birthday and I'm so excited! Lucy was born on Cinco de Mayo so we have the theme already! So easy.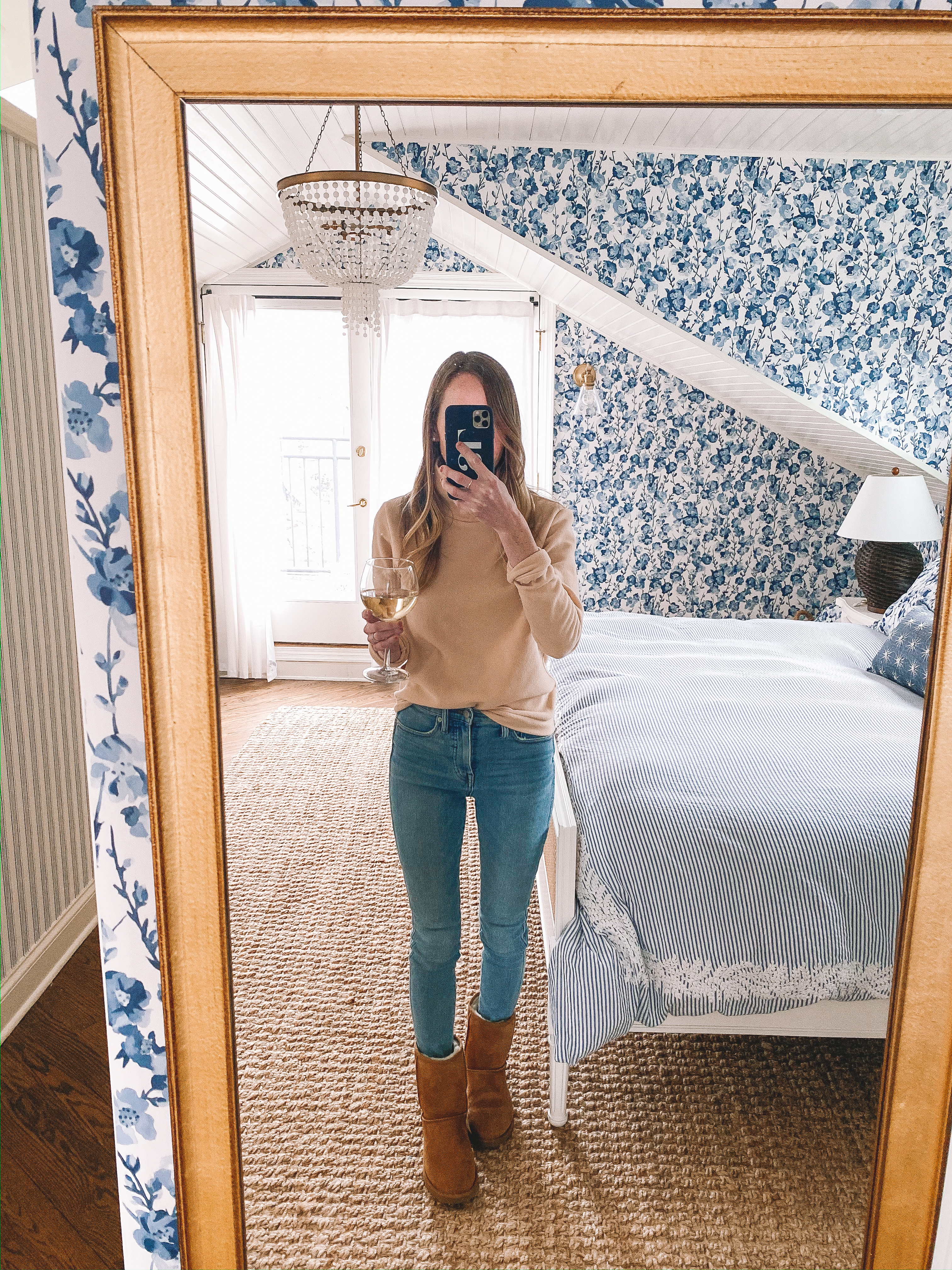 10″ High-Rise Skinny Jeans in Hamden Wash / Phone Case / Uggs / Dudley Stephens Turtleneck / Striped "Acadia" Wallpaper / Floral "Fairfax" Wallpaper / Embroidered "Westport" Seersucker Quilt / Embroidered "Westport" Seersucker Euro Shams / Scalloped Plaid Sheet Set  / Floral "Fairfax" Shams / Cane Bed / Nightstands (Also available here and here.) / Chandelier / White Curtains / Jute Rug / Brass Sconces / Similar Floor Mirror
After a solid six months of testing, I've decided that Madewell carries THE best high-rise skinny jeans: Guys. I've tried SO many high-rise jeans–including designer denim!–this year, and I feel like my "study" is complete, haha. Madewell wins. Amazing quality, extremely comfortable and fairly priced!
In case you're wondering, my favorites are the Roadtripper Jeans in Pember (kind of cropped — order "tall" if you want them full-length), the Roadtripper Jeans in Bennett Black, and the 10″ High-Rise Skinny Jeans in Hamden Wash (go one size down). They're all just so soft and move with me through the day without stretching out. Can't recommend them more.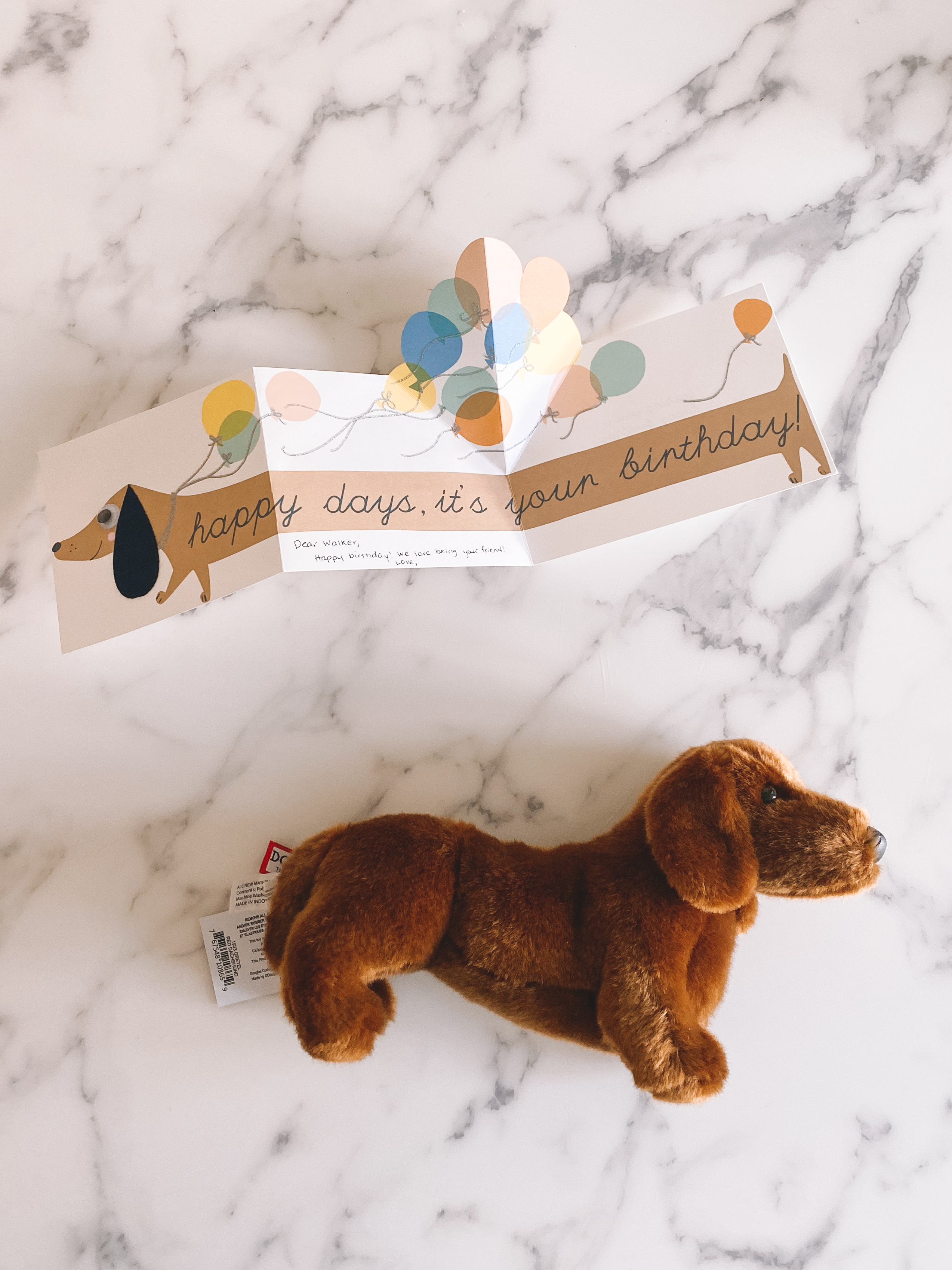 Noodle Card / Noodle Stuffed Animal
Had so much fun picking out toys for Emma's friend! One of her gifts was this Noodle stuffed animal.
I have a toy problem: Oh man. I LOVE toys. Have I talked about this yet? 🙈 It's so silly but I've totally reverted to childhood and I'm all about playing. Recently, Emma and I have gotten really into Duplo sets. They come with very simple directions that even she can follow, and it's an awesome activity that we can do together! It takes us about a half hour, and then we play with it for another half hour… and then we knock it down and do it again a few days later.
Most recently, I got a used Sofia the First's castle set off eBay because it was discontinued and I wasn't willing to pay an arm and a leg for Duplos. (Crazy that they hold their value and sell for hundreds, right?! Like WHAT. Unreal and absolutely ridiculous.) Amazon and Target carry a ton of current Duplo sets, but I really do recommend eBay if you want to save a buck. I usually go for the super discounted ones that are missing a piece or two–because come on; it's not like we're going to hold onto them ourselves–and disinfect them. I should note that Duplos make for awesome gifts for kids ages 3 to 5. I often get questions about what to get toddlers, and currently, this would be my #1 recommendation!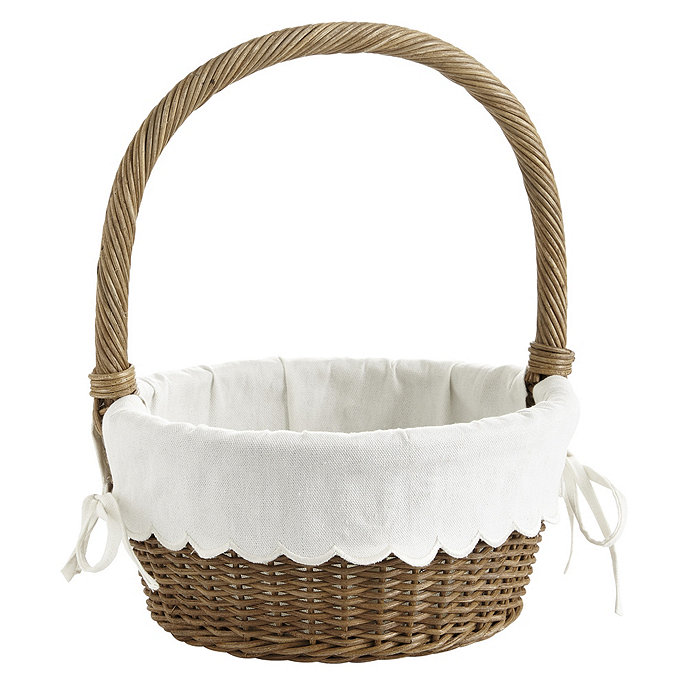 Planning for Easter: I know it's a way's out, but I recently ordered these scalloped Easter baskets and these bunny bean bags for the girls' playroom. And this is Emma's dress and Lucy's dress. Yes, I'm crazy. But I love having things done ahead of time!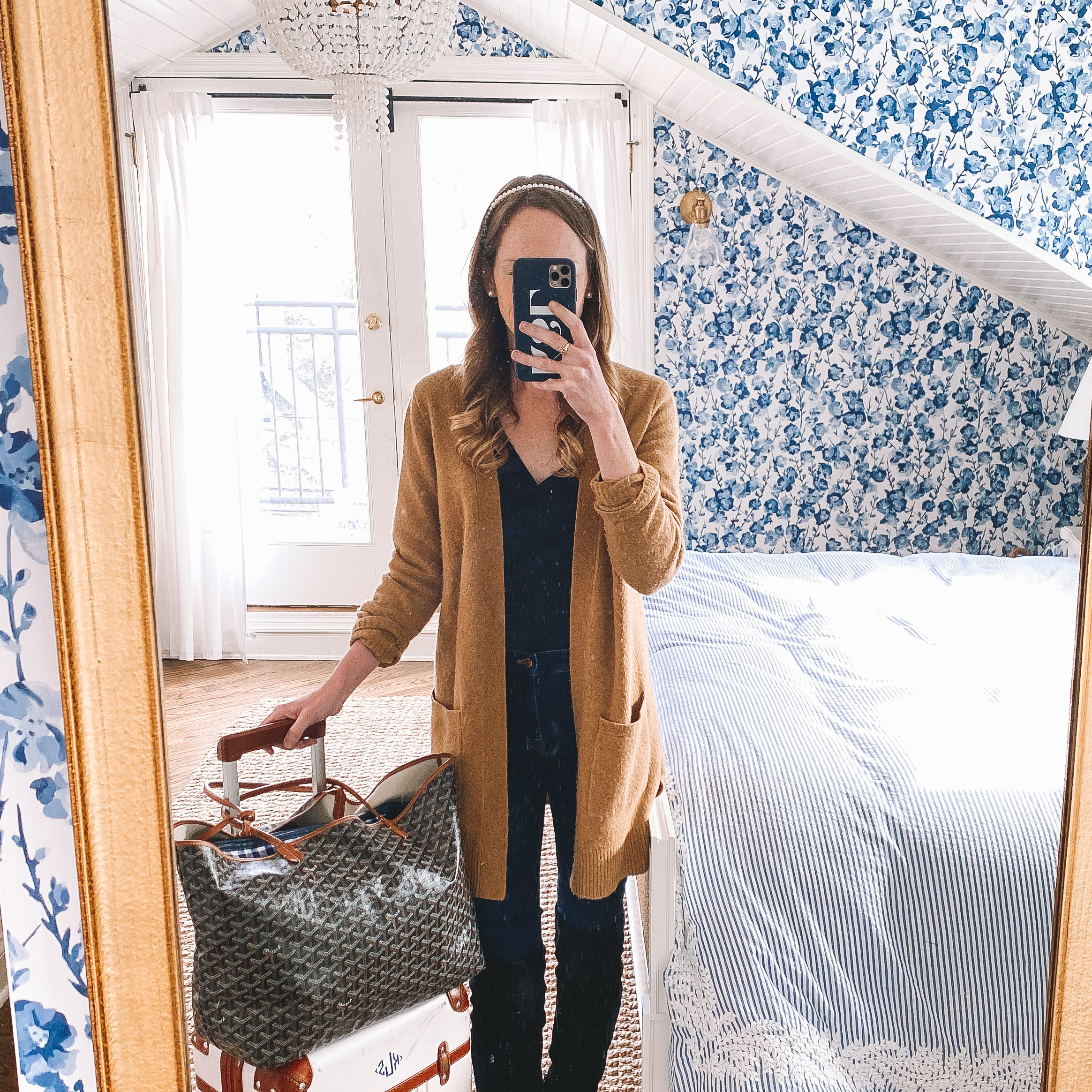 Black Over-the-Knee Boots / Black Top (So great for travel) / Similar Long Cardigan (Also really like This One, This One and This One.) / Pearl Headband / Goyard Tote / Suitcase / Phone Case / Striped "Acadia" Wallpaper / Floral "Fairfax" Wallpaper / Embroidered "Westport" Seersucker Quilt / Embroidered "Westport" Seersucker Euro Shams / Scalloped Plaid Sheet Set  / Floral "Fairfax" Shams / Cane Bed / Nightstands (Also available here and here.) / Chandelier / White Curtains / Jute Rug / Brass Sconces / Similar Floor Mirror
I hate the new iPhone: I'd love to hear what you guys think about this! I have the new iPhone 11 Pro Max (the big one), and the camera is awful. There's a significant delay on the shutter, so I'm constantly missing moments, and so many of my photos turn out blurry. I've messed with the settings, and while you can turn off the long exposure option, you have to do it before you take each photo, which is NOT conducive to having and photographing children! Oy. Anyone else have this problem? I'm thinking my phone's a dud and I need to go in and have it replaced but hoping to hear from other iPhone 11 owners before I go through the trouble! Thanks, Friends! :)
xx