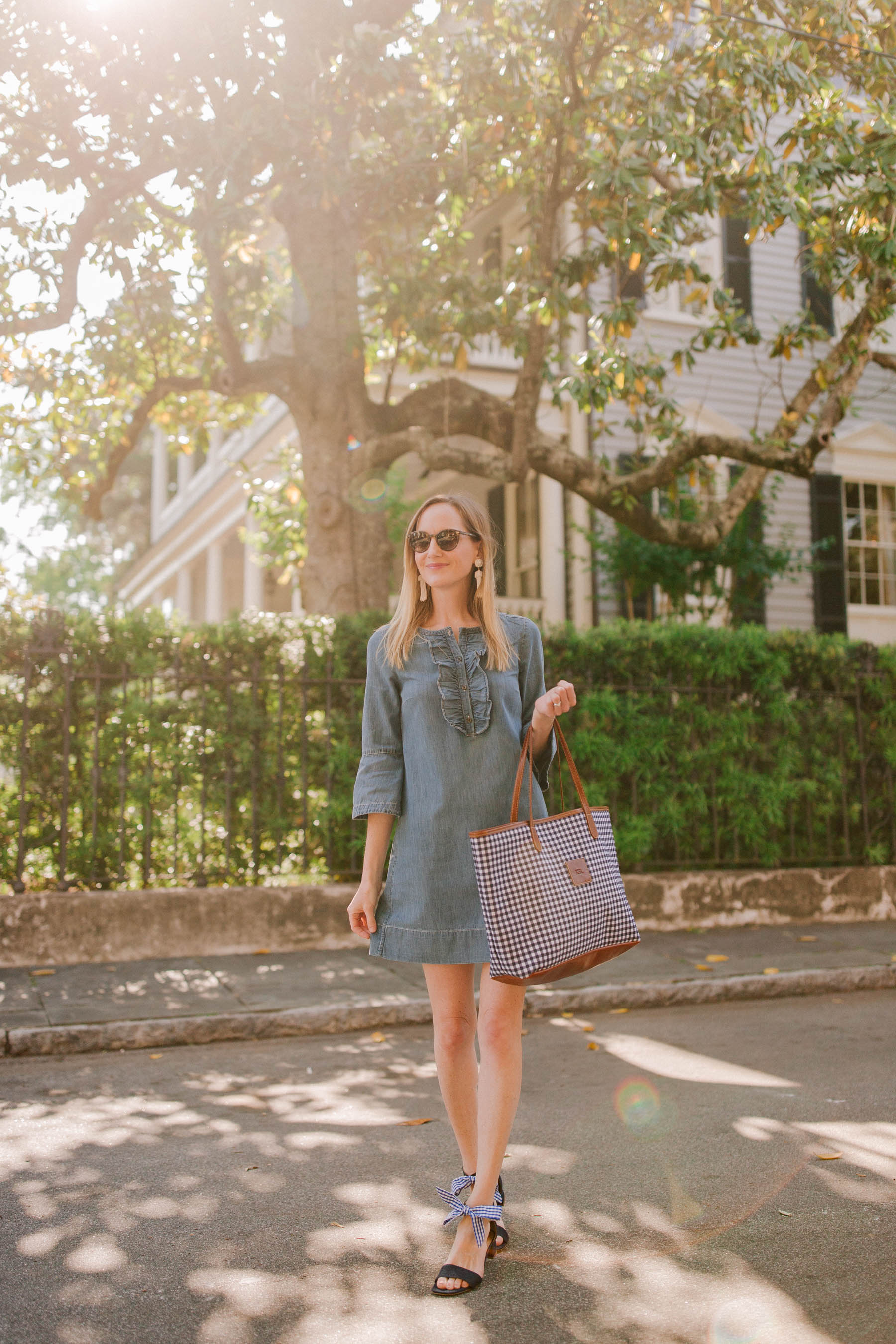 Draper James Dress (More sizes here. Also love this Draper James chambray dress as well as this one and this one! The ruffled skirt is pretty cute, too!) / Barrington Gifts Gingham Tote c/o (SO many awesome spring/summer patterns available.  / Lisi Lerch Earrings (Also love these white statement earrings because they're SO lightweight! This pair is adorable, too.) / Gingham Bow Sandals c/o / Similar Sunglasses
Before we get to today's post, a few random thoughts:
Has anyone seen the movie "Storks"? It's a kids' movie, but we watched it recently with Emma when my aunts were visiting, and it's hilarious. I'm pretty sure that this little clip isn't funny when watched out of context, but we were rolling on the floor laughing. Highly recommend.
Emma is obsessed with white cars. When we take walks around the neighborhood, Mitch and I can no longer even talk to each other, as she's constantly screaming "WHITE CAR! WHITE CAR! WHITE CAR!" At first it was super cute, but I kind of miss chatting with my husband, hahaha.
June 17th is just around the corner, and I'd love your input for my Father's Day gift guide. If you've ever knocked it out of the park with a Father's Day present, would you mind sharing? I'll credit you–first name and last initial, maybe?–in the blog post, for sure! Doesn't need to be a material gift, either! Many thanks. :)
I need new wine glasses. Up until recently, I used the tiny Ikea ones that I'm sure a lot of you have owned at one point or another. But I finally broke the last one, and went out and bought these because of the gold stems. HUGE MISTAKE! I broke one in the first five minutes of owning them. 😂 Too fragile. Do you have any recommendations?! Bonus points if I can order them on Amazon.
I'm so excited about this weekend! We have a birthday brunch for Blair, an engagement party for our friend Jenny, and a birthday party for Zain. It's been too long since we had some quality time with our friends, and I can't wait to see everyone!
I'm working on another mini Charleston guide. Here's the last one I published! Mitch is the best "Insta Husband" ever and made a point of taking photos of all my outfits since I've kind of stopped taking pics in Chicago. (I'm just so tired of being cold!) But we wanted to really enjoy our trip, and therefore didn't document much else. I have a few iPhone photos, though… so I'll see what I can do! :) If you have anything you'd like me to cover, though, be sure to let me know!
Which brings me to today's outfit. :) The details:

Barrington Gifts sent me this gingham tote a few weeks ago, and I'm obsessed. It really reminds me of the Louis Vuitton Neverfull tote, except the price point is far more affordable, and it comes in a ton of different preppy patterns! It's also a better size. With the Neverfull, I've always felt that the medium size is a bit to small and the large size is a bit to big… but the Barrington tote is perfect. I've been using it as a baby bag in Chicago, too, and LOVE it! Be sure to check out the rest of the Barrington Gifts line. So many adorable matching accessories!

I'm constantly cold, especially in the evening… so I love dresses with sleeves that I can wear from day to night. (Anyone else feel so much warmer when something is covering their shoulders and arms?!) The best part about this Draper James number is that it kept me cool during the 85-degree day, too. And how about that ruffled detailing down the front?! More chambray from Draper James above.
I can't believe that this is my first time featuring these sandals in an outfit post! As I mentioned, we've had a VERY cold spring in Chicago. ;) Either way, I loved wearing them. I actually threw backup sandals (which I wore in the morning) in my tote just in case the gingham pair hurt, but lo! Super comfy, and zero pain. They run TTS and I couldn't recommend them more. Note that you can change out the ribbon if you're the creative type.
White statement earrings are my thing this year. I'm wearing the clip-on version of the ever-popular Lisi Lerch tassel earrings here, only because I have small earlobes and fear heavy earrings. (The clip-ons are painless and they don't slip off, btw!) But I also love these white statement earrings because they're SO lightweight. This pair is adorable, too.
Over and out!
Shop the post:
Draper James Dress (More sizes here. Also love this Draper James chambray dress as well as this one and this one! The ruffled skirt is pretty cute, too!) / Barrington Gifts Gingham Tote c/o (SO many awesome spring/summer patterns available.  / Lisi Lerch Earrings (Also love these white statement earrings because they're SO lightweight! This pair is adorable, too.) / Gingham Bow Sandals c/o / Similar Sunglasses

Outfit details:

SaveSave