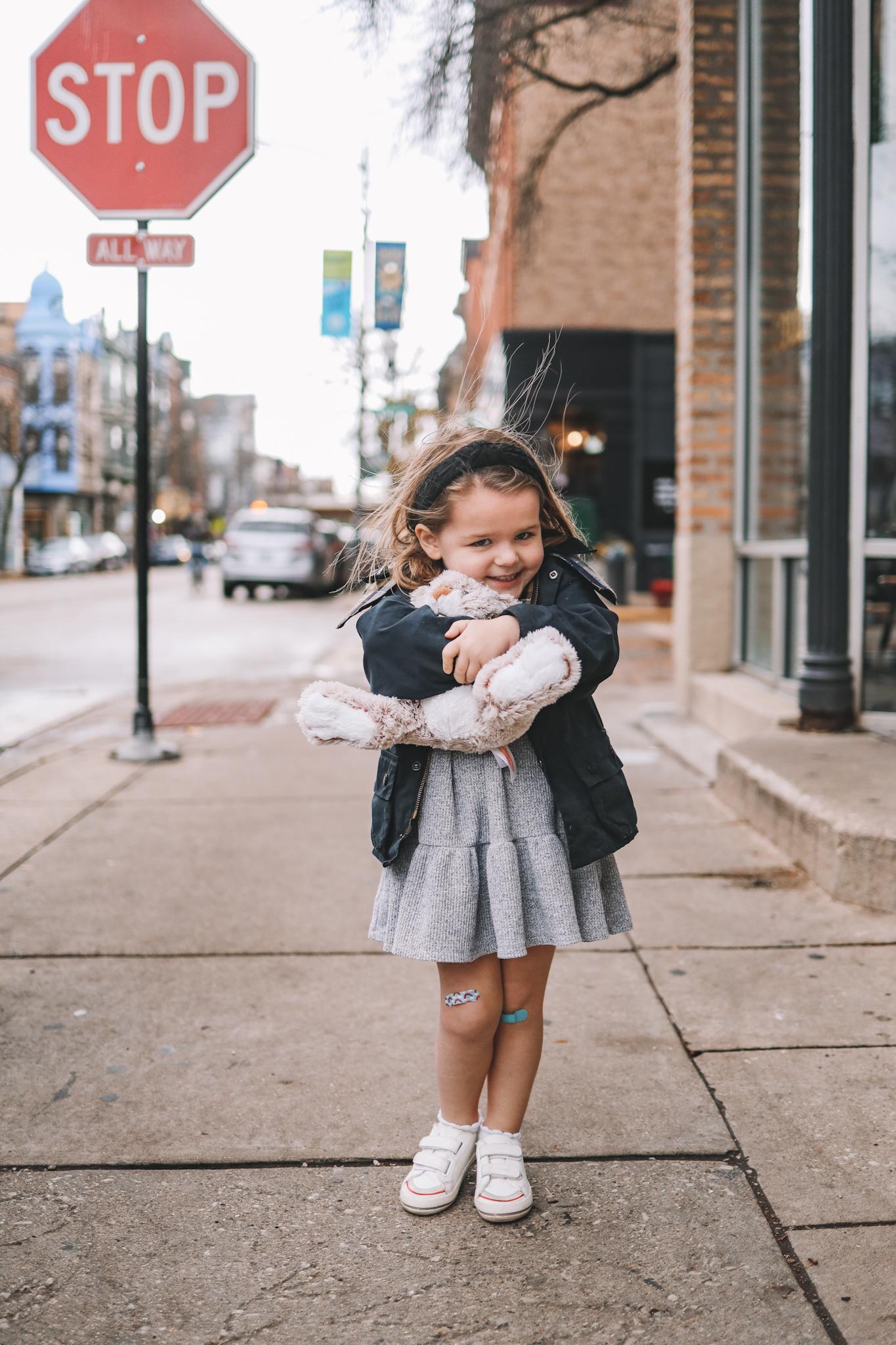 All details here / Kids' Barbour Jacket (In olive here.) / Rainbow Sneakers / Target Waffle Knit Dress (It has a cult following! Little Girls' version here.) / Newer Headband / Stuffy
Lucy was "Star of the Week"! She got to bring home "Rosie the Rabbit" and I truly think it was the best week of her life. Giving Rosie up was pretty devastating, but it seems like Santa may have located the bunny and our hopes are high that she'll be joining our family for good come December 25th. Crisis averted. 
"10 Things" is definitely my favorite blog post to write every week, so I thought I'd revive/rework another post I used to publish all the time back in the day! (Anyone remember "Life Lately"?!)
The idea was to share whatever I find on my camera and iPhone from the past week. It's a nice little inside look at our lives and the randomness that we think to capture. 😆
So here's my go at it this week:
Rug on SUPER clearance! So soft. Can't recommend more! / New Armoire (Comes in white and black, too.) / Trunk (25 percent off with code "GRATITUDE.") / Canopy Bed / Scalloped Bed Skirt / Nightstands / Shams / Quilt (25 percent off with code "GRATITUDE") / Chandelier / Nearly Identical Wallpaper Here and Here / Frames / Riley Sheehey Art
Emma has been reading to Lucy throughout the day and at night
This has been the cutest thing. Emma has enjoyed reading to Lucy on and off throughout the last couple of years, but lately, they sneak off by themselves to cuddle up and read whatever Emma wants to read. (Lucy does not care. She just wants to be with Emma.) Emma enjoys being the teacher; Lucy enjoys being the student.
I should note here that the ever-popular Serena & Lily trunk is finally on sale. It admittedly costs an arm and a leg, but that's why it's so important to buy when it's (rarely) on sale. I also  know we'll have ours for life, as it's just so functional. Throughout the girls' (so far short) lives, we've stored toys, clothing and bedding in them depending on their/our/guests' needs. The trunks look insanely beautiful, and they're wonderfully well-constructed!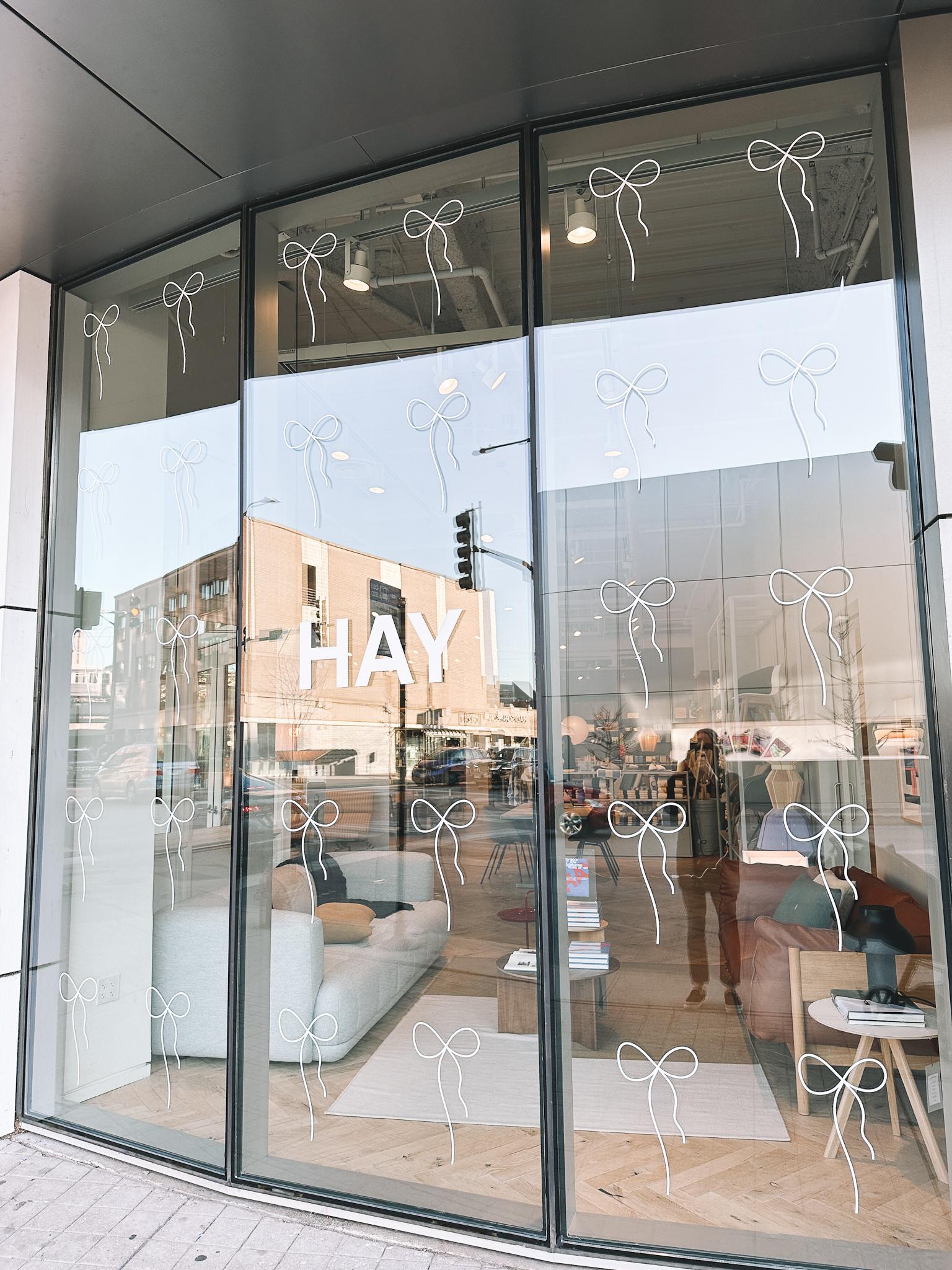 How cute is this storefront?
I mean, come on. A+, designers.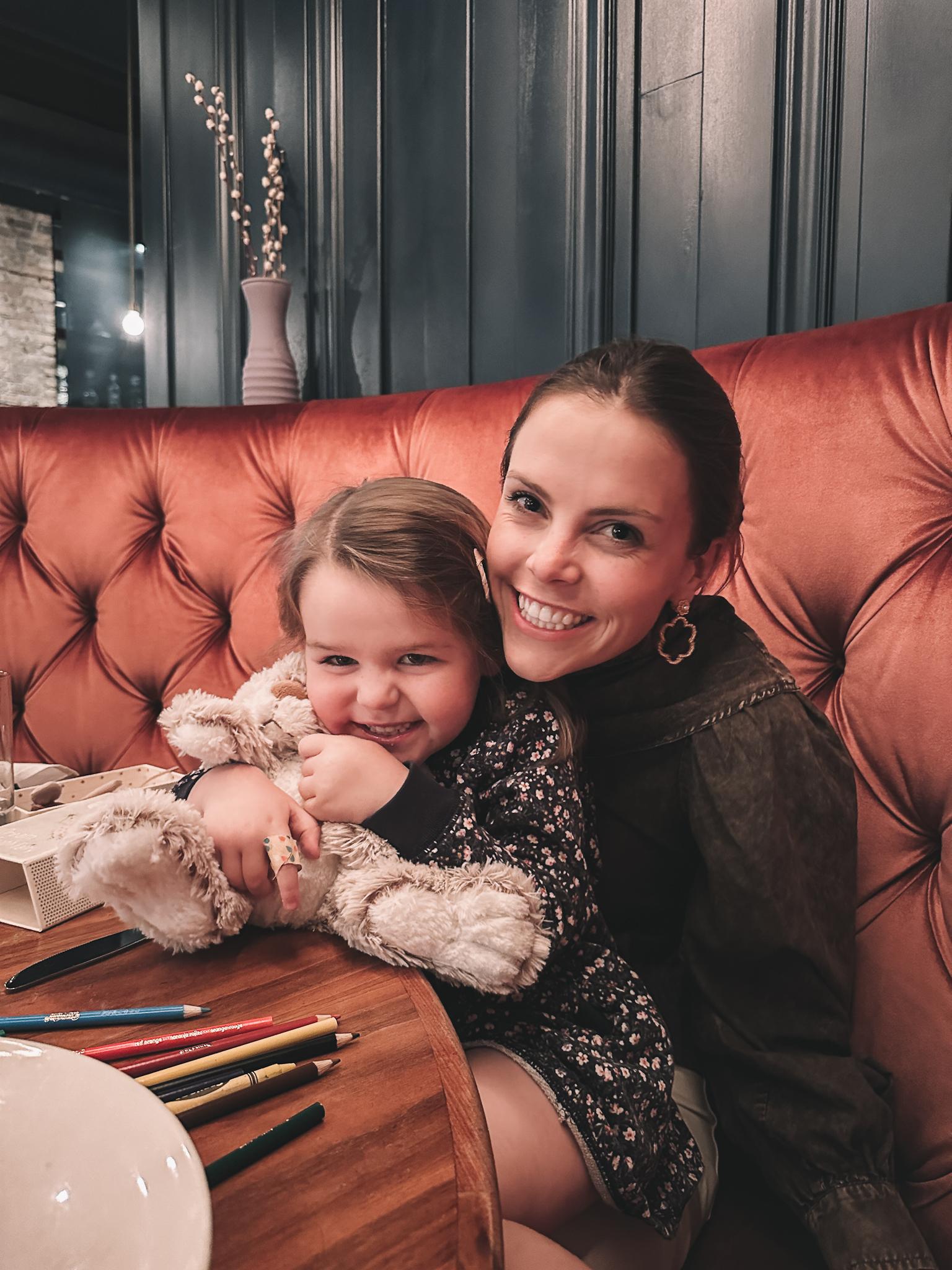 My cousin Paige came to visit
This was the best night! I'm really close with my cousins from both sides of the family, but they're all about a decade younger and way cooler than I am. 😉 I'm so touched, though, that they all keep in touch despite the coolness factor (ha!) and what different life stages we're in. They also VISIT! And that's really saying something, as they ALL live in New York City. (Besides Sammy. She lives in Boston. Love you, Sam.) Anyway, Paige came to Chicago on a work trip, and stayed with us for a night! It was fabulous, and it made Lucy's night. (And ours.) I loved catching up in the playroom, at Willow Room, and then in the living room over bad wine. LOVE YOU, PAIGE! So proud of the amazing person you've become. (And have always been.) Such a great role model for our girls.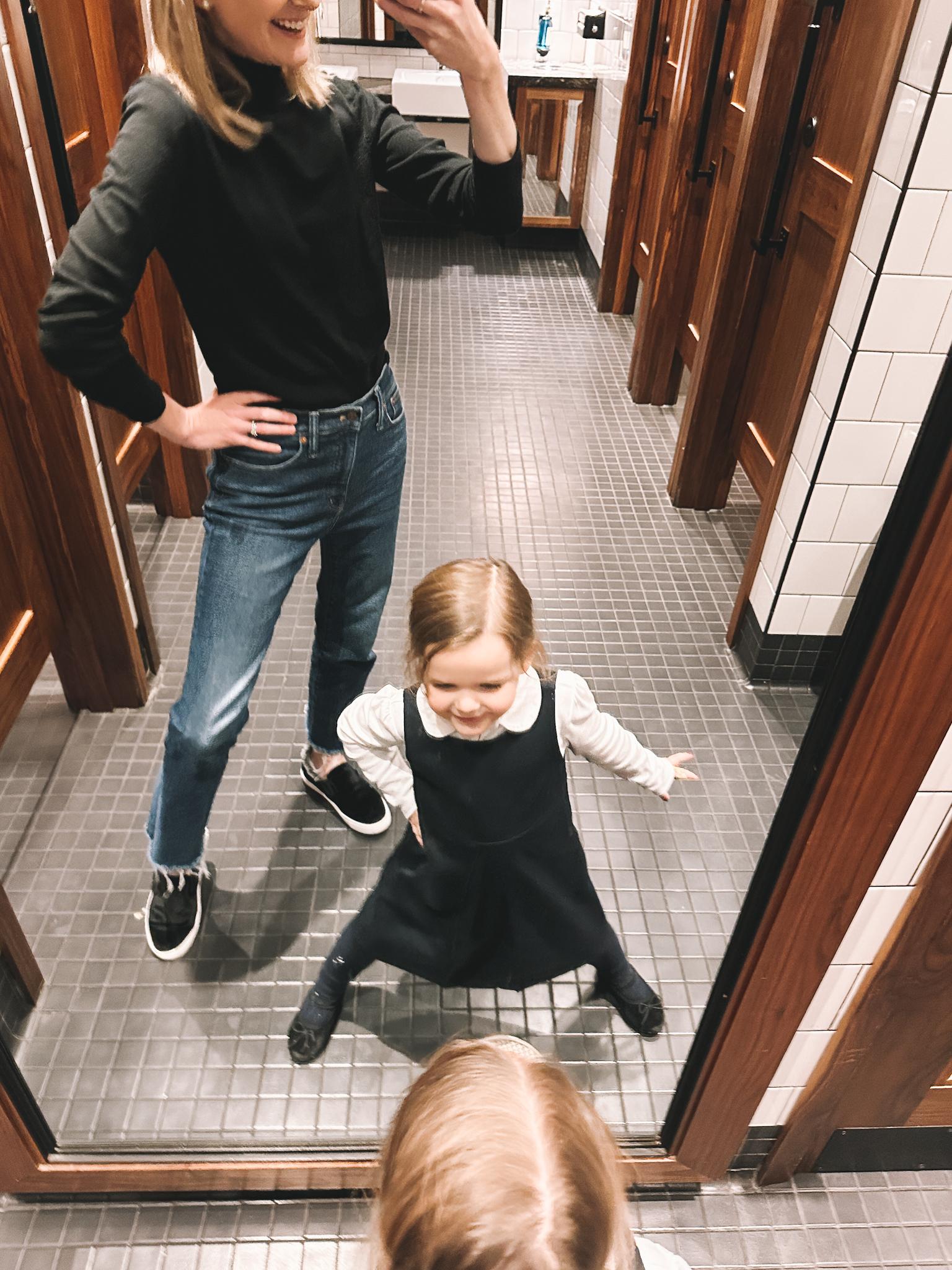 Cashmere Black Turtleneck Sweater (I wear this constantly! So easy.) / Velvet Sneakers 50 percent off! (Corduroy Version Here.) / The Softest + Coziest Heavyweight Winter Jeans (40 percent off with code "OHJOY." Seems like an oxymoron but they're soft, warm and cozy—and keep me warm even when temps dip into the 20s! HIGHLY recommend. Just be sure to size down, no matter what, haha. I initially ordered my normal size and that was a mistake.)
We had a night out with friends from the girls' school
This was the first really cold night of the season. We were supposed to go to the tree lighting at New City with friends, but Emma broke down and said she just couldn't handle the thought of standing in the freezing cold for that long. And you know what? I was kind of relieved. 😆 So instead we just met our friends afterward at a nearby restaurant, and it was a chaotic blast with tons of kids. I didn't take many photos, but the one of Lucy struttin' her stuff in the restroom mirror to whatever pop music was playing is my fave.
We celebrated my dad (from afar) on Veteran's Day
My dad was a USAF pilot back in the day, and I was actually born on Plattsburgh Air Force Base! Anyway, this photo was recovered this past week, and I really loved seeing it. Sometimes it just blows my mind what my father did for a living. The bravery that it took! Doesn't it look like something out of Top Gun?! Dad, you're amazing. Thank you for your service, and for all the fun years. And for my friendship with AnnMarie and Betsy (the daughters of my dad's co-pilot), who remain two of my closest friends!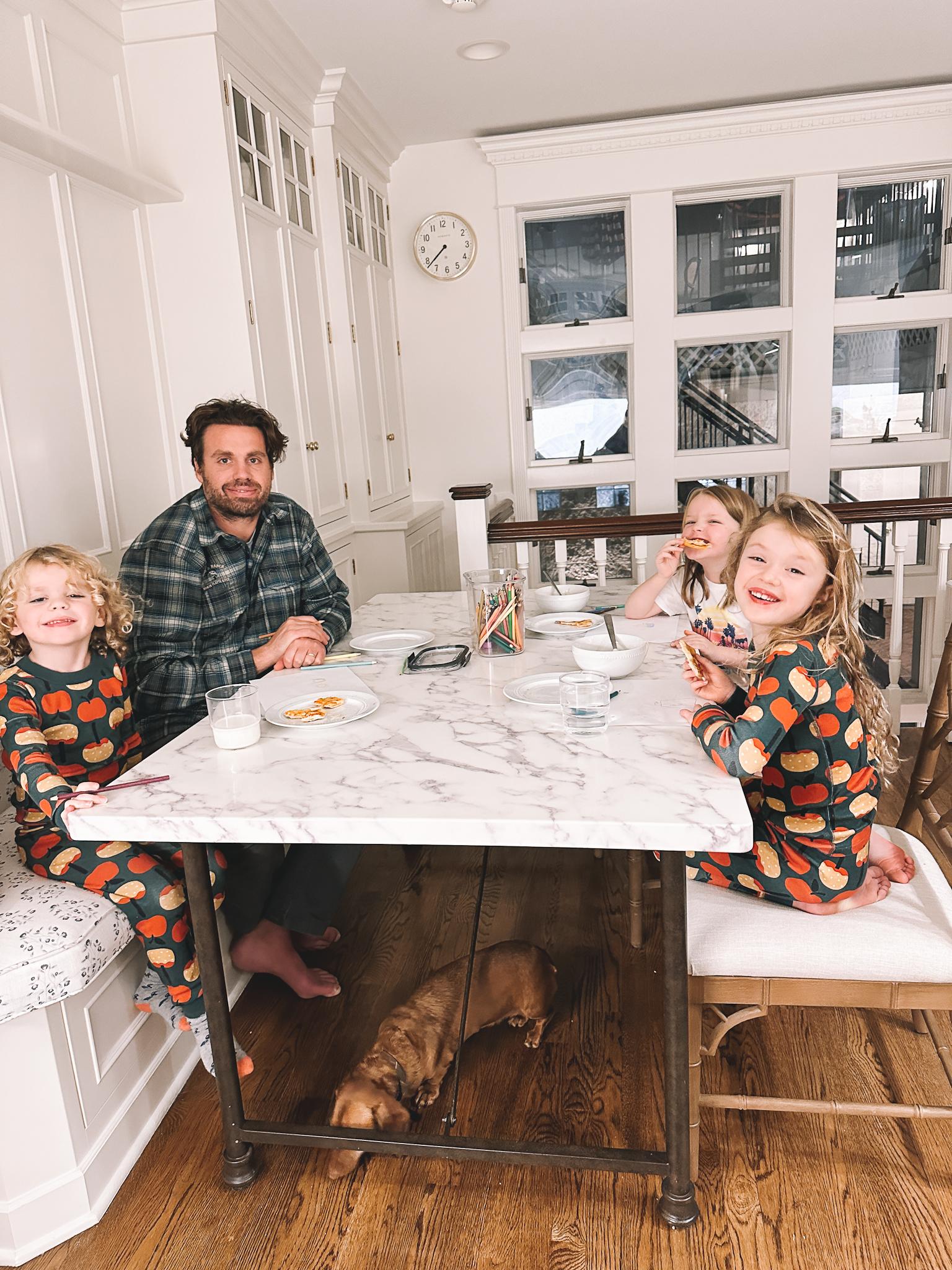 Chippendale Chairs / Newer Version of the PB Marble Bistro Table (Also similar here.) / Schoolhouse Clock / Apple Pajamas / Target Porcelain Beaded Dinnerware (SUCH the buy!) / Bench Upholstery / Newer Target Pillows / Drinking Glasses (On sale!)
We hosted Bradley and Peter's family for a night
We just love this family so much. And it warms my heart thinking that Emma and Walker have been best friends since they were two years old! Those kinds of friendships are so rare. While our children now go to different schools in different parts of the city, it's like no time has passed when we get together again every couple of weeks. Instead of the normal pizza order, I went with pasta and salad this time from Capri in Lincoln Park! (Which is known for its pizza but whatever, haha.) It was SO good. I never cook when we have friends over because it's just too chaotic with all the kids and I prefer to be present, but I really want to stop relying on pizza! There are so many other options besides pizza. :)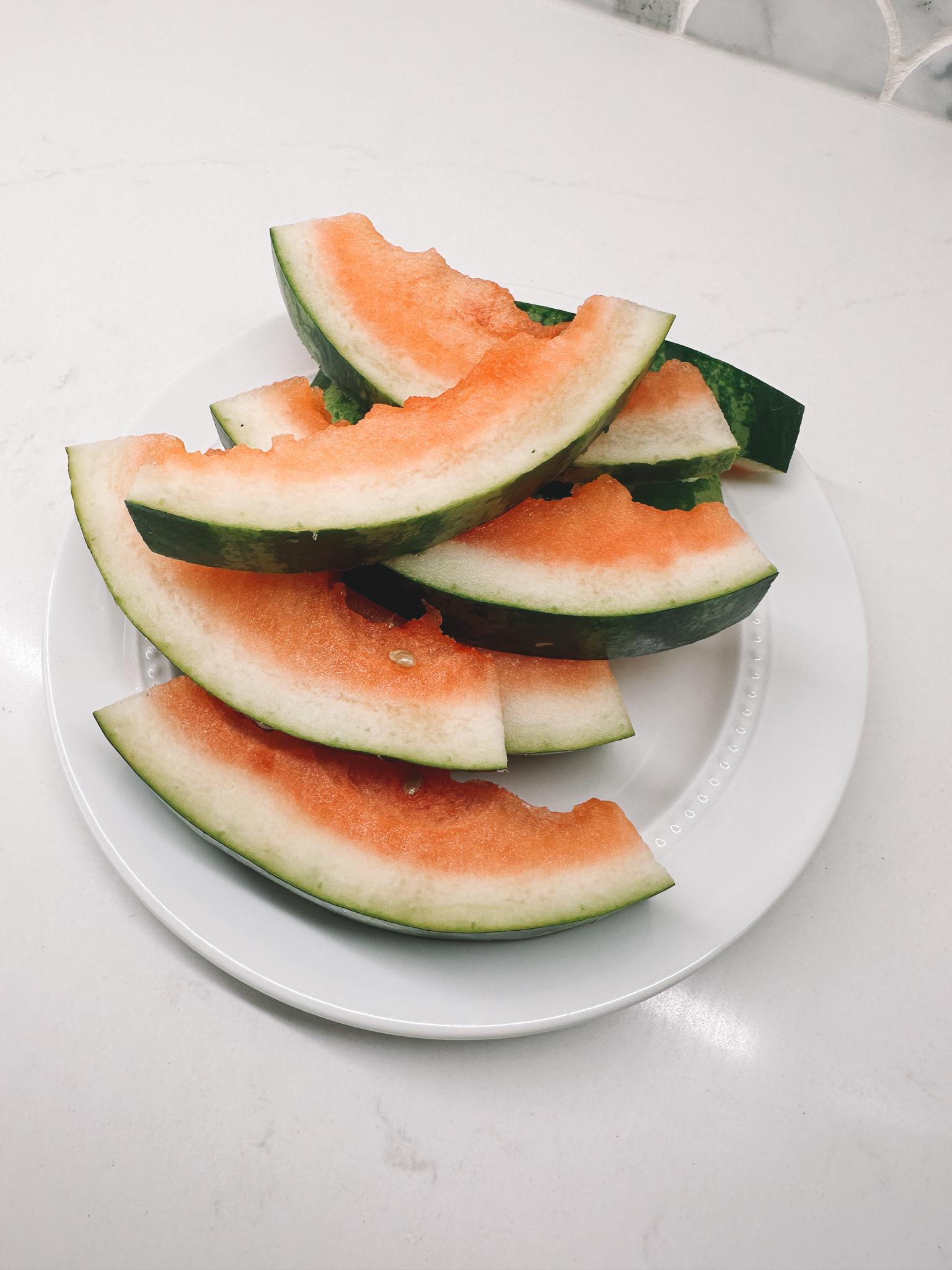 Target Porcelain Beaded Dinnerware (SUCH the buy!)
We can't keep watermelons stocked in the house
The girls will seriously eat five to eight slices each per sitting. Granted, they're on the smaller side. But still! We are struggling to keep up, haha.
Btw: If you're looking for new dinnerware, I highly recommend this (REAL PORCELAIN!) set. It's from Target, and so affordable! My mom has tried both the Pottery Barn and Crate & Barrel versions and says ours is by far the best. We've had it for three+ years and not a single scratch!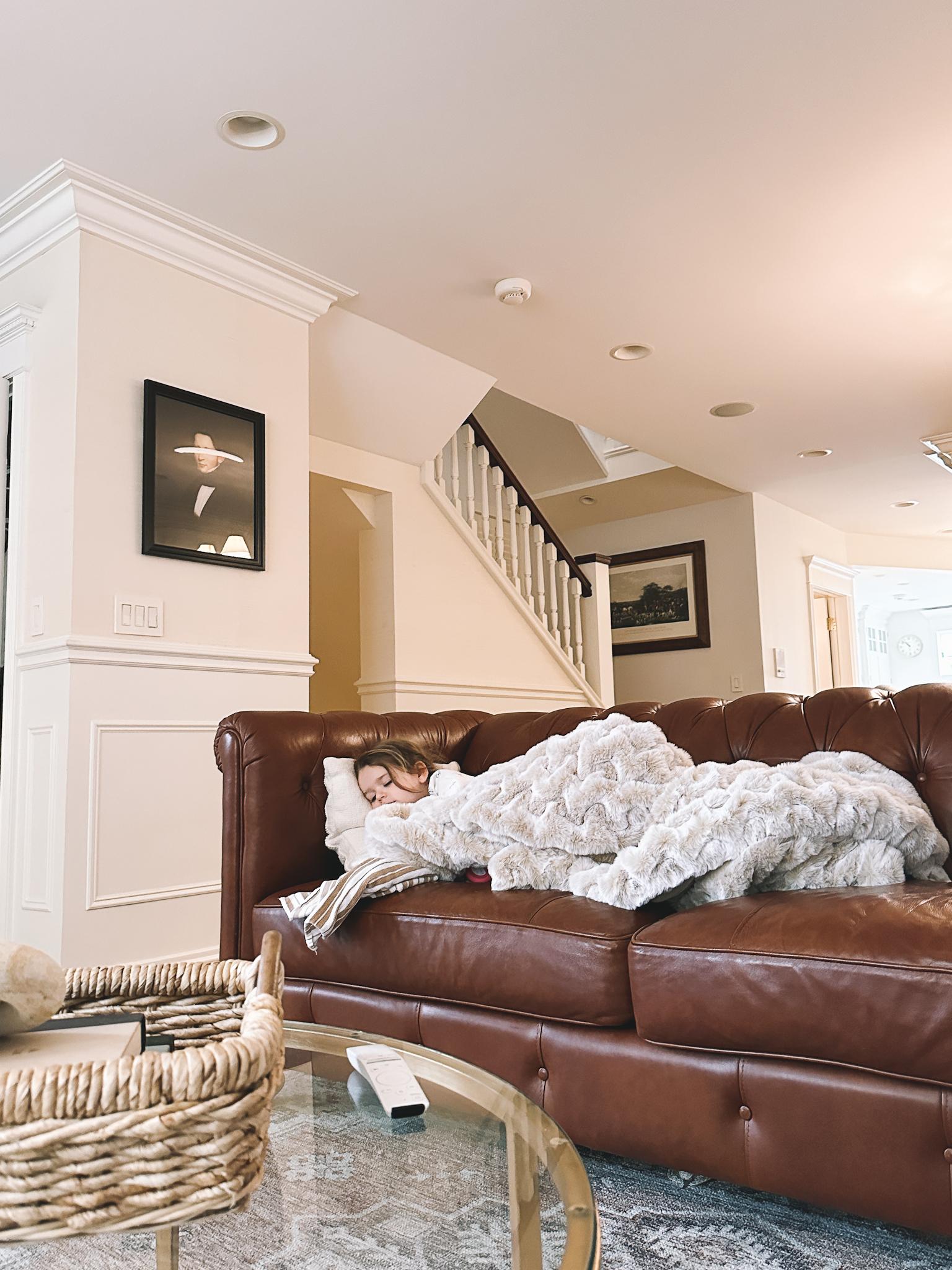 Unscratchable REAL Leather Couch (Pottery Barn version here.) / Faux Fur Blanket / Pillow / Rug (And this one! I LOVE! 25 percent off with code "GRATITUDE.") / Coffee Table (Over 50 percent off!) / $25 Woven Tray / Wallpaper
Both girls came down with fevers
I will say that I think our new vitamin routine is working. (I take the adult version.) We're getting sick less frequently, and the bouts are less severe. Still, Emma came down with something last week, and Lucy followed. It was a bit discouraging. But they rebounded very quickly, and were back to their normal selves within 24 hours, which was such a delightful surprise. And hey. It's progress. And I'll take anything at this point!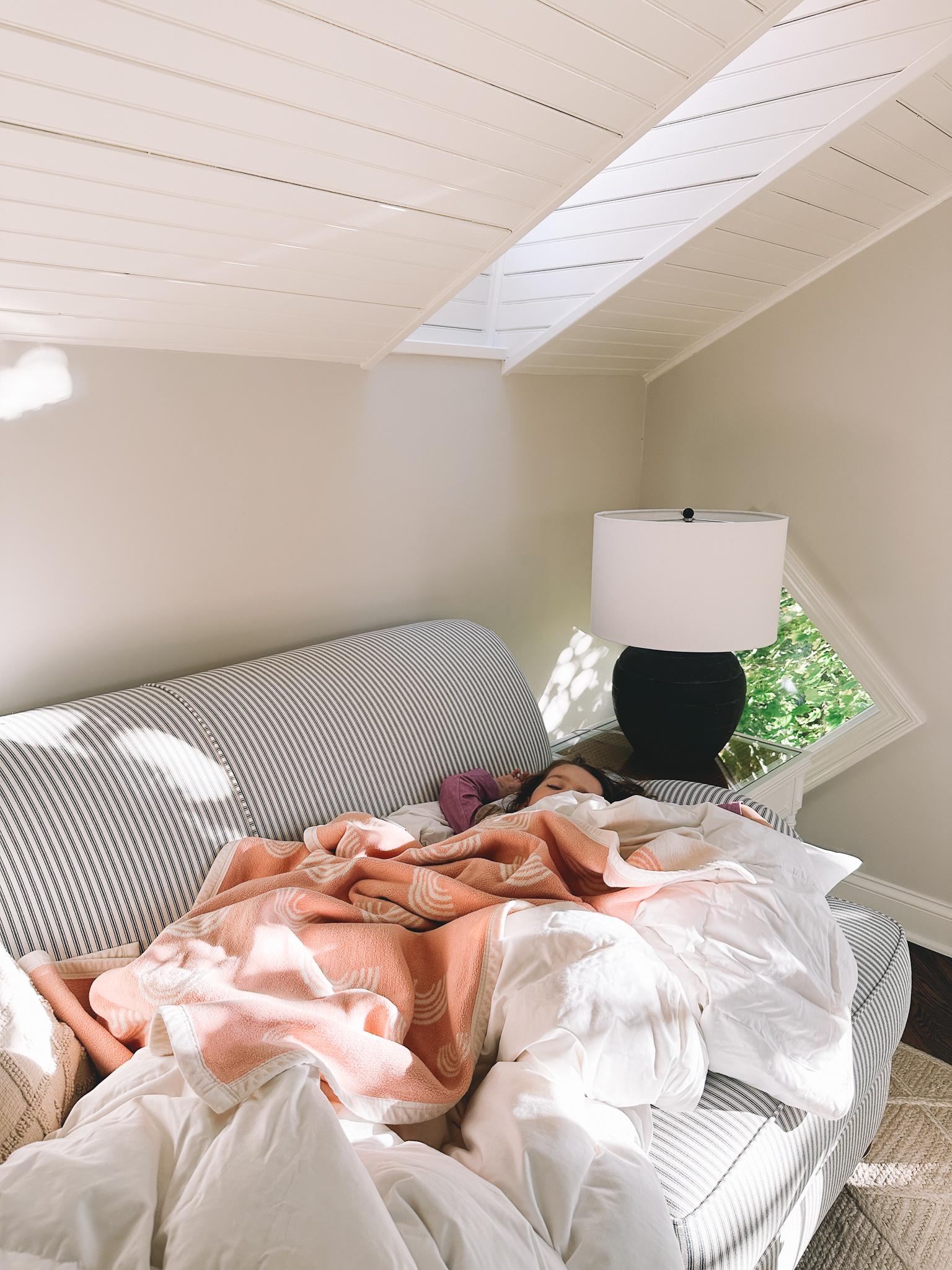 Sofa (In "Cruise Adrift") / Rainbow Blanket / Diamond Jute Rug (25 percent off with code "GRATITUDE") / Lamps
We slept a lot
During Lucy's rough night, I ended up putting her in my office to comfort her. She woke up and said, "Guess what?! I've decided that this is my room, and this is where I am going to sleep every night." And Mitch doubled over in laughter. ;) Kids say the darnedest things…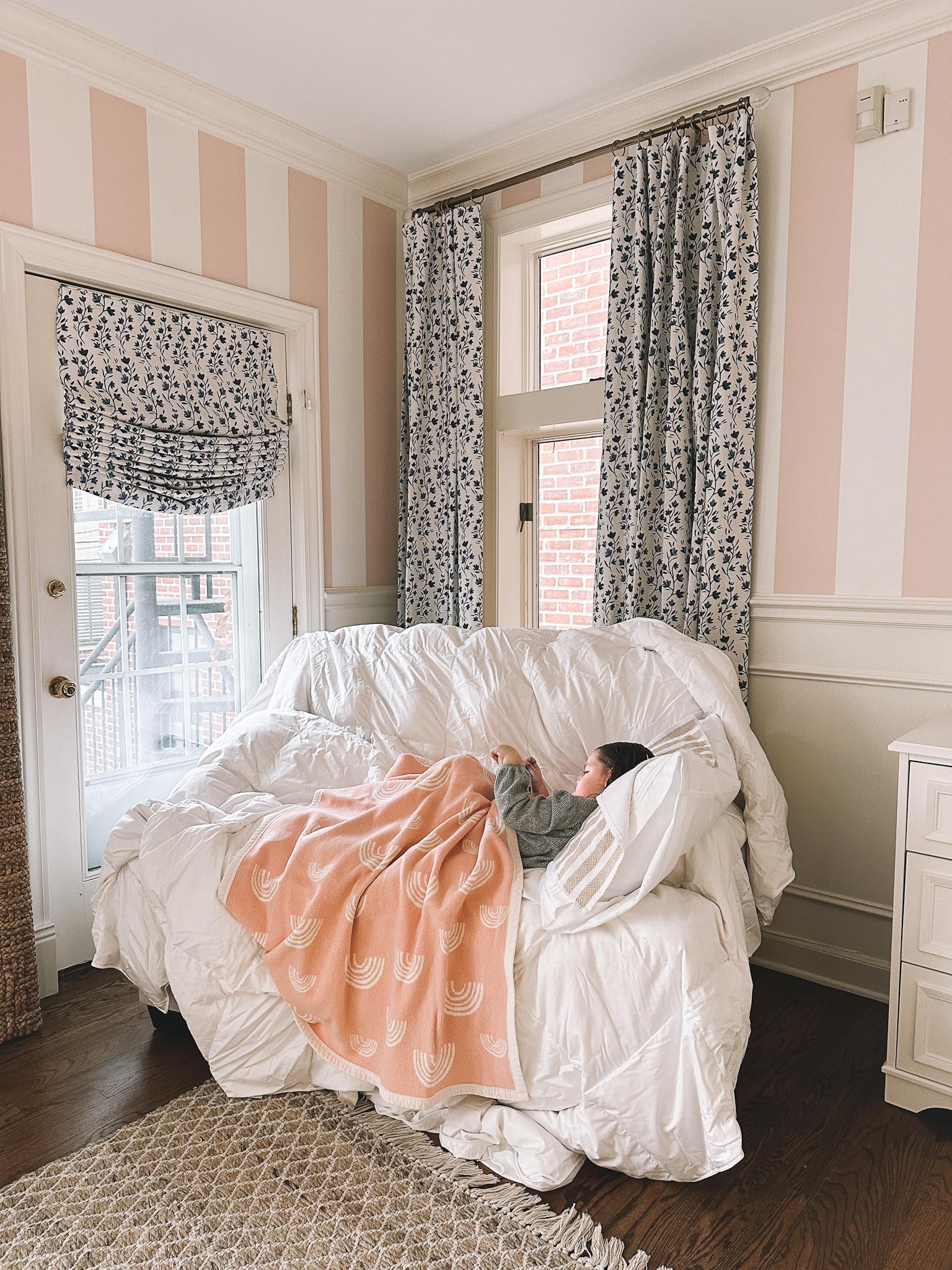 Softest Jute Rug on CRAZY sale / Dresser / Sleeper Loveseat / Material for Drapes / Drapes / Wallpaper Nearly Identical Here and Here / Target Waffle Dress
Like, a LOT
More progress! We moved to the pull-out loveseat. And I need to tell you that Lucy's rug is on crazy sale. Think $100-$300 range depending on the size, and it's SO soft yet gives you that awesome jute look. Definitely the best—and most affordable—"jute" rug we've ever owned. Kind of wish I'd done one in Emma's room!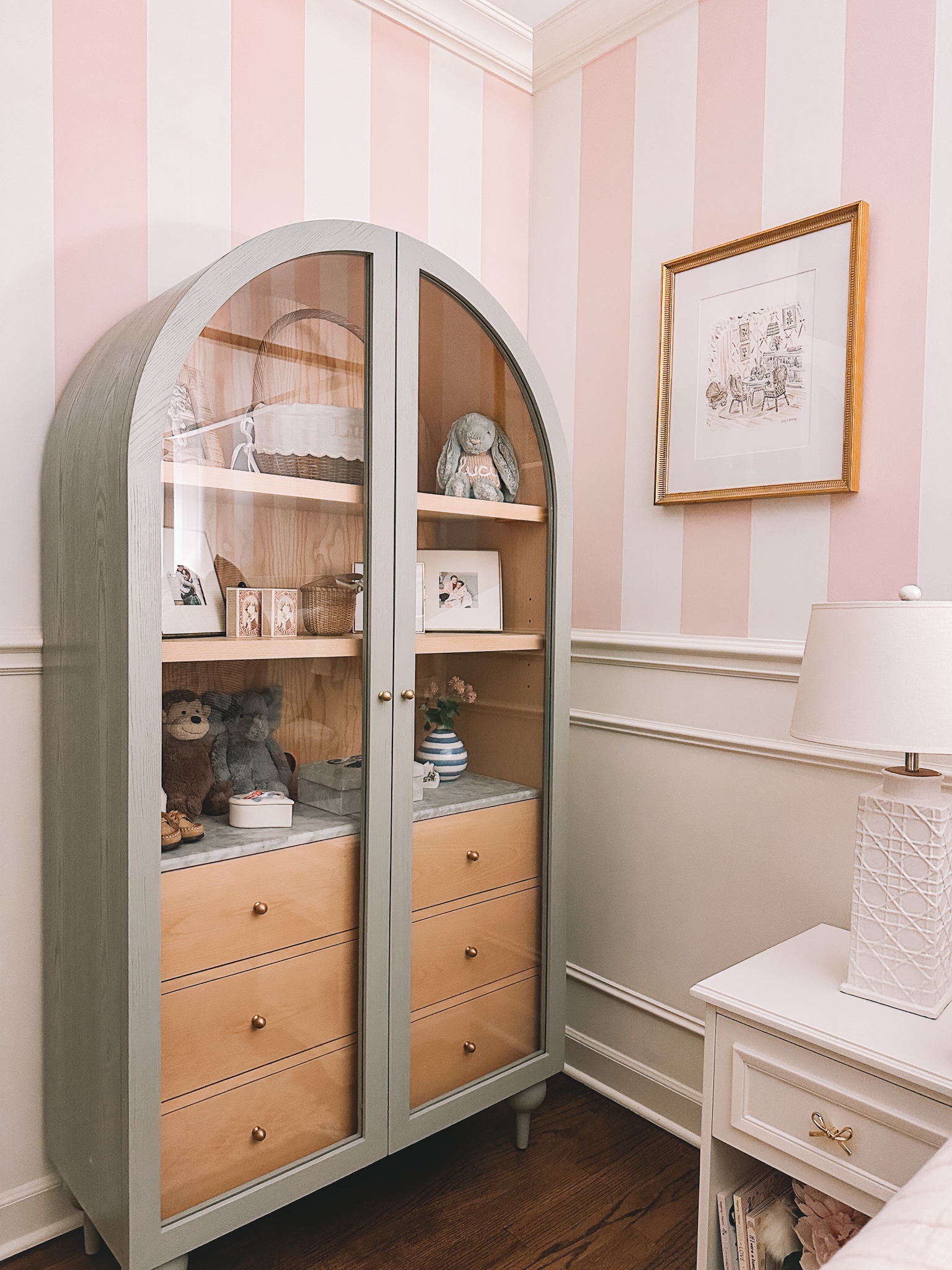 Sage Green Armoire (Also available in white and black.) / Rug on Super Sale / Nightstands / Bow Knobs / Easter Basket / Jellycat Sweater / Target Frames / Framebridge Frame
While we're on the subject of Lucy's room, I'm changing things up in here! PB furniture really holds its value, so I'm selling her dresser to make room for the pull-out loveseat I neglected to measure before ordering, haha. (Okay, I swear I ordered beforehand. I really don't know what happened. Epic fail.) And this sage green armoire is perfect. The deep drawers provide more than enough storage for the clothing that I fold, and I love that we can display some of her treasures above. It's stunning. So happy with it! It comes in white, grey and black, too.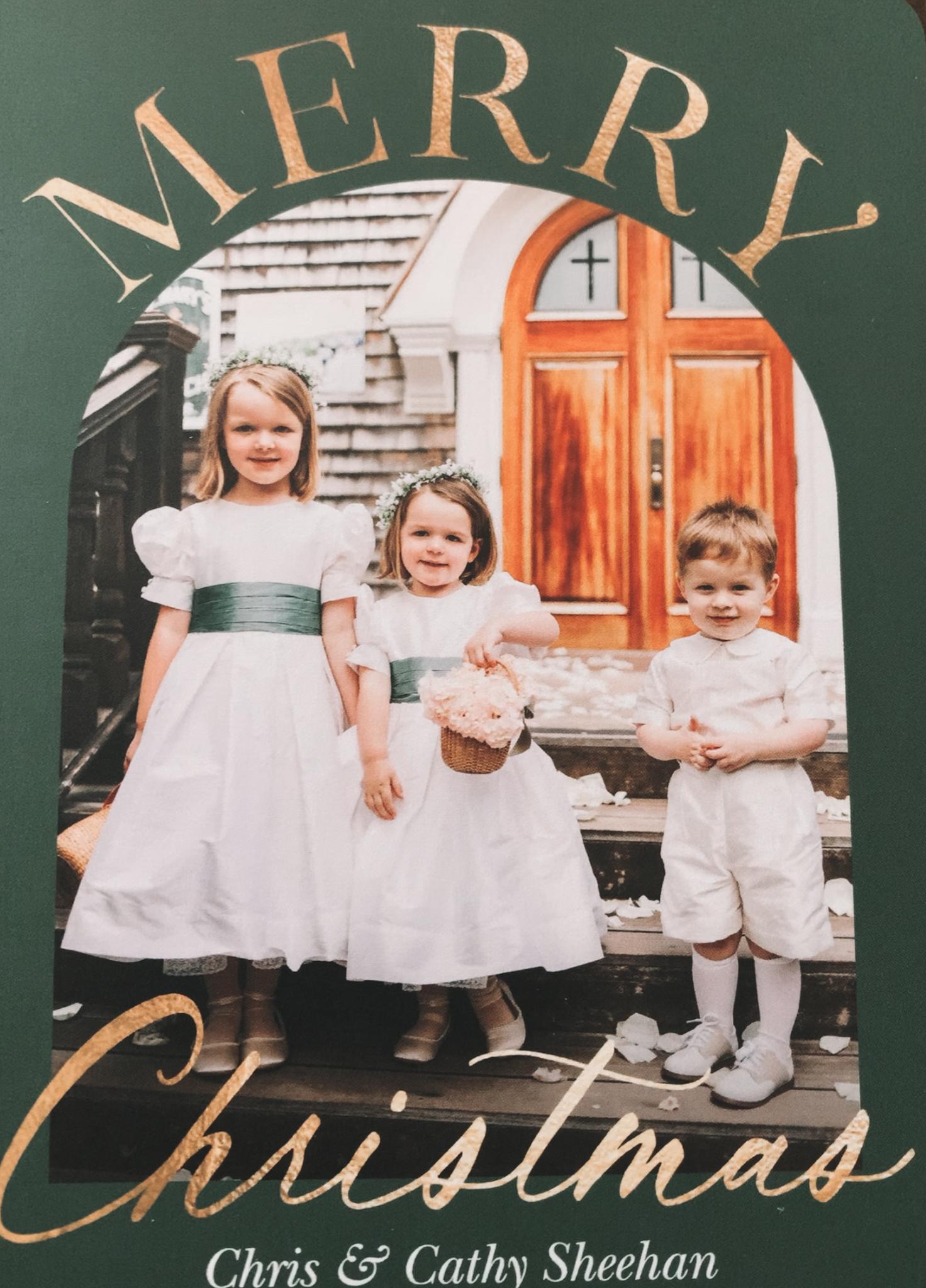 Christmas Card on Sale (Use code "EXTRA" to get 50 percent off and an extra 20 percent off sale prices!)
My parents' Christmas card is so cute
Ahhhhh! I love, I love. The happiest memories from Sammy and Charls' wedding on Nantucket. I will always treasure this photo.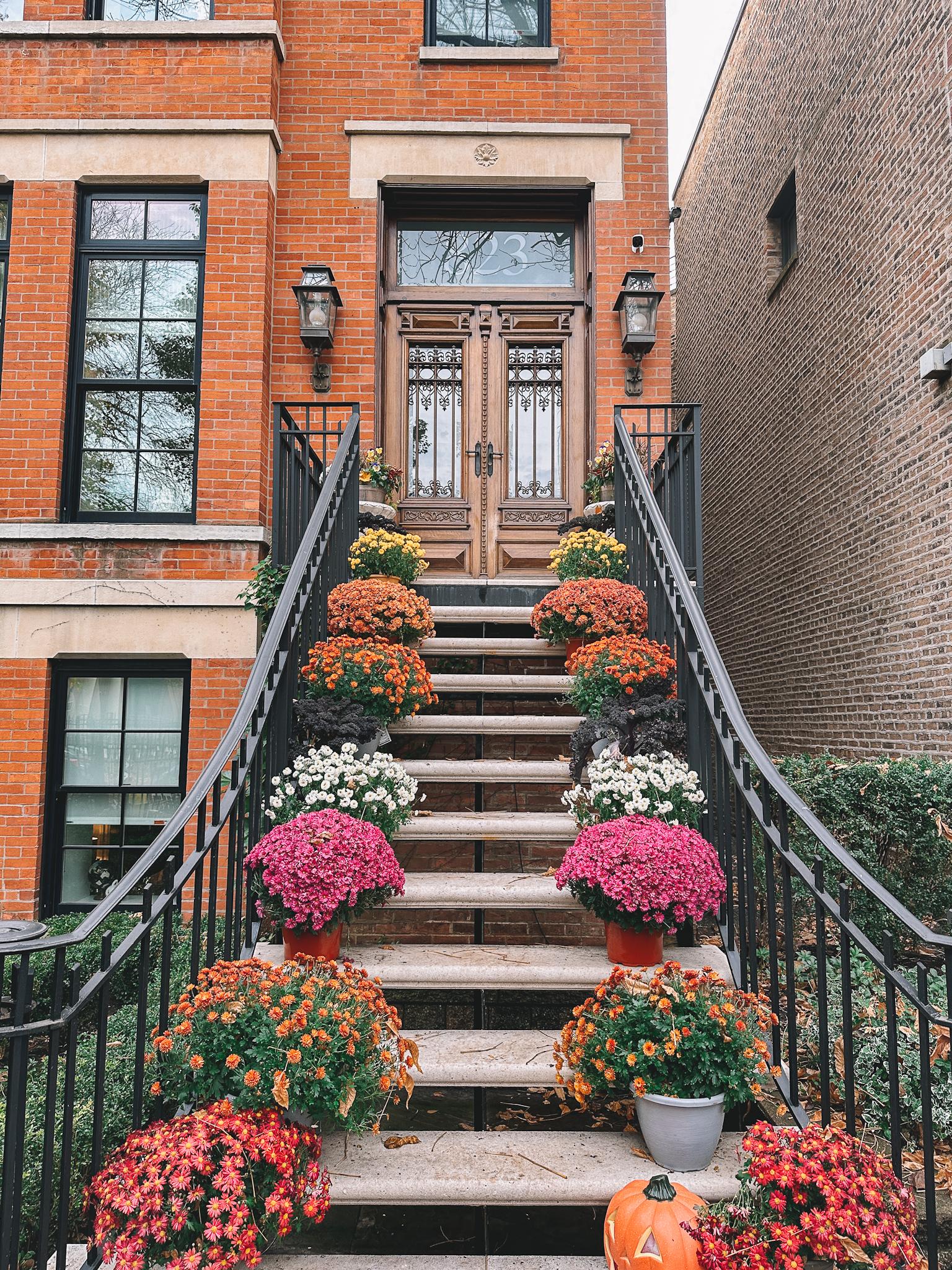 I loved this stoop in our neighborhood
Is this not so beautiful? I bet these people water from below, and not above. ;) Mum specialists, for sure.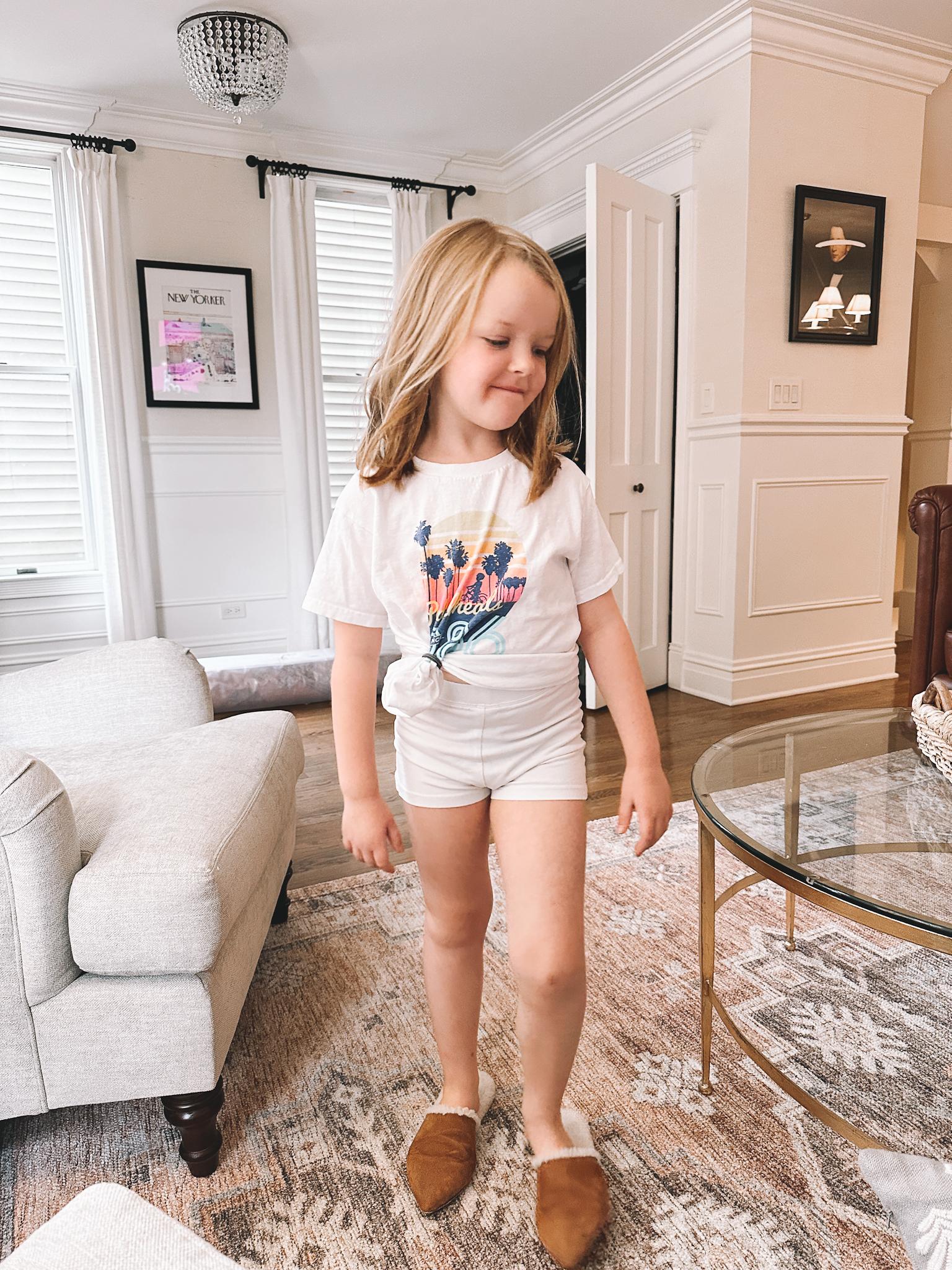 The Best Shearling-Lined Mules Ever (More affordable here! And this is the non-shearling lined version.) / Rug (And also this one, which is 25 percent off with code "GRATITUDE.") / Coffee Table (Over 50 percent off!) / Prettiest Upholstered Chairs / Drapes / Wallpaper
I have a teenager
Can you even with this girl? She can't wait until she can borrow my clothing and shoes. I personally can't wait.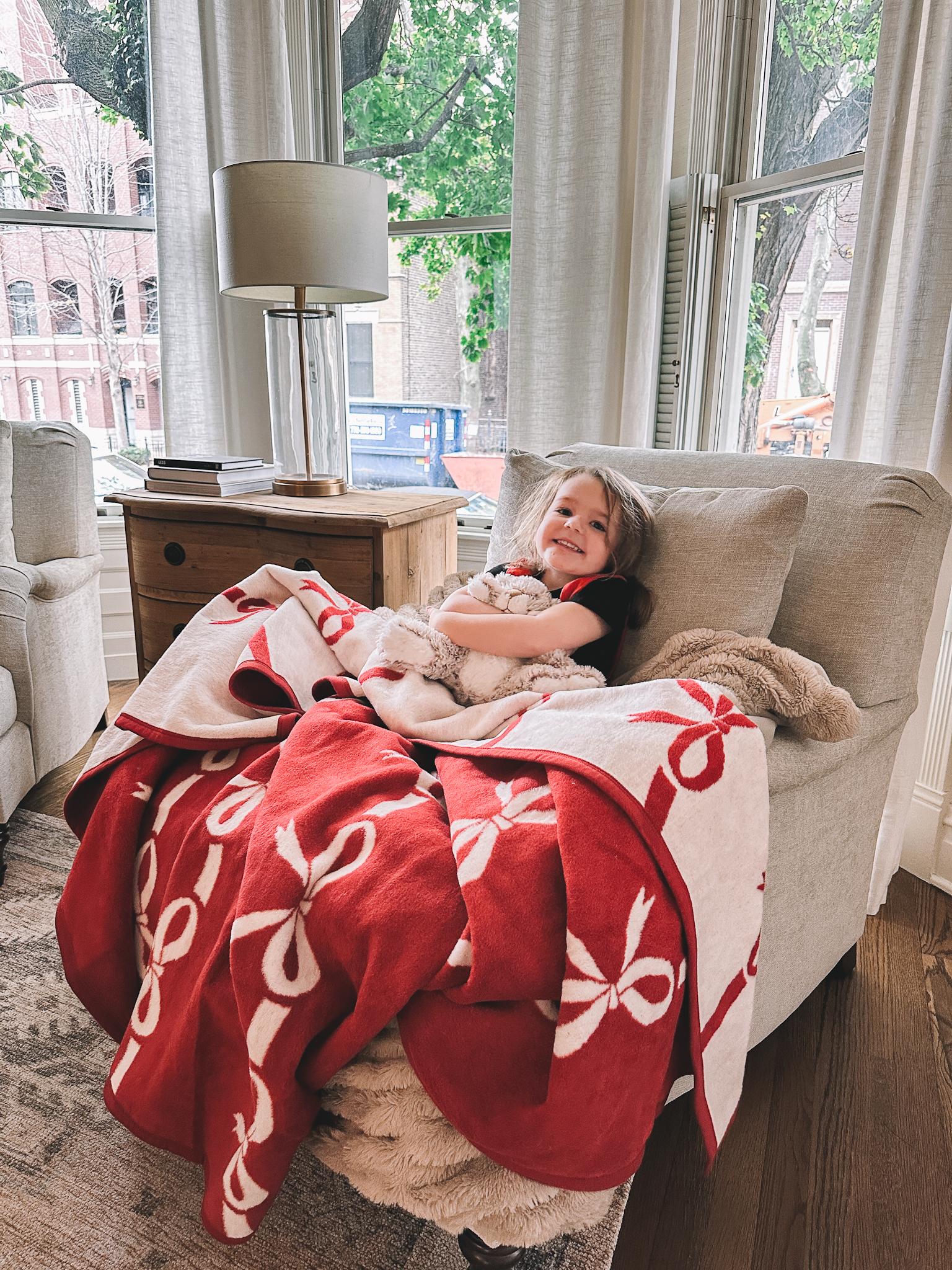 Rug (Also this one. 25 percent off with code "GRATITUDE.") / Carly's Bow Blanket! / Upholstered Chairs / Target Faux Fur Throw / Bunny / Side Table / Newer Lamp / Drapes / Wallpaper
It's become a favorite. ChappyWrap is known for it's super cozy fleece material that's machine-washable and dryer-safe, and Carly is known for her classic/prepster style. The combo is absolutely perfect! Such a beautiful piece to take out every holiday season—and one that makes for a lovely present. The gift of warmth! #putabowonit (Remember that?)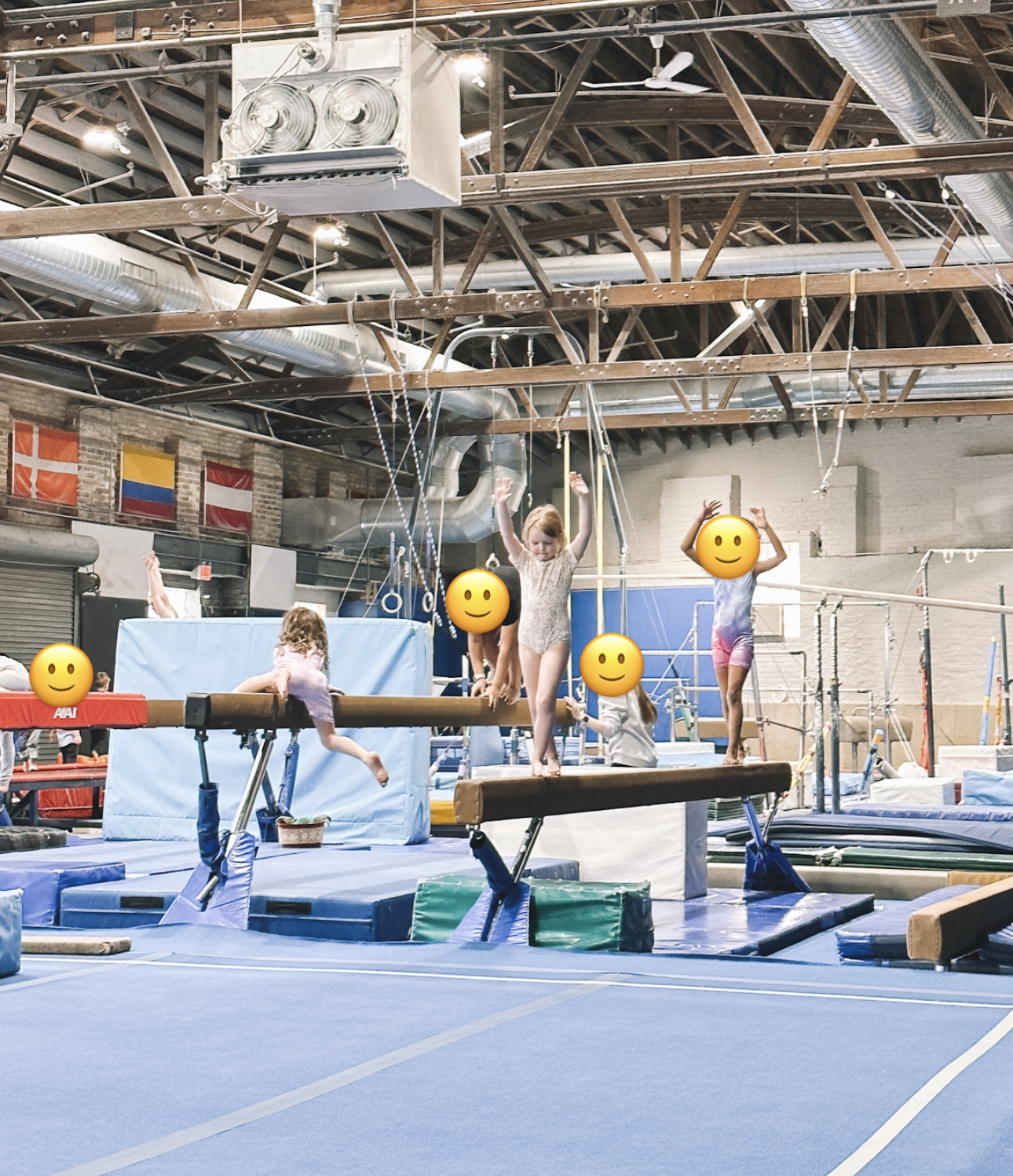 Leotard / Other Favorite Leotards Here
Emma had her first gymnastics class and loved it
Oh my goodness. It's all happening, Friends. Emma was on the waitlist at TWO GYMS for forever, and she finally got off. I cried, of course, haha. She was thrilled, and had the time of her life during her first class. All she thinks and talks about is gymnastics, so I think Mitch and I were both emotional during it! She was so smiley and happy, and ran back to us at the end shouting "DID YOU SEE ME?!" Post-pandemic magic. Love seeing our kids thriving and enjoying their childhoods again.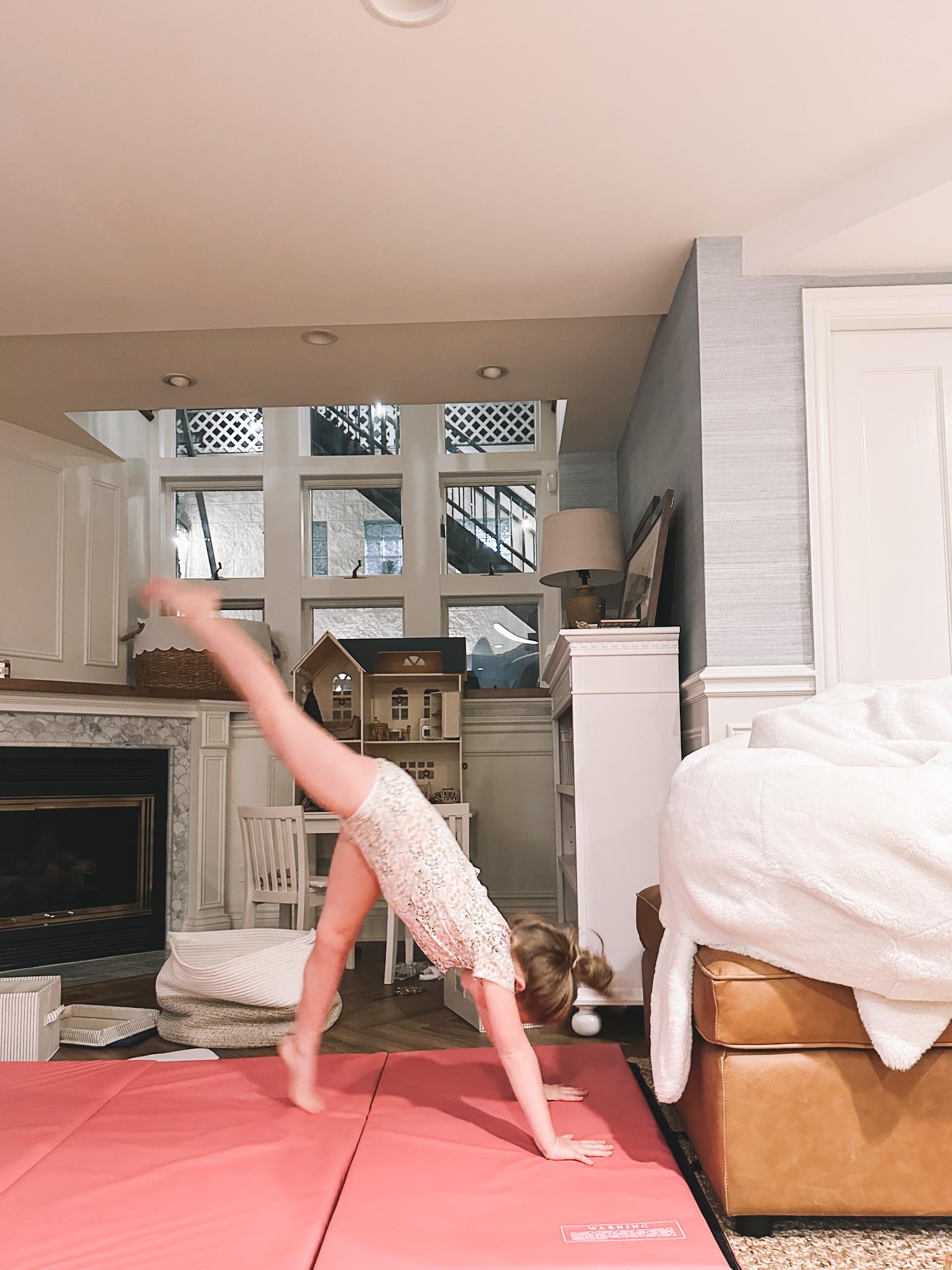 Leotard / Other Favorite Leotards Here / Pink Gymnastics Mat (Also love this neutral one and this gray one.) / Scalloped Toy Baskets / Kids' Table and Chairs / Classy Barbie Dreamhouse (In other corner, haha.) / Affordable Jute Rug / Leather Sleeper Sectional Sofa / Critter Bean Bag / Maileg Dollhouse (Also adore the Target version.) / Newer Bookcase / Storage Bins for Bookcase
I'm helping her "train" at home
I have no idea what I'm doing. Luckily, three of my cousins AND my sister-in-law were incredibly talented competitive gymnasts. So I have some help! Right now we're working on handstands into bridges, and then kicking over. I so wish my cousins and my sister-in-law lived closer, though. ;) HALP.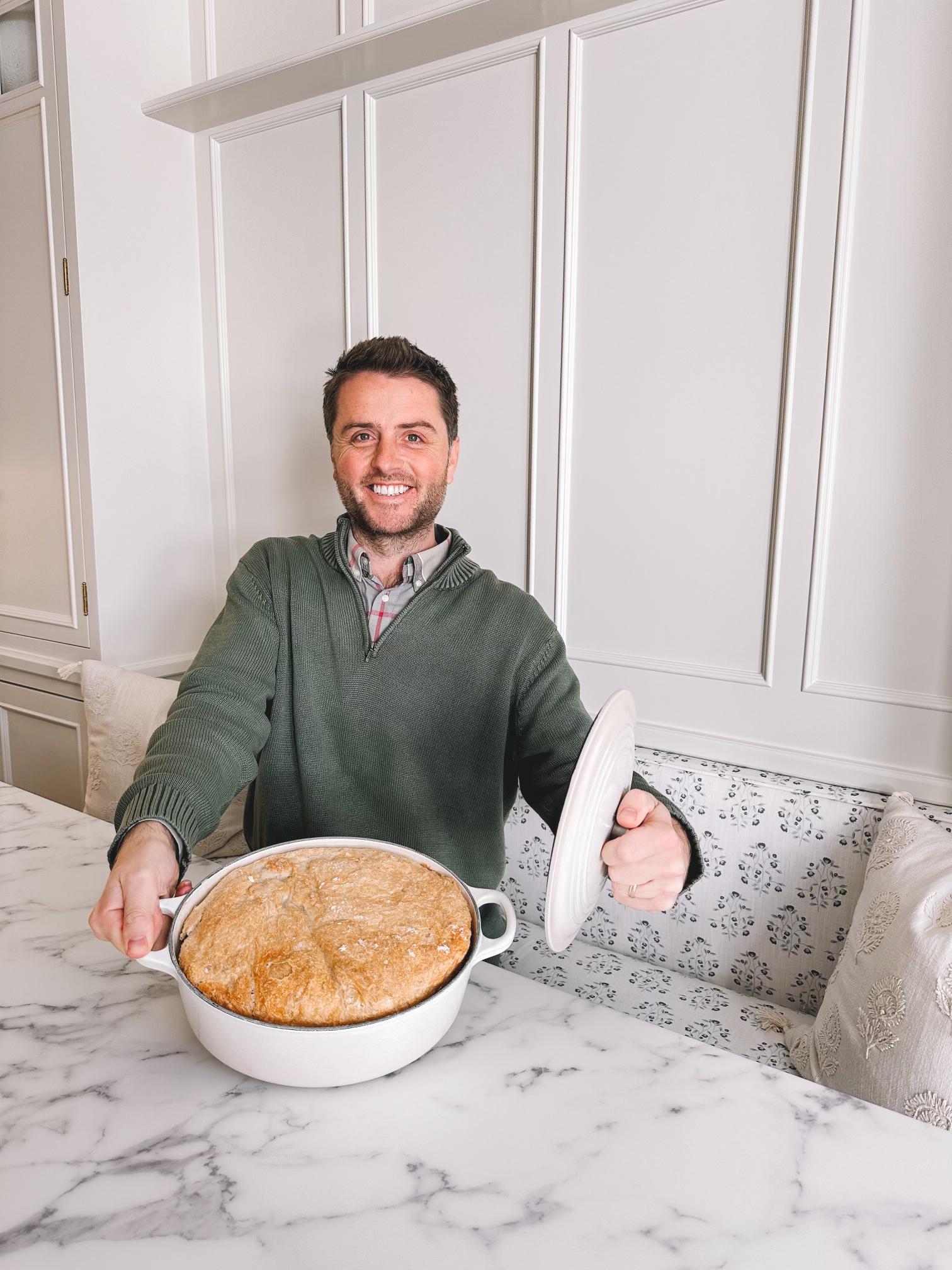 Le Creuset on Sale! (Use code FREESHIP if you're a new customer or QVCFREESHIP if you're a returning customer.) / Mitch's Amazon Quarter Zip Sweater / Newer Version of the PB Marble Bistro Table (Also similar here.) / Bench Upholstery / Newer Target Pillows
(Use code FREESHIP if you're a new customer or QVCFREESHIP if you're a returning customer.) He makes French bread all the time, but this time he used bread flour in a Le Creuset—how novel, haha!—and it was the best yet. Forget about store-bought bread. This is like visiting an Italian restaurant when they bring you the fresh bread and you end up eating so much of it that you can't even bear the thought about your entree arriving and then it's a whole thing and your parents are like, "Are you not hungry? Are you sick? What's wrong?" And you have to respond, "Listen, everything's fine. I'm just a child and have absolutely no self control and do you think they'll box this up for me?"
The end.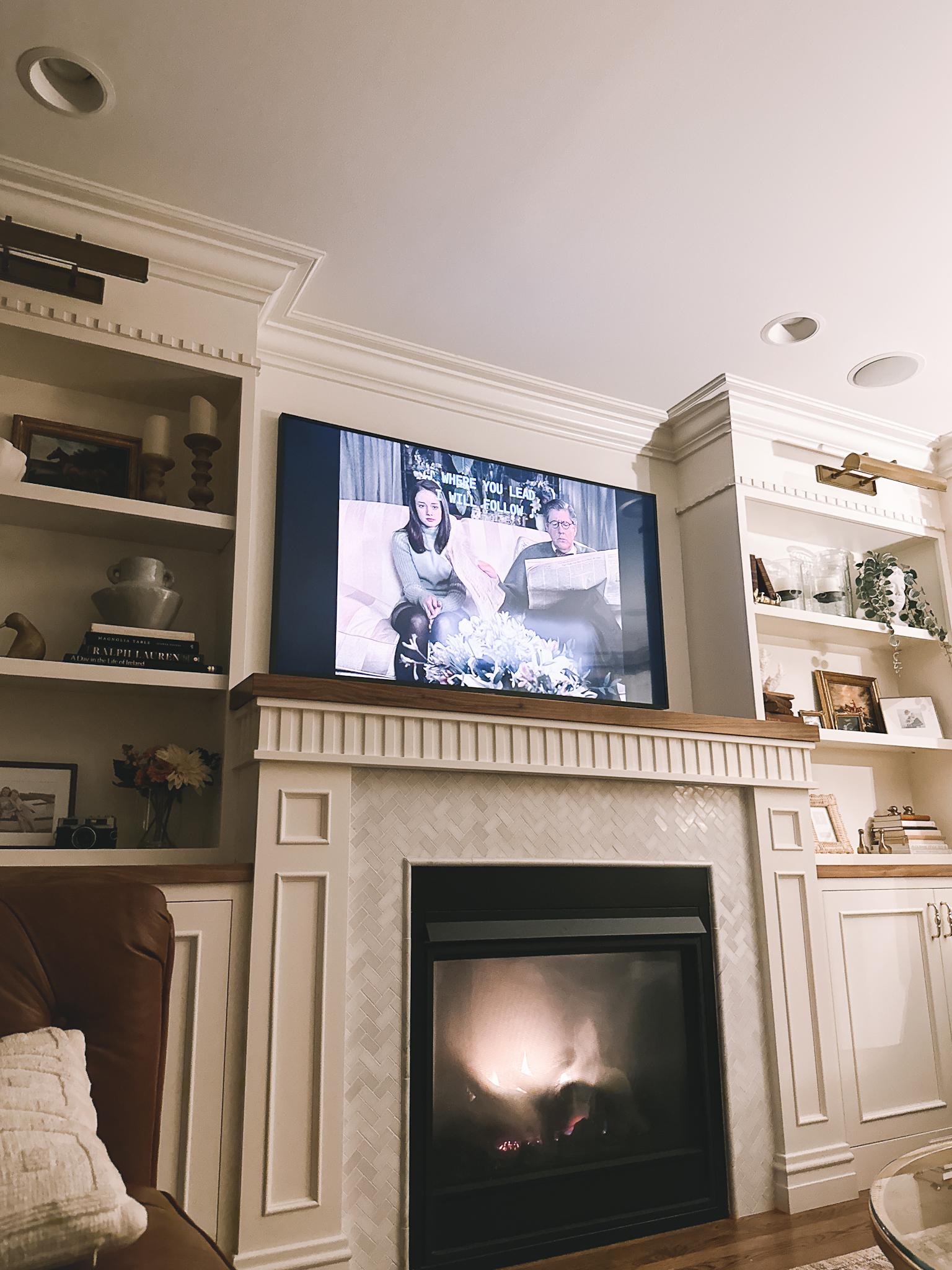 Faux Trailing Plant / Faux Mums Display / Candlestick Holders / Hurricane Candle Holder / Scalloped Bowl (Also here.) / Scalloped Woven Frames / Brass Target Frames / Rug (Also this one! 25 percent off with code "GRATITUDE.") / Coffee Table (Over 50 percent off!) / Leather Chesterfield / Target Pillow
I started watching the Gilmore Girls again
Here's the thing. Gilmore Girls: A Year in the Life left me shook. As it turns out, Rory Gilmore was not the wonderful, morally superior person many of us grew up believing she was—and admiring and aspiring to be. She was always flawed, like all people are—though perhaps a bit more flawed than we wanted to think. And in retrospect, the town of Stars Hollow left much to be desired, even though Teenage Kelly of the 2000's thought it was downright perfect.
But I still have a soft spot in my heart for the show. It's a bit hard to watch now, as I'm analyzing Rory's every move with a sharper lens—as much as I don't want to. Still, the quick-witted dialogue and seemingly PG-rated plot still bring joy. And it's encouraging me to think more deeply about how I will approach the teenage years with my own daughters.
I smell snow.
Seriously, though. I do. It's supposed to start snowing any minute. Send help. <3