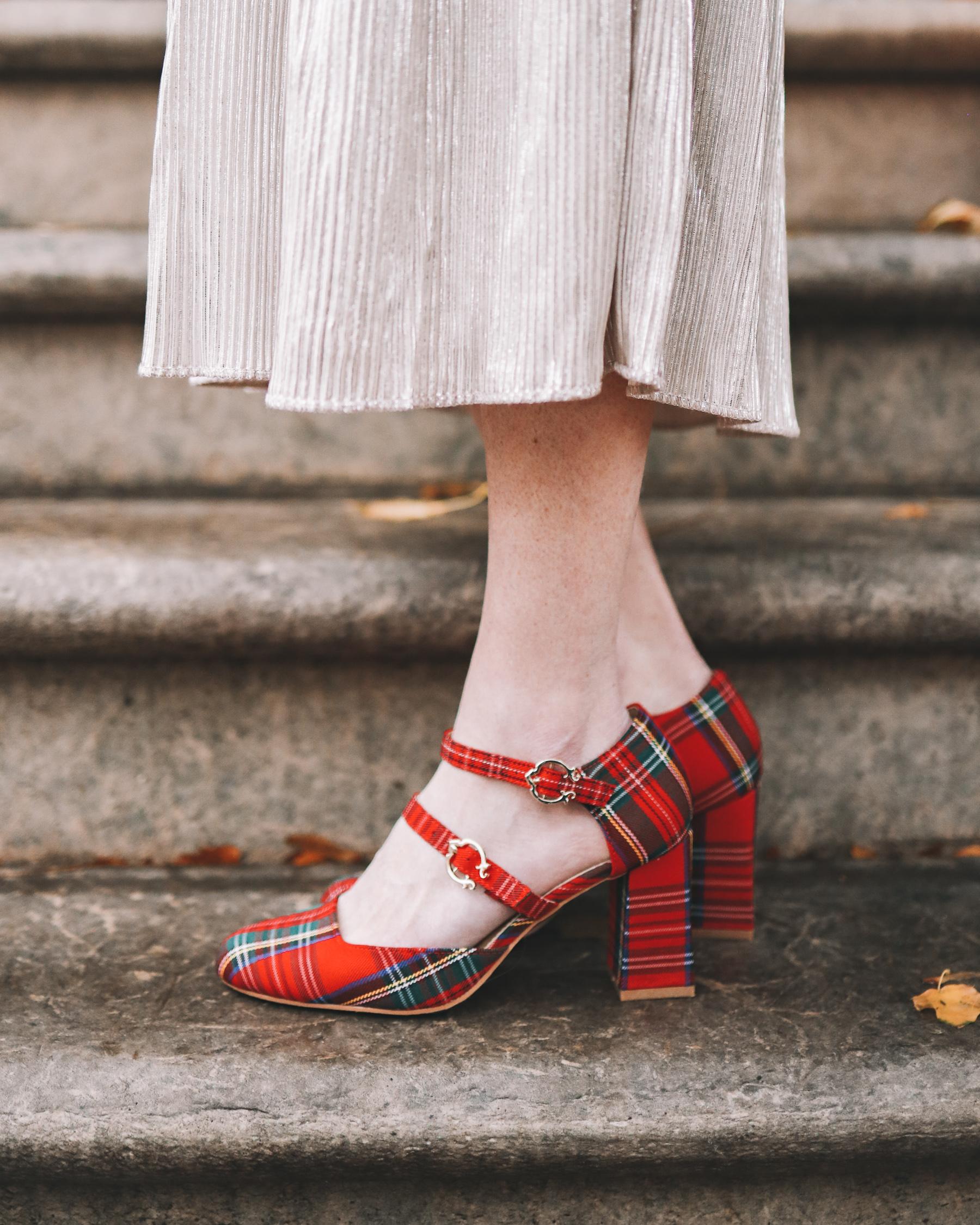 $29.99 Tartan Pumps / $19.98 Metallic Skirt / $19.75 Quilted Crossbody Bag / $17.98 Ribbed Mock Neck Sweater / $11.48 Crystal Rhinestone Headband
First holiday outfit!
But before we get to that, can I just say that I have a totally new approach to Christmas this year?
I'm setting my expectations low. I know that sounds depressing; almost as if I want to have a bad holiday season. But that's not it at all. I am just cognizant of the fact that I tend to put a lot of pressure on myself this time of year. Pressure to do all the things, pressure to make every square inch of the house look merry, pressure to find everyone the most thoughtful gift, pressure to make this Christmas the most magical yet for the girls. But it's almost as if it took me 38 years to realize that no one in my life has ever cared much about all that (but me). 😉
It's freeing, really. I'm still going to put up the decor, but I'm putting it out earlier and putting up less of it. (Except for the outside garland. Can't help myself with that, haha.) I'm still going to put thought into my gifts, but I'm going to knock it all out within a day or two and be at peace with the fact that not every gift I give will be the best gift of all time. I'm still going to attend some holiday events in the city, but I'm going to attend way fewer. And I'm still going to make things magical for the girls, but I'm not going to obsess about how I could make it more magical.
The holidays tend to be a busy time, but I tend to make them busier—and harder—than necessary. 😆 And I'm going to channel all of that "extra" worrying energy into changing my mindset.
Which brings me to holiday looks. Keep 'em simple! This is one of my absolute favorite outfits that I've ever worn here on the blog, and yet it's made up of mostly versatile pieces that can be repurposed and worn throughout the rest of the winter/year. With the exception of the fabulous $29.99 pumps, but come on. We all need a touch of tartan for the holidays, and you just can't beat a price like $29.99 for heels that look like $200+! Everything is from Walmart Fashion, too, for we're talkin' fantastic prices from great brands all around. (And everything I ordered showed up on my doorstep within three days. Love that!)
Okay, so let's talk about everything in these pics!

The details:
$29.99 Tartan Pumps: Can you get over these?! I thought for sure that they were too good to be true when I ordered them, but they're amazing.  I love the tiny gold C's, the chunky block heels, and classic Stewart Dress pattern. And it goes without saying that I love the extra height they give me! Totally TTS. I wear a size 7.5 and ordered these in a 7.5 as well.
$19.98 Metallic Skirt: Wow. Another stunner I couldn't get over when I unboxed everything! It's beautiful, and perfect for December festivities and/or New Year's Eve.
$19.75 Quilted Crossbody Bag: C.Wonder is having a huge bag sale right now, and you need to check it out. I mean, remember when these were like $150+ in Soho in NYC?! My sister-in-law Shirley and I are obsessed. They look just like those $5-$10k designer bags and I'm here for it. So soft, too!
$17.98 Ribbed Mock Neck Sweater: This is a lovely sweater. Zero itchiness and wonderfully soft and cozy. Style tip: When pairing holiday skirts with sweaters/tops, always choose black over white if possible. It makes outlooks look so much more polished, and it's a lot more flattering.
$11.48 Crystal Rhinestone Headband: Don't pay $350 for the designer one! This one is under $12 and is just as good, in my opinion. I'm obsessed and will be wearing this all December!
Everything linked above. :)
Shop the post:
$29.99 Tartan Pumps / $19.98 Metallic Skirt / $19.75 Quilted Crossbody Bag / $17.98 Ribbed Mock Neck Sweater / $11.48 Crystal Rhinestone Headband
Sponsored by Walmart. Thank you so much for supporting the partnerships that keep Kelly in the City up and running!