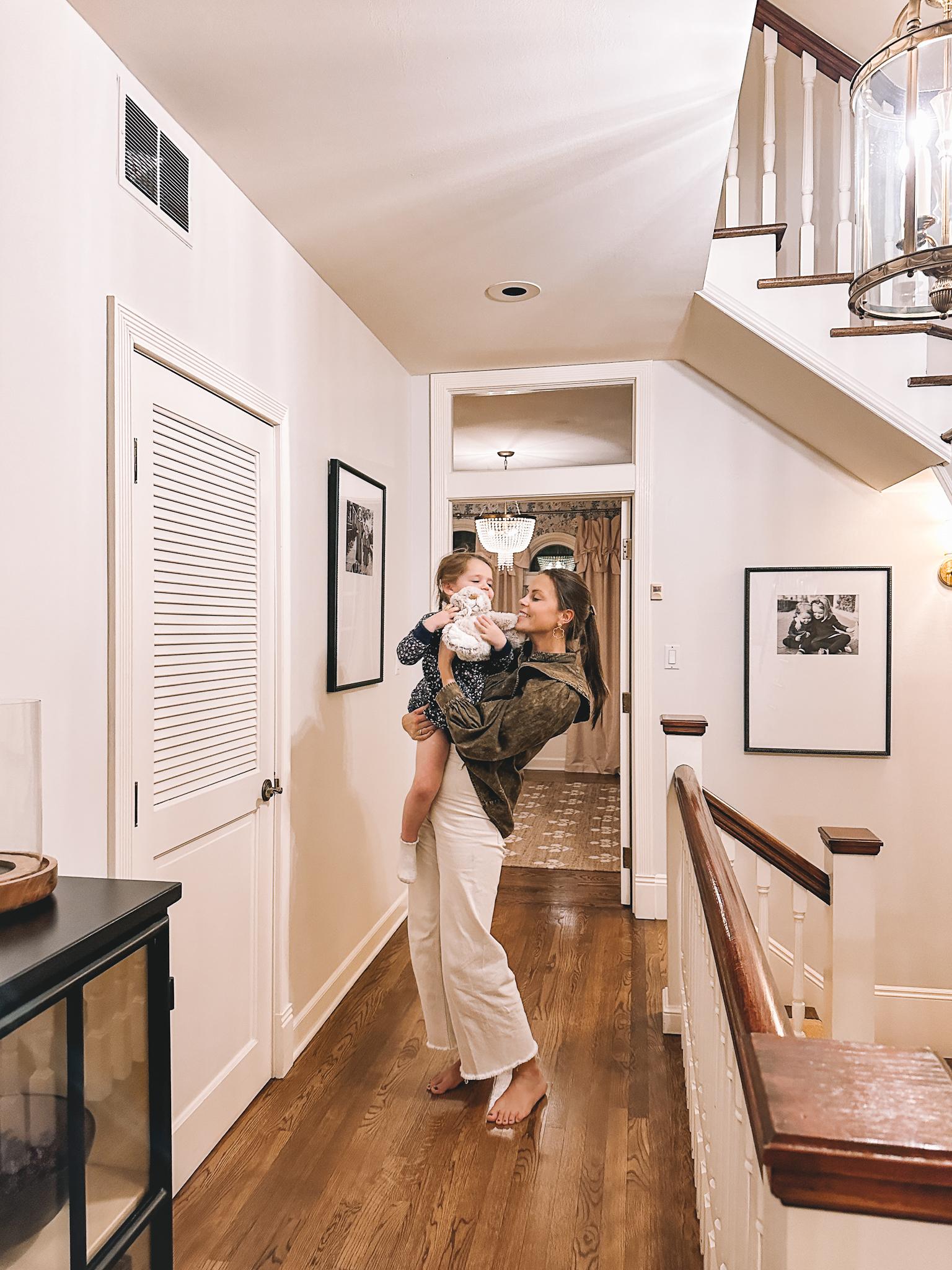 Hi! Here's what's on my mind today:
I had a great girls' weekend with Emma and Lucy. We were busy, but did and laughed a lot. And I had a good amount of one-on-one time with Lucy, which she loves. You can see some photos from the weekend here.
My cousin Paige came to visit yesterday! She works for Bloomingdales and was here to visit the Old Orchard shopping center, where they have a store. The girls were absolutely thrilled to see Paige after this magical night on Nantucket over the summer—and Mitch and I had the best time catching up with her. After she left, Mitch said, "I'm just so impressed by Paige and everything she's doing in life. I really hope our girls grow up to be like her." It made me cry. Truly though, Paige is such a wonderful role model and person. What a great night.
I redesigned my newsletter and I'm SO looking forward to sending out the new-and-improved version! To be honest, this has taken me most of my work week, haha. I'm not the best with technology. But I so enjoyed the process, and felt proud of myself for learning something new. I highly recommend Canva for these types of projects, btw! It's an amazing program that helps people like me dream big, design wise. 😉 Anyway, if you'd like to subscribe, you can do it here! Hoping to send the first one out tonight but we'll see!
I've been feeling very overwhelmed lately. To be honest, I really don't have that much going on! So it's a little confusing. Maybe it's because of the upcoming holiday season and the anticipation of a lot of events? I don't know. But I've just been focusing on controlling my environment, because that always seems to help. I tidy the house in the morning, make the beds, turn on jazz, drink calming tea, go to bed on the earlier side… you know. All the usual things. This too shall pass, if not soon then definitely in January. 😜
BE PART OF THE LIGHT: M3 is one of my favorite Chicago non-profits, and I adore the work they do. Every year, they aim to inspire hope for the youth and bring communities together while decorating S. King Drive. This year it's happening on Saturday, Dec. 3 and Dec. 10. They're in need of volunteers and donations! Learn more here.
I almost have all my photos on one indestructible hard drive, and I'm so relieved. Guys. If you've followed here for a while, you might remember that I have lost my photo collection to broken hard drives several times over the years. I finally threw up my hands and vowed to get my act together, and I've (almost) done just that! The photos were spread across at least five hard drives, and I now have them down to two. And I'm nearly finished consolidating them on to one indestructible hard drive, which I'll then back up with Backblaze. (And maybe also DropBox, GooglePhotos or the Cloud. Haven't researched an additional backup service yet.)
Mitch and I are planning an "us" trip for this winter. We normally just take trips to visit family, so I'm very excited about the prospect of taking a wild-for-us vacation together. He's been sending me travel deals from Travelzoo, and I can't get over how awesome the trips look. I get overwhelmed by planning trips, but this really does take the stress out of it. Pick a trip, book it, and GO!
I bit the bullet and ordered Revitabrow. It's an investment. But after a year of growing my brows on my own (with some success but not as much as I would have liked), I decided it was time. The stuff has a cult following; you just apparently really need to stick with it for at least two months to see results. I don't love the idea of micro-blading because I have beauty trust issues, haha, so really hoping this works for me!
Radio Flyer's e-bikes have made life in the city so, so much better. I know I sound like a broken record. But HOLY. We're just enjoying life in the city so much. It's been an extraordinary lifestyle upgrade; we zip around everywhere and get the girls to and from school within minutes. They're pricey, but they're a fraction of the cost of a car, so I definitely recommend for city dwellers. We've actually talked about selling our car all together! (Though we probably shouldn't make that decision until after this winter. 😉)
We're putting up our (extraordinary) faux garland, realistic tree and twinkle lights early this year. I always put this off, even though it only takes a couple of hours—and it adds to holiday stress. So we marked off a day for it (next Friday!) and we're getting it done. Love that we'll be able to enjoy it for a longer amount of time, too.
We just started using Amazon Fresh for grocery delivery, and have been blown away. The prices are normally just as good as Aldi—sometimes better. And the groceries are delivered to our doorstep in a matter of hours. We've also been very impressed by Amazon's Happy Belly line of food.
Serena & Lily is having a massive 25-percent-off-everything sale today. These are my favorite products:
One Home Project Every Day:

I emptied the "donate" drawer and dropped off its contents. If you don't have a donate drawer already, please do yourself a favor and designate one in your home! BEST decluttering hack ever. I am constantly tossing things that we no longer use/need into it. (I aim for five things every day, though sometimes it's more and sometimes it's less. Anything counts! Toys, kitchen stuff, too-small kids' clothing… whatever!)
We sold Lucy's old bookshelf and replaced it with this stunning armoire. Wow. I'm shook, honestly. I think it's the prettiest piece of furniture in our home. Only problem is that now Emma wants one. 🙈
We serviced the furnaces and HVAC systems. Boring but so important to the functionality of the home.
We had the dishwasher fixed. Hallelujah. The lunatic who originally "installed" it forgot roughly half of the (very important) pieces, and it kept falling out of the wall. This was a GREAT upgrade.
We determined the cause of a leak on our deck. Thank goodness it's not as bad as we thought it was.
We fixed a broken TV. Thing wouldn't even turn on.
I did all the laundry. I always include this because come on. It is a lot of work. ;)
We fixed a broken light switch. Really nice to be able to turn on all the kitchen lights. 😜
We had the fireplace fixed just in time for the November cold! Another thing we thought was going to involve a whole lot of construction. Turns out it was just one tiny piece that needed to be replaced!
We replaced some 4000k lightbulbs with 3000k ones. It's been a slow process but I love the warmer, homier candlelight look.
That's all for now! xoxo